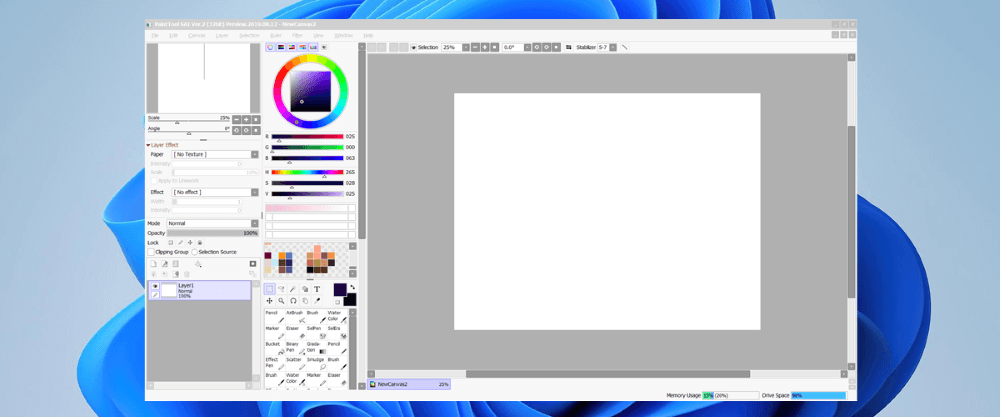 Paint Tool SAI
Features: Variety of brush engines and textures, perspective grids, rulers, and selection tools, and requires little memory.
Pricing: Good value for money but offers significantly fewer features than similarly priced software.
Ease of Use: Intuitive user interface with a short learning curve.
Support: Relatively little support.
Summary
PaintTool SAI is a lightweight digital painting and drawing software distributed by SYSTEMAX, a Japanese company, that allows users to create "amazing anti-aliased paintings, provides easy and stable operation," and "makes digital art more enjoyable and comfortable." 
It features useful drawing tools such as perspective grids, rulers, linework (vector) drawing layers, and a variety of brush engines and textures. At approximately 2MB it can be run on older computers and operating systems with surprising efficiency.

In my opinion, PaintTool SAI is a great drawing software for beginner artists due to its intuitive and easy-to-navigate user interface. However, it lacks additional features like the ability to create animations, time lapsing, templates, and CMYK color-mode support that is present in similarly priced software. Due to these limitations, it's a good option for illustrators and sequential artists, but not so much for graphic designers. 

Furthermore, PaintTool SAI is not considered an industry-standard software, so using it will not give you a competitive edge in creative industries. For professionals, other software with advanced features and support may be more valuable to invest time in learning. PaintTool SAI is best used in conjunction with additional software, like Photoshop. 

What I Like: Lightweight. Affordable. Easy to learn.

What I Don't Like: Stagnant user community. Limited support. Limited features. Not industry standard.
Is PaintTool SAI good for beginners?
PaintTool SAI is one of the easiest digital painting software to learn, with an intuitive user interface. Compared to Photoshop, PaintTool SAI has fewer features, but the features are straightforward and easy to use.
Is PaintTool SAI or Krita better?
While PaintTool SAI's intuitive user interface makes it an appealing choice at first glance, Krita offers more features and it's FREE. Krita offers users the ability to create animations, use templates, a larger offering of selection tools, and expanded brush customization over PaintTool SAI.
Is PaintTool SAI a good digital art Program?
PaintTool SAI is a good digital art program and one of the most comfortable to work in. It's a good choice for illustrators because inking is a dream with linework layers, and tools like the selection pen and selection eraser make coloring a breeze. If you don't require photo manipulation effects, it can be an all-in-one software.
How much does PaintTool SAI cost?
PaintTool SAI costs approximately $52 (5500JPY) for a one-time license fee. It does not offer any subscriptions, and you can keep the program for life with the entitlement to future updates. There is also a 31-day free trial period for those wishing to try out the program.
Is Clip Studio Better than PaintTool SAI?
Clip Studio Paint Pro costs less than PaintTool SAI with substantially more features. Its ability to create animations, dynamic text, text bubble tools, integrated 3D models, templates, and more makes it the best program tailored to illustrators and sequential artists.
Additionally, Clip Studio's active user community, custom downloadable assets, easy-to-find tutorials, and user support add overall value to its real-life user experience.
Why Trust Me for This Review
Hello, my name is Elianna, and I'm an illustrator, sequential artist, and art director. Over the last 10 years, I have experimented with a variety of drawing software to suit the needs of my creative academic, and professional career.
I originally started using PaintTool SAI in 2015, with a Bamboo Wacom Tablet. In the last 8 years, I've used PaintTool SAI to create webcomics, character designs, and illustrations. I even used it to complete assignments during my undergrad at The Savannah College of Art & Design, from where I completed a B.F.A in Illustration in 2022.
I've always said that PaintTool SAI is my first love of drawing software, but that does not stop me from recognizing its limitations. Some of my other favorite digital art software include Adobe Illustrator, Clip Studio Paint, and Procreate. 
Detailed Review of PaintTool SAI
Knowing the basics of the PaintTool SAI from my quick summary above about the software, now I'll get into the details of its features.
Digitizer Support and Pressure
Even though PaintTool SAI has settings to use the program with a mouse, it is truly meant to be used in tandem with a drawing tablet. Almost all digitizer drivers are supported with solutions to common digitizer errors available in the SYSTEMAX FAQ section.
Pen pressure can be edited by brush, or globally calibrated in the options, with min. Pressure and max. pressure sliders in the brush settings menu. Sometimes pen pressure is not recognized, but nine out of ten times this can be fixed by restarting the program, the tablet, or a combination of both.
My personal take: PaintTool SAI by far has the most natural feeling of default pen pressure. I enjoy the easy access to brush pressure and stabilization settings, as the brush settings menu is not hidden like in other software such as Photoshop, or Krita.
Simple but Powerful User-Interface
PaintTool SAI claims to "make digital art more enjoyable and comfortable," with its "simple but powerful user interface." Let's take a look.
In the default workspace of PaintTool SAI, all necessary tools and settings are visually shown, with the layer panel, brushes, selection tools, and color wheel oriented on one side of the screen.
Other options that toggle view, pen stabilization, and straight-line drawing mode exist in a toolbar above the canvas.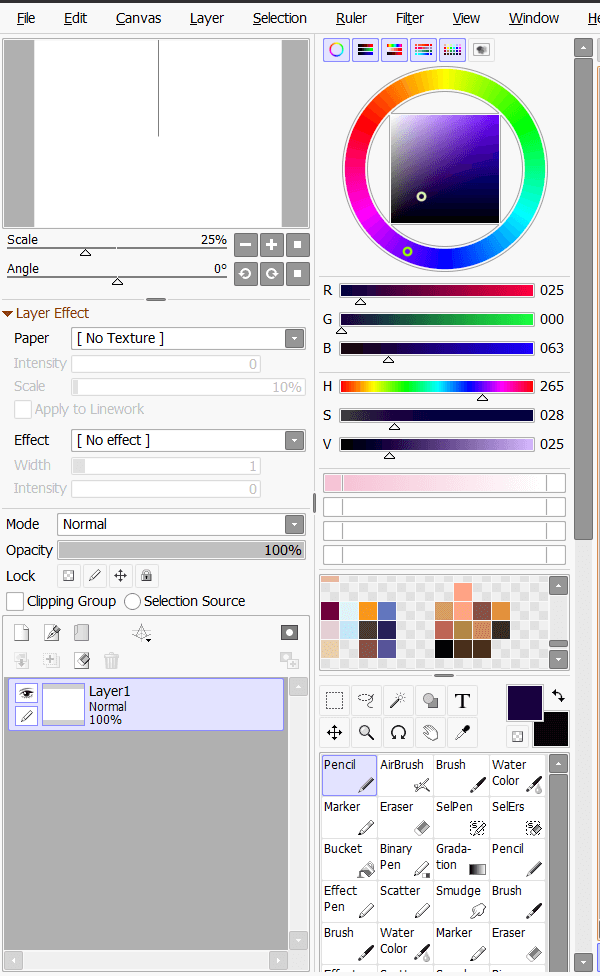 Upon clicking on any tool, a settings menu opens below the tool menu, centralizing the location of settings and providing users with an easy-to-remember visual reference point. Users can toggle between simple and advanced settings if desired.
Few functions live behind drop-down menus giving the program a straightforward and friendly appeal, unlike programs like Photoshop which can initially feel overwhelming and confusing to operate.
Some tools can only be accessed by clicking on the top toolbar options or by using keyboard shortcuts, including rulers, perspective grids, and filters. Due to this, these useful functions can be easily overlooked if the user is unaware they exist, or does not investigate the program in-depth.
My personal take: Having most tools and functions shown in the default workspace of the software gives PaintTool SAI a friendly appeal. I just wish that rulers could be accessed within the tool menu.
Anti-Aliased Drawings
Anti-Aliasing smooths the jagged edges of a selection in a digital image by averaging color pixels at the boundary of the selection. This creates sharper-looking lines and higher-resolution photos. Anti-aliasing also allows for increased accuracy for selection tools.
PaintTool SAI includes anti-aliasing in a variety of selection tools. Its anti-aliasing can be adjusted with sliders and other options settings depending on the tool being used. PaintTool SAI also offers a unique tool, the Binary Pen, to draw non-anti-aliasing lines. This tool is invaluable for pixel artists.
My personal take: PaintTool SAI's anti-aliasing is easier to access and toggle for selections than in other drawing software like Photoshop or Procreate. The inclusion of the Binary Pen is an added benefit.
Easy and Stable Operation
PaintTool SAI is lightweight and requires less system memory to run than other drawing software, making it less prone to errors while using it.
It requires 1024MB of RAM for operating systems Windows Vista or later, and given that it is compatible with older operating systems, it is the perfect program for those without access to newer devices.
PaintTool SAI's user interface also includes visual sliders indicating memory usage and available drive space, so users can monitor each while using the program. If the program lags or forces quit for any reason, it autosaves canvas progress with "Recover Work."
This feature is invaluable with the great time commitments that are involved in creative endeavors.

My personal take: PaintTool SAI's system requirements give it a stable, and reassuring operation for users. Very rarely will it crash, and if it does, the "Recover Work," option insures that artists will not lose any time to lag.
Unique Tools
Although PaintTool SAI is limited compared to other software within its price range, it does include some unique tools and features. Some of these unique tools I would like to highlight include the selection pen, selection eraser, and linework layers.
The selection pen and selection eraser allow users to draw and erase selections in the same mechanism as using a brush. This can feel more natural than creating selections with a bounding box or Lasso tool and can be more precise than the Magic Wand.
Furthermore, these tools allow users to edit selections easily without having to redo them.

Linework Layers give artists the ability to draw and edit strokes as vectors. While these tools can easily compare to the pen tool in Adobe Illustrator, these function in a slightly different way and feel more natural. My favorite tools in linework layers include the curve and line tools.
My personal take: The selection pen, selection eraser, and linework layers give it an edge to an easy color and lineart workflow.
Reasons Behind My Ratings
Features: 3/5
PaintTool SAI offers its users a variety of brush engines, textures, selection tools, perspective grids, rulers, and more. However, it does not support CMYK images, or templates, and is only available for Windows.
PaintTool SAI supports exporting documents into a variety of formats, but can only open image files, its native .sai, and .psd. It does not support multiple artboards and does not have a canvas ruler to indicate size relationships.
Pricing: 3/5
While PaintTool SAI's asking price is not particularly expensive, it lacks additional features that can be found in competitive software of the same price.
For example, Clip Studio Paint costs less than PaintTool SAI and offers its users a substantial amount of tools and functions such as the ability to create time-lapses and animations. Furthermore, Krita is a FREE, open-source drawing software, and also offers animation support, and the ability to use templates.
With this knowledge, you can get more for your money by investing it in a different software that has more features, better professional application, and an overall higher return on time invested.
Ease of Use: 5/5
PaintTool SAI is intuitive with a short learning curve for first-time users. As it is more limited than other software, its features are straightforward and self-explanatory. The organization of the settings menus for each tool is centralized, with the most important tools located in the default workspace.
Few tools exist outside of the main workspace. With a little investigation, the full potential of this software can be easily understood.
Support: 1/5
There is very little customer support for PaintTool SAI and no live customer support. However, a dedicated FAQs website does answer most user questions about common errors and gives detailed information about the software.
Final Verdict
Is PaintTool SAI worth it? If you are looking for dependable, easy-to-use, introductory software then PaintTool SAI is for you. If you are looking for a long-term return on utility and skills by investing your time in drawing software, you may be a better fit elsewhere. While PaintTool can create beautiful work, it offers a limited toolset for professional artists.
In short, PaintTool SAI is a digital drawing program good for illustrators but does not match the needs of a wide variety of artists.
Have you tried Painttool SAI? What drawing software do you use? Tell me in the comments below if you found this review helpful, and if you would like to learn more about PaintTool SAI check out my other posts.