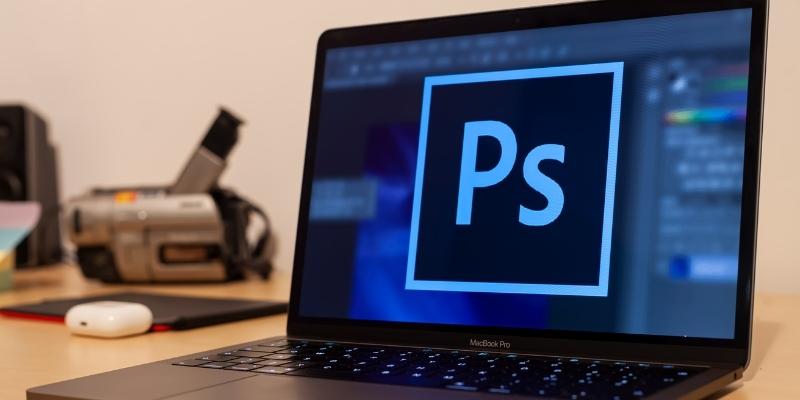 Adobe Photoshop CC
Effectiveness: The best image editing tools available on the market right now
Price: Available as part of a monthly subscription ($9.99+ per month)
Ease of Use: Not the easiest program to learn, but plenty of tutorials are available
Support: Excellent support available from Adobe and third-party sources
Summary
Adobe Photoshop has been the gold standard in image editing almost since it was originally launched, and the latest version continues that tradition with the most powerful image editing tools available. It's also an extremely complex program, and definitely intended for professional users who can take the time to learn it properly.

If you want the absolute best in terms of editing capability, Photoshop is the answer to your search – but some beginner and enthusiast users might be better off working with a simpler program such as Photoshop Elements. Many Photoshop users will barely scratch the surface of what it can do, but if you want to work with the industry standard, this is it.

What I Like: Extremely Powerful Editing Options. Excellent File Support. Fully Customizable Interface. Creative Cloud Integration. GPU Acceleration.

What I Don't Like: Difficult Learning Curve
What is Adobe Photoshop CC?
Photoshop is one of the oldest photo-editing programs still available on the market today. It was originally developed in the late 1980's, when it was purchased by Adobe and finally released to the public in 1990. Since then it has been through an impressive number of releases, finally reaching this latest 'CC' version.
CC stands for "Creative Cloud", Adobe's new subscription-based release model that provides regular updates to all active subscribers as part of their monthly fee.
How Much Does Adobe Photoshop CC Cost?
Photoshop CC is available in one of three Creative Cloud subscription plans. The most affordable is the Photography plan, which bundles Photoshop CC with Lightroom CC for $9.99 USD per month.
You can also get access to Photoshop as part of the full Creative Cloud package which includes all of Adobe's professional applications for $52.99 USD per month. It's also possible to purchase any of the Creative Cloud apps (including Photoshop CC) as a single standalone product for $20.99 per month, but it would make far more sense to choose the photography bundle option for half that price.
Some users take issue with the subscription model, but it's actually a pretty good system for those who want to stay current. When the last single-purchase version of Photoshop was released, it cost $699 USD for the standard version, and $999 for the Extended version which included 3D editing support. If you purchase the Photography plan, you'll stay current at a cost of $120 per year, and you can definitely expect a major version release (or several) before you'd have reached an equivalent cost.
Adobe Photoshop CC vs. CS6
Photoshop CS6 (Creative Suite 6) was the last standalone release of Photoshop. Since then, newer versions of Photoshop are only available to users who subscribe to one of Adobe's Creative Cloud monthly plans, which cost a monthly fee for access.
This allows the CC version of Photoshop to receive regular updates without requiring a new high-priced update purchase. As of January 2017, Photoshop CS6 was no longer available for purchase from Adobe.
Where to Find Good Adobe Photoshop CC Tutorials?
Because Photoshop has been around for so long and has such a devoted following among both casual and professional users, there are a huge number of tutorial resources available from a wide range of sources, including video tutorials.
For those of you who are more comfortable with an offline learning style, there are lots of great Photoshop CC books available from Amazon.
Why Trust Me for This Photoshop Review
Hi, my name is Thomas Boldt, and I've been a professional photographer and graphic designer for over a decade. I began working with Photoshop 5.5 in the early 2000s in a school computer lab, and my love of the graphic arts was born.
I've worked with a wide variety of image editing programs (both Windows and macOS) over the course of my career, and I'm always on the lookout for new programs and methods to improve my professional editing workflow and my personal practice.
After all the programs I've tested, I still keep coming back to Photoshop as the most flexible and comprehensive editing program available.
Detailed Review of Adobe Photoshop CC
Note: Photoshop is a huge program, and there are so many features that even most professional users don't take advantage of all of them. Instead, we'll look at the user interface, how it handles image editing and creation, and some of the other advantages of working with Photoshop.
User Interface
Photoshop has a surprisingly clean and effective user interface, although the general design principles haven't changed much over the course of its lifespan. It uses the nice dark gray background that helps your content pop out from the rest of the interface, instead of the less appealing neutral gray that used to characterize it (although you can switch back to it, if you want).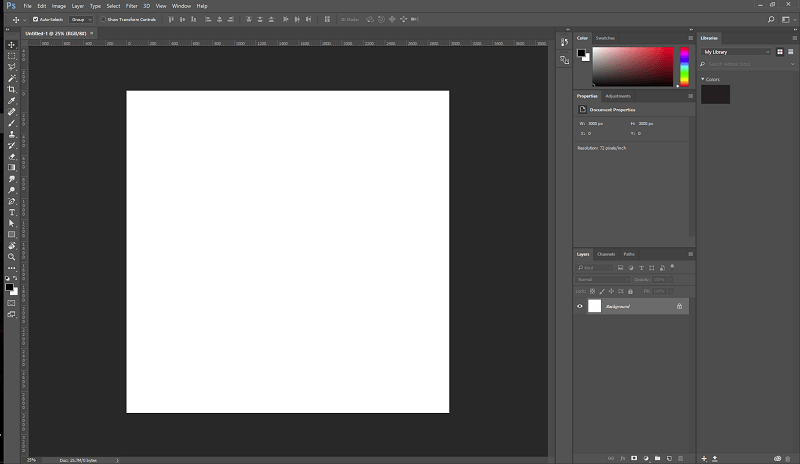 The more complex a program is, the harder it is to design an interface that allows users to get what they want from it without overwhelming them. Adobe has solved this problem in Photoshop in a unique way: the entire interface is almost completely customizable.
Adobe has provided a number of preset layouts known as 'workspaces', and they are geared toward the variety of tasks that Photoshop can handle – photo editing, 3D work, web design, and so on. You can work with any of these as they are, or use them as a starting point to add or remove your own custom panels.
I tend to customize mine for the type of work that I do in Photoshop, which is typically a blend of photo editing, compositing, and web graphics work, but you can customize any and every element.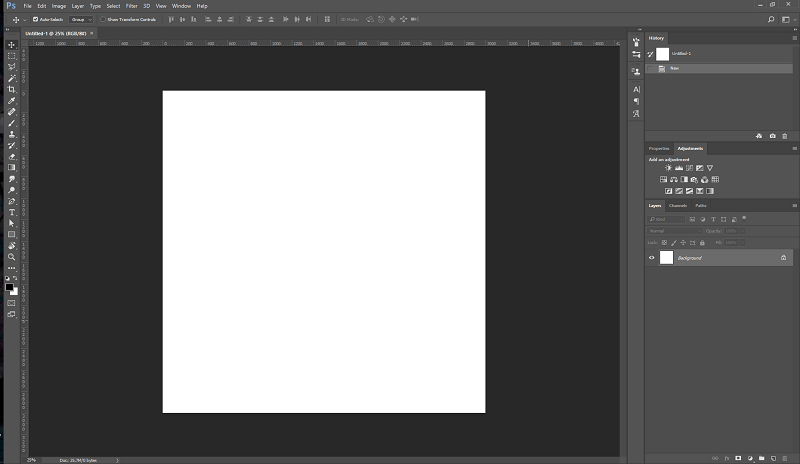 Once you've got it the way you want, it's best to save it as a preset. This is done quite easily and allows you to experiment with the presets and various other options while being able to resume working in your custom workspace at any time.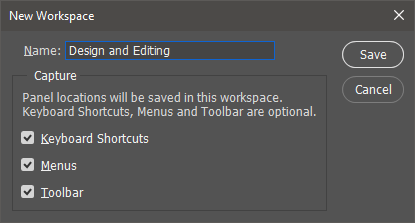 The latest versions of Photoshop CC have added in a few new interface features as well, including quick access to recent files on loading the program, and quick links to some tutorials (although this seems to be a bit limited so far, with only four options available).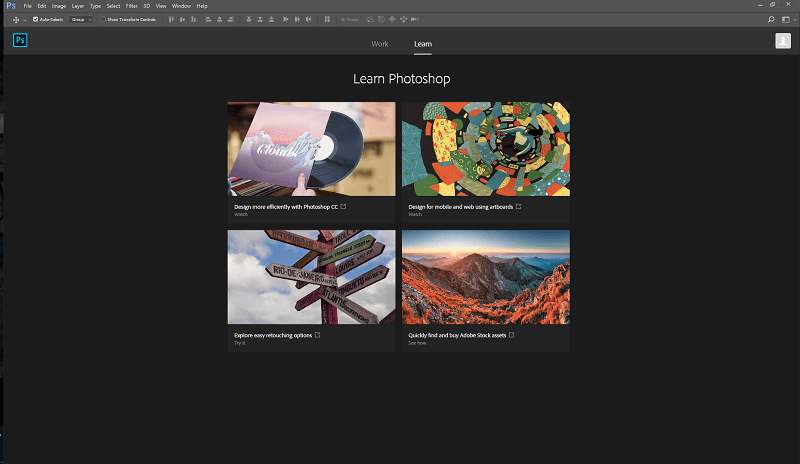 Adobe has also started to make peace with just how huge Photoshop has become, incorporating a search function that connects you directly with resources about any particular task you want to work on. This is a bit more useful for beginners, but if you're a user of Adobe Stock (their stock image library), it's a nice touch to have it integrated directly into the program you'll be using it with.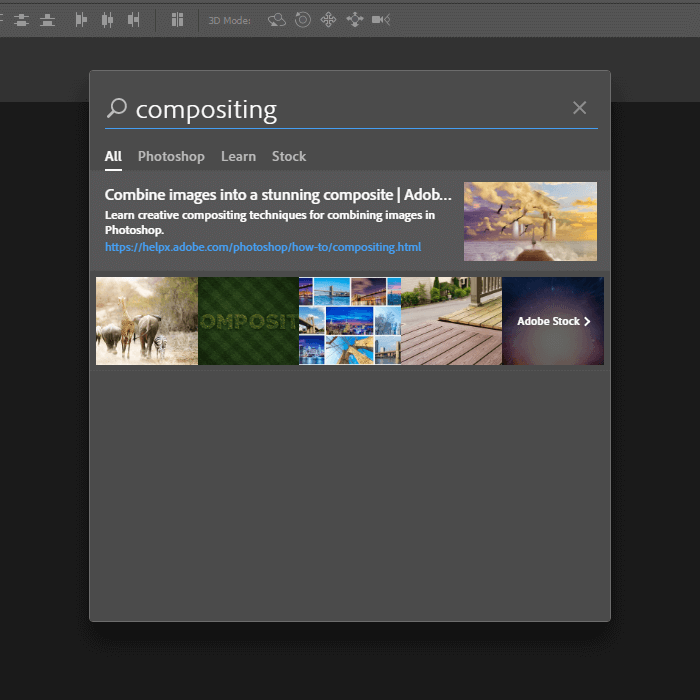 The only thing I find really frustrating about the Photoshop user interface doesn't actually happen while using the program, but rather while you're loading it. Many professional users perform many tasks at once, and since Photoshop takes a few seconds to load even on the most powerful computer, we tend to work in other windows while the loading occurs – or at least, we would if we could.
Photoshop has an incredibly irritating habit of stealing focus while it is launching, meaning that if you switch to another program, Photoshop will force the computer to switch back to its loading screen regardless of what you want it to do. I'm not the only one who finds this frustrating (just do a quick search of "photoshop stealing focus" on Google), but it doesn't seem like this behavior is going to change any time soon.
Editing Images
Having worked with a wide range of image editors from open-source projects like GIMP to up-and-coming competitors like Affinity Photo, I still enjoy editing with Photoshop the most. Partly that's because I've grown accustomed to it, but that's not all there is to it – editing in Photoshop is also the smoothest of all of the experiences I've tried.
There's never any lag when cloning, healing, liquefying, or any other brush-based editing. This makes it far easier to focus on creating complex projects instead of getting frustrated with the limitations of the software you're using.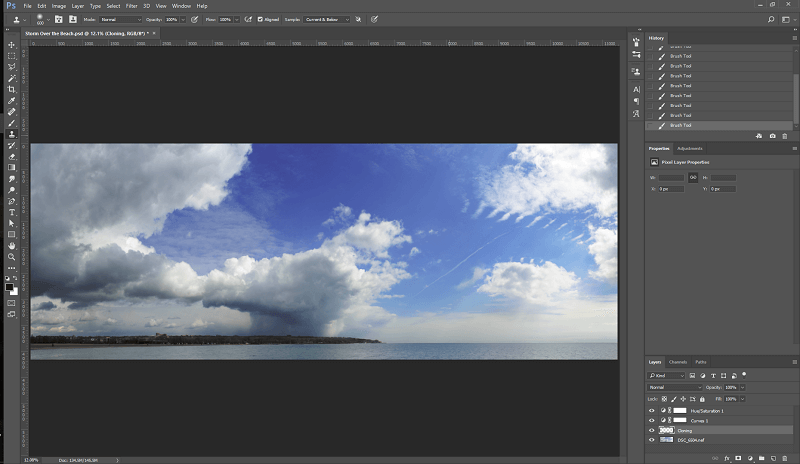 It's possible to work entirely non-destructively using layers for cloning and healing, while using adjustment layers for all your other image adjustments. If you want to go for something a bit more complex, Photoshop offers a wide range of helpful editing tools such as content-aware move and face-aware liquify for more difficult editing projects.
I generally prefer to do all my cloning work by hand, but that's me. That's also one of the great things about Photoshop – there are usually several ways to achieve the same end, and you can find a workflow that works for your particular style.
Image Creation Tools
In addition to being a powerful photo editor, it's also possible to use Photoshop as an image creation tool as well, starting from absolute scratch. You can create images using vectors, although if that's your goal you might be better off working with Illustrator instead of Photoshop, but Photoshop is better at combining vector and raster images together in a single piece.
Working with brushes and a graphics tablet is another great option for working from scratch with Photoshop for digital painting or airbrushing, although when you start working with complex brushes at print-quality resolutions, you may start running into some lag. Photoshop has an impressive array of customization options and presets for brushes, but the more you want it to accomplish with each brush stroke, the slower it will go.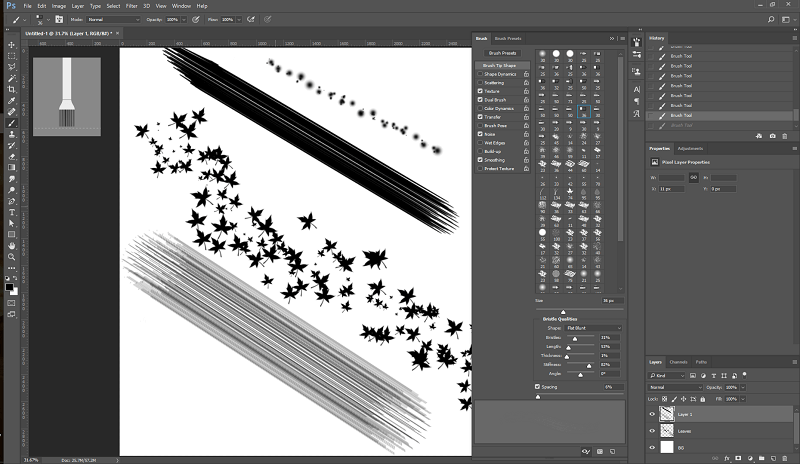 You're really only limited by your imagination when it comes to brush possibilities (or by the time you have available to create screenshots for the review you're writing), although having a graphics tablet is a huge help for this kind of work.
Additional Editing Options
Despite the name, Photoshop is no longer restricted to working exclusively with photos. Over the last few versions, Photoshop has gained the ability to work with video and 3D objects, and even print those objects to supported 3D printers. While a 3D printer would be a fun thing to have, it's not really something I can justify buying, so I haven't had much chance to work with this aspect of it.
That being said, it's quite an interesting experience to be able to paint in 3D directly onto a 3D model, as most 3D programs I have dabbled with in the past were extremely terrible dealing with texturing. I don't really do any kind of 3D work anymore, but this is definitely worth a look for those of you who do.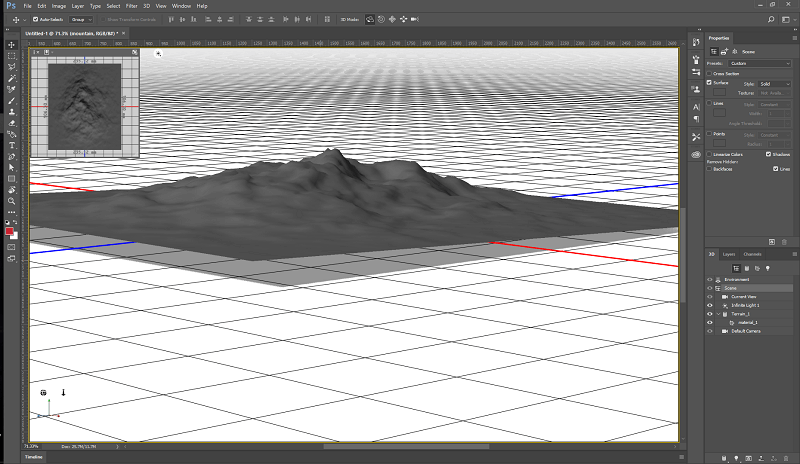 Thanks to Photoshop, there's a saying about never being able to trust any image again – but Photoshop can also work with video, ensuring that we'll never really be able to trust video evidence either.
Warping Juniper in the middle of the video frame by frame would be tedious work, but the simple fact that it can be done in a few clicks is more than a bit surreal.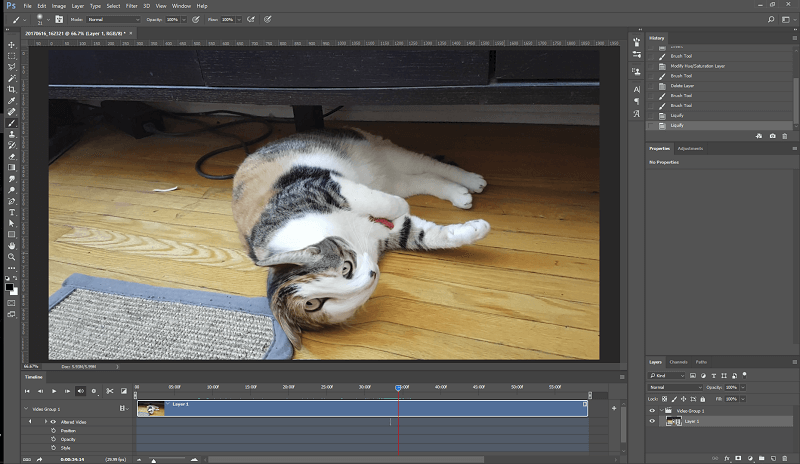 I find it a bit strange from a program design perspective as well, however. If Adobe didn't already have a Hollywood-class video editor with Premiere Pro, I could see why they would include video editing options in Photoshop – but Premiere is perfectly capable, and it seems like it would be a much better idea to keep those things separate.
If each of their programs keeps adopting features and abilities that really belong with other programs, eventually they're going to wind up with just a single, massive, excessively complicated program that manipulates any type of digital content all at once. I sort of hope that isn't their goal, but some part of me wonders.
Creative Cloud Integration
One of the most interesting aspects of Photoshop CC is the way that it interacts with the Adobe Creative Cloud. The naming system is a bit confusing because Creative Cloud is both the name of the version of Photoshop and a file-sharing workflow tool, but it's extremely handy for those who work on multiple devices.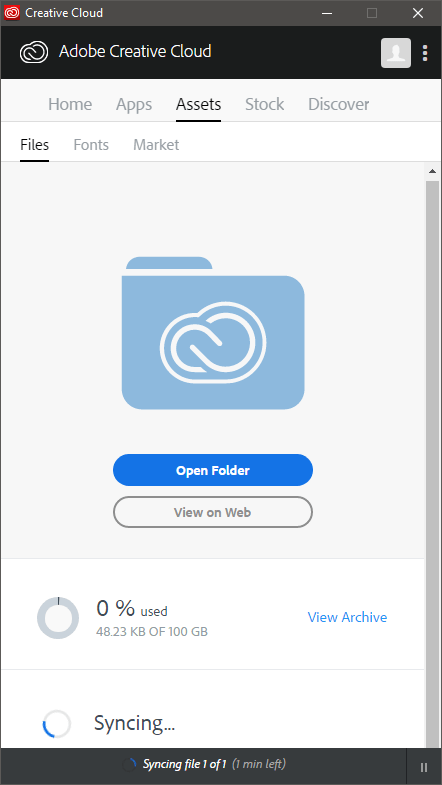 It's possible to take something created on your mobile device in Adobe Draw and open it immediately in Photoshop thanks to the Creative Cloud. You can also sync files to your account directly from your computer by saving them to the Creative Cloud Files folder, and the Creative Cloud app will automatically monitor the folder and upload it directly to your account.
This is far more efficient than copying every file you have to every device you have, especially when it's something you're working on regularly and constantly updating. The downside to it is that it requires a fast internet connection to be effective, and it could quickly become expensive unless you stick to using WiFi for mobile device syncing.
Reasons Behind My Photoshop CC Ratings
Effectiveness: 5/5
Despite the number of competitors who are after it's crown, Photoshop still provides the best editing tools available in an image editor today. It's got a massive feature set thanks to years of constant development, and there's almost nothing that you can't do with it. As you saw earlier, it's possible to use Photoshop daily for professional and private use and still only scratch the surface of what it can do. It may not be the most effective 3D texture or video editor (I'm not qualified to say on that score), but it's still unmatched in terms of image editing capabilities.
Price: 4/5
Available for just $9.99 USD per month as part of a Creative Cloud subscription, it's hard to beat in terms of value. Some users prefer to make a one-time purchase of their software, but Photoshop's last one-time purchase price was $699 USD – so $9.99 for a constantly updated program seems far more reasonable. Of course, if you're happy with the features available today, it may seem unfair to you to keep paying for updates that you don't need.
Ease of Use: 4/5
Because of the sheer scale of Photoshop's capabilities, it's not the easiest program in the world to use at first. It can take quite a bit of time to get comfortable with how it works, but once you get the hang of it, it quickly becomes second nature. The fact that everything can be customized to match the task at hand makes it much easier to use than a program with a more static interface.
Support: 5/5
Photoshop is the gold standard for image editing on the market today, and as a result, there are more tutorials and support available than you could ever possibly use in a single lifetime. Adobe's support system isn't the best in the world, but because so many people are using Photoshop, you can almost always find an answer to your question either on the support forums or through a quick Google search.
Conclusion
If you're already a professional or an aspiring one, Photoshop CC is definitely the program for you. It has unparalleled capabilities and support, and once you get over the initial shock of just how much you can accomplish with it, you'll never look back.
Artists and photographers will also probably find themselves happiest working with Photoshop CC, but for those of you who are more into simple and casual editing projects, it might be best to start with Photoshop Elements or a Photoshop alternative that's either free or has less learning curve.
So, do you find this Photoshop CC review helpful? Let us know by dropping a comment below.