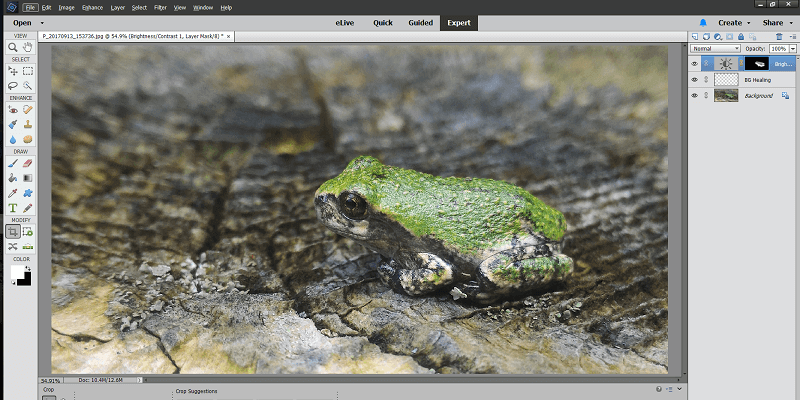 Adobe Photoshop Elements
Effectiveness: Powerful image editing tools in helpful wizards and presets
Price: A bit on the expensive side compared to other photo editors
Ease of Use: Tutorials and guided tools in a simple interface
Support: Adobe community forums are the primary support option
Summary
Adobe Photoshop Elements is a powerful but easy-to-use photo editor intended for the amateur shutterbug who wants to quickly spruce up their photos and share them with the world. It offers plenty of guided editing tasks and helpful wizards to make even complex editing tasks a breeze for new users, and those who are a bit more experienced with photo editing will find all the tools they need for greater control in Expert mode.

Photoshop Elements uses the Elements Organizer to manage your photos, and for the most part it's a good system, but it has some issues when importing from mobile devices. The list of supported devices for direct import is relatively small, but it's possible to simply copy your files to your computer first in order to get around this problem with the Adobe Photo Downloader. This is the only issue with an otherwise excellent program!

What I Like: Very User-friendly. Powerful Yet Simple Editing Options. RAW File Editing Integrated. Social Media Sharing.

What I Don't Like: Preset Graphics Library Needs Modernizing. Social Sharing Options Need Updating.
Is Photoshop Elements any good?
Photoshop Elements brings powerful photo and image editing within the reach of casual photographers of all skill levels. It's not quite as feature-packed as its older cousin Photoshop CC, but it's also a lot more user-friendly and filled with plenty of guides, tutorials, and inspiration. It is available for both Windows and macOS.
Is Photoshop Elements free?
No, Photoshop Elements is not free, although there is a 30-day free trial of the software that has no limitations on how you use it. Once the trial period is over, you can purchase the software for $99.99 USD.
Is Photoshop Elements the same as Photoshop CC?
Photoshop CC is the industry-standard program for professional image editing, while Photoshop Elements is intended for casual photographers and home users who want to edit and share their photos with friends and family.
Photoshop Elements contains many of the same tools as Photoshop CC, but they are presented in a more accessible way. Photoshop CC offers more powerful and complex editing options, but it also provides very little guidance when it comes to how they are used.
Is Photoshop Elements part of Creative Cloud?
No, Photoshop Elements is not part of Adobe Creative Cloud. Like all the software in the Elements family, Photoshop Elements is available as a standalone purchase that doesn't require a subscription. At the same time, that means the benefits of the Creative Cloud (such as mobile device integration and Typekit access) are restricted to those who purchase a recurring monthly subscription to one of the apps in the Creative Cloud family.
Where to find good Photoshop Elements tutorials?
Photoshop Elements uses the same 'eLive' tutorial system (Elements Live) found in Premiere Elements, giving users links to regularly-updated tutorials right within the program. It does require internet access to use, but most tutorials do!
There are also some more complete tutorials available online for those of you who are new to the program and want a thorough grounding in how it works. If you'd prefer an offline option, there are also a few great books available on Amazon.com.
Why Trust Me for This Review
Hi, my name is Thomas Boldt, and I've been working with various versions of Photoshop for the last 15 years or so, ever since I got my hands on a copy of Photoshop 5.5 in a school computer lab. That helped kickstart my love of the graphic arts, and since then I've become a graphic designer and professional photographer.
I've seen how Photoshop has evolved over the years, but I've also worked and experimented with a huge number of other image editing and graphics programs from small open-source projects to industry-standard software suites.
Note: Adobe provided me with no compensation or consideration for writing this review, and they have had no editorial input or control over the final outcome.
Detailed Review of Adobe Photoshop Elements
Note: Photoshop Elements doesn't have quite as many features as the full version of Photoshop, but there are still too many for us to cover each one in detail. Instead, we'll take a look at how the program looks and functions, as well as some of the more common uses. Please also note that the screenshots below are taken from the Windows version of Photoshop Elements, but the Mac version should look almost exactly identical.
User Interface
The user interface for Photoshop Elements isn't nearly as intimidating as the full version of Photoshop, but it also skips the modern dark gray style used in Adobe's professional software in favor of something a bit more boring.
Aside from that, the interface is broken down into four main sections surrounding the primary workspace: main tools on the left, mode navigation at the top, settings on the right, and additional commands and options along the bottom. It's a simple and effective layout, and all the buttons are nice and large for easy use.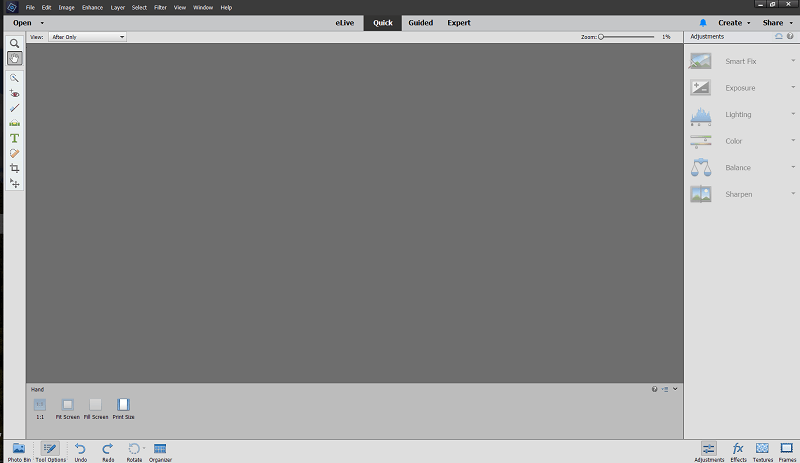 If you're using the Expert mode, the interface is more or less the same but with some extra tools along the left and different options along the bottom, allowing you to work with layers, adjustments, and filters.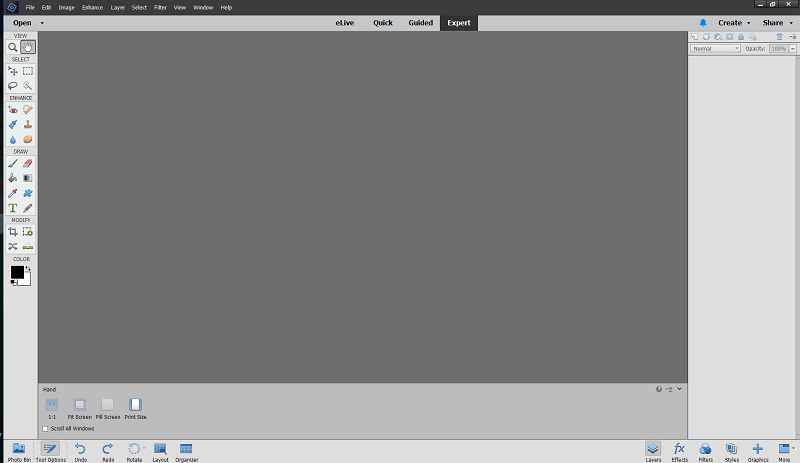 You can even customize the interface in Expert mode, which is a nice touch that allows users who are more comfortable with Photoshop Elements to tweak the layout to their own personal tastes. The customization options are limited to which palettes you have open, but if you'd prefer to see your edit history or hide the filters panel, it's easy to do. If you're like me, you'd probably much rather see your file info than options for adding cheap filters, but to each their own!
Working With Images
There are four ways to work with your images in Photoshop Elements: Quick mode, Guided mode and Expert mode, as well as the 'Create' menu which walks you through the process of creating various template-based projects such as greeting cards, photo collages or Facebook cover images.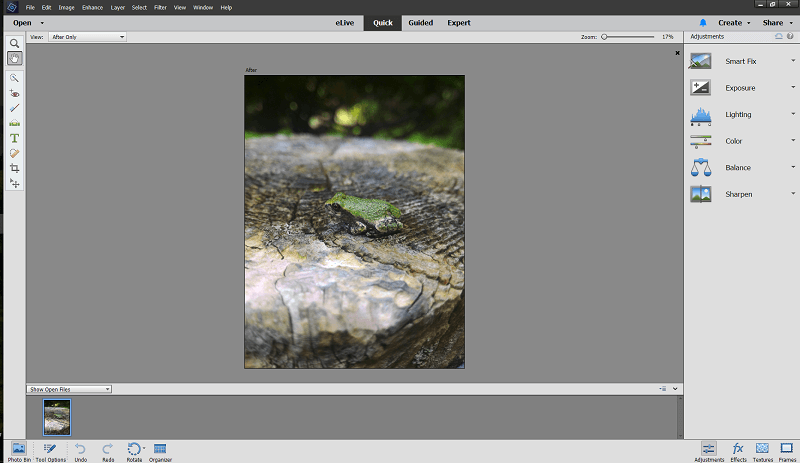 Quick mode, shown above, prioritizes fast fixes that can be managed with just a few clicks, allowing Photoshop Elements to make suggestions about possible adjustment settings.
This mode only lets you make basic exposure adjustments and a bit of spot removal, although the preset adjustments are bit extreme and could do with a lighter touch. The results appear live on the image as you move the cursor over each suggestion, which is nice, but they will almost always require some tweaking before they're usable.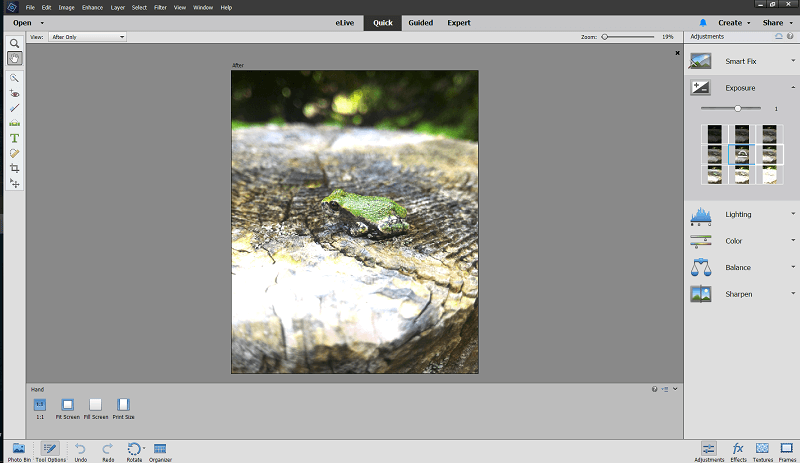 Working in Expert mode gives you a lot more flexibility and control when it comes to making edits. Instead of preset edits, the right panel now offers you the ability to work with layers, apply effects and (to the groans of designers everywhere) use the gimmicky Photoshop filters that everyone loves and loves to hate.
I find working with the tools here to be much more effective than those in Quick mode, but that's because it's much closer to the experience I'm used to with Photoshop CC. A new layer and a single quick pass of the healing brush is enough to remove that distracting green blur near the top of the photo, and a Brightness/Contrast adjustment layer with a mask around the treefrog makes him stand out a bit more from the background.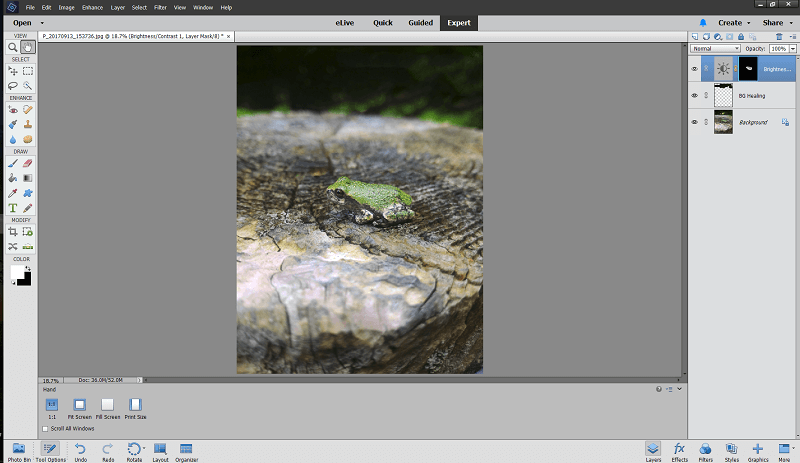 Even in Expert mode there's help to be had, as you can see with the Crop tool. It takes a look at your photo and guesses what crops would work best, although of course you can choose your own. Guess I didn't need to use the healing brush after all!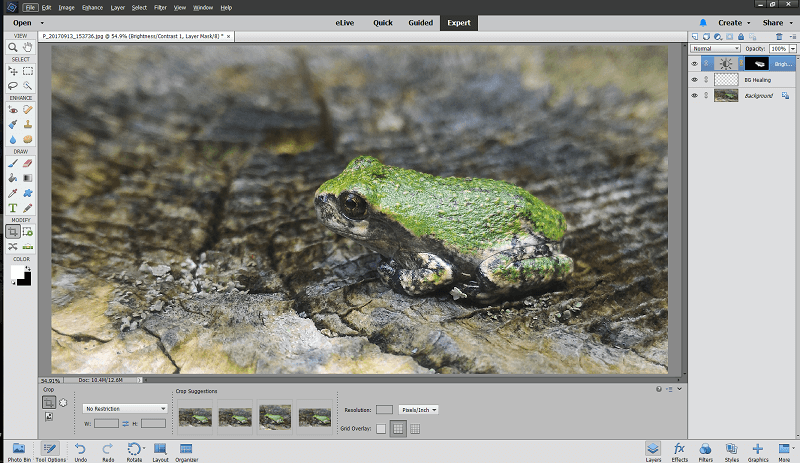 When you open a RAW file with Photoshop Elements it suggests that you use Lightroom to take advantage of its non-destructive editing, but you can continue without changing programs if you don't already have Lightroom.
It's not a bad idea, actually, since the RAW import options in Photoshop Elements are definitely more limited than you'd find in Lightroom or any other program dedicated to RAW editing. If you're planning on photographing primarily in RAW, you would be better off taking the time to learn a more advanced program, but for JPEG snapshots and smartphone photos, Photoshop Elements is definitely up to the task.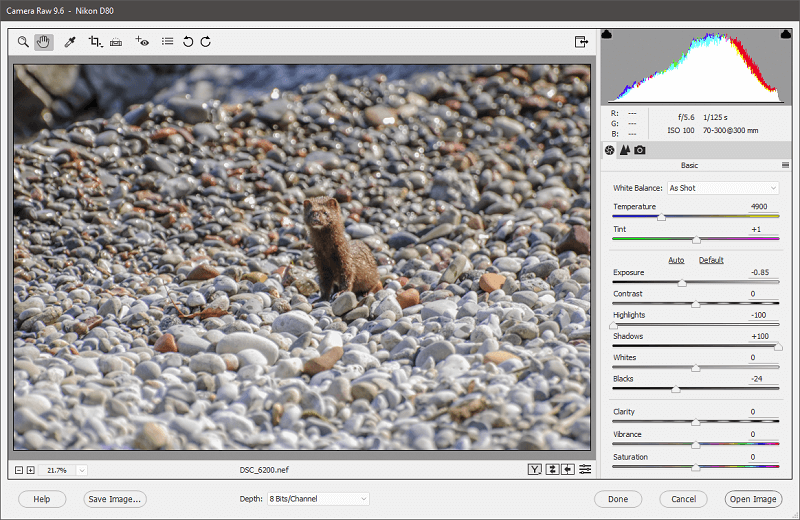 Guided Mode
If you're completely new to the world of photo editing, Photoshop Elements has you covered with its Guided mode. The Guided panel lets you select from a series of edits that you want to apply, whether it's a simple image crop, a black-and-white conversion or creating a Warhol-style Pop Art portrait in just a few clicks.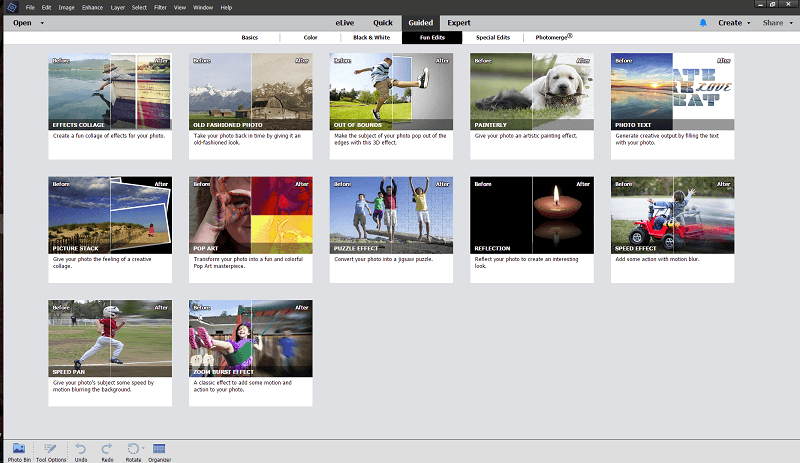 You can also create panoramas, group shots from multiple images, or add decorative frames. There are 45 different options to choose from, and Photoshop Elements walks you through all the steps needed to pull off some complex editing magic.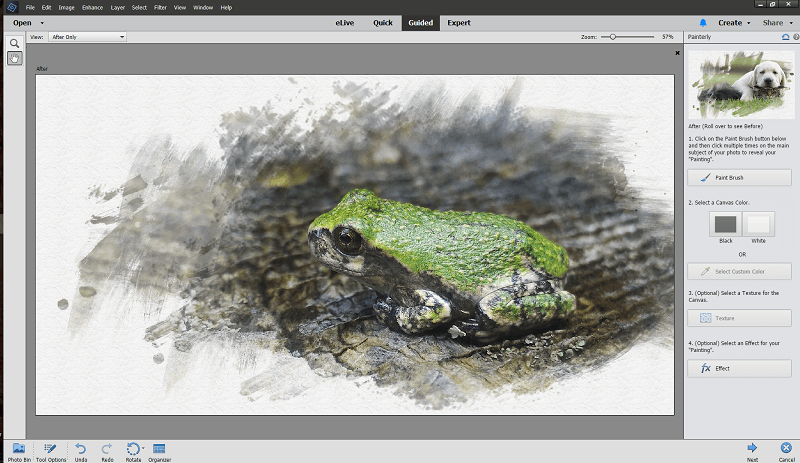 Once you're done, the Guided mode wizard will either let you continue editing in Quick or Expert mode, or walk you through the process of saving and sharing your latest creation on social media, Flickr or SmugMug, two popular photo sharing sites.
Creating With Photoshop Elements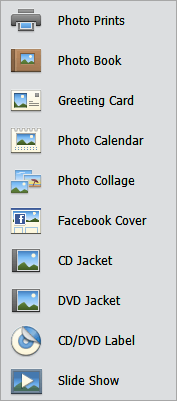 Photoshop Elements also comes with a series of wizards designed to help you create different products, without any specialized layout knowledge or software. They are accessed using the 'Create' menu in the top right, although I think it would make a bit more sense to put them in the 'Guided' mode section.
The wizards don't offer quite as much instruction as the edits found in Guided mode, which is a bit surprising considering that these tasks are more complicated than your average photo edit.
That being said, it's nice to have the option to take your newly edited photos and create a calendar or a photo collage you can print at home in just a few clicks, even if it takes a bit of time to learn how the wizards work and get the settings exactly the way you want them.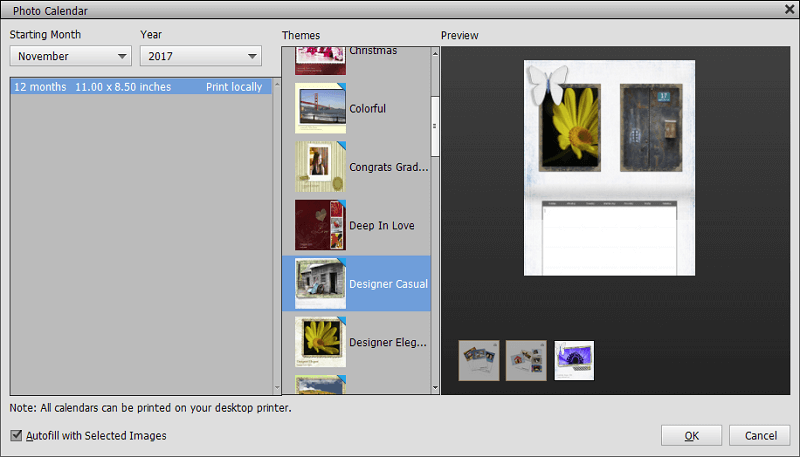 Exporting Your Work
If you've finished a project using the Create menu, you'll be guided through the entire process of designing and printing. But if you're keeping your work in the digital world, Photoshop Elements has the ability to share your files on social media or photo sharing sites built right into the program.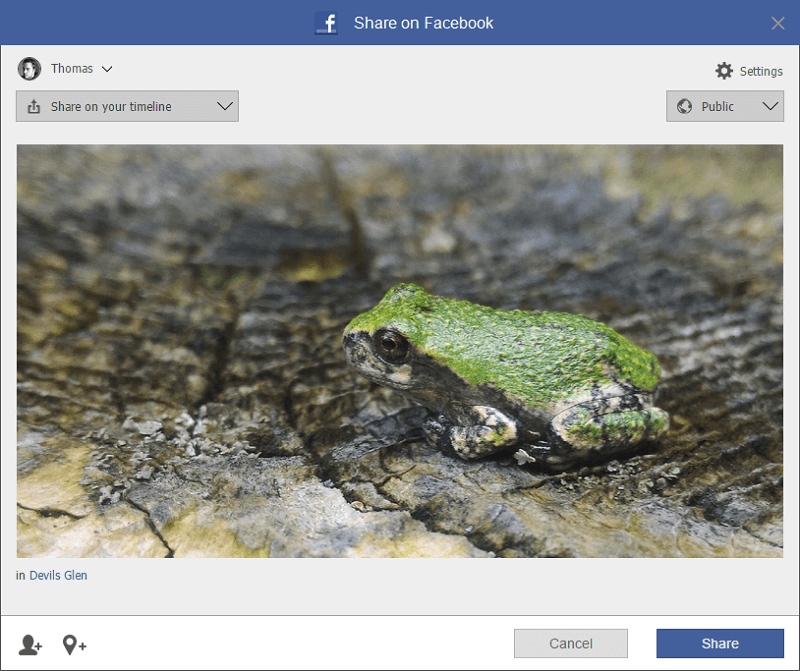 Just click the 'Share' menu in the top right and choose your destination service, and you'll be able to get your newly edited photo out into the world. In my tests the export options worked smoothly, although I don't have a SmugMug account so I couldn't test that one.
They weren't completely perfect, however. While this is a helpful feature, especially if you share all of your images online, it seems like it could use more options when it comes to the upload process. I couldn't name my photo, make a post or add a description, although there is the option to tag people and places. The Flickr uploader is a little bit better, but it still doesn't let you title your photos.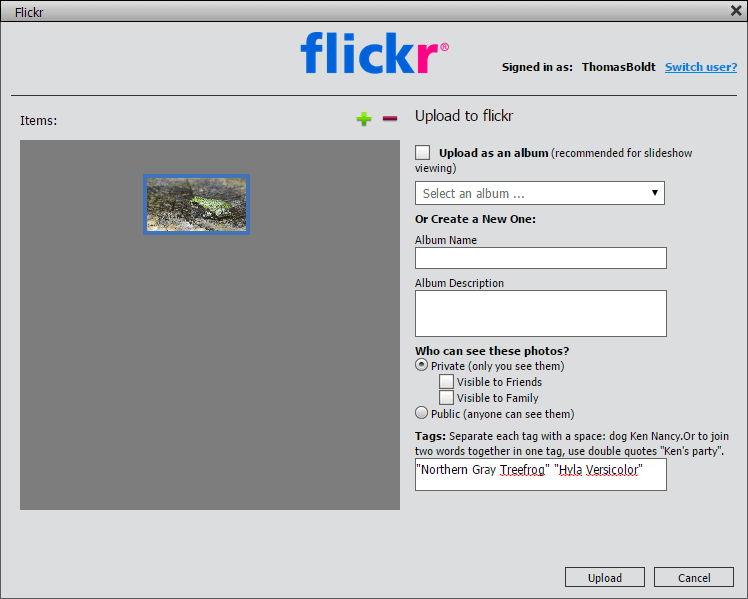 The selection of output locations is also a bit limited – Facebook, Twitter, Flickr and SmugMug – but hopefully will be updated to include some additional options in a future release. Of course, you can just save your file to your computer and upload it to any service you like, but with a bit of tweaking this social sharing option would be a real timesaver for anyone who shares a lot of photos regularly.
Reasons Behind My Ratings
Effectiveness: 4.5/5
Photoshop Elements has all the tools that you'd need to turn your snapshots into photographic masterpieces. If you're not comfortable editing by hand, the Guided editing features ensure that you'll always get an impressive result no matter what your skill level. It would receive 5 out of 5, except that it shares an issue with Premiere Elements when it comes to importing media from mobile devices using the Elements Organizer.
Price: 4/5
Photoshop Elements is reasonably priced at $99.99 USD, but it's best for users who will be taking advantage of how user-friendly it is. Users who are more comfortable working with image editors may be able to get a more powerful program at a lower price, although no program I have reviewed offers the same degree of help found in Photoshop Elements.
Ease of Use: 5/5
From the eLive tutorials section to the Guided editing mode, Photoshop Elements is extremely easy to use no matter how comfortable you are working with computers. Even the Expert mode is still relatively easy to use, keeping features streamlined for the most common editing tasks. Once you're finished working, saving and sharing your finished image is just as easy.
Support: 4/5
There is a fairly extensive user guide available on the Adobe website which should be able to answer most of your questions about the software. There's also an active forum community of other users who are often quite eager to help others, but if you can't find answers to your problems there it can be difficult to get more direct help. Adobe relies on the forums as their primary support provider, although it is apparently possible to get in touch with someone via phone or live chat by asking a more general account support question first.
Photoshop Elements Alternatives
Adobe Photoshop CC (Windows / MacOS)
If you want more editing options than Photoshop Elements provides, you can't do better than the industry standard, Photoshop CC (Creative Cloud). It's definitely intended for the professional market, and it doesn't offer any of the same convenient wizards and guided editing processes found in the Elements version, but you can't beat it for the sheer number of features it has. Photoshop CC is only available as part of a Creative Cloud subscription, either bundled with Lightroom in the Photography plan for $9.99 USD per month, or as part of the full suite of Creative Cloud apps for $49.99 per month. You can read our full Photoshop CC review here.
Corel PaintShop Pro (Windows only)
PaintShop Pro has been around almost as long as Photoshop has, but it doesn't have quite the same following. It has solid editing tools and some excellent drawing and painting tools, though it's not as user-friendly as Photoshop Elements. It does have some solid built-in tutorials, but no guided options. Read our full review of PaintShop Pro here.
Affinity Photo (Windows / MacOS)
Affinity Photo is a relatively new photo and image editor that only recently released a Windows version. The whole program is still only at version 1.5, but the team behind it is committed to creating a solid alternative to Photoshop at an extremely affordable price. It has many of the same powerful editing features, but it only costs $49.99 USD for a one-time purchase that includes free updates. Read our Affinity Photo review here.
Conclusion
For most day-to-day photo editing, Photoshop Elements offers everything you might need, no matter what skill level you are. If you want to add a bit of flair to your images, there's a whole range of adjustments, filters, graphics and other options for making your photos unique. The entire process from editing to sharing is extremely easy, and the Adobe program walks you through step-by-step if you want it to.
Professional editors will feel limited by the lack of more technical editing options, but for most users, Photoshop Elements will provide everything they need to turn their photos into masterpieces.
So, what do you think about this Photoshop Elements review? Leave a comment below.