Why Trust Me?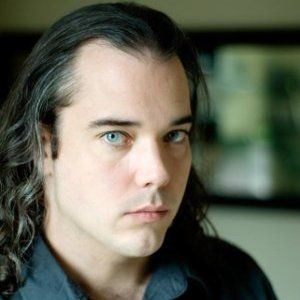 Hi, my name is Thomas Boldt, and I'm a graphic designer, photographer and writer all rolled into one. You may have seen my posts here on SoftwareHow reviewing lots of different types of software, but many of my articles are about photo editing software. I test out new photo editors all the time for my own personal photography workflow to see if they are better than what I'm currently using, so it's a natural fit for me to write about them. Knowledge should be shared, and I'm happy to do it!
I've been working in the graphic arts for over a decade, but my interest in both photography and photo editing software started even further back when I first got my hands on a copy of Adobe Photoshop 5 in a high school computer lab. Ever since then, I've been testing, experimenting and working professionally with a wide range of photo editing software, and I'm here to bring all that experience to you. Whether you're looking for the best of the best or a free alternative, I've probably used it before and can save you the trouble of testing them all yourself.

The World of Photo Editing Software
As the range of available photo editors grows more and more capable, it seems like they have all begun to recreate each others core feature sets. This is especially noticeable when working with RAW photos, as almost every RAW photo editor has a similar set of development options for adjusting and converting your images. It might even start to seem that there isn't really any functional difference between the various options, but there's more to the world of editors than that.
This growing similarity isn't because the software developers are uninspired, but more because there are a limited number of things that you might need to edit about a photograph. It's no surprise that all cameras have similar basic functions, and so it shouldn't be too surprising that most photo editors have the same basic functions as well.
So, you ask, if they're all fairly similar, what can really make one photo editor better than another? It turns out quite a lot. Much of it depends on how precise you need to be in your editing, but even more of it depends on how well the program functions and how well-designed it is. If a program has the best tools in the world but nobody can figure out how to use them, it probably won't be much of a success.
When it comes to RAW photo editing, there's another piece of the puzzle that even many experienced photographers are unaware of: the RAW conversion engine. When you shoot a RAW image, your camera creates a file that is a raw dump of the information from the digital sensor. This gives you more flexibility when you're editing it later, but it also means that each piece of software has a slightly different way of interpreting the RAW file. You can usually edit them to match, but why would you want to waste your time making simple adjustments that a different program would handle perfectly without your help?

Do I Really Need a Photo Editor?
Photo editors aren't a necessary part of photography, but they can certainly help in the right situation. No matter their skill level, every photographer has felt the frustration of a ruined shot, but with a bit of skill and the right editor you can turn a missed opportunity into a masterpiece. Removing a distracting background or a slight adjustment to the location of a subject can save a shot from being wasted. Even photos that are already great can benefit from a bit of extra TLC from a good photo editor.
Most of the photos you see in galleries, magazines or around the web have benefited from some retouching, and basic adjustments like exposure, contrast, white balance and sharpening can improve almost any photo. Some editors are so capable that they completely blur the line between photography and photorealistic painting. There are still a few photography purists out there – usually in the art world – who insist on using untouched images, but they're making an intentional choice to do so.
If you're working professionally with photos, having a solid photo editor is a must-have basic requirement. Since imagery is such a powerful tool for sales and storytelling, you'll want to make sure that every image is polished to perfection. Not only that, you'll also want to make sure it's easy to use and responsive, so that photo editing doesn't slow down the rest of the production workflow.
Of course, not every photographer needs to be that heavily edited, and many don't need any editing at all. If you're just taking vacation photos to share on social media, you probably don't need to process every single one through a high-end editor before showing your friends and family. Most social media and photo sharing sites are happy to resize your images for you, and some even allow you quick cropping options.
No matter how delicious they look, Instagram photos of your lunch will probably still look great without being retouched (although the Instagram app does have some nice basic editing options beyond the standard filters). I've also run across people who use Photoshop to edit their screen captures or to create internet memes, which is sort of like using a robotic neurosurgeon to apply a band-aid – it'll do a great job, but it's definitely more power than you need, and there's probably a better way to get the same result.

How I Tested and Picked
Most photo editors have the same general goal: polishing your images to look their best and getting them out into the world. They're not all intended for the same market, as some offer extremely precise professional features while others are focused on quick edits and sharing, but that main principle applies to all editors.
A typical RAW photo edit involves opening your image, adjusting elements such as highlight/shadow balance, color tone and correcting lens distortion, then working through more local edits before finalizing your image into a usable format. While I was sorting through all the photo editors I've reviewed for SoftwareHow and choosing the best, I stuck to the same set of criteria based around that workflow:
How does it handle RAW photos?
Almost all photographers are shooting in RAW format these days, and if you're not, you definitely should be. A good RAW editor should offer non-destructive editing tools, accurate highlight/color/shadow conversion, and be well-optimized to handle high-resolution photos in a fast, responsive manner.
How good are its local editing features?
Once you've established the general adjustments you want to make to your image, you'll probably find there are some specific areas that need more attention than others. Some photo editors allow you to make local edits using a layer-based system, while others use pins and masks to highlight areas that need extra work. Both have their advantages, but the most important thing to look for here is just how specific and controlled your local edits can be.
Is the user interface well-designed and easy to use?
As with all software, the user interface of your photo editor is going to be one of the most important considerations. The most powerful editor in the world is no help to anyone if it's frustrating or impossible to use. Every professional user tends to develop their own unique way of working with a program, so a customizable interface is a real benefit, but a good default configuration will also allow new users to adapt and learn quickly. A good user interface will help you and work with you instead of getting in the way.
How well optimized is the program for responsiveness?
Just as a bad interface can negatively impact a program, slow image processing speed can cause major problems in a workflow. This is more of a concern for professional users who need to edit a large number of high-resolution photos as quickly as possible, but it can still be frustrating for more casual photographers. A responsive program will open your photos quickly and display the results of your edits without too much time delay for processing. Some of this will depend on the speed of your computer, but some programs handle speed better than others.
Is there any way to manage your photo library?
Not all photo editors come with a way to manage your photos. If you shoot lots and lots of photographs this will be an important concern for you, as a good system of flags, color-coding and metadata tags can make it much easier to sort the good images from the bad. If you're a more casual photographer (or a bit lazy about record-keeping, like yours truly), you may not need to prioritize this as much.
Is the software affordable?
There is a great range of prices in the world of photo editors, and they don't all provide the same value for your dollar. Some are available for a one-time purchase price, while others are available through a recurring monthly subscription. If you're a business user, cost may be less important as it's all a deductible expense, but it's still a good idea to keep price in mind.
Are there good tutorials and community support available?
Learning a new piece of software can take time. Casual photographers have the luxury of learning by doing, but professionals need to get up to speed as quickly as possible so they can stay efficient. But no matter how you're using your new editor, a good set of tutorials and a thriving community of other users can really speed up and simplify the learning process.
Is it compatible with all versions of Windows?
Some programs are not compatible with every version of Windows. Some are compatible all the way back to Windows XP, but some require Windows 10. Things start to get really problematic when a piece of software isn't compatible with the latest version of Windows, as being forced to run your program in a compatibility mode might limit its functionality and stability even more.

Best Photo Editing Software for PC: The Winners
The Best Photo Editor for Beginners: Adobe Photoshop Elements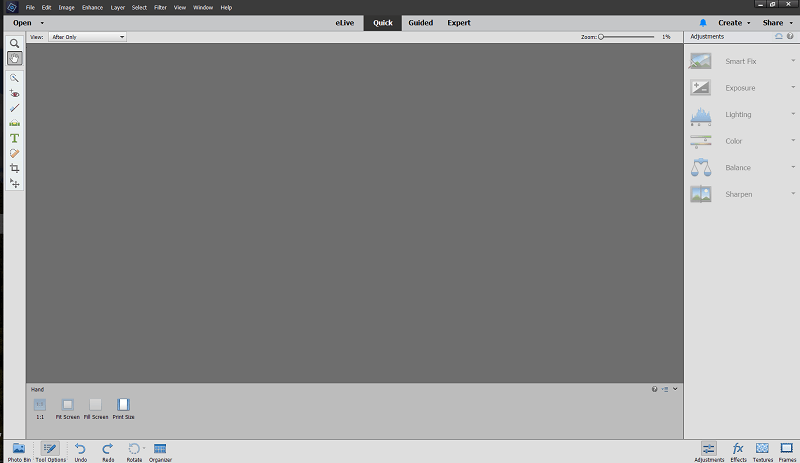 As you might have guessed from the name, Photoshop Elements takes the power of the full version of Photoshop and condenses it down to the most commonly used editing tools. It's intended for casual home users, but it's powerful enough to handle all the most common photo editing tasks. It's not designed around a RAW photo editing workflow, but it can handle RAW photos using the Adobe Camera Raw (ACR) engine shared by all Adobe apps.
For complete beginners to the world of photo editing, Guided mode offers step-by-step wizards for performing a wide range of editing tasks, from cropping a photo to black-and-white conversion to creating photo collages.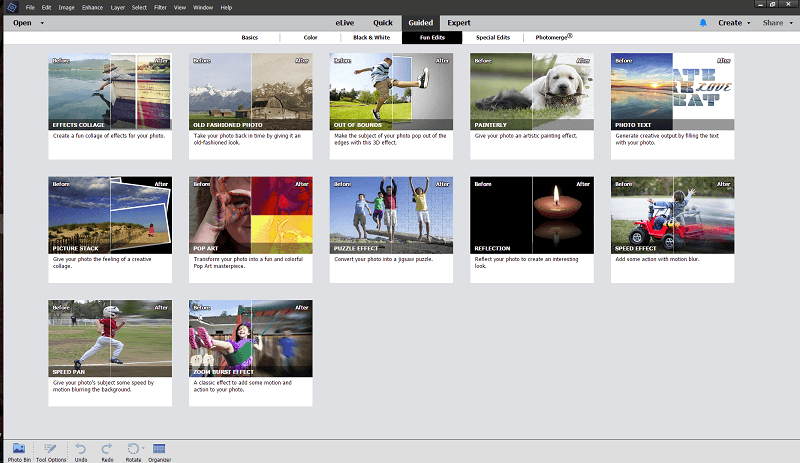 Once you've grown accustomed to working with your photos you can switch to Quick mode, which skips the guided steps in favor of a direct toolkit, although you can always switch back and forth between modes at any time. If you want even more control you can switch to Expert mode, which expands the toolkit found in Quick mode and gives you access to layer-based editing for easy localized adjustments.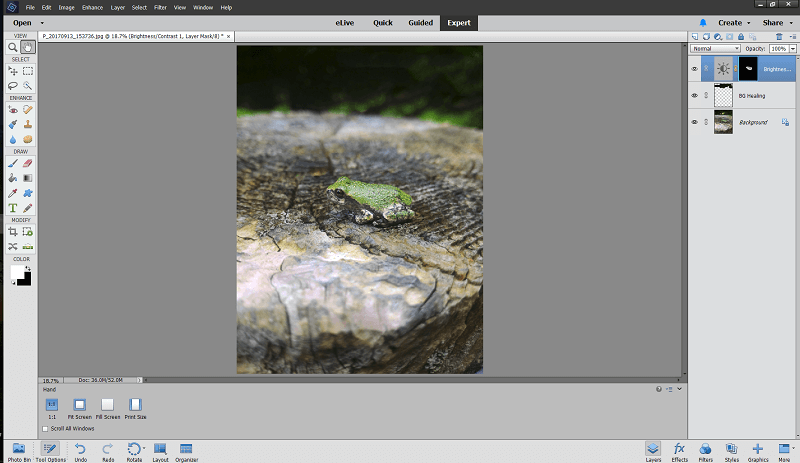 The Photoshop Elements user interface is extremely simple and easy to use, with large design elements and helpful hints available. It still uses the vaguely unappealing light grey tone of the early 2000s instead of the more modern dark grey found in other Adobe apps, but this doesn't make it less effective. In Expert mode you can customize some of the layout elements if you're not happy with the defaults, but the options are limited.
There is also an entirely separate section known as eLive, which is dedicated to new tutorials, ideas and inspiration. It's updated with new content from Adobe fairly regularly, and provides an excellent way to sharpen your editing skills on new projects without having to leave the program.
Because it shares some of the same programming base as the full version of Photoshop, Elements is quite well-optimized and handles editing tasks quickly. You may notice some delay when using step-by-step wizards, but this is usually because Elements is making multiple edits in the background automatically to complete your project.
Adobe Photoshop Elements costs $99.99 USD for a perpetual license, no subscription required. If it sounds like the right program for you, be sure to read my full Photoshop Elements review.
The Best Intermediate Photo Editor: Serif Affinity Photo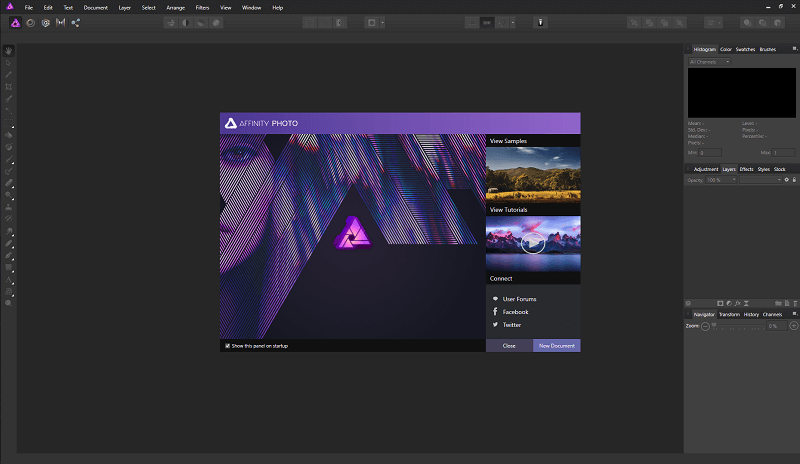 Serif has only recently released Affinity Photo for Windows, but it has rapidly become an excellent option in the crowded world of photo editors. It's only in version 1.6 at the time of this writing, but it already provides almost all the same editing functions as software that has been around for a decade longer. It's intended for photographers at the hobbyist level and above, although it may not be quite developed enough for the most demanding professionals – at least, not yet.
Affinity Photo handles RAW images well, offering all the non-destructive editing options that you might need, but it's even better at layer-based editing for more localized adjustments. Despite Serif's claims about high-speed high-resolution RAW editing, in my experience the process could do with a bit more optimization. To be fair, though, I wasn't testing on a 30+ megapixel photo so your mileage may vary, and Serif is regularly updating the program with new features and optimizations.
The interface for Affinity Photo is a mix of excellent choices and couple of odd touches, but overall it's quite easy to use and well-designed. The layout is uncluttered, the color scheme is muted, and you can customize it as much as you might need. It puts the focus right where it belongs: on your photo.
My favorite part of the interface experience is a tool that runs constantly in the background known as Assistant. It allows you to customize the way the program responds based on the specific circumstances, although I wouldn't mind seeing a few more options added. I haven't run across anything like this before in an image editor, but other developers could learn a thing or two.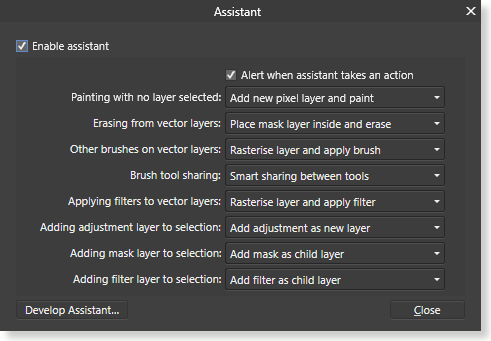 Affinity Photo lacks any built-in options for managing your photo library, but it also offers a lot of additional drawing and painting tools to help create composite images and artwork from your photos. Given a bit of time and continuing dedication from the Serif development team, Affinity Photo could blossom into the full-fledged Photoshop/Lightroom hybrid that many photographers and artists have been searching for.
Perhaps the best part of Affinity Photo comes at the cash register, since it costs just $49.99 USD for a perpetual license. This makes it perfect for photographers who want a powerful editing program but don't have the budget to commit to one of the more expensive options. Serif has even offered to provide free minor updates to all version 1.x releases until version 2.0 arrives.
If you're curious to see whether Affinity Photo can do what you need, read the full Affinity Photo review here.
The Best Professional Photo Editor: Adobe Photoshop CC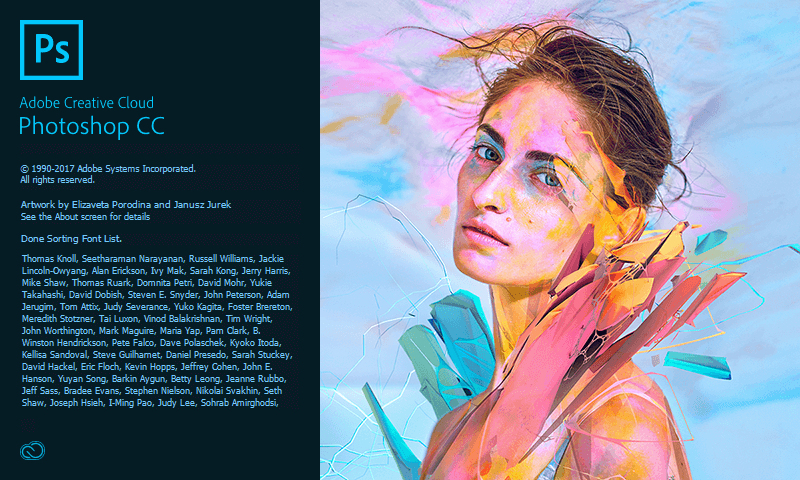 For anyone in the world of professional photo editing, Adobe Photoshop is the best editor available on the market right now. After 27-plus years of development, it's got the most impressive featureset of any image editor, and is treated as the industry-standard editor by almost everyone working in the graphic arts as a result. That also means that it can be very overwhelming for new users, despite the impressive amount of tutorial instruction available from a wide variety of sources – it's just that big. Not every user needs Photoshop as their editor!
When it comes to general image editing, there's almost nothing that Photoshop can't do. It has the best layer-based editing system, the widest range of adjustment options and some truly impressive tools. You can do basic photo editing or create complex photo-realistic artwork with the same tools.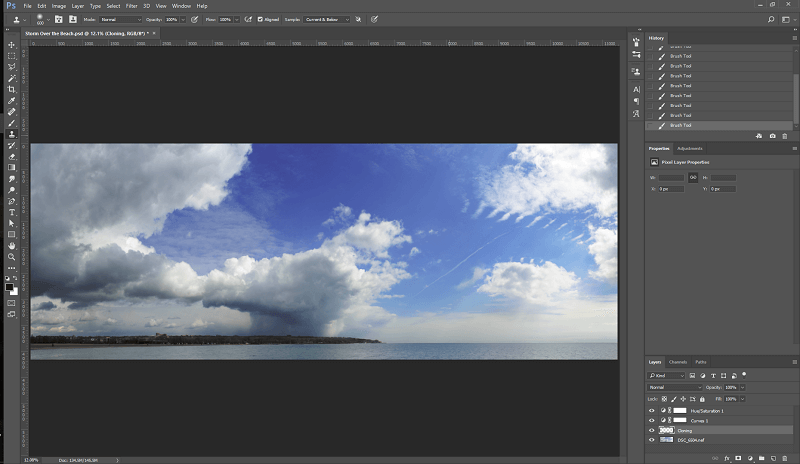 If you're editing RAW photos, they'll open first in the Adobe Camera RAW window, allowing you to apply non-destructive edits to the image as a whole, as well as some limited local adjustments. The edits are then applied to a copy of the image opened as a Photoshop document, where you can work on anything from more localized adjustments to complex edits such as focus stacking, HDR tone mapping and other major changes to the structure of the image.
The user interface is almost completely customizable, down to the color of the background and the size of the interface elements. You can work with one of Adobe's predetermined layouts known as 'workspaces', or create your own workspace suited to your particular needs.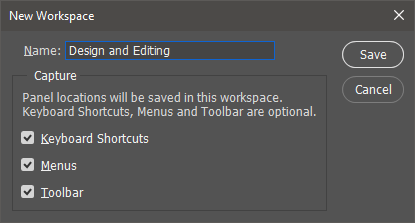 There is no library management system for handling your files, although Photoshop is bundled with Bridge and Lightroom which offer these features if you must have them. This makes for a bit of a more complex workflow, but it's worth it in my opinion.
The biggest issue that most users have now with Photoshop is that it requires a monthly subscription to an Adobe Creative Cloud plan, which costs between $9.99 USD per month for Photoshop CC and Lightroom Classic, or $49.99 USD per month for the full Creative Cloud software suite. This subscription does give users access to the latest version of the program, but some feel that user concerns are being ignored and there aren't enough new feature updates. With Serif's Affinity Photo nipping at its heels, we may soon have a new 'Best Professional Photo Editor' unless Adobe can keep up with the competition!
You can read the full review of Adobe Photoshop CC here on SoftwareHow.

The Runner-up Choices
Luminar
$70 one-time purchase. Support Windows 7, 8, 10, and macOS 10.10. 5 or above.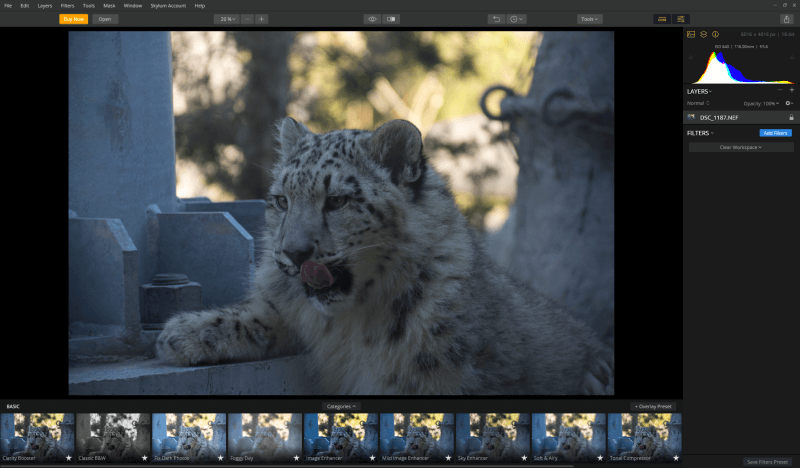 Luminar is the latest photo editor available from Skylum Software, formerly known as Macphun. Since all of their editing programs are now available for Windows as well as macOS, this seems to have inspired their change of name.
If you've ever used their excellent Aurora HDR photo editor, the Luminar interface will be immediately recognizable. Overall, it's clean, clear and user-friendly, although I found it quite odd that the default interface configuration leans heavily on showcasing presets and actually hides the RAW editing controls. Users have to select a workspace on the right panel to display the appropriate editing settings, which seems like a very unwise choice to me.
There are a number of preset workspaces, from 'Professional' to 'Quick and Awesome', which provide an interesting preset range of options. Professional is by far the most comprehensive, and offers an excellent range of editing tools. There are several tools available for automatically reducing color casts which I've never seen in another editor, and work surprisingly well with a bit of tweaking.
If you're a professional photographer who dislikes the Adobe subscription model, Luminar is definitely worth your consideration. There is room for improvement, but it's a strong contender that will only get better with each new version. Available for Windows and macOS, a Luminar perpetual license will only set you back $69. Read our latest Luminar 3 review for more.
Phase One Capture One Pro
$299 one-time purchase or $20 USD per month subscription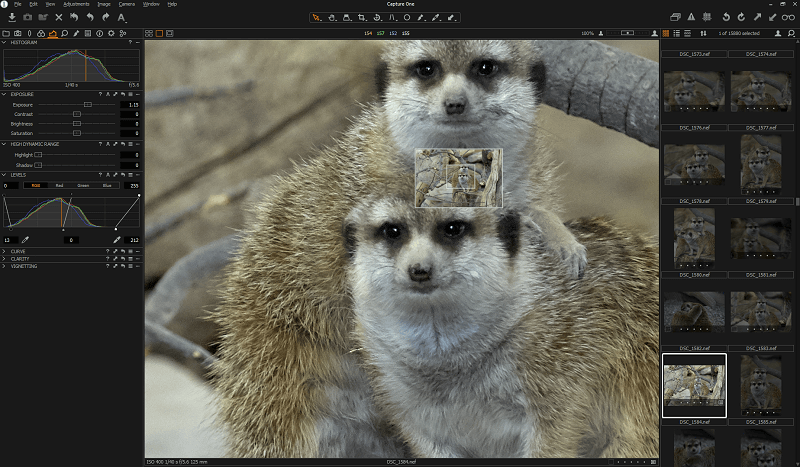 Capture One Pro is a very close second to Adobe Photoshop CC in the world of professional image editing. It was originally developed by Phase One for use with their proprietary (and expensive) medium-format digital camera line, but it has since been opened up to support a full range of cameras from other manufacturers. Of all the RAW conversion engines, it is widely regarded as the best, with excellent depth in shadows and highlights as well as excellent color and detail reproduction.
The user interface designers made the choice to include all the tools in a single layout, which makes things feel a bit claustrophobic and overwhelming when you first open it. The learning process is definitely not as smooth as other editors, but this program isn't designed for casual photographers – even most professional photographers will be fine with something a bit easier to use. Capture One Pro is a very close second-place for the best professional photo editor, only losing out on price and complexity.
Read the full review of Capture One Pro here.
Adobe Lightroom Classic
$9.99 USD per month subscription, bundle w/ Photoshop CC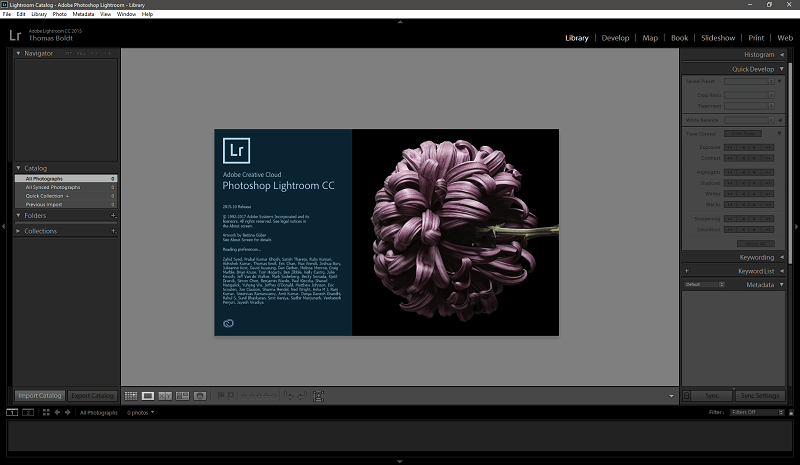 Despite not ranking as one of the best photo editors, Lightroom is a program that I use as part of my personal photo editing workflow because of its excellent library management system. Unfortunately, I tend to take my photos into Photoshop for localized editing and finalization, and not everyone appreciates a slower dual-program workflow.
Speed is definitely one of Lightroom's major failings. Module switching takes longer than it should, and it definitely chugs along when zooming to 100% or creating high-resolution previews of your images. Adobe claims that it made major speed improvements in the latest update, but Lightroom still doesn't feel quite as snappy as some of the other editors.
Many users have also expressed concerns that Lightroom Classic is now in it's 'end of life' phase, meaning that it may soon stop being actively developed by Adobe in favor of the new Lightroom CC.
Read my full review of Adobe Lightroom here. (Note: the full review was written before the recent changes to the Lightroom brand. You can read all about the changes here.)
DxO OpticsPro
$129 Essentials Edition, $199 ELITE Edition, both one-time purchases
DxO OpticsPro has some great features, including powerful automatic optical corrections based on your camera and lens combination. DxO made a name for themselves rigorously testing photographic optics, and they've applied all they learned to their own RAW editor. It also features an impressive set of noise reduction algorithms, although the industry-leading PRIME algorithm is only available in the ELITE edition.

DxO is a promising program that's missing a few key features that kept it from winning the 'Intermediate' category. Despite excellent RAW handling, it has no local editing options at all. It's also lacking any real library management capabilities, as the 'Organize' module is really just a glorified file browser, and it's a bit on the expensive side.
Read the full DxO OpticsPro review here.
Corel Aftershot Pro
$79.99 one-time purchase, on semi-permanent sale 30% off
Aftershot Pro is Corel's challenge to Lightroom, and it's primarily based around how much faster Aftershot Pro is at processing images. You don't need to import your photos into a catalog to use their management system, and the RAW editing tools are good with a solid RAW conversion engine. Aftershot Pro also offers local layer-based editing, but the system is unnecessarily complex and finicky to use: you don't use brushes, you define areas to be edited with lasso-style shape tools.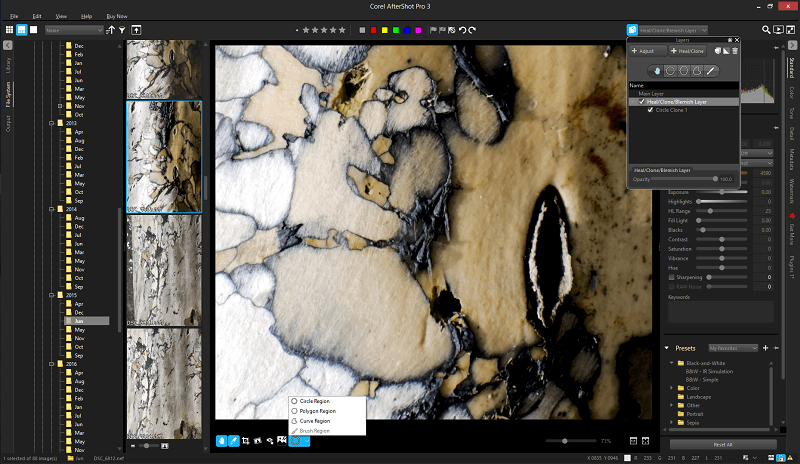 Aftershot seems to balance out its cheap price by expecting that you'll purchase some of their preset adjustment packs, which can be purchased from inside the program. Combine the microtransaction model with limited tutorial support and annoying local adjustments, and Aftershot Pro needs more work before it's ready for the spotlight. Read the full Aftershot Pro review here.
On1 Photo RAW
$99.99 USD one-time purchase, or $149.99 annually for On1 Plus Pro subscription
On1 Photo RAW is the perfect example of a decent editor that is ruined by a terrible user interface. It has a good library management system, the now-familiar complete set of RAW editing tools, and layer-based editing. The place where it all falls apart is the interface, which is poorly-designed and scaled. Many UI elements are too small to read even on a large 1080p monitor, and the typography seems to be going out of its way to be illegible.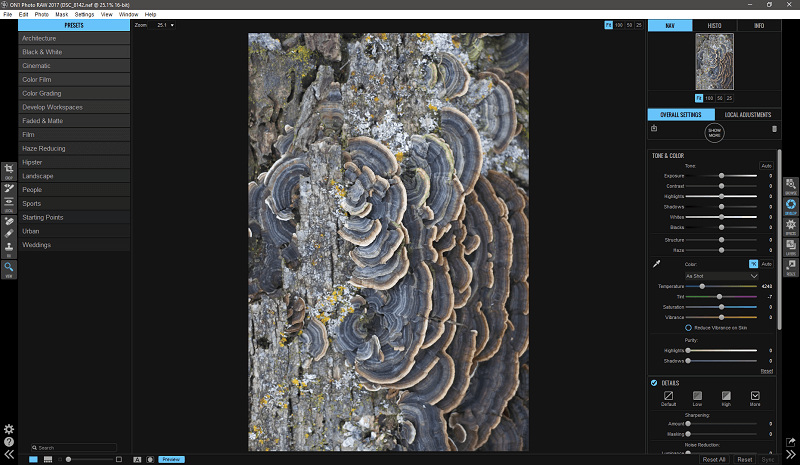 All this comes at a monthly subscription price that is a few dollars more expensive than Adobe's Lightroom/Photoshop bundle, which makes it a terrible value proposition. I have hopes that future versions of Photo RAW will improve on the user interface and suddenly On1 will have a great program, but until then I can't recommend it to anyone.
Read the full review of On1 Photo RAW here.
Corel PaintShop Pro
$79.99 USD, one-time purchase
Corel has positioned PaintShop Pro as an alternative to Photoshop, and it's the only image editor that has an even longer development history – it turned 30 in 2017. Unfortunately, it hasn't benefited from that long development cycle quite as much as Photoshop has. Its RAW file handling is far more basic, as though they want to force users into working with Aftershot Pro – they even go so far as to advertise for Aftershot in the RAW editing window.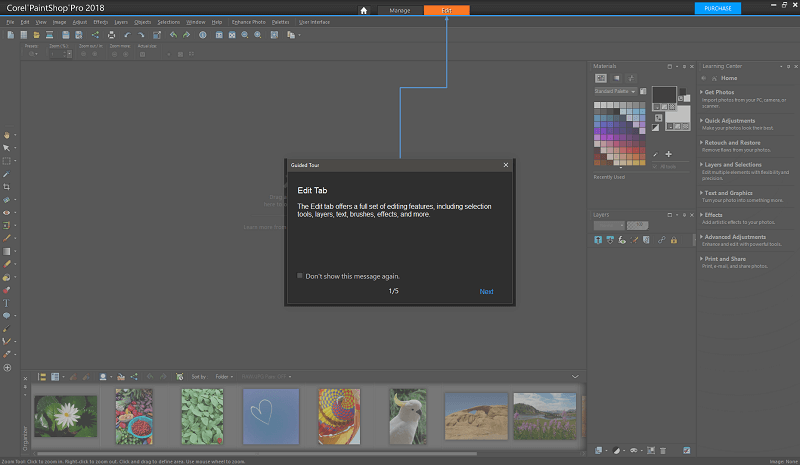 The local editing tools are fairly good, although they can be a bit slow to respond when making larger brush strokes. Working with adjustment layers requires viewing your changes in a tiny window that feels like a relic from 15+ years ago, which is odd considering the rest of the layout is fairly flexible.
Read the full Corel PaintShop Pro review here.
ACDSee Photo Studio Ultimate
$149.99 USD one-time purchase, subscriptions available
ACDSee is a decent introductory-level photo editor that is hampered by some frustrating user interface design decisions. It has good library management and RAW editing tools, but the localized editing systems using layers is clunky and needs some more polish. The strangest part is that ACDSee has added some very interesting ways of interacting with the various tools, but then messed up some more standard methods like keyboard shortcuts.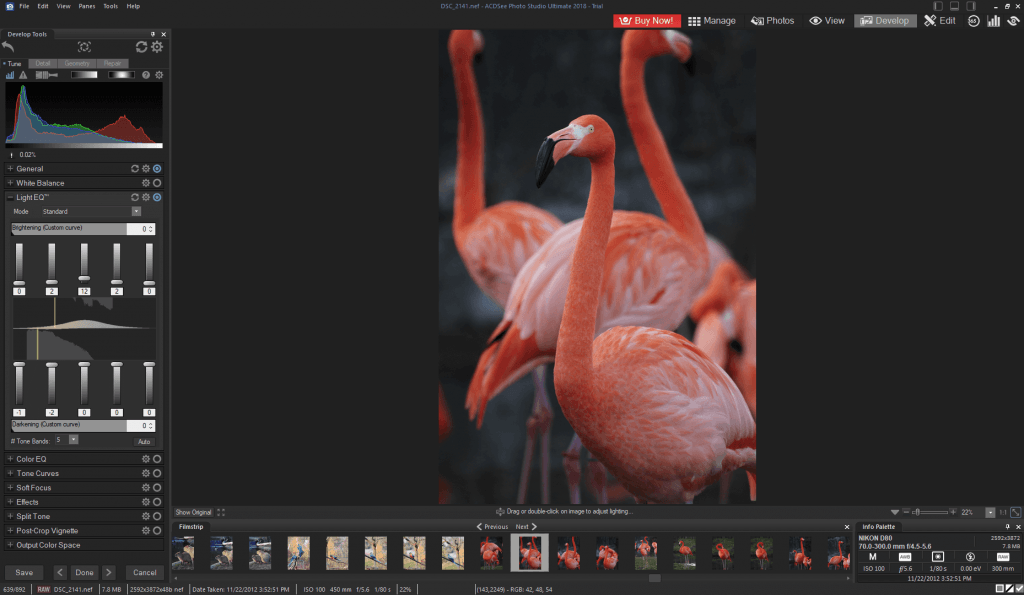 ACDSee has the makings of a strong contender with Photo Studio Ultimate, and with a bit more development and refinement it may find itself in a top spot in either the beginner or the intermediate category. But until that day comes, you're better off with one of our winners.
Read the full review of ACDSee Photo Studio Ultimate here.
Photolemur
$35 for a single computer, or $55 for a family license.
Photolemur is a new automatic photo editor based around an interesting premise: using artificial intelligence to correct for a number of different photographic issues at once. Dehazing, contrast adjustments, color recovery and tint adjustments are taken care of with absolutely no input from the user to produce an optimized image. Sounds too good to be true, right? Unfortunately, like most things that sound that way, it is. It's a very promising idea that has a future, but it's not quite there yet.
My testing showed some improvement over the original images, but it really depends on the source image you're working. In the shot below of the icebound shores of Lake Ontario, it does a decent job of adding contrast to the sky and correcting the general under-exposure, but it can't correct the horizon angle.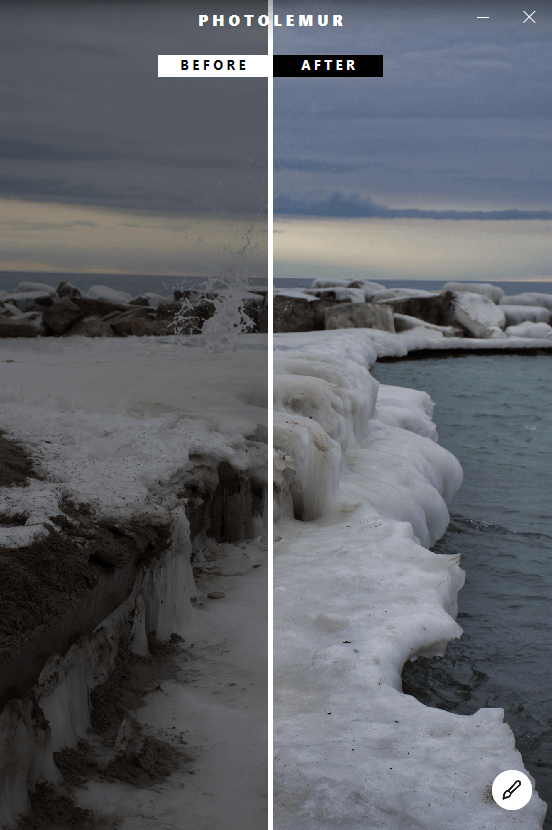 On this underexposed shot of a snow leopard cub at the Toronto Zoo, however, it fails to provide much in the way of meaningful correction. A few clicks in Lightroom was enough to save the image, but Photolemur wasn't able to achieve anything close to the same results on its own.
Photolemur has an incredibly simple interface which may appeal to casual users, but I found it a bit frustrating. The only user control is found in the bottom right, allowing you to control how much of the image 'boost' is applied. This means that it will probably do a good job of fixing up your holiday snapshots (which it can batch process) but professionals are going to want something with more control. Available for Windows and Mac, it's hard to argue with the price at just $35 for a single computer license. Read our full Photolemur review here.

Free Software Options
While there are a huge number of photo editors for sale, the free software world also has some interesting programs to offer. Here are a couple of the free software options that let you perform some more basic photo editing tasks, although they don't really approach the level of polish you can expect from a paid program.
Photo Pos Pro
This program makes it into the free section by a slim margin, because it has both free and paid versions available. The free version is fully feature-rich, but it limits resolution you can export your final images in. If you're just working on images you want to share online, that shouldn't cause any problems for you – and the price is right. I scanned it with MalwareBytes AntiMalware and Windows Defender and found no issues, and it didn't try to install any third-party apps.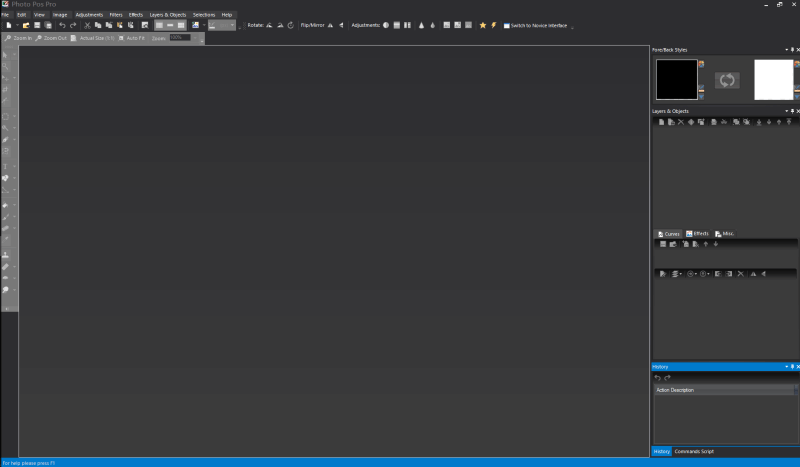 The user interface is very similar to that of Photoshop – to the point of being an almost exact copy. It has limited RAW support, although it doesn't offer any of the non-destructive RAW editing options that you would find in a paid program. I wouldn't want to have to use it for all my editing, but it should be able to get the job done – eventually.
You can download the free version of Photo Pos Pro.
GIMP
While it's memorably named, GIMP actually stands for GNU Image Manipulation Program. This doesn't refer to the wildebeest, but rather to the open source GNU General Public License that governs how it can be edited by the community. It actually has a surprisingly long development history, dating back to 1996 – but unfortunately, while it's quite powerful and much beloved, it sometimes feels like the user interface hasn't been updated since then.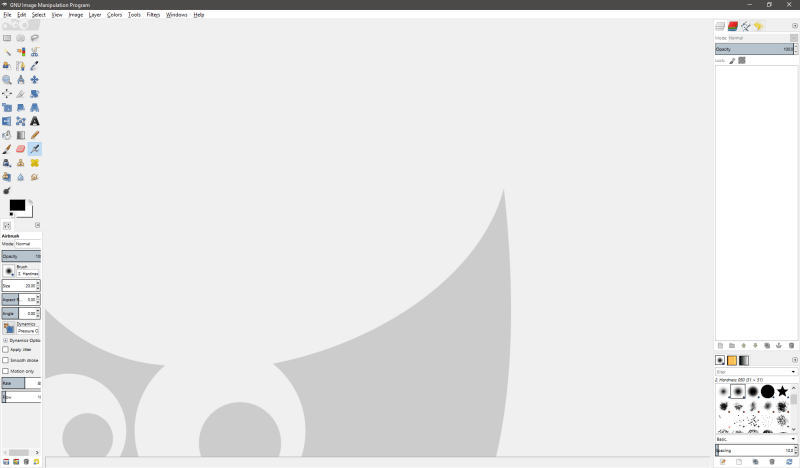 While it actually has an impressive featureset and excellent plugin support, the frustrating aspects of working with rapidly become apparent. It has no native RAW support whatsoever, which limits its use as a photo editor to working with JPEGs. While the GIMP website touts its use in films, the claim rapidly loses steam when you learn that the only article they link to is about Scooby Doo, a flop from 2002.
The entirety of the program has been developed for free, which is undoubtedly an impressive achievement, but it has the feel of a program designed by programmers. It's functionality-driven, and pays no attention to user experience. Hopefully, someday soon a UX designer and a programmer will sit down and create a better front-end, but until then, it's not going to be useful for much serious photo editing. Unless you're on Linux, of course, where your non-virtualized options are extremely limited.
GIMP is available for download here.

Wrapping Up
Phew, that took some time – but hopefully by now, you've got a much better sense of what's available in the world of photo editing software for Windows PCs. There are some great paid options and some interesting free software alternatives, although any serious editor will be happy to pay for an editor that has been carefully tested and proven in professional work environments. Whether you're a beginner photographer, intermediate-level or the most demanding pro, I hope this roundup review helped you find a program that suits your style!
Did I skip over your favorite Windows photo editor? Let me know in the comments, and I'll give it a try and let you know what I think!