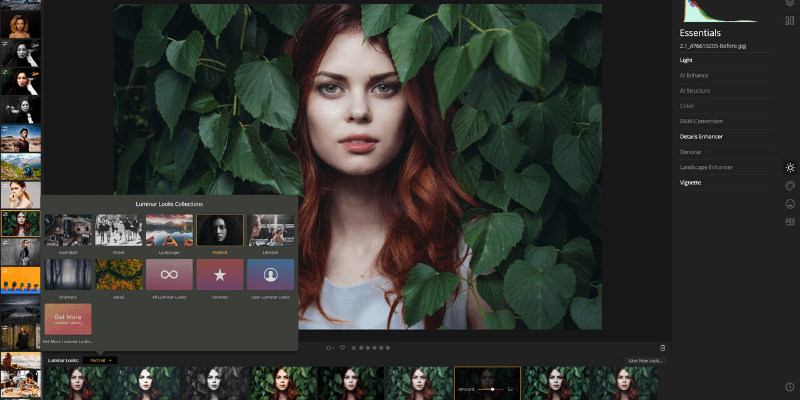 Luminar
Effectiveness: Good RAW editing tools, organizing needs work
Price: Affordable but some competitors offer better value
Ease of Use: Core editing is user-friendly, some UI problems
Support: Excellent introductions and tutorials available
Summary
Skylum Luminar is a non-destructive RAW editor that provides an excellent range of tools for developing your images. The RAW conversion engine provides a good starting point for your images, and most edits feel snappy and responsive. A completely customizable workflow can dramatically simplify your editing process, so you can focus on exactly what your images need to look their best.

I'm glad to report that this newest version of Luminar has corrected the speed issues that plagued earlier releases. While it can still be a bit slow when switching between the library and edit modules, the most frustrating delays are gone.

Skylum has announced a year-long roadmap of updates they plan for both versions of the software, but this strikes me as a bit strange. It's the sort of thing you usually see describing upcoming features for subscription-based software, and it's a bit inconvenient for basic, essential features of a single-purchase program. If they want to include essential organization features like metadata search or a Lightroom migration tool, they should be available at the time of purchase, rather than making customers wait up to a year.

What I Like: Impressive automatic enhancements. Useful editing tools. Edits are quick and responsive.

What I Don't Like: PC version is less responsive than on Mac. Organization tools need improvement. Clone stamping is slow and tedious.
It's a great RAW editor that allows you to escape the subscription lock-in for many other photo editing software. Casual photographers will love the easy editing process, but professional photographers may be hindered by slow library browsing speeds.
Is Luminar better than Lightroom?
Luminar has a great deal of potential, but it's just not as mature a program as Lightroom is. You can learn more from our comparison review here.
Can I upgrade to Luminar for free?
No, it's not. Luminar is a standalone program and if you are using an older version of Luminar, Skylum offers a discount for an upgrade.
Luminar is available for both Windows and Mac operating systems, and in the initial release, there were some differences in the functionality of the software.
After a couple of small updates, they are essentially the same piece of software now, although the Mac version does allow the setting of basic preferences surrounding cache size, catalog location and backups.
There are slight differences in the context menus when right-clicking/option-clicking throughout the program, although these are relatively minor. The two development teams seem to be a bit out of sync, and the Mac version seems to have received a bit more attention to detail and polish.
Your Guide Behind This Review
Hi, my name is Thomas Boldt, and I've been working with digital photographs for well over a decade. Whether it's for a client project or for my own personal photography practice, it's essential to have the best available editing software at my fingertips.
I thoroughly test all the editing programs I review including this one Luminar 4, so you can skip the whole testing process and focus on what matters most to you: producing great photographs!
Detailed Review of Skylum Luminar
Organizing Your Library
One of the most interesting additions to version 3 of Luminar is the Library feature for organizing your photos. This was a major gap in Luminar's features in previous releases, so it's great to see Skylum following up on user demand. However, even in version 4, the Library function leaves a lot to be desired. The promised improvements like metadata searching and IPTC metadata compatibility have not been included, even though they're still in the update roadmap.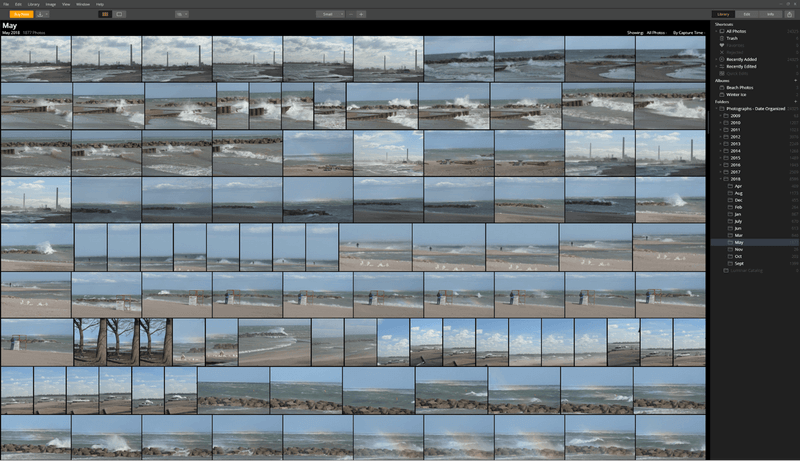 Luminar uses a catalog system similar to Lightroom where all your images stay in their current folders on your drive, and a separate catalog file indexes all your flags, ratings and adjustments. You can color-code your images, give them star ratings, and use simple flags for approving or rejecting images.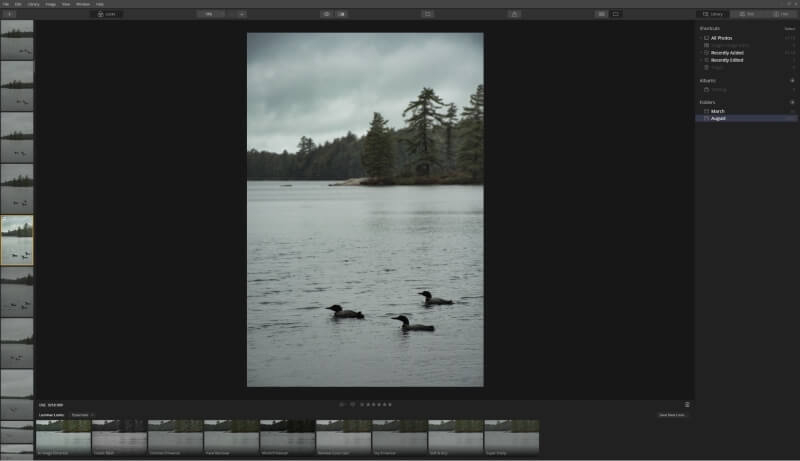 When you're in single image preview mode, a filmstrip of the current folder is displayed on the left, making full use of widescreen monitor ratios. The size of the filmstrip can't be adjusted, although it can be hidden, along with the Looks panel at the bottom.
If you've been using another library management tool for flags and ratings, none of those settings will be imported along with your photos. IPTC metadata isn't supported yet, and there is no way to add custom tags to your images. There is also no option to save your adjustments to a separate sidecar file for transferring to another computer.
The only method of sorting images is through the Albums feature, and each Album has to be created by hand. Ideally, it would be possible to create albums automatically based on shared characteristics, such as 'All 18mm Images' or 'All Images Captured July 14 2018′, but for now, you'll have to stick to dragging and dropping manually.
Overall, the library section of Luminar 4 could use a lot of work, but it still provides a basic set of tools for browsing, sorting, and flagging your photo collection.
Skylum has already released one free update for version 4, and more free updates are planned for the future. They still intend to work on the Library function to address many of the issues I experienced, but you might want to wait until their update roadmap is completed (or at least more matured).
tldr version: If you shoot a lot of images regularly, then Luminar is not yet ready to replace your existing library management solution. For more casual photographers, the basic organizational tools should be enough to keep track of your photos, especially as Skylum continues to update and Luminar matures.
Working With Images
In contrast to the Library section, the core RAW editing features of Luminar are great. The entire editing process is non-destructive and features all of the tools you would expect to find in a great RAW editor, as well as a couple of unique AI-powered tools, Accent AI Filter and AI Sky Enhancer.
Luminar's editing tools are no longer referred to as 'filters', which was just confusing. Instead, the various adjustment tools are grouped into four category sets: Essentials, Creative, Portrait, and Professional. It would be nice to be able to customize this aspect of the layout, but it works more smoothly than the previous filters & workspaces configuration.
No matter what you call them, Luminar's adjustments are excellent. Once you find the perfect combination of settings, you can save them as a 'Look', Luminar's name for a preset. Looks can be quickly applied to any of your images using the Looks panel, but they can also be applied to a range of images during batch processing.
The only tool that I found frustrating to use was Clone & Stamp. The tool is loaded in a separate workspace and takes a surprisingly long time to load on both versions of the software. While you're actually editing it's fairly responsive, but all your clone and stamp strokes are applied as a single action. If you make a mistake or want to reclone a specific section, the Undo command takes you back to the main editing window and you have to start the process all over again from the beginning.
What About the AI Tools?
Artificial intelligence has become a hugely popular phrase in the software world lately. Every developer is promising huge changes in the way their software works due to some "AI-powered" feature, usually without any more explanation of how AI is used. (It's become such a popular buzzword that a recent survey of all the "AI" tech startups in Europe found that only 40% actually used AI in any way.)
Skylum doesn't specify how exactly AI is used in their automatic editing features, but my guess is that it's using some type of machine learning process to identify which areas of a photo could benefit from specific edits.
Regardless of how it's done, the automatic adjustments do a decent job of adding local contrast and boosting saturation in most situations, especially landscapes and other wide scenes. Sometimes the saturation boost is a bit too much for my taste, but each photographer has their own idea of how much is too much.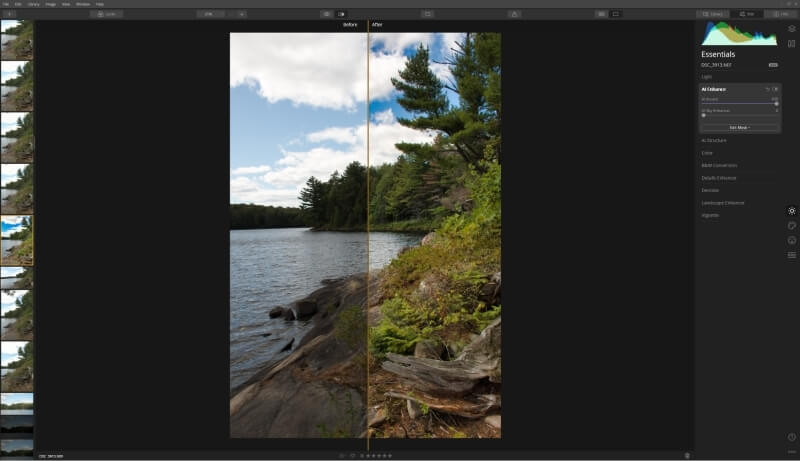 The AI Enhance feature works quite well, although it does run into a bit of trouble around certain complex shapes. This is improved compared to previous versions, but there's also now the option to draw in your own mask. The extra degree of control is great unless you're planning on using both AI Enhance and AI Sky Enhancer because you can only apply one mask for both settings.
Another AI feature new to version 4.1 is the AI Sky Replacement tool located in the 'Creative' panel. While I would never use this in any of my photos (it's basically cheating at photography), it's still an incredibly impressive piece of technology. In the space of about 2 seconds, I was able to entirely replace the sky in the photo of Common Loons shown earlier in the Library section of this review.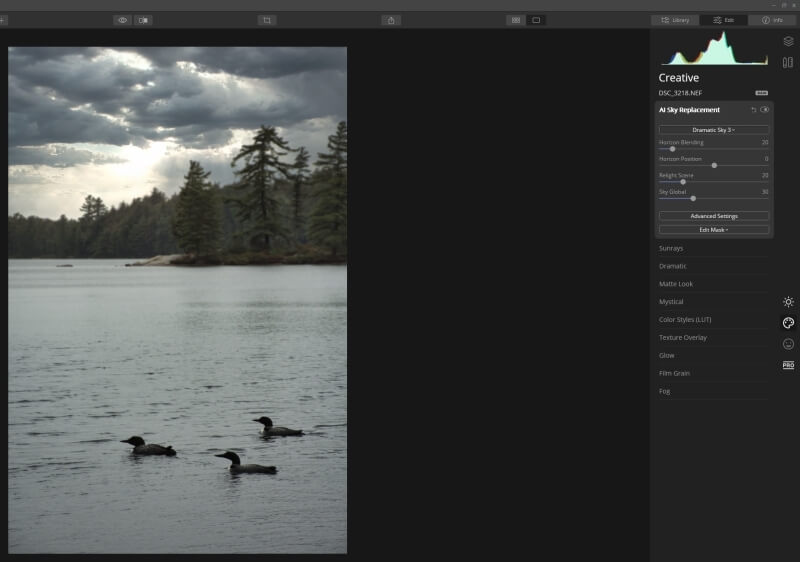 There are a large number of preset sky images to choose from, but you can also load in custom sky images to reduce the 'cheating level' by using one of your own source photos. If you're fine with your images being a creative expression and not a true depiction of the world, then I guess it's not really cheating after all 😉
Serious photographers will only want to use automatic adjustments as a starting point for their edit workflow, but it can provide a good quick baseline to work from. If you're a wedding or event photographer who takes hundreds or thousands of images per event, it's a good way of boosting all your photos quickly before selecting key images for more in-depth attention.
Interestingly, the AI Sky Enhancer and AI Sky Replacement tools are only available in images where a sky is detected. If you try to apply it to an image without a sky, the slider is simply greyed out and unavailable.
Using Layers
Many of the photo editors that want to challenge Adobe have focused on the Lightroom style of non-destructive RAW edits, but neglected the power of layer-based editing found in Photoshop and similar programs. Luminar tries to address that, but the uses of the feature are fairly limited. It's possible to create separate adjustment layers, allowing you to apply your filters to specific areas of the image in a process usually known as masking. All your filters already come with their own editable masks, but applying them on an adjustment layer also gives you the ability to control the order they're applied, and to apply blending modes.
You can also add additional image layers, but this is restricted to superimposing a second image overtop of your main working image. This is useful if you want to add in a watermark, but otherwise, the tools for integrating external image data are a bit too basic to make convincing composites. The only exception to this is the incredible AI Sky Replacement tool, but it doesn't use the layer editing system.
Batch Editing
Luminar offers basic batch processing, allowing you to apply a single set of edits to multiple files all at once and export them all using the same saving options. Using the 'Luminar Looks' preset system we mentioned earlier, you can apply a universal set of adjustments to an unlimited number of photos, and then save the resulting output in a range of image formats as well as Photoshop and PDF files.
Oddly, batch processing hasn't been integrated into the library, and the only way to select photos for batching is to add them manually using a typical 'Open File' dialog box. This seems like a real missed opportunity, as selecting 10 photos in your library and then being able to add them to a batch would save a huge amount of time. Fortunately, it is possible to use the Sync Adjustments feature to apply the same adjustments across a set of selected images in the Library view.
Reasons Behind The Review Ratings
Effectiveness: 4/5
Luminar's RAW editing tools are excellent and easily equal to any other RAW editing software that I've used. Unfortunately, the new Library feature is extremely limited in terms of organizational tools, and layer-based editing and clone stamping are too limited to be of much use.
Price: 4/5
Luminar is priced fairly competitively at a one-time purchase price of $89, and there is a whole roadmap of free updates that will be available in the coming year. However, there are cheaper editors with similar toolsets, and if you don't mind subscription fees (e.g. if you're writing off the cost for your business) then the competition is even more serious.
Ease of Use: 4/5
Core editing functionality is very user-friendly. The interface is well-designed for the most part, but some additional customization options in terms of layout would be nice. The clone stamping and layer editing processes need a lot of work before they could be called easy to use
Support: 5/5
Luminar has a great introduction process for first-time users, and there is a lot of material available on the Skylum website. There are also third-party tutorials and learning resources available, and this is likely to expand as Skylum keeps developing the Luminar brand.
Luminar Alternatives
Affinity Photo (Mac & Windows, $49.99, one-time purchase)
A slightly more affordable and mature RAW photo editor, Affinity Photo's toolset is a bit more expansive than Luminar's. The RAW processing is arguably not quite as good, but Affinity also includes some additional editing tools such as Liquify and better handling of layer-based editing.
Adobe Photoshop Elements (Mac & Windows, $99.99, one-time purchase)
If you want the power of Photoshop but you're not sure you need the full professional version, Photoshop Elements might be the right fit for you. It features a lot of guided instruction for new users, but once you get comfortable you can dig into the Expert modes for more power. RAW handling is not as refined as Luminar, but organization tools and output options are much more advanced. Read the full Photoshop Elements review.
Adobe Lightroom (Mac & Windows, $9.99/mo, subscription-only bundled with Photoshop)
Lightroom is currently one of the most popular RAW photo editors and organizers, with good reason. It has a robust set of tools for RAW development and localized editing, and it has excellent organization tools for handling large photo collections. Read our full Lightroom review here.
Adobe Photoshop CC (Mac & Windows, $9.99/mo, subscription-only bundled with Lightroom)
Photoshop CC is the king of the photo editing world, but its unbelievably huge toolset is quite intimidating for new users. The learning curve is incredibly steep, but nothing is as powerful or as well-optimized as Photoshop. If you want to turn your digital photos into digital art with layer-based editing and powerful pixel-based editing tools, this is the answer. Read the full Photoshop CC review.
Final Verdict
Skylum Luminar is a great RAW editor that allows you to escape the subscription lock-in found in many other popular editing programs. Casual photographers will love the easy and powerful editing process, but some professional users will be hindered by slow library browsing speeds and missing organization tools.
Windows users will be happy that the PC version has finally gotten some much-needed speed optimizations. Unfortunately, both versions of the software are still lacking some of the more serious organizational features that will really make Luminar a contender in the world of photo editors.
So, do you find this Luminar review helpful? Leave a comment below.