The main difference between the two apps is that Procreate was made for the Apple iPad and Procreate Pocket is designed for the Apple iPhone. They are both essentially the exact same digital art app but are designed to be used on different devices.
I'm Carolyn and I've been using both of these Procreate apps to run my digital illustration business for over three years. While it's essentially the same app, I find myself reverting to Procreate Pocket for writing down ideas on the go or showing clients work from my phone.
But as some of you may know by now, I am a die-hard fan of the original Procreate app and I use it on my Apple iPad every day. Today I'm going to talk you through the main differences between the two apps that Procreate has to offer.
Key Takeaways
Procreate is made for use on the Apple iPad while Procreate Pocket is designed for use on the Apple iPhone
You can easily share Procreate projects between your two devices using the apps
Procreate has a higher price point of $12.99 while Procreate Pocket is only $5.99
Apple Pencil is not compatible with iPhones, therefore you cannot use your Apple stylus when using Procreate Pocket
The Differences Between Procreate and Procreate Pocket
Below I'm going to elaborate on the key differences between these two apps and also share some of my reasons and preferences for switching from one device's Procreate to the other.
1. Designed for Different Devices
Procreate is for iPads and Procreate Pocket is for iPhones. The original Procreate app was released in 2011. This app was designed to be used on Apple iPads and is compatible with the most recent models. This requires more storage than its newer counterpart, Procreate Pocket.
A smaller version of Procreate was released in 2014. This app was designed to be used on Apple iPhones. Because it is compatible with the iPhone, the app is much smaller than Procreate but offers almost all of the same features on a smaller interface.
2. Different Prices
Procreate costs $12.99 and Procreate Pocket costs $5.99. The once-off purchase for the full Procreate app will set you back less than $10 in the US App store. Procreate Pocket is half the price of the original app and is available for a one-time fee of less than $6 in the US App store.
3. Different UI
Procreate offers a bigger screen on iPad devices and Procreate Pocket has a smaller screen as it is available for iPhones. The main reason that I mostly work on my designs using the original app on my iPad is purely for the extra space you have to lean your hand and envision your next move.
Procreate Pocket can only offer users a canvas the size of whatever iPhone they're using. This may not be ideal for creating elaborate artwork but for working on the go or making simple edits during a meeting with your client, this can come in incredibly useful. The same tools are available but in a slightly different layout from the original.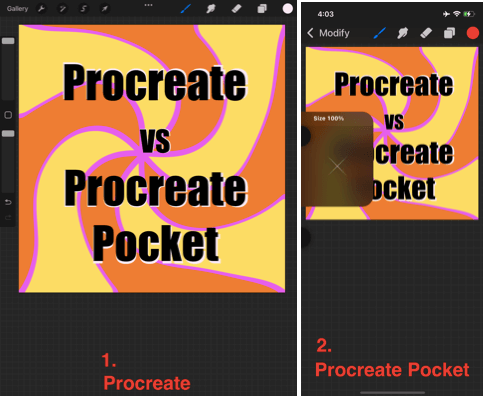 Procreate vs Procreate Pocket: Which One to Use
Procreate is my ride-or-die. I always start every project on my big iPad screen so I have free reign of the canvas and the room to create fully with no limits. It allows me to have more layers and create bigger-sized projects at the very highest quality.
I love bringing my Pocket app on my iPhone to on-the-go meetings where I can quickly show clients examples and make quick edits in an instant. You can also share your projects as .procreate files between the two apps and pick up right where you left off.
FAQs
Here are some of the questions related to the two apps and their differences.
Can I use Procreate Pocket on my iPad?
The simple answer is no. The Procreate Pocket app is only compatible with iPhones and you won't be able to download it on your iPad.
How to use Procreate Pocket without Apple Pencil?
Apple Pencil is not compatible with iPhones. So the only way to use Procreate Pocket is by either using your finger to draw or using another brand of stylus that is compatible with your iPhone.
Does Procreate Pocket have 3D?
It appears that Procreate Pocket does not have the 3D function. According to the Procreate website, there is only a 3D feature in the Procreate Handbook and not the Procreate Pocket Handbook.
Is Procreate Pocket Free?
No. The Procreate Pocket app costs a one-time fee of $5.99 while the original Procreate costs $12.99.
Does Procreate have in-app purchases?
Not anymore. Procreate 3 used to have some in-app purchases but they were built into the Procreate 4 update as free functions.
Final Thoughts
Maybe you're dedicated to one or the other and cannot cross the line to the other side or maybe you're just starting off. For Procreate beginners and newcomers to digital art in general, the Procreate Pocket app would be a great, cost-effective way to get to know some of the functions of the app before delving into the real deal.
And for experienced Procreate users, I highly recommend purchasing the iPhone version and seeing what it's like to go to a meeting without dragging your giant iPad along with you.
Either way, the more you learn, the more you can do. Expanding your app gallery can't do you any harm so why not give it a try?
If you found this article helpful or have any questions or feedback, please feel free to leave a comment below so we can continue to learn and grow as a design community.