Procreate is currently only available on Apple iPad and iPhone. That means if you are using a desktop or Android device, you will not be able to purchase or download the Procreate app on your device. There are no official plans to launch the Android or desktop version yet, sorry loyal Android fans!
I'm Carolyn Murphy and I've been using Procreate and Procreate Pocket for over three years. My digital illustration business relies heavily on my extensive knowledge of these Procreate apps and today I'm going to share some of that knowledge with you.
In this article, I will break down the answer to your question and give you some potential reasons why this incredible app is solely available to Apple iPad/iPhone users.
What Devices Are Compatible with Procreate?
At the moment, the OG Procreate app is available on the Apple iPad. They have also released a more condensed app called Procreate Pocket which is available on the iPhone. Neither of the Procreate apps is available on any Android or Windows devices, not even on macOS computers.
Does Procreate Work on Every iPad?
No. Only iPads released after 2015. This includes all iPad Pros, iPad (5th-9th generations), iPad mini (5th & 6th generations), and iPad Air (2, 3rd & 4th generations).
Is Procreate The Same on All iPads?
Yes. The Procreate app offers the same interface and features on all iPads. However, those devices with higher RAM space may have a more seamless user experience with less lagging and more layers.
Is Procreate Free on iPad?
No, it's not. You need to purchase Procreate for a one-time fee of $12.99. Yes, you read it correctly, no renewal or subscription fees. And for half the price, you can download Procreate Pocket on your iPhone for $5.99.
Why Isn't Procreate Available on Android or Desktop?
Well, this is the answer we all want to know but we may never find out the real truth.
Procreate provided a blanket response to this question on Twitter in which they explain that it just works best on these specific devices so they have no intention of developing it further. Not the typical tech-world strategy you would expect but we will have to accept it.

As much as I would like to see access to this app expanded to all users, the risk of losing any of the high-quality features is just not worth it. So designers, I think it's time to invest in an iPad!
Will There Ever Be a Procreate for Android?
As of December 2018, the answer is no! But a lot can happen in four years and we live in hope…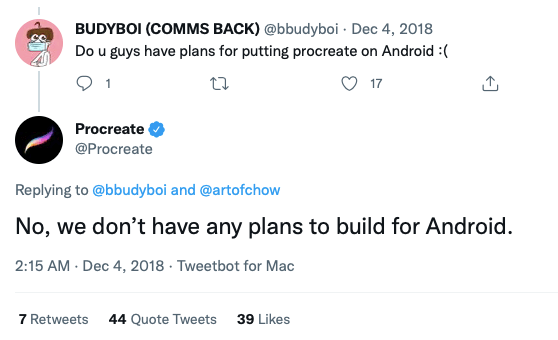 What Alternative Apps Can Android or Desktop Users Use?
Procreate may be my favorite design app, but it most certainly is not the only incredibly advanced app out there. There are plenty of competitors that are compatible with Android, iOS, and Windows. Some of the top-rated apps are:
Adobe Fresco – this is rumored to be the most similar to the Procreate user interface and boasts a free 30-day trial followed by a monthly fee of $12.99. Adobe Fresco seems to have replaced their previous popular drawing app Adobe Photoshop Sketch which was recently discontinued and is no longer available to download. 
Concepts – this is more of a no-frills sketching app but is available to download for free and allows in-app purchases if you wish to upgrade your design options. This is compatible with most devices.
Clip Studio Paint – this app has recently made headlines with the announcement of its transition from a one-time fee to a monthly subscription service. But the app still provides an elaborate selection of design tools including some pretty cool animation options.
FAQs
Here are some other questions you might have about Procreate's compatibility with devices or OS, I'll briefly answer each of them below.
Is Procreate Only Available for iPad Pro?
No. Procreate is available on all iPads released after 2015, including iPad Air, iPad mini, iPad (5th-9th generation), and iPad Pro.
Is Procreate Available for PC?
No. Procreate is currently only available on iPads and Procreate Pocket is available on iPhones. There is no PC-friendly version of Procreate.
Can Procreate be used on Android?
No. Procreate is only available on two Apple devices, iPad & iPhone.
What's the Best Device to Use Procreate on?
That all depends on your personal preference and what you're using it for. Personally, I prefer to use Procreate on my 12.9-inch iPad Pro as I like having a bigger screen to work on.
Final Thoughts
So, is Procreate only for iPad? Essentially, yes. Is there an iPhone-friendly version available? Also, yes! Do we know why? Not really!
And as we can see above, it looks like this isn't going to change anytime soon. So if you're considering transitioning into digital art or starting from scratch, and entering the vast world of Procreate and learning all about its incredible capacities and features, you will need to have an iPad and/or iPhone.
If you're a stubborn Android die-hard or work solely on a desktop, you may want to consider looking at alternative options.
Any feedback, questions, tips, or concerns? Leave your comments below. Our digital community is a gold mine of experience and knowledge and we thrive by learning from one another every day.