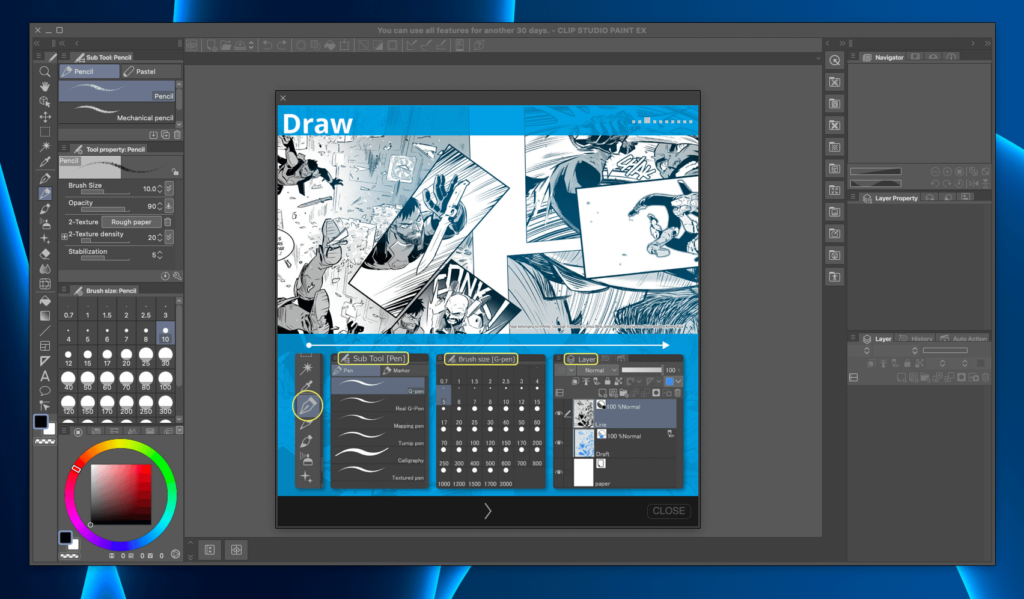 Clip Studio Paint
Features: Packed with features like frame-by-frame animation, 3D capabilities, and customizable settings, Clip Studio Paint has everything you'd expect from digital painting software.
Pricing: With multiple plans available in monthly and annual subscriptions, Clip Studio Paint has something for almost any budget.
Ease of Use: The software's interface is similar to most digital painting software, but it can be overwhelming for newbies.
Support: With a complete page of FAQs, tips, tutorials, and categories for common questions, plus expert creator assistance and a support desk, users have plenty of resources when needed.
Summary
Clip Studio Paint is a digital painting software often used to create comics and other digital art. The software's creators carefully crafted it with the artists' way and preferences in mind, so it features many of the things you'd expect from software like it, plus a few extras.

The software is overflowing with features, including frame-by-frame animation, 3D capabilities, and customizable settings. While it can be a bit overwhelming for new users due to the sheer volume of options, it's an excellent choice for beginners and freelancers due to its affordability. It might not be the best choice for all professionals, but it's worth considering!

What I Like: Clip Studio Paint features an extensive array of tools for nearly any task and comes at an affordable price.

What I Don't Like: The setup can be complicated, and learning to use it can feel overwhelming due to the sheer volume of tools available.
Is Clip Studio Paint software safe?
Yes, Clip Studio Paint is safe and legit.
Do professionals use Clip Studio Paint?
Yes, Clip Studio Paint has several specialized features, making it a useful option for professionals and studios worldwide. However, given its design, it's a better fit for personal use or freelancers.
Do you have to pay every month for Clip Studio Paint?
The payment schedule hinges on your chosen plan, as there are monthly and annual payment plans.
Does Clip Studio Paint only work on Windows computers?
No, Clip Studio Paint works on Windows OS, macOS, iPad OS, iOS (iPhones), and Android OS.
Why Trust Me for This Review
Hi, I'm Jon, an engineer, content creator, and an (on and off again) artist. I've been drawing and painting here and there for nearly 20 years. And although I started my foray into art with a pencil and paper and paint and easel, I have used many digital art tools in the last several years.
As an art dabbler, I'm always looking for new digital tools to rekindle my love of making art. I always have my MacBook, iPad, or iPhone with me, and I don't want to deal with lugging around, preparing, and cleaning traditional art supplies at this point in my life.
If you want a digital painting software to help you paint on your PC, Mac, or table, Clip Studio Paint is a great choice. It makes digital painting simple and fun, but it has a few minor downsides.
Detailed Review of Clip Studio Paint
Clip Studio Paint is a digital painting software tool often used for creating comics and other artwork. The software has plenty of features giving artists plenty of tools to create their best work yet.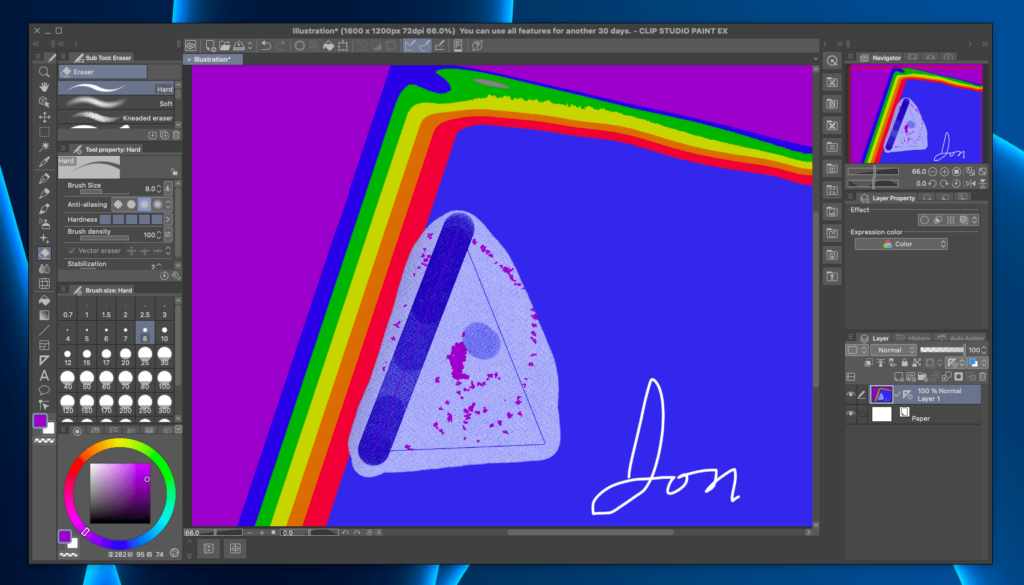 Here are a few key features of the Clip Studio Paint software, plus my personal take on each feature.
Customizable Features
Like any digital painting software worth its salt, Clip Studio Paint offers customizable features. Users can tailor their setup to match their individual needs, including creating and sharing customizable palettes, colors, command bars, and shortcuts.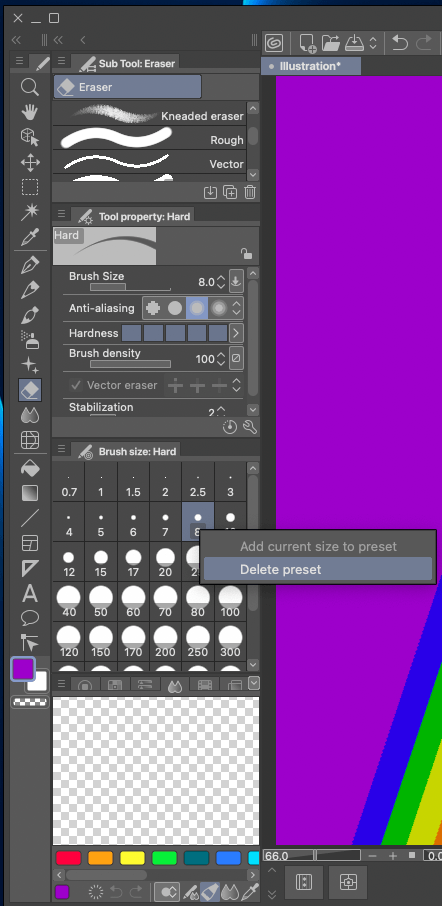 Artists can create a personalized palette that features their most used colors, tools, menus, and auto auctions, ensuring they have everything they need within easy grasp. The shortcut customization allows artists to design and copy their favorite and most-used shortcuts from other programs, making the transition from one software to another even easier.
My personal take: Customizability is critical, especially in a tool like this. With a customized layout, you can get things done faster, as they're right where you need them and are easily accessible.
3D Capabilities
Clip Studio Paint features excellent 3D capabilities tailored to artists. The software allows you to manipulate 3D models and objects as you need, making it much easier to grasp how various things should look.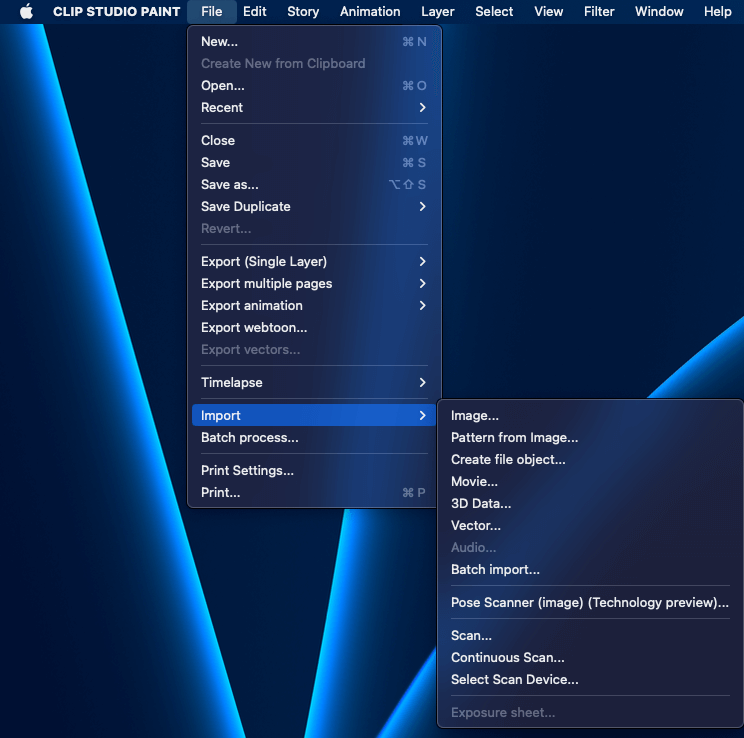 For example, you can drag and drop additional elements or use the 3D "artist models" for reference. You can import and alter the models to accommodate your reference needs, using the tool as a reference or even tracing over the lines.
On top of that, the software has a 3D book viewer option, so artists can share their work on varying platforms with book presentations. The content appears in the shape of an actual book and is viewable on varying devices, including smartphones.
My personal take: If you don't have reference models on hand, the 3D models and objects can be exceedingly helpful in creating the best possible results. And with the 3D book viewing option, it's a win-win!
Photoshop Compatibility
Clip Studio Paint's software is compatible with all Photoshop file types. So, if you're creating lively, action-packed pieces for a client, you won't need to adjust your existing workflow before delivering it.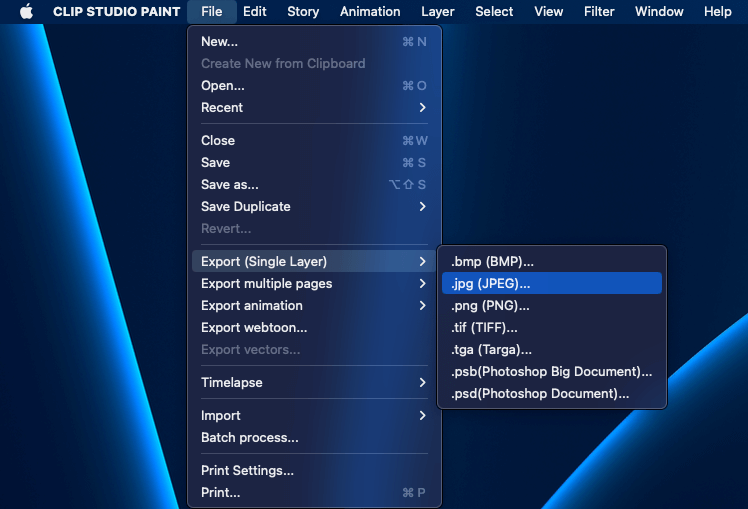 In addition to its Photoshop compatibility, the software supports all major file formats, such as JPEG, PNG, BMP, and TIFF. Since it supports these file formats, you can keep layers in and out. On top of that, it supports the PaintTool SAI format and storyboard files produced by the Wacom Cintiq Companion Hybrid's software "Manga Canvas," so that's another perk.
My personal take: Tinkering with the workflow before delivering your work can be a headache, not to mention a bit scary, so this compatibility feature can relieve that stress.
Adjustable Pen Pressure
Creating realistic strokes with digital tools can be tricky, especially if you're restricted to a certain pen pressure. In real life, you can adjust the pressure you place on the pen, allowing you to create softer or sharper lines.
Clip Studio Paint incorporates an adjustable pen feature, allowing creators to produce high-quality realistic strokes. Artists can test the pressure with a few strokes to preview the outcome before using it and make adjustments as necessary.
My personal take: If you're new to digital art, adjusting to set pen pressures can be tricky. The digital creation world is entirely different from the actual world, so the adjustable feature in Clip Studio Paint is a great way to acclimate to the new tools.
Frame-By-Frame Animation
The EX plan of Clip Studio Paint provides outstanding animation capabilities, making it a strong contender in the list of options. When combined with its exceptional drawing and painting tools, it's well worth consideration.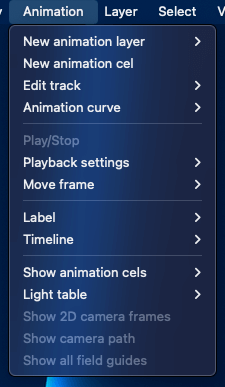 The frame-by-frame animation allows you to bring your creation to life through short, 24-frame GIFs. The tools feature customizable timelines, the ability to export them in varying formats for viewing, and other unique features, so they can be a helpful tool in your creative arsenal.
My personal take: The ability to bring your creations to life via bursts of animation is exciting, so this feature is an excellent addition to the pack. This could be an excellent option if you're a seasoned artist looking to bring an animated edge to your work.
Multiple Plans Available
Clip Studio Paint is available in two packages: EX and PRO. Each option brings something slightly different to the table, making them suitable for varying scenarios. The PRO plan is the cheaper of the two, coming in at $49.99 per year or $0.99 per month. This plan offers the basics, so it's an excellent option for those getting started in sketching and illustration.


On the other hand, the EX plan comes in at an annual cost of $219.99. This plan comes with extra features, complete with multiple page management tools and full-length professional 2D animation.
My personal take: Whether you're new to digital sketching and illustration or a seasoned professional, Clip Studio Paint has something for you. Its annual and monthly payment plans offer flexibility for whichever option you choose, which is ideal.
Reasons Behind My Ratings
Features: 4.7/5
The Clip Studio Paint software offers almost everything you could ask for in a digital painting tool, plus a few extras. The software is complete with an extensive range of features, from customizable palettes to frame-by-frame animation.
Of course, you'll have to pay extra to access certain features specific to the EX plan, but the PRO plan also comes with an impressive range of features.
Pricing: 4.2/5
In the grand scheme of things, Clip Studio Paint's software is pretty affordable. Starting at just $2.09 per month for its PRO plan (or $48.99 per year), it's a budget-friendly option for beginners and freelancers alike.
The EX plan is a bit pricier, starting at around $6.00 per month (or $219.99 per year), so it's better suited to professionals or those seeking more advanced software.
Ease of Use: 3.9/5
While Clip Studio Paint features customizable options to make it easier to use, the sheer number of tools can initially be overwhelming. The layout is pretty standard for tools of its kind, but for beginners, it might be a learning curve.
That said, it's pretty straightforward once you get the hang of things, and if you're experienced with these types of tools, you probably won't have any issues. Plus, the tool allows you to bring in your favorite shortcuts from other software, making the switch much easier for users.
Support: 4.5/5
Clip Studio Paint offers plenty of support to its customers. On its website, you'll find a support page, complete with answers to common issues and questions. There are tips and tutorials, categories for common questions, and even a section to submit product improvement requests,
If you can't find what you're looking for, you can seek support through Clip Studio ASK, which is a support community with expert creators ready to help. Or, you can talk to the software's support desk for tough questions.
Final Verdict
Clip Studio Paint is a formidable contender in the world of digital painting software. It's teeming with features, from customizable settings to frame-by-frame animation and 3D capabilities. 
Given its extensive array of features, there can be a learning curve for beginners, as it can seem overwhelming. However, it's an excellent option for newbies and freelancers, as it's surprisingly affordable. It might not be the best choice for more experienced creators or professionals, but it's a solid choice to consider.
So, what's your feedback on this Clip Studio Paint review? Leave a comment below.