The answer is yes! PaintTool SAI is one of the most user-friendly beginner drawing software. Released in 2008 by SYSTEMAX, it has been loved by digital artists for over a decade.
I'm Elianna, an illustrator with a Bachelor's of Fine Arts and 7+ years of experience with drawing software. I've tried them all: Photoshop, GIMP, Procreate, Clip Studio, and PaintTool SAI.
In this article, I'm going to show you four reasons why PaintTool SAI is good for beginner digital artists, along with its drawbacks.
Let's get into it!
4 Reasons Why PaintTool SAI is Good for Beginners
When you're new to something, you don't want to spend a ton without knowing whether or not it's worth it, right? Well, PaintTool SAI is an affordable, easy-to-use software with nice features and it doesn't require expensive hardware either.
Doesn't it sound like the perfect tool for beginners? I'll explain the four reasons in more detail.
1. It's affordable
At approximately $50.81 (5,500JPY), PaintTool SAI is one of the most economical drawing software. This one-time payment buys 1 license for access to Sai and all of its features and updates.
Compared to an Adobe Photoshop Licence which costs significantly more at $20.99 per month (or $252 per year) PaintTool SAI is great for beginners who want to try digital art with an upfront, low-cost investment.
If you're not sure about getting the software right away and want to try PaintTool SAI, a 31-day trial can be downloaded on the SYSTEMAX website. After the expiration of the trial period, you can purchase a license of Sai on the same SYSTEMAX website.
2. You don't need a fancy computer setup
PaintTool SAI is perfect for the beginner digital artist without a high-tech computer setup.
PaintTool SAI is lightweight and efficient, requiring only 2MB of space and 1024MB of RAM to operate. This is minimum compared to Photoshop's recommended system requirements of 5GB of space and 16GB of RAM.
Sai also runs on Windows 2000s or later, making it a great choice of software for those who do not have access to the latest operating systems. If you have an older computer with lower specs, Sai is a reliable program.
3. It's easy to use
PaintTool SAI is made for different levels of digital artists, and that is evident through its user interface.
According to the SYSTEMAX Website, "PaintTool SAI is high quality and lightweight painting software, fully digitizer support, amazing anti-aliased paintings, provides easy and stable operation, this software makes digital art more enjoyable and comfortable."
As someone who has used PaintTool SAI for over 7 years, I agree with the statements "enjoyable, and comfortable".
The default user interface is intuitive and robust, with tools and settings easy to locate. As PaintTool SAI is primarily a digital painting software, its interface for color is easy to navigate. Besides that, all tools for digital illustration are present upon opening the program, with very few tools and options hidden behind menus.
This makes Sai a great introductory drawing software for beginners who might be overwhelmed by the features of other programs such as Photoshop or Illustrator, which have steeper learning curves by comparison.
If you JUST want to draw, PaintTool SAI is for you.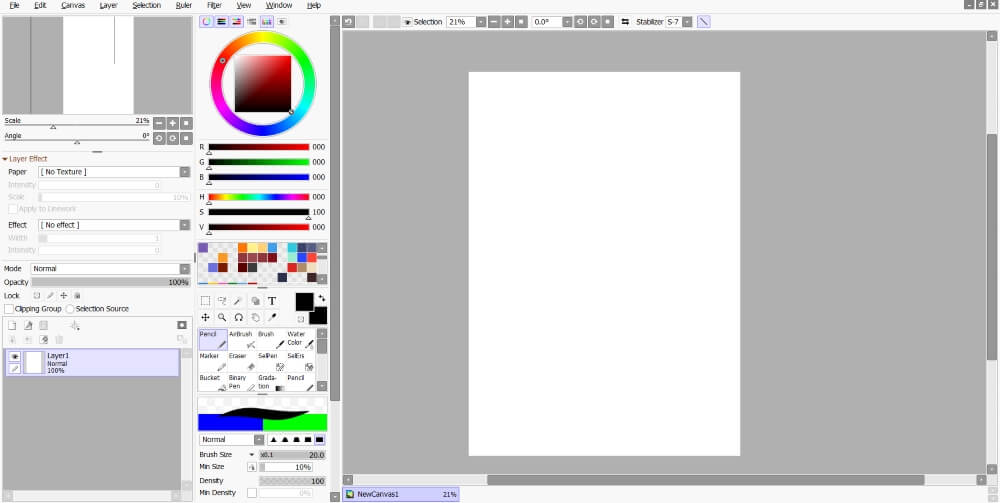 4. Handy tools
PaintTool SAI has a variety of features that make it great for the beginner, such as the Selection Pen, Lineart Curve Tool, Ruler, Stabiliser, and more.
PaintTool SAI's keyboard shortcuts are similar to Photoshop, with customizable brush settings and a pliable user interface. A variety of rulers and layer effects are also available in Sai, with knowledge easily transferable to other programs.
With minimal time investment, beginners can optimize PaintTool SAI to create beautiful illustrations in no time.
PaintTool SAI also allows users to save files in the Photoshop Document (.psd) format, allowing cross-platform use. However, it is important to note that vector information is not saved in SAI using this file format.
What Can't I Use PaintTool SAI for? 
PaintTool SAI is perfect for the beginner digital illustrator, however, it can be the only tool for graphic designers. Here are some of the drawbacks of PaintTool SAI.
PaintTool SAI only has one native color mode: RGB, and although it can open Photoshop Documents (.psd), it is impossible to open a .psd with a CMYK color mode in SAI. So if you're looking to create graphics for print, it can be a problem.
Also, PaintTool SAI lacks a variety of manipulation options for text, so if you are an artist that works with a lot of typography, look somewhere else.
I personally use PaintTool SAI to create webcomics, but I can attest that other software exists better tailored to this task. Take Clip Studio Paint as an example, which was created specifically with digital comic production in mind.
If you are looking to produce digital comics, I would consider checking out Clip Studio first due to its specific features tailored for sequential art. However, if you are looking for software to primarily illustrate with, I would recommend Sai.
Lastly, PaintTool SAI is offered in only 3 languages: English, Japanese, and German. Therefore, if you do not speak one of these languages, Sai is not an accessible software.
Conclusion
PaintTool SAI is a simple, economical, lightweight, and easy-to-navigate user-friendly program for beginner digital artists with a limited budget and older computer specs. It has a low learning curve and a variety of useful features for digital art, but it's not for general graphic design tasks.