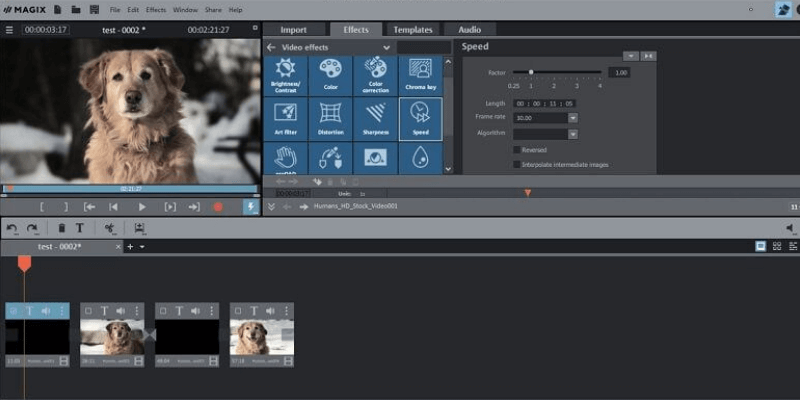 MAGIX Movie Studio
Effectiveness: You can cut together a movie with this editor
Price: Expensive for what it's able to offer
Ease of Use: User interface has room for improvement
Support: Great online tutorials, excellent tech support
Summary
The market for entry-level video editors is full of highly effective programs which are friendly to both users and wallets. In my opinion, MAGIX Movie Studio (formerly Movie Edit Pro) is kind to neither. The biggest selling points for the program (4k support, 360 video editing, and NewBlue/HitFilm effects) are standard features among its competition, while the things which are supposed to distinguish it from its competitors turned out to be a bit disappointing. Movie Studio doesn't compare favorably in the areas where it is similar to other programs, and in the areas where it deviates from the norm, I found myself wishing it didn't.

What I Like: The template features are high in quality and easy to use in your projects. Text and title editing looks great and works smoothly. Transitions are gorgeous. Great support for importing user-made effects and buying additional features through the store.

What I Don't Like: The UI looks and feels dated. Default effects are limited in scope. Keyboard shortcuts frequently didn't work as intended. Applying modifications to media clips feels clunky.
Quick Update: MAGIX Software GmbH has decided to rebrand Movie Edit Pro to Movie Studio since February 2022. They are only aligning the product names here. For you as a user, this means no further changes. The screenshots in the review below are based on Movie Edit Pro.
What is MAGIX Movie Studio?
It is an entry-level video editing program. MAGIX claims the program can guide you through all aspects of video editing. It can be used to record and cut together movies with little to no experience required.
Is MAGIX Movie Studio free?
The program isn't free, but there is a 30-day free trial of the program available. I would highly encourage anyone interested in buying the program to give it a whirl first. Once the trial period is over, you need to purchase a license to continue using the program. The price of the program starts from $69.99 USD (one-time), or $7.99 per month, or $2.99/month paid annually.
Is MAGIX Movie Studio for Mac?
Unfortunately, the program is for Windows only. According to tech specifics provided on MAGIX's official website, it requires Windows 7, 8, 10, or 11 (64-bit) to run. For macOS users, you may be interested in Filmora or Final Cut Pro.
MAGIX Movie Studio vs. Platinum vs. Suite
There are three available versions of Movie Studio. The Basic version costs $69.99, the Plus version costs $99.99 (though is currently on sale for the same price as the Basic version), and the Premium version runs for $129.99 (though is currently on sale for $79.99). See the latest pricing here.
Why Trust Me for This Review?
My name is Aleco Pors. Video editing started out as a hobby for me and has since grown into something I do professionally to complement my writing.
I taught myself how to use professional quality editing programs such as Final Cut Pro (for Mac only), VEGAS Pro, and Adobe Premiere Pro. I have had the opportunity to test out a list of basic video editors that are catered to newer users including PowerDirector, Corel VideoStudio, Nero Video, and Pinnacle Studio.
It's safe to say that I understand what it takes to learn a brand new video editing program from scratch, and I have a good sense of the quality and features you should expect from such software.
I've spent several days testing drive the Premium version of MAGIX Movie Edit Pro. You can watch this short video I made using the program just to get an idea of its included effects.
My goal in writing this MAGIX Movie Studio review is to let you know whether or not you are the kind of user who will benefit from using the program. I have not received any payment or requests from MAGIX to create this review and have no reason to deliver anything but my honest opinion about the product.
Detailed Review of MAGIX Movie Edit Pro
Please note that the version I tried and tested is the Premium version and the screenshots as shown in this review are from that version. If you're using the Basic or Plus version, it might look different. Also, I call MAGIX Movie Edit Pro "MMEP" below for simplicity.
The UI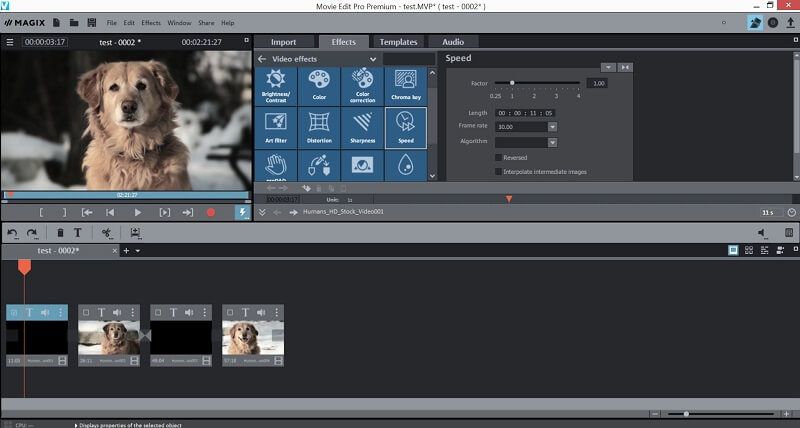 The basic organization of the UI in MAGIX Movie Edit Pro (MMEP) should be familiar to anyone who's used a video editor in the past. There's a preview area for your current movie project, a media and effects browser flanking it, and a timeline for your media clips at the bottom.
The specifics of the UI vary vastly from its competitors, and I struggle to find a single instance where I prefer the UI quirks of MMEP to that of the competition. The general appearance of the UI feels dated when compared to other programs, and the functionality of the UI was more often a source of frustration than convenience.
As you can see in the above image, the default configuration of the timeline is "storyboard mode", which segments your media clips into boxes so that transitions and text effects can be easily applied to them. Though storyboard mode might seem like a nice feature to save beginners time, I immediately found this feature to be impractical.
The arrow keys in storyboard mode navigate you between clip segments instead of frames within the individual clips, which makes it nearly impossible to get the kind of precision you need to properly trim clips without entering the clip trimmer. This normally wouldn't be the end of the world, but with the clip trimmer in MMEP is an utter monstrosity.

In all of my reviews for SoftwareHow, I have never come across such a needlessly complex feature in a program intended for beginners. For comparison, check out how clean and simple the clip trimmer looks in another video editor made by MAGIX, VEGAS Movie Studio: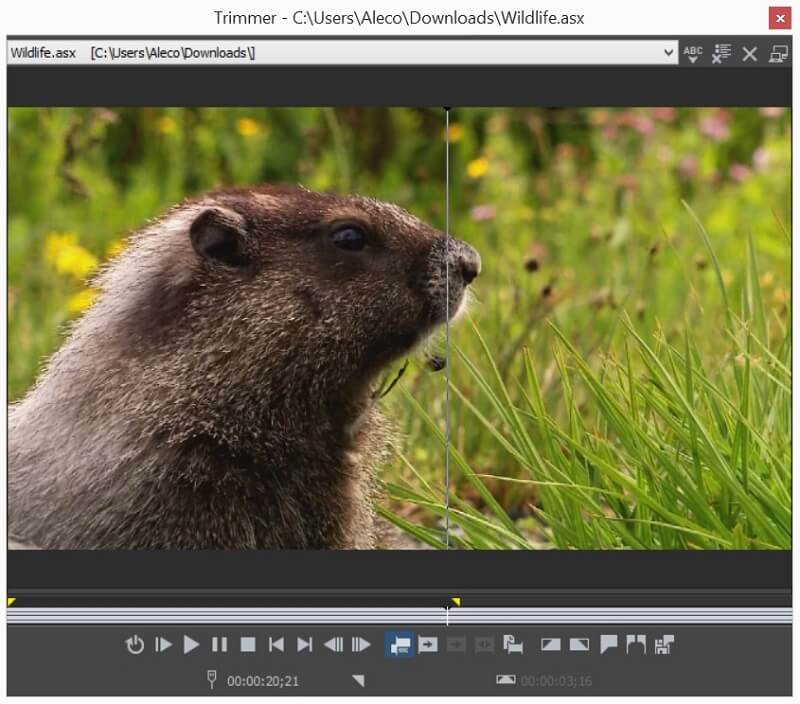 I was very happy to find that I could change the timeline into a more standard "timeline" mode but was surprised to find that it was still incredibly inconvenient to navigate frame by frame in timeline mode with the arrow keys. Holding down the arrow keys moves the timeline indicator one frame at a time (an incredibly slow pace), while holding down "CTRL + arrow key" moves the indicator 5 frames at a time, which is still incredibly slow.
This design choice makes it nearly impossible to use the arrow keys for any kind of speedy editing without first using the mouse to get you in the general vicinity of the desired location. Given how every other video editor implements some kind of variable speed function to make it easy to navigate through the timeline with the arrow keys, I'm deeply confused by why it is so difficult to navigate through the timeline in MMEP without frequently switching between the mouse and keyboard. It's hard not to consider the timeline area of MMEP to be anything but a glaring weakness of the program.

The browser area to the right of the video preview is organized into four sections: Import, Effects, Templates, and Audio.
In the Import tab, you can drag and drop files from your desktop into the program and project, which worked perfectly fine in my experience with it. From this tab, you can also access a feature which is unique to MMEP, the "travel route".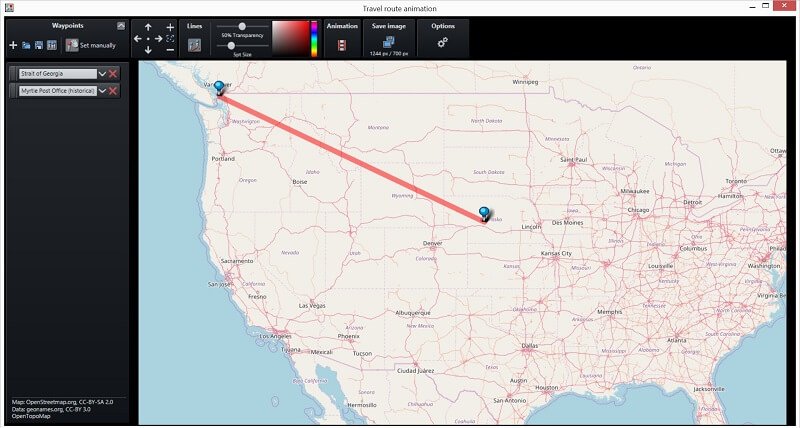 This feature allows you to place pins on a map to show your viewers where you've been on your travels and create animations to demonstrate the routes you went on. Though the travel route feature is functional and I suppose some people might get a kick out of it, I'm deeply confused by why Magix thought this feature was a necessary add-on in a video editing program.
I don't mean to sound constantly critical of the program, but I like it when my video editors are good at editing videos and I'm generally less than impressed by bells and whistles such as this one which will rarely (if ever) get used in the vast majority of projects.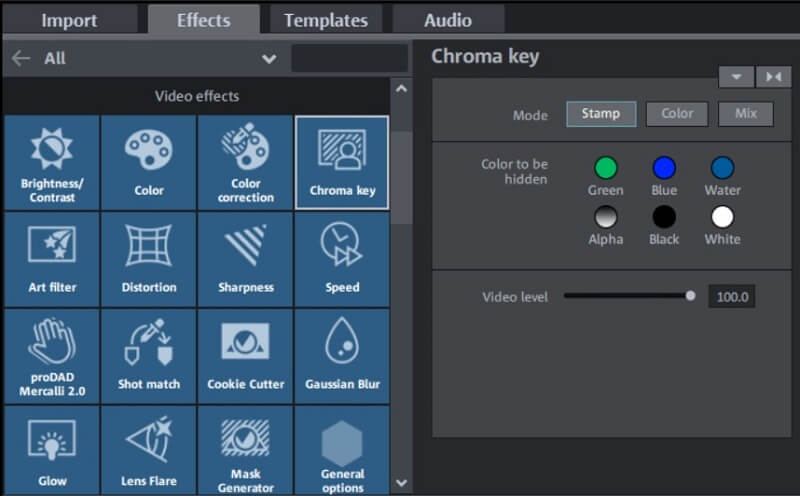 The Effects tab is where you can apply effects to clips on your timeline. It's organized into large, Windows 7-esque blocks to help you quickly find what you're looking for. I was actually quite pleased with the way that the effects are organized and presented in MMEP. It's easy to find what you're looking for and preview what it will look like if the effect is applied to your clip.
The only gripe I have with the overall functionality of effects in the UI is the way in which they are removed from clips. While other programs allow effects to be easily added and removed one by one through menus, removing effects in MMEP is done by applying a "no effect" effect. I can't help but feel like there's a better way to handle this.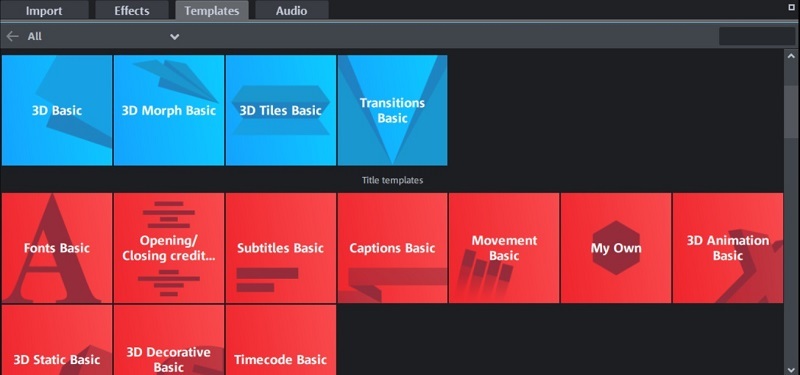 Templates are the feature of MMEP which impressed me the most. Here, you'll find pre-designed content to add to your videos like text, transitions, and pictures. Not only was it very easy to navigate through this content to find what I was looking for, but I was quite pleased with the quality of the text and transitions at your fingertips in MMEP.
The transitions are crisp and effective, the titles are slick, and the "film looks" make it easy to change the entire look and feel of your video in seconds. For all of MMEP's faults, it has to be said that the catered content is easy to add to your projects and looks great.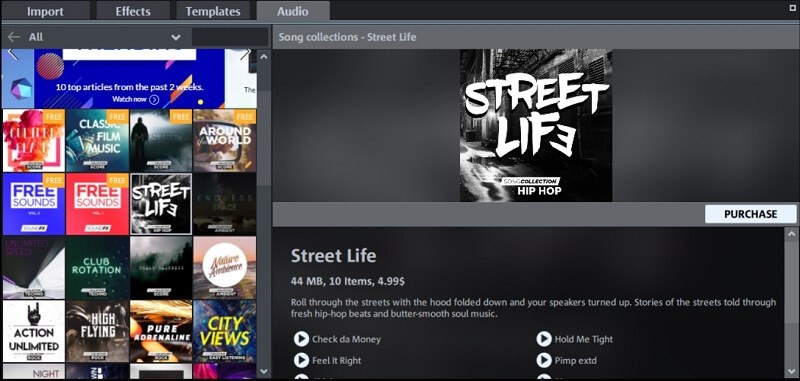 The final tab of the browser area is the Audio tab, which is basically a glorified store for you to purchase music and audio clips. Given the vast amount of easily accessible and free content on the internet, I would be hard-pressed to imagine a scenario where I would pay money to purchase sound clips through MMEP.
The Effects
I consider the quality of the effects in an entry-level video editor to be a major factor in the overall effectiveness of the program. Effects are one of the few unique features of a video editor which shines through in finished movie projects. Every video editor on the market is capable of cutting video and audio clips together, but not every video editor is equipped with the effects that will make your home movie projects pop off the screen.
With that in mind, I have to admit that it's difficult for me to evaluate the true impact of the video effects in MMEP. A Premium version of the software which is currently available on the MAGIX website comes with a massive number of high-quality effects from NewBlue and HitFilm, but these effects packages also come standard in a number of MMEP's competitors.
If I had to plainly answer the question, "Does MMEP have great effects?", I'd have to say "Yes" due to the inclusion of these packages. However, given that so many other programs include similar effects packages, the overall strength of the effects in MMEP is a bit weaker than the competition. As you can see in the demo video I created using MMEP, the default effects (the ones unique to MMEP) are a far cry from professional quality. The effects which provide a function work just fine, but the effects intended to add a unique flair to your videos are generally quite underwhelming.
I mentioned in a previous section that I was quite impressed by the strength of the templates in MMEP, which included "film looks". Most other programs would categorize film looks (which change the color, brightness, and focus of movie clips) as "effects". I don't want to knock the strength of MMEP's effects due to the way they chose to categorize them, so it bears repeating that film looks in MMEP are quite passable.
Rendering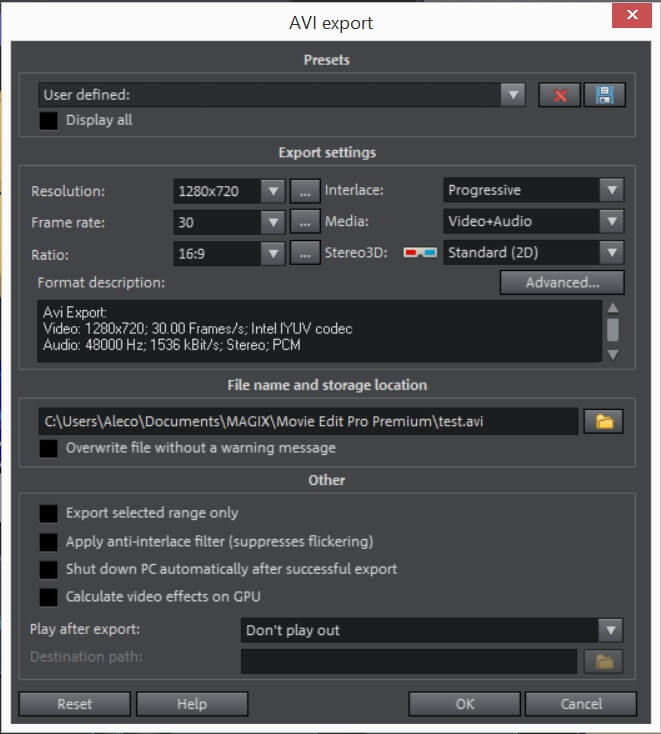 The final step to every movie project, the rendering in MMEP is well organized but ultimately suffers from long render times. A very useful checkbox appears while you are rendering that allows you to automatically shut off your computer after a render is complete, which is a feature I've never before encountered. Though I appreciated that nice touch, the render times in MMEP were noticeably longer than in competing programs.
Reasons Behind My Ratings
Effectiveness: 3/5
MAGIX Movie Studio is capable of performing all the basic tasks you'd expect from an entry-level video editor, but it struggles at providing a pleasant user experience. The UI is clunky at best and ineffective at worst, and the unique features of the program (such as storyboard mode and travel route) do little to boost its overall effectiveness.
Price: 3/5
While its current sale price might seem tempting, I simply can't recommend purchasing the program at any of its available price points. There are other programs on the market which cost less money, do more things, and provide a much more pleasant user experience.
Ease of Use: 3/5
The program certainly isn't difficult to use, but a big part of "ease of use" is the quality of the overall user experience. MAGIX Movie Studio gets a knock in this category because I was frequently frustrated by the design of the UI.
Support: 5/5
The MAGIX team deserves a lot of credit for the support it offers. The tutorials are excellent and the team makes itself readily available for live online tech support.
Alternatives to MAGIX Movie Studio
If Price Is Your Biggest Concern:
Nero Video is a solid option that is available for nearly half the price of the basic version of MMEP. Its UI is clean and easy to use, it has very passable video effects, and it comes with a complete suite of media tools that might be of interest to you. You can read my review of Nero Video.
If Quality Is Your Biggest Concern:
Another product made by MAGIX, VEGAS Movie Studio is a very high-quality product. The polar opposite of MMEP in nearly every way, Vegas Movie Studio has an incredibly user-friendly UI while offering the same suite of HitFilm and NewBlue effects. You can read my VEGAS Movie Studio review.
If Ease of Use Is Your Biggest Concern:
There are many video editors in the 50-100 dollar range that are easy to use, but none are easier than Cyberlink PowerDirector. This program goes out of its way to create a simple and pleasant user experience and will have you creating movies in minutes. You can read my PowerDirector review here.
Conclusion
When it comes to choosing an entry-level video editor, there are a plethora of excellent options on the market. None of them are perfect, but each of the video editors I've reviewed does something better than their competitors. PowerDirector is the easiest to use, Corel VideoStudio has the strongest tools, Nero offers the most value for its price, etc.
Try as might, I can't seem to find a single category where MAGIX Movie Studio beats out the rest of the competition. Its UI is clunky, the tools and effects are pedestrians, and it's just as expensive (if not more expensive) than its direct competitors. Given the program's lack of relative strengths, I have a hard time recommending it over the other programs I mention in the section above.
So, do you find this MAGIX Movie Studio review helpful? Leave a comment below.