VEGAS Movie Studio
Effectiveness: Excellent workflow, capable of slicing high-quality movies
Price: Starting from $7.99 USD per month
Ease of Use: No-nonsense UI with best tutorials I've encountered in a video editor
Support: Tutorials are incredible but you may rely on the community for help
Summary
VEGAS Movie Studio is the baby brother to VEGAS Pro. It does an excellent job at imitating the UI and workflow of the professional version, but many of the greatest strengths of VEGAS Pro are not present in VEGAS Movie Studio. In my opinion, the effects and advanced features are what make VEGAS Pro a professional quality video editor — and it's one of Movie Studio's biggest weaknesses.

As a standalone piece of software, there are many reasons to be impressed with VEGAS Movie Studio, but it doesn't exist in a vacuum. I've had the pleasure of reviewing a multitude of excellent video editors at similar price points (see the "Alternatives" section below), and feel Movie Studio doesn't stack up against the competition at its retail price point. The cheapest version of Movie Studio does far less than comparable video editors, while the most expensive version doesn't do quite enough.

You can watch the 30-second demo video (below) I made using VEGAS Movie Studio just to get a feel of its output, or you can visit the official site to try out the latest version.

What I Like: The workflow is smooth and intuitive. Extremely reliable. Unlike many video editors, Movie Studio never once lagged or crashed. The UI is virtually identical to VEGAS Pro making it painless to upgrade to Pro. The timeline feels malleable and automatic.

What I Don't Like: The three versions seem not properly priced for their functionalities. The strength of the effects lags behind those of its similarly priced competitors.
Who is VEGAS Movie Studio best for?
It is an entry-level video editing program. It has the same UI as VEGAS Pro, a professional-quality video editor, but trims down on some of its more advanced features to offer a reduced price.
Is VEGAS Movie Studio free?
The program isn't free, but it does offer a free 30-day trial version. There are three versions of VEGAS Movie Studio: Edit version, Pro, and Post. They cost $7.99/mo, $11.99/mo, and $17.99/mo in an annual subscription.
Is VEGAS Movie Studio for Mac?
The program is for PCs only and is compatible with Windows 7 or above, including the latest Windows 11.
Why Trust Me for This Review
My name is Aleco Pors. Video editing started out as a hobby for me about eight months ago and has since grown into something I do professionally to complement my writing.
After teaching myself how to use professional quality editors such as Final Cut Pro (Mac only), VEGAS Pro, and Adobe Premiere Pro, I have had the opportunity to test out a variety of programs that catered to newer users as a reviewer for SoftwareHow. I understand what it means to learn a new video editing program from scratch, and I have a good sense of the quality and features you should expect from video editing software at various price points.
My goal in writing this VEGAS Movie Studio review is to let you know whether or not you are the kind of user who will benefit from using the program. I have not received any payment or requests from MAGIX (who acquired VEGAS) to create this review and have no reason to deliver anything but my complete and honest opinion about the product.
Detailed Review of VEGAS Movie Studio
Note: The screenshots below were taken from an old version of VEGAS Movie Studio. If you're using the latest version, there might be slight differences. Also, I call the program VMS for simplicity.
The UI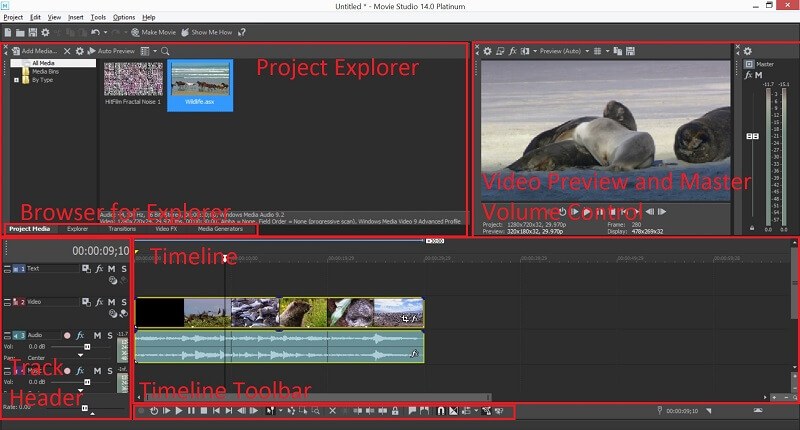 The UI in VEGAS Movie Studio (VMS) stands out from its competitors by taking a single-screen approach. While most other video editors opt for three to five major sections in their UI (such as a file manager, editor, and export section), this program manages to organize all of these functions into its menus and a single screen. The UI might not be as snazzy as that of its competitors, but I appreciate its straightforward approach to UI design and felt as though the single-screen approach saved a good deal of time.
The biggest selling point of Vegas's UI is that it is nearly identical to that of VEGAS Pro, my personal favorite professional quality video editor (you can read my review of VEGAS Pro here). Having already learned the professional version of the software, learning the UI of VMS was a total breeze for me. I realize that the majority of users will start with VMS before moving up to the pro version, so their experience might be different from mine, but I believe you'll have an easy time picking up its UI either way.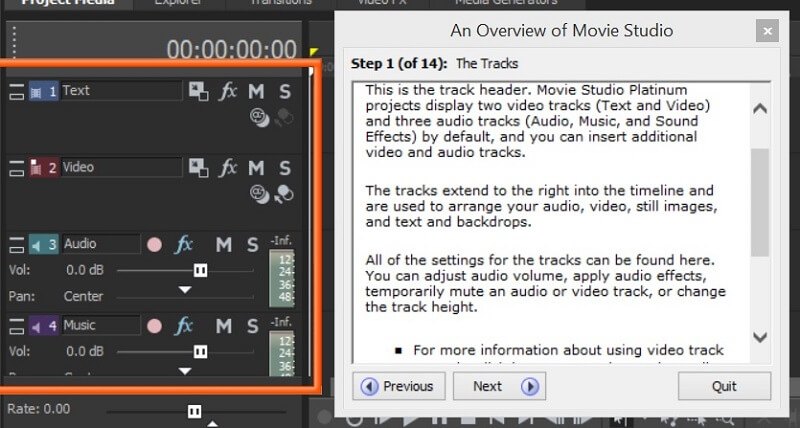 The tutorials are integrated directly into the UI of the program, making it incredibly easy to find what you're looking for while you're learning to use the software. The tutorials were the most thorough I've ever encountered in a video editing program, and I have no doubt that users with any amount of experience will be able to pick up VMS with ease.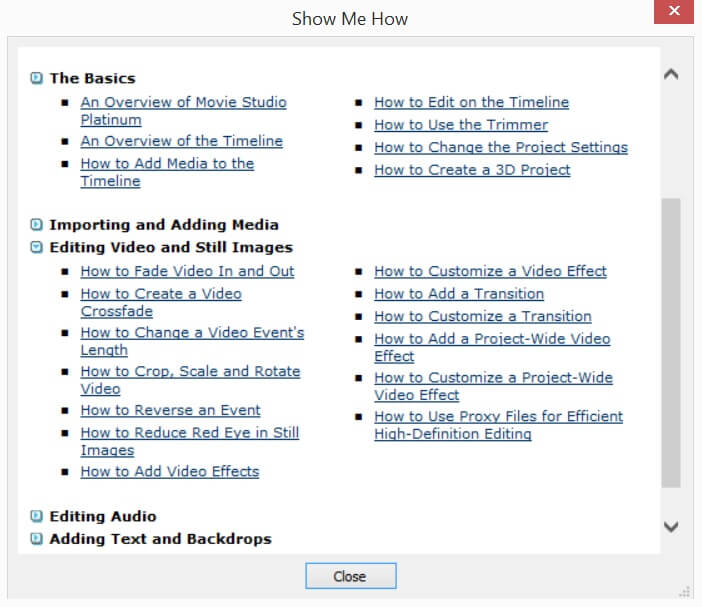 Importing and Exporting
Importing files into the program is a breeze, as you can drag and drop a file from anywhere on your desktop directly into the program's timeline or Project Explorer. There's no need for media browsers or file navigation to import your files.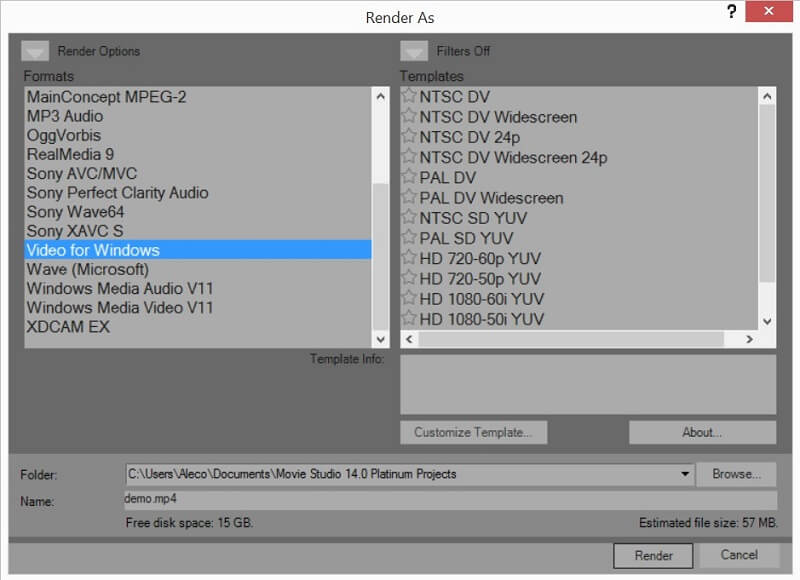 Rendering is a little complex in VMS, and it's the one area I consider the program to be behind the competition in terms of ease of use. After selecting File -> Render as, VMS offers a plethora of rendering options and settings. This is amazing if you know what you're doing, but can be a bit overwhelming if you don't already know a lot about video rendering. I'd highly recommend doing some basic research on render settings in the program before choosing to render a long video project.
The Timeline
My favorite part, the timeline offers a robust number of easy-to-use features for splicing together your video and audio clips.

What makes the timeline so easy to use is the well-programmed default behavior of the program. Changing the length of the clips within the timeline will cause them to smoothly snap to the same the length of clips that are above or below them, and the cursor within the project will automatically move itself to useful locations, such as the beginning or end of a clip if you click close to the area. VMS isn't the only program to have this feature, but fading clips in or out is as simple as clicking on one of the two upper corners of the clip and dragging a fade marker to your desired location.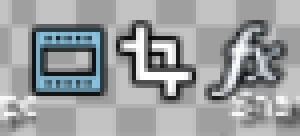 Between one and three buttons will appear at the bottom right corner of each clip within the timeline, which can be used for editing the settings of the clip. This is a feature that is unique to the VEGAS UI, and one that I truly miss when I use other video editors. These buttons make it painless to adjust the settings of an individual clip, such as the pan/crop or the media effects, without having to navigate through menus and submenus to find what you're looking for.
The Project Explorer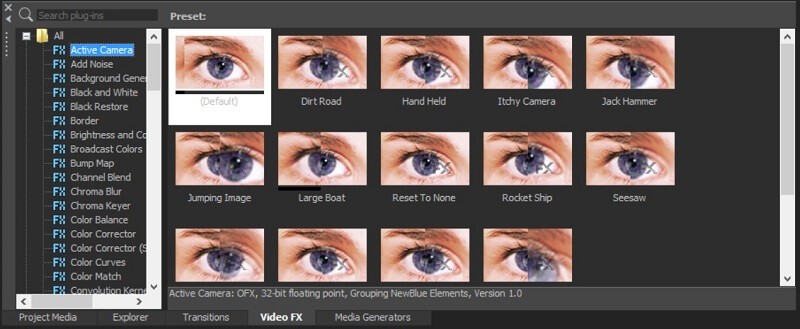 The project explorer is where you'll find all of the media, effects, and transitions for your project. Everything within the project explorer can be dragged directly into the timeline, making it very easy to apply transitions and effects to your project. Each effect and transition has a preview that can be viewed on mouseover in the project explorer window, dramatically cutting down on experimentation time.
Though I appreciated the overall organization of the project explorer itself, the organization of the effects and transitions within the project explorer is less than stellar. Effects are contained within folders that are not organized by function, but in categories such as "32-bit floating-point" and "Third Party". The only way to get a good sense of all the effects and transitions that are offered in VMS is to click on each folder and subcategory one by one, a time-consuming process that is quite a bit less user-friendly in VMS than it is in other programs.
Effects and Transitions
One of the greatest strengths of VEGAS Pro is its effects, which is why I was quite surprised to find that the effects in VMS are underwhelming. The default effects included in the basic version of the software are functional but offer far less pizazz than some of VMS's competitors, while the effects in the Suite version are on par with the competition but come at nearly twice the price. Some of the NewBlue effects are the exact same as those in Corel VideoStudio.
Unfortunately, VideoStudio is less than half the price of the Suite version of VMS. My knock on the effects in the Suite version isn't that they aren't effective, it's that I have a hard time justifying the massive increase in price from the basic version of VMS to the Suite version, especially when there are a number of excellent programs out there which offer the exact same effects at a fraction of the price.
I'd feel much more comfortable recommending the basic version of VMS for the quality of its transitions than I would for its effects. The default transitions in the program are sleek and highly usable. That said, they still do little to separate themselves from the competition. Nero Video costs much less and has equally effective transitions, while the aforementioned Corel VideoStudio has comparable transitions to the Suite version. While the transitions are satisfactory, they don't do enough on their own to justify purchasing VMS over one of its competitors.
You can check out my effect and transition demo video here:
Other Features
There are a few excellent quality-of-life features in VMS which are worth mentioning. The first is the pan/crop editor, which functions almost identically to the pan/crop editor in VEGAS Pro.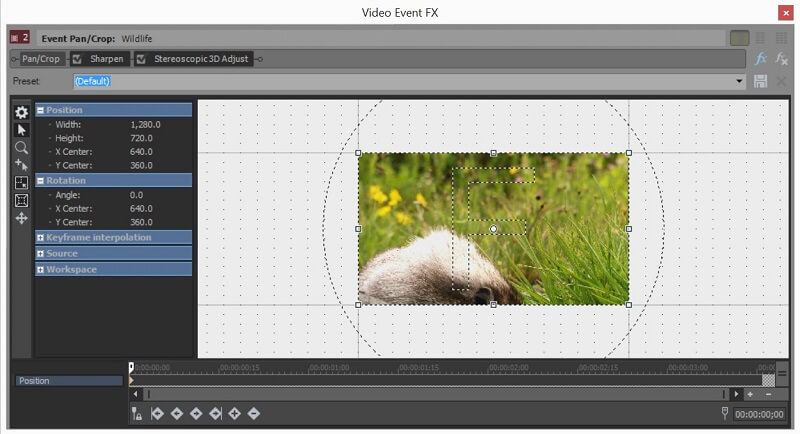 Achieving the exact magnification and adjustments within your video clips can be done easily and effectively within the pan/crop window. You can resize the zoom with your mouse by dragging on the edges of the box within the preview window, or you can get more exact with your settings by entering the exact numbers to the left. The best part of the pan/crop tool is the ability to add keyframes to the clip. By adjusting the zoom and pan settings at different keyframes, you can quickly highlight areas of your video for dramatic effect or create Ken Burns-style pan effects in seconds.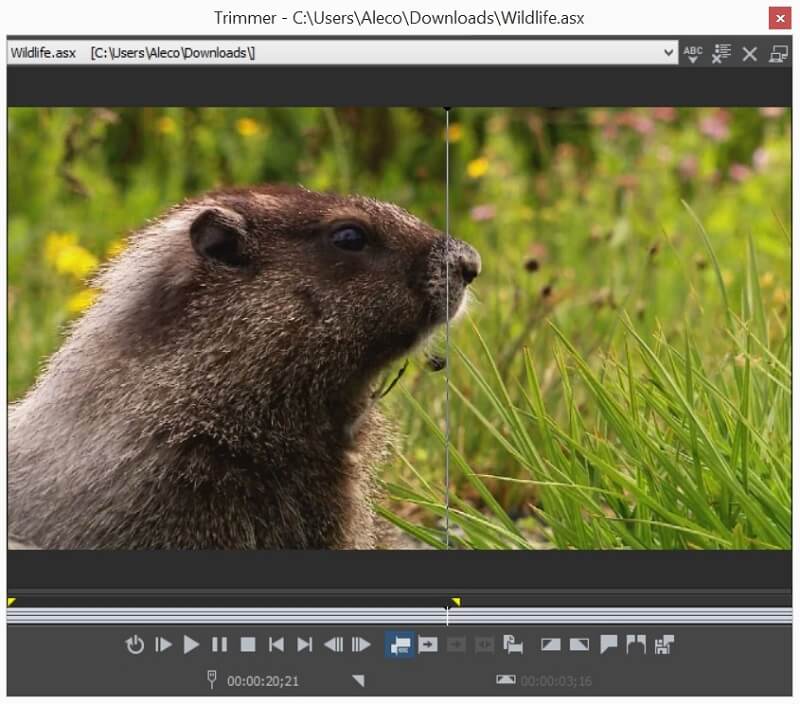 Another one of my preferred features is the clip trimmer, a quick and painless way to trim and split your clips into the exact length you need. You can navigate frame by frame within the clip trimmer to create sub-clips and set precise beginning and endpoints for your clips.
Reasons Behind My Review Ratings
Effectiveness: 4.5/5
VEGAS Movie Studio is a little light on features but is still effective at slicing together movies. The workflow in the program is excellent, and it is capable of outputting high-quality videos for hobbyist-level movie projects. The knock on the program's overall effectiveness is the weakness of its effects, which makes it difficult to create flashier projects.
Price: 3/5
In my opinion, the three price points for VEGAS Movie Studio don't stack up well against the competition. The basic version doesn't offer nearly enough quality effects. The Platinum version is a minimal upgrade over the basic one. The Suite version is vastly more expensive than effective competitors. The basic version is fairly priced for what the program offers but doesn't provide quite as much bang for your buck as some of the other video editors I've reviewed for SoftwareHow.
Ease of Use: 5/5
The tutorials in VEGAS Movie Studio are the best I've ever encountered. They totally integrate into the program, making it nearly impossible to be confused about what you're looking for. The UI is simple, clean, and straightforward, which makes the program a breeze to use.
Support: 4/5
The tutorials are excellent, but the support portal on its official website leaves something to be desired. You might have to dig pretty deep through forum posts to find answers to advanced questions not present in the tutorials.
Alternatives to VEGAS Movie Studio
For the Edit version:
Nero Video is a fully featured video editor at nearly half the price of the basic version of VMS. It's just as easy to use, has better effects, and comes with a complete suite of other tools which might be of interest to you. You can read my Nero Video review for more.
For the Pro version:
Of the three versions, I feel as though the Platinum version offers the least value. Corel VideoStudio is cheaper than the Post version and comes with many more effects and features. You can read my full review of VideoStudio here.
For the Post version:
If you're willing to pay more than $100 for a video editing program then you might as well make the jump from entry-level programs to professional ones. Pro-level programs take more time to learn and are much more expensive, but they are extremely powerful and highly capable of creating commercial-quality movies. I'd gladly recommend both VEGAS Pro (review) and Adobe Premiere Pro (review) if you're in the market for a professional quality video editor.
Amazon customers, you're in luck!
The most powerful of the three versions, I'd be happy to recommend the Suite version if it were wasn't so expensive. Fortunately for Amazon Prime subscribers, the Suite (Post) version is much more affordable compared to the price listed on the MAGIX website! You can get VEGAS Movie Studio Suite on Amazon here.
At this price point, the program is even cheaper than VideoStudio while offering a superior UI and dependability. Look no further than VMS Suite if you're a subscriber to Amazon Prime.
Conclusion
VEGAS Movie Studio (which I also called VMS for simplicity) is an intuitive and dependable program that has a lot to offer. However, it's difficult to recommend when you factor in its cost. The basic version doesn't offer enough effects or features but seems to be the most fairly priced version of the three. The Platinum (Pro) version offers a small of upgrade over the basic version to be worth more than twice the basic version's price. And while Suite (Post) version is satisfactory in function, it's slightly on the expensive side as a consumer video editor.
I'd be completely satisfied with the smooth workflow and dependability of the Suite (Post) version if it were available at a more competitive price, which means Amazon Prime customers are in luck. The program is available on Amazon for much less than the listed price on the VEGAS website — a highly competitive price point when compared to other video editors. At the Amazon Prime price point, I would highly recommend the VEGAS Movie Studio Suite (Post), especially if you're interested in upgrading to VEGAS Pro sometime in the future.
So, what's your thought on this VEGAS Movie Studio review? Leave a comment below.