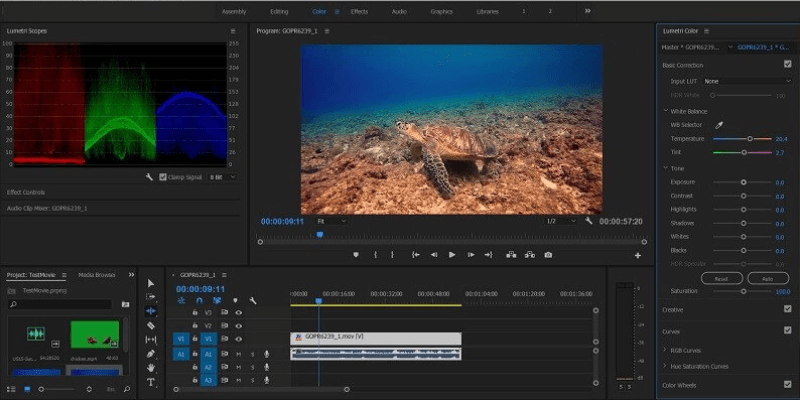 Adobe Premiere Pro
Effectiveness: Color and audio editing areas are powerful and painless to use
Price: Starting from $20.99 per month for an annual subscription
Ease of Use: Deep learning curve, not so intuitive as its competitors
Support: Offers useful introductory videos, and tons of tips online
Summary
Adobe Premiere Pro is widely considered to be the gold standard of professional quality video editors. Its color, lighting, and audio adjustment tools blow its direct competition completely out of the water.

If you're in need of a tool to make your footage jump off the screen, look no further than Premiere Pro. Many of the features and effects in Premiere Pro will feel familiar to those with experience in the Adobe Creative Cloud. One of the greatest selling points for Premiere Pro is its seamless integration with other Adobe programs, most notably After Effects.

If you're willing to fork up a bit for the combination of Premiere Pro and After Effects (or $49.99/mo for the entire Creative Cloud), I think you'll find this combination of these programs to be better than anything else on the market.

What I Like: Integrates with the Adobe Creative Suite. The preset audio modes are stunningly fitting to their descriptions. Workspaces and keyboard shortcuts make the program a breeze to use once you get the interface down. The color and light correction features are as phenomenal as you'd expect from the company that made Photoshop.

What I Don't Like: The subscription-based pay model. Massive number of effects & features make it difficult to find basic tools. Many of the built-in effects look tacky and are largely unusable. A bit of resource hog. Complex effects tend to slow down or break the preview window.
What is Adobe Premiere Pro?
It is a video editing program for serious hobbyists and professionals. It's the most widely used professional quality video editor in the world for a good reason, but it comes with a steep learning curve.
What can I do with Premiere Pro?
The program modifies and splices together video and audio files to make movies. What separates Premiere Pro most from its competition is its finely tuned color, lighting, and audio editing tools. It also integrates with the rest of the Adobe Creative Cloud, most notably with After Effects to create 3d special effects for your movies.
Is Premiere Pro safe to use?
The program is 100% safe. Adobe is one of the most trusted software companies in the world, and a scan of the folder containing Premiere Pro's contents with Avast turned up nothing suspicious.
It costs $20.99 a month if you go for the annual subscription plan — as a standalone program. It also comes included with the rest of the Adobe Creative Cloud for $52.99 a month.
Why Trust Me for This Review?
My name is Aleco Pors. It's been seven months since I started to take video editing seriously, so I understand what it means to pick up new video editing software and learn it from scratch.
I've used competing programs such as Final Cut Pro, PowerDirector, VEGAS Pro, and Nero Video to create videos for both personal and commercial use, and have a good sense of both the quality and the features you should expect from a video editor.
I hope that you can walk away from this Premiere review with a good sense of whether or not you're the kind of user who will benefit from purchasing Premiere Pro, and feel as though you're not being "sold" anything while reading this.
I have not received any payment or requests from Adobe to create this review, and aim only to deliver my complete, honest opinion about the product. My goal is to highlight the program's strengths and weaknesses, outlining exactly which kinds of users the software is best suited to with no strings attached.
Adobe Premiere Pro Review: What's in It for You?
The UI

The editing software is organized into seven main areas, which can be seen at the top of the screen. Going from left to right you'll see Assembly, Editing, Color, Effects, Audio, Graphics, and Libraries.
While most other video editors opt for a drop-down menu approach to their UI, Adobe decided to organize the program in a way which highlights the current task you are using. This allows Adobe to present more features per screen than other programs.
However, the UI also comes with some drawbacks. Most tasks can only be performed within their parent area, which means you'll have to do a lot of bouncing around to find what you need. Fortunately, the keyboard shortcuts in Premiere Pro are extremely useful and will save you tons of time if used properly.
Assembly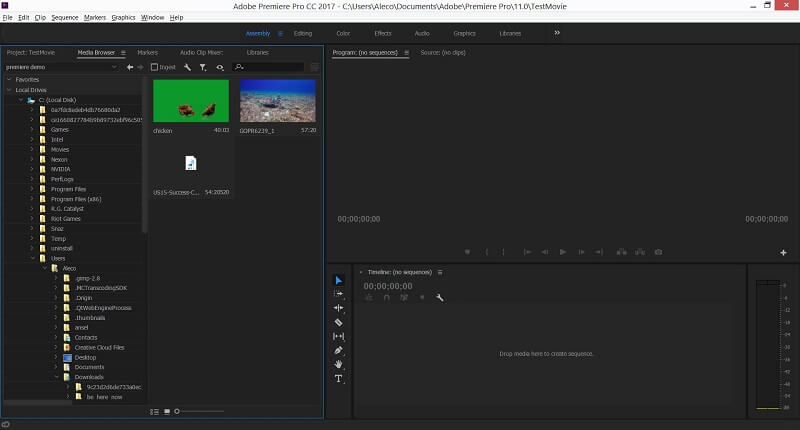 The first area is the Assembly menu, which is where you import files from your computer into your project. Though it's fairly self-explanatory to import files into the program, it should be noted that this is the first video editor I have ever used where I couldn't drag and drop a file into the program from a folder on my computer.
Editing and Tools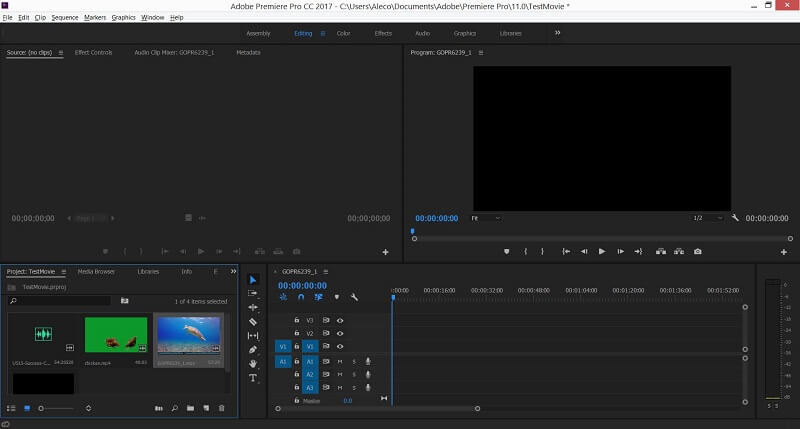 The editing area is where you'll splice together and organize the audio and video files in your project. It's pretty straightforward to use: Just drag and drop your imported files into the timeline to start moving them around. The editing area is also where you'll get your first glance at the "tools" in Premiere Pro:

Here you can see I have the selection tool highlighted. It's the default tool you use to select the elements of your project and move them about. Your cursor will change to reflect the current tool you have selected.
I have to say that I feel a little dubious about the necessity of tools in Adobe Premiere Pro. They make a ton of sense in Photoshop, but I can't help but feel as though competing video editors are able to present the same features in a more intuitive way. There is something to be said for keeping the UI consistent across the Adobe Creative Suite, but the tools in the program might feel a bit clunky or unnecessary to people who are familiar with other video editing programs.
Color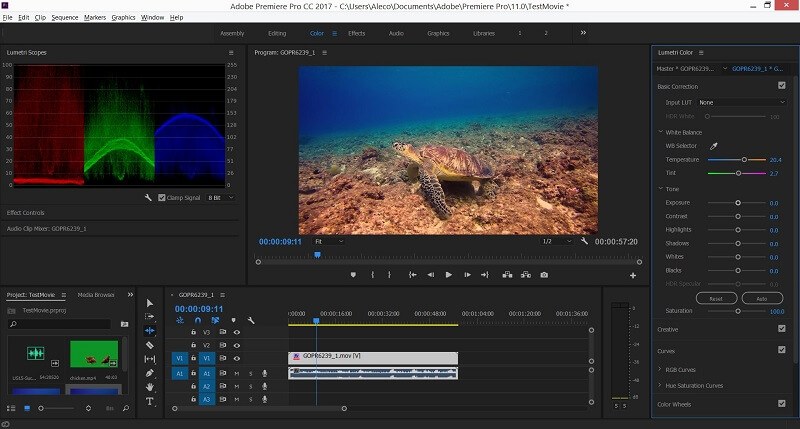 The Color area is perhaps the biggest selling point of the entire program. The amount of control you have over the color in your video is phenomenal. The UI for this area is responsive and highly intuitive to anyone with even a shred of experience in video or photo editing.
On the left side of this area, you get a very detailed look at the color data in your video clips, which is probably cooler than it is useful for the average user. Adobe does color editing better than anyone else, and Premiere Pro is no exception to this.
Effects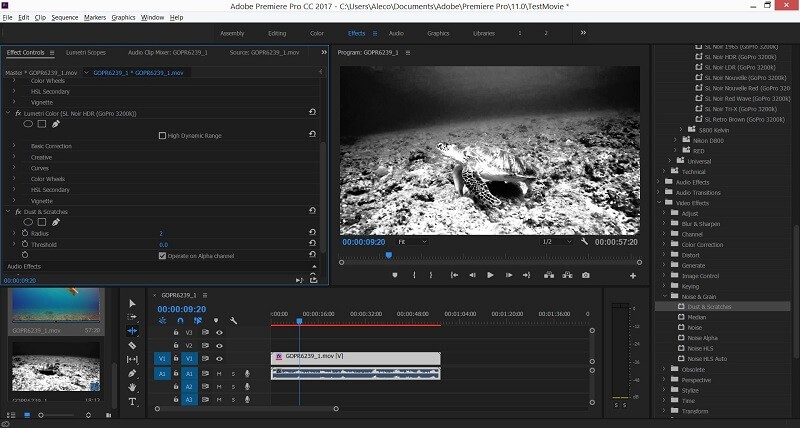 The effect area is where you apply ready-made effects to your audio and video clips. Clicking on an effect on the right of the screen sends its parameters over to the menu on the left side of the screen, which is called the Source Monitor. The Source Monitor enables you to adjust the various settings of the effect.
Once I got used to this method for applying effects, I really liked it. Other video editors generally require you to navigate a series of pop-up menus to apply effects, while Adobe's method allows you to quickly select, apply, and adjust settings with as few steps as possible. It was extremely easy to copy effects I had already applied to one clip and paste them into another.
Adobe Premiere Pro classifies many things I wouldn't have expected as effects. Basic changes, such as adjusting the alignment of your video within the frame or applying a chroma key (green screen), are accomplished by applying an effect. The word "effect" might be better described as "modifier". Pretty much anything that modifies your video or audio clip in any way is categorized as an effect in Premiere.
The vast majority of video effects apply some kind of color scheme to your video clips. Many seem quite similar to one another, but this fine-grain approach to crafting perfect color and lighting schemes is exactly what professional editors need.
Beyond the color modifying effects, there are also a handful of more complex effects which distort or modify the content of your videos. Unfortunately, the majority of the more interesting ones put a major strain on my computer's resources. With a more complex effect such as "strobe light" applied to my clip, the video preview window became uselessly slow. The program either froze, crashed, or needed to be restarted every time I applied one of these complex effects, which is something that never happened to me when I tested VEGAS Pro on the same machine.
Simple effects like "sharpen" or "blur" worked just fine on their own, but enough of them added together caused the same problems which complex effects did. I was still able to render every effect I tested without any issues but was unable to properly view most of them in the preview window before doing so. To be fair, Premiere Pro clearly wasn't designed to be a special effects editor. That's what Adobe After Effects is for.
If you're interested in checking out some of the effects in Premiere Pro, check out my demo video here:
Audio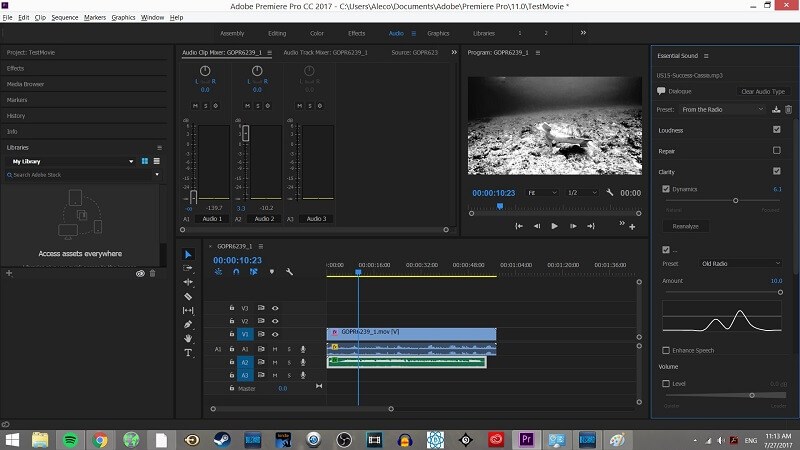 This brings us to the audio area, which I found to be one of the most impressive parts of the entire program. The tools for tweaking your audio are nearly as fine-grain as the tools for color and lighting. The presets are shockingly accurate to their descriptions as well, "from the radio" or "in a large room" will make your audio sound exactly as described.
Graphics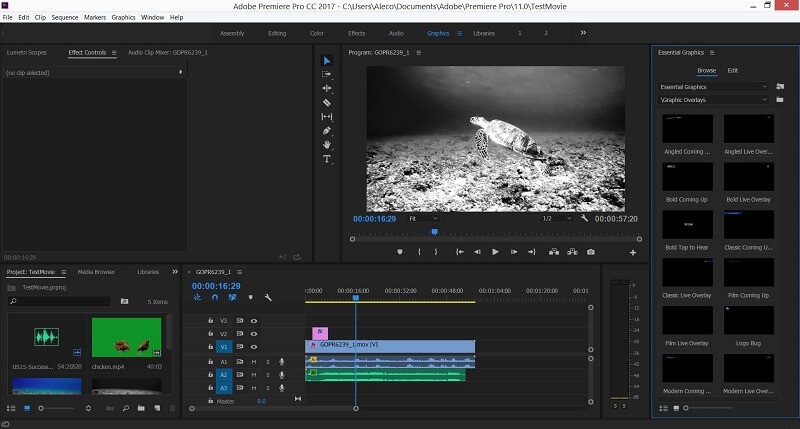 The graphics tab is where you can apply all sorts of generated content to your movie. Titles, vignettes, text backdrops, or anything else which needs to appear on top of your video can be found here. Just drag and drop the generated content directly into your video's timeline and it'll become a new element which you can modify however you chose. The graphics area is one of Premiere Pro's many strong features.
Libraries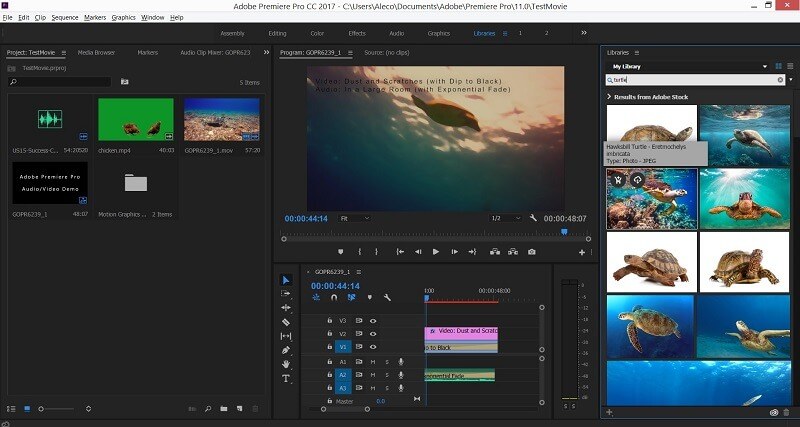 In the libraries area, you can search through Adobe's enormous database of stock images, videos, and templates. It's super convenient to have such high-quality images and videos be so readily available, but everything in Adobe's library requires an additional license to be purchased before they can be added to your project. Quality doesn't come cheap with Adobe.
Workspaces

The final element in the navigation toolbar is workspaces. Workspaces are like snapshots of a work area which allow you to quickly bounce between the places in your project you use the most. I found this feature to be extremely convenient and love that you can swap between workspaces by using a keyboard shortcut.
Rendering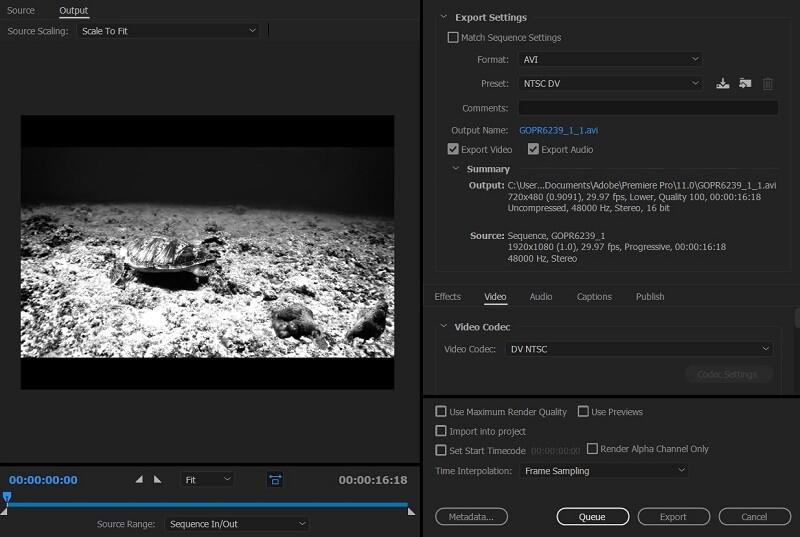 The final step to any video project is rendering, which was extremely simple and painless with Premiere Pro. Just select your desired output format and let Adobe do the rest.
Reasons Behind My Ratings
Effectiveness: 4.5/5
Nobody does it better than Adobe when it comes to color. The color and audio editing areas are extremely powerful and relatively painless to use. The half-star dock in rating comes from the performance issues I encountered when attempting to apply effects to my videos. It's a problem I never encountered when testing VEGAS Pro on the same computer.
Price: 3/5
It costs $19.99 per month for an annual subscription, which adds up quickly. If you need special effects in your movies, then it'll cost you another $19.99 a month for Adobe After Effects. In my opinion, the subscription model is at odds with the intentions of the program. It would make a lot of sense if the program were designed to be intuitive or easy to use, because then casual video editors could subscribe to Premiere Pro when they needed it and drop the subscription when they didn't.
However, The program is not for the casual video editor. It's designed for professionals in need of the highest quality possible, which means you'll probably spend more on Adobe subscription fees than you would have spent paying for another video editor.
Ease of Use: 3.5/5
Those who have a high degree of familiarity with other tools in the Adobe Creative Suite might find it easier to use Premiere Pro than other video editing programs, but the majority of users will find it overwhelming at first. The program's UI feels restrictive at times and requires some practice before it can be used swiftly. That said, once you get down all the hotkeys and know where to look, the UI becomes a tremendous asset.
Support: 5/5
It is the most widely used professional quality program of its kind. You'll be hard-pressed to encounter a problem which you can't solve with a Google search. Adobe also offers some useful introductory videos to help you get started with this video editing program.
Alternatives to Adobe Premiere Pro
If you need something cheaper and easier:
The two main competitors to Premiere Pro are VEGAS Pro and Final Cut Pro, both of which are cheaper and easier to use.
Windows users can pick up VEGAS Pro, which is also capable of handling the special effects which you'd need Adobe After Effects for.
Mac users can pick up Final Cut Pro, which is the cheapest and easiest to use of the three programs.
If you need special effects:
Largely absent from Premiere Pro is the ability to create snazzy special effects. Adobe expects you to pick up a license for After Effects to handle these within their Creative Suite, which will cost you another $19.99 a month. VEGAS Pro is a fully-featured program that can handle both video editing and special effects.
Conclusion
What Adobe Premiere Pro does best put its competition to shame. If you're a filmmaker in need of the highest degree of control over your video and audio files, then nothing comes close to Premiere Pro's quality. Its color, lighting, and audio adjustment tools are the best in the business, which makes the program perfectly suited for editors and videographers who need to get the most from their footage.
Premiere Pro is a powerful tool, but it is far from perfect. Special effects are not its strong suit, and many effects caused performance issues for me. The program is very resource hungry and might not run smoothly on the average machine. Its UI is designed to be a breeze to navigate, but it takes a while to get used to when you're just starting out. I think the average hobbyist will find that they can accomplish everything they need with a cheaper or more intuitive tool.
Bottom line — it is a tool for professionals. If you truly need it, then nothing else will do.
So, do you find this review of Adobe Premiere Pro helpful? Share your thoughts below.