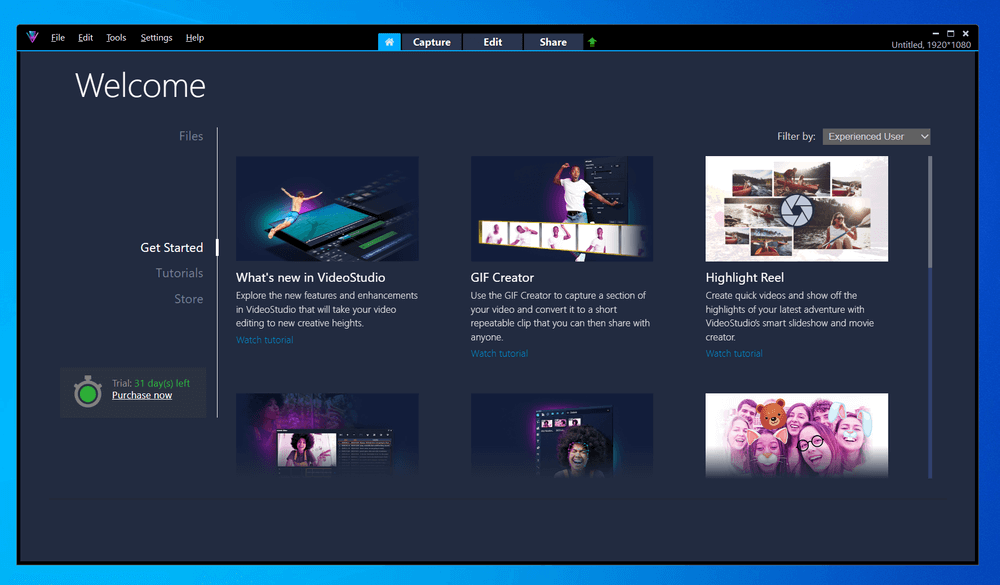 Corel VideoStudio Ultimate
Features: A blend of basic and advanced features supply plenty of tools to create high-quality content.
Pricing: The price is affordable but not the cheapest option available.
Ease of Use: The software is easy to use once you get the hang of things.
Support: Customers have ample resources for support and troubleshooting.
Summary
Corel VideoStudio is video editing software designed to help editors at varying levels create high-quality content. It's packed with features, ranging from more basic options such as trimming and transitions to more advanced features, including multicam editing and a 360-degree editor.

It boasts a well-designed interface with logically arranged tools, making it a great option for beginners learning the video editing ropes. However, since it has limited sound processing abilities and may not feature everything a pro might need, it's not ideal for advanced professionals.

What I Like: This software offers numerous basic and advanced features and is available in a free trial.

What I Don't Like: Several customers cite issues with the software's low sound processing abilities and limited music library.
Who is Corel VideoStudio for?
It's a video editor geared toward video editors at varying levels. It offers everything from more basic features, such as trimming and transitions, to more advanced features, including multicam editing.
Is Corel VideoStudio Ultimate software safe?
Yes, Corel VideoStudio Ultimate is safe to use and comes from a trusted software provider.
Is Corel VideoStudio free?
No, Corel VideoStudio Ultimate isn't free. You can start with a free trial, but after that, you'll need to pay to continue using it.
Is Corel VideoStudio a one-time purchase?
Yes, it is. The Ultimate costs $99.99, with a 30-Day money-back guarantee, according to Corel.
What's the difference between the Ultimate and Pro version?
The Ultimate version comes with a few more features, notably the masking tool, but costs a bit more than the Pro version.
Is Corel VideoStudio for Mac?
Unfortunately for Apple fans, the software is only available on PC. If you are on a Mac machine, read our best Mac video editing software for alternatives.
Why Trust Me for This Review
Hi, I'm Jon, a video editor, content creator, and digital marketer. I've been creating and editing videos for nearly a decade. And every so often, I will bench-test other video editors. I do this so I can see the latest features, keep myself efficient, and make the best quality videos.
Over the years, I've used dozens of video editors. I know how to test them, what features to look for, and what makes them easy to use. All of these facets are important, and many video editors don't excel in all criteria.
That said, Corel VideoStudio Ultimate is one of the market's most intuitive, affordable, and feature-rich options. However, like every software, it isn't perfect. 
Side Note: Here's a demo video created by my teammate Aleco, using an earlier version of VideoStudio:
Detailed Review of Corel VideoStudio Ultimate
Corel VideoStudio Ultimate is a well-rounded video editing software teeming with helpful features to help you create captivating content. It has everything you might expect from basic video editing software, plus a few extras.
Here are a few key features of the Corel VideoStudio Ultimate software, along with my personal take on each feature.
Drag-and-Drop Interface

The Corel VideoStudio Ultimate software features a drag-and-drop interface streamlines the video creation process. You can create smooth, polished videos by dragging and dropping various graphic elements and text boxes into your content. Add transitions to smoothen your creation, and tweak the location of each element with a simple click and drag.
My personal take: The drag-and-drop design makes it easier to tweak your creations to your liking and move elements around.
Advanced Editing Tools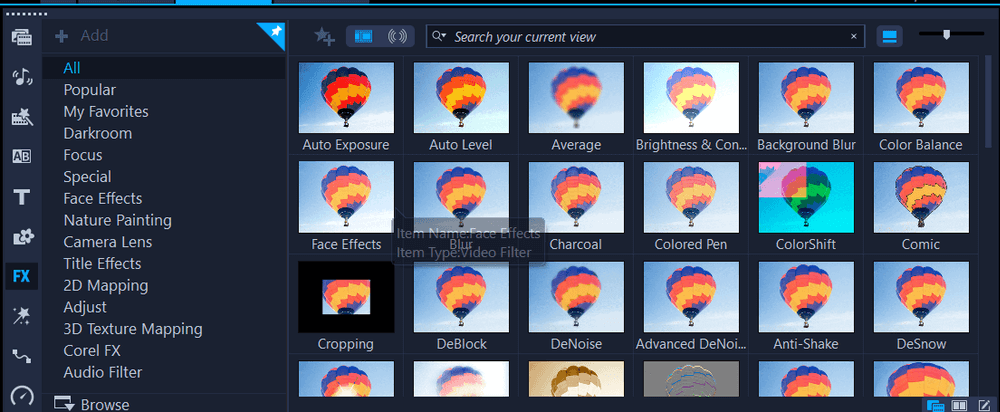 VideoStudio Ultimate offers a well-rounded array of advanced editing tools. You'll find the basics, including standard trimming tools, selection tools, and lens correction tools. In addition, this software offers a list of advanced features, including Mask Creator, Split Screen Templates Creator, and GIF Creator.
Fine-tune panoramic footage in the 360 Editor or add animation and speed effects to create a more realistic, captivating result. The list goes on, and while you might not find every cutting-edge feature standard in pro-level software, the offerings are impressive.
My personal take: The feature list is impressive, making it a good option for beginners and more advanced video editors alike. Of course, beginners might encounter a learning curve using the advanced tools, but once they get the hang of it, each tool offers straightforward usability.
Audio Cues
The latest version of Ultimate comes with audio cues, which make it easier to add sound to your creations. You can synergize your audio content with the pictures or videos by setting cue points on your music clip. You can do this manually or skip the headache and have the software match the audio to the timeline automatically.
My personal take: Aligning audio with your visual content can be tricky, so this tool is a helpful feature that streamlines the process.
Multicam Editing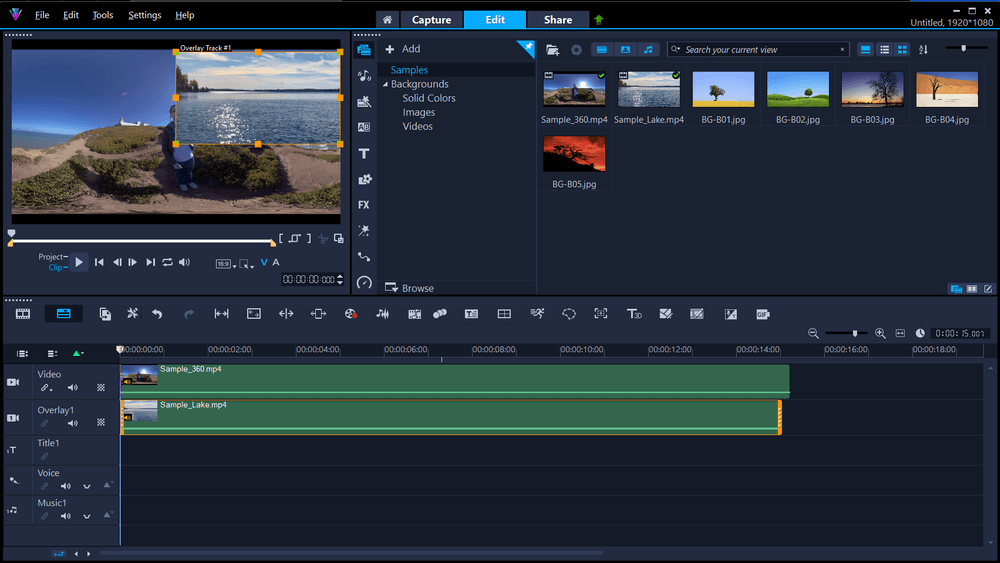 The Ultimate version of VideoStudio offers multicam editing that simplifies your editing process. You can edit up to six angles of your video footage at once to ensure everything lines up perfectly.
On top of that, you can capture webcam videos and record your screen simultaneously, record dual screens, or utilize the split screen template creator. Each tool is designed to streamline the process of capturing and editing multiple angles, making it perfect for capturing and editing reactions to the same moment.
My personal take: It can be tricky to edit multiple angles of the same moment multiple times, especially on different screens. Having all of them in front of you allows you to tweak everything on the same screen and easily ensure each part lines up.
AI Helper
AI-based features allow you to effortlessly create slideshows and movies with a few simple clicks. The AI helper automatically selects your best shots and clips, skirting those with imperfections. It compiles it into a short highlight reel that showcases your best shots.
The best part? It requires minimal effort from you.
My personal take: If you're in a rush and want to quickly compile a short reel of your favorite moments, this tool is an easy way to do it.
Speech-to-Text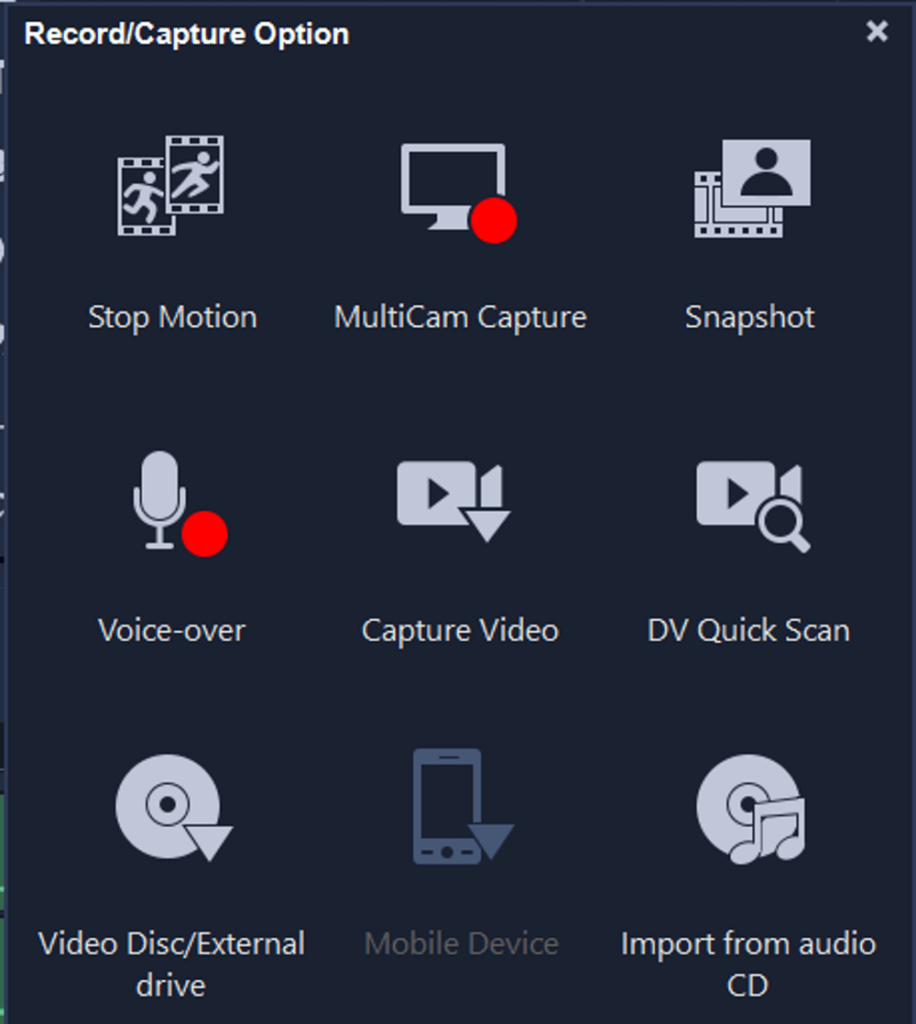 This software features a speech-to-text converter that eliminates the need to spend time transcribing your content. It easily converts the speech in your video into subtitles on the screen.
Of course, accuracy might be lacking when the audio quality isn't stellar, so it doesn't hurt to watch the video back and confirm the subtitles accurately display what you're saying in the video.
That said, taking a few minutes to watch your video back saves quite a bit of time over transcribing each statement you make in the clip.
My personal take: Captions are a must-have for many viewers, but they take a while to transcribe. This tool is great for saving time and effort in your video creation process.
Reasons Behind My Ratings
Features: 4.7/5
This software features nearly every basic feature you might expect from video editing software. It's decked out in basic features designed to help you edit your videos, but it also offers an array of more advanced options to fine-tune your content.
While it may not feature everything you might expect from professional-level video editing software, its feature options are solid enough to satisfy most beginner and intermediate-level editing needs.
Pricing: 4.6/5
The price of Corel's VideoStudio Ultimate software is approachable. Instead of featuring a subscription-based tiered pricing structure, it's available at a one-time price. The standard price is $99.99, but at the time of writing, Corel is running a 50% off deal, so it's only $49.99.
Compared to other options, this software is affordably priced. If you're unsure whether you want to commit, you can always start with a free 30-day trial to test compatibility.
Ease of Use: 4.3/5
The interface in this software is well-designed and features a logical layout. Each feature and tool is tucked where you might expect it, so if you've used video editing software before, switching to this software will likely be a breeze.
However, if you're new to video editing software, you'll likely encounter a mild learning curve. Once you learn the basics of where everything is and how to use it, you'll be good to go.
Support: 4.9/5
Corel offers impressive support for its VideoStudio Ultimate users. There are various tutorials, some written and others in a video format, to help you learn the ins and outs of using this program. A user guide outlines the basics, advanced techniques, and other helpful tips to help you start.
A detailed FAQ page outlines answers to common questions, while a community forum discusses common issues in depth. If you can't find what you're looking for in those resources, you can always create a support ticket, call, or chat with an agent.
Alternatives to Corel VideoStudio
The most direct competitor is Cyberlink PowerDirector. The two programs are priced about the same and are targeted toward beginners. I found PowerDirector even easier to use than VideoStudio — which is not a knock on Corel but a testament to the amazing UI of PowerDirector. Both programs are extremely clean and effective, but the major advantage of PowerDirector is that the program never lags or slows down.
The main reason to purchase VideoStudio over PowerDirector is that it is a bit more powerful. VideoStudio offers you more customization options in your effects and the ability to purchase high-quality effects in the program's Welcome tab. The Mask Creator tool is also a major selling point for VideoStudio.
If both price and ease of use are not a major concern for you, look no further than the industry standard: Adobe Premiere Pro. It will cost you a pretty penny at a subscription and take you some time to learn, but once you've got the program down, there really is no substitute. The color editing tools will make your videos pop, and the audio editing tools will make them sing.
Final Verdict
Corel VideoStudio Ultimate is a solid contender for video editors seeking a well-rounded and affordable option. It offers a full array of basic and advanced features to accommodate varying needs and allow you to create high-quality content.
However, while its offerings are well-suited to beginner and intermediate video editors, professionals seeking highly advanced software might not find what they're looking for in this option.
So, do you find this VideoStudio review helpful? Leave a comment below.