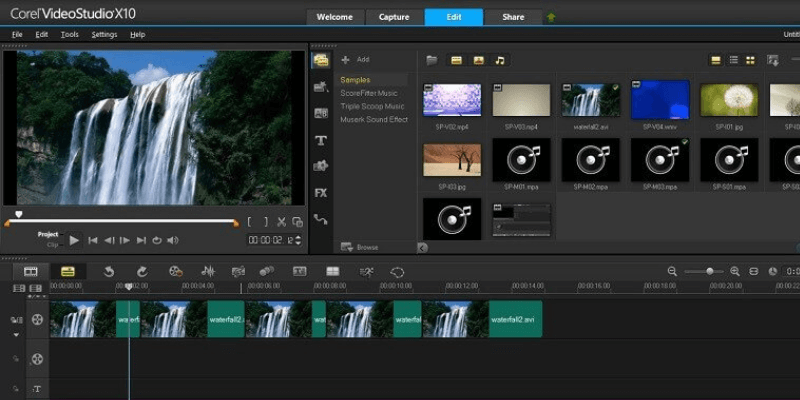 Corel VideoStudio
Effectiveness: Offers a suitable number of tools to make simple videos
Price: Regularly priced at $54.99 for Pro, $69.99 for Ultimate
Ease of Use: Extremely intuitive and completely painless to learn
Support: Tutorials are easily accessible on its welcome screen
Summary
As a video editor for beginners, I found the user interface of Corel VideoStudio to be extremely intuitive and easy to learn. Though its interface can feel a bit restrictive at times, VideoStudio is a more powerful program than some of its competitors and will undoubtedly be the right tool for many hobbyists.

I highly recommend you download the trial version and try it out yourself before purchasing it, as I found the biggest drawback of the program to be occasional stutters in performance on my computer. If your own computer doesn't encounter these issues, then VideoStudio might be exactly what you need.

What I Like: It's extremely easy to learn and use. The effect previews are a major time-saver. The masking tool is powerful, effective, and easy to use. Affordable: It's hard to find a more cost-effective editor than VideoStudio.

What I Don't Like: The organization of tracks within the timeline feels prohibitive. Applying effects to the video made the preview window laggy. Very long render times. The way the program handles text.
What is Corel VideoStudio?
It is a simple video editor designed for beginners. It offers all the features you'll need to create simple home movies, slideshows, and montage videos. Editing video clips, audio, and pictures is a breeze with the program, but the effects and color correction tool make it unsuitable for professionals.
What's the difference between the Ultimate and Pro version?
The Ultimate version comes with a few more features, notably the masking tool, but costs $15 more than the Pro version. Both products are currently on sale, so you can pick up the Ultimate version for just 6 dollars more than the Pro version which is totally worth it!
Is Corel VideoStudio free?
No, it isn't. The Ultimate version costs $69.99 and the Pro version costs $54.99. You can download a free trial of the program.
Is Corel VideoStudio for Mac?
Unfortunately for Apple fans, the software is only available on PC. If you are on a Mac machine, consider Filmora and Adobe Premiere Pro.
Why Trust Me for This VideoStudio Review
My name is Aleco Pors. Video editing has been a serious hobby of mine for quite some time now. During this time I have created videos for both personal and commercial use with a variety of editors, and have had the opportunity to write reviews for SoftwareHow about many of them. I've taught myself how to use Final Cut Pro, PowerDirector, VEGAS Pro, and Adobe Premiere Pro, so I understand what it means to learn a new video editing program from scratch and have a good sense of its quality and features.
My goal is for you to walk away from this VideoStudio review with a sense of whether or not you're the kind of user who will benefit from purchasing VideoStudio, and that you'll feel as though you were not "sold" anything in the process. I have not received any payment or requests from Corel to create this review, and have no reason to deliver anything but my complete and honest opinion about the product. My goal is to highlight the program's strengths and weaknesses and outline exactly who this software is best suited to with no strings attached.
Corel VideoStudio Ultimate Review
My learning experience with this video editing tool was both straightforward and intuitive. The user interface will feel very familiar to anyone with experience in other video editors, as nearly every one of its elements is similar to those of its competitors.
The video editing program is organized into four main sections, each listed at the top of the screen: Welcome, Capture, Edit, and Share.
Welcome Screen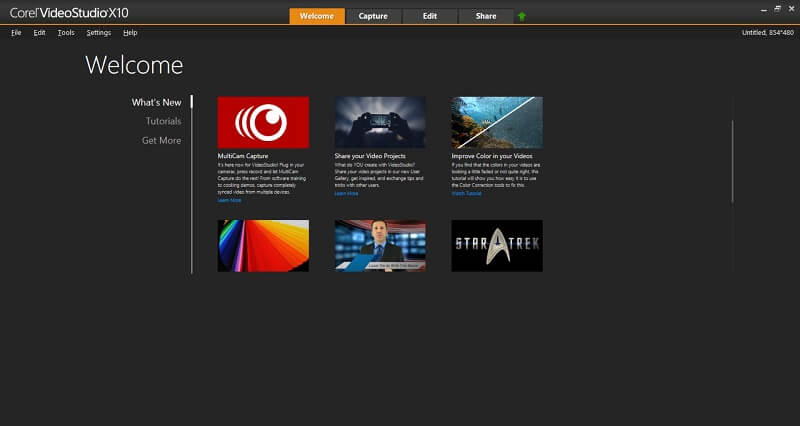 The "Welcome" tab is the most useful welcome screen I have ever encountered in a video editor. In the "what's new" section, you have access to an ever-updating number of tutorials that will explain some of the more nuanced features of the program.
The "Tutorials" section is where you can learn all the basics. I was very impressed by both the effectiveness and breadth of the tutorials provided here. I never had to Google how to perform a single task while using VideoStudio, which is something I can't say for any other video editor I've used. Under "Get More", you can purchase additional templates, overlays, filters, and transitions for the program. These effects appear to be much more high-quality than the ones which come built into the program, and they're very affordable.
Capture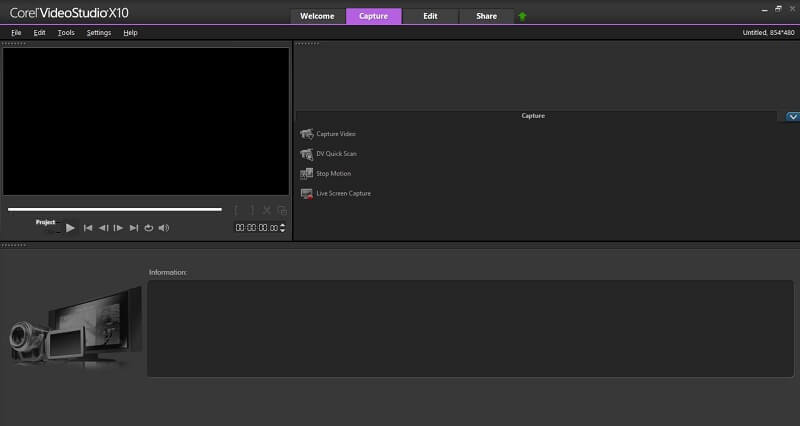 The "Capture" tab is where you can create new footage for your projects. Here you can use your computer's camera to capture live footage or create stop motion videos. Surprisingly, Corel was the first video editor I have ever tested which couldn't detect my laptop's camera, so I was unable to test this feature. The "Live Screen Capture" tool worked just fine, though.
Edit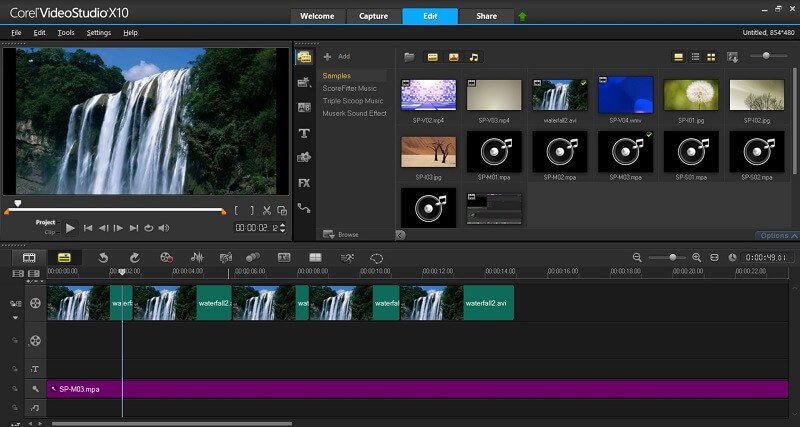 The edit tab is where you'll do all of the heavy liftings in your projects. Importing videos, pictures, and audio files into the project is as easy as dragging and dropping them into the media box. From there, you can drag and drop the files into your timeline to cut them together into a movie.
The editor is largely intuitive and easy to use, but there are a few quirks to the video editing process in this program. Firstly, the program doesn't feel nearly as responsive or fluid as some of the other video editors I've used in the past. The UI got slower as I added more elements, effects, and transitions into the timeline.
Another quirk to the editor is the track system in VideoStudio's timeline. While many other video editors opt to use generic "video" and "audio" tracks, giving the user freedom to overlay elements of their project in any way they choose, Video Studio opts for a more prohibitive approach.
It uses a single "Video" track for your primary movie file and separate track types for overlays and text effects. It also uses separate "voice" and "music" tracks for the sound. I think the intention of this approach was to make it easier to see where the different elements of your project should fit into the timeline, but I found this design choice to be obtuse and restrictive.

If the timeline is a miss, this toolbar is a massive hit. Clicking on an element of this toolbar brings up a new window in the box of the upper right of the screen where effects, titles, and transitions can be applied effortlessly to your project. My favorite part of these menus is the live previews of the effects, which clearly communicate to you what the effect will look like before you apply it to your video. Other video editors require lots of testing and poking around to find the effect you're looking for. Not so with VideoStudio.
I found all the tools in the vertical toolbar to work both effortlessly and flawlessly. The project templates, transitions, titles, and pathing tools can be applied to your project by drag and drop, can be easily previewed before being applied to the project, and caused no lag in the preview window whatsoever.
Effects Demo Video:
Applying effects to my clips caused the preview window to lag tremendously, which is a major strike against the program. The preview window for PowerDirector, a direct competitor to Corel Video Studio, never once lagged for me when I tested it on the same computer. I tried to find a solution to the problem online and was told that turning on hardware acceleration might help with this issue, but this feature was unavailable in the trial version.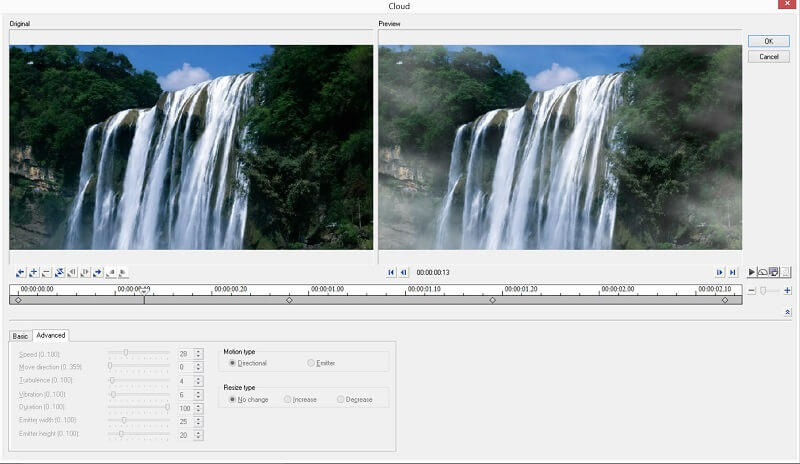 A saving grace for the laggy effect previews is the powerful effects editor, which offers you a high degree of control. You can set triggers in the effect's timeline to modify the settings of the effect any way you want.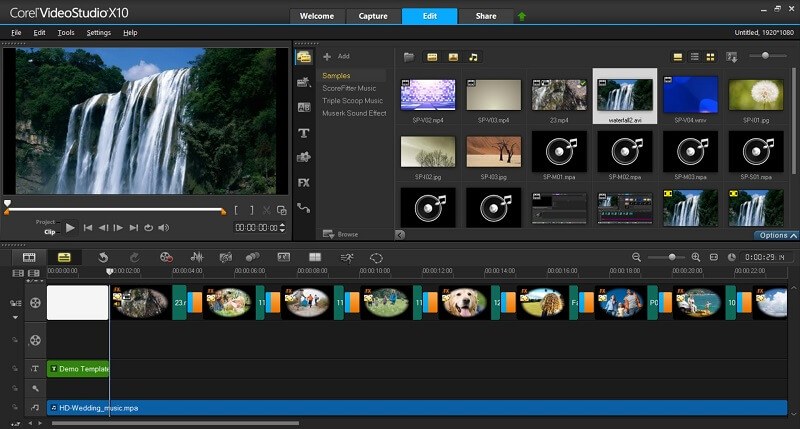 A major selling point for Corel is the templated projects, which enable even the most technically illiterate user to cut together slideshows and montages with ease. All you need to do is select a template, drag your files from the media window into the timeline, and set the title text for the project. Making changes to a templated project is the same as making changes to a normal one, which means it's very easy to alter anything you don't like about a video template.
Corel errs on the side of ease of use across its entire UI. This is perhaps most apparent in the way VideoStudio handles text, where every text element in the project is considered to be a "title". Titles come built-in with snazzy effects and automatic transitions, which is great if that's what you're looking for but frustrating if all you want is a simple text overlay. Shockingly absent in VideoStudio is a quick and easy way to apply the plain text to your movie outside of the "Subtitle Editor", which offers far less control over the placement and style of your text than I would like.
Mask Creator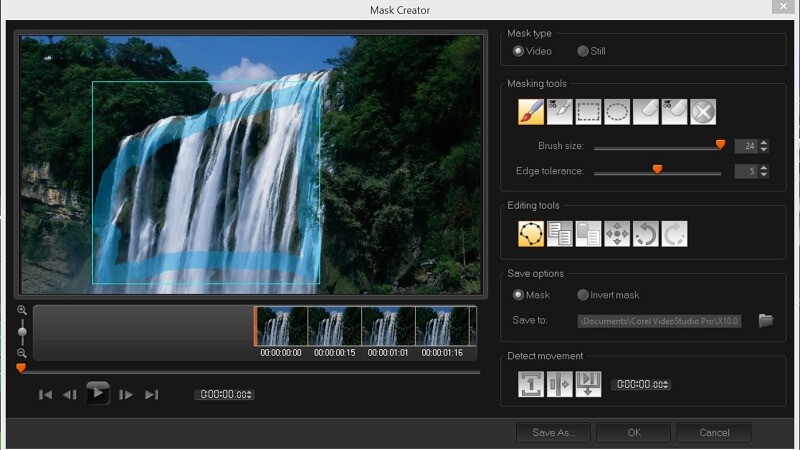 For every feature in the program where the ease of use gets in the way, there is another where the ease of use is deeply appreciated. The Mask Creator tool is clean, effective, and a breeze to use. It's extremely easy to select an area of your clip where you would like to apply a mask and tell the program to automatically detect this area as it moves through the frame. If the automatic tool misses your desired area you can easily go back and clean up the mask with pen tools, selection tools, and erasers. You'll be hard-pressed to find an easier masking tool to use than Corel's.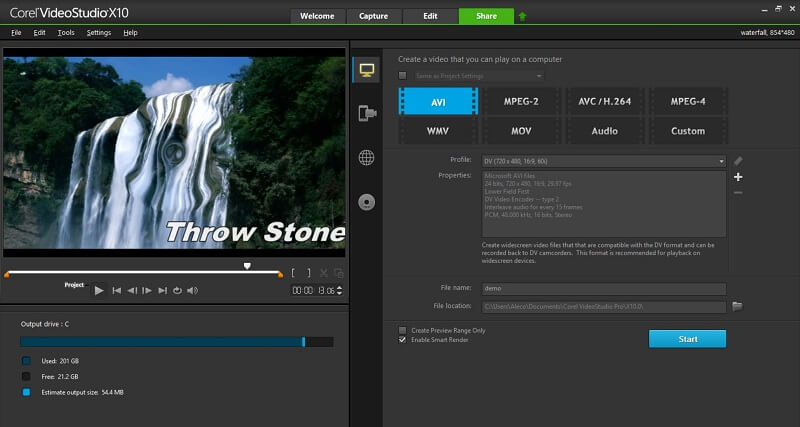 The final step of any video project is rendering, which is the primary function of the Share tab. Rendering a project is as easy as selecting an output format and hitting the start button. You can also tell Corel to upload your video directly to the internet or burn it to a DVD, features which come standard in any modern video editor.
Even though the resolution was limited to just 720×480 in the trial version, it felt as though rendering took a much longer time in VideoStudio than it did in comparable programs. Long render times are a pain, but confusing UI's can be a much bigger one. If you're a fan of Corel's interface, then I think you'll find the long render times to be an acceptable trade-off.
Reasons Behind My Review Ratings
Effectiveness: 3.5/5
The program offers a suitable number of tools to make simple videos, but many of these tools are not up to snuff for commercial quality videos. In particular, the color and audio editing tools are underwhelming. The simplicity of Corel's UI sometimes gets in the way of its effectiveness, but a few of its features manage to find a happy medium between simplicity and power.
Price: 4/5
The regular price for VideoStudio Ultimate is $69.99, and VideoStudio Pro is $54.99, which is about as cheap as you'll get in the world of video editing programs. You'd be hard-pressed to find one more cost-effective.
Ease of Use: 4/5
Corel is extremely intuitive and completely painless to learn, but the interface is not as quick or responsive as that of its competitors. If I were to grade the ease of use based purely on the UI and UX of the program, then it would get a 5-star rating. However, for being such a lightweight program, the editing process was often choppy and the preview window was prone to lag.
Support: 5/5
The software tutorials are readily accessible and extremely effective. The Welcome tab makes learning how to use the program a dream. They are the best I've ever seen.
Alternatives to Corel VideoStudio
The most direct competitor is Cyberlink PowerDirector. You can read my review of PowerDirector here. The two programs are priced about the same and are targeted toward beginners. I found PowerDirector even easier to use than VideoStudio — which is not a knock on Corel, but a testament to the amazing UI of PowerDirector. Both programs are extremely clean and effective, but the major advantage of PowerDirector is that the program never lags or slows down.
The main reason to purchase VideoStudio over PowerDirector is that it is a bit more powerful. VideoStudio offers you more customization options in your effects, as well as the ability to purchase high-quality effects in the program's Welcome tab. The Mask Creator tool is also a major selling point for VideoStudio.
If both price and ease of use are not a major concern for you, look no further than the industry standard: Adobe Premiere Pro. You can read my review here. It will cost you a pretty penny ($19.99 a month) and take you some time to learn, but once you've got the program down there really is no substitute. The color editing tools will make your videos pop and the audio editing tools will make them sing.
Conclusion
Corel VideoStudio is an intuitive and powerful tool for editing home movie projects. Despite its familiar UI, some of the powerful and easy-to-use features offered in the program make it the best choice for many beginners. Take a look at the list of features it provides to see if the program can provide you with what you're looking for.
The Pro version of the program is priced at only $54.99 and is currently on sale for slightly less than that. It is an affordable video editor that is perfectly suited for beginners to edit home movie projects. It beats its competition in just as many ways as it loses to it. The name of the game with the program is the ease of use — its entire user experience is designed to minimize headaches and save editing time.
Though the program has a small footprint on your computer's resources, the UI occasionally felt laggy while performing complex operations. Speed and reliability are a big part of its ease of use, which means you'll need to love some of the other features of VideoStudio for it to be your best available option.
So, do you find this VideoStudio review helpful? Leave a comment below.