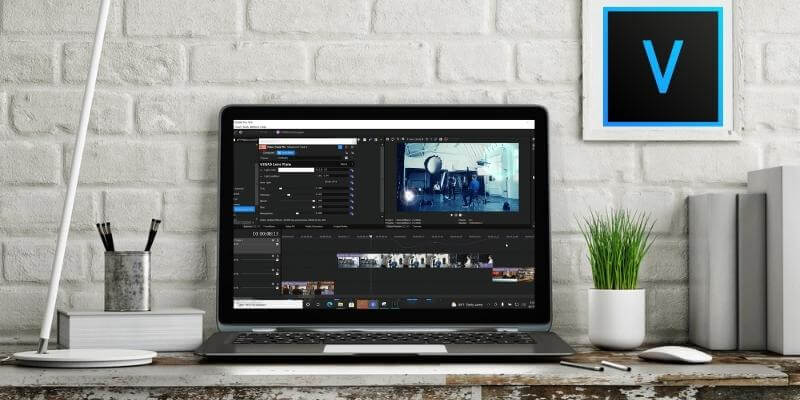 VEGAS Pro
Effectiveness: Has all tools you need to make professional videos
Price: $11.99 per month (subscription), $360 (one-time purchase)
Ease of Use: Won't take you long before getting used to its intuitive UI
Support: Lots of support materials, & active community forum
Summary
Is VEGAS Pro (formerly known as Sony Vegas) the best entry-level program for learning the trade? If you already own another video editing program, is it worth it to make the switch to this program? It may take some time for newcomers to learn its UI and discover each of its numerous tools, but when there's no substitute for quality, VEGAS Pro might be the best choice for aspiring video editors. I'll start off this VEGAS Pro review by exploring why you may or may not be interested in picking up the tool as your first video editing program.

If you already have some experience with video editing then you've probably heard of VEGAS Pro. It's one of the most fully-featured editors on the market and a very common choice for advanced video hobbyists, especially YouTubers. It slices and dices and so much more. If you've already committed a significant chunk of time towards learning one of its competitors like Adobe Premiere Pro, is it worth it to switch to VEGAS Pro? I'll explore the reasons it may or may not be worth it to purchase the program if you already own another video editor.

What I Like: Built-in effects are high-quality and suitable for commercial or professional use. Robust online community has created a huge number of both free and paid plugins for the program. The innumerable tutorials on YouTube are more than enough for you to learn how to use the program well. Frame-by-frame editing is powerful and easy.

What I Don't Like: The price point is somewhat expensive for many would-be hobbyists. May not offer enough benefits to be the better choice compared to Adobe Premiere for some users.
It's a high-quality video editor for people with the time and money to take full advantage of its many features. It's been used by professional crews to create TV shows such as Survivorman and movies like Paranormal Activity, which sets the bar pretty high for the kinds of projects you can make with VEGAS.
Which VEGAS edition is the best?
VEGAS Creative Software offers three versions for you to choose from. Each version has a different price and number of features, as you can see from the product comparison page.
Here's a brief summary of each version:
VEGAS Edit – Includes all of the basic and essential features you'll need to edit high-quality videos. The "Edit" version is likely the best choice for people who are new to video editing, as it is the cheapest of the three available options.
VEGAS PRO – Includes all of the features present in the Edit version, in addition to Blu-ray and DVD Disc Authoring software. Note: This is the version I tested in this VEGAS Pro review.
VEGAS Post – The ultimate version of the program, as well as the most expensive. It has everything that the standard version offers, plus some advanced features like Boris FX 3D Objects Unit (used for 3D object creation and manipulation) and Boris FX Match Move Unit for motion tracking.
Is VEGAS Pro safe to use?
Yes, 100%. The VEGAS Creative Software brand is one of the most trusted on the planet, and the MAGIX team, which acquired VEGAS Pro in 2016, has given me no reason to believe the software is unsafe. A scan of the video editor with Avast Antivirus came up clean.
No, it's not free software but you can try it out for free for 30 days.
While not on sale, the standard version costs $11.99/month. The cheaper version VEGAS Edit costs $7.79/month, and the more expensive version VEGAS Post is priced at $17.99/month.
Unfortunately for Mac users, the software is NOT natively supported on macOS. To use VEGAS Pro on Mac, you'll have to either install a dual boot or rely on a virtual machine to run it.
Why Trust Me for This Review
My name is Aleco Pors. It's been quite a while since I started to take video editing seriously, so I understand what it means to pick up a new video editor and learn it from scratch. I've used competing programs such as Final Cut Pro, PowerDirector, and Nero Video to create videos for both personal and commercial use and have a good sense of both the quality and the features you should expect from a video editing software.
I'm not going to pull any punches with you: I really like VEGAS Pro. It's the video editor I've planted my flag in after trying out a decent number of them. That said, you can trust that I won't misrepresent anything about the program to you in this Vegas Pro review. It's the right program for me, but I'm well aware of the fact that it's not the right program for everyone. I hope that you can walk away from this review with a good sense of whether or not you are the kind of user who will benefit from purchasing the program, and feel as though you were not being "sold" anything while reading this.
Disclaimer: I have not received any payment or requests from MAGIX (who acquired multiple VEGAS product lines in 2016) to create this article, and aim only to deliver my complete, honest opinions about the product. My goal is to highlight the program's strengths and weaknesses, and outline exactly which kinds of users the software is best suited to with no strings attached.
Quick Review of VEGAS Pro
Please note the screenshots below are taken from an older version of VEGAS Pro. If you're using the latest version, minor UI differences are expected.
The basic elements of the program should appear familiar to anyone who has used a video editor before: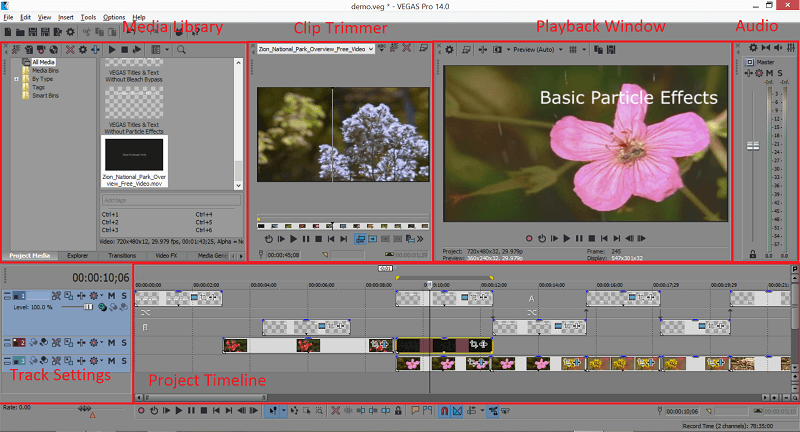 Moving audio and video files in and around VEGAS Pro is easy and intuitive. Just click and drag the files from your desktop to the project's timeline, or import the files into the program and then drag them into the timeline from the Media Library.
Cutting your video and audio clips together is just as easy. You can use your mouse to select one end of the clip, then drag the clip to your desired length; or you can move the timeline's cursor to the frame you desire, hit the "S" key to split the track, then select the section of the clip you no longer want and delete it.
Cutting together audio and video is pretty painless, but how about everything else? The program is loaded with advanced features, and it's not always easy to find the tool you need from the get-go. As a rule of thumb I've found that most of the stuff I need to add to a project which Vegas Pro is responsible for creating on its own (such as text effects) can be created by right-clicking on an empty section of the timeline and selecting one of the bottom three options, most often "Insert Generated Media".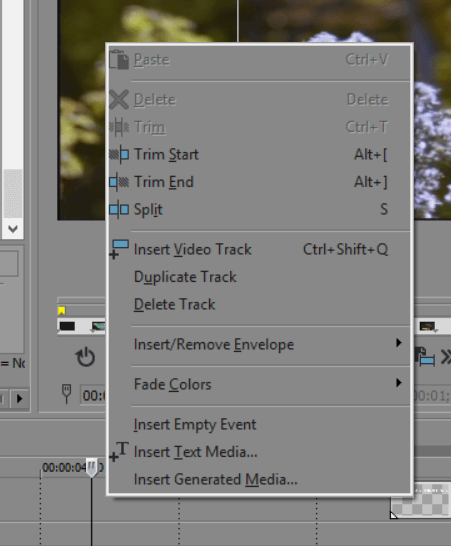 If you want to edit the properties of a clip or add effects to media that have already been added to your project, most of what you need can be found by right-clicking on the clip within the timeline, then selecting "Video Event FX…". This will bring you to a window called the Plugin Chooser which has tons of effects and modifications for you to choose from, each with its own associated submenus, where you can edit the properties of your desired effect.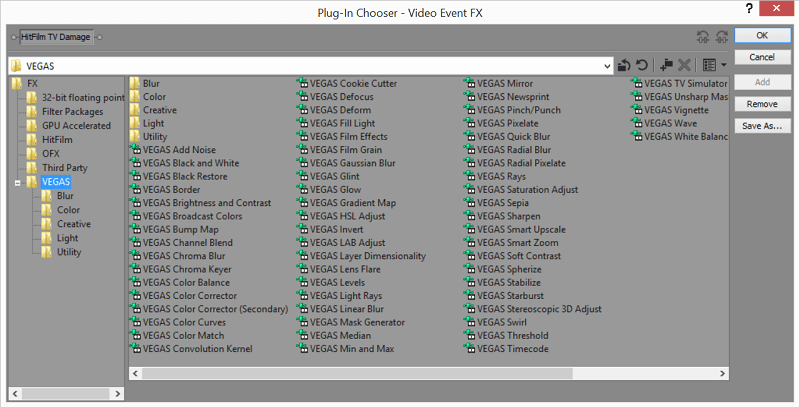 One tool where you can expect to spend a good deal of your time is the Event Pan/Crop window. Every video in the timeline has a button which will take you to its Event Pan/Crop window.

This window allows you to do most of the editing which goes into each individual clip. You can adjust which portions of the clip should be zoomed in on, add event markers to the clip to adjust when different portions of the clip should be magnified, and use the pen tool to cut out portions of your video for a process known as "masking".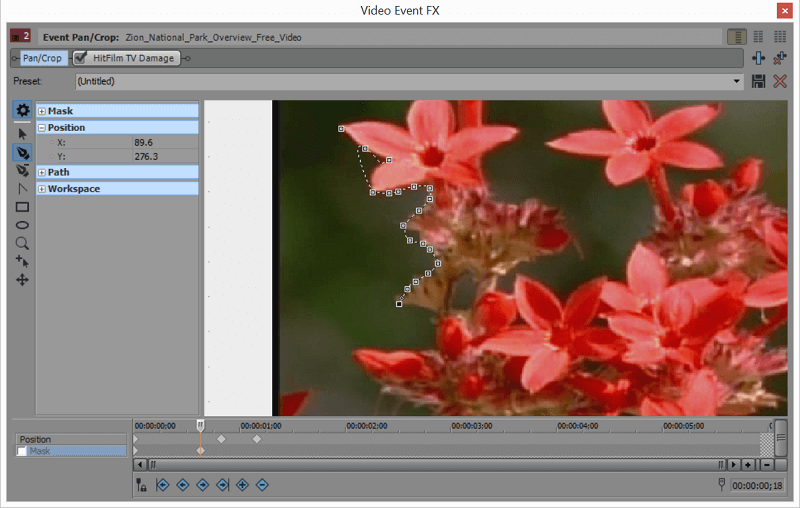 VEGAS Pro has heaps of more menus, submenus, and advanced tools to explore, but in my seven months with the program (by the time I write this review article), I've never found the need to use many of them. The program is probably capable of doing much more than you will ever need it to.
With that said, the greatest selling point of this video editing program is not that it is capable of doing lots of stuff you'll never need, but that it performs the most essential and important functions of a video editor in a powerful and intuitive way.
Who Should Get VEGAS Pro
The software is best suited for people who want to purchase their first video editor or are looking to upgrade their current one. To reflect this, I've organized the meat of this review into four major sections:
Why you may not buy it if you're new to video editing
Why you should buy it if you're new to video editing
Why you may not switch to it if you already own a competing video editor
Why you should switch to it if you already own a competing video editor
Just like you, I was faced with the decision of choosing a video editor seven months ago. As an aspiring YouTuber, I felt that Vegas Pro was my best option, but what made it so? And is it the best option for you?
I chose the program because I needed a video editor which was capable of creating the same quality of videos that my fellow YouTubers were. The best YouTubers out there are professionals, so a cheap or overly user-friendly video editor simply wasn't going to get the job done for me. I started to research which video editors my favorite YouTubers were using and found that almost all of them were using one of three programs: Final Cut Pro, Adobe Premiere Pro, or Vegas Pro.
In truth, these three programs are highly interchangeable. Each program offers a complete suite of tools and is capable of doing a great job. Personal preferences and familiarity play a large part in why you should choose one program over the other, though cost and learning curve play into the equation as well.
If you're a Windows user like I am, Final Cut Pro is off the table. This leaves Adobe Premiere Pro and Vegas Pro as your two best options for a high-quality video editor unless you're willing to go for Avid Media Composer.
Why You May NOT Buy It
If you're new to video editing in good conscience, I can't recommend the program to people who already have a high degree of familiarity with the Adobe Creative Suite. Though there is a good deal of overlap between the UIs in both programs, if you've already spent time with Photoshop or Illustrator you'll pick up Adobe Premiere Pro.
Adobe Premiere is also more widely used and is considered to be more of an industry standard. If a full-time job in the world of video editing is what you're after, experience with Adobe Premiere Pro is likely to get you further than experience with any video editing software.
For me, the most important factor when it came to choosing a video editor was the quality of the videos it could produce. If your target audience is friends and family, then you probably don't need a program as powerful as Vegas Pro.
There are many more user- and wallet-friendly options out there, and I would recommend Cyberlink PowerDirector to anyone whose primary concerns when it comes to video editing are time and money. See my PowerDirector review here at SoftwareHow.
Why You Should Buy It If You're New to Video Editing
VEGAS Pro has three major advantages over Adobe Premiere: cost, built-in effects, and learning curve.
If you haven't used anything in the Adobe Creative Suite before, I think you'll find yourself making high-quality videos faster with VEGAS than you would with Adobe Premiere Pro. Both programs come with everything you need to make high-quality videos, but Premiere Pro offers a bit more than everything you need. Between the two programs, Vegas Pro is a bit more intuitive and easy to learn.
The program also gets the edge over Adobe Premiere in the special effects department. The built-in effects are top-notch and feel much more "plug-and-play" than Adobe Premiere's. You could make the case that with additional time and training you'll be able to create the same special effects in Adobe Premiere, but there really is something to be said for the quality of effects you get right out of the gate with VEGAS. They're impressive.
Feel free to check out this demo video I made for the video editor's effects in just 5 minutes:
The final benefit is that VEGAS Pro is more affordable than Adobe Premiere Pro, though both software offer a subscription service.
My bottom line for people who are purchasing a video editor for the first time:
Pick up Adobe Premiere Pro if you're already familiar with the Adobe Suite or are aiming to one day be a professional video editor.
Pick up VEGAS Pro if you'd like a cheaper, slightly easier-to-use alternative to Adobe Premiere.
If you're more concerned with ease of use and price than you are overall video quality, pick up PowerDirector.
Why You Should Switch to It If You Already Own a Competing Video Editor
The biggest reason you should switch to VEGAS Pro is that you're looking for an upgrade. If you own a product in the entry-level tier of video editors and would like to move up a tier, Vegas Pro might be your best option.
I'd highly recommend the program to anyone looking to step up their video editing game and make a long-time hobby out of editing videos. Compared to its closest competitor, Adobe Premiere Pro, VEGAS Pro is easier to learn and a bit more affordable. If you already have experience with an entry-level video editor, you'll be making high-quality videos with the program in no time.
Why You May NOT Switch to It If You Already Own a Competing Video Editor
The biggest reason not to switch to VEGAS Pro from Adobe Premiere or Final Cut Pro (for Mac) is how similar all three programs are. Each program is capable of making high-quality videos, each one has its own learning curve, and none of them are cheap. If you've already invested lots of time or money into any of these programs I think you're probably better off sticking with what you got.
If you're a user of Adobe Premiere Pro, there are reasons you may not want to switch to VEGAS. For example, it doesn't have quite as many features as Adobe Premiere and doesn't seamlessly integrate with other programs in the Adobe Creative Suite. It's also not as widely used as Adobe Premiere, which means you'll have a harder time collaborating with other people if all your projects are in the program.
If you're a user of Final Cut Pro, the only reason not to switch is that the program doesn't run natively on macOS.
Reasons Behind My Review Ratings
Effectiveness: 4.5/5
It's one of the most fully-featured video editors on the market, it comes equipped with all the tools you'll ever need to make professional-quality videos. The reason it gets 4.5 stars instead of 5 in this review is that it is only fair to judge against competing programs, and VEGAS Pro doesn't offer as many features as Adobe Premiere. It does a bit more than Final Cut Pro does, but it only runs on Windows while Final Cut Pro only runs on Mac.
Price: 4/5
It is priced in between its two main competitors (Adobe Premiere and Final Cut Pro), and the Edit version is cheaper than its competition. The standard version is neither cheap nor expensive when compared to its competitors.
Ease of Use: 4/5
Though it might feel a bit overwhelming out of the gate, it won't take you long before you're making high-quality movies with its intuitive UI. Once again, VEGAS Pro finds the middle ground between Final Cut Pro and Adobe Premiere Pro. When judged against its direct competitors, it is neither the hardest nor simplest to use. When judged against cheaper alternatives, it has a slightly steeper learning curve.
Support: 4/5
The official channels provide an underwhelming amount of support, but the online community for this program is massive and more than capable of providing you with everything you'll need. If you ever have a problem, chances are extremely good that someone else has had the same problem as you in the past. There is an official forum that is highly active, but the YouTube community has shouldered the burden of supporting the software and has created thousands upon thousands of video tutorials to teach you everything you need to know. VEGAS users have also created a very healthy number of plugins, visual effects, and templates for you to download for free. All the support you need for it is a Google search away.
Conclusion
VEGAS Pro squarely belongs in the higher tier of video editors, along with Adobe Premiere Pro and Final Cut Pro (Mac only). The main reasons to select VEGAS as your weapon of choice over its competitors are your operating system (Windows), its price, and the learning curve (it's easier to learn than Adobe Premiere).
Though the price of the program is likely to scare off many hobbyists, you get what you pay for. Cheaper alternatives simply won't touch the quality of this powerful video editor. If you endeavor to create top-notch videos for commercial or professional use, you can feel confident that the program will provide you with all the tools you need to get the job done.
So, do you find this VEGAS Pro review helpful? Let us know by leaving a comment below.