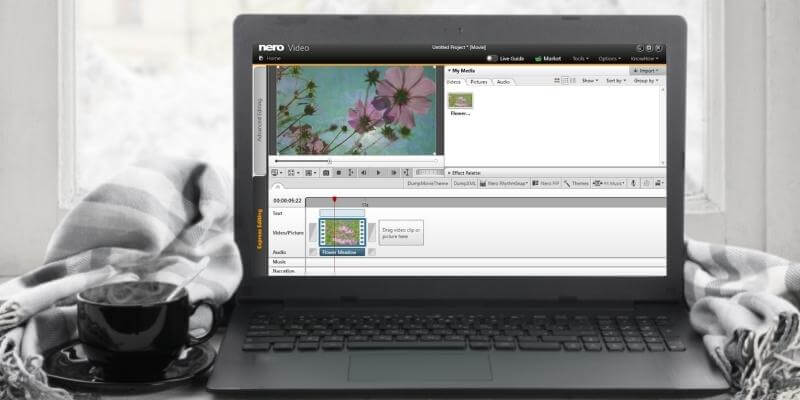 Nero Video
Effectiveness: Highly capable of producing quality videos quickly
Price: You won't find a better video editor at a cheaper price
Ease of Use: UI feels less modern and more clunky than competitors
Support: Customer support available via emails and community forum
Summary
Nero Video is the ultimate budget video editor. It has the lowest price point amongst its main competitors, PowerDirector and VideoStudio, while simultaneously offering the most powerful suite of effects.

It doesn't include some of the advanced features of a more expensive editor like VEGAS Pro or Adobe Premiere Pro, but Nero is designed for a completely different audience and does an excellent job of catering to it. It forgoes these advanced features for far more practical ones like automatic advertisement and music detection, which I anticipate that users of Nero will get a lot of mileage out of.

What I Like: The built-in effects look amazing and are easy to use. The program runs very fluidly and never lagged for me. The slideshow creation tool is among the best I've ever used. Nero comes with a suite of other useful tools in addition to the video editor.

What I Don't Like: The UI feels a bit dated and is less intuitive than its similarly-priced competitors. Advanced projects and express projects are incompatible. The templated themes are a bit tacky.
It is a video editing program for beginners, hobbyists, and professionals on a budget.
Yes, it is 100% safe to use. A scan of Nero's contents using Avast Antivirus came up clean.
No, the program is not available on Mac, but I'll recommend some nice alternatives for Mac users later in this review. Check out the "Alternatives" section below.
Why Trust Me for This Review?
Hi, my name is Aleco Pors. Video editing has been a serious hobby of mine for quite a while now. I have created many videos for both personal and commercial use with a variety of video editors, and I have reviewed quite a few here at SoftwareHow.
I've taught myself how to use professional quality editors such as Final Cut Pro, VEGAS Pro, and Adobe Premiere Pro, and have also had the opportunity to try out a handful of programs that are catered towards newer users such as PowerDirector. I understand what it means to learn a new video editing program from scratch, and I have a good sense of the quality and features you should expect from a video editing software at various price points.
My goal in writing this review is to let you know whether or not you are the kind of user who will benefit from using Nero Video, and that you'll feel as though you were not being sold anything in the process.
Disclaimer: I have not received any payment or requests from Nero to create this review and have no reason to deliver anything but my complete and honest opinion about the product.
Detailed Review of Nero Video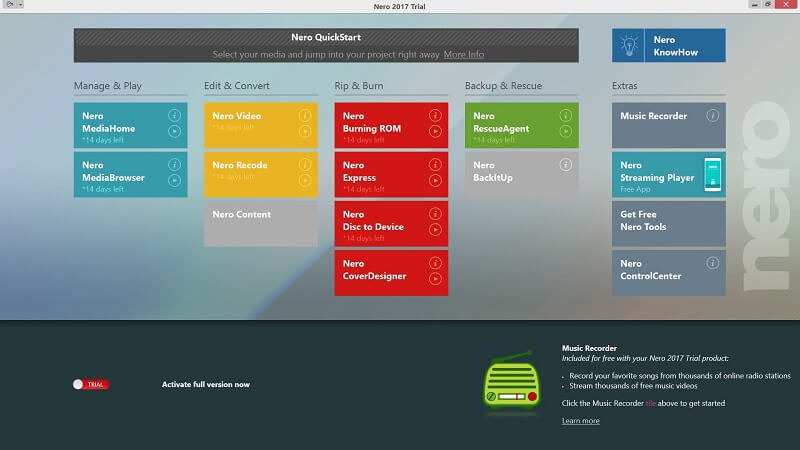 Opening up the program greets you with the entire suite of tools available in Nero. These tools span a wide range of uses including DVD burning, video streaming, and media browsing. For today's review, we will only cover the video editor, "Nero Video".
Before diving into the review, I just wanted to let you know that all of these other programs come included with Nero. I personally feel as though Nero Video is worth every penny of what you'll pay for the entire Nero suite of tools, which means that all of the other programs that come along with Nero Video are a major bonus.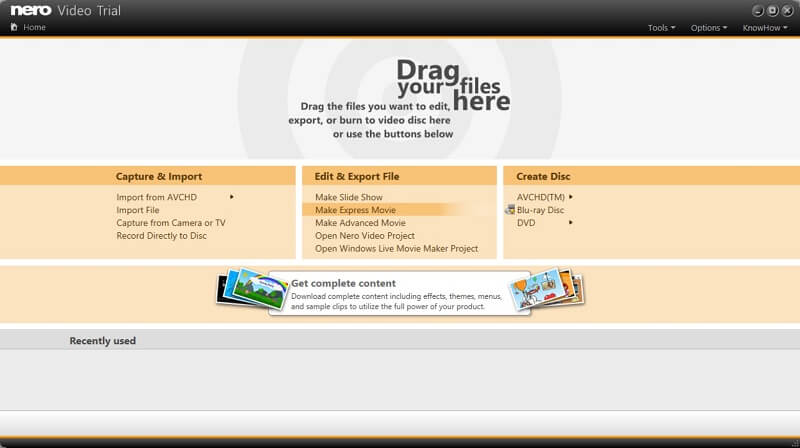 Opening up the video editor from the first welcome screen leads you to a second one. From here you can start a new movie project, create a slideshow, burn to DVD, or import files into Nero. Each of these features can be performed once inside of Nero Video, but the secondary welcome screen is a nice touch for those who are just starting off with the program and wouldn't otherwise know where to look.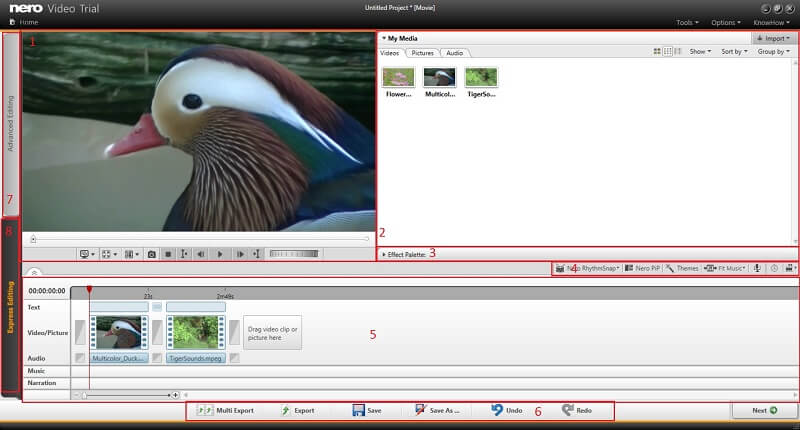 Upon entering the program we encounter a very familiar video editor UI with a few unique twists. Here are the names of each of the numbered sections in the above picture:
Video preview window
Media browser
Effects palette
Major features toolbar
Timeline
Primary functions toolbar
Switch to advanced editing
Switch to express editing (currently selected)
Many of these areas work just how you would expect, including the preview window, media browser, effects palette, timeline, and primary functions toolbar. Nero employs a simple and intuitive click-and-drag methodology for moving media and effects in and out of the project from the window in the upper right corner. Importing files into the program, moving them from the media browser into the timeline, and maneuvering these clips inside of the timeline was simple, fast, and completely painless.
Nero's UI runs very fluidly compared to some of the other video editors I have tested. The preview window never once lagged for me and the program never experienced performance issues, which is something that can't be said for many popular video editing programs. One of the biggest selling points for the program is its reliability.
The Effects Palette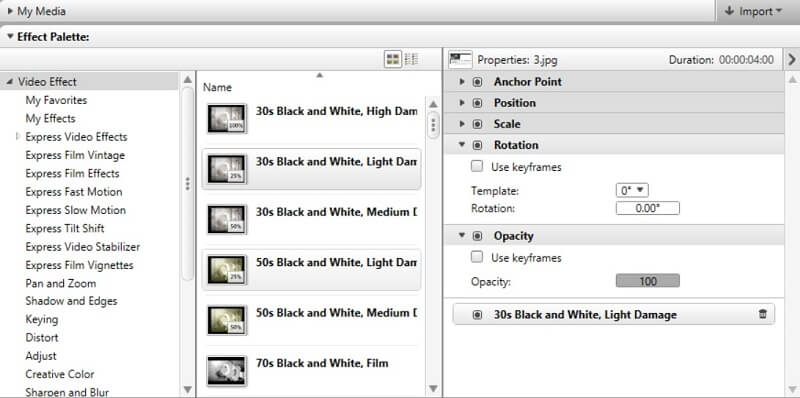 The effects palette replaces the media window on click and takes over the upper-right portion of the screen. From here you can click and drag various effects directly onto your clips in the timeline, and when you're in the advanced editor you can tweak the various settings of the effects here as well.
Nero's effects were what impressed me most about the entire program. Nero offers an incredibly robust and diverse number of effects out of the gate, and most of them are good enough to be used in commercial-quality projects. The effects are as diverse as they are useful and completely blow the effects of competing video editors out of the water. The effects in similar programs tend to be too low-quality for anything but home movie projects, but this is certainly not the case with Nero.
The program comes with hundreds of effects ranging from speed modulation to fish eye distortion and color correction, but the family of effects that stood out to me the most was the tilt-shift effects.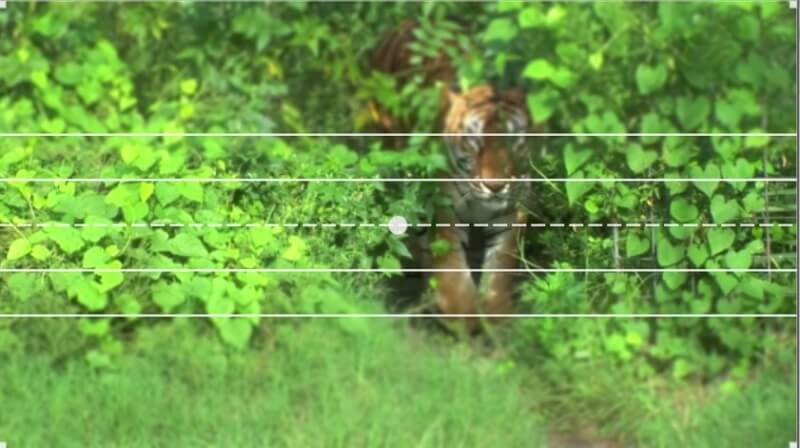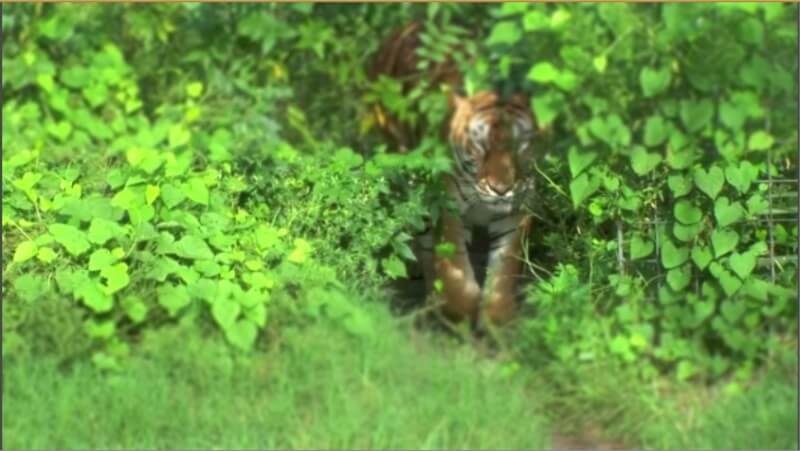 Tilt-shift effects are very popular these days, which is why I really appreciated the ability to apply a tilt-shift so quickly and effortlessly to an entire video clip. You can choose from over 20 different templated tilt shifts for our clips, and after applying these effects you can edit the exact angle and size of the blur. All it takes is a click-and-drag to apply a tilt-shift to a clip, revealing a set of lines in the video preview window for you to easily tweak the size and angle of it.
Cheap effects and tricks are almost never good enough to make the final cut, and it seems as though the developer team understood this. The effects that Nero packs are largely the ones you'd expect to find, but what separates them from the competition is the fact they're in demand and of great quality.
Express Editor vs. Advanced Editor
On the left-hand side of the screen, you can switch between the express editor and the advanced editor. The advanced editor is the fully-featured one of the two, while the express editor is a simplified version of the advanced editor with a few UI tweaks to make the program more simple to use. The primary benefits of the express editor are that it has larger and more obvious sections in the timeline for you to insert transitions and various effects. Additionally, it is a bit easier to find the effects you are looking for in the simplified effects palette.

Though it might seem nice to offer users the choice between a more simple and a more advanced editor to use, I found the distinction between these two editors to be very small. After a few hours with the program, I found that the advanced editor was sufficiently easy to use. Nero doesn't seem to need its features to be dumbed down, and I don't feel as though the restrictions imposed in the express editor make up for its minimally increased ease of use.
A major drawback of these two modes is that projects are fundamentally incompatible between the two editors, which means you won't be able to swap back and forth between the advanced editor and express editor when working on a single project.
Once you've committed to starting a project in one of the two editors you're stuck with it until the end, which means that there is very little reason to ever use the express editor once you've become familiar enough with Nero to use the advanced one.
I honestly feel that the program would be better off if it didn't include the express video editor at all and instead opted to incorporate some of the niceties of the express video editor into the advanced one.
Major Features Toolbar
Included with the video suite are a number of handy and time-saving features, all of which can be found on the toolbar beneath the effects palette. Among these tools are:
Automatic scene detection and splitting
Advertisement detection and removal
Music grabbing
Music fitting to slideshows and clips
Pre-templated themes
Picture in Picture
Rhythm detection
Some of these features are intended to simplify the editing process for TV shows and movies that you have recorded and would like to burn to a DVD, as DVD burning is one of the primary tools offered in the Nero Suite. The other tools are good for quickly arranging your slideshows and montages, and I found these features to be quite useful.
I was able to test out everything but the advertisement detection and music grabbing features and found that all were quite passable. The scene detection tool worked flawlessly for me on an episode of Better Call Saul, splitting the entire episode into clips that ended with each cut of the camera.
The one tool in this toolbar that I was less than excited about was the built-in themes. The themes did a good job of demonstrating what a fully edited project looks like in Nero Video and could be used as a nice tool for learning the program, but each theme I tested was tacky and unusable. I wouldn't recommend using the themed templates for anything but learning the program.
Reasons Behind My Ratings
Effectiveness: 5/5
Nero accomplishes nearly everything it sets out to do with flying colors. You get an incredible value and a powerful suite of tools for the price you pay, and the quality of the built-in effects allows you to easily create quality movies on a limited budget of time and money.
Price: 5/5
There's no topping Nero's price point. You'll get a powerful video editor in addition to a robust set of tools for editing and distributing media.
Ease of Use: 3/5
Compared to some of its competitors, Nero doesn't have nearly as many tutorials or learning tools readily available. Additionally, some of the elements of the UI feel a bit dated and non-intuitive.
Support: 4/5
The company offers customer support via email and fax. They also have a community forum, but I had to dig pretty deep into old forum posts before I figured out where the snipping tool was, whereas I would have been able to quickly find the answer to this kind of question if I was using another program. Truth is Nero isn't quite as popular as some of the other movie editors on the market, which means it can be difficult to find the answer to some of your questions. And their community isn't quite as large as others, which makes it trickier to find the answer to certain questions without digging around.
Alternatives to Nero Video
If You Need Something Easier to Use
PowerDirector is the undisputed king of ease of use when it comes to video editing programs. You can read my PowerDirector review here.
If You Need Something More Powerful
Adobe Premiere Pro is the industry standard for professional quality video editors. Its color and audio editing tools are second to none, which makes it the most popular choice for those in need of a high-quality video editing program. You can read my review of Adobe Premiere Pro.
If You're a macOS User
An exclusive for Mac, Final Cut Pro is an excellent option for making professional movies. It isn't exactly in the same ballpark as Nero as far as the price point is concerned, but you get what you pay for with Final Cut Pro. You may also consider Filmora.
Conclusion
Nero Video is an excellent tool for any hobbyist-level video editor on a budget. I would even recommend this program to someone who is either uninterested or incapable of spending weeks or months mastering a professional quality video editor but is still in need of a program that can create production-level content.
You won't find some of the more advanced video editing tools in Nero which are present in more expensive editors, but what you will find is a highly useful array of time-saving tools which are catered to the target audience of the program.
Nero doesn't come without its drawbacks. The UI feels outdated compared to that of its competitors, which means that some of its most simple features are a bit hard to find without knowing where to look. Normally I could find the answer to these kinds of issues with a quick google search, but due to the relatively low popularity of the program, it was more difficult to find answers to my questions about Nero than it was for a program like Adobe Premier Pro or PowerDirector.
At the end of the day, what you get when you combine the effectiveness of Nero Video with its extremely low cost and the suite of other programs it comes along with is an incredible value. Especially if any of the other tools which come in Nero seem like they could be of use to you, I would highly recommend you get it today.
So, do you find this Nero Video review helpful? Leave a comment below.