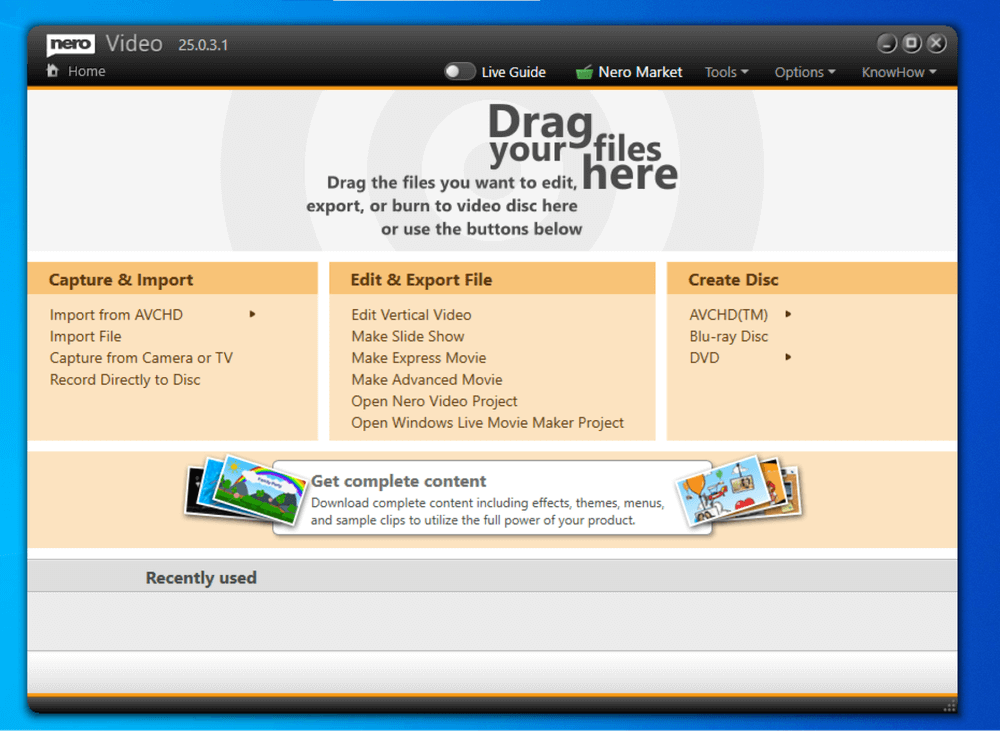 Nero Video
Features: Plenty of features to accommodate casual video editing needs, from advanced editing tools to hundreds of templates.
Pricing: The one-time affordable price is a primary selling point of this software.
Ease of Use: While the lack of overly advanced features makes this software good for beginners, the antiquated look of the user interface leaves more to be desired.
Support: A solid knowledge base and customer support team provide decent resources for customers.
Summary
Nero Video is a budget-friendly video editing software complete with over one thousand tools and effects designed to help you create beautiful videos and films. Its affordable price is a primary selling cost, as it's considerably more affordable than its direct competitors.

However, you get the lower cost in exchange for some of the fancier features you might find in a professional-grade option, like Adobe Premiere Pro. So, while it might not be the best option for professionals seeking an advanced option, it's a worthwhile consideration for those on a budget.

What I Like: Two editors and over a thousand built-in effects and tools deliver better control over your video editing results.

What I Don't Like: The lack of tutorials and learning resources and the ugly user interface are issues.
Is Nero Video good for beginners?
Compared to highly advanced video editing software like Adobe's Premiere Pro, Nero Video is easy enough to use. While beginners might encounter a slight learning curve, using it is doable.
Yes, Nero Video software is safe to use. The download didn't raise any red flags during a scan for viruses.
No, Nero Video isn't free, but it's surprisingly affordable compared to competitors. You'll have to pay $55.95 to access the software.
No, the program is not available on Mac, but I'll recommend some nice alternatives for Mac users later in this review. Check out the "Alternatives" section below.
Why Trust Me for This Review
Hi, I'm Jon, a digital marketer and content creator. I routinely create marketing videos for various clients. I often test different video editors to find the best ones to keep me efficient and help me increase the quality of my videos.
I've been creating and editing videos for nearly 10 years and in that time, I've used several softwares. I know what to look for and how to test them. I know how important pre-loaded templates, an intuitive UI, the right features, and fast response time are.
Nero Video excels with its feature set and has a competitive price. However, some of its features take some time to understand. But, once you acclimate, it can improve your video editing efficiency and quality.
Detailed Review of Nero Video
Nero Video is a video editing software that features a surprisingly affordable price tag and a decent array of features. While it's somewhat outdated and not quite as intuitive as other video editing software options, it offers tools to create beautiful results.
Here are the key features of the Nero Video software, along with my personal take on each feature.
Advanced Editing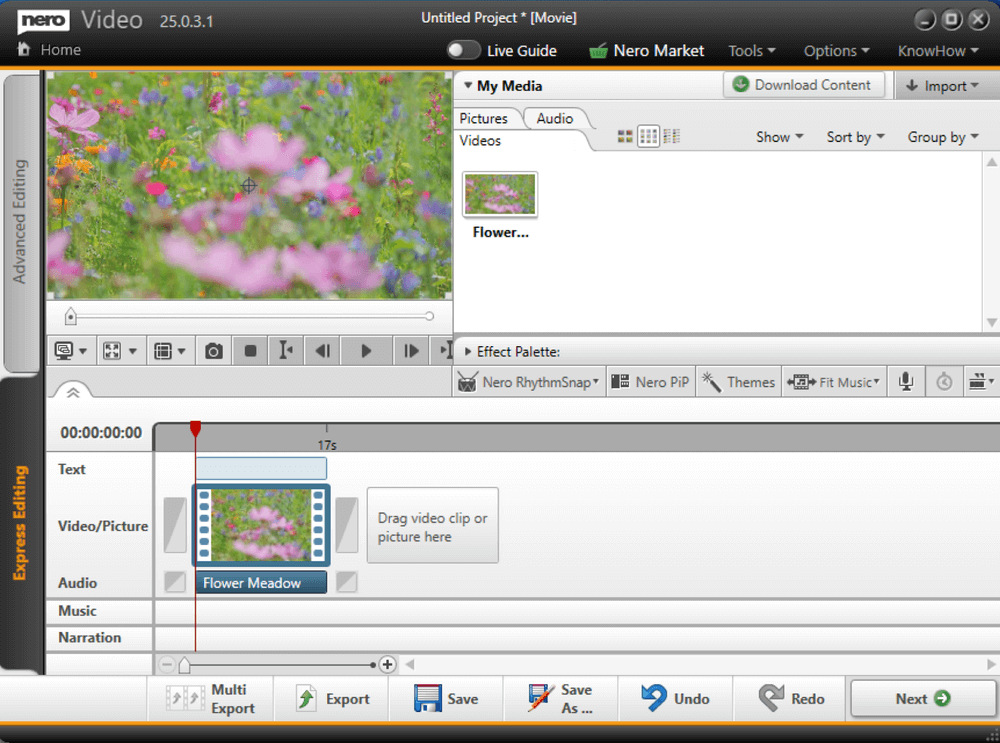 Nero Video delivers advanced editing capabilities to help you create high-quality results. It provides an array of tools for trimming, cropping, and merging videos to create seamless results. Numerous filters, effects, and transitions add a bit of pizzazz to your creation and help you create more video appeal.
It even offers multi-track editing, so you can work on more than one video track at the same time. While its features aren't quite as fancy or advanced as pricier tools, like Adobe Premiere Pro, this software delivers a solid list of tools.
My personal take: Creating high-quality videos in Nero is more doable than ever with its array of tools, and while it wasn't quite as nice as some tools I've used, I was able to create what I wanted to.
Alpha Channel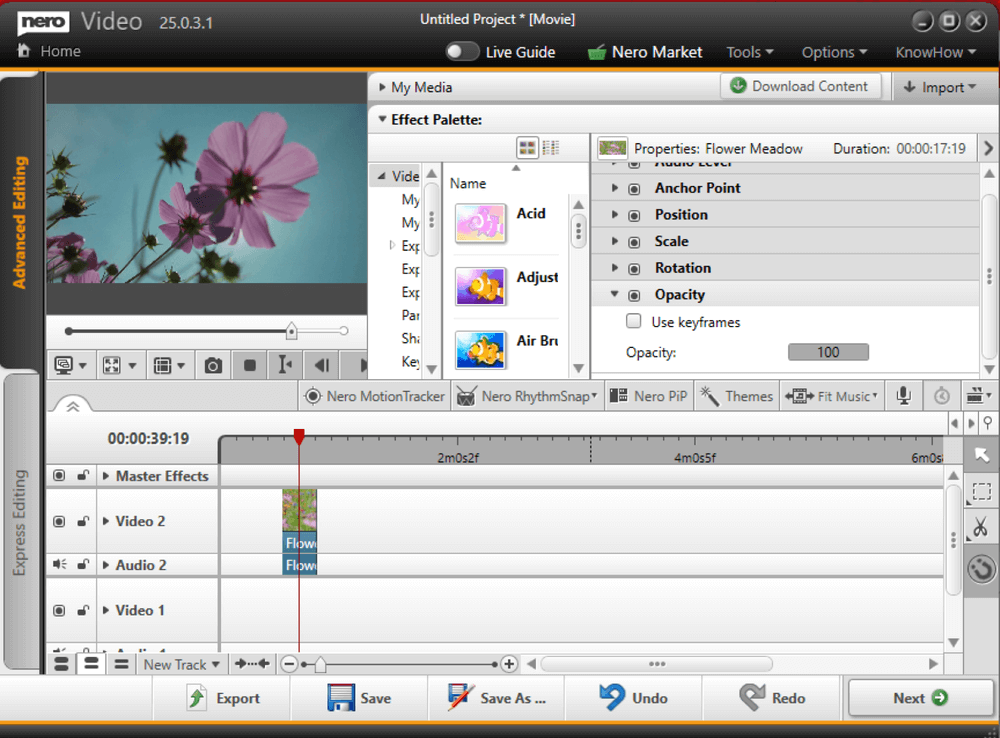 Nero Video offers an alpha channel feature to allow you to control the transparency of an image or layer. It clearly defines transparency in a photo or video, allowing you to blend images together, isolate objects, and mask backgrounds.
It's the greenscreen effect, and while it can be somewhat tricky to use if you're new to video editing, it's a handy tool to have in your arsenal.
My personal take: Using this tool can take some getting used to, especially if you've never used greenscreen tools before, as it's somewhat complicated.
Hundreds of Templates
Nero Video comes with over 1,000 movie templates and effects that allow you to create personalized and professional results in short order. The latest version has a few new templates, adding to the abundance of options previously available. The templates fall into various categories, including family, celebrations, children, travel, and action.
Nero Video has a few vertical video templates, so you can easily upload, edit, and effortlessly stage photos and videos from your smartphone without much effort.
My personal take: Templates can make it much easier to create high-quality movies and videos with your content, and Nero Video's 1,000+ options don't disappoint.
1-Click Video Stories
Create captivating videos using your favorite pictures and clips using Nero Video's 1-Click Video stories. This tool lets you put those shots you can't stop talking about on full display in a neatly edited video that showcases your favorites and more.
Various tools and effects, including old movies, slow motion, audio filters, and keyframe animations, let you blend your photos and clips into a seamless video that commands attention. Share your latest creations with friends and family to let them reminisce on good times spent together.
My personal take: These 1-Click Video Stories are perfect for family reunions, Friendsgiving, and other gatherings where you may want to reminisce on shared memories.
PiP Effects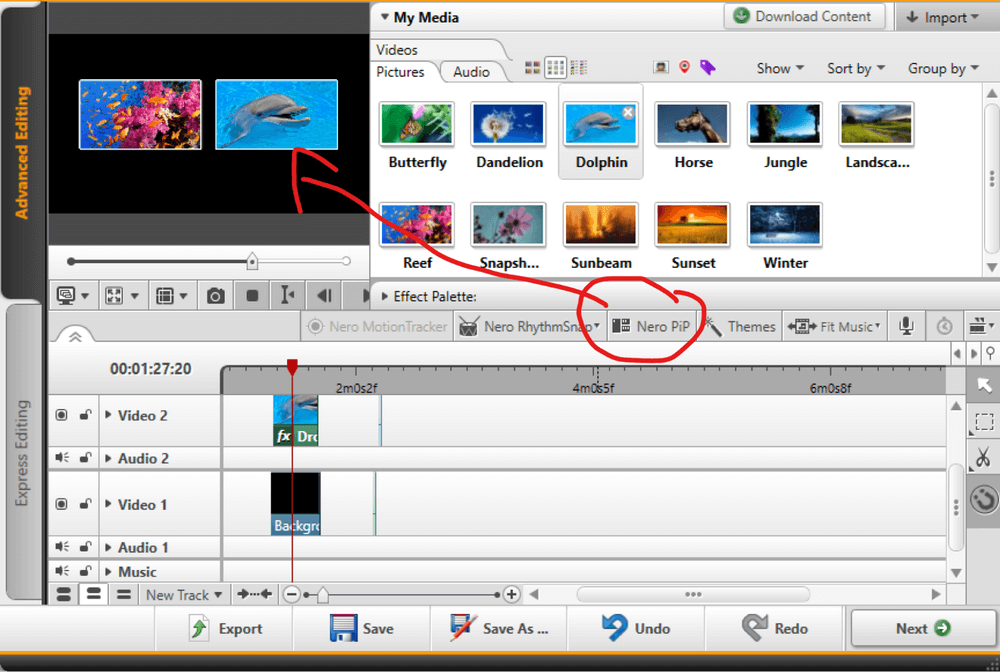 Nero Video offers picture-in-picture (PiP) effects that allow you to overlay one piece of content onto another. This allows you to display both of your videos simultaneously to create the desired effect. This feature is perfect for various purposes, from gameplay videos to reaction videos.
The PiP templates are sorted by the number of elements available per template, each with a specific number of elements. You can replace each element or placeholder with the desired video clip or photo after you insert the template.
My personal take: The templates make this tool easy to use, allowing you to quickly integrate and overlay videos and photos over your existing creation.
Quality Selection
Nero Video offers an array of format selections, allowing you to edit your creations in various qualities. It supports 4K, Full HD, and SD, allowing you to pick the option that best suits your needs.
You can export your completed video to your desired location without losing the overall quality, whether you want to export it for sharing online or burn it onto a DVD video or Blu-ray Disc. You can even take things a step further with more of Nero's tools to design disc covers for your newly created videos.
My personal take: Using the quality selection and exporting tools is straightforward and manageable, even for many less experienced video editors.
Reasons Behind My Ratings
Features: 4.4/5
Nero Video comes with a solid amount of features that allow you to craft higher-quality videos without a hassle. With over 1,000 templates, effects, transitions, and tools, this software comes well-equipped to handle whatever you might throw at it.
While it might not have the ultra-fancy, highly intuitive interface of professional-grade tools, it packs a punch.
Pricing: 4.8/5
This software is incredibly affordable, making it a worthwhile consideration for beginners and more advanced video editors alike. There isn't a tiered pricing structure or monthly premiums you'll need to worry about. Instead, it's a one-time purchase to get the complete software with all of its features.
It costs just $55.95 for an unlimited license on one personal computer. Compared to other video editing software, this price is shockingly affordable. Many other software options are available in subscription pricing tiers, so you need to pay monthly or annually to keep using its tools.
And the price, especially compared to other software options, is more than approachable. It's an excellent option for those on a budget, as you won't need to worry about planning for monthly or annual premiums.
Ease of Use: 3.8/5
Using Nero Video is relatively simple, as the interface is not nearly as cluttered with high-end tools as some software options. The Express Editor provides the perfect platform to start learning, while the Advanced Editor takes things a step up.
However, the lower rating stems from the lack of tutorials and learning materials available. So, while it isn't as complex as some video editing software options, you might feel like you've been thrown into the deep end without the know-how you need to get started. However, Nero does have live tips, which do help.
Another downside is completely cosmetic, is the appearance of the user interface. On my desktop PC, the design of the program is pixelated and looks like a program from 1995.
Support: 4/5
Nero offers solid support to its customers, including a knowledge base with answers to common questions. The support page is searchable, so you can hypothetically find the answers to your questions.
However, since this software isn't as popular as other options, you might be hard-pressed to find answers to ultra-specific questions, as forums with these answers aren't as common. Of course, you can always submit a support ticket, but you'll need to wait for a response from the company's customer service team.
Alternatives to Nero Video
If You Need Something Easier to Use: PowerDirector is the undisputed king of ease of use when it comes to video editing programs.
If You Need Something More Powerful: Adobe Premiere Pro is the industry standard for professional-quality video editors. Its color and audio editing tools are second to none, which makes it the most popular choice for those in need of a high-quality video editing program.
If You're a Mac User: An exclusive for Mac, Final Cut Pro is an excellent option for making professional movies. It isn't exactly in the same ballpark as Nero as far as the price point is concerned, but you get what you pay for with Final Cut Pro. You may also consider Filmora or other Mac video editing apps we've reviewed.
Final Verdict
Nero Video is a solid video editing software option designed to help simplify the editing process. It supplies a decent array of features and offers multiple editors to accommodate varying editing needs. However, while this platform can be a great option for those on a budget, it isn't ideal for those seeking high-end, professional-level video editing software, as it may not have all the tools you're looking for.
Have you tried Nero Video? Let us know what you think in the comments below!