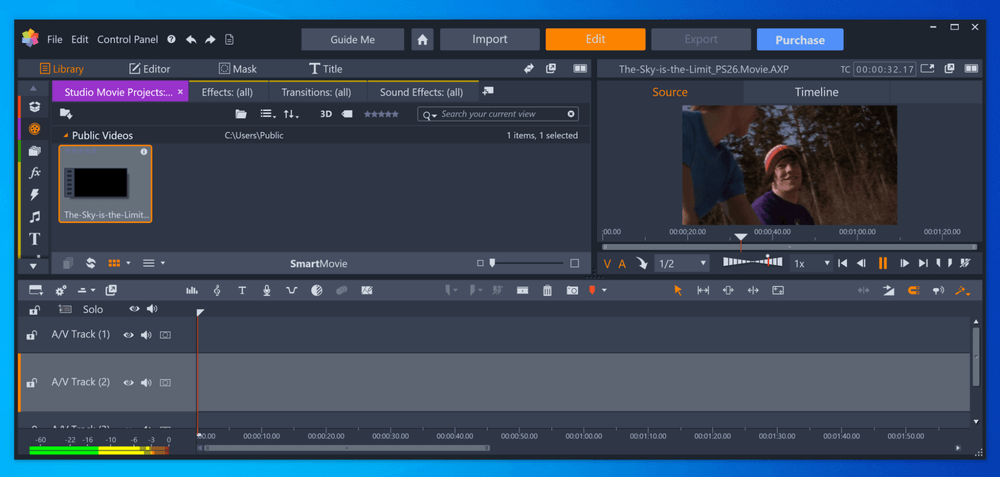 Pinnacle Studio 26
Features: The features list doesn't disappoint, but you might not find everything you would in professional-grade video editing software.
Pricing: The standard plan is affordable, but the Ultimate and Bundle plans are somewhat pricey.
Ease of Use: A beautiful, modern, and user-friendly interface that makes it an ideal pick for beginners.
Support: A detailed support page, community forum, and dedicated customer service team provide ample resources for customers.
Summary
Pinnacle Studio is video editing software with plenty to brag about. It offers a beautiful user interface with a logical layout, making it incredibly easy to use and navigate. The price of its standard plan is excellent for what you get, but its higher plans leave something to be desired.

Given its usability and affordability of its base plan, this software is ideal for beginners and editors on a budget. However, it's not the best choice for professional editors seeking a high-level option.

What I Like: This software features a user-friendly interface, an impressive feature list, and a modern layout.

What I Don't Like: Some customers have mentioned issues with lag and occasional crashes.
Is Pinnacle Studio software safe?
Yes, Pinnacle Studio is safe to use. I ran the software on my Windows PC without any problem.
No, Pinnacle Studio isn't free. There are several pricing tiers: Standard, Ultimate, and Bundle, each with different prices.
Does Pinnacle Studio offer a free trial?
Yes, you can test Pinnacle Studio in a free 15-day trial. After that, you'll need to purchase the software to continue using it.
Does Pinnacle Studio work on Mac?
Why Trust Me for This Review
Hi there – I'm Jon, an engineer, digital marketer, and content creator. I've been creating digital content, including videos, for nearly ten years. In that time, I've put dozens of video editors to the test. 
I routinely use different video editors to explore new features and UIs to ensure I am getting the most up-to-date experience. I know how important efficiency, quality, ease of use, and cost are in a video editor because I've used them all.

Pinnacle Studio isn't the number one video editing software. However, it is near the top. It has great features, is mostly intuitive, and isn't prohibitively expensive. Plus, there is a ton of support available to help you along while you learn the program.
Side Note: Here's a demo video made by my teammate Aleco, using an earlier version of Pinnacle Studio Ultimate.
Detailed Review of Pinnacle Studio
Pinnacle Studio is a worthwhile consideration for video editors beginning their careers, as it offers a user-friendly interface, logical layout, and affordable price. It boasts an array of templates, effects, and transitions, earning its place as a worthwhile consideration.
Here are a few key features of the Pinnacle Studio software, along with my personal take on each feature.
Video Overlays and Motion Graphics

Pinnacle Studio offers video overlays and motion graphics that help you take your creation to the next level. The animated components can add pizzazz to your video, creating a more engaging finish that captivates viewers. The software comes with an array of options for various purposes.
It's important to note that these features are only available in the Ultimate Bundle plan, not in the Standard or Ultimate plans.
My personal take: Incorporating overlays and motion graphics can entail a learning curve, and it's much the same in Pinnacle Studio.
Screen Recorder
Pinnacle Studio offers a screen recording feature that allows you to capture videos and audio and record your screen. You can connect your cameras to your computer to turn your PC into the hub of your activities.
Using this tool, you can record your screen and webcam simultaneously. It can capture system audio and microphone sound. Once you're done, you can use the multicam editor to fine-tune your content.
My personal take: Affordability is a key consideration when shopping for video editing software, especially if you're on a budget. While the base plan isn't overly fancy, it can get the job done.
Alpha Channel
The alpha channel feature in Pinnacle Studio lets you tweak the transparency of certain areas of your video to create the desired effect. This tool, or greenscreen effect, is perfect for blending images, masking backgrounds, and isolating objects.
However, it's important to note that this tool is only available in select plans. The Standard plan doesn't offer it, but the Ultimate and Ultimate Bundle plans do.
My personal take: The process of using the alpha channel feature is much the same as using it in other video editors, so experienced editors likely won't have any issues.
Thousands of Effects

Pinnacle Studio proudly boasts of its ample effects library, claiming to offer more than 2,000 effects. While some of the effects are standard options in video editing software, others are simply duplicates with poor transitions or strange overlays. The duplicates can make it hard to find what you want.
However, if you enjoy incorporating unique effects and overlays, the overflowing library might be a perfect addition to your arsenal.
My personal take: The abundance of effects is nice, even if some nearly mirror other options, save for a transition or overlay.
360-Degree Editing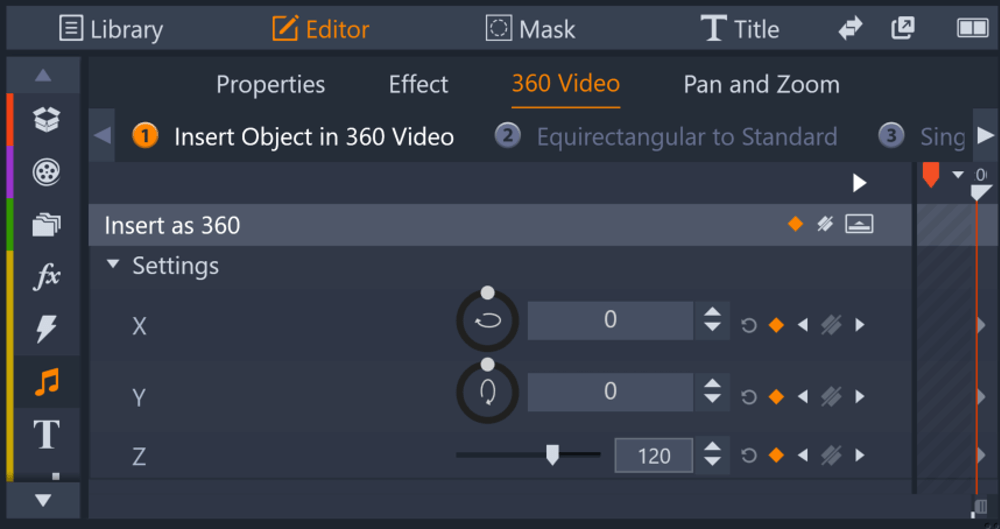 This software supports 360-degree videos, allowing you to make basic edits to your videos. When you use this feature, you'll see your video content in two tabs. One tab displays the video as a 360-degree video, while the other displays the 2D result. You can maneuver around the video in either tab to tweak the viewing angle as necessary.
The options are somewhat limited if you want to keep your content as a 360-degree video, but you can trim, add fade transitions, and incorporate titles. You won't get to use other features, like stabilization, but the basics might be enough for some folks.
My personal take: While this video editor isn't specifically geared toward 360-degree videos, I like that it can do the basics of editing them.
Multicam Editing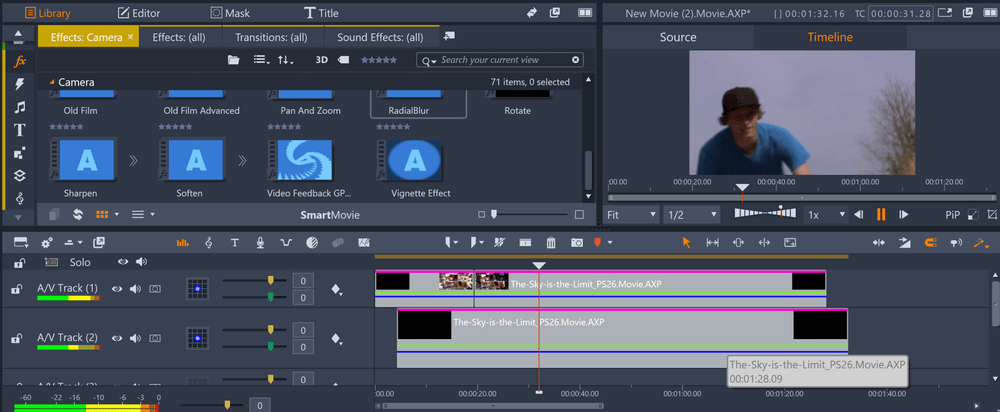 This software features multicam editing that allows you to simultaneously work with several clips of the same event that you captured at various angles. Without this tool, aligning audio and timing can be a time-consuming process, but with it, the process is much smoother.
With the base version, you can work on two camera angles, but if you want to edit more, you'll need to upgrade your plan. The Plus plan lets you edit four angles, while the Ultimate plan offers six angles.
My personal take: Editing and aligning multiple angles of the same moment can be tricky to get right, but this tool simplifies the process.
The Reasons Behind My Ratings
Features: 4.1/5
This tool offers nearly everything you might expect from basic video editing software, allowing you to create quality videos. It offers an array of transitions, templates, and effects to add spice to your content, but if you're used to professional-grade video editing software, you might not find everything you want.
The docked points stem from the duplicate effects and occasional lag as you work on your project.
Pricing: 4/5
The base plan of Pinnacle Studio is an affordable option, costing just $29.99. While this package might be sufficient for beginners and casual editors, professional video editors might want more from their software, so a Plus or Ultimate plan might be the best fit.
These plans are somewhat pricey compared to the competition but don't offer any features that give them a definitive edge. So, while the base plan has a nice balance of features and value, the Plus and Ultimate plans leave something to be desired.
Ease of Use: 4.6/5
In terms of usability, Pinnacle Studio doesn't disappoint. It offers a user-friendly interface with neatly arranged features in logical locations. If you're familiar with video editing software, you probably won't have any issues getting started and learning the location of each feature.
Conversely, newbies might have a slight learning curve to get a good grasp on the location of each feature. However, the simplicity of the layout and well-designed interface make this software a more beginner-friendly option than fancier professional-grade options.
The layout of Pinnacle Studio is well-designed, with everything where you might expect it to be. The backdrop is a muted charcoal gray, which is ideal for focusing on the task at hand. With the darker backdrop, your videos pop, stealing the spotlight and commanding your focus.
The tools are neatly aligned on the left side of the screen, easily findable using the tiny icons indicating different categories. A bar at the bottom of the screen displays your progress, while the right side of the screen showcases your project's current state.
Support: 4.9/5
Pinnacle Studio users have plenty of access to ample resources covering nearly every common question. The support page is divided into a searchable list of answers to common questions in labeled categories, including Download, Orders, and Discovery Center.
You can easily search the page's contents using the search bar or browse through each category to familiarize yourself with the software. If you can't find the answer to one of your questions in the support center, check the Corel Community forum, start a chat session, or create a support ticket.
Alternatives to Pinnacle Studio
If you need something easier to use: Cyberlink PowerDirector is the simplest video editor I've ever tested and a must-buy for anyone whose primary concern is ease of use. You may also consider Camtasia and Movavi Video Editor.
If you need something more powerful: Adobe Premiere Pro is the industry standard for a reason. Its color and audio editing tools are the best in the business, and its ability to integrate with Adobe Creative Cloud makes it an excellent choice for anyone who is already familiar with Adobe products.
If you are on a Mac computer: Though it isn't quite in the same price range as Pinnacle Studio, Final Cut Pro is the least expensive video editor which I would consider to be "professional quality". It's a great choice for anyone in the market for a program that strikes a balance of ease of use, quality of features, and affordability. You may also consider Filmora or DaVinci Resolve.
Final Verdict
Pinnacle Studio is an excellent video editing software for editors at the beginner and intermediate levels of their careers. Its tiered pricing system accommodates varying needs and budgets, covering various handy features on a user-friendly platform.
However, while the balance of features and value makes this option ideal for beginners, it might not be ideal for experienced professionals, as it lacks some of the more advanced features standard in professional-grade video editing software.
Are you ready to give Pinnacle Studio a try? Let us know in the comments below!