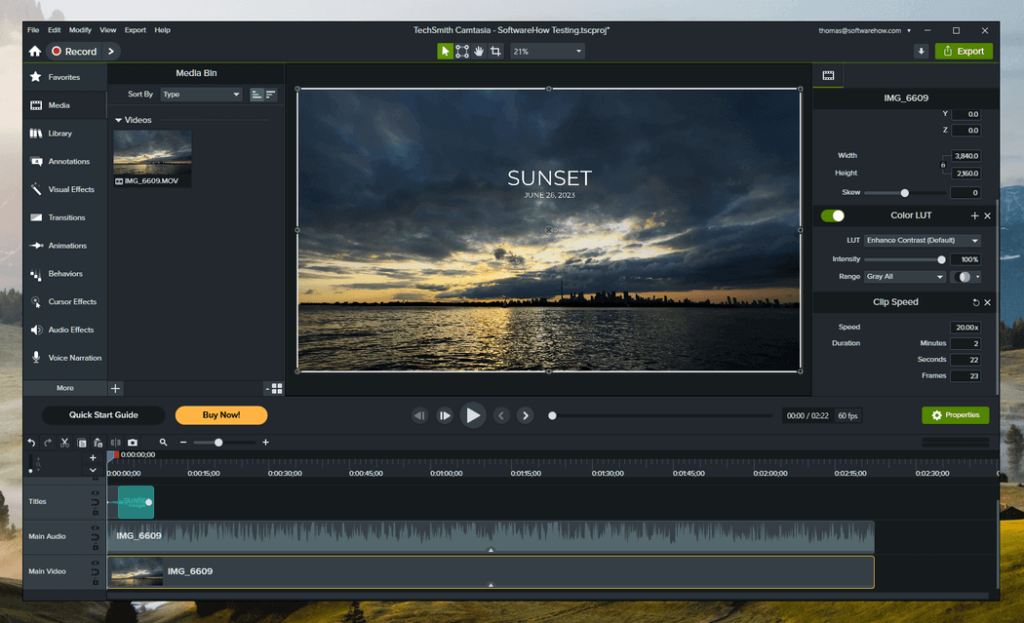 Camtasia
Features: Extremely powerful and capable editing features
Pricing: Expensive compared to similar editing programs
Ease of Use: Well-designed user interfaces with only a couple of exceptions
Support: Excellent tutorials and website support
Summary
Camtasia is a powerful video editing program available for both Windows and macOS. It supports a range of popular media formats and offers an impressive degree of control over the videos you create while still being easy to use. TechSmith (the maker of Camtasia) even has a free mobile app for Android and iOS that makes it easy to transfer media from your device for use in Camtasia. Once you're finished editing, you can render and share your video files to Youtube, Vimeo, Google Drive, and Screencast.com from within the program.

Even if you've never used video editing software before, Camtasia is easy to learn, thanks to the excellent tutorial support provided by TechSmith. You can try Camtasia for free for 3 days, buy it directly as a one-time purchase, or subscribe yearly.

What I Like: Professional-level features. Excellent cursor tracking options for screen capture. 4K video support. Extensive tutorial support. Social sharing integration. Mobile companion app.

What I Don't Like: Subscription provides limited value. Some users have issues with the companion app.
Is Camtasia a good video editor?
Yes, Camtasia is a very good video editor! It contains all the tools that you need to create professional video content.
What is Camtasia best used for?
Camtasia is a great general-purpose video editor, but it really excels at creating screen-based content, such as app tutorials, thanks to its impressive screen capture tool, which is able to track mouse cursor position.
Is Camtasia completely free?
No, Camtasia is not free, although there is a free 3-day trial available. Any videos produced with the trial version will be watermarked, and there are several other restrictions.
How much does Camtasia cost?
Camtasia currently costs $299.99 USD per user, for both the PC and Mac versions of the software. TechSmith also offers different pricing plans for Business, Education institutions, and Government & Non-Profit.
Do you have to buy Camtasia every year?
Camtasia is available as a yearly subscription, but it's also possible to make a one-time purchase of a lifetime license that doesn't require an active subscription.
Why Trust Us for This Camtasia Review
My name is Thomas Boldt, and I've worked with a wide range of video editing software in the past, from small open-source transcoders to industry-standard software such as Adobe Premiere Pro and Adobe After Effects. As a part of my training as a graphic designer, I spent time learning the ins and outs of both motion graphics and the software that creates them, including their UI and UX design.
I have worked with TechSmith products in the past, but TechSmith has had no editorial input or review of the content here. They have no stake in the review, and I did not receive any special consideration from them for writing it, so I am completely unbiased in my opinions.
Meanwhile, JP has been using Camtasia for Mac since 2015. He first used the program when he was assigned a task to make video tutorials for a mobile app. He tried a couple of video editing tools before finally selecting Camtasia, and he has been happy working with it since.
Detailed Review of Camtasia
Camtasia is an incredibly powerful and complex program with a lot of features, so I'm going to stick to the most commonly used and the most interesting ones – otherwise, you'll get tired of reading before we're done.
First, we'll take a quick look at the interface and then explore how Camtasia works with your video and audio files. Finally, we'll look at a few of the extra features Camtasia offers, take a quick look at the Fuse mobile companion app, and see how you can share your videos with the world.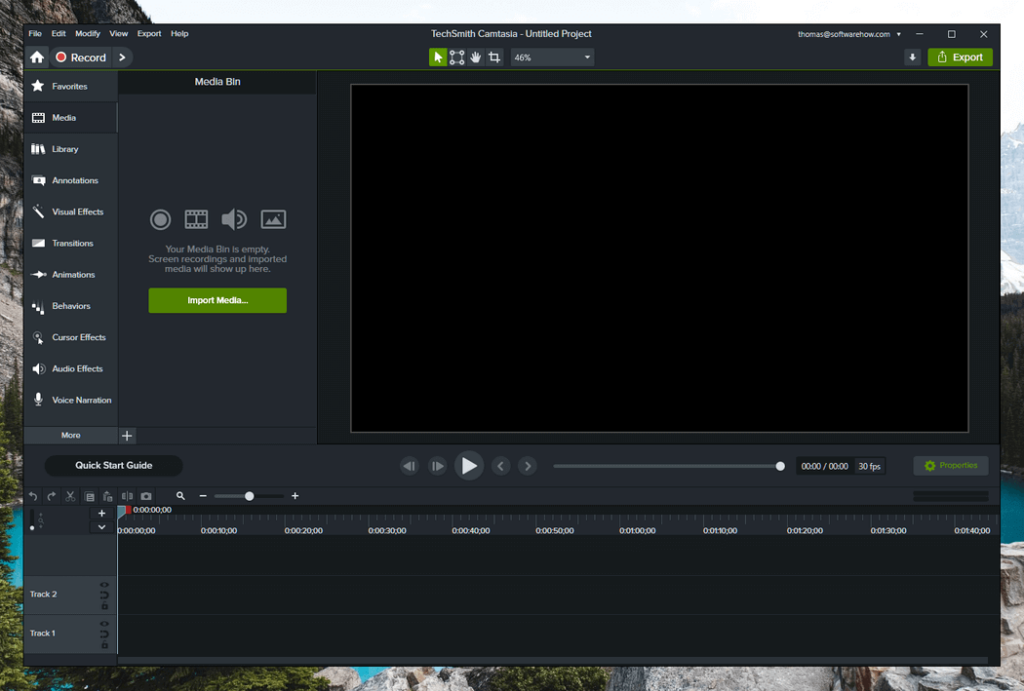 There are three main areas of the interface: the media track timelines at the bottom, the media and effects library at the upper left, and the preview area at the upper right. Once you begin to add effects that have customizable options, a 'Properties' panel also appears in the top right.
Importing media is a snap, as it functions just like any other 'File Open' dialog. Everything you import sits in the 'Media Bin' section, and besides that, you can access the Library of all preset media that comes built into the program.
You can also import files directly from Google Drive, which is a nice touch, but one of the most useful features is the ability to import directly from your mobile device using TechSmith's companion app, Fuse (more on that later!).
Working with Your Media
Once you've breezed through adding the media you want to work with, Camtasia continues to be extremely easy to use and well-designed. Simply dragging your selected media to either the preview window or the timeline adds it to your project and populates a new track automatically if required.
You can create as many tracks as necessary, rearrange them and rename them as you like to keep your media organized during longer complex projects.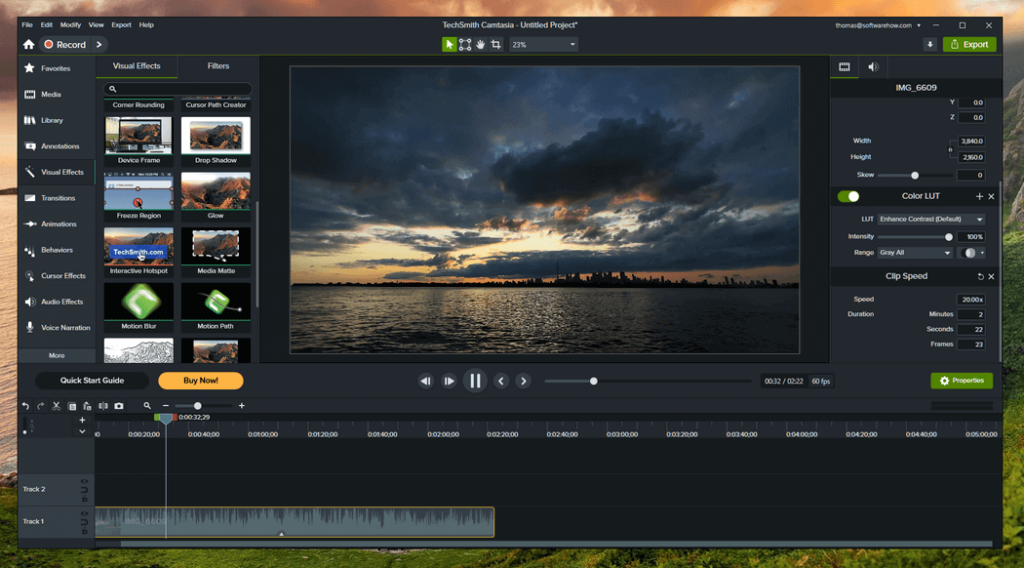 Trimming, cutting, and pasting sections of your video file is extremely fast and easy to do – simply select the desired section of your video using the red and green play-head markers, then cut and paste it into a new track just as if it was text in a word processor.
Perhaps it's just because I'm working on an incredibly powerful computer, but there was absolutely no lag time while cutting this 4K video of a sunset into separate sections during my testing of Camtasia.
Adding in overlays and effects is just as simple as adding your initial media files. Select the type of object or effect you want to add from the list on the left, choose the appropriate type, and then drag and drop it onto the timeline or the preview window.
You can customize almost every aspect of the effect to fit your style using the properties section on the right of the preview window, and since it's all done non-destructively, you can tweak, adjust, or remove your edits at any time.
Adding scene transition effects is also just as easy – choose the one you want, and then click and drag. As soon as you start to drag, each element on every track displays a yellow highlight which areas will be affected.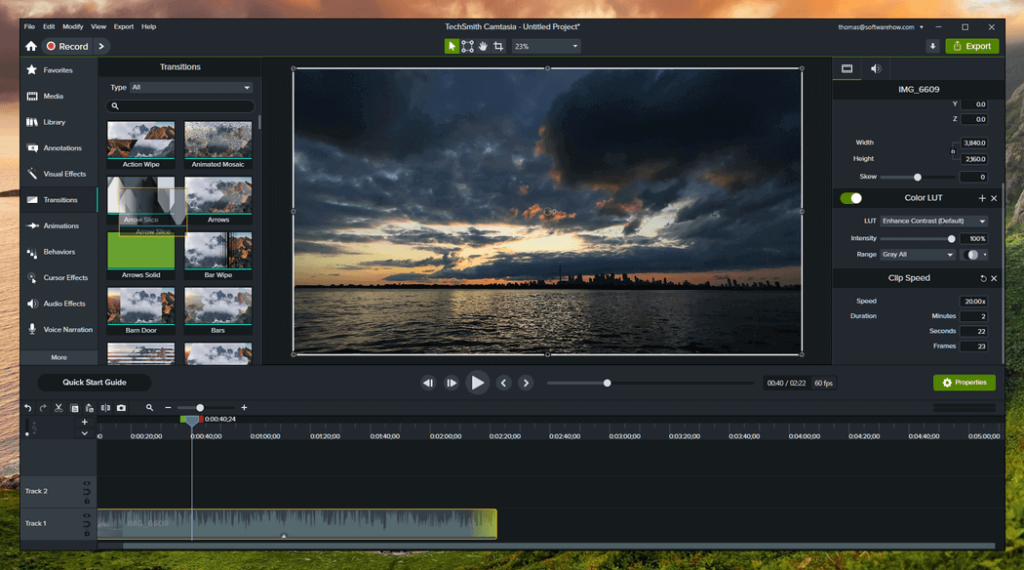 This is an example of great user interface design that makes it easy to see how much overlap you'll need to include to make your various elements mesh successfully.
Animating sections of your video is also quite easy. you simply see an arrow overlay on the track you are working with, complete with start and end points that can be dragged around to the right spot. To get frame-level accuracy, clicking and holding on the point will show a tooltip with the exact timecode, another nice user interface touch that makes it easy to be precise.
JP's note: I have similar feelings to Thomas on using the media-related features while using the Mac version. TechSmith makes it a breeze to drag and drop, edit, and annotate media elements the way you want. Pro tip: if you are new to video editing, I highly recommend you take an hour or so to watch the awesome tutorials the TechSmith team made.
Working with Audio
Camtasia doesn't have quite as many audio editing features as you might want if you're an audiophile, but for most purposes, it can do more than enough.
You can quickly separate the audio from any imported video into a separate track for cutting and trimming, and there are several standard editing options such as noise removal, volume leveling, speed adjustments, and fades.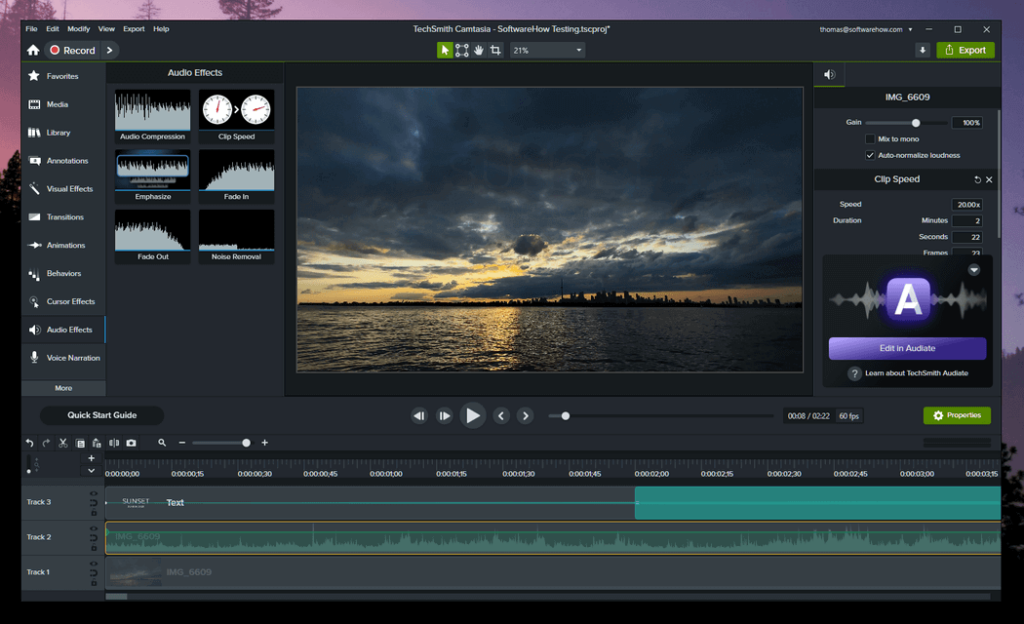 One of the more interesting and useful audio features is the ability to add narration to your video directly within the program while you actually watch what's playing. This means you don't have to worry about making sure your audio syncs up with your video during a separate recording session since you'll be able to record in real time as the video plays.
Obviously, this is a huge help for anyone making tutorial content or any other situation that would benefit from separate narration since you don't have to think about the narration script while you're actually recording your video.
JP's note: I didn't expect the audio editing features to be that awesome. To be honest, I tried Audacity to trim voiceovers for the app tutorial I made. It turned out that I wasted a couple of hours because Camtasia was powerful enough to meet all my audio editing needs. Nevertheless, I like Audacity and still use it occasionally these days.
Screen Capture
For those of you making tutorial videos or other screen-based video content, you'll be happy to know that Camtasia comes with a built-in screen recorder that is easily accessed with the big red 'Record' button in the top left of the main interface. This will open a new window, shown below, with simple controls for selecting your desired screen area. 

It's everything you could want in a screen recorder, complete with audio, mouse cursor position tracking, and webcam companion recording. The resulting video appears in your project's media bin alongside all your other project media and can be simply added to the timeline like any other file.
While it's a solid screen capture tool, the best feature by far is its mouse cursor position tracking. Normally, mouse cursors aren't captured by screen recording software, but Camtasia tracks its position anyways during the recording and then adds a customizable mouse cursor back into your video after the fact.
This means you can completely control how the mouse cursor looks, change its color, and even adjust the path that it takes. You can even automatically smooth out the cursor path to make it look like you have the most steady and precise mouse hand in the world!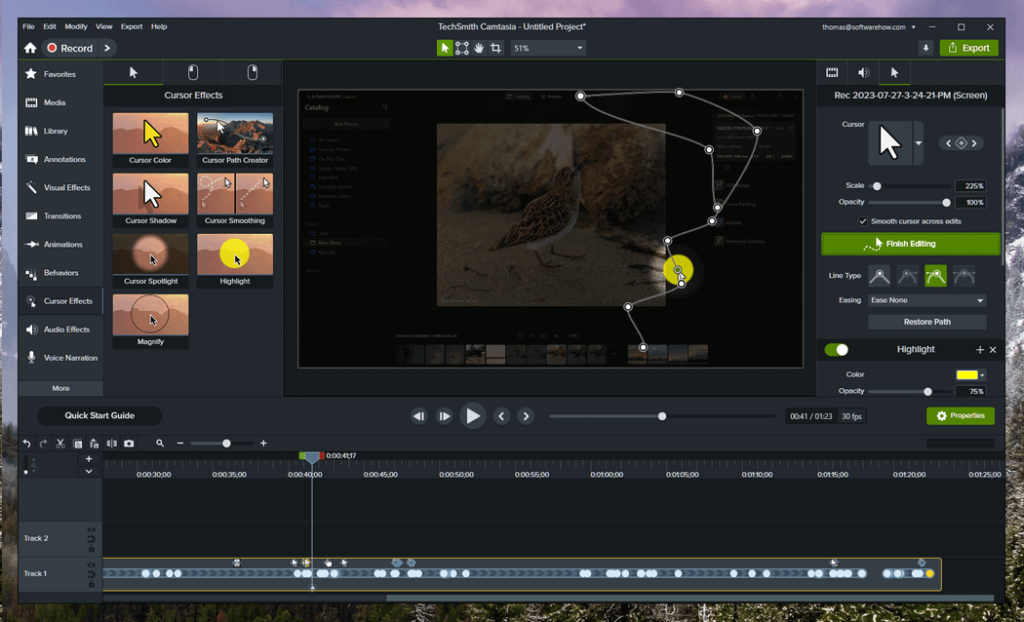 These features are simply incredible for app tutorial videos and any other screen-based content, making them must-have tools for teachers and other instructors who educate online.
JP's note: Seriously, this was the killer feature that made me go with this TechSmith product. Why? Because it was the first video editor software that supported adding an iPhone 6 frame to the app videos I made. If you have the chance to read this post I wrote earlier, you know that I tried Screenflow before its competition. But Screenflow didn't have the latest iPhone frame in its media library at that time, so I switched to Camtasia and found it truly great.
TechSmith Fuse
This is an incredibly useful feature if you use your smartphone or other mobile device to shoot video, which is becoming more and more popular as their cameras grow more capable. Click File, then choose 'Connect Mobile Device,' and you'll be presented with a series of simple instructions.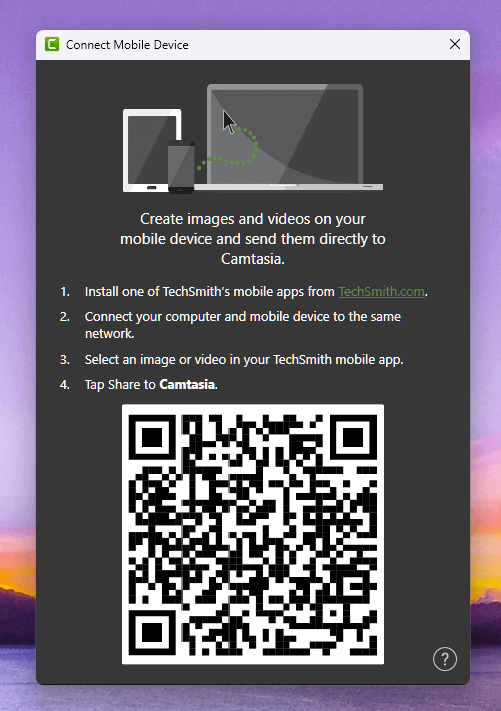 Since both my devices were connected to the same network, I was able to pair the app and the Camtasia installation on my PC without any problems. I could then transfer images and videos from my phone directly to my Camtasia media bin with only a few taps, where they were ready to include in my project after the upload process was completed.
The only issue that I ran into was that Fuse tended to disconnect itself when my phone screen locked temporarily, but it would resume within a few seconds of running the app again.
JP's note: This is a huge benefit. The Fuse app wasn't actually available when I first used Camtasia for Mac. I was using the app to edit mobile app tutorials for Whova, and Fuse would have been a big help. There were several times, as I recall now, I took several screenshots on my iPhone, and I had to transfer them to my Mac via email before they were imported into the dashboard. Fuse is definitely a time-saver!
Rendering and Sharing Your Video
Once you've finally got your masterpiece just the way you want it, Camtasia has a range of options for creating your final video. You can create a local file on your computer using any settings you want, or you can create a file and have Camtasia upload it automatically to Youtube, Vimeo, Google Drive, or TechSmith's two online video projects, Screencast and Knowmia.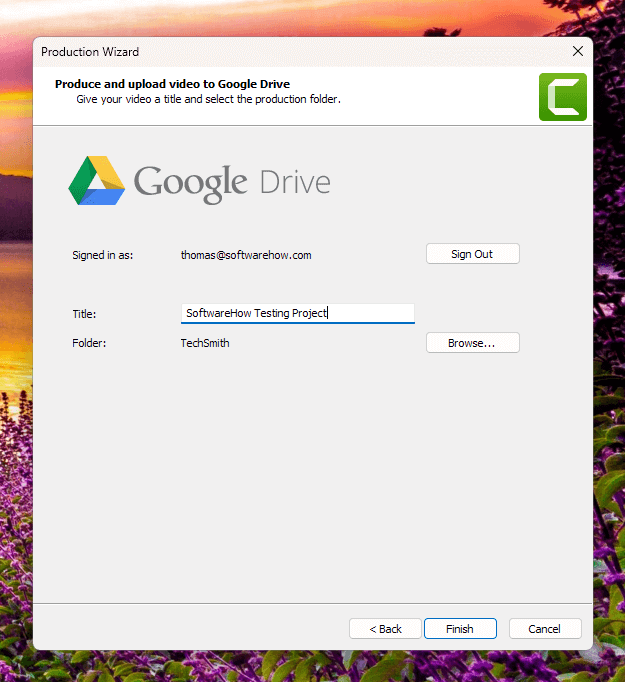 I don't have an account with any of those services except Google Drive, so let's take a look at how it works. A quick sign-in and approval from my two-factor authentication (enable this for your own Google account if you're not already using it – it's a dangerous web out there), and we're off!
The file was rendered and uploaded with no problems at all! The program even opened a window in my Google Drive to preview, although it all went so fast that Google was still processing the video by the time the preview window opened.
The Reasons Behind Our Ratings
Features: 5/5
Camtasia is an incredibly powerful video editor, allowing you to do almost anything you want to create a professional-quality result. You have total control over every aspect of arrangement, animation, color, timing, and anything else you might want to adjust in your video. The
Pricing: 4/5
Camtasia is available as a yearly subscription or as a one-time purchase, although the one-time purchase price is extremely high. Because the app is already so polished, I'm not convinced that TechSmith is providing enough regular updates, new features, and new content to justify using a subscription model, but the high cost of the one-time purchase makes it seem more appealing.
Ease of Use: 5/5
Considering how powerful and capable it is, TechSmith has done a great job making the program so easy to use. The interface is clearly and consistently laid out, and the software is packed with thoughtful little features that really improve the user experience.
Support: 5/5
There's a helpful quick start guide and access to support directly from the Camtasia account hub that displays when you first load the software, and TechSmith seems to be quite committed to providing training resources on the web. They are continually developing and updating the software to fix bugs, and they're good enough at it that I didn't run into any issues at all during my review.
Camtasia Alternatives
Filmora: If you're overwhelmed by the number of features that are found in Camtasia, a slightly simpler program might fill your requirements. It's also easy to use and well-designed, although it does have a couple of technical issues with some of the more non-essential features. It's also much cheaper.
Adobe Premiere Pro: If you're an Adobe user for other creative purposes, you might feel more at home with Premiere Pro. It's a robust video editing program that has almost all the same features as Camtasia, and a few that Camtasia doesn't such as access to TypeKit, Adobe Stock and Adobe After Effects integration. Adobe recently changed its top-level software over to a subscription model, but you can get access to Premiere alone for $19.99 USD per month.
ScreenFlow (Mac Only): ScreenFlow is another great competitor to Camtasia for Mac. With video editing being its core feature, the app also allows you to capture screen recordings (from both Mac desktop and mobile devices), and share the edited videos to the web or download them directly to your Mac hard drive. The only downside to ScreenFlow is that it's only compatible with Mac machines, so PC users have to select another option. See the best Windows alternatives to ScreenFlow.
Movavi Video Editor: This software sits somewhere between Filmora and Camtasia in terms of capabilities and is less expensive than either of them. It's designed for more of a hobbyist than a professional video editor, but you can still create good-quality results despite the lack of control that it allows.
If you are on a Mac computer, you can also find more alternatives from our best Mac video editing software roundup.
Final Verdict
For users looking for professional-quality video editing with an easy-to-use interface, TechSmith Camtasia is an excellent piece of software. It's quite easy to learn to use, and it's possible to go from downloading to creating and uploading your first movie in less than an hour. The added bonus of a companion mobile app Fuse makes for easy file transfers from your mobile device to your workflow.
If you create tutorial videos or other screen-based content, then Camtasia has all the tools that you'll need for creating polished videos that are easy for your viewers to follow along with.
Do you have a question about Camtasia that I didn't answer in this review? Let me know in the comments below, and I'll do what I can to help.