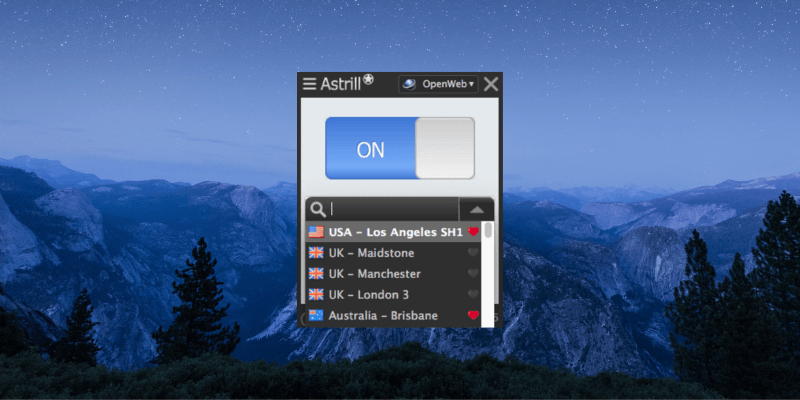 Astrill VPN
Effectiveness: It's very private and secure
Price: $25/month or $150/year
Ease of Use: Simple to set up and use
Support: 24/7 chat, email, phone and web form
Summary
Astrill VPN goes beyond the basic features to offer excellent speeds, a choice of security protocols, a kill switch, an ad blocker, and a few ways of choosing which traffic goes through your VPN and which doesn't. It's fast and connects to Netflix reliably.

But to have success, I had to carefully choose which servers I connected to. Some were too slow to run SpeedTest, and others were blocked by streaming content providers.

The subscription price is more expensive than similar services, even when paying one year in advance it costs $150. I encourage you to download the free trial version and test it thoroughly before deciding to pay the subscription.

What I Like: Easy to use. Plenty of features. Servers in 106 cities across 56 countries. Fast download speeds.

What I Don't Like: Pricey. Some servers are slow.
Why Trust Me for This Astrill Review?
I'm Adrian Try, and I've been using computers since the 80s and the internet since the 90s. I've spent a lot of time setting up office networks, home computers, and even internet cafes, and learned the importance of practicing and encouraging safe surfing habits.
VPNs offer a good first defense when connected to the internet. I've installed, tested and reviewed a number of VPN programs, and checked the results of thorough industry testing online. I downloaded and installed the trial version of Astrill VPN on my iMac, and put it through its paces.
Astrill VPN Review: What's In It for You?
Astrill VPN is all about protecting your privacy and security online, and I'll list its features in the following four sections. In each subsection, I'll explore what the app offers and then share my personal take.
1. Privacy through Online Anonymity
Once you're connected to the internet, you're more visible than you may realize. Your IP address and system information are sent along with each packet as you connect to websites and send and receive data. What does that mean?
Your internet service provider knows (and logs) every website that you visit. They may even sell these logs (anonymized) to third parties.
Each website you visit can see your IP address and system information, and most likely collect that information.
Advertisers track and log the websites you visit so they can offer you more relevant ads. So does Facebook, even if you didn't get to those websites through a Facebook link.
When you're at work, your employer can log which sites you visit and when.
Governments and hackers can spy on your connections and log the data you're transmitting and receiving.
A VPN can stop all of that unwanted attention by making you anonymous. Instead of broadcasting your own IP address, you now have the IP address of the VPN server you've connected to—just like everyone else who is using it.
There's just one problem. Although your service provider, websites, employer and government can't track you, your VPN service can. That makes the choice of VPN provider very important. Can you trust them to keep you anonymous? Do they keep a log of which sites you visit? What is their privacy policy?
Astrill has a "no logs policy" clearly stated on their website: "We keep no logs of our user's online activity and we believe in absolutely unrestricted Internet. The very design of our VPN server software does not allow us to see which clients accessed what websites even if we wanted to. No logs whatsoever are stored on VPN servers after connection is terminated."
But "no logs" doesn't quite mean "no logs". For the service to function, some information is collected. Your active session is tracked (including your IP address, device type and more) while you are connected, but this information is deleted once you disconnect. Also, basic details of your last 20 connections are logged, including the time and duration of the connection, the country you're in, the device you used, and which version of Astrill VPN you have installed.
That's not bad. No personal information is permanently logged, protecting your privacy. Industry experts have tested for "DNS leaks"—where some of your identifiable information could fall through the cracks—and concluded Astrill VPN is safe to use.
Astrill allows you to pay your account with Bitcoin, which is one way to limit the amount of personal information you send the company, maintaining your privacy. But they collect some personal information when you create an account (even for the free trial): you need to provide an email address and phone number, and both of those are confirmed. So the company will have some identifying information about you on record.
One final security feature that Astrill VPN offers advanced users is Onion over VPN. TOR ("The Onion Router") is a way to achieve an additional level of anonymity and privacy. With Astrill, you won't need to run the TOR software separately on your device.
My personal take: No one can guarantee perfect online anonymity, but VPN software is a great first step. If privacy is your priority, Astrill's TOR support is worth looking into.
2. Security through Strong Encryption
Internet security is always an important concern, especially if you are on a public wireless network, say at a coffee shop.
Anyone on the same network can use packet sniffing software to intercept and log the data sent between you and the router.
They could also redirect you to fake sites where they can steal your passwords and accounts.
Someone could set up a fake hotspot that looks like it belongs to the coffee shop, and you could end up sending your data straight to a hacker.
VPNs can defend you against this type of attack. They achieve this by creating a secure, encrypted tunnel between your computer and the VPN server. Astrill VPN uses strong encryption and allows you to choose between a variety of encryption protocols.
The cost of this security is speed. Running your traffic through a VPN server is slower than accessing the internet directly, and encryption slows things down a bit more. Some VPNs can be extremely slow, but in my experience, Astrill VPN isn't bad—but the server you choose will make a lot of difference.
Before I enabled the software, I tested the speed of my iMac's connection over our Australian cable internet. I did this during the school holidays when my son was gaming, so didn't get all the bandwidth.

Once I enabled Astrill VPN, the first few servers I tried were too slow for SpeedTest to even conduct a test.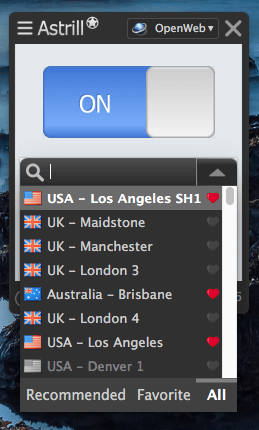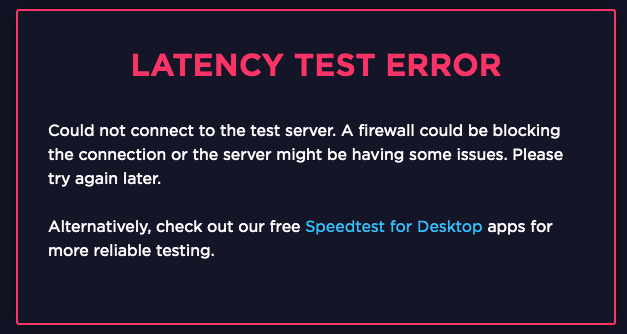 Concerned there was something wrong with my internet connection, I tried a different VPN (Avast SecureLine), and achieved reasonable speeds. So I persevered with Astrill and found some servers that worked. In fact, one was a little faster than my non-VPN speed.
A close Australian server was very speedy…

An American server worked, but not as quickly…

…and a UK server was also a little slow.

When checking servers in a certain country, I'd often have to try a few before I found one that was fast enough for a SpeedTest. So the choice of server is crucial in having a good experience with Astrill VPN.
Fortunately, Astrill VPN includes a useful speed test app that allows you to select multiple servers, and test and record the speed of each one.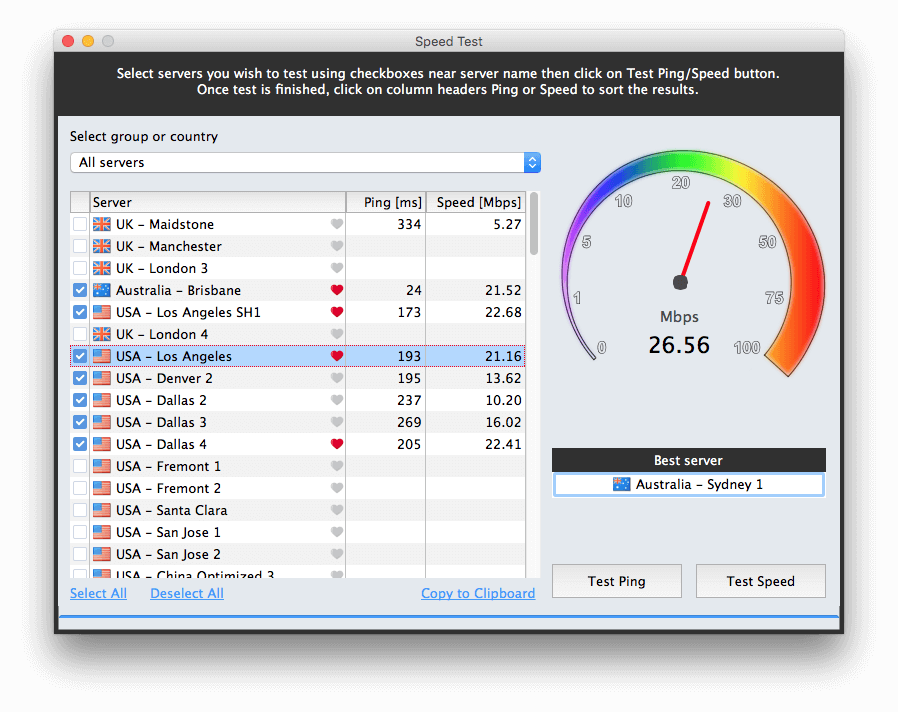 I found that a number of servers were quite fast—including Brisbane, Los Angeles, Los Angeles SH1 and Dallas 4—so I favorited them so I can easily locate them in the future.
I became a little suspicious—those speeds are quite a lot higher than other servers and faster than my tests earlier in the afternoon—so I tested the Los Angeles SH1 server on SpeedTest again and confirmed the result.

I continued testing Astrill's speed (along with five other VPN services) over the next few weeks (including after I got my internet speed sorted out), and found its speeds to be consistently the fastest… if you can successfully connect to the server. More Astrill servers failed than any other provider—nine of the 24 I tried, which is a high 38% failure rate.
But this is more than made up for by the speed of the working servers. The fastest Astrill server I encountered was 82.51 Mbps, which is a very high 95% of my normal (unprotected) speed, and significantly faster than any other VPN service I tested. The average speed was also fastest, 46.22 Mbps once I sorted out my slow internet speed.
If you'd like to wade through them, here are the results from every speed test I performed:
Unprotected speeds (no VPN)
2019-04-09 11:44am Unprotected 20.95
2019-04-09 11:57am Unprotected 21.81
2019-04-15 9:09am Unprotected 65.36
2019-04-15 9:11am Unprotected 80.79
2019-04-15 9:12am Unprotected 77.28
2019-04-24 4:21pm Unprotected 74.07
2019-04-24 4:31pm Unprotected 97.86
2019-04-24 4:50pm Unprotected 89.74
Australian servers (closest to me)
2019-04-09 11:30am Australia (Brisbane) latency error
2019-04-09 11:34am Australia (Melbourne) 16.12 (75%)
2019-04-09 11:46am Australia (Brisbane) 21.18 (99%)
2019-04-15 9:14am Australia (Brisbane) 77.09 (104%)
2019-04-24 4:32pm Australia (Brisbane) latency error
2019-04-24 4:33pm Australia (Sydney) latency error
US servers
2019-04-09 11:29am US (Los Angeles) 15.86 (74%)
2019-04-09 11:32am US (Los Angeles) latency error
2019-04-09 11:47am US (Los Angeles) latency error
2019-04-09 11:49am US (Los Angeles) latency error
2019-04-09 11:49am US (Los Angeles) 11.57 (54%)
2019-04-09 4:02am US (Los Angeles) 21.86 (102%)
2019-04-24 4:34pm US (Los Angeles) 63.33 (73%)
2019-04-24 4:37pm US (Dallas) 82.51 (95%)
2019-04-24 4:40pm US (Los Angeles) 69.92 (80%)
European servers
2019-04-09 11:33am UK (London) latency error
2019-04-09 11:50am UK (London) latency error
2019-04-09 11:51am UK (Manchester) latency error
2019-04-09 11:53am UK (London) 11.05 (52%)
2019-04-15 9:16am UK (Los Angeles) 29.98 (40%)
2019-04-15 9:18am UK (London) 27.40 (37%)
2019-04-24 4:42pm UK (London) 24.21 (28%)
2019-04-24 4:45pm UK (Manchester) 24.03 (28%)
2019-04-24 4:47pm UK (Maidstone) 24.55 (28%)
Notice the high number of latency errors I encountered while testing servers. I found one very fast server close to me in Brisbane, but also encountered a lot of latency errors on Australian servers. Surprisingly, I also discovered a number of very fast servers in the US, on the other side of the world. I am very impressed with Astrill's speed and recommend you use the app's internal speed test feature to sort out the fast servers from the ones that aren't currently working.
If security is your priority, Astrill offers a feature that not all services do: a kill switch. When you're disconnected from the VPN, the software can block all internet access while it tries to automatically reconnect.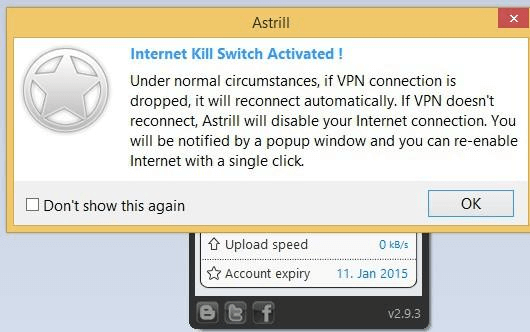 Finally, the OpenWeb protocol includes an Ads Blocker that will stop sites from trying to track you.
My personal take: Astrill VPN will make you more secure online. The app offers some security features that others don't, including the choice of security protocols, a kill switch, and an ad blocker.
3. Access Sites that Have Been Blocked Locally
You can't always surf where you want. Your school or business network may block certain sites to encourage productivity, reduce distraction, and ensure the content is safe for work. On a larger scale, some governments censor content from the outside world. One big advantage of a VPN is that it can tunnel through those blocks.
But think twice before you use VPN software to do this. If you're caught by your employer, you could ultimately lose your job. If you're caught breaking through a government's firewall, there could be hefty penalties. China has been blocking outside traffic for years, and since 2018 can also detect and block many VPNs. And since 2019 they have started to fine individuals—not just service providers—who try to circumvent these measures.
My personal take: A VPN can give you access to the sites your employer, educational institution or government are trying to block. Exercise caution when deciding to do this.
4. Access Streaming Services
You're not just being blocked from getting out to certain websites. Some content providers block you from getting in. In particular, streaming content providers aim to limit some content to viewers located in specific countries. A VPN can help by making it look like you're in that country.
Because of that, Netflix now attempts to block all VPN traffic from viewing their content. So even if you use a VPN for security purposes, rather than viewing other countries' content, they'll still try to block you. The BBC iPlayer uses similar measures to make sure you're in the UK before you can view their content.
So you need a VPN that can successfully access these sites (and others, like Hulu and Spotify). How effective is Astrill VPN?
Not bad. I tried accessing Netflix from a number of Astrill servers around the world (they are in 64 countries), and BBC iPlayer from a number of UK servers. Here's how I went.
I connected to a local Australian network and could view Netflix content without a problem. It's strange, though, that The Highwaymen is rated R (as in the US), rather than MA 15+ as it is in Australia. Somehow, Netflix thinks I'm located in the US even though I'm on an Australian server. Maybe this is a special feature of Astrill VPN.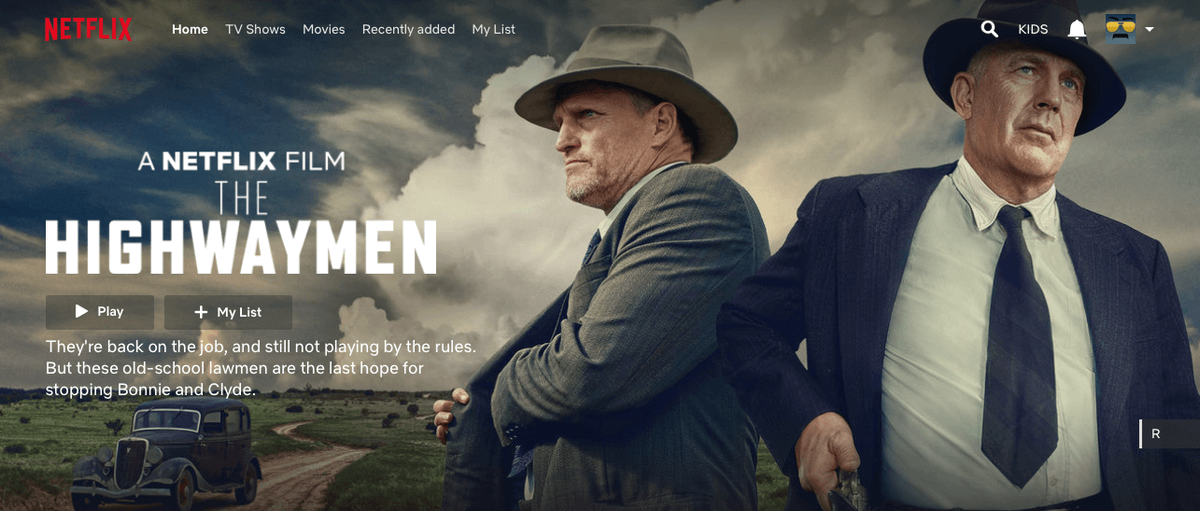 I connected via a US server…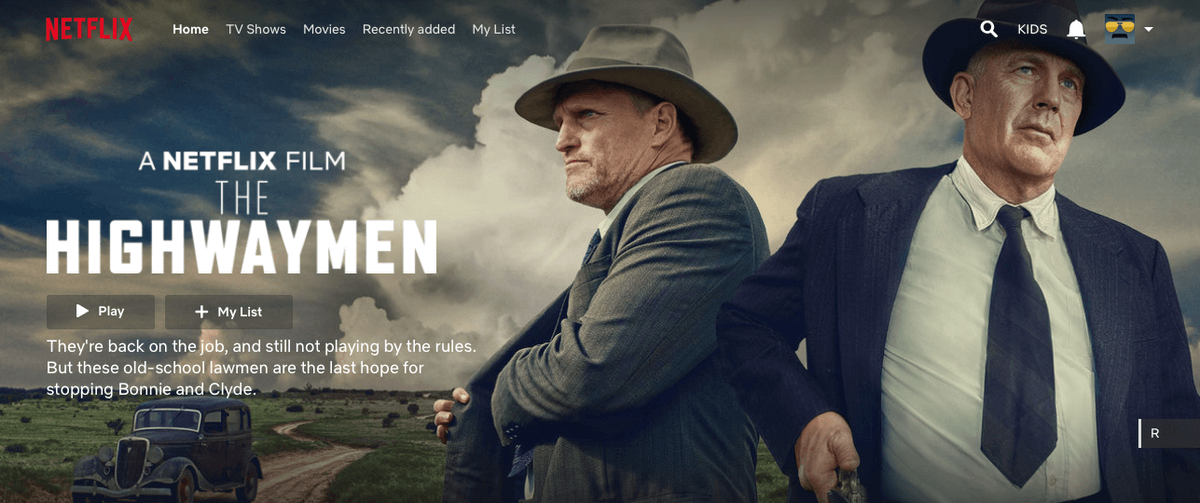 …and one located in the UK. This time the recommended show displays a UK rating.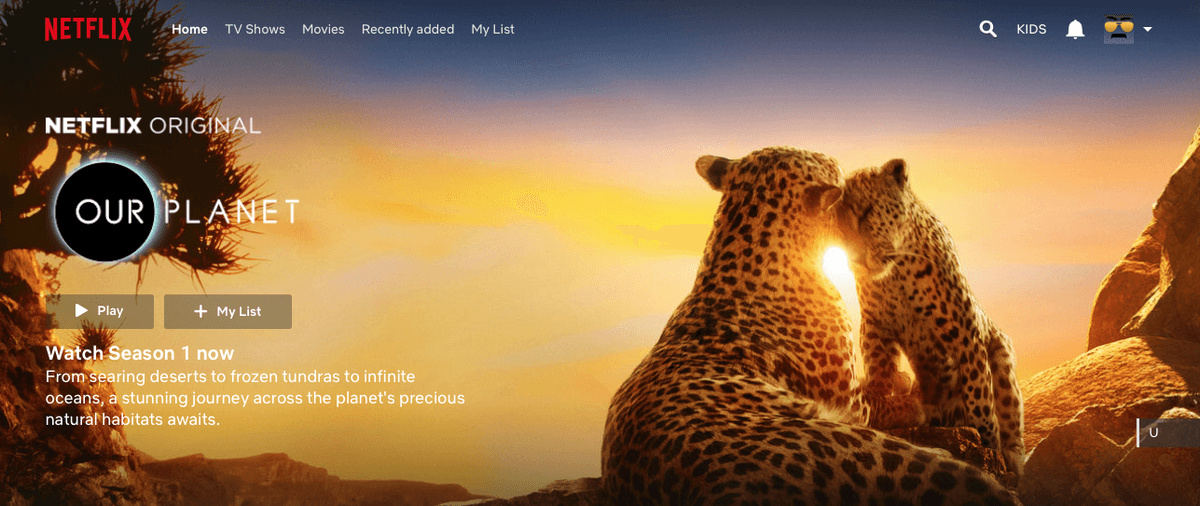 I found Astrill to be one of the most successful services for connecting to Netflix, with five out of the six servers I tested working, an 83% success rate.
2019-04-24 4:36pm US (Los Angeles) YES
2019-04-24 4:38pm US (Dallas) YES
2019-04-24 4:40pm US (Los Angeles) YES
2019-04-24 4:43pm UK (London) YES
2019-04-24 4:45pm UK (Manchester) NO
2019-04-24 4:48pm UK (Maidstone) YES
With fast server speeds and a high success rate, I definitely recommend Astrill for Netflix streaming.
I tried to view the BBC iPlayer from a number of UK sites. The first two I tried didn't work.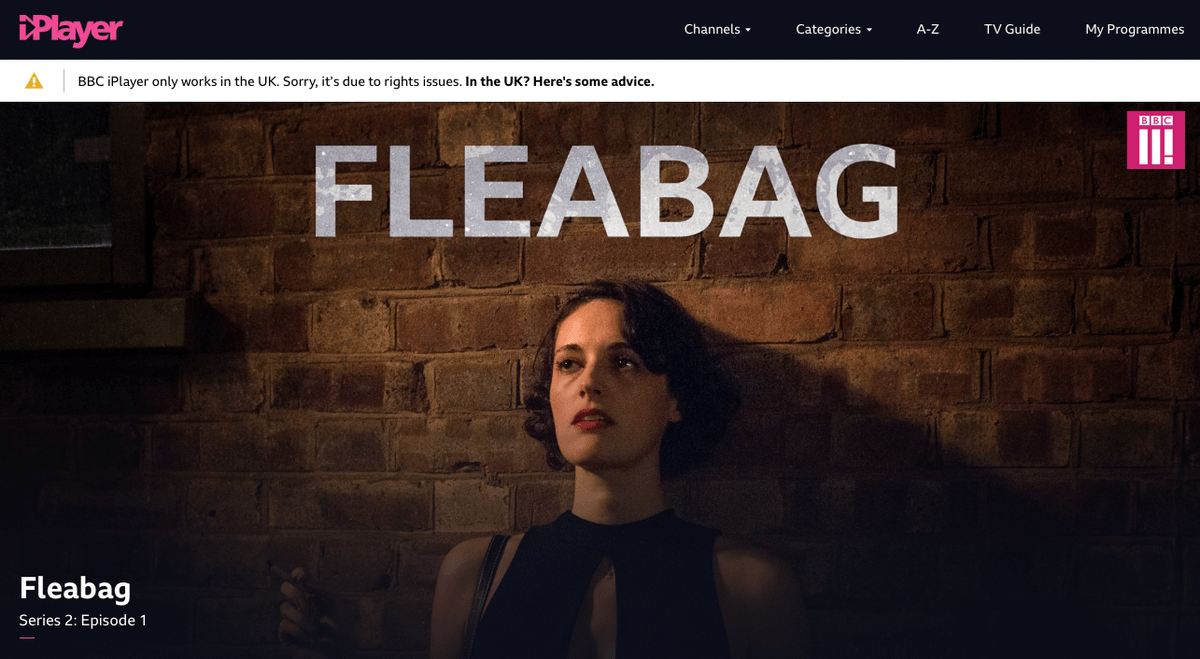 The third one I tried connected without a problem.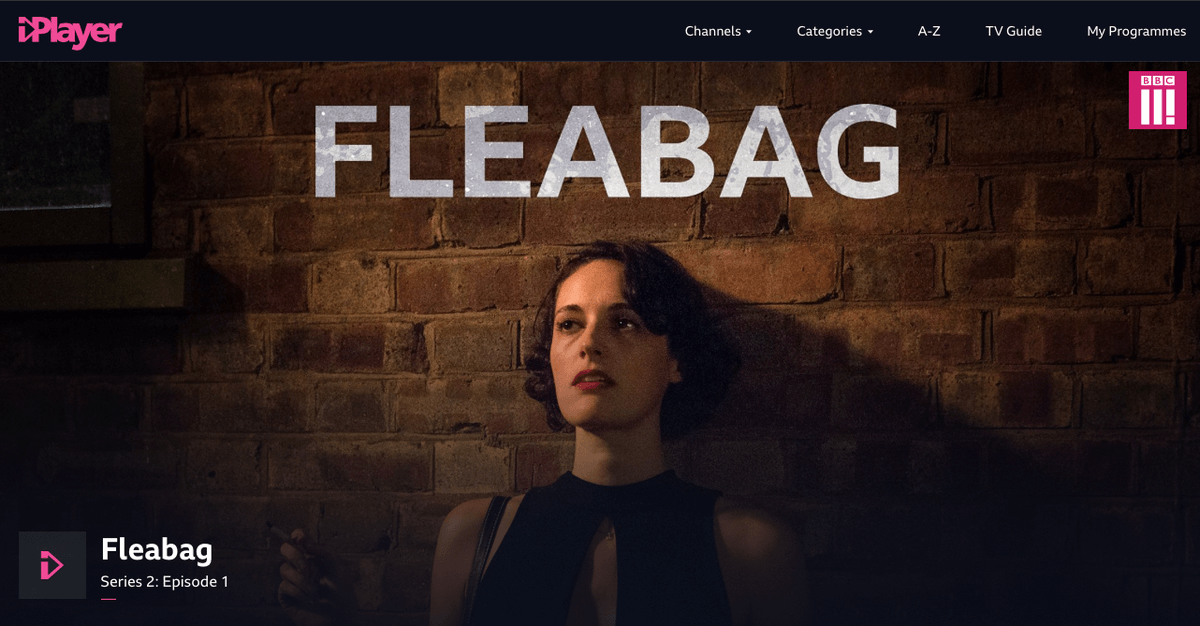 I tested again a few weeks later and failed on all three UK servers.
2019-04-24 4:43pm UK (London) NO
2019-04-24 4:46pm UK (Manchester) NO
2019-04-24 4:48pm UK (Maidstone) NO
It's strange that Astrill is so successful with Netflix content and so unsuccessful with the BBC. You really have to assess each streaming service on its own.
Unlike some VPN servers (including Avast SecureLine VPN), Astrill doesn't require all traffic to go through your VPN connection. It allows certain browsers, or even certain websites, to connect directly.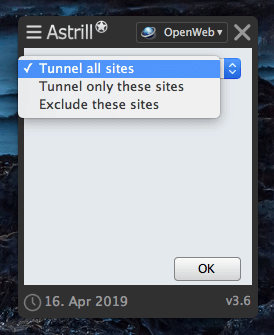 That means you could set up Firefox to go through your VPN and Chrome not to. So when accessing Netflix through Chrome, no VPN is involved, and they won't try to block you. Alternatively, you could add netflix.com to the list of sites that don't go through the VPN.
Accessing streaming content is just one benefit you get when you change your country of origin through a VPN. Cheap plane tickets is another. Reservation centers and airlines offer different prices to different countries, so use your VPN to check prices from different countries to find the best deal.
My personal take: Astrill VPN can make it look like you're located in any one of 64 countries around the world. That enables you to access streaming content that's blocked in your country. I was very successful when accessing Netflix, but can't offer you any confidence it will successfully access BBC iPlayer. Are you curious about which VPN is best for Netflix? Then read our full review.
Reasons Behind My Review Ratings
Effectiveness: 4.5/5
Astrill VPN includes the essential features required to make your online activities private and secure and achieves higher speeds than other VPNs once you find a server that works. It goes further by adding a choice of security protocols, a kill switch, browser and site filters, an ad blocker and more. More features can be added at an additional cost. The service is fast—if you choose the right server—and is ideal for accessing Netflix but not BBC iPlayer.
Price: 4/5
Astrill's monthly subscription isn't cheap but compares well with similar services, and by paying one year in advance you get it for almost half price.
Ease of Use: 5/5
Astrill VPN is easy to set up and easy to use. The main interface is a giant on/off switch, and servers can be selected via a simple drop-down menu. Another menu gives you access to additional features and settings.
Support: 5/5
The Astrill website provides individual setup manuals for each operating system, a comprehensive FAQ, and a collection of eight video tutorials that cover basic and advanced topics. Support can be contacted 24/7 by live chat, a contact form, email, or phone (US and Hong Kong numbers only) for English speakers.
Alternatives to Astrill VPN
ExpressVPN (from $12.95/month) is a fast and secure VPN that combines power with usability and has a good track record of successful Netflix access. A single subscription covers all your devices. Read more from our in-depth ExpressVPN review.
NordVPN (from $11.95/month) is another excellent VPN solution that uses a map-based interface when connecting to servers. Read our full NordVPN review here.
Avast SecureLine VPN is easy to set up and easy to use, contains most of the VPN features you need, and in my experience can access Netflix but not BBC iPlayer. Read our detailed review of Avast VPN here.
You may also check out our roundup review of the best VPNs for Mac, Netflix, Amazon Fire TV Stick, and routers.
Conclusion
Are you concerned about internet security? It seems we hear about hackers doing damage and stealing identities every day. Astrill VPN promises to make your online life more private and more secure.
A VPN is a service that helps protect your privacy and enhance your security when you're online, and tunnel through to sites that have been blocked. Astrill VPN is easy to set up and use, yet offers faster speeds and more features than the average VPN.
Applications are available for Windows, Mac, iOS, Android, Linux, and your router. It costs $25/month, $100/6 months, or $150/year. That's not cheap.
VPNs aren't perfect, and there's no way to absolutely ensure privacy on the internet. But they're a good first line of defense against those who want to track your online behavior and spy on your data.
So, do you find this Astrill VPN review helpful? Leave a comment and let us know.