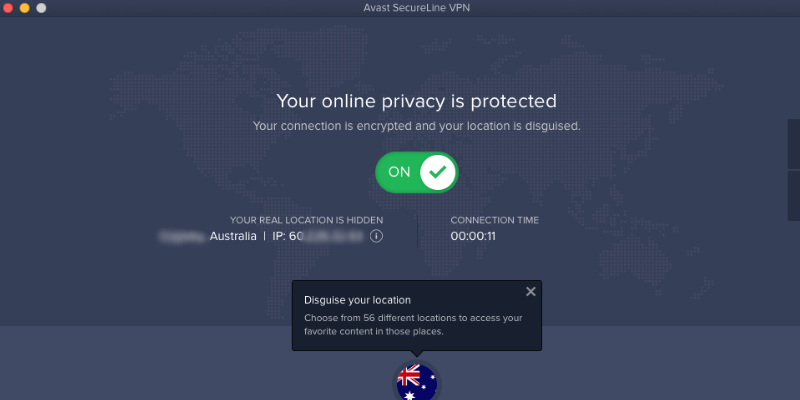 Avast SecureLine VPN
Features: Has the essential features to make your online activities more private and more secure, but poor streaming
Pricing: Starting $55 per year (up to 10 devices)
Ease of Use: Very simple and easy to use
Support: Knowledgebase, forum, web form
Summary
The Avast brand is well-known because of the company's popular antivirus software. If you already use Avast products, SecureLine VPN isn't a bad choice. Depending on the devices you need to run it on, it will cost between $20 and $80 a year, and offers acceptable privacy and security while surfing the net.

But if accessing streaming media is important to you, choose another service. I recommend you use the free trial version to evaluate whether it meets your needs. And keep in mind that some other VPNs offer additional security features and greater reliability when connecting to streaming services.

What I Like: Easy to use. The features you need. Servers throughout the world. Reasonable speed.

What I Don't Like: No split tunneling. No choice of encryption protocols. Poor results streaming from Netflix and BBC.
Ever feel like you're being watched or followed? Or someone's listening in to your phone conversations? "Do we have a secure line?" You've probably heard that said a hundred times in spy movies. Avast offers you a secure line to the internet: Avast SecureLine VPN.
A VPN is a "Virtual Private Network", and helps protect your privacy and enhance your security when you're online, as well as tunnel through to sites that have been blocked. Avast's software doesn't try to do more than it needs to and is fast, but not the fastest. It's easy to set up, even if you've never used a VPN before.
Why Trust Me for This Review
I'm Adrian Try, and I've been using computers since the 80s and the internet since the 90s. I've been an IT manager and tech support guy, and know the importance of using and encouraging safe internet practices.
I've used a number of remote access applications over the years. In one job we used GoToMyPC to update our contact database on the main office's server, and as a freelancer, I've used a number of mobile solutions to access my iMac when out and about.
I'm familiar with Avast, having used and recommended their antivirus program for many years, and making it my business to keep up to date with the best security practices and solutions. I downloaded and thoroughly tested Avast SecureLine VPN, and researched the testing and opinions of industry experts.
Detailed Review of Avast SecureLine VPN
Avast SecureLine VPN is all about protecting your privacy and security online, and I'll list its features in the following four sections. In each sub-section, I'll explore what the app offers and then share my personal take.
1. Privacy through Online Anonymity
Do you feel like you're being watched or followed? You are. When you surf the internet, your IP address and system information are sent along with each packet. That means:
Your internet service provider knows (and logs) every website that you visit. They may sell these logs (anonymized) to third parties.
Each website you visit can see your IP address and system information, and most likely collect that information.
Advertisers track and log the websites you visit so they can offer you more relevant ads. So does Facebook, even if you didn't get to those websites through a Facebook link.
Governments and hackers can spy on your connections and log the data you're transmitting and receiving.
At your workplace, your employer can log which sites you visit and when.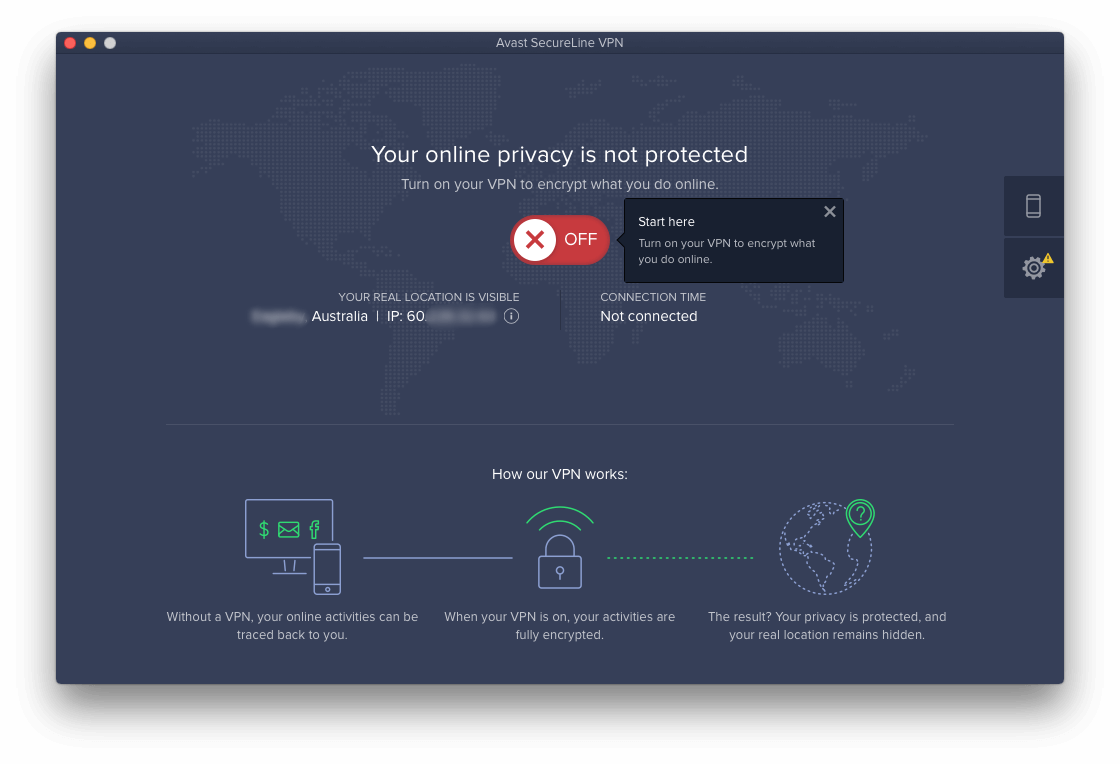 A VPN can help by making you anonymous. That's because your online traffic will no longer carry your own IP address, but that of the network you're connected to. Everyone else connected to that server shares the same IP address, so you get lost in the crowd. You're effectively hiding your identity behind the network, and have become untraceable. At least in theory.
The problem is that now your VPN service can see your IP address, system information, and traffic, and could (in theory) log it. That means if privacy is important to you, you'll need to do some homework before choosing a VPN service. Check their privacy policy, whether they keep logs, and whether they have a history of handing user data over to law enforcement.
Avast SecureLine VPN doesn't keep logs of the data you send and receive online. That's a good thing. But they do keep logs of your connections to their service: when you connect and disconnect, and how much data you've sent and received. They're not alone in this and delete the logs every 30 days.
Some competitors don't keep any logs at all, which may suit you better if privacy is your biggest concern.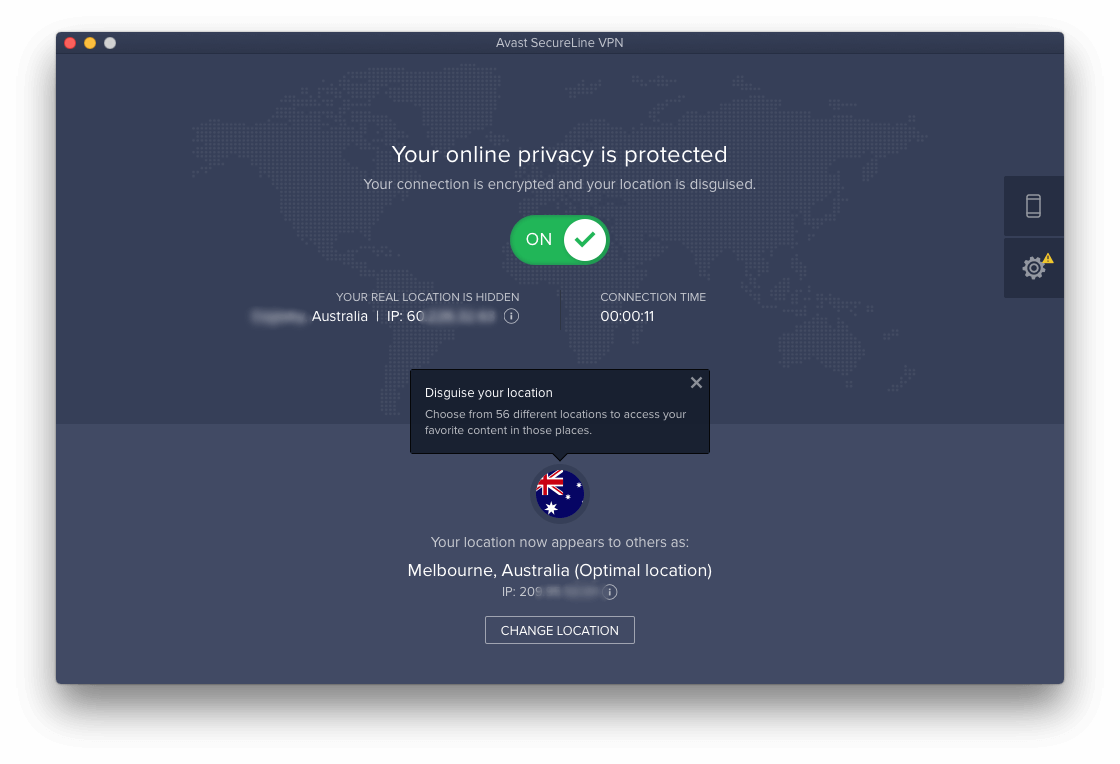 Industry experts have tested for "DNS leaks", where some of your identifiable information may still fall through the cracks. In general, these tests have indicated no leaks in Avast SecureLine.
Another way you can be identified is through your financial transactions with your VPN service. Some services allow you to pay by Bitcoin, and that way they have absolutely no way to identify you. Avast doesn't do this. Payment must be made by BPAY, credit/debit card, or PayPal.
My personal take: There's never a guarantee of perfect anonymity, but Avast does a pretty good job of protecting your online privacy. If online anonymity is your absolute priority, look for a service that keeps no logs and allows payment via Bitcoin. But Avast provides privacy sufficient enough for most users.
2. Security through Strong Encryption
The traceable information that normal browsing broadcasts isn't just a threat to your privacy, but to your security as well, especially in certain situations:
On a public wireless network, say at a coffee shop, anyone else on that network with the right software (for packet sniffing) can intercept and log the data sent between you and the public router.
Maybe the coffee shop doesn't even have wifi, but a hacker can set up a fake hotspot to make you think it does. You end up sending your data straight to the hacker.
In these cases, they don't just see your data—they could also redirect you to fake sites where they can steal your accounts and passwords.
A VPN is an effective defense against this type of attack. Governments, the military, and large corporations have been using them as a security solution for decades.
They achieve this by creating a secure, encrypted tunnel between your computer and the VPN server. Avast SecureLine VPN offers users strong encryption and pretty good security in general. Unlike some VPNs, though, it doesn't offer a choice of encryption protocols.
The cost of this security is speed. First, running your traffic through your VPN's server is slower than accessing the internet directly. And adding encryption slows it down a little more. Some VPNs handle this quite well, while others significantly slow down your traffic. I've heard that Avast's VPN is reasonably fast, but not the fastest, so I decided to test it.
Before I installed and activated the software, I tested my internet speed. If you're not impressed, I live in a part of Australia that's not too speedy, and my son was gaming at the time. (The test I ran while he was still at school was twice as fast.)

When connected to one of Avast SecureLine's Australian servers (according to Avast, my "optimal server"), I noticed a significant slowdown.

Connecting to an overseas server was even slower. When connected to Avast's Atlanta server, my ping and upload speeds were significantly slower.

My speed through a London server was a little slower again.

My experience is that download speeds maybe 50-75% of unprotected speeds. While that's fairly typical, there are faster VPNs out there.
If security is your priority, Avast offers a feature that not all services do: a kill switch. If you're unexpectedly disconnected from your VPN, SecureLine can block all internet access until you reconnect. This feature is turned off by default, but is easy to enable in the settings.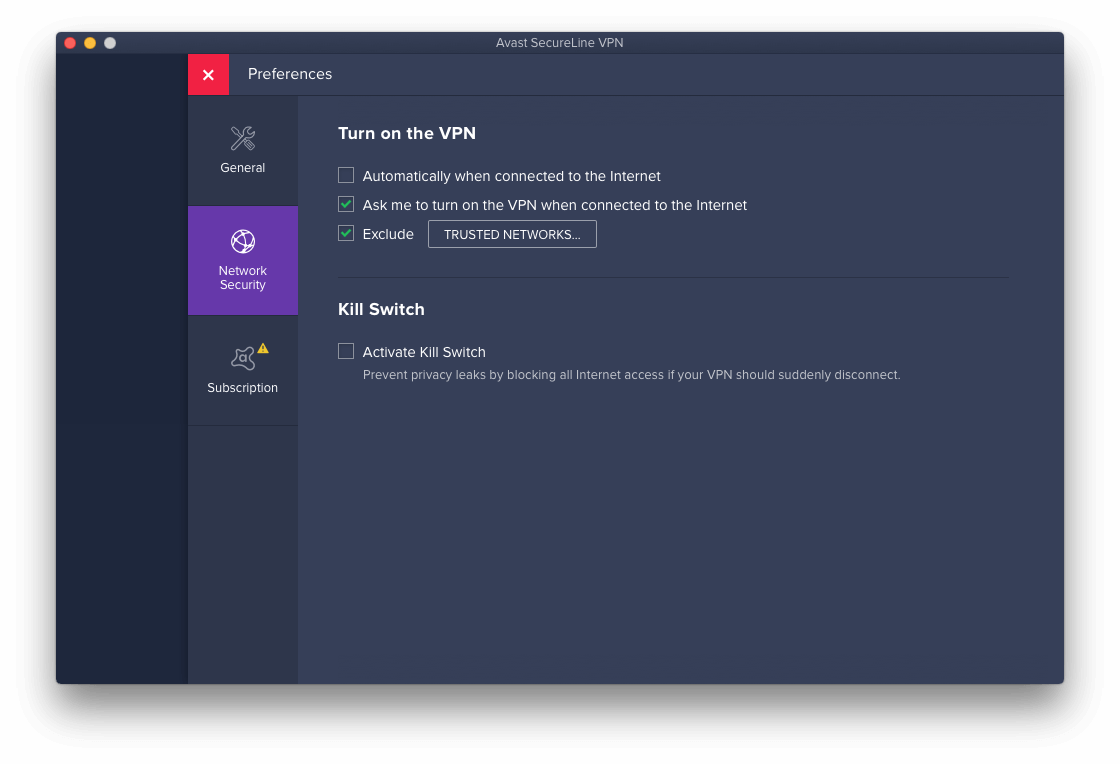 I continued testing Avast's speed (along with five other VPN services) over the next few weeks (including after I got my internet speed sorted out) and found Avast's speeds in the middle of the range. The fastest speed I achieved when connected was 62.04 Mbps, which was a high 80% of my normal (unprotected) speed. The average of all the servers I tested was 29.85 Mbps.
Notice that the fastest speeds were on the Australian servers closest to me, though I did have one good result on a Los Angeles server on the other side of the world. Your results will vary from mine depending on where you are in the world.
Finally, while a VPN can protect you from malicious files, I was surprised to discover that one reviewer discovered some adware inside the Avast SecureLine VPN software. So I scanned the installer on my iMac with Bitdefender Virus Scanner, and confirmed it does indeed contain adware. I guess I shouldn't be surprised—I remember the free version of Avast Antivirus being ad-supported. Not ideal in an app designed to make you more secure!
My personal take: Avast SecureLine VST will make you more secure online. Other VSTs may offer a little more security through additional features and options, and Avast's inclusion of adware is disappointing.
3. Access Sites that Have Been Blocked Locally
Businesses, schools, and governments can restrict access to the sites you are able to visit. For example, a business may block access to Facebook so you don't waste your work hours there, and some governments may censor content from the outside world. A VPN can tunnel through those blocks.
But do so at your own risk. Using Avast SecureLine to bypass your employer's filters while at work may cost you your job, and bypassing a country's internet censorship may end you up in hot water. For example, in 2018 China started to identify and block VPNs—call it the Great Firewall of China—and in 2019 they have started to fine individuals who circumvent these measures, not just the service providers.
My personal take: A VPN can give you access to the sites your employer, educational institution or government are trying to block. Exercise caution when deciding to do this.
4. Access Streaming Services that Have Been Blocked by the Provider
Some blocking comes on the other side of the connection, particularly when service providers want to limit the content to limited geographical regions. Avast SecureLine can help here, too, by allowing you to decide which country it looks like you're in.
We'll cover this in more depth in a separate article, but Netflix and other streaming content providers don't offer all shows and movies in all countries, not because of their own agendas but because of the copyright holders. A show's distributor may have given one network exclusive rights in a particular country, so they can't sell Netflix the rights to show it there as well. Netflix is obliged to block it from anyone in that country.
A VPN can allow you to choose which country it appears you are in, which may help you bypass Netflix's filter. So, since January 2016, they've been proactively trying to block VPNs, and have had a fair amount of success.
This is a concern—not just if you want to access another country's shows, but even if you just use a VPN to enhance your security. Netflix will try to block all VPN traffic, even if you just want to access local shows. When using Avast SecureLine, your Netflix content also has to go through the VPN. Other VPN solutions provide something called "split tunneling", where you can decide what traffic goes through the VPN and what doesn't.
So you need a VPN that's able to access the streaming services you use, like Netflix, Hulu, Spotify, and the BBC. How effective is Avast Secureline? It's not bad, but not the best. It has servers in many countries, but only four are "optimized for streaming"—one in the UK, and three in the US.
I tested whether I could access Netflix and the BBC iPlayer (which is only available in the UK) while Avast SecureLine VPN was enabled.
Streaming Content from Netflix
Notice the different ratings for "The Highwaymen" depending on the location of the server I had accessed. You may find that Netflix does block you from a certain server. Just try another one until you're successful.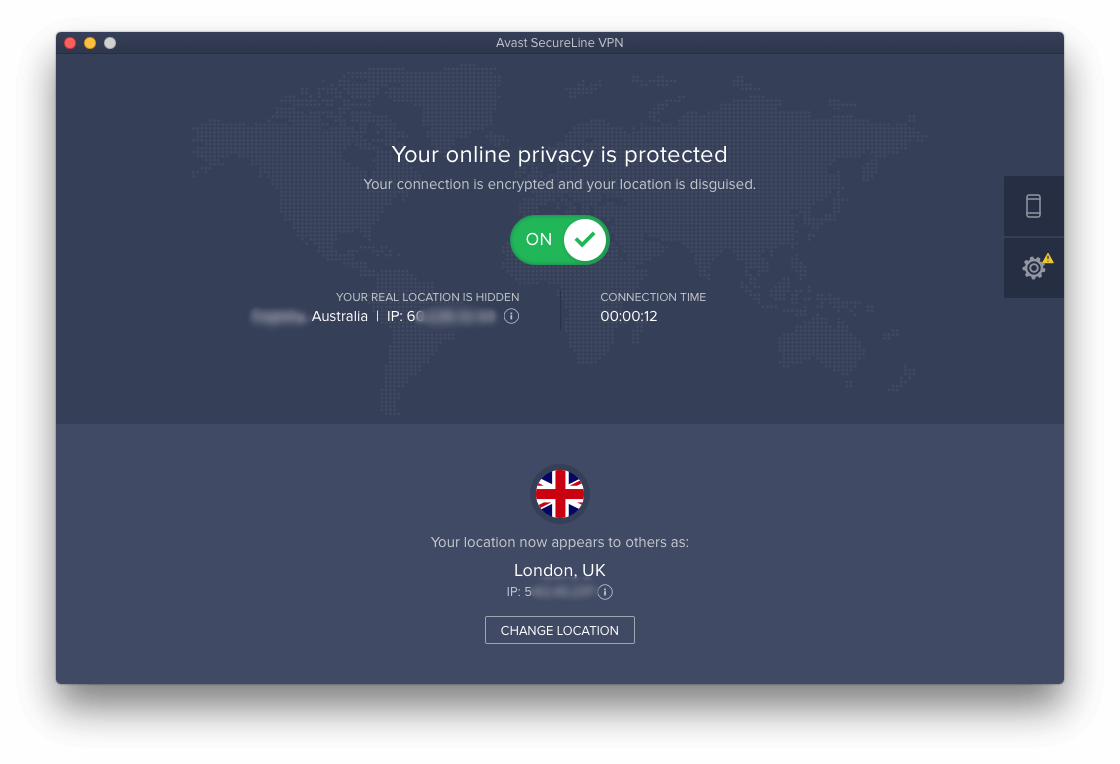 Unfortunately, I didn't have much success streaming content from Netflix. I tried eight servers at random, and only one (in Glasgow) was successful.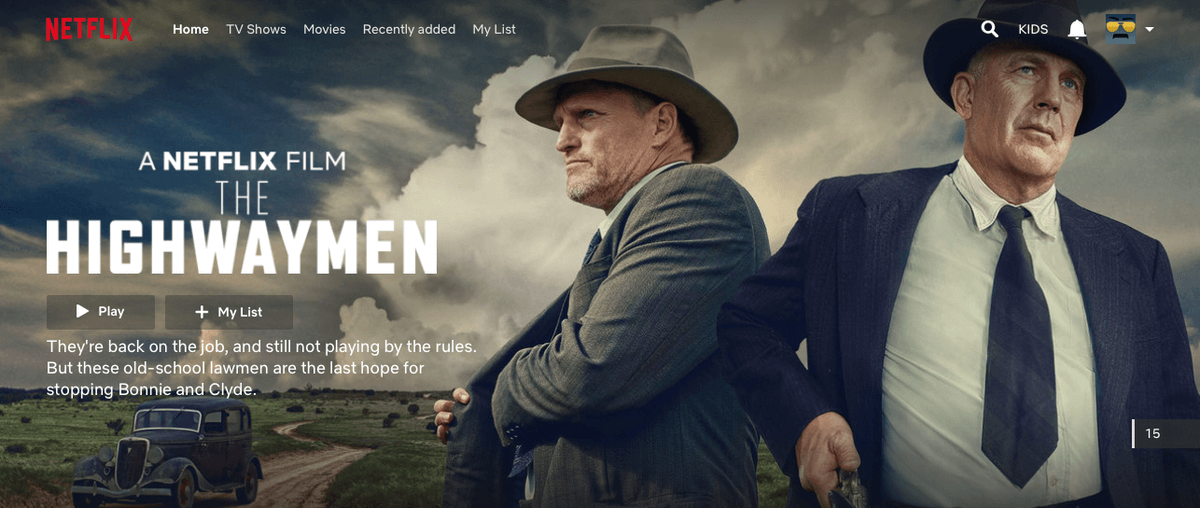 It was then that I noticed that Avast offers four special servers that are optimized for streaming. Surely I'll have more success with them. Unfortunately not. Every optimized server failed.
One server out of twelve is an 8% success rate, a spectacular fail. As a result, I can't recommend Avast SecureLine for Netflix viewing. In my tests, I found it to have the poorest results by far. To compare, NordVPN had a 100% success rate, and Astrill VPN wasn't far behind, with 83%.
Streaming Content from BBC iPlayer
Unfortunately, I had a similar lack of success when streaming from the BBC.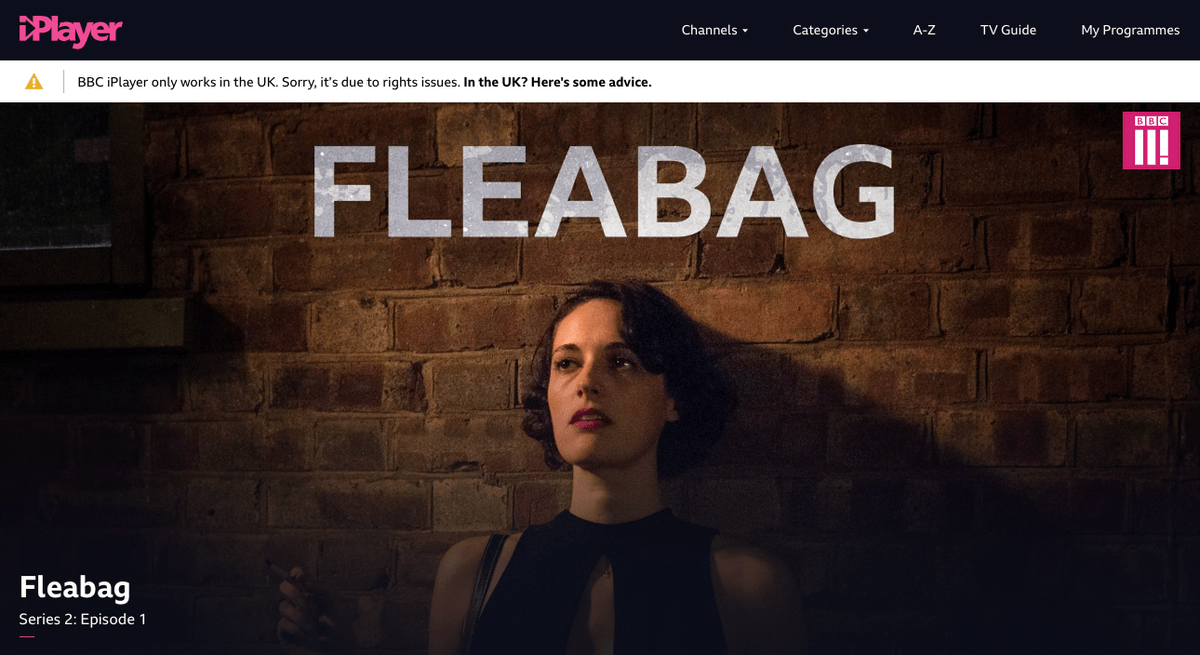 I tried all three UK servers but only had success with one. Other VPNs have more success. For example, ExpressVPN, NordVPN, and PureVPN all had a 100% success rate.
Streaming content is not the only benefit you get when using a VPN to appear that you're in another country. You can also use them to save money when purchasing tickets. That's especially helpful when you're flying—reservation centers and airlines offer different prices to different countries.
My personal take: I don't want to have to turn off my VPN and compromise my security every time I watch Netflix, but unfortunately that's exactly what I'd have to do when using Avast SecureLine. Are you curious about which VPN is best for Netflix? Then read our full review. So was happy to see I can still access it. I wish that more "streaming optimized" servers were offered and that I had more luck accessing the BBC's content.
The Reasons Behind My Ratings
Features: 3/5
Avast includes the essential features to make your online activities more private and more secure and offers an acceptable but average download speed. However, it is my tests when trying to connect to streaming services were very poor. If this is important to you, I cannot recommend Avast SecureLine.
Pricing: 4/5
Avast's price structure is a little more complex than other VPNs. If you need a VPN on multiple devices, then Avast is in the middle of the range. If you only need it on one mobile device, it's relatively inexpensive.
Ease of Use: 5/5
Avast SecureLine VPN's main interface is a simple on and off switch, and easy to use. Selecting a server in a different location is simple, and changing settings is straightforward.
Support: 4.5/5
Avast offers a searchable knowledgebase and user forum for SecureLine VPN. Support can be contacted via a web form. Some reviewers indicated that technical support could only be contacted by phone and that an additional fee was charged. That no longer seems to be the case, at least in Australia.
Alternatives to Avast VPN
ExpressVPN is a fast and secure VPN that combines power with usability and has a good track record of accessing Netflix. A single subscription covers all your devices. It's not cheap but is one of the best VPNs available.
NordVPN is another excellent VPN solution that uses a map-based interface when connecting to servers.
Astrill VPN is an easy-to-configure VPN solution with reasonably fast speeds.
You may also check out our roundup review of the best VPNs for Mac, Netflix, Fire TV Stick, and VPN routers.
Final Verdict
If you're already using Avast's popular antivirus product, you may want to stay within the family when choosing a VPN. It's available for Mac, Windows, iOS, and Android. You can protect up to ten devices for $55/year. But if streaming content from Netflix or elsewhere is important to you, give Avast a miss.
VPNs aren't perfect, and there's no way to absolutely ensure privacy on the internet. But they're a good first line of defense against those who want to track your online behavior and spy on your data.
How do you like this review of Avast VPN? Leave a comment below and let us know.