A VPN (Virtual Private Network) can protect you from malware, ad tracking, hackers, spies, and censorship. They're worth using. But instead of installing the software on every computer and device you own, you can protect your business or family in just one step. Use a VPN router.
VPN routers need to be powerful enough to encrypt your traffic without making you wait. They need to allow you to update the firmware so that it's VPN compatible. And they need to have enough wifi signal to cover your home or office and support the number of devices you have.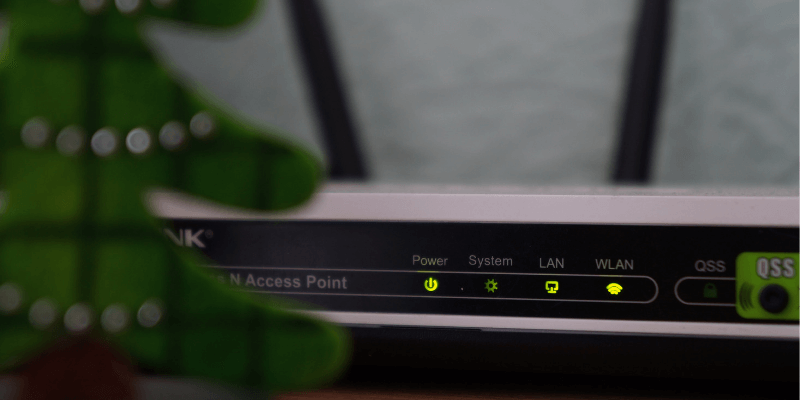 So you're not looking for the cheapest router on the market!
Updating and configuring a router's firmware is something most advanced users are capable of, but some people may prefer to purchase one that's preconfigured for VPN use. We'll include a number of routers that give that option.
And because everyone has different needs and preferences, we have a number of winners:
In total, we'll cover eight leading modems from a variety of companies. Five (including our first and third winners above) can be purchased pre-configured. We'll list the benefits and disadvantages of each so you can make an informed decision.
Why Trust Me for This Guide
I'm Adrian Try, and I've been using computers since the 80s and the internet since the 90s. I worked in IT for many years, setting up and maintaining business networks and supporting individuals. I've watched security—especially online security—become a crucial issue.
A VPN is a good first defense against threats. I installed and thoroughly tested a number of them for reviews here on SoftwareHow. Using a VPN router is a sensible and flexible solution that will save you time and money.
For a number of years, I used Tomato firmware on my ASUS RT-N66U router to set data quotas and access restrictions for my kids, as well as keeping my eye on how much data we were using and why. I also wanted to discover which of my gaming teenagers used the most bandwidth. To my surprise, it was our YouTube-watching toddler!
Who Should Consider a VPN Router
In our roundup of VPN providers, we listed four major advantages of using a VPN:
A VPN offers privacy through online anonymity.
A VPN offers security through strong encryption.
A VPN offers access to censored websites.
A VPN offers access to blocked streaming services.
If you value privacy and security, consider using a VPN. They protect businesses, corporations, non-profits, and government departments, as well as savvy home internet users.
If you're blocked from accessing the content you need, consider using a VPN. Whether you're hampered by government censorship, or that some shows you want to watch aren't available in your country, a VPN can tunnel through to that content.
But why install the software on your router, rather than on your computers and other devices? There are several benefits:
Simplicity. You only need to install the software on your router, and all your devices will be protected.
Multiple devices. Most VPN services have device limits—typically covering 3-5 devices for the regular price. A VPN on your router will protect every device you own without having to pay extra.
Unusual devices. There are some devices you can't install VPN software on. With a VPN router, you don't have to. Your PS4, Xbox, Roku box and Apple TV are all automatically covered.
If those benefits appeal to you, then read on to learn what you need from a VPN router.
How We Picked These VPN Routers
Powerful Processor
A VPN router should have a CPU with a minimum of 800 MHz so that it can encrypt your traffic without making you wait. All of the units we review have a clock speed of at least 1 GHz.
Fast Wireless Speed
You should also make sure you're getting the best possible speed between your wireless devices and your router. That currently means getting one that uses the wireless AC standard (802.11ac), which is six times faster than the previous standard (802.11n). The newer AD standard is even faster, but not many of the newer models support VPN. Most of the routers in this review are AC, but one (the most expensive one) is AD.
For maximum wireless transfer, make sure that the router uses MU-MIMO (multiple-user, multiple-input, multiple-output technology) so that it's able to communicate with multiple devices simultaneously. All but two of the routers we list do.
Supported Firmware
We've already talked about the three firmware options for running VPN software on your router. ExpressVPN is the easiest to set up and use but requires you to use their VPN service. Both DD-WRT and Tomato are reasonable alternatives, and most VPN providers offer detailed instructions on how to configure them. We list which firmware options are supported by each router.
Available Pre-configured
Not everyone will want to install new firmware themselves, so we note which routers can be purchased pre-configured for an additional fee. Many VPN providers sell pre-configured routers, and Flashrouters is a third party that can provide a range of popular routers with ExpressVPN, DD-WRT or Tomato preinstalled.
Price
VPN routers range from around $150 to $500 (recommended retail prices), but you'll often find them cheaper if you shop around. Note that in addition to this, you also need to pay a VPN subscription.
Here are the recommended prices of unconfigured routers, from cheapest to most expensive:
ASUS RT-AC68U
Netgear R7000
Linksys WRT1200AC
Linksys WRT1900ACS
Linksys WRT3200ACM
ASUS RT-AC3200
ASUS RT-AC5300
Netgear AD7200
And now here's our list of the best VPN routers.
Best VPN Router: Our Top Picks
Best Choice: Linksys WRT3200ACM
This is a great all-around router. It's the best VPN router that Linksys offers and has the fastest clock speed. Despite this, its price is quite reasonable—a high-end router with a mid-level price. It's recommended by ExpressVPN and is the router they chose to sell preconfigured. It's also available from Flashrouters, who also speak very highly of it. It's suitable for large homes and offices, and multiple devices.
At a glance:
Processor: 1.8 GHz
Wireless standard: AC
Aerials: 4
MU-MIMO: Yes
Firmware: ExpressVPN, DD-WRT
Boasting four external aerials that use MU-MIMO, this Wireless AC router will easily cover a large home and a dozen or more devices. Its fast processor makes it suitable for gaming, streaming, and video calls. You can install either ExpressVPN or DD-WRT on it (the router's interface for doing this is quite straightforward), or buy it preconfigured.
This combination of power, flexibility, and reasonable price makes the Linksys WRT3200ACM our overall winner.
Most Powerful: Netgear Nighthawk R9000 X10 AD7200
If you're looking for the most powerful VPN router available, this is it. It's the only Wireless AD router in our list and has the second-highest clock speed of 1.7 GHz. The only VPN firmware it supports is DD-WRT, and you can purchase it preconfigured from Flashrouters.
At a glance:
Processor: 1.7 GHz
Wireless standard: AD
Aerials: 4
MU-MIMO: Yes
Firmware: DD-WRT
Like our winner above, this router has four external aerials and MU-MIMO. But it's the only Wireless AD router we list, so will offer the fastest wifi by far. It's suitable for a large home or business, and up to 20 devices. The Nighthawk comes with gigabit ethernet ports and is great for gaming and HD streaming media.
But it's not cheap. Flashrouters has also discounted the price of the preconfigured router. That's still a lot of money, but after all, you do want the best!
Best Budget: Netgear Nighthawk R7000
You'll save money with this router, but you'll also get what you pay for. With a slower clock speed and no MU-MIMO, it won't have the performance of the two routers above or cover such a large area. But it does give you the choice of all three firmware alternatives and is quite suitable for smaller homes containing fewer devices.
At a glance:
Processor: 1 GHz
Wireless standard: AC
Aerials: 3
MU-MIMO: No
Firmware: ExpressVPN, DD-WRT, Tomato
Our budget option is perfect for small to medium homes and supports both user-friendly firmware options: ExpressVPN and Tomato. It will support a dozen or fewer devices at once. If those limitations aren't a problem for you, then this router could be perfect.
If installing firmware isn't your thing, you can purchase it preconfigured from Flashrouters. You can opt to have ExpressVPN, Tomato or DD-WRT preinstalled.
Other Good VPN Routers
1. ASUS RT-AC5300 Tri-Band WiFi Gaming Router
ASUS RT-AC5300 is a little more expensive than our winner (the Linksys WRT-3200ACM), but this modem has eight MU-MIMO aerials, making it suitable for larger homes. For an even greater range, its AiMesh-compatible technology allows you to connect multiple Asus routers together.
At a glance:
Processor: 1.4 GHz
Wireless standard: AC
Aerials: 8
MU-MIMO: Yes
Firmware: DD-WRT
This router has more aerials than any other in this review: eight in total, using MU-MIMO. They're fast, and they look a little dangerous! So it's great for large homes and businesses (say 5,000 square feet), and multiple devices. And if you like to plug in, it offers eight Gigabit Ethernet ports.
2. ASUS RT-AC3200 Tri-Band Gigabit WiFi Router
ASUS RT-AC3200 is the best router you can buy that runs Tomato firmware. With six aerials and running MU-MIMO, you'll easily cover a medium to large house, and connect to a dozen or more devices.
At a glance:
Processor: 1 GHz
Wireless standard: AC
Aerials: 6
MU-MIMO: Yes
Firmware: DD-WRT, Tomato
This sleek router offers more aerials than most of the others and is much more affordable than its big brother above. And if you're hoping to use Tomato firmware, with its easy-to-use interface and great support of OpenVPN, this is the best router for you.
3. Linksys WRT1900ACS Dual-Band Gigabit WiFi Wireless Router
Linksys WRT1900ACS is the budget option for those who don't want to compromise, and ExpressVPN's second choice in a router they sell themselves preconfigured. With a high clock speed and four external aerials with MU-MIMO, this one isn't far behind our winner.
At a glance:
Processor: 1.6 GHz
Wireless standard: AC
Aerials: 4
MU-MIMO: Yes
Firmware: ExpressVPN, DD-WRT
This router is suitable for medium to large homes, and 7-9 devices. It offers suitable speeds for gaming, streaming and video calls.
4. Linksys WRT1200AC Dual-Band and Wi-Fi Router
Linksys WRT1200AC is now discontinued, so you might find a good deal if you look around. But it only has two aerials, so can't use MU-MIMO. That means you won't get the same wifi performance as you would from our winners.
At a glance:
Processor: 1.3 GHz
Wireless standard:
Aerials: 2
MU-MIMO: No
Firmware: ExpressVPN, DD-WRT
Unless you find a bargain, we can't recommend this router. The WRT1900ACS above will give you a better experience for a cheaper price.
5. Asus RT-AC68U Dual-Band Router
Asus RT-AC68U is another older router, but this time with a more palatable cost. It reminds me of my old RT-N66U, and like that router, will run ExpressVPN and Tomato firmware if you prefer a simpler interface. But like the WRT1200AC above, it doesn't run MU-MIMO, so speed will suffer when connected to multiple devices.
At a glance:
Processor: 1.8 GHz
Wireless standard: AC
Aerials: 3
MU-MIMO: No
Firmware: ExpressVPN, DD-WRT, Tomato
You may be able to find this router at a great price, and its excellent processor speed, ease of use, and support for multiple firmware options may make it worthwhile. But for a little extra money, our winner will give you a much better experience.
What You Need to Know about VPN Routers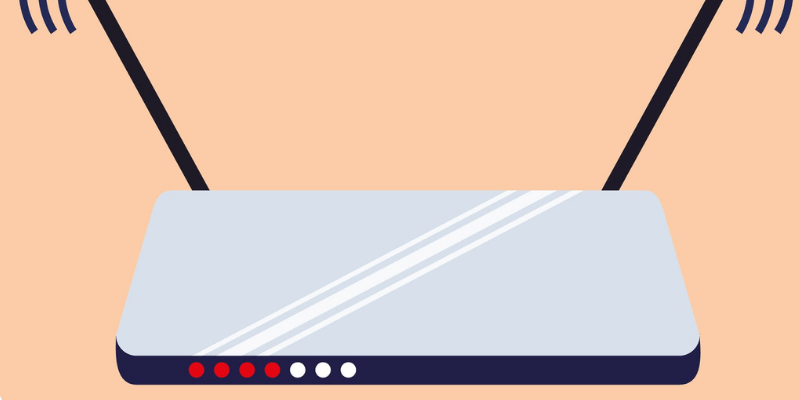 You Need to Choose a VPN Provider
A router can't do VPN on its own. It will encrypt your data and send it to a secure virtual network that belongs to a VPN provider. Choosing that provider is your first task.
Check our reviews for help making that choice:
Best VPN for Mac (much of the material here will also be helpful to Windows users),
You Need to Choose a Router
Your second decision will be which router to buy, and this review will help you make that decision. Your new router will need to be more powerful than your old one, and able to run a VPN-friendly operating system. Choosing that operating system will be your third decision.
You Need to Choose New Firmware for Your Router
When you first buy it, your modem won't have the features needed to encrypt your traffic and connect to your VPN. You'll need to choose new firmware and use your router's Update feature to install it.
Make sure you install the correct version or you may brick your router, and carefully follow your VPN provider's instructions when setting it up. Or, for an additional fee, you might like to purchase a router with the firmware preinstalled from your VPN provider or a third party, like Flashrouters.
There are a number of firmware options. These are Linux operating systems customized for routers and contain a number of useful features like bandwidth quotas and monitoring, access restrictions, and VPN. Not all operating systems work on every router, so if you have a strong opinion about which system you'd like to use, that will help narrow down your choice of router.
Here are the three major alternatives:
1. ExpressVPN
ExpressVPN is one of the best VPN providers out there, and they provide their own firmware for a number of popular routers—five of the routers we review are supported. It's easy to install, and by far the simplest to set up and use. You don't even have to enter a username and password, just a verification code from the ExpressVPN website. Of course, this software will only work for ExpressVPN customers. Users of other VPNs will need one of the other firmware options.

2. DD-WRT
DD-WRT supports more routers than the other two options—in fact, every router we review can run it. So if you don't go with ExpressVPN's software, this is the one you're most likely to use. It's a little more difficult to set up and use, but once it's working, you won't have to deal with it regularly. Your VPN will have detailed instructions for how to configure the software on most routers.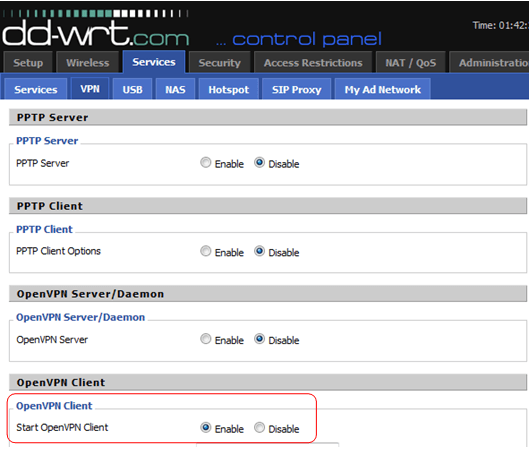 3. Tomato
Tomato is a little easier to use but is supported by far fewer routers. Only three of the eight routers we review can run it. The software offers two interfaces, one suitable for advanced users, and the other is more user-friendly. Also, it has better OpenVPN functionality, which gives it the edge over DD-WRT when using it for VPN.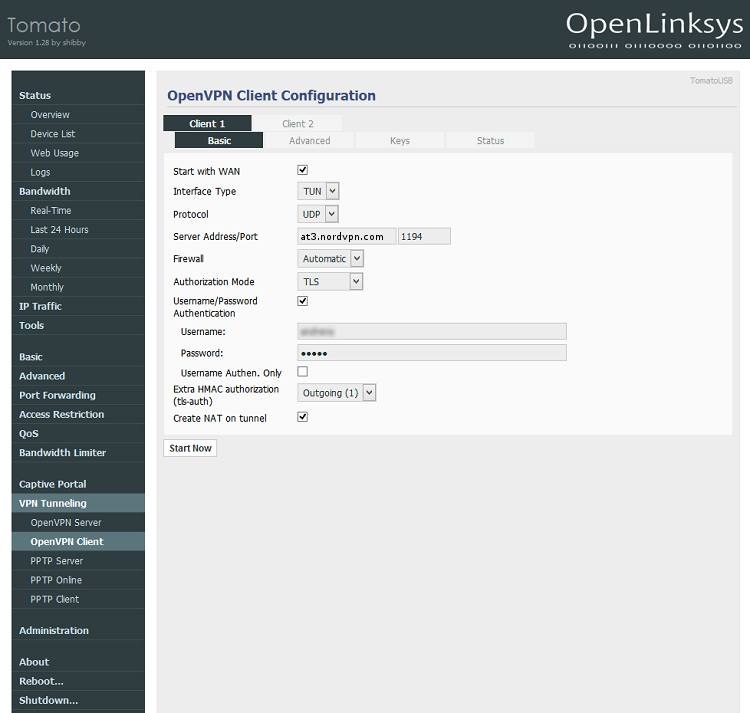 VPN on a Router May Be Slower than on a Computer
The device running the VPN will need to encrypt all of your data, and that's a job that requires a lot of processor power. Since routers are less powerful than computers, your internet connection may be noticeably slower, especially if you choose the wrong router.
So choose one with a minimum of 800 MHz CPU. All of the routers we review have processor speeds of at least 1 GHz. Multi-core doesn't help with encryption, so just look at the single-core figures. Don't skimp on the router's power, or you'll complain about your internet speed every day.
Traffic Between Your Devices and the Router Is not Secure
Here's another consequence of your router doing the encryption: traffic between the device and the router won't be encrypted. So make sure your home network is secure by using WPA2 and a strong password so that strangers can't connect.
Alternatives to VPN Routers
The alternative to using a VPN router is to install VPN software on each of your computers and devices. This is more work—and if you own a lot of devices, may cost more—but it's a more flexible solution that may achieve faster internet speeds, and will save you from having to purchase a new router.
I haven't included any mobile routers in this line-up, though they're available. That's because all major VPN providers offer mobile apps and running the VPN from your iPhone or Android phone is a simpler and more effective solution for most people. It's also one less device to carry and charge, and as long as you stay within your device limit, won't cost you any more.