If I had to swim with sharks, I'd swim in a cage. I feel exactly the same way about surfing the internet. I'm surrounded by malware trying to mess with my computer, advertisers following me everywhere I go, hackers trying to steal my identity, and government agencies tracking and recording my every move.
A VPN can provide the cage that I need. It enhances your privacy and security and tunnels through to sites that have been blocked. It does this by securely connecting you to a computer network somewhere else in the world. This masks your identity and your encrypted data can't be spied on by others.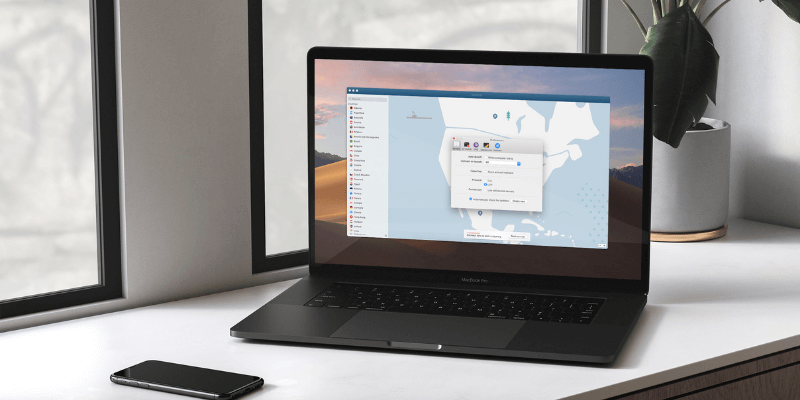 But all VPNs are not the same. Which is the best for Mac users? To find out I installed six leading services on my iMac and MacBook Air and thoroughly tested them.
Overall, I found NordVPN to be the best. It offers exceptional privacy and security, and can consistently connect to streaming services.
But because it offers extra functionality and has a more complex interface, it's not quite as suitable for beginners. That honor goes to ExpressVPN. While it's more expensive to run, it just works, though it's not as reliable when connecting to Netflix.
The other services have their strong points too, and one of those may suit you. So read on to learn what's good and bad about each one.
Why Trust Me for This Mac VPN Review?
My name is Adrian Try, and I've been using Macs to run my business for the last decade. I work online out of a home office and understand the importance of using the right tools and practices to stay safe on the net. In previous roles, I offered computer support, set up business networks, and managed IT for several organizations. I've seen the damage that can happen because of malware, phishing attacks, and hackers.
A VPN is an effective security tool, enabling you to maintain privacy and security. I've tested and reviewed the best out there and ran them through a series of tests over a number of weeks. Each one has different strengths and weaknesses. Read on to make sure you choose the right one.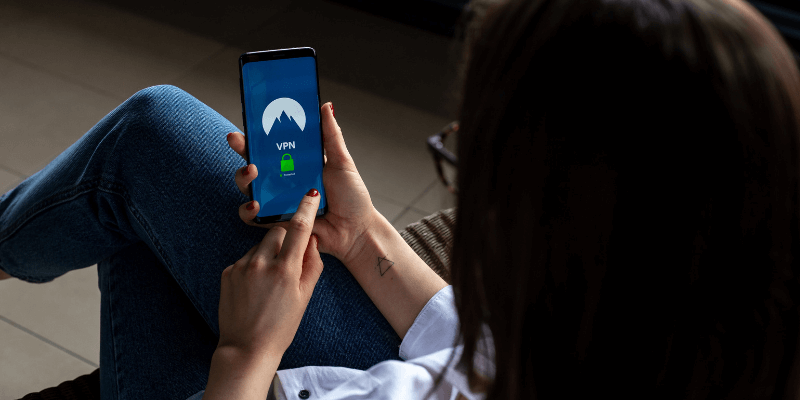 Who Should Use a VPN?
Keeping those significant advantages of VPNs in mind, who should use one? There are two main camps of people who can benefit.
The first is those who value privacy and security. This includes businesses, corporations, non-profits, and government departments, as well as savvy home internet users. Services like NordVPN and ExpressVPN collect as little personal information as possible, have great privacy policies, and offer a number of quality tools to enhance your security.
The second group is those who watch streaming content, and wish to access content not normally available in their countries. NordVPN, Astrill VPN, and CyberGhost are the most successful here. For more details, refer to our Best VPN for Netflix roundup.
Best VPN for Mac: Our Top Picks
Best Choice: NordVPN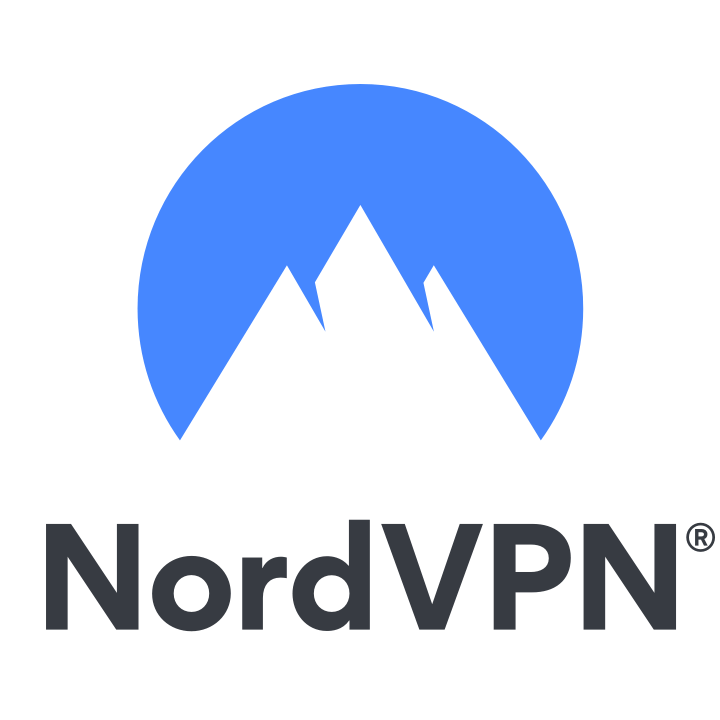 NordVPN has a lot going for it. It's affordable, fast, and connects to Netflix and the BBC reliably. They have a good privacy policy and additional security tools, like a double VPN. But it's not perfect. Not all servers are fast, and the interface isn't the most ideal for beginners. But overall it covers the bases very well and is a great choice for most people. Read our full NordVPN review here.
You can download NordVPN from the developer's website or the Mac App Store. I recommend that you download from the developer, or you'll miss out on a few features.
Interface
While I found NordVPN easy to use, its interface is a little more complex than other apps. You'll see a map of the available servers is displayed, accompanied by a full list on the left.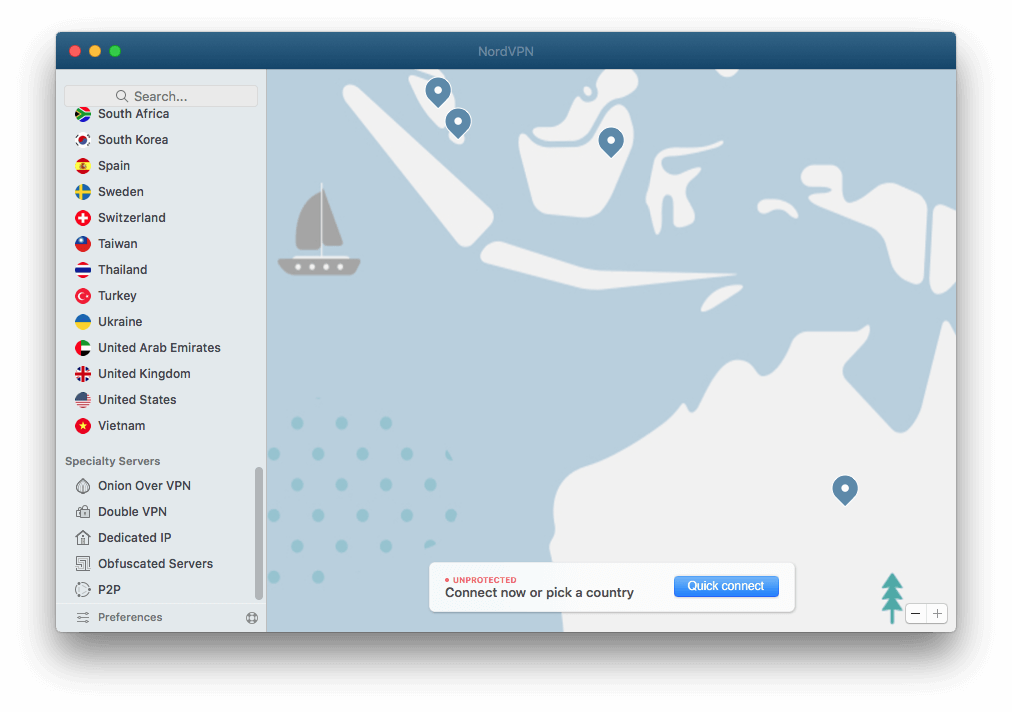 This interface is better suited to users with some VPN experience, though I imagine most users will become comfortable with it quickly. If you're looking for a simpler VPN, choose ExpressVPN.
Privacy
Nord runs their business in a way that protects your privacy. They don't want to know anything personal about you and don't keep logs of the sites you visit.
They only record the information they need to serve you:
an email address,
payment data (and you can pay anonymously via Bitcoin and other cryptocurrencies)
the timestamp of the last session (so they can limit you to six devices connected at any one time)
customer service emails and chats (which are stored for two years unless you request they remove them sooner)
cookie data, which includes analytics, referrals, and your default language.
You can have confidence that your privacy is safe with Nord. Like other VPNs, they ensure your private information isn't leaking through the cracks, and enable DNS leak protection by default on all their platforms. And for ultimate anonymity, they offer Onion over VPN.
Security
NordVPN uses strong encryption and gives you a choice of encryption protocols. They use OpenVPN by default, and you can install IKEv2 if you prefer (or it comes with the Mac App Store version by default).
Nord includes several features to enhance your security. The first is a kill switch that will block internet access if you're disconnected from the VPN. It's enabled by default (well, not the App Store version), and unlike other VPNs, it allows you to specify which apps are blocked when the kill switch is activated.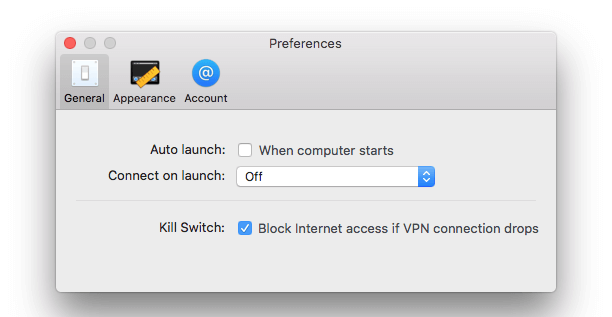 If you need a higher level of security, Nord offers a unique feature: double VPN. Your traffic will pass through two servers, so gets twice the encryption for double the security. But this comes at the expense of performance.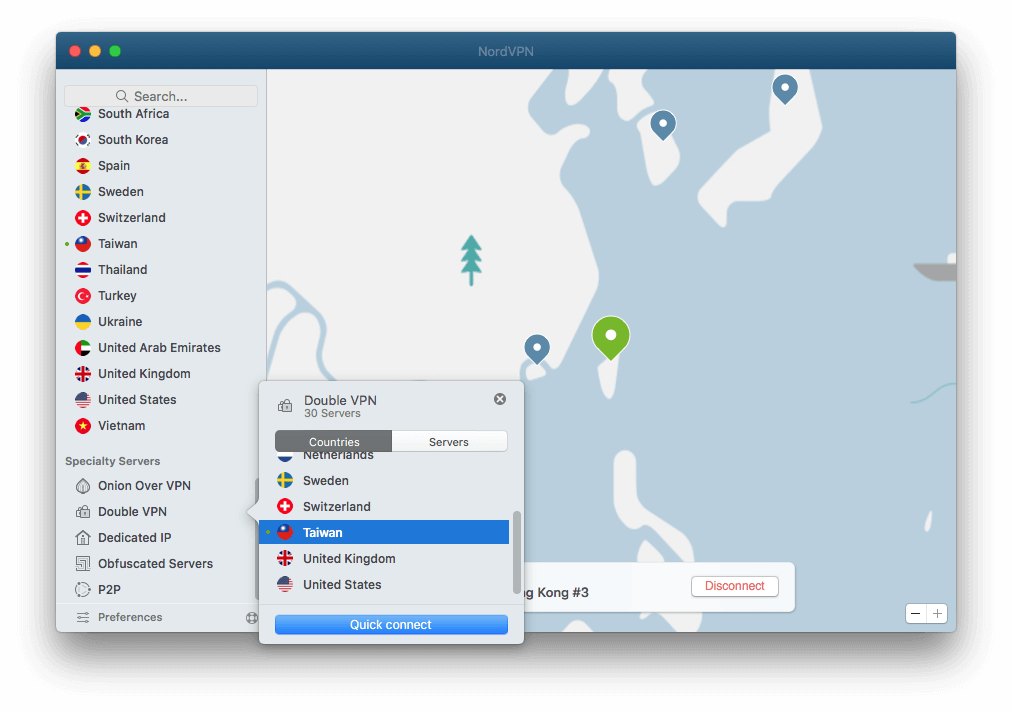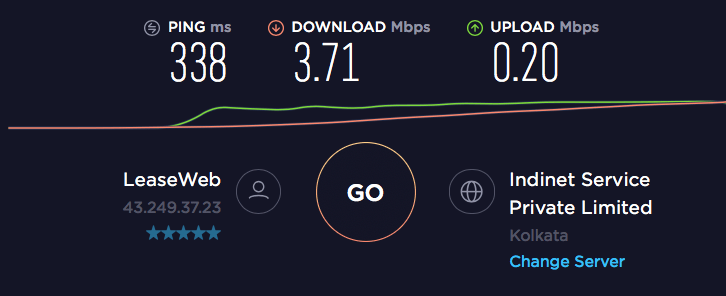 Note that double VPN (and quite a few other features) are missing from the App Store version.
And finally, Nord's CyberSec blocks suspicious websites to protect you from malware, advertisers, and other threats.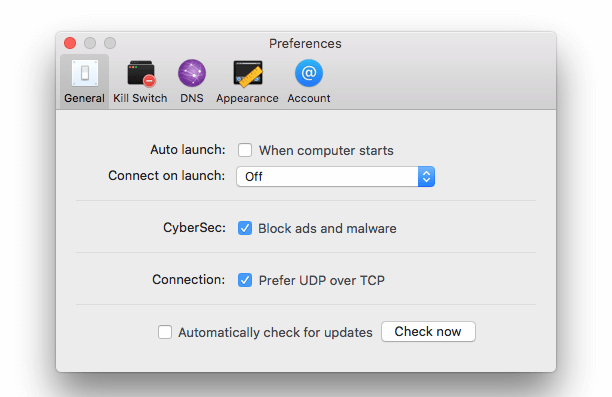 Speed
Nord has some very fast servers. Of the six VPN services I tested, Nord had the second fastest peak speed of 70.22 Mbps (only Astrill was faster). But server speeds varied considerably, and the average speed was just 22.75 Mbps, the second lowest overall.
Maximum: 70.22 Mbps
Average: 22.75 Mbps
Server fail rate: 1/26
Out of the 26 different speed tests I performed on Nord servers, I only encountered one latency error, meaning that 96% of the servers I tested were working at the time. But the slow speed of some servers may mean you need to try a few servers before you find a fast one.
Streaming
With over 5,000 servers in 60 countries, NordVPN is well-placed for streaming. They include a feature called SmartPlay, designed to give you effortless access to 400 streaming services.
I tried streaming Netflix content from nine different servers and was successful every time. Nord was the only service to achieve a 100% success rate in my tests, then did the same when I tried streaming content from BBC iPlayer. That's the sort of consistency you want in a VPN.
But Nord doesn't offer split tunneling. That means that all traffic needs to go through the VPN, and makes it even more important that the server you choose can access all of your streaming content.
Also Great: ExpressVPN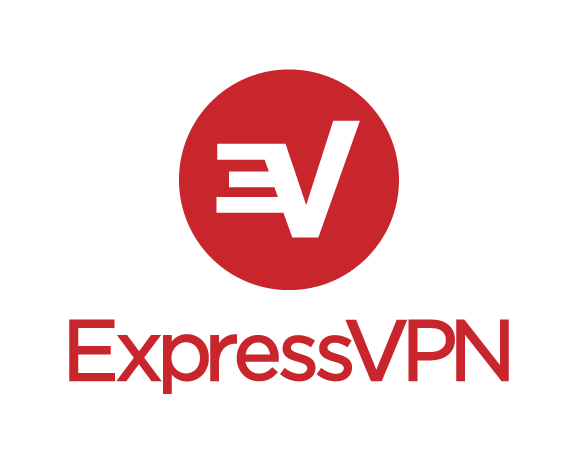 ExpressVPN is one of the most expensive VPNs in this roundup, but it just works. It's easy to use, quite fast, and great for privacy and security. It's not the best for streaming Netflix content—you may need to try a number of servers before you find one that works—but I had great success with the BBC. Read our full ExpressVPN review here.
Interface
ExpressVPN is easy to use, even if you're new to VPNs. When the switch is off, you're unprotected. When you turn it on, you're protected. Easy.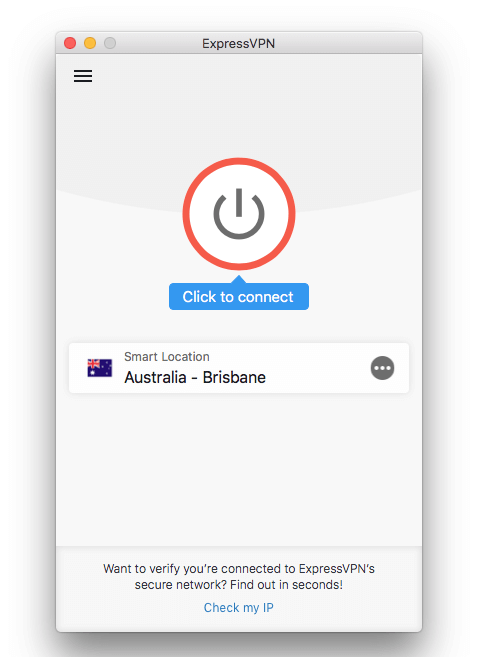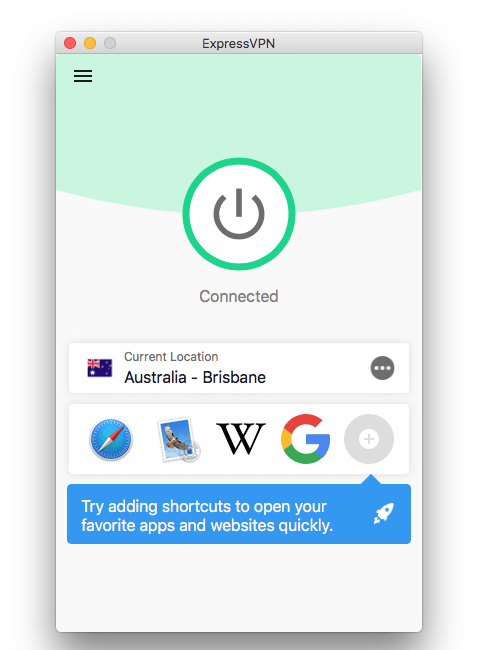 To change servers, just click on the current location and choose a new one.
Privacy
ExpressVPN's slogan is, "We're fanatical about your privacy and security." That sounds promising. They have a "no logs policy" clearly stated on their website.
"ExpressVPN does not and will never log traffic data, DNS queries, or anything that could be used to identify you."
Like other VPNs, they do keep connection logs of your user account (but not IP address), the date (but not time) of connection, and the server used. The only personal information they keep of you is an email address, and because you can pay by Bitcoin, financial transactions won't even trace back to you. If you do pay by some other method, they don't store that billing information, but your bank does.
How effective are these precautions? A few years ago, authorities seized an ExpressVPN server in Turkey in an attempt to uncover information about the assassination of a diplomat. What did they discover? Nothing.
ExpressVPN made an official statement about the seizure. In the statement, they also explained that they are based in the British Virgin Islands, an "offshore jurisdiction with strong privacy legislation and no data retention requirements." To further protect your privacy, they run their own DNS server.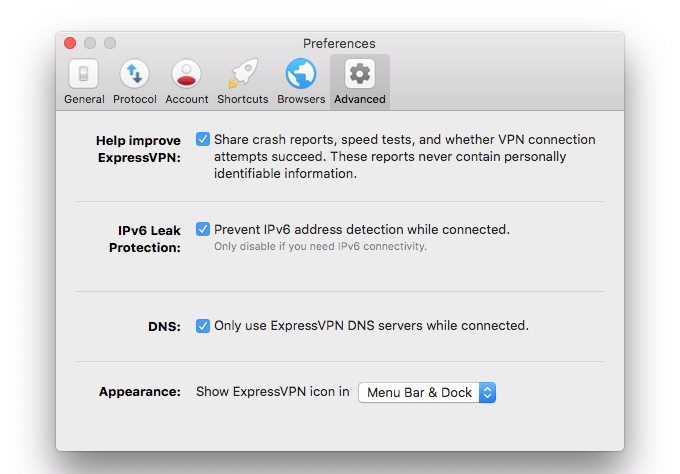 They also support TOR ("The Onion Router") for the ultimate anonymity.
Security
ExpressVPN uses strong encryption and allows you to choose between a variety of encryption protocols. By default, they choose the best protocol for you.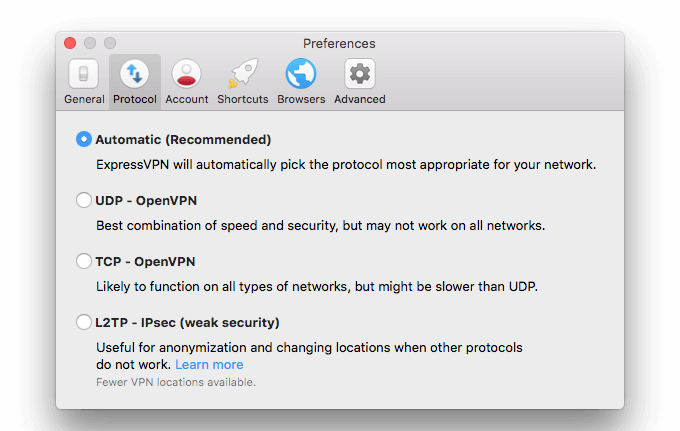 ExpressVPN includes a kill switch that blocks all internet access when you become disconnected from the VPN. This is an important security feature, and unlike other VPNs, is enabled by default.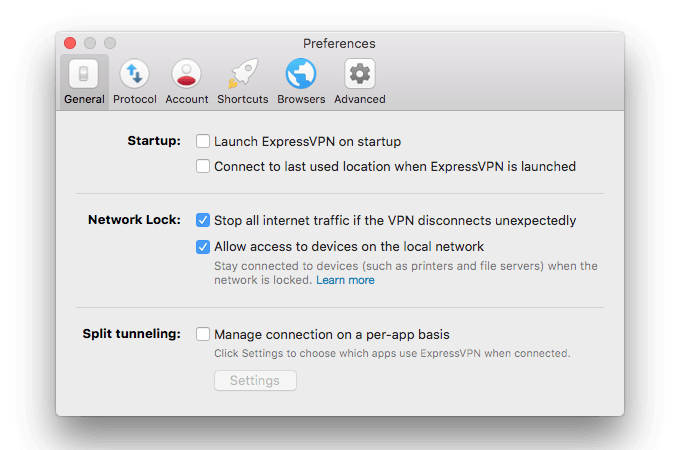 ExpressVPN does not include an ad blocker.
Speed
ExpressVPN's download speeds aren't slow. They're actually a little faster than NordVPN on average, though Nord's peak speed is significantly higher. The fastest server could download at 42.85 Mbps (compared to Nord's 70.22), and the average speed was 24.39 (compared to Nord's 22.75).
Maximum: 42.85 Mbps
Average: 24.39 Mbps
Server fail rate: 2/18

When testing server speeds at random, I encountered only two latency errors, giving Express a high-reliability rating of 89%—almost as high as Nord's. ExpressVPN offers a speed test feature, and will test every server in about five minutes, and allows you to favorite the fastest.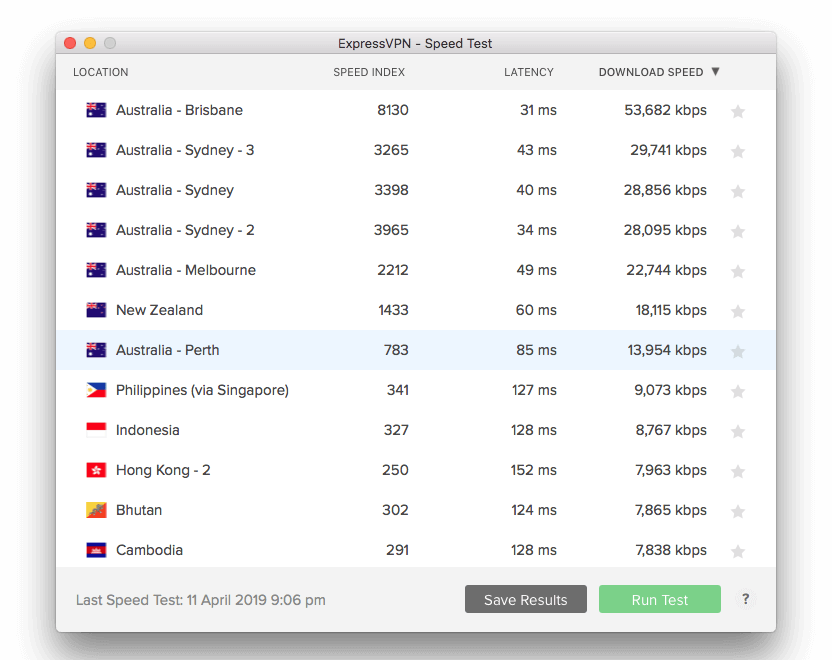 Streaming
If streaming from Netflix is important to you, NordVPN, Astrill VPN and CyberGhost are the most reliable services. When I tested ExpressVPN I only had a 33% success rate: I tried twelve servers at random, and only four worked. BBC iPlayer is a different story: I was successful with every UK server I tried.
So while ExpressVPN is not your best choice for streaming content, you will have success if you persevere by trying different servers. Or you can use split tunneling to access shows available in your own country.
This feature allows you to choose which internet traffic goes through the VPN, and which doesn't. You could surf securely connected to your VPN, but access local Netflix shows through your normal internet connection.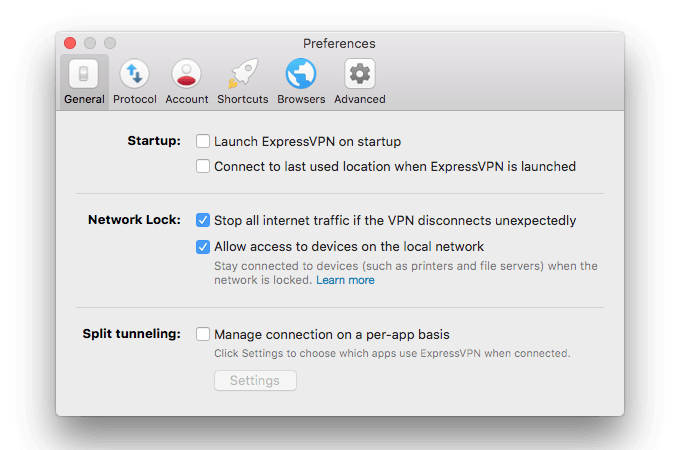 Make sure you check out the ExpressVPN Sports Guide if you want to use the service to keep up with sports streams in other countries.
Want to have more choices? No problem! Here's a list of free and paid Mac VPNs you may consider.
Other Good Paid VPNs for Mac
1. CyberGhost
CyberGhost is a little cheaper than NordVPN (when you pay three years in advance), and quite a bit faster on average. Its Netflix-optimized servers connect reliably, making it a good third option behind or winners.
Interface
Like many other VPNs, CyberGhost's default interface is an on/off switch. You pull this down from the menu bar to connect and disconnect from the VPN.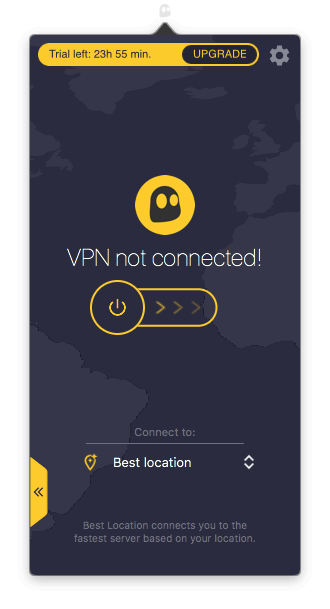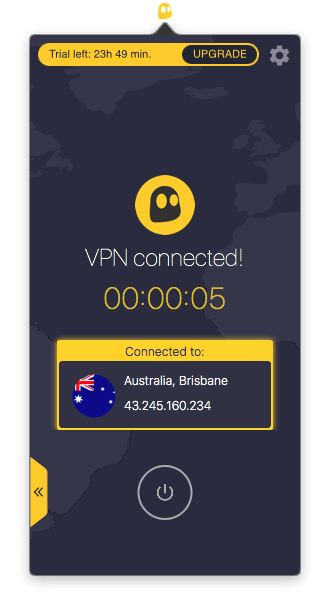 But the app can also run in a window, and you can display a list of servers on the left.
This makes the app quite flexible. You can keep the app lean and simple, or add more complexity if you like. Loads on each server are listed, allowing you to more easily choose one that may be faster.
So CyberGhost is more customizable than other VPNs and includes advanced features, including Smart Rules. It also allows up to seven devices to connect simultaneously, more than most of the competition. That makes it a suitable option for more advanced users.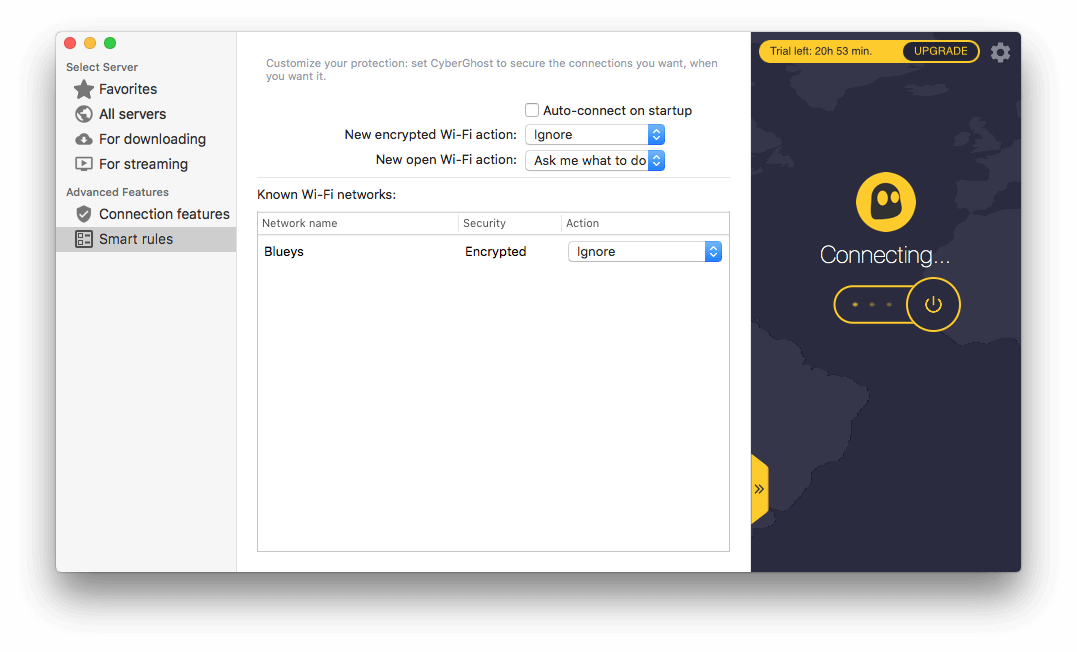 Privacy
CyberGhost has a strict No Logs policy and offers DNS and IP leak protection to ensure your identity isn't accidentally compromised. For an additional fee, you can access their "NoSpy" servers which are housed in a special data center that is isolated from third parties.
Security
CyberGhost includes a number of features to keep your connection secure, including an ad blocker, malware blocker, tracking blocker, and HTTPS redirect.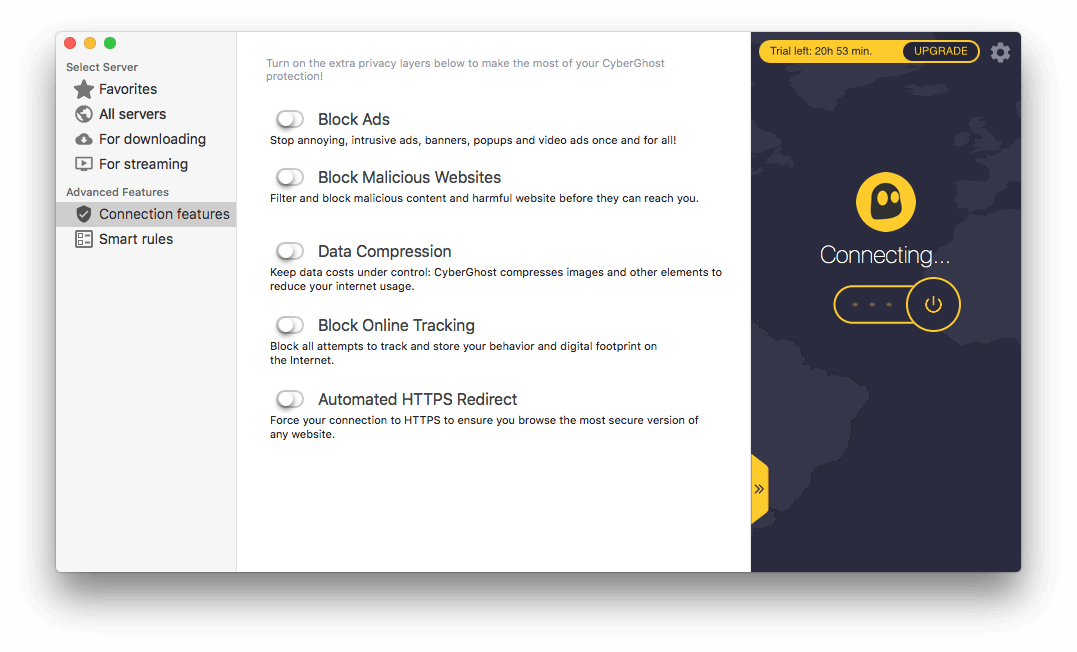 The app also incorporates an automatic kill switch and choice of encryption protocols.
Speed
CyberGhost is fast. It has the third fastest peak speed of the six VPN services I tested (67.50 Mbps), and the second fastest average speed of 36.23.
Maximum: 67.50 Mbps
Average: 36.23 Mbps
Server fail rate: 3/15

Streaming
Initially, I wasn't impressed with CyberGhost for streaming. I had little success connecting to Netflix… until I found the servers optimized for Netflix.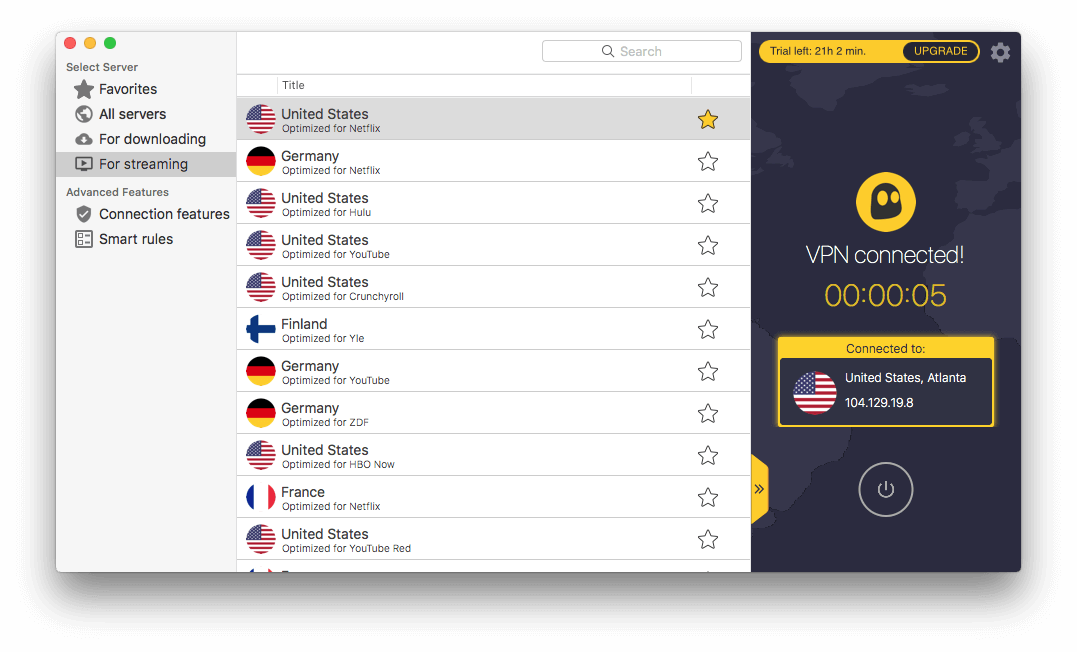 I had much better success with these. I tried two, and both worked. I had similar success (two out of three) when connecting to BBC iPlayer from CyberGhost's UK servers.
2. Astrill VPN
While Astrill VPN is a great service, I can't currently recommend it to Mac users. It hasn't been updated to work with the next version of macOS. Unfortunately, I haven't been able to find any reassurance from the developers that they're working on an update. Read our full Astrill VPN review here.
Interface
Astrill's interface is a simple on/off switch. Just click on the server name to connect to a different one.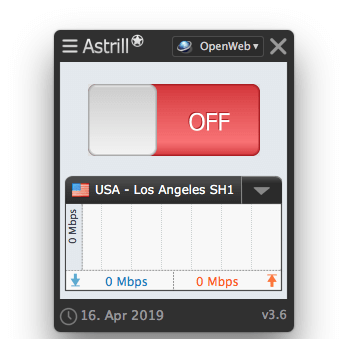 Privacy
Astrill has a "no logs policy" clearly stated on their website.
"We keep no logs of our user's online activity and we believe in absolutely unrestricted Internet. The very design of our VPN server software does not allow us to see which clients accessed what websites even if we wanted to. No logs whatsoever are stored on VPN servers after connection is terminated."
But "no logs" doesn't absolutely mean "no logs". For the service to function, some information is needed. Your active session is tracked (including your IP address, device type and more) while you are connected, but this information is deleted once you disconnect. Also, your previous 20 connections are logged, including the time and duration of the connection, the country you're in, the device you used, and which version of Astrill VPN you have installed. No personal information is permanently logged, protecting your privacy.
Astrill allows you to pay your account with Bitcoin, which is another way to limit the amount of personal information you send the company. But they collect some personal information when you create an account (even for the free trial): you need to provide an email address and phone number, and both of those are confirmed. So the company will have some identifying information about you on record.
One final security feature that Astrill VPN offers advanced users is Onion over VPN. TOR ("The Onion Router") offers an additional level of anonymity and privacy. With Astrill, you won't need to run the TOR software separately on your device.
Security
Astrill VPN uses strong encryption and allows you to choose between a variety of encryption protocols. They also offer a kill switch that blocks all internet access when you're disconnected from the VPN. Finally, when using the OpenWeb protocol you had access to an Ads Blocker that will stop sites from trying to track you.
Speed
Of the six VPN services I tested, Astrill is the fastest, both when considering peak and average speeds. Its fastest server was able to download at 82.51 Mbps, which is a very high 95% of my disconnected (non-protected) speed. That's especially impressive since that server was on the other side of the world. And the average speed over all the servers I tested was 46.22 Mbps.
Maximum: 82.51 Mbps
Average: 46.22 Mbps
Server fail rate: 9/24

Because it's so fast you may decide to use it despite its current 32-bit status. If so, I recommend you limit your subscription to six months at a time, in case it is not updated before the next version of macOS.
Astrill also includes a speed test feature that will test all of the servers you're interested in and allows you to favorite those that are fastest.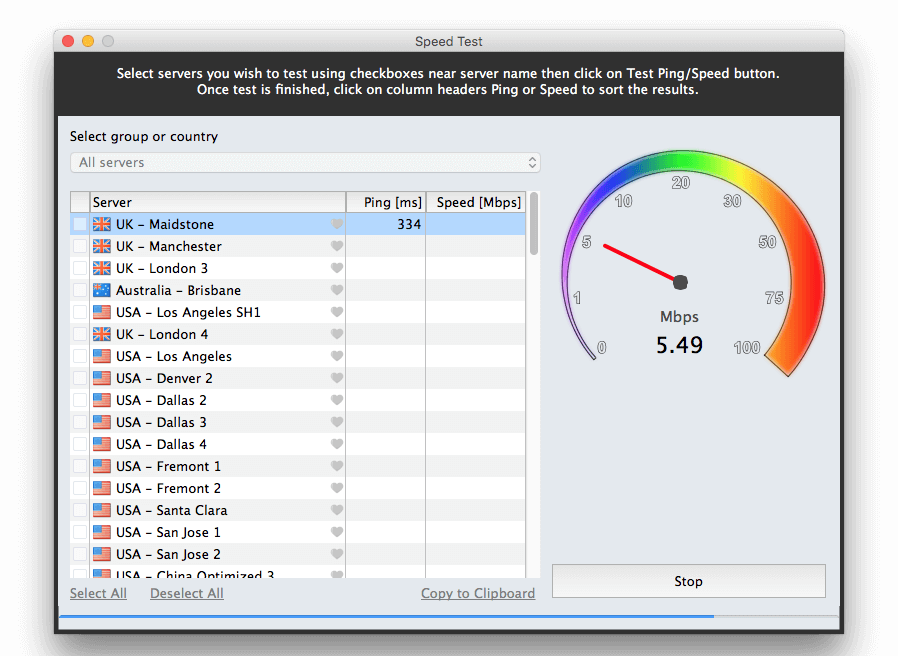 Finally, Astrill doesn't require all traffic to go through your VPN connection. It allows certain browsers, or even certain websites, to connect directly.
Streaming
I tried streaming Netflix content from six different servers, and all but one were successful. That success rate of 83% is only marginally behind NordVPN's perfect score. With the higher download speeds, we found Astrill the best VPN service for Netflix.
3. Avast SecureLine VPN
Avast SecureLine VPN doesn't try to do more than it needs to. The service offers reasonable speed, privacy and security, and a few extra features. If you just need a VPN on your mobile device, Avast is your cheapest option. Read our full Avast VPN review here.
Interface
SecureLine has a focus on ease of use. Its main interface is a simple on/off switch.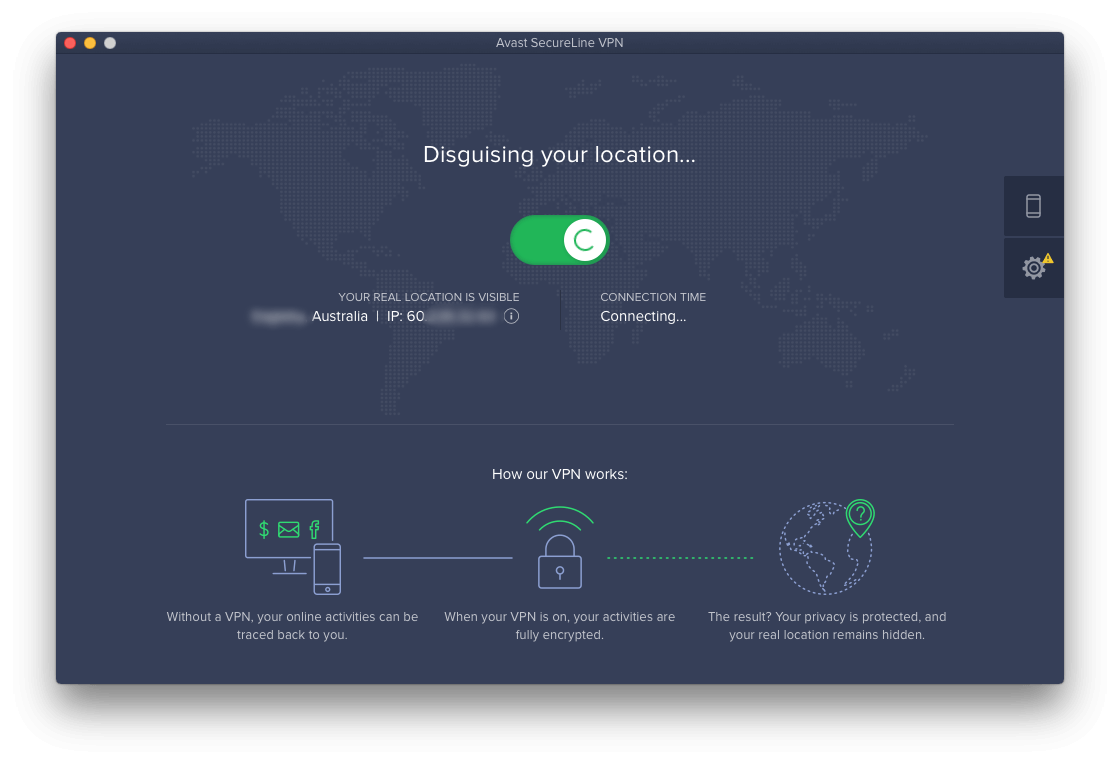 Privacy
The service doesn't keep logs of the data you send and receive online, but they do keep logs of your connections: when you connect and disconnect, and how much data you've sent and received. They delete these logs every 30 days.
"We will store a time stamp and IP address when you connect and disconnect to our VPN service, the amount of data transmitted (up-and download) during your session together with the IP address of the individual VPN server used by you."
Security
They include a kill switch that blocks internet access if you're unexpectedly disconnected from the VPN. This feature is turned off by default, but easy to enable in the settings.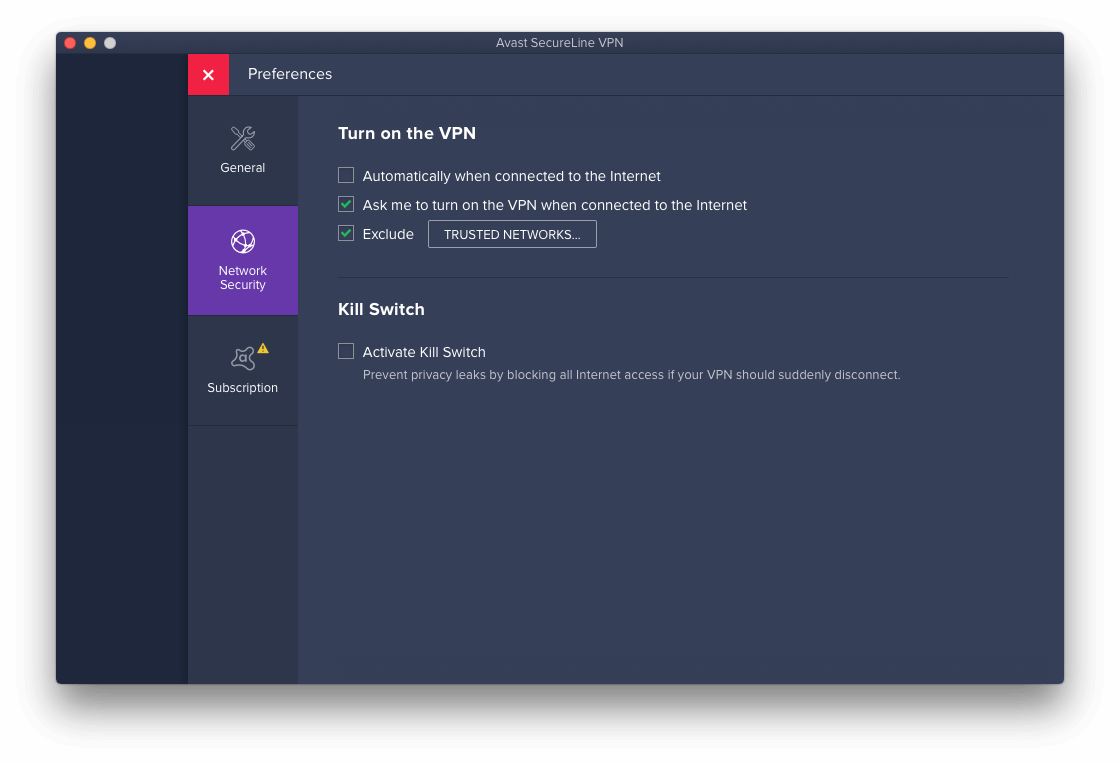 But while a VPN can protect you from malicious files, I was surprised to discover adware inside the Avast SecureLine VPN software when I scanned the installer with Bitdefender Virus Scanner. Not ideal in an app designed to make you more secure!
Speed
Avast's servers are in the middle of the range when it comes to speed: 62.04 Mbps peak and 29.85 Mbps average across my iMac and MacBook.
Maximum: 62.04 Mbps
Average: 29.85 Mbps
Server fail rate: 0/17

Streaming
I had very little success in streaming Netflix content. I tried eight servers in total, and only one worked. Then I discovered that Avast offers servers that are optimized for Netflix and tried again. All four failed. If you're interested in streaming from Netflix, Avast StreamLine is the worst VPN to choose.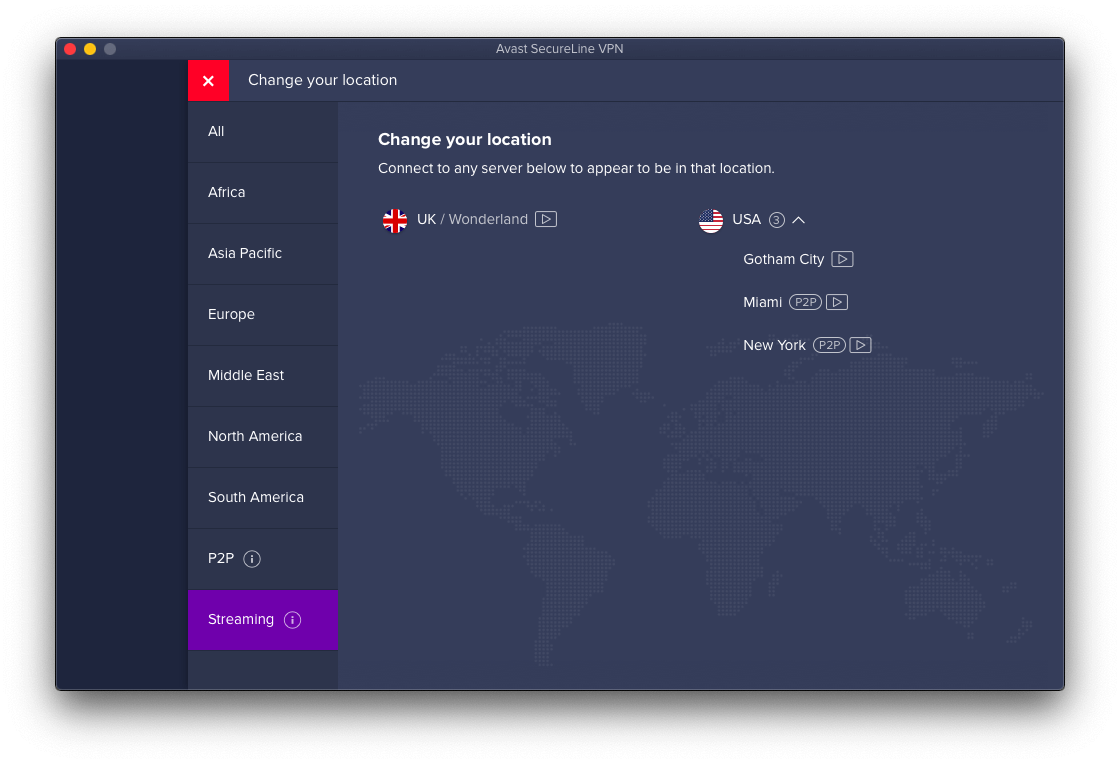 4. PureVPN
PureVPN has the most affordable monthly subscription, but in this case, you get what you pay for. We found it to be very slow, unable to reliably connect to Netflix, and unstable—we suffered several crashes. To switch to a different server, you first need to manually disconnect from the VPN, which increases the amount of time you're exposed. I can't recommend PureVPN.
Interface
I found PureVPN's interface less consistent to use than the other services, and it often took additional steps. I couldn't find a way of choosing which server to connect to within a country.
Security
PureVPN allows you to choose your security protocol, or by default will choose the best one for you.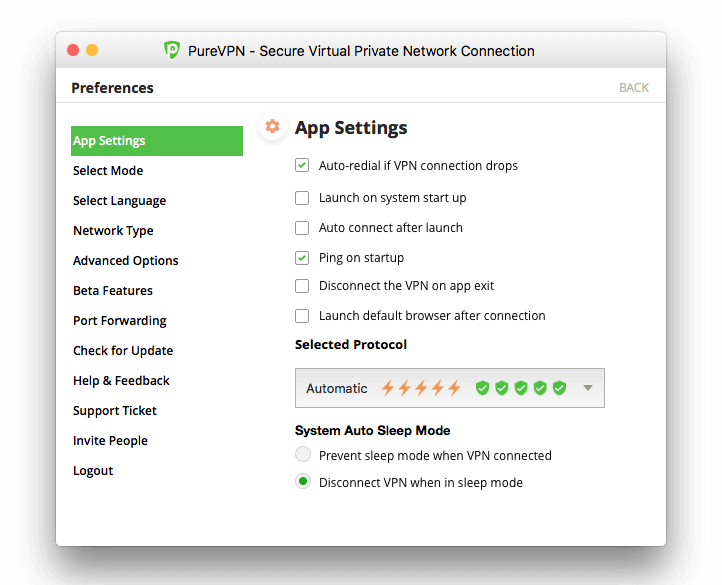 The app can send you reminders when you're not connected to the VPN and includes a kill switch.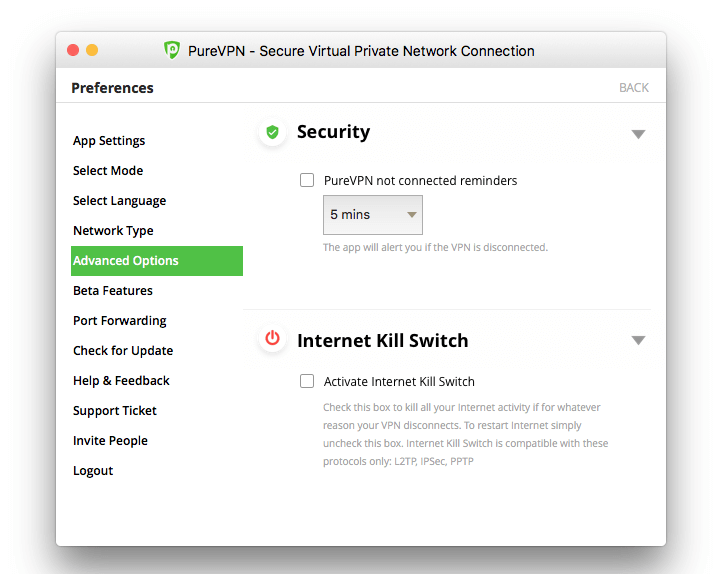 The app also offers split tunneling, DDoS protection, and ad blocking.
Speed
Without question, PureVPN is the slowest service I tested. The fastest server I found had a low download speed of 36.95 Mbps, and the average speed was 16.98 Mbps.
Maximum: 34.75 Mbps
Average: 16.25 Mbps
Server fail rate: 0/9

Streaming
I tried streaming Netflix content from eleven different servers and was only successful four times, which is a low 36% success rate.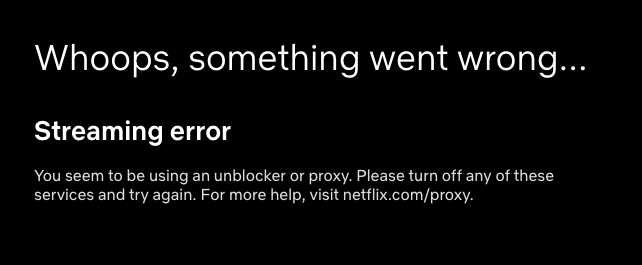 But I had much better success streaming from BBC iPlayer. All four UK servers worked.
Several Free VPNs for macOS
VPN services need to run a network of servers throughout the world, so it's no surprise that you need to pay for the best of them. Although $3/month for our winner isn't a lot to pay, you may be interested that there are plenty of free services as well.
Before you choose one of these, think about the provider's business model. How can they afford to offer the service for free? Do their apps display advertising, or is the free plan really just an ad for the paid plans? Do they guard your privacy like the paid services do, or do they collect and sell data to third parties? Does the quality of the service suffer, or is it intentionally throttled?
If you'd like to try a free VPN, here are a few of the best options:
How We Tested and Picked These Mac VPN Apps
Ease of Use
Using a VPN shouldn't have to get technical, and most people will want a service that's easy to use. None of the VPNs I tested were overly complex, and are suitable for most users. But some were definitely easier to use than others.
If you're new to VPNs and want the simplest interface, ExpressVPN, CyberGhost, Astrill VPN and Avast SecureLine VPN may suit you. Their main interface is a simple on/off switch, and that's hard to get wrong.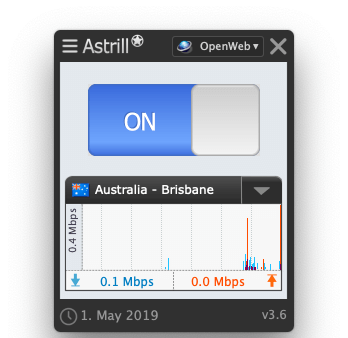 By contrast, NordVPN is better suited to users with some familiarity with VPNs. It uses a map of where its servers are located around the world, and the service offers additional features. But that doesn't mean that it's difficult to use, and most users will become comfortable with it quickly.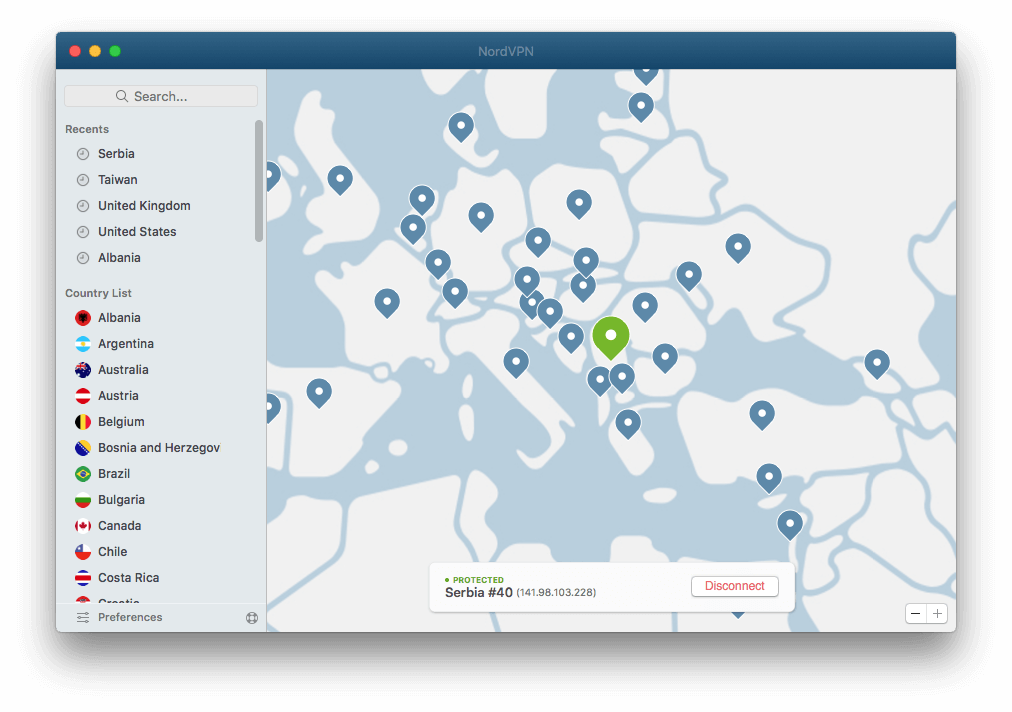 Finally, PureVPN's interface is a little more complex and disjointed, and changes depending on what you use the VPN for. You may find yourself searching for the features you need.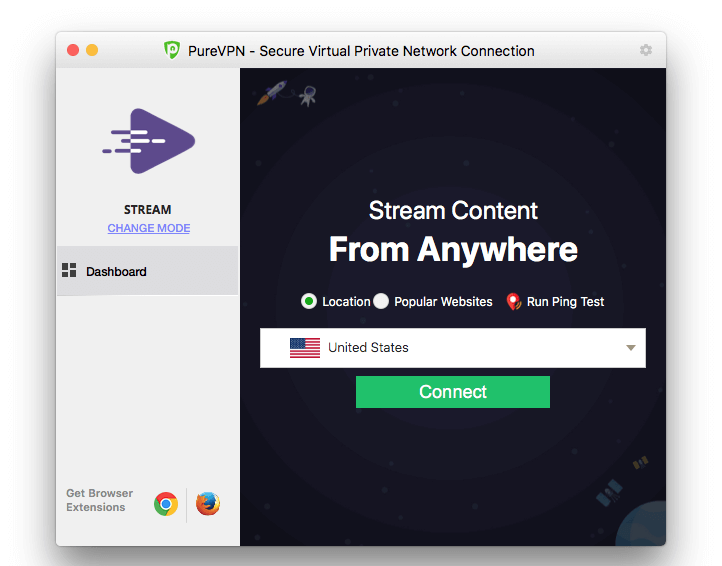 Speed
Expect your internet speed to decrease when using a VPN. Your traffic is being encrypted and also passing through a server that may be on the other side of the world. But I discovered some VPN services are significantly faster than others.
You'll have access to hundreds or thousands of servers. They will vary in speed, and generally the further away they are from you, the slower they will be. Some services are consistently fast, while others vary widely in speed, requiring a little more time and effort to find a fast one.
Servers Around the World
VPNs offer the choice of many servers around the world, speeding the service by evening out the load and offering a greater variety of streaming content to enjoy. Here's the number of servers offered by each provider:
Avast SecureLine VPN 55 locations in 34 countries
Astrill VPN 115 cities in 64 countries
PureVPN 2,000+ servers in 140+ countries
ExpressVPN 3,000+ servers in 94 countries
CyberGhost 3,700 servers in 60+ countries
NordVPN 5100+ servers in 60 countries
Note: The Avast and Astrill websites don't quote the actual number of servers.
But in my experience, these servers are not always available. During my tests, there was a number I couldn't connect to, and others that were too slow to even run a speed test. Here's the success I had when connecting to random servers:
Avast StreamLine VPN 100% (17 out of 17 servers tested)
PureVPN 100% (9 out of 9 servers tested)
NordVPN 96% (25 out of 26 servers tested)
ExpressVPN 89% (16 out of 18 servers tested)
CyberGhost 80% (12 out of 15 servers tested)
Astrill VPN 62% (15 out of 24 servers tested)
Privacy
Using a VPN keeps your online activities private, but not from your VPN provider. Choose one with a good privacy policy that doesn't log your activity or collect more personal information than they need. And make sure that they don't have a history of selling information to third parties or handing it over to law enforcement.
Security
Besides encrypting your traffic, VPNs may offer additional security features. These include a kill switch to protect you if you unexpectedly disconnect from the VPN, a choice of security protocols, ad and malware blocking, and split tunneling, where you decide what traffic goes through the VPN and what doesn't.
Access to Streaming Content
You may find you're unable to access Netflix and other services when using a VPN, but that happens more with some services than others, and the difference is significant. Here is my Netflix success rate with the various services, ranked from best to worst:
NordVPN 100% (9 out of 9 servers tested)
Astrill VPN 83% (5 out of 6 servers tested)
PureVPN 36% (4 out of 11 servers tested)
ExpressVPN 33% (4 out of 12 servers tested)
CyberGhost 18% (2 out of 11 servers tested)
Avast StreamLine VPN 8% (1 out of 12 servers tested)
Note that CyberGhost has some servers that are optimized for Netflix, and I had 100% success when using them. So does PureVPN, but none of their special servers worked for me.
VPN providers may have more or less success with different streaming services. For example, I had good success accessing the BBC iPlayer's content from NordVPN, ExpressVPN, PureVPN, and CyberGhost, but not Astrill. I recommend you test each service for the content you care about.
Cost
While you can pay for most VPNs by the month, most plans become significantly cheaper when you pay in advance. For the purpose of comparison, we'll list the yearly subscriptions along with the cheapest monthly price if you pay in advance. We'll cover all the plans each service offers below.
Yearly:
PureVPN $39.96
Avast SecureLine VPN $59.99
CyberGhost AU$71.88
NordVPN $83.88
Astrill VPN $99.90
ExpressVPN $99.95
Cheapest (prorated monthly):
CyberGhost $2.75
NordVPN $2.99
PureVPN $3.33
Avast SecureLine VPN $5.00
Astrill VPN $8.33
ExpressVPN $8.33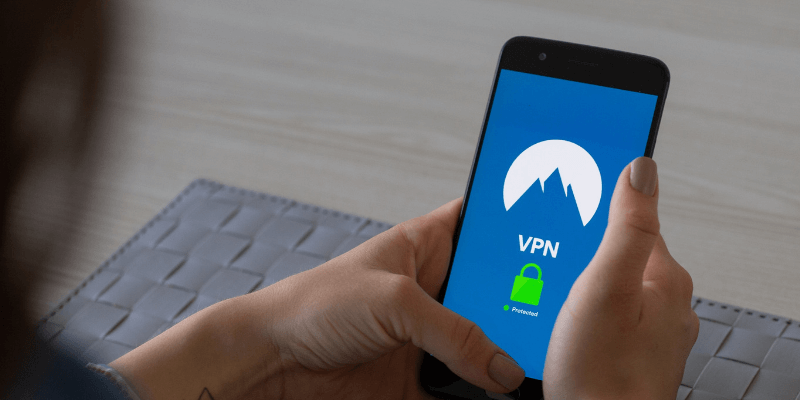 What You Need to Know about VPNs for Mac
A VPN Offers Privacy through Online Anonymity
You're more visible than you realize. As you connect to websites and send them information, each packet contains your IP address and system information. That has some serious implications:
Your internet service provider knows (and logs) each website that you visit. They may even sell these logs (anonymized) to third parties.
Each website you visit can see your IP address and system information, and most likely collect that information.
Advertisers track and log the websites you visit so they can offer you more relevant ads. So does Facebook, even if you didn't get to those websites through Facebook links.
When you're at work, your employer can log which sites you visit and when.
Governments and hackers can spy on your connections and log the data you're transmitting and receiving.
A VPN can help by making you anonymous. Instead of broadcasting your own IP address, you now have the IP address of the VPN server you've connected to—just like everyone else who's using it. You become lost in the crowd.
Now your internet service provider, the websites you visit, and your employer and government can no longer track you. But your VPN service can. That makes the choice of a provider extremely important.
A VPN Offers Security through Strong Encryption
Internet security is always an important concern, especially if you're on a public wireless network, say at a coffee shop.
Anyone on the same network can use packet sniffing software to intercept and log the data sent between you and the router.
They could also redirect you to fake sites where they can steal your passwords and accounts.
Someone could set up a fake hotspot that looks like it belongs to the coffee shop, and you could end up sending your data straight to a hacker.
VPNs can defend against this type of attack by creating a secure, encrypted tunnel between your computer and the VPN server. The cost of this security is speed. Choose a provider that offers good security protection while minimizing the impact on your speed.
A VPN Offers Access to Censored Websites
You don't always have open access to the internet. Your school or employer may block certain sites, either because they're inappropriate for children or the workplace, or your boss is concerned that you'll waste the company's time. Some governments also censor content from the outside world. A VPN can tunnel through those blocks.
Of course, if you do there may be consequences. If you're caught, you may lose your job or receive government penalties, so make your own considered decision.
A VPN Offers Access to Blocked Streaming Services
Some content providers restrict access to some or all of their content depending on your geographic location. Because a VPN can make it look like you're in a different country, it can give you access to more streaming content.
So Netflix now attempts to block VPNs as well, and the BBC iPlayer uses similar measures to make sure you really are in the UK before you can view their content. So you need a VPN that can successfully bypass these measures so you can access the content that's important to you.