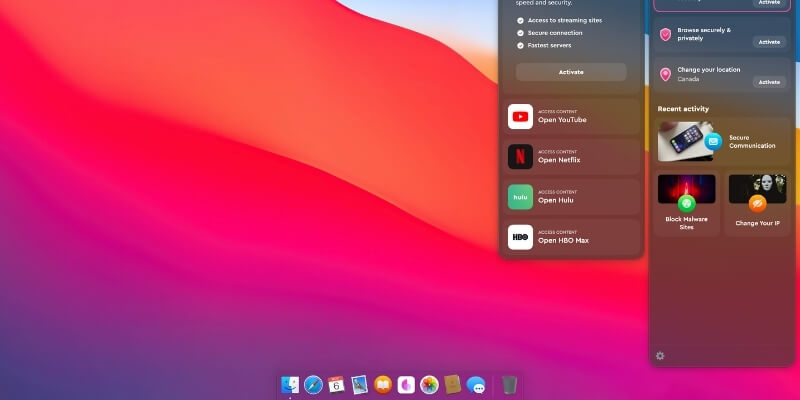 ClearVPN
Effectiveness: Private and secure
Price: Generous free plan
Ease of Use: Simple to set up and use
Support: Help desk, contact form
Summary
ClearVPN's free plan is compelling, especially if you're just getting started with VPNs and are interested in the additional privacy and security rather than connecting to servers worldwide. Those benefits come at the expense of a slightly slower connection, but in most cases, you'll hardly notice.

The premium plan is also worth considering. It's not the cheapest VPN service, but it's easy to use, offers servers in 17 countries, and connects to Netflix reliably. However, premium lacks some security features other services have, such as a double VPN and a malware blocker.

If you're considering using a VPN service for the first time, ClearVPN is the easiest way to begin. As your needs grow, take some time to look through our VPN roundup for Mac, Netflix, Fire TV to learn which suits you best.

What I Like: Generous free plan. Easy to use. Shortcuts to common tasks. Reliable Netflix streaming.

What I Don't Like: The Premium plan is a little pricey. No malware blocker. Some servers are slow.
Why Trust Me for This ClearVPN Review?
My name is Adrian Try. I've watched the internet grow over the last few decades, and with it, the challenges of overcoming security risks. A VPN is a great first defense against threats.
Over the last year, I've installed, tested, and compared a dozen different VPN services. I subscribed to ClearVPN and installed it on my iMac.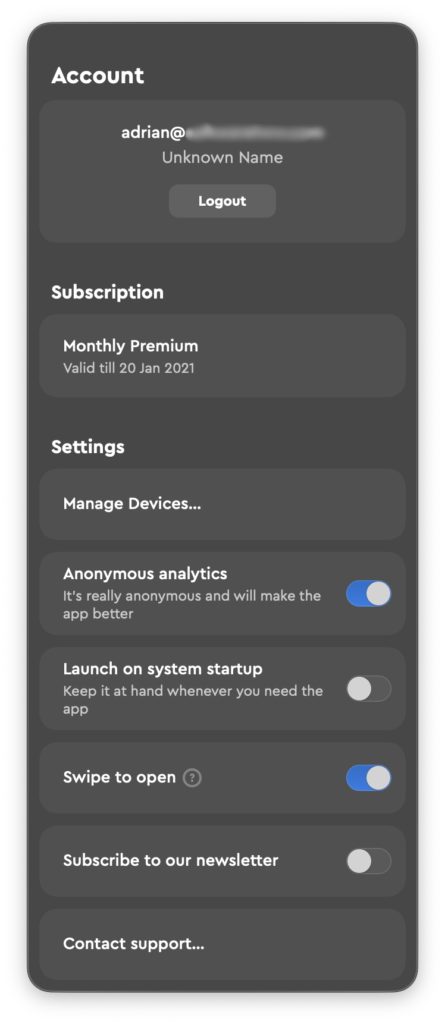 ClearVPN Review: What's In It for You?
ClearVPN protects your privacy and security online. In this article, I'll list its features in the following four sections — Privacy through Online Anonymity, Security through Strong Encryption, Access Sites that Have Been Blocked Locally, and Access Streaming Services that Have Been Blocked by the Provider. Read on to get my personal take on ClearVPN.
1. Privacy through Online Anonymity
Your internet presence is more visible than you realize. Every time you connect to a new website, a packet of information is sent containing your system information and IP address. It lets others know where you are in the world, the operating system and web browser you use, and more. That's not very private!
Your ISP (Internet Service Provider) knows every website you visit. They log this information and may sell anonymous versions to third parties such as advertisers.
Every website you visit knows and probably logs your IP address and system information.
Advertisers track the websites you visit to send you more relevant ads and keep detailed logs. Facebook does the same.
When you are on your work network, your employer can keep a log of every website you visit and when you accessed it.
Governments and hackers also keep detailed logs of your online activities, including much of the data you transmit and receive.
A VPN—including ClearVPN's free plan—enhances your privacy by making you anonymous. After connecting to a VPN server, the sites you visit will see the server's IP address and location, not your own computer's. Your ISP, employer, and government will no longer be able to track you. But there's a major "but": your VPN provider can.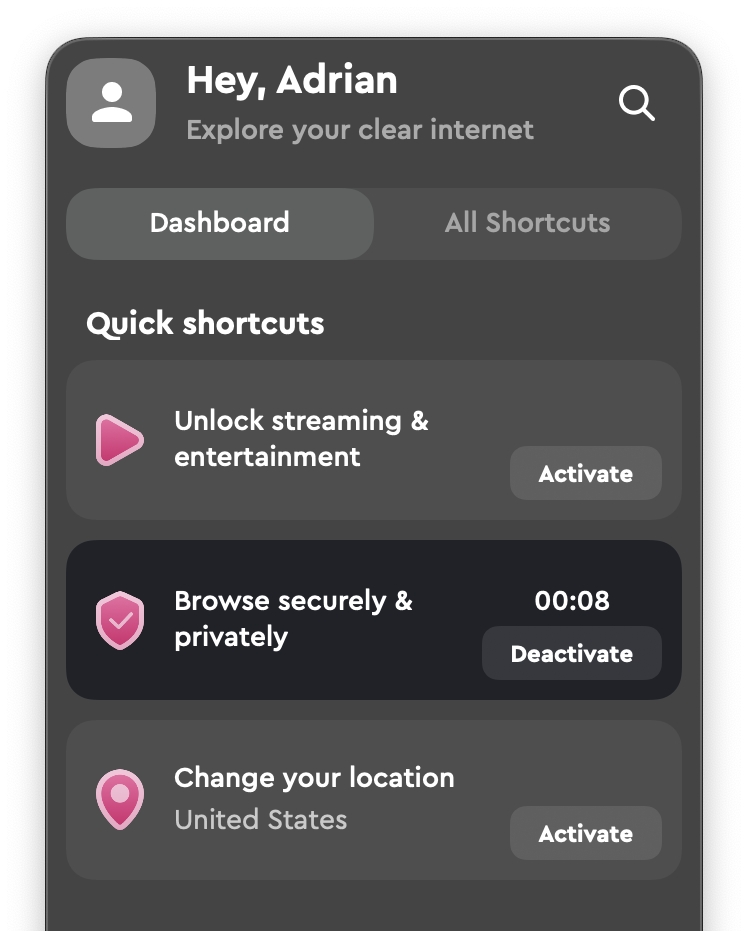 You need to choose a company that you trust—one that won't use the information they collect against you, or better still, one that doesn't take any at all.
ClearVPN's Privacy Policy clearly outlines what they know about you and what they don't. If you use the free plan, they don't retain any information about you. If you're a Premium subscriber, they need your name and email address so that they can bill you and the IDs, models, and names of your devices so they can be managed.
Other than that, they have a strict no-logs policy, which you can read here.
That's reassuring.
My personal take: There's no such thing as guaranteed security, but using a VPN service is an excellent first step. ClearVPN is a service offered by a reputable company that has acceptable privacy practices clearly outlined in its policies.
2. Security through Strong Encryption
If you use public Wi-Fi, such as at a coffee shop, your security may be compromised.
Other users on the network can intercept and log the data you send using packet-sniffing software. That may include sensitive information such as your passwords.
They can also redirect you to fake websites where they can steal your passwords and accounts.
You may unwittingly connect to a fake hotspot that doesn't belong to the coffee shop at all. Anyone can set up a hotspot. Once you join, they can easily log all your online activities.
A VPN uses strong encryption to make you more secure. It creates an encrypted tunnel between your computer and the VPN server so the data you send and receive can't be read by others.
But encrypting and decrypting your data takes time. Your web traffic will be slower when using a VPN service than when not. Another factor affecting internet speed is the distance between the server and your computer. Connecting to one nearby will make little difference speed-wise, but joining one on the other side of the planet may be noticeably slower.
How much slower does ClearVPN make your connection? Here are the details from my own experience.
I normally measure my download speed using Speedtest.net, but ClearVPN seems to block it. So, I used Google's speed test tool instead. First, I tested my 100 Mbps network's naked speed (when not using a VPN):
102.4 Mbps at the beginning of testing
98.2 Mbps at the end of testing
Next, I tested the server closest to me (the Australian server). This is typically the fastest one.
Free plan 81.8 Mbps
Premium plan 77.7 Mbps
These results don't show that the free plan is faster than the premium plan, just that the connection speed varies a little over time. Those speeds are quite fast; I probably wouldn't notice whether I'm connected to ClearVPN or not.
Then I connected to servers around the world. I expected these to be slower than the Australian server and tested most of them a few times throughout the morning.
United States 61.1 Mbps
United States 28.2 Mbps
United States 9.94 Mbps
United States 29.8 Mbps
United Kingdom 12.9 Mbps
United Kingdom 23.5 Mbps
Canada 11.2 Mbps
Canada 8.94 Mbps
Germany 11.4 Mbps
Germany 22.5 Mbps
Ireland 0.44 Mbps
Ireland 5.67 Mbps
Netherlands 17.3 Mbps
Netherlands 14.8 Mbps
Singapore 16.0 Mbps
Sweden 12.0 Mbps
Sweden 9.26 Mbps
Brazil 4.38 Mbps
Brazil 0.78 Mbps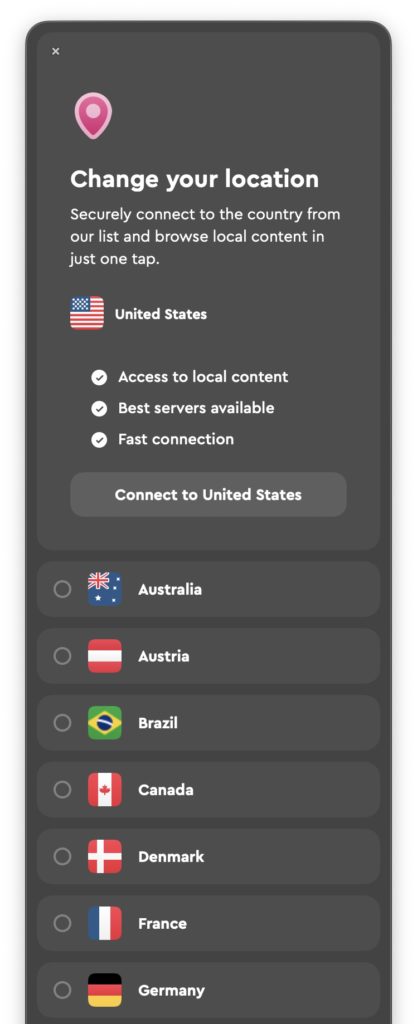 Despite the slower speeds, even the slowest connections were still quite useful. The Netherlands connection was only 17.3 Mbps. Google called it fast, though, explaining, "Your Internet connection should be able to handle multiple devices streaming HD videos at the same time."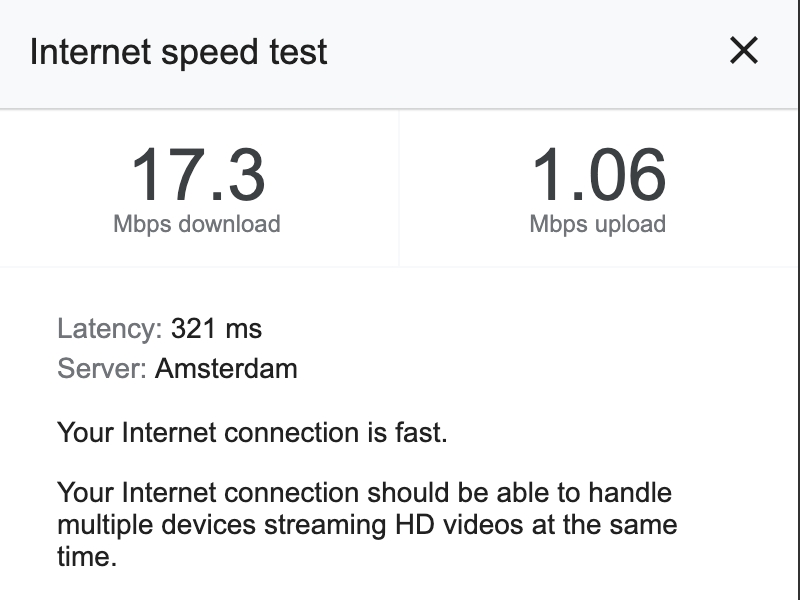 Even the 5.67 Mbps Ireland connection was usable. Google called it slow: "Your Internet connection should be able to handle one device at a time streaming a video. If multiple devices are using this connection at the same time, you may run into some congestion."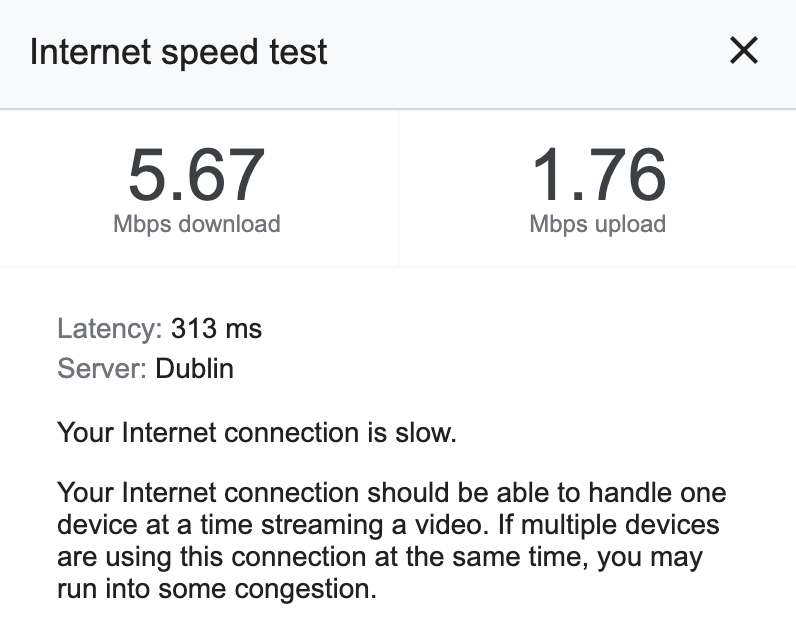 For more information about the speeds required to stream different media types, refer to our detailed guide on the best VPN for Netflix.
A feature called DynamicFlow automatically connects you to the faster server after analyzing the network status. Our maximum download speed with ClearVPN was 81.1 Mbps, and our average across all our tests was 21.9 Mbps. How does that compare with other VPN services? It's not the fastest, but it is quite competitive.
My internet speed is currently around 10 Mbps faster than it was a few months ago. To make the comparisons fairer, I'll subtract 10 Mbps from the services I tested since then, including ClearVPN.
Speedify (two connections): 95.3 Mbps (fastest server), 52.3 Mbps (average)
Speedify (one connection): 89.1 Mbps (fastest server), 47.6 Mbps (average)
HMA VPN (adjusted): 85.6 Mbps (fastest server), 61.0 Mbps (average)
Astrill VPN: 82.5 Mbps (fastest server), 46.2 Mbps (average)
ClearVPN (adjusted): 71.1 Mbps (fastest), 11.9 Mbps (average)
NordVPN: 70.2 Mbps (fastest server), 22.8 Mbps (average)
Hola VPN (adjusted): 69.8 (fastest server), 60.9 Mbps (average)
SurfShark: 62.1 Mbps (fastest server), 25.2 Mbps (average)
Avast SecureLine VPN: 62.0 Mbps (fastest server), 29.9 (average)
CyberGhost: 43.6 Mbps (fastest server), 36.0 Mbps (average)
ExpressVPN: 42.9 Mbps (fastest server), 24.4 Mbps (average)
PureVPN: 34.8 Mbps (fastest server), 16.3 Mbps (average)
A typical VPN connection offers sufficient security for most users. However, some services provide additional security features that ClearVPN doesn't, including malware scanners and double VPN. Some services better protect your privacy by offering payment methods. Bitcoin, for instance, doesn't identify you personally.
My personal take: ClearVPN will make you more secure online without any complex setup. Other VPNs offer additional security features but require more configuration.
3. Access Sites that Have Been Blocked Locally
Your school or employer can restrict access to certain sites. It's their network, and they're in control. They may block content that's inappropriate for children or not safe for work; they might block social network sites due to concerns about lost productivity. Governments may censor content from other countries. VPN services can tunnel through those blocks.
But there may be consequences. Consuming inappropriate content at work may end in a loss of employment, and bypassing government firewalls can result in steep fines.
My personal take: VPNs can give you access to content that your network is trying to block. There may be penalties for bypassing firewalls set up by your employer, educational institution, or government, so exercise due care.
4. Access Streaming Services that Have Been Blocked by the Provider
While governments and employers may try to stop you from getting to certain websites, some content providers like Netflix prevent you from getting in. They can't broadcast some shows and movies in some countries due to licensing deals, so they attempt to restrict access based on your geographic location.
When you connect to a VPN server in another country, it appears that you're actually located there. That allows you to access content that's only available in that country. Because of this, Netflix now tries to block VPNs as well—but they're more successful with some services than others.

How successful is ClearVPN's premium plan at accessing streaming content? I tried to access Netflix content in various countries and was successful every time.
Australia YES
United States YES
United Kingdom YES
Canada YES
Germany YES
Ireland YES
Netherlands YES
Singapore YES
Sweden YES
Brazil YES
Several other VPN services also achieved a 100% success rate, but not all. Here's how ClearVPN compares with the competition when it comes to successful Netflix access:
ClearVPN 100% (10 out of 10 servers tested)
Hola VPN 100% (10 out of 10 servers tested)
Surfshark 100% (9 out of 9 servers tested)
NordVPN 100% (9 out of 9 servers tested)
HMA VPN 100% (8 out of 8 servers tested)
CyberGhost 100% (2 out of 2 optimized servers tested)
Astrill VPN 83% (5 out of 6 servers tested)
PureVPN 36% (4 out of 11 servers tested)
ExpressVPN 33% (4 out of 12 servers tested)
Avast SecureLine VPN 8% (1 out of 12 servers tested)
Speedify 0% (0 out of 3 servers tested)
However, while ClearVPN gives you access to servers in 17 countries, other services offer far more servers.
Here are a few examples:
Avast SecureLine VPN 55 locations in 34 countries
Astrill VPN 115 cities in 64 countries
PureVPN 2,000+ servers in 140+ countries
ExpressVPN 3,000+ servers in 94 countries
CyberGhost 3,700 servers in 60+ countries
NordVPN 5100+ servers in 60 countries
My personal take: ClearVPN allows you to successfully stream content from 17 countries. Some competing VPN services offer access to content in more countries, but not all do this with 100% success.
Reasons Behind My ClearVPN Ratings
Effectiveness: 4/5
ClearVPN provides solid connection speeds and reliable access to streaming content. However, it doesn't offer security features you find with some other services, such as double VPN and malware blocking.
Price: 4/5
ClearVPN's free plan offers exceptional value if you don't need to access content from other countries. The Premium plan costs $4.58/month when you pay two years in advance. Some other VPNs charge less than half that amount.
Ease of Use: 4.5/5
ClearVPN aims to be easy to set up and use, and it succeeds. However, some tasks require more mouse clicks than similar services.
Support: 4.5/5
The ClearVPN Support Page lets you suggest a feature, gives access to the help desk, and allows you to contact support via a web form.
Alternatives to ClearVPN
NordVPN is fast, affordable, and reliably streams Netflix content. It's the winner of our Best VPN for Mac roundup. The app's available for Windows, Mac, Android, iOS, Linux, Firefox, Chrome, Android TV, and FireTV. See our detailed NordVPN review.
ExpressVPN is well-known, popular, and somewhat expensive. It won our Best VPN for Mac roundup and has an uncanny knack for tunneling through internet censorship. This one's available for Windows, Mac, Android, iOS, Linux, FireTV, and routers. Read our full ExpressVPN review.
Astrill VPN, available for Windows, Mac, Android, iOS, Linux, and routers, is a fast service that offers an ad blocker and TOR-over-VPN. Read our full Astrill VPN review.
CyberGhost is a highly-rated and affordable VPN. It offers specialized servers for streaming content and an ad and malware blocker. You can use it on Windows, Mac, Linux, Android, iOS, FireTV, Android TV, and browsers.
You'll find more alternatives in our roundup reviews of the best VPNs for Mac, Netflix, Amazon Fire TV Stick, and routers.
Conclusion
We all need peace of mind—especially when it comes to the internet. The web brings us a lot of good—but now there's always this feeling that someone's looking over our shoulders. Then there are hackers, stolen identities, fraud, censorship, and those ads for products you casually browsed just moments ago.
How do you protect yourself online? Your first step is to get VPN (Virtual Private Network) service to enhance your privacy and security. MacPaw is a respected company that has developed popular applications such as CleanMyMac X, CleanMyPC, and the Gemini 2 duplicate file finder. ClearVPN is their newest product, and it looks promising.
It has a focus on ease of use through the use of quick shortcuts for common activities. ClearVPN is available for Mac, Windows, iOS, and Android. Its free plan allows you to "browse securely and privately" by offering extra encryption, full anonymity, and fast connections.
The premium plan offers more: the ability to connect to VPN servers anywhere globally and access streaming content only available in other countries. Six devices are supported with each subscription, which costs $12.95/month or $92.95/year (equivalent to $7.75/month).
So, what do you think about this ClearVPN review? Leave a comment and let us know.