In the era of technology artists have a wide variety of tools at their disposal. Creative hobbyists and professionals alike have specialized needs that must be reflected in their tools to create high-quality work.
With the variety of choices that exists in the market today, it can be challenging to understand the nuance of application from one software to another.
PaintTool SAI is a high-quality and lightweight painting software, with full digitizer support, and amazing anti-aliased paintings, it provides easy and stable operation. This software makes digital art more enjoyable and comfortable.
Krita is a professional FREE and open-source painting program. It is made by artists that want to see affordable art tools for everyone.
Overall, Krita offers the most value for artists with its $0 price point and powerful capabilities. The customization and functions available suit the needs of many types of visual artists, with a user interface most similar to Photoshop.
My name is Elianna and I've experimented with digital drawing software for over 10 years. As a freelance artist, Art Director, and Character Designer I have experimented with PaintTool SAI, Photoshop, Adobe Illustrator, Procreate, Krita, GIMP, and more.
In this article, I will show you the main differences between PaintTool SAI and Krita, and how they meet the needs of different types of artists.
Quick Comparison
Here is a quick overview of the main differences between PaintTool SAI and Krita:
| | | |
| --- | --- | --- |
| | PaintTool SAI | Krita |
| Affordability | 31-day free trial. One-time ~$52 USD license purchase. | Free |
| Ease Of Use | Easy to use | Moderate learning curve |
| Drawing Tools | 5 main types of brushes | 18 different brush engines |
| Selection Tools | 4 main selection tools | 8 selection tools |
| Animation | No support for animation | Advanced Animation capability |
| Additional Capabilities | Perspective Tools | Perspective ToolsTemplates Scripts Supports multiple color modesSeExpr |
PaintTool SAI vs Krita: Detailed Comparison
In this section, I'll go over the details of the difference between PaintTool SAI and Krita, including ease of use, tools/features, compatibility, and pricing.
Ease of Use
While both PaintTool SAI and Krita include fairly robust user interfaces, PaintTool SAI's organization of tools and functions makes it a less intimidating software for a first-time user.
Upon opening the program, PaintTool SAI's main difference from Krita is the default setting to have almost all tools and the layer menu on one side of the screen. This user interface places all of the most important tools and features in one area, making it easy to navigate.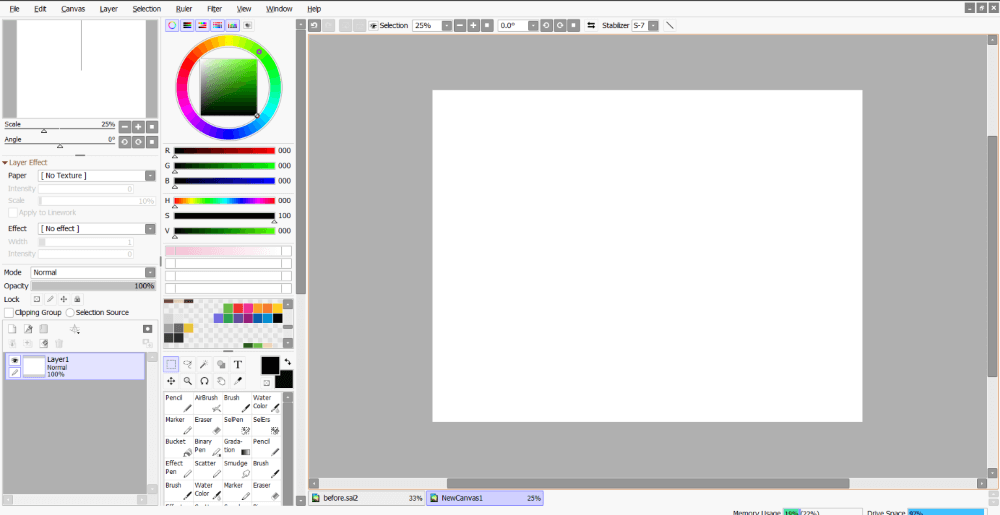 Krita has a default user interface that is visually reminiscent of Photoshop. For professionals with previous experience in Photoshop, this can make for a smooth transition. However, the number of tools and information on menus can be overwhelming for a first-timer.
Additionally, many tool options are hidden behind menus or in different locations from their tools, making them hard to locate at first glance. One example includes the brush options menu, which a user can open by clicking the brush options icon on the top of the screen.
This is visually separated from the brush presets menu which exists in the bottom-right corner of the screen. While this can be fixed by floating the brush options panel, it makes for a confusing first-time experience.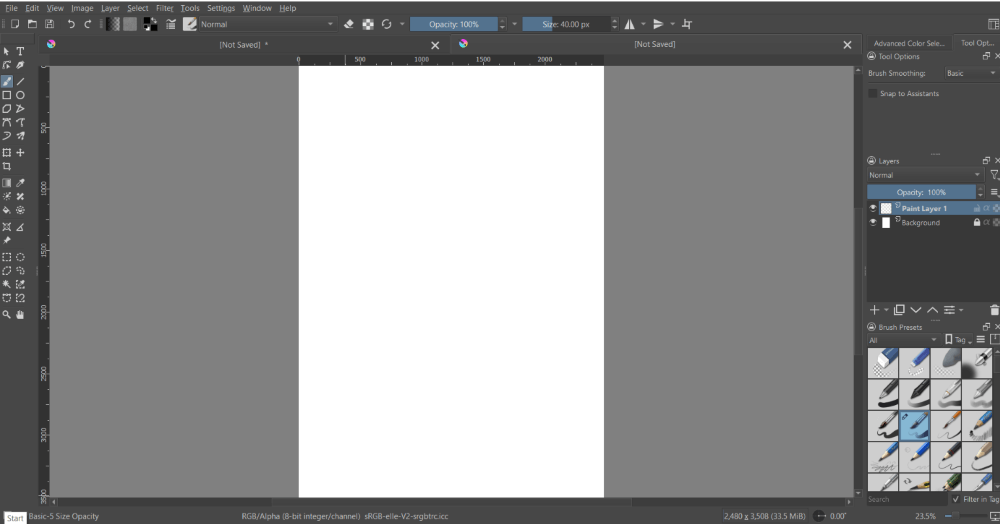 Winner: PaintTool SAI. PaintTool SAI overall includes fewer features than Krita, and by default, is easier to use due to less memorization by the user needed to efficiently navigate the program.
Drawing Tools
Krita's brush engine gives users full control over brush customization, with 18 different brush engines. Each brush engine includes a detailed breakdown of its customization options and capabilities. Textures on brushes can be edited through patterns, horizontal and vertical offset, texturing mode, gradient maps, and a variety of blending modes.
My favorite thing about Krita's drawing tools is the way that they are presented. The brush menu includes picture previews of the brushes before you click on them, a striking difference from PaintTool SAI's tool menu, where brush previews are generated after you select a tool.
Additionally, a larger selection of default textured brushes is included in the brush menu, making experimentation easy.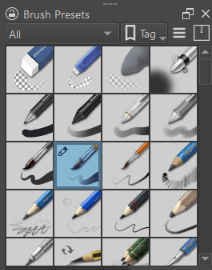 PaintTool SAI, on the other hand, divides its drawing tools into 5 main types of brushes: Pencil, Airbrush, Brush, Watercolor, Marker, and Eraser (this list excludes tools like Gradation which are not stroke dependent).
Within these categories, customization can be achieved in the brush settings menus, which toggle properties like brush size, min. Size, density, min.density, brush form, texture, blending, and persistence.
While there are 5 different brush tip options, PaintTool Sai's brush properties do not include the ability to change the angle of the brush tip, a feature that exists in Krita and Photoshop.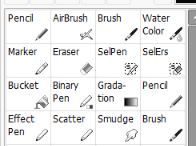 Both programs include the option to import custom brush presets into the program. Krita generally has a more active community given the age of PaintTool SAI, making brush resources easier to find. The best place to source custom PaintTool SAI brush textures overall is DeviantArt.com
Winner: Krita. Overall Krita's brush settings offer users a more in-depth customization experience than PaintTool SAI.
Selection Tools
Krita includes 8 selection tools which include the rectangular, elliptical, polygonal, freehand, contiguous, similar color, bezier curve, and magnetic curve selection tools. These selection tools offer users endless ways to easily manipulate and add brush strokes to their selections.

PaintTool SAI includes 5 selection tools: Selection Tool (rectangular), Lasso (freehand), Magic Wand (contiguous), Selection Pen, and Selection Eraser. Of these tools, the Selection Pen and Selection Eraser are unique to PaintTool SAI and allow users to make selections on their canvas as if they were using a pen.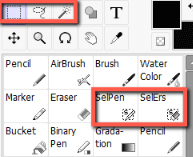 One drawback of Krita's selection tools is that the tool properties can be somewhat confusing to manage, with congested brush option panels, but Krita makes up for that confusion in the amount of customization that can be achieved.
Winner: It's a tie. Both programs offer different selection tools and you can make different types of selections easily.
Animation
Krita offers users an introductory animation suite, with the ability to create storyboards and frame-by-frame animations. The interface includes a timeline, with the ability to add, remove and move frames, toggle an onion skin, and add "tweening" frames.
In comparison, PaintTool SAI offers no capabilities for animation so it is only for digital painting and nothing more.
Winner: Krita. Krita offers its users an impressive animation capability for free, while paid software like PaintTool SAI does not.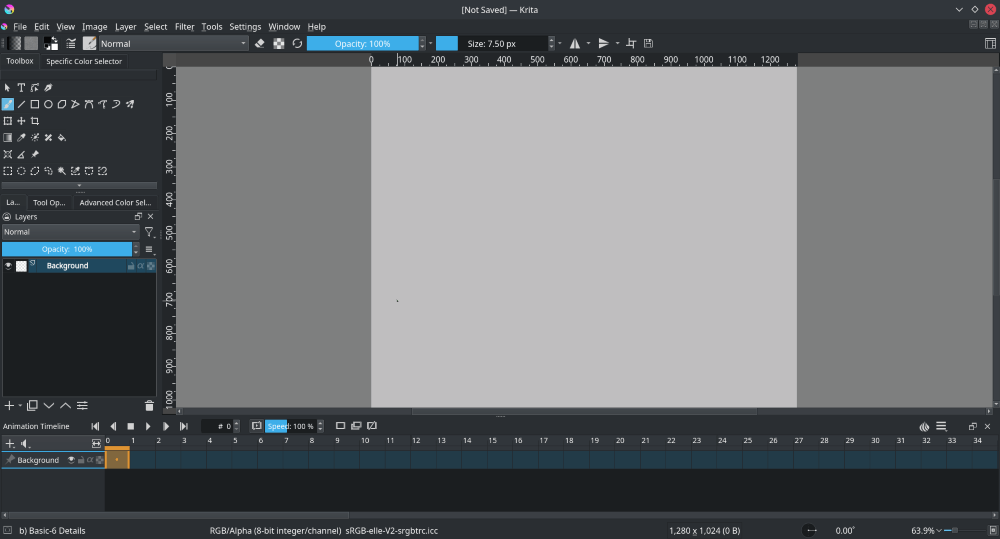 Additional Capabilities
Krita offers its users additional capabilities such as the ability to create vector graphics, utilize scripts to automate their design experience, utilize perspective grids, templates, and
The ability to generate and save files in color modes like CMYK.
Additionally, Krita offers users the ability to use SeExpr which allows users to use an embedded arithmetic language to dynamically generate textures to layers. This powerful function gives users a taste of the ever-evolving technical side of creating art.
PaintTool SAI offers its users the ability to create vectors and perspective grids but lacks the function to use templates and scripts. PaintTool SAI also only supports RGB as a color mode, making it impossible to open CMYK files or easily export files that are suitable for print.
Winner: Krita. Krita offers its users expanded capabilities which makes it a more useful program to invest time in learning.
Pricing
With all of its specialized features, it is hard to resist Krita is totally free. No license purchases. No subscriptions. No hidden fees. Just Free.
PaintTool SAI by comparison costs approximately $52*, with a one-time license purchase fee on the SYSTEMAX website. The program also includes a 31-day free trial, so you can test out if it is to your liking.
Winner: Krita. Although PaintTool SAI is fairly affordable, it cannot beat FREE.
Final Verdict
Overall, Krita is a free program that offers more value in function and capability. With a wide variety of tools and additional capabilities like animation, it can suit the needs of various types of visual artists.
However, its user interface can be confusing to the introductory user, giving it a moderate learning curve. Most similarly resembling Photoshop, it is a great tool for professionals who want to dodge an Adobe Creative Cloud subscription.
PainTool SAI is a great program for first-time digital artists and illustrators who primarily digital paint without the need for photo manipulation.
Do you use PaintTool SAI, Krita, or both? Which is your favorite and why? Share your thoughts in the comment section below.