Krita offers some excellent animation features making it one of the best free apps to use for animation. They also provide an in-depth training DVD that covers all animation techniques and tools and is available for purchase.
I'm Carolyn and I've been using different design apps to run my digital illustration business for over three years. Because of the broad range of design briefs that I work on, I always have to make sure that I use the best app for the specific project that I'm working on.
In this case, when I'm working on animation projects, my go-to app is always Krita. This app offers a broad range of animation tools which makes it an easy choice. Their extensive training DVD tool will teach you everything you need to know to get started with animation.
In this article, I'll cover all of the reasons why I think Krita is good for animation.
Key Takeaways
Krita is a free open-source design app.
Krita offers a unique set of animation tools including tweening.
The app offers an in-depth training DVD for an additional cost.
What is Krita
Krita is an open-source digital painting program that is free to download. It's created and developed by a team of artists and relies heavily on donations from its users in order to keep maintaining and improving the app.
Krita is compatible with desktops only so you won't be able to get this app on any of your handheld devices like iPads or Android phones. The app is focused mainly on digital painting and offers over 120 brush options and some awesome animation features and tools.
You can download Krita for free directly from their website.
Krita Animation Features
Krita offers many of the same animation tools that other digital design apps offer but they also have an added edge as the app is focused on frame-by-frame animation. This means it provides users with added tools for more in-depth animation design.
Here are some of the general animation tools they offer alongside some of the Krita-specific features too.
Animation Workspace
You can actually choose to switch your workspace to the Animation user interface which fully immerses the user in the animation program. You will totally forget you're in a digital drawing program and feel like you're using a professional animation program.
To do this, hover your mouse over the top right-hand corner of your screen. When a faint rectangle appears, click on it and a box with small squares within it will appear. Tap on this box and select the Animation option from the Workspace dropdown menu.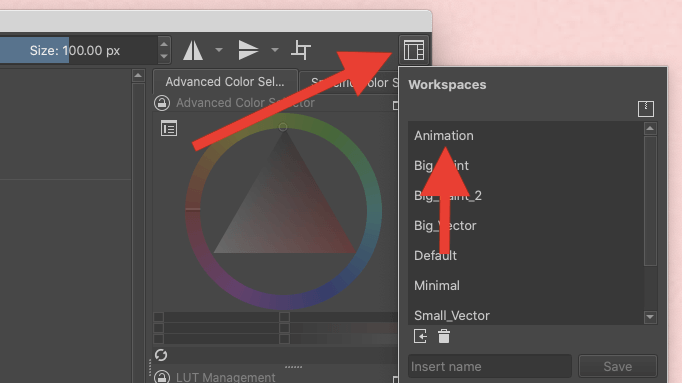 Key Frames
The key frames are the most important frames within your animation. These will consist of the main poses or shapes that you will create movement. This feature is similar to other animation programs.
Tweening
This feature is where Krita stands out. They offer "Tweening" which is basically the ability to design and add frames in between your keyframes. This makes your animation run smoother and can be the difference between amateur animation and professional animation.
Many other animation programs don't offer this option which can be limited to the user depending on what style of project they want to create.
Dockers
A docker is essentially a specific control panel for different aspects of your animation. Krita offers four different dockers:
Animation Timeline Docker
This is where you manage each individual layer in your project.
Onion Skin Docker
This is where you manage the opacity of the preview of each frame.
Animation Curves Docker
This is where you have the ability to add tweening to your project.
Storyboard Docker
This is where you can create and manage your storyboards for each of your projects.
Frame Rate
This is how long each of your frames will play for. This will determine the length and speed of your project and can be amended or changed at any point before exporting.
Export
This will be the last part of your animation process where you can confirm and render your animation and share it with your device. Ensure you export and save every project when it's done so that you don't risk losing all of your hard work.
Sample Animation
Below is a sample of a few basic animations made on Krita. You can view this video below.
FAQs
Below is a selection of your frequently asked questions about this topic.
Is Krita free?
Yes, Krita is a totally free, open-source drawing app that costs nothing to download and has no in-app purchases to worry about.
How to download Krita
You can download Krita directly from their website or from the Windows App Store.
Is Krita good for beginners?
I found Krita to be quite challenging to learn how to use at the beginning. Because of its overcrowded user interface, I don't recommend this app for beginners. It can be quite overwhelming and hard to navigate if you're new to digital platforms.
Is Krita animation free?
Yes, the animation features in Krita are free, however, if you want the in-depth training DVD, you will have to pay an additional $15.99 USD. Otherwise, the Krita handbook offers a basic breakdown of how to use the Animation Workspace.
Is Krita good for drawing?
Krita is an awesome digital drawing and painting app and it offers a wide variety of different features for you to create almost any technique you want on your canvas.
Conclusion
Krita is one of my favorite free apps when it comes to animation features. If you have the time, you can teach yourself how to use these tools by combining online video tutorials and their handbook. For a quicker learning process, I recommend purchasing the training DVD.
If you're new to the world of animation or you're a seasoned extraordinaire, I highly recommend this app to everyone. Because it costs nothing to download, you have nothing to lose and you may even discover that you love working on it as much as I do.
Do you use Krita for animation? Leave your answers in the comments section below.