Even though I am a dedicated Procreate user but I have to choose Adobe Fresco as the best overall app in this comparison. This is mostly for the fact that you can produce either vector or pixel images using this app and it has an awesome price point.
Procreate is the ideal app for beginners and artists who want to focus on creating original artwork and designs. Its neat and simple interface allows users to learn quickly how to navigate their way around the app and familiarize themselves with all of its features.
Adobe Fresco is a part of the Adobe family therefore it shares some similarities with its counterparts like Illustrator and Photoshop. Due to the complexity of the program, it does have certain downsides like a steeper learning curve and a crowded user interface.
I'm Carolyn and I'm a die-hard Procreate user who has been using the app to run a digital illustration business for over three years. But for my own professional development, I recently decided to immerse myself in the Adobe Fresco app and I was pleasantly surprised.
In this article, I'm going to compare the main differences between Adobe Fresco and Procreate so that you can decide on your own.
Quick Comparison
Here is a quick overview of the main differences between Adobe Fresco and Procreate:
| | | |
| --- | --- | --- |
| | Adobe Fresco | Procreate |
| Brushes | Offers both raster and vector brushes | Raster only brushes |
| Price | 30 days free trial.$9.99 USD/year for the premium version | $12.99 USD one-time fee only |
| Compatibility | Mac and Windows devices and operating systems | iPad and iPhone |
| Mobile App | Free version available on iPhone & Windows mobile devices, not Android | $5.99 USD for iPhone |
| Storage | External storage available through the Creative Cloud membership | In-app storage only |
| User Interface | Crowded | Simple |
| Animation Features | Elaborate animation features | Basic animation functions |
| Time-lapse Feature | Time-lapse feature available | Automatic time-lapse feature |
Detailed Comparison: Adobe Fresco vs Procreate
Below I have created a detailed breakdown comparing the two apps in terms of brushes, price, compatibility, mobile apps, storage, animation, time-lapse features, and user interface.
Brushes
Procreate is a pixel graphics program. This means that every stroke you make on a canvas is broken down into pixels on the DPI scale (dots per inch). This means that the DPI size of your image will greatly impact how it reacts to being rescaled in any way and can distort your work.
Every brush that is available to users on Procreate is a pixel brush. The app does not offer any other graphics brush type because it just isn't supported. This means that you can only create and export pixel artwork on the app.
This is where Adobe Fresco really comes out on top. In a rare phenomenon, the Adobe Fresco app allows users to switch between vector and pixel graphics brushes. This means that users have the option to create two different graphic-based artworks instead of one.
To top this all off, Adobe Fresco also offers live brushes. This means the user can create the same texture as traditional art methods such as watercolor and oil painting by simply changing their brush type. This creates a realistic painting experience on a digital platform.

Winner: Adobe Fresco. Adobe Fresco offers live, vector, and pixel brushes while Procreate only offers pixel brushes.
Price
Adobe Fresco offers a free version of the app with some limitations. You have access to the whole app but when you upgrade to Premium, your access expands greatly and offers many advanced options and features.
In the free version, users are limited to 2GB of cloud storage compared to the paid version's limit of 100 GB. You also get a bigger range of options in the brush library, more font options, and access to an iPad-friendly version of Adobe Photoshop for $9.99 USD/month.


Procreate has always had an awesome price point. For a one-time cost of $12.99 USD, users get full access to the app with no limitations, no in-app purchases necessary, and no pesky annual subscription fees that we all tend to forget about until we get our bank statements.
And although the developers have also released a cheaper version called Procreate Pocket for your iPhone for only $5.99 USD, a free trial is still not available. This deters some users from choosing to Procreate over Adobe Fresco as there is no opportunity to test before buying.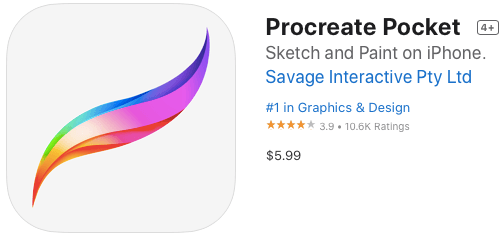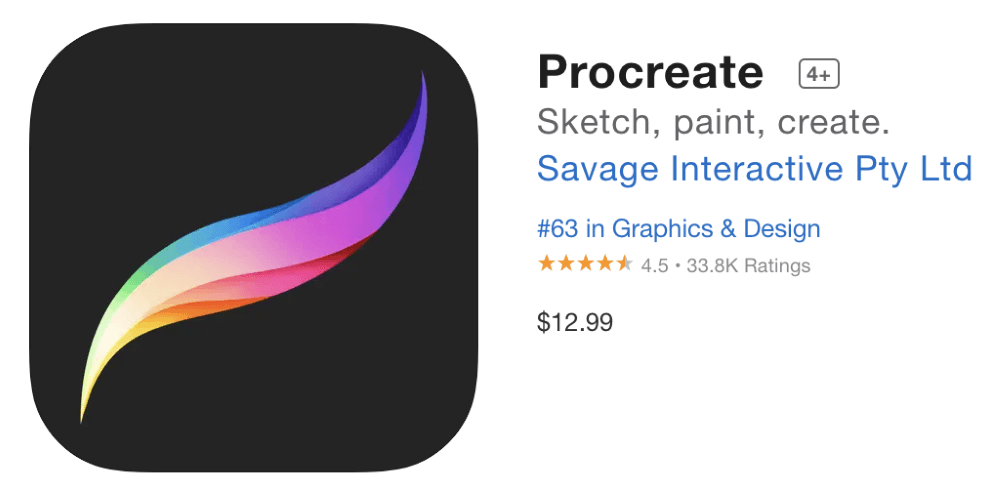 Winner: Adobe Fresco. Procreate does not offer a free trial or a free version of the app whereas Adobe Fresco offers both.
Compatibility
Procreate was designed specifically for Apple operating systems with the iPad, iPhone, and Apple Pencil in mind. Developers have declared multiple times that the app works best on these programs as they were designed for the sole purpose of these Mac devices.
This means you cannot download the Procreate or Procreate Pocket apps on any other devices, including your Macbook. This completely eliminates access for all Windows and Android users and has had a negative impact on the global accessibility of the apps.
Adobe Fresco shares the same compatibility as its siblings like Photoshop and Illustrator. You can access and download the Fresco app on all compatible Apple devices using the Mac operating system and also on Windows and desktops.
You can also combine your subscriptions and pay for access to over 20 of the Adobe Creative Cloud apps and be able to switch between them on your devices, including easily sharing files from each program. This will cost you $54.99 USD/month depending on your pricing plan.
Winner: Adobe Fresco. Adobe Fresco can be used on Windows and Mac devices while Procreate is limited to only iPads and iPhones.
Mobile Apps
Both of these apps offer mobile versions. Android users will be sad to discover that neither one of these apps are available on their devices yet.
The makers of Procreate have released a separate app specifically designed for use on the Apple iPhone. It costs $5.99 USD in the App store and gives users unlimited access to the entire app and all of its features. Very few of them differ from the original Procreate app.
You can download the Adobe Fresco app on your iPhone or iPod touch as long as they are up to date with the most recent iOS updates (currently iOS 14.0 or higher). The Adobe Fresco mobile app is free with an in-app purchase option to upgrade your subscription to Premium.
Both of these mobile apps offer almost the full range of features with very few limitations if any. This is incredibly convenient and allows you to access your design programs on multiple devices and in the palm of your hand everywhere you go.
Winner: It's a tie. Both Procreate and Adobe Fresco's mobile apps are reasonably priced or free and give users full access to all of the app's features.
Storage
Procreate is pretty straightforward and stores all of your artwork internally in the app. This means your Procreate storage is based on the RAM and storage available on your device which can be quite troublesome if you have a lot of high-resolution canvases in your Gallery.
This also means that Procreate users must manually back up their work using an external cloud storage service and continuously delete projects from their app and from their device in order to maintain and manage storage.
Adobe Fresco's free version of the app comes with 2GB of external cloud storage through their Creative Cloud. With a Premium subscription, your Creative Cloud storage increases to 100GB. Users can freely create and move artwork around the app with peace of mind.
This allows users to safely back up their work and ensure artwork storage is managed properly without the risk of losing everything if your device dies and you have issues with your manual backup. Not having to worry about external cloud storage is a relief for most users.
Winner: Adobe Fresco. The external storage offered with the Premium version means users can create projects without having to be restricted by their device storage as they do on Procreate.
User Interface
The Procreate user interface will forever be my favorite. It's clear, and simple and everything makes sense. For me, it is essential to have an uncrowded space in which to get creative and I get overwhelmed and distracted by the hundreds of icons on the Adobe Fresco home screen.
When you start a new project on Procreate, the top banner of your screen will display ten icons each representing different functions of the app. On the side of your canvas you will see a small sidebar and in the center will be your blank canvas.
When you tap on each icon, you can delve further into the available options for each function or brush. I like this because it keeps my canvas clear whereas other artists like that Adobe Fresco allows you to explore functions while also having a full view of your project.
This particular feature is consistent throughout all Adobe design programs and the Fresco app only differs slightly. It is a professional and detailed display, but for someone who is more art focused rather than graphic design, I much prefer the user interface of the Procreate app.
Winner: Procreate. Adobe Fresco's home screen is crowded and overwhelming. Procreate's home screen is clear and simple.
Animation Features
Procreate offers basic animation functions with their Animation Assist settings. The file types available to export with Procreate are also compatible with most basic animation projects. However, animations tend to take up space and storage is not Procreate's strong point.
Users have access to create and manipulate their animation by using a frame-by-frame technique. It comes with a variety of variations and users have control over many aspects of the process like the frame pattern, frames per second, and the playback function.
Adobe Fresco offers a more in-depth animation program by adding the ability to work with motion paths as opposed to just frame-by-frame settings. And the ability to work with vector artwork makes this app more appealing to people who are focused on animation.
The ability to use both of these animation techniques means that Adobe Fresco users have the ability to navigate their project by layer and my project. Animations made on Adobe Fresco are also compatible with Photoshop so you can use both of the apps on your project.
Winner: Adobe Fresco. Adobe Fresco allows you to work with motion paths and frame-by-frame settings whereas Procreate does not offer motion paths.
Time-lapse Features
Time-lapse recordings are incredibly satisfying to watch but also very useful in terms of learning and reviewing your process. Many artists and teachers use time-lapse videos to show their own processes and even use them as resources for tutorials or online content.
Both Procreate and Adobe Fresco apps have a built-in time-lapse recording feature that records every stroke you make within an artwork. This is then automatically stitched together to create a fast-paced video of your artwork from inception to completion.
Adobe Fresco has made it very easy to access, save and share your time-lapse recording and the app basically does it for you. This means its users get a seamless recording every time without having to do any of the camera work.
Procreate has also created a seamless process to both uses and share your time-lapse recording once you are done with a project. By default, this setting will automatically be active but if you want to turn it off, you can. This will preserve your battery if you don't need a video.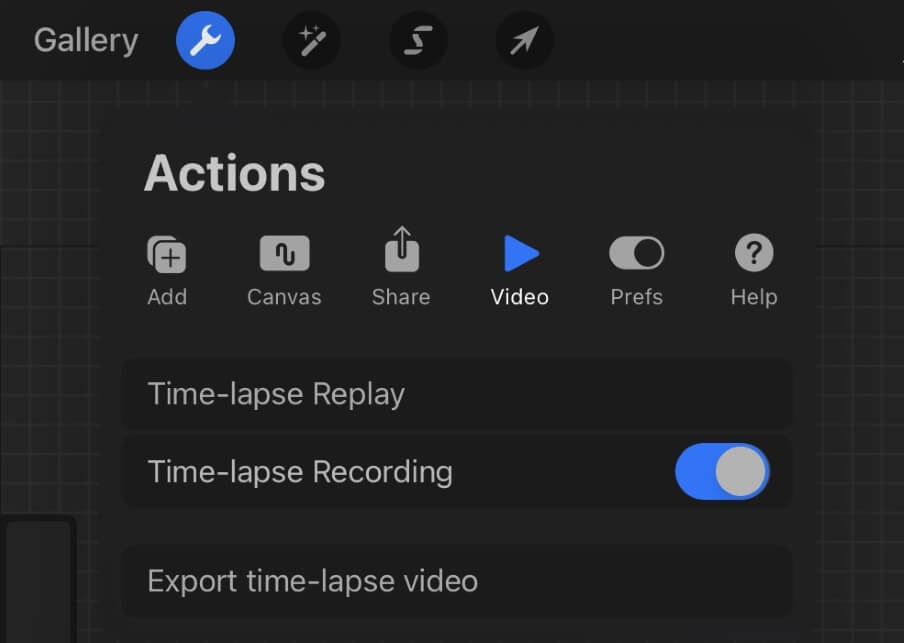 Winner: Procreate. Procreate automatically records a timelapse of all projects once you start a new canvas.
Final Verdict
Both of these apps are incredibly advanced technology that has changed the world of digital art forever and it's hard to fault either one of them. And as they each have different strengths, it really is down to the specific user to determine which one is best for what you need.
However, for me, I have to admit that this was a difficult decision to make. I have been using Procreate for so long that it feels familiar and comfortable to me. But after spending some time working with Adobe Fresco, I really got to experience some of its incredible strengths.
Have you used both of these programs? Share your feedback in the comment section below.