The simple answer is no. Procreate is exclusively available on Apple iPad and iPhone as it is designed for iOS only. That means you cannot simply purchase and download Procreate on a Windows PC or laptop.
I'm Carolyn and working online as a digital artist for over three years has led me to explore every possible option when it comes to accessing Procreate on different systems and devices. So I'm here to share some of my hours of extensive research with you on this topic.
In this article, I will explain why Procreate is not available on Windows and explore some alternative options in an attempt to overcome this hurdle in your quest to use this amazing app.
Is Procreate Available on Windows?
No. Procreate is designed for iOS only. And according to this official Procreate Twitter reply, they don't have plans to develop for Windows. They also say that the app just works better on Apple devices.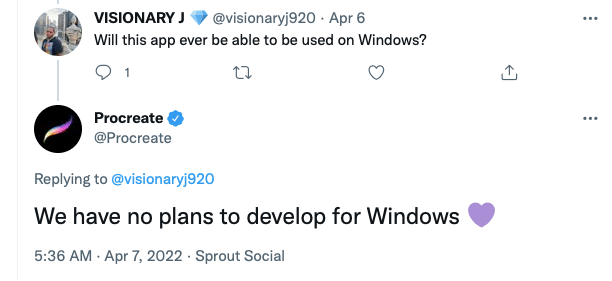 Is There a Way to Run Procreate on Windows?
Note: I highly recommend you not to try the methods introduced below without a touch screen device, and just a friendly warning that your ability to create on the app is severely limited and you may risk damage to your PC system.
There are some swirling rumors online that a couple of system emulators can be used to download Procreate on a Mac or Windows PC. Sounds dodgy right? I thought so too, so I took a little deep dive into the topic and this is what I found.
According to a blogger, users can download emulators such as NoxPlayer or BlueStacks but this information appears to be false.
Here's why:
BlueStacks is an android emulator and gaming platform. It's mostly used by gamers in order to enhance the gaming experience. According to a recent Reddit thread, the BlueStacks program is an Android-only emulator and cannot be used to download Procreate on a Windows device. It appears that NoxPlayer is in a similar position.


The blogger also suggests using iPadian, which is a simulator rather than an emulator. This means users have the ability to experience the iOS system on their Windows devices.
However, this is more of an exploratory option as users can witness the Procreate program as it would appear on an Apple device but will not have full capabilities to actually use the app.
FAQs
Here are some other questions you might have about using Procreate for Windows. I'll briefly answer each of them below.
How Do I Get Procreate for Free?
You can't. Procreate offers no free trial or free version. You must purchase and download the app on the Apple app store for a one-time fee of $12.99.
Can I Get Procreate Pocket for Windows?
No. Procreate Pocket is an iPhone version of the Procreate app. This is only available on Apple iPhone devices and is not compatible with Windows, Mac, or any Android devices.
Are There Any Free Apps like Procreate for Windows?
Yes, here are two that I recommend: GIMP allows you to create artwork using graphic tools and a drawing feature. This software is completely free and compatible with Windows. Clip Studio Paint offers a free 30-day trial or up to 3 months free after committing to a monthly plan once the trial period ends.
Final Thoughts
The moral of the story is: if you want to use Procreate, you need an iPad. Otherwise, you may risk subpar artwork or network viruses from accessing sketchy download software.
If cost is holding you back, it's almost always a better idea to invest in the real deal rather than trying to find ways around it. This may lead to even higher costs if you have to replace your Windows PC or laptop.
Remember to always do your due diligence and research thoroughly any websites or software that offers an epic loophole to your problem. There is always risk online and the only way to limit that risk is to gain knowledge and do your research.