Too many people use the same easy-to-remember password for every website. It's convenient but makes life too easy for hackers and identity thieves. If one of your accounts is hacked, you've given away access to all of them! Creating a strong, unique password for every website is a lot of work, but password managers make it achievable.
1Password is one of the most popular apps out there. It has cultivated a strong following from the Mac community over several years and is now available for Windows, Linux, ChromeOS, iOS, and Android. A 1Password subscription costs $35.88/year or $59.88 for families.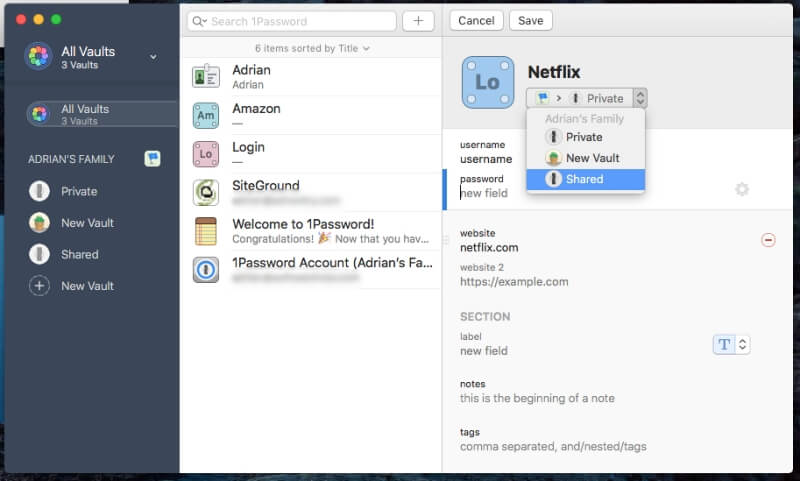 1Password automatically fills in your username and password at any login screen. It can learn new passwords by watching you log in and create a strong, unique password whenever you create a new login on a website or app. All of your passwords will be synced across devices so they're available whenever you need them.
That means there's only one password you need to remember: 1Password's master password. The app stores your private documents and personal information. It also warns you if any of the web services you use have been hacked, then prompts you to change your password immediately.
In short, it enables you to maintain safer passwords without the usual effort and frustration. But it's not the only app that can do so. Is 1Password the best solution for you and your business?
Why Choose an Alternative?
1Password is popular and works well. Why would you consider using an alternative? Here are a few reasons a different app may suit you better.
There Are Free Alternatives
One of 1Password's biggest competitors is LastPass. The biggest thing that sets LastPass apart is its generous free plan, which offers all the features many users need. There are also several open-source password managers worth considering, including KeePass and Bitwarden.
There Are More Affordable Alternatives
1Password's subscription price is in line with other market leaders, but many alternatives are more affordable. RoboForm, True Key, and Sticky Password have significantly cheaper premium plans. However, they also have fewer features, so check carefully to make sure they do what you need.
There Are Premium Alternatives
Dashlane and LastPass have excellent Premium plans that match and even surpass what 1Password offers and cost about the same. They can automatically fill in web forms, something 1Password can't currently do. They're easy to use, have slick interfaces, and may suit you better than 1Password.
Some Alternatives Allow You to Avoid the Cloud
Cloud-based password management systems like 1Password employ well-developed security strategies to ensure your sensitive data is safe. They use a master password and encryption to make sure no one but you can access your information, and 2FA (two-factor authentication) so that if someone manages to guess or steal your password, they are still locked out.
However, some organizations and Government departments may prefer not to keep such sensitive information in the cloud, or entrust their security needs to a third party. Password managers like KeePass, Bitwarden, and Sticky Password allow you to store your data locally and manage your security.
Top Alternatives to 1Password
What are the best alternatives to 1Password? Here are some password managers that may suit you better.
Best Free Alternative: LastPass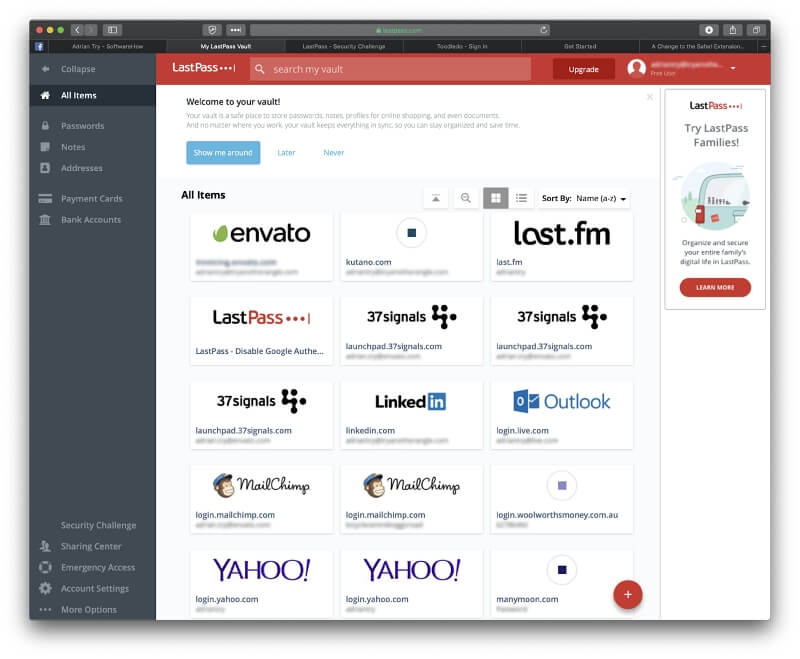 LastPass offers a full-featured free plan that will meet the needs of many users. It was named the best free password manager in our Best Mac Password Manager roundup and was PC Magazine's Editor's Choice for multiple years. It runs on Mac, Windows, Linux, iOS, Android, and Windows Phone.
Its free plan will auto-fill your passwords and sync them across all your devices. LastPass also stores your sensitive information, including documents, free-form notes, and structured data. The app lets you safely share your passwords with others and will warn you of compromised, duplicated, or weak passwords.
LastPass's Premium plan costs $36/year ($48/year for families) and adds enhanced security, sharing, and storage. Want to learn more? Read our full LastPass review.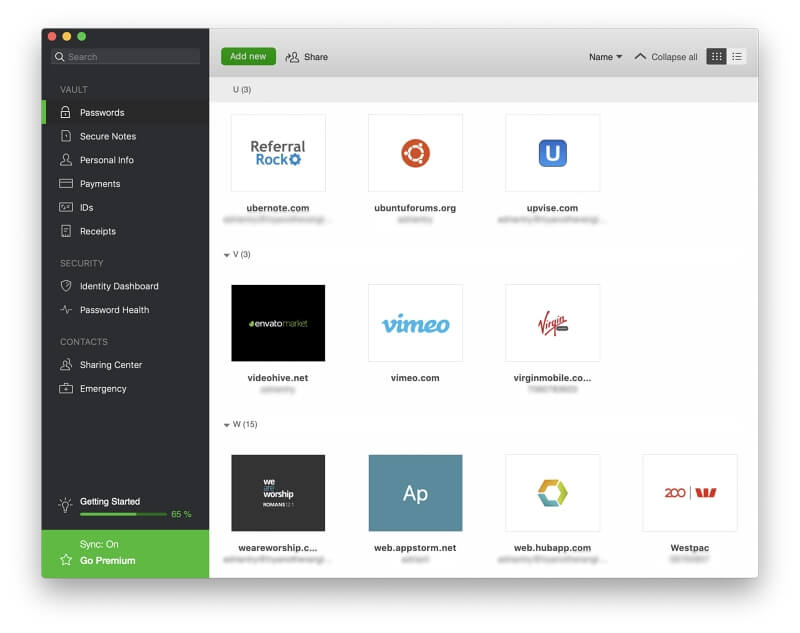 Dashlane is the winner of our Best Password Manager roundup and is similar to 1Password in many ways, including cost. A personal license costs around $40/year, only slightly more expensive than 1Password's $35.88.
Both apps generate strong passwords, store sensitive information and documents, and support many platforms. In my opinion, Dashlane has the edge. It's more configurable, can automatically fill in web forms, and can automatically change your passwords when it's time.
Want to learn more? Read our Dashlane review.
Alternatives for Those Who Want to Avoid the Cloud
Some organizations have security policies that don't let them store sensitive information on other companies' servers. They need a password manager that allows them to store their data locally or on their servers rather than in the cloud.
KeePass is an open-source app that focuses on security and stores your passwords locally on your hard drive. However, it's more technical than 1Password. You need to create databases, choose the desired security protocol, and work out a syncing service if you need one.
Sticky Password ($29.99/year) allows you to store your data locally on your hard drive and sync it to your other devices over a local network. It's also the only option I'm aware of that allows you to purchase the software outright with a $199.99 lifetime license.
Bitwarden is open-source, though easier to use than KeePass. It allows you to host passwords on your server or computer and sync them between your devices over the internet using the Docker infrastructure.
Other Alternatives
Keeper Password Manager ($29.99/year) offers basic features cheaply and allows you to add on the extras that you need through optional paid services (though the cost does add up quite quickly). You can reset your master password if you forget it and Self-Destruct your passwords after five login attempts.
Roboform ($23.88/year) is an older, affordable app with many loyal users. Because of its age, it does look a little dated, especially on the desktop.
McAfee True Key ($19.99/year) is a simple application that's perfect for those who prioritize ease of use. It attempts to make authentication easy and secure by using two factors and lets you reset your master password if you forget it.
Abine Blur ($39/year) is a privacy service that includes password management. It blocks ad trackers; it also masks your contact and financial details, such as your email address, phone number, and credit card number. Be aware that not all of these features are available to those living outside of the United States.
Final Verdict
1Password is a popular, competitive password manager for Mac, Windows, Linux, ChromeOS, iOS, and Android, and can also be accessed from your web browser. It has a comprehensive feature set and deserves your serious consideration, but it's not your only option.
LastPass is one strong competitor and offers enough features for many users with its free plan. Dashlane is another; its Premium plan provides more functionality in a polished interface for just a little more money. In my opinion, these three apps—1Password, LastPass, and Dashlane—are the best password managers available.
You don't want your passwords to fall into the wrong hands. Even though these apps store them on the cloud, they take strong security precautions so that no one except you can access them.
But if you'd prefer not to store your passwords in someone else's cloud storage, three password managers allow you to host your passwords locally or on your own server. These are KeePass, Sticky Password, and Bitwarden.
Who you decide to trust to keep your passwords safe is a big decision. If you'd like to do more research before deciding, we compare your main options thoroughly in three detailed roundup reviews: Best Password Manager for Mac, iPhone, and Android.