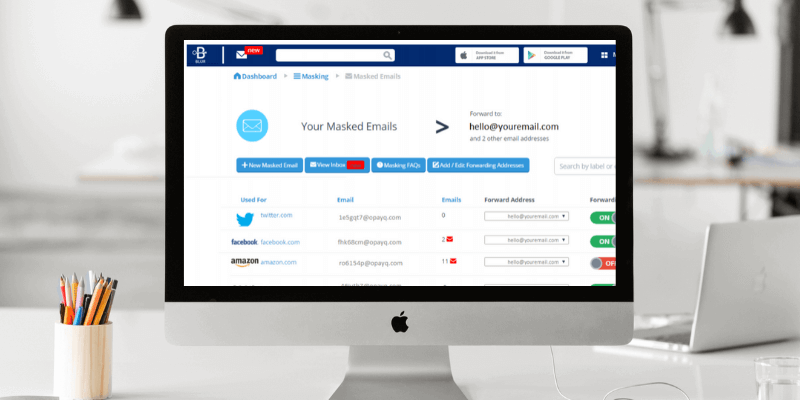 Abine Blur
Effectiveness: Basic password management plus privacy
Price: From $39/year
Ease of Use: User-friendly web interface
Support: FAQ, email, and chat support
Summary
You should be using a password manager. Should you choose Abine Blur? Possibly, but only if these three statements are true: 1) You live in the United States; 2) Blur's privacy features appeal to you; 3) You can live without more advanced password management features.

If you live outside of the United States, not all of those handy privacy features will be available to you, and you may have difficulty even paying for the plan. You could sign up using the mobile app and make the most of those features you can use. Only you know whether you can live with those limitations.

On the other hand, If you're looking for a password manager with all the features, Blur is not the best choice for you. Instead, check out the "Alternatives" section of the review. Check our other reviews, download the trial versions of the apps that look most appealing, and discover for yourself which one best meets your needs.

What I Like: Useful privacy features. Straightforward password import. Excellent security. Backup passphrase if you forget your master password.

What I Don't Like: Lacks advanced features. Privacy features are not available to everyone. The free plan does not include sync. Some user data was exposed in the past.
Why Trust Me for This Blur Review?
My name is Adrian Try, and I believe everyone can benefit from using a password manager. They've been making my life easier for over a decade and I recommend them.
I used LastPass for five or six years from 2009. My managers were able to give me access to web services without me knowing the passwords, and remove access when I no longer needed it. And when I left the job, there were no concerns about who I might share the passwords.
A number of years ago I switched to Apple's iCloud Keychain. It integrates well with macOS and iOS, suggests and automatically fills in passwords (both for websites and applications), and warns me when I have used the same password on multiple sites. But it doesn't have all of the features of its competitors, and I'm keen to evaluate the options as I write this series of reviews.
I haven't used Abine Blur before, so I signed up for a free account and used its web interface and browser extension on my iMac and thoroughly tested it over several days.
A number of my family members are tech-savvy and use 1Password to manage their passwords. Others have been using the same simple password for decades, hoping for the best. If you're doing the same, I hope this Blue review will change your mind. Read on to discover whether Blur is the right password manager for you.
Abine Blur Review: What's In It For You?
Abine Blur is all about passwords, payments, and privacy, and I'll list its features in the following five sections. In each subsection, I'll explore what the app offers and then share my personal take.
1. Securely Store Your Passwords
The best place for your passwords isn't in your head, or on a scrap of paper or spreadsheet that others might stumble across. Passwords are safest in a password manager. Blur will securely store your passwords on the cloud and sync them to every device you use so they're available whenever and wherever you need them.
That's a little counterintuitive since placing all of your passwords online seems a little like putting all your eggs in one basket. One hack and they're all exposed. That's a valid concern, but I believe that by using reasonable security measures, password managers are the safest places to store sensitive information.
Your account is protected by a Master Password, and Abine doesn't keep a record of it, so have no access to your encrypted data. To this you can add a second form of authentication—typically a code sent to your mobile phone—that is required before you can log in. This makes it virtually impossible for hackers to gain access to your account.

In case you forget your master password, you're provided with a backup passphrase that you can use to recover your passwords. This should be kept in a safe place, and consists of twelve random dictionary words.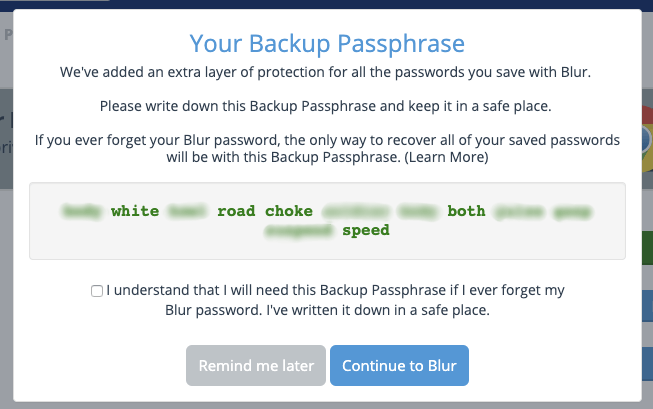 You should be aware that last year one of Abine's servers was not configured correctly, and some Blur data was potentially exposed. There's no evidence that hackers were able to gain access before the problem was fixed, and because of strong encryption, the password manager's data was never accessible. But information about 2.4 million Blur users was, including their:
email addresses,
first and last names,
some older password hints,
the encrypted Blur master password.
Read Abine's official response, and weigh up for yourself how you feel about that. Having made the mistake once, they're unlikely to make it again.
Back to Blur's features. You can add your passwords manually through the Blur web interface…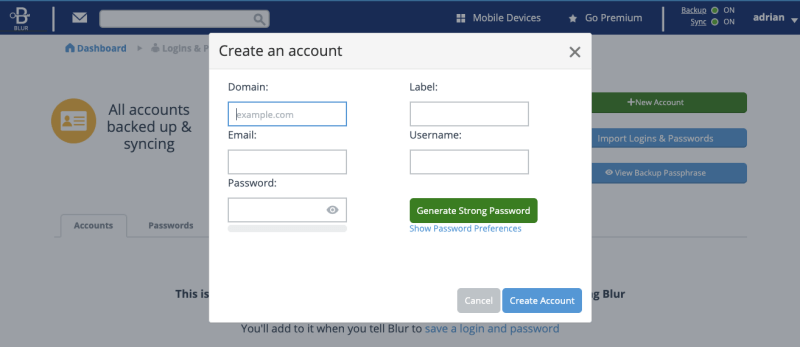 …or add them one-by-one as you log in to each site.

Blur also allows you to import passwords from a number of other password management services, including 1Password, Dashlane, LastPass, and RoboForm.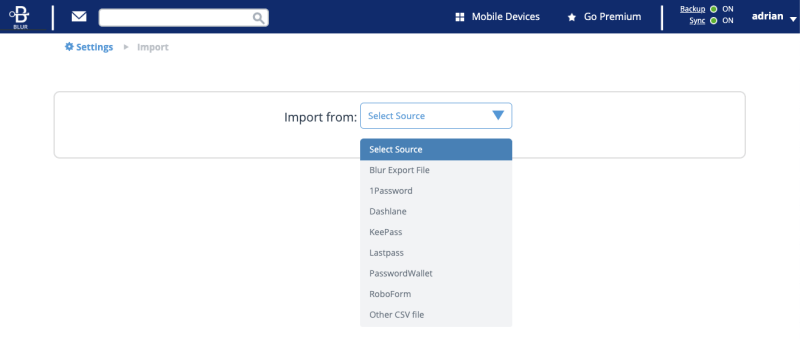 After exporting my passwords from LastPass, they were imported quickly and easily into Blur.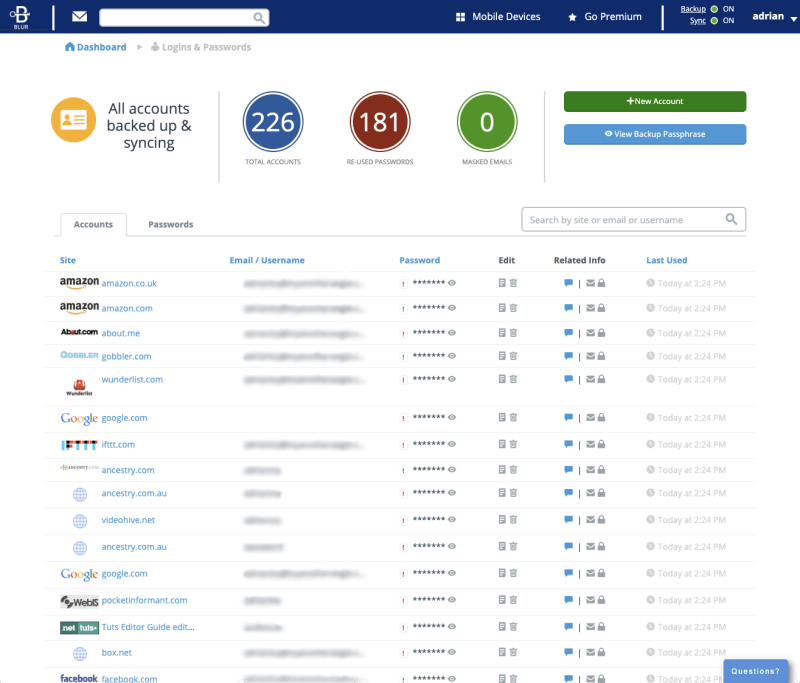 Once in Blur, there aren't many ways to organize your passwords. You can add them to favorites and perform searches, but no more. Folders and tags are not supported.
My personal take: Blur Premium will store your passwords and sync them onto all of your devices. But unlike other password managers, it won't allow you to organize them or share them with others.
2. Generate Strong, Unique Passwords for Each Website
Weak passwords make it easy to hack your accounts. Reused passwords mean that if one of your accounts is hacked, the rest of them are also vulnerable. Protect yourself by using a strong, unique password for every account. If you like, Blur can generate one for you each time you create a new membership.
With the browser extension installed, Blur will offer to create a strong password right on the new account web page.
If you or the web service have specific password requirements, you can customize them by specifying the length and whether to use numbers or special characters. Unfortunately, Blur won't remember your preferences for next time.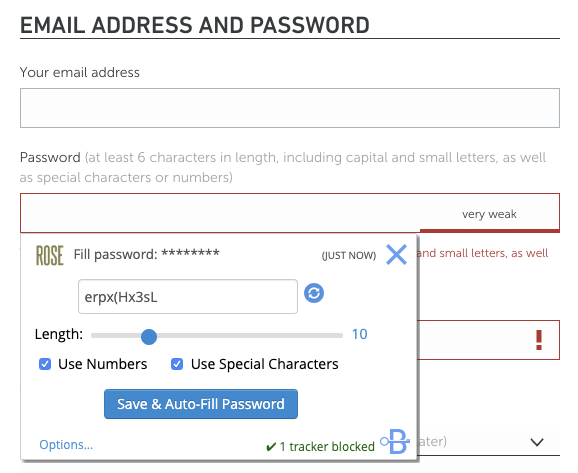 Alternatively, Blur's web interface can generate a password for you. Navigate to Accounts then Passwords, and click the New Strong Password button.

My personal take: You might be tempted to create weak passwords, but Blur won't be. It will create a different strong password for every website quickly and easily. It doesn't matter how long and complex they are, because you never need to remember them—Blur will type them for you.
3. Automatically Log in to Websites
Now that you have long, strong passwords for all of your web services, you'll appreciate Blur filling them in for you. There's nothing worse than trying to type a long, complex password when all you can see are asterisks. The easiest way to do this is by using a browser extension. You'll be prompted to install one when you first log in to the web interface.

Once installed, Blur will automatically fill in your username and password when logging in. If you have a number of accounts at that site, you can choose the correct one from a drop-down menu.

For some websites, like my bank, I'd prefer for the password not to be auto-filled until I type my master password. That gives me peace of mind! Unfortunately, while many password managers offer this feature, Blur does not.
My personal take: When I get to my car with my arms full of groceries, I'm glad I don't have to struggle to find my keys. I just need to press the button. Blur is like a remote keyless system for your computer: it will remember and type your passwords so you don't have to. I just wish I could make logging into my bank account a little less easy!
4. Automatically Fill in Web Forms
Once you're used to Blur automatically typing passwords for you, take it to the next level and have it fill in your personal and financial details as well. The Wallet section allows you to enter your personal information, addresses, and credit card details that will be filled in automatically when making purchases and creating new accounts.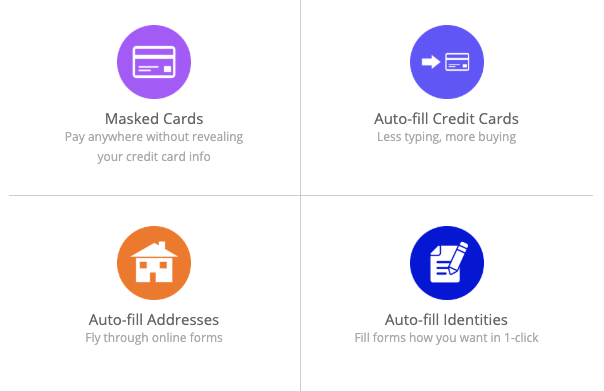 Auto-fill Identities allow you to store different sets of personal information, say for home and work. Some of Blur's privacy features are built into form filling, including masked emails, masked phone numbers, and masked credit card numbers, we'll have a closer look at these later in the review.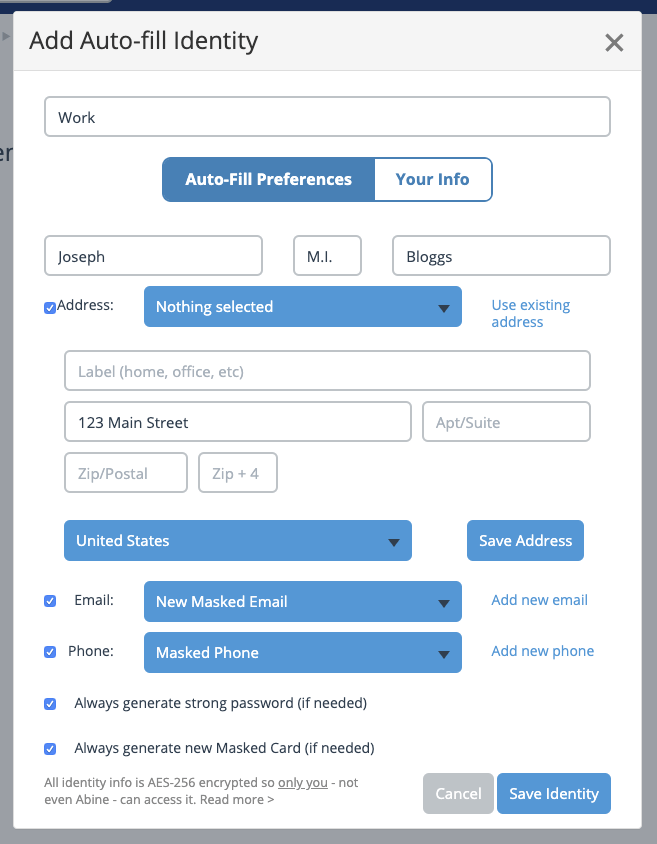 Auto-fill Addresses allow you to enter a different address for home, work and more, and these can be used when filling in forms, say to enter your billing and shipping addresses.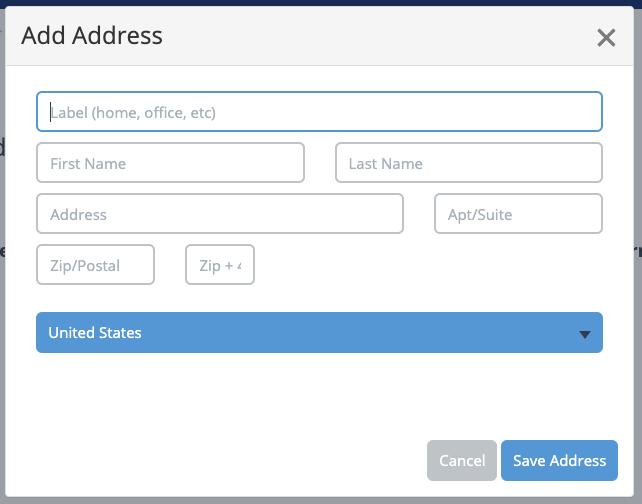 You can do the same with your credit card details. Now whenever you fill in a web form, Abine will automatically type details from the identity you choose.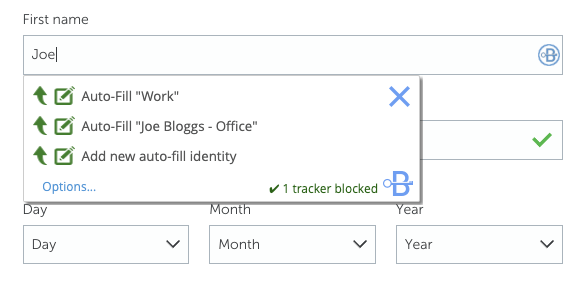 Blur will automatically offer to provide masked email addresses, phone numbers, and credit card details as an alternative to your real details whenever possible.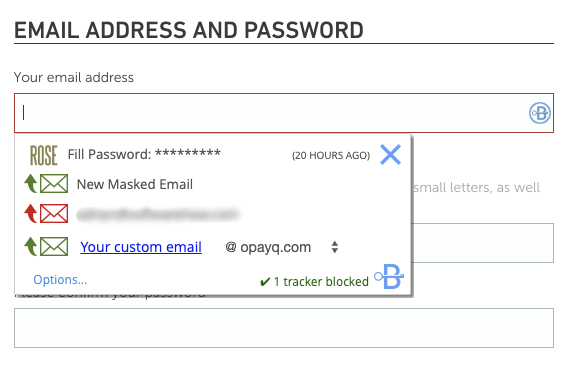 My personal take: Automatic form filling is the next logical step after using Blur for your passwords. It's the same principle applied to other sensitive information and will save you time in the long run. Blur goes beyond other password managers by allowing you to mask your real phone number, email address and credit card number, protecting you from fraud and spam, as we'll discuss more below.
5. Mask Your Identity for Better Privacy
Let's have a brief look at those privacy features. I said earlier in this review, if you live outside of the United States some features won't be available to you.
The first feature is blocking ad trackers, and this one's available to everyone worldwide. Advertisers, social networks, and data collection agencies make money by recording your online activity and selling your data to others, or using it to advertise to you directly.
Blur actively blocks them. For each website you visit, the Blur toolbar button in the browser displays how many trackers it detected and blocked.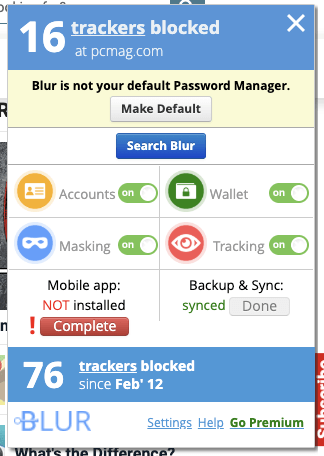 The remaining privacy features work by masking your real personal details. Instead of providing your real email address, phone number and credit card number, Blur can provide you with an alternative every time.
We'll start with the one that works for all users around the world and won't cost you any extra money: masked email. Instead of giving your real email addresses to web services you may not trust, Blur will generate a real, alternative one, and forward emails sent to that address to your real one temporarily or permanently.
Masked phone numbers do the same thing with call forwarding. Blur will generate a "fake" but working phone number that will last as long or as short as you require. When anyone calls that number, the call will be forwarded to your real number.
But because of the nature of phone numbers, this service isn't available to everyone worldwide. It's not available to me in Australia, but outside of the United States it's currently available in the following countries:
Austria,
Germany,
Belgium,
Denmark,
Finland,
France,
Ireland,
Italy,
Netherlands,
Poland,
Portugal,
South Africa,
Spain,
Sweden,
United States,
United Kingdom.
Finally, masked credit cards save you from having to give your real card number out, and have a built-in credit limit that will stop you from being overcharged.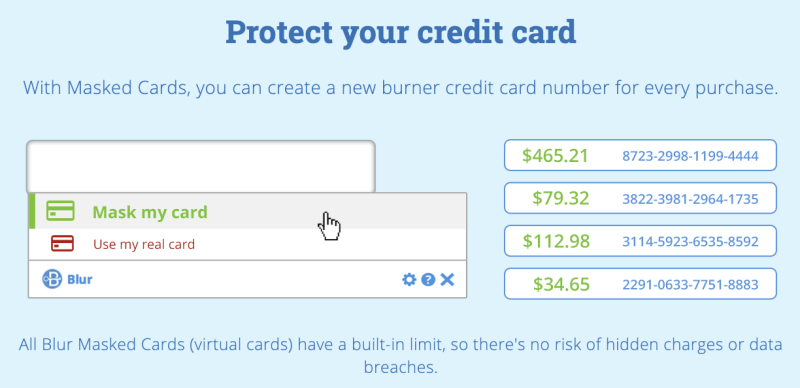 If you're interested in privacy, you may like to know that Abine offers a second service, DeleteMe, which will remove your personal information from search engines and data brokers, and is covered in a separate review.
My personal take: Blur's privacy features are what makes it stand apart from other password managers. Tracker blocking stops others from gathering and selling your online activity, and masking protects you from fraud and spam because you won't have to give your real phone number, email address or credit card number out.
Reasons Behind My Review Ratings
Effectiveness: 4/5
Abine Blur includes most of the basic features users need from a password manager but lacks some advanced features that other apps offer. It makes up for this by providing excellent privacy features, but these are not available to everyone worldwide.
Price: 4/5
Blur Premium starts at $39/year, which is comparable to other password managers that offer additional features. This price includes masked email addresses and phone numbers (for some countries). Masked credit cards cost extra, up to $99/year.
Ease of Use: 4.5/5
Blur's web interface is straightforward, and the browser extension is easy to install and use. The app's masking features are well-integrated, and masked phone numbers, email addresses, and credit card details are offered automatically when filling in online forms.
Support: 4.5/5
Blur Support is available via email or chat during business hours. Free users can expect a response within three business days, paying users in one. A detailed and searchable online FAQ is available.
Alternatives to Abine Blur
1Password: AgileBits 1Password is a full-featured, premium password manager that will remember and fill in your passwords for you. A free plan is not offered. Read our detailed 1Password review.
Dashlane: Dashlane is a safe, simple way to store and fill passwords and personal information. Manage up to 50 passwords with the free version, or pay $39.99/year for the premium version. Read our full Dashlane review.
Roboform: Roboform is a form-filler and password manager that securely stores all of your passwords and logs you in with a single click. A free version is available that supports unlimited passwords, and the Everywhere plan offers sync across all devices (including web access), enhanced security options, and priority 24/7 support. Read our full Roboform review.
LastPass: LastPass remembers all your passwords, so you don't have to. The free version gives you the basic features, or upgrade to Premium to gain additional sharing options, priority tech support, LastPass for applications, and 1GB of storage. Read our in-depth LastPass review.
McAfee True Key: True Key auto-saves and enters your passwords, so you don't have to. A limited free version allows you to manage 15 passwords, and the premium version handles unlimited passwords. See our full True Key review.
Sticky Password: Sticky Password saves you time and keeps you safe. It automatically fills in online forms, generates strong passwords, and automatically logs you into the websites you visit. The free version gives you password security without sync, backup, and password sharing. Read our full Sticky Password review.
Keeper: Keeper protects your passwords and private information to prevent data breaches and improve employee productivity. There are a wide variety of plans available, including a free plan that supports unlimited password storage. See our full Keeper review.
You can also read our detailed guides of the best password managers for Mac, iPhone, and Android for more free and paid alternatives.
Conclusion
Abine Blur is a little different than the other password managers I reviewed. It doesn't include all the features we've come to expect, such as: password sharing, using folders and tags to organize passwords, secure document storage, or password auditing (though it does warn of re-used passwords).
Instead, it focuses on user privacy. In fact, it's better to think of Blur as a privacy service with password management added than the other way around.
Like LastPass, Blur is web-based. Chrome, Firefox, Internet Explorer (but not Microsoft Edge), Opera, and Safari are supported, and iOS and Android mobile apps are available. The free plan looks relatively useful and includes a 30-day trial of Premium. It includes: encrypted passwords, masked emails, tracker blocking, auto-fill. But it doesn't include sync. Because it's web-based, you should be able to access your passwords from a browser on all of your computers, but they won't be sent to your mobile devices. For that, you'll need to subscribe to a Premium plan.
Premium includes everything from the free version, plus masked (virtual) cards, masked phone, backup, and sync. Two payment options are available: Basic $39 per year, Unlimited $14.99 per month, or $99 per year.
Basic plan subscribers will have to pay an additional fee for masked credit cards, while the Unlimited plan includes them in the price. Unless you are paying $60/year for these, the Basic plan makes sense. When downloading the free version you'll be asked to enter your credit card details in case you subscribe in the future. It's easy to miss, but you can click "Add card later" at the bottom of the screen.
Abine Blur is best for those living in the United States. International users may not even be able to purchase a premium subscription directly from the company since Abine performs an AVS (Address Verification Service) check on every transaction to prevent fraud. They may be able to sign up successfully through the mobile app instead but will encounter a second problem: they won't be able to use all of the premium features.
Users outside of the US won't be able to use masked credit cards, and masked phone numbers are only available in 16 other countries outside of the US (15 in Europe, plus South Africa).
So, what's your thought on this Blur review? Leave a comment and let us know.