How do you handle all of your passwords? Do you scribble them on scraps of paper, keep them short and simple, or use the same one each time? Bad idea! Let me introduce you to a category of software that promises to make your life easier and more secure at the same time: the password manager.
Bitwarden and LastPass are two of the best free apps, and allow you to store an unlimited number of passwords on all of your devices. Which one gives you the best value for no money? This comparison review should give you the answer.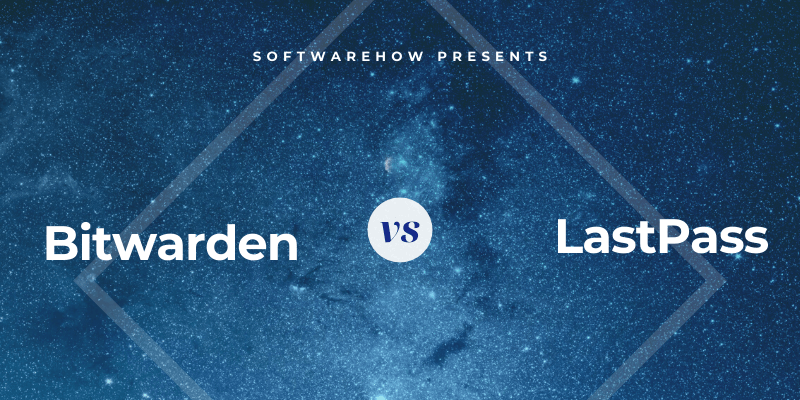 Bitwarden is a free and open-source password manager that's easy to use, will store and fill in all of your passwords and sync them to all of your devices. A Premium subscription plan gives you file storage, priority customer support, and additional security options.
LastPass is more popular, and also offers a full-featured password manager with a workable free plan. Paid subscriptions add features, priority tech support, and extra storage. Read our full LastPass review for more.
Bitwarden vs. LastPass: Head-to-Head Comparison
1. Supported Platforms
You need a password manager that works on every platform you use, and both apps will work for most users:
On the desktop: LastPass. Both work on Windows, Mac, and Linux. LastPass also works on Chrome OS.
On mobile: LastPass. Both work on iOS and Android. LastPass also supports Windows Phone.
Browser support: Tie. Both work on Chrome, Firefox, Safari, and Microsoft Edge. Bitwarden also works on Vivaldi, Brave, and Tor Browser. LastPass also works on Internet Explorer and Maxthon.
Winner: LastPass, but it's close. Both services work on most popular platforms, and LastPass supports more additional platforms than Bitwarden.
2. Filling In Passwords
Both applications allow you to add passwords in a number of ways: by typing them in manually, by watching you log in and learning your passwords one by one, or by importing them from a web browser or other password manager.
Once you have some passwords in the vault, both apps will fill in your username and password when you reach a login page. LastPass will do this automatically, while you need to first click the browser extension icon when using Bitwarden.
LastPass has an advantage: it lets you customize your logins site-by-site. For example, I don't want it to be too easy to log in to my bank, and prefer to have to type a password before I'm logged in.
Winner: LastPass. It lets you customize each login individually, allowing you to require that your master password be typed before logging into a site.
3. Generating New Passwords
Your passwords should be strong—fairly long and not a dictionary word—so they are hard to break. And they should be unique so that if your password for one site is compromised, your other sites won't be vulnerable. Both apps make this easy.
Bitwarden can generate strong, unique passwords whenever you create a new login. You can customize the length of each password, and the type of characters that are included.
LastPass is similar. It also lets you specify that the password is easy to say or easy to read, to make the password easier to remember or type when necessary.
Winner: Tie. Both services will generate a strong, unique, configurable password whenever you need one.
4. Security
Storing your passwords in the cloud may concern you. Isn't it like putting all your eggs in one basket? If your account was hacked they'd get access to all your other accounts. Fortunately, both services take steps to ensure that if someone does discover your username and password, they still won't be able to log into your account.
You log in to Bitwarden with a master password, and you should choose a strong one. For additional security, the app uses two-factor authentication (2FA). When you try to log in on an unfamiliar device, you'll receive a unique code by email so you can confirm that it's really you logging in. Premium subscribers get additional 2FA options.
If you still feel uncomfortable about allowing someone else to store your passwords online, Bitwarden offers another option. They allow you to host your password vault yourself using Docker.
LastPass also uses a master password and two-factor authentication to protect your vault. Both apps offer a sufficient level of security for most users—even when LastPass was breached, the hackers were not able to retrieve anything from users' password vaults.
Be aware that as an important security step, neither company keeps a record of your master password, so they won't be able to help you if you forget it. That makes remembering your password your responsibility, so make sure you choose a memorable one.
Winner: Bitwarden. Both apps can require that both your master password and a second factor be used when signing in from a new browser or machine. Bitwarden goes further by allowing you to host your own password vault.
5. Password Sharing
Instead of sharing passwords on a scrap of paper or a text message, do it securely using a password manager. The other person will need to use the same one as you do, but their passwords will be automatically updated if you change them, and you'll be able to share the login without them actually knowing the password.
Password sharing with Bitwarden's free plan is inferior to LastPass. Sharing is limited to two users (you and another person) and two collections. If sharing passwords is important to you, LastPass is the better choice, or you could choose one of Bitwarden's paid plans. The Family Plan allows you to share passwords within the family, and Team and Enterprise plans allow you to share passwords with unlimited users.
By contrast, LastPass's free plan allows you to share a password with as many people as you like.
Paid plans add folder sharing. You could have a Family folder to which you invite family members and folders for each team you share passwords with. Then, to share a password, you'd just add it to the right folder.
The Sharing Center shows you at a glance which passwords you've shared with others, and which they've shared with you.
Winner: LastPass. Its free plan allows for unlimited password sharing.
6. Web Form Filling
Besides filling in passwords, Bitwarden can automatically fill in web forms, including payments. There's an Identity section where you can add your details, as well as Card section to hold your credit cards and accounts.
Once you've entered those details into the app, you can use them to fill in web forms. As with passwords, you initiate this by clicking the browser extension icon, then choosing which details you want to use to fill the form in.
LastPass can also fill in forms. Its Addresses section stores your personal information that will be filled in automatically when making purchases and creating new accounts—even when using the free plan.
The same goes for the Payment Cards and Bank Accounts sections.
When you need to fill in a form, LastPass offers to do it for you. While Bitwarden requires you to click the browser extension at the top of the window, LastPass adds an icon to each field, which I find more intuitive. At least the way you use Bitwarden is consistent.
Winner: Tie. Both apps can fill in web forms, though I found LastPass a little more intuitive.
7. Private Documents and Information
Since password managers provide a secure place in the cloud for your passwords, why not store other personal and sensitive information there as well? Bitwarden includes a Secure Notes section to facilitate this.
If you pay for the Premium plan, you also receive 1 GB of storage and the ability to attach files.
LastPass offers more. It, too, has a Notes section where you can store your private information.
But you can attach files to these notes (as well as addresses, payment cards, and bank accounts, but not passwords) even with the free plan. Free users are allocated 50 MB for file attachments, and Premium users have 1 GB.
Finally, there's a wide range of other personal data types that can be added to LastPass, such as driver's licenses, passports, social security numbers, database and server logins, and software licenses.
Winner: LastPass. It allows you to store secure notes, a wide range of data types, and files.
8. Security Audit
From time to time, a web service that you use will be hacked, and your password compromised. That's a great time to change your password! But how do you know when that happens? It's hard to keep track of so many logins, but password managers will let you know.
Bitwarden's password auditing for free users auditing is quite basic. When editing a specific login, you can click on the checkmark next to your password (when using the web interface only), and the app will check whether it's compromised by a data breach.
Premium subscribers get something closer to what LastPass offers. Using the web interface they can access:
An exposed passwords report,
A reused passwords report,
A weak passwords report,
An unsecured websites report,
An inactive 2FA report,
A data breach report.
LastPass' Security Challenge is similar to what Premium Bitwarden users can access, except all of the features are included in the free plan.
It will go through all of your passwords looking for security concerns including:
compromised passwords,
weak passwords,
reused passwords, and
old passwords.
LastPass also offers to automatically change your passwords automatically. This relies on the cooperation of third-party websites, so not all are supported, but it's a useful feature nonetheless.
Winner: LastPass. Both services will warn you of password-related security concerns—including when a site you use has been breached—but LastPass does this for free users, while Bitwarden users need to subscribe to the Premium plan. LastPass also offers to change passwords automatically, though not all sites are supported.
9. Pricing & Value
Bitwarden and LastPass are unique in the password manager world in that they offer a workable free product for individuals—one that doesn't limit either the number of passwords or the number of devices you can use. In that, they tie.
Both products also offer subscription plans that offer premium features, as well as plans for families, teams, and businesses. Bitwarden's prices are significantly less expensive. Here are the paid subscription plans offered by each company:
Bitwarden:
Families: $1/month,
Premium: $10/year,
Teams (includes 5 users): $5/month
Enterprise: $3/user/month.
LastPass:
Premium: $36/year,
Families (6 family members included): $48/year,
Team: $48/user/year,
Business: up to $96/user/year.
Winner: Bitwarden. While both companies offer excellent free plans, Bitwarden's paid subscriptions are significantly cheaper.
The Final Verdict
Today, everyone needs a password manager. We deal with too many passwords to keep them all in our heads, and typing them manually is no fun, especially when they're long and complex. Both Bitwarden and LastPass allow you to manage your passwords for free.
While both apps are quite similar, LastPass certainly has the edge. It supports more platforms, offers additional options for customizing each login, is much more capable when sharing passwords, and allows you to store a greater range of reference material. It also offers full-featured password auditing for free and offers to change your passwords automatically. We found it the ultimate free solution in our Best Password Manager for Mac review.
But Bitwarden is also a great app and has a few advantages of its own. Some users will appreciate its open-source philosophy and the fact that it allows you to host your own password vault. It supports a few web browsers that LastPass doesn't: Vivaldi, Brave, and Tor Browser. And its paid plans are significantly more affordable than LastPass's.
Still having difficulty deciding between LastPass and Bitwarden? I recommend you take advantage of their free plans and 30-day free trial periods to see for yourself which best meets your needs.