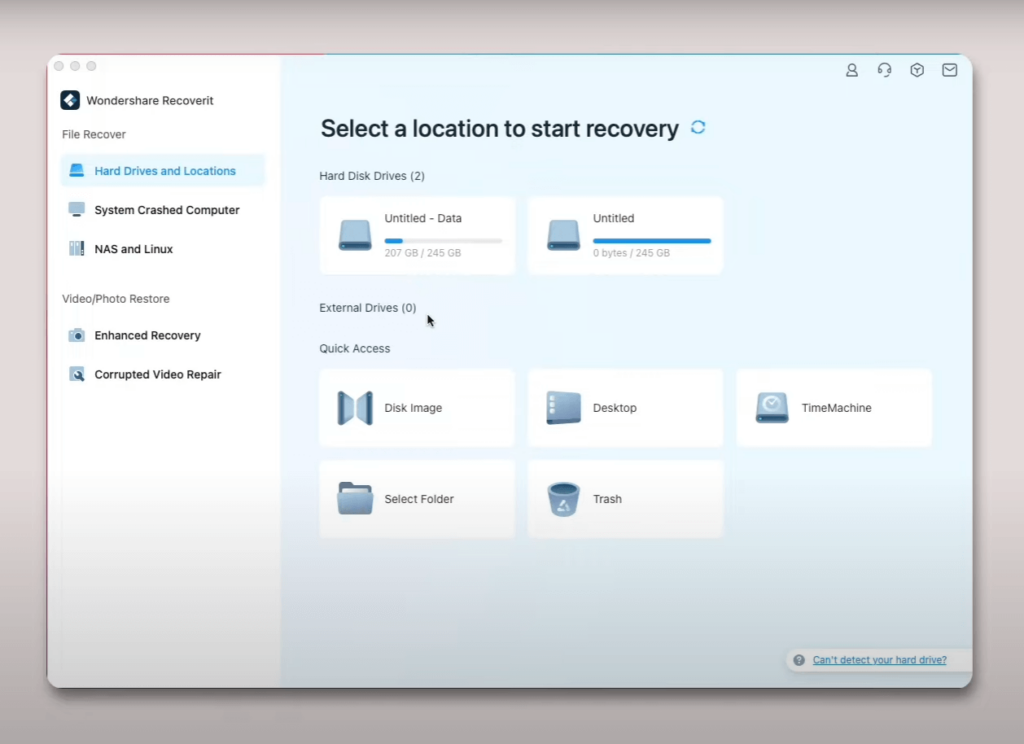 Wondershare Recoverit
Features: Has everything it needs to do the job, including deleted file recovery, formatted recovery, partition recovery, and corrupted video repair.
Pricing: Starting at $69.99/year (unlimited file recovery for 1 PC). Pricing for the Mac versions is slightly more expensive.
Ease of Use: A user-friendly interface and clean design make this software beginner-friendly, meaning you'll be able to use it without any training.
Support: From a detailed support page to a helpful support team and video tutorials, customers have access to plenty of resources.
Summary
Wondershare Recoverit is a data recovery tool formerly known as Wondershare Data Recovery. This software is surprisingly powerful and does an excellent job of recovering various file types and formats from numerous storage devices. It features an easy-to-use interface with a clean, approachable design that is more doable for newbies.

However, while this tool has a solid success rate, it's important to understand its limits and that it cannot recover any and all file types on all storage devices, as some situations require the personalized expertise of a professional.

What I Like: Simple interface, with no guessing on what you need to do to recover lost files.

What I Dislike: It works well recovering most file types and deletion processes (formatting, accidental deletion, etc.), but it is hit or miss.
Is Recoverit safe to use?
Yes, this software is safe to use as long as you download and purchase it from the official site.
We installed the program on a Windows PC and a MacBook Pro, scanned it with various antivirus programs, and didn't find any problems with it.
Also, since the software works with files already deleted or inaccessible, none of your other files will be affected. However, this program could use a decent amount of your disk's reading and writing speeds which might affect other programs you're simultaneously using. I recommend closing all your running programs first before using Recoverit.
How much does Recoverit software cost?
This software starts at $69.99 for Windows and $79.99 for Mac for one year of unlimited file recovery on one PC. The cost rises for different tasks or multiple devices.
Recoverit has a solid success rate, but, like most tools, it isn't 100% effective. It may not be able to recover all files from all storage devices.
How long does Recoverit take to recover files?
Scan time mainly depends on your hard drive's read speed and the number of files to be scanned. The faster your read speed is and the fewer files there are to be scanned, the faster the scanning will be.
For example, a quick scan of my PC's Recycle Bin took around five minutes. It found 70 GB of files. The Deep Scan, on the other hand, took around two hours to finish. Note: your results will vary depending on the number of files to be scanned and the speed of your hard drive.
Why Trust Me for This Review
Hi, I'm Jon, an experienced techie, engineer, and software tester. I enjoy learning the ins and outs of software and operating systems alike. I've been using and testing all types of software for nearly 15 years. One common software I always need in my back pocket is a data recovery tool.
In my tech journey, I've battle-tested several data recovery tools for both Mac and Windows. Deleting your documents, photos, videos, messages, and other files by mistake could be detrimental to your career or personal life, making a data recovery solution worth its weight in gold. Thankfully, this is where Recoverit really shines.
Wondershare Recoverit is an easy-to-use data recovery tool that works with over 1,000 file types and 2,000+ storage devices. It can recover your files from accidental deletes, drive formatting, partition formatting, damage, virus attacks, resets, and more. If you have data you need to recover, Recoverit can help.
Wondershare Recoverit is a handy tool designed to help consumers recover lost and deleted files from various storage devices. While powerful, it has its limits.
Here are a few key features of the Wondershare Recoverit software, along with my personal take on each feature.
Supports 1000+ File Types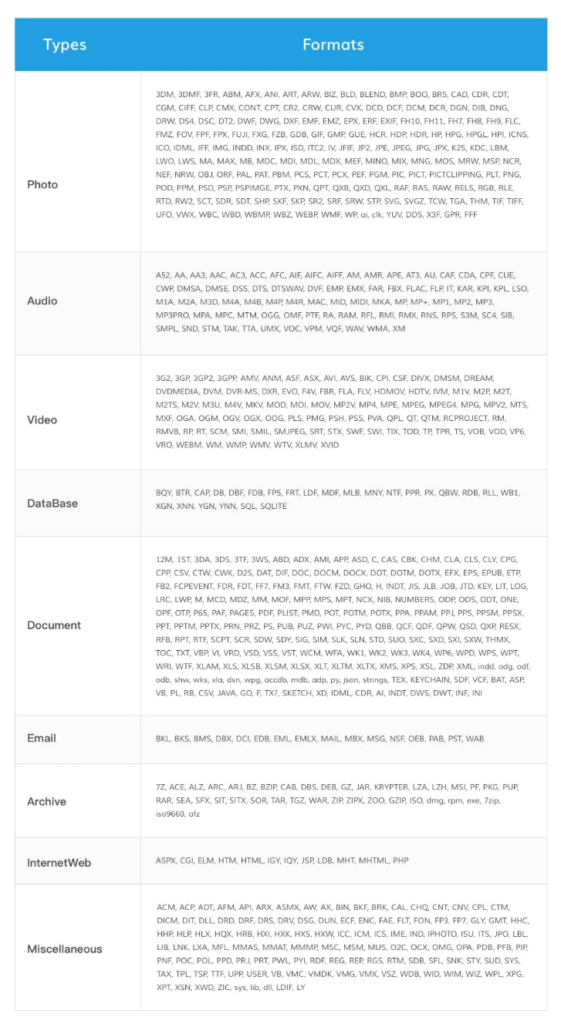 This tool is designed to tackle all sorts of file types and formats, covering over 1,000 files and file systems. You can recover various types of documents, including DOC, DOCX, XLSB, XLT, and POT.
It covers various photo types, including CRW, JPEG, and PNG, numerous video types, including AVI, M4V, and WMV, and various audio files, such as AAC, ALAC, and FLAC. Aside from that, it covers various archives and other files, including WAR, ZIP, and ABD.
My personal take: Sometimes, finding a data recovery tool that can handle various file types is tricky, but this software does it all, from standard video and document files to various random files.
Deleted File Recovery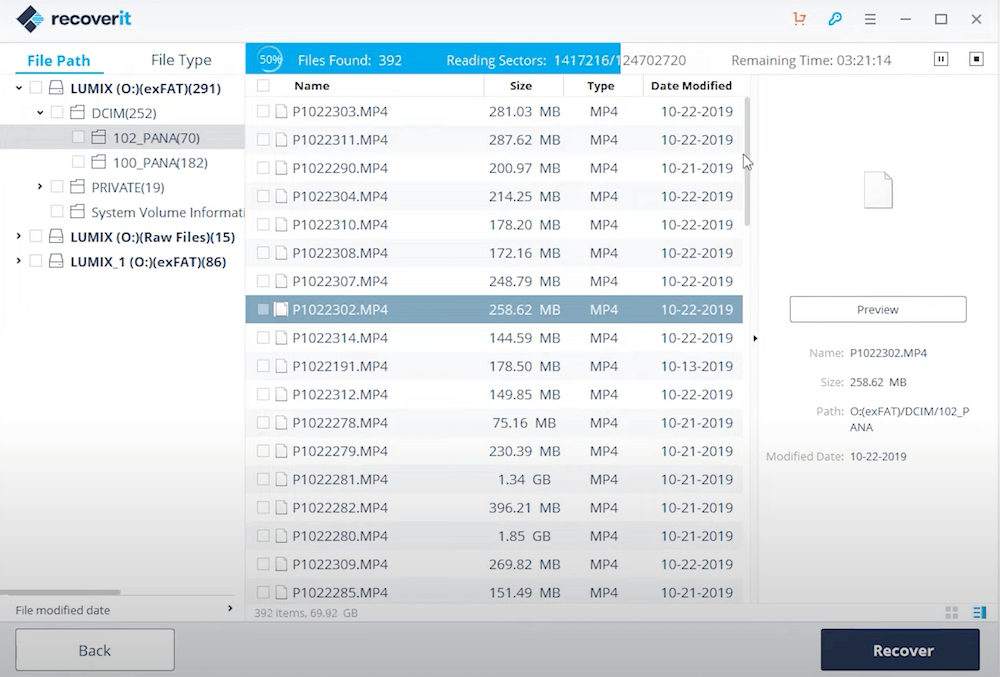 This tool allows you to recover deleted files, regardless of whether you accidentally deleted them or intentionally deleted them before you realized they were important. It works when you've pressed "Shift + Del" without backing up the data, deleted files by right-clicking on the menu and pressing "Delete," and even emptying the trash without a backup.
Recoverit can restore almost all photos, audio, videos, databases, documents, emails, archives, web, and more file types– supporting over 1,000 file types in total. It's easy enough to use but can take some time to recover the files you've since deleted.
My personal take: Like many tools, this recovery tool is effective to a point. In my tests, it was able to recover all the files it claims to support. It does a good job at recovering them but there are some file types it can't recover.
Formatted Recovery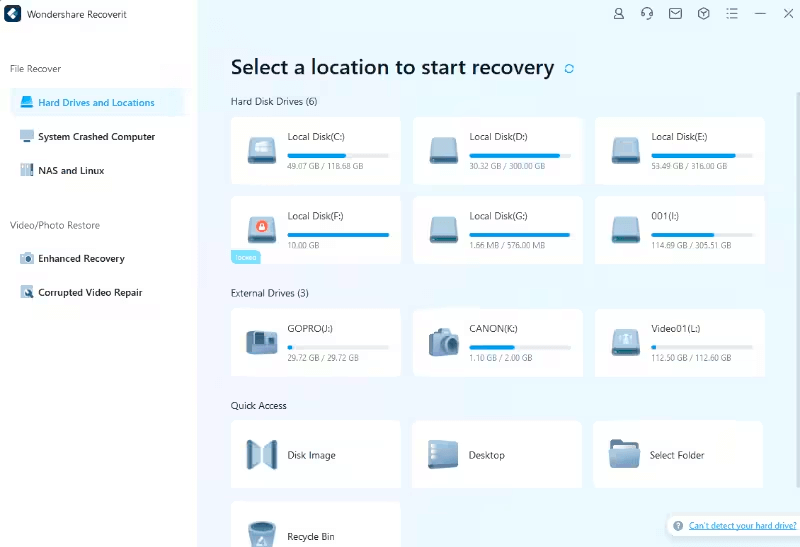 With the formatted recovery tool, you can recover things you accidentally reformatted, restoring them to their original condition. It works when RAW disk or Windows asks if you'd like to reformat and you select "Yes," when you launch the disk initialization when the digital storage media initially connects, and when you unexpectedly format a hard drive or another storage device.
Like the deleted file recovery tool, this tool is easy enough to use but can take a few minutes to restore the data to its original format.
My personal take: The tool works well enough but isn't always 100% effective. For example, in my tests, two out of three times, Recoverit recovered all the files deleted in the reformatting. However, one of the times, it didn't recover a few files.
Partition Recovery
In addition to recovering deleted and reformatted data, this tool offers partition recovery. It is designed to handle damaged, corrupted, and inaccessible hard drives, deleted partitions on hard disks, lost partitions due to various reasons, and improper partitioning or partitioning errors.
To use it, you'll need to launch the software and select the lost partition. The program will scan the partition in search of lost files, eventually presenting the data it finds. From here, you can select the files you want to restore.
My personal take: This tool offers straightforward usage and is powerful enough to recover various files, although it doesn't always recover everything you lose.
Recovery After Various Issues
Sometimes, the culprit behind your data loss may not fall into a box checked in the other features. However, Recoverit may still offer recovery services that can cover the culprit. It can handle computer viruses, unexpected power cuts, reinstalled Windows systems or hard drive crashes, and fragmented hard disk partition structures or invalid partition tables.
The cause for the data loss may impact the steps you need to follow for recovery, but its tools might be a viable solution.
My personal take: The success rate of this tool is dependent on what caused the data loss, as some causes behind data loss wreak more havoc than others.
Reasons Behind My Ratings
Features: 4.0/5
The features of this software are everything you might expect from a file recovery tool. While they're nothing overly fancy, and you won't find extra and unnecessary bells and whistles, this tool's features provide plenty of oomph to recover your data in most scenarios. However, it doesn't work 100% of the time.
The recovery tools are powerful, but like most software, there's no guarantee of success, as some files are harder to recover than others.
Pricing: 4.5/5
The prices on Wondershare Recoverit are approachable, especially considering the impressive power this tool offers. For the Windows version, it costs $69.99 per year for unlimited file recovery on one PC, $79.99 per year for computer crash recovery on one PC, and $89.99 per year for file recovery and repair for two PCs.
For Mac, it costs $79.99 per year for unlimited file recovery for one Mac, $99.99 per year for computer crash recovery for one Mac, and $119.99 per year for file recovery and repair for two Macs. Even though the prices climb for computer crash recovery and multiple device plans, the pricing is affordable. Plus, you get excellent support, so we think the price is well worth it.
There is a free download available for you to try it out before purchasing. However, it is only available for Windows.
Ease of Use: 4.5/5
This software is easy to use and features a user-friendly interface. The layout is straightforward, with everything clearly labeled and easy enough to find. Plus, it walks you through every step when you open it.
When you begin the recovery process, the software guides you through it with helpful text instructions. Recovering your data entails a quick and simple three-step process. First, you'll scan the data storage for lost or deleted files. Next, you'll preview the files the tool finds. Choose the "Recover" option for files you want to restore, and, just like that, you have your lost files back in your possession.
The process can take a while, especially if you're going through a deeper search. However, since you can complete the process from the comfort of your home, you can complete the process whenever works best for you.
Support: 4.5/5
Wondershare's support for its Recoverit software doesn't disappoint. When using unfamiliar software or troubleshooting the complexities of lost files, you might encounter a problem every now and again. Luckily, Wondershare has an extensive page dedicated to common problems users may encounter.
The support page is split into categories to help you find what you need, each section outlining answers to common problems and instructions to repair common hiccups. But if the answers don't cover your questions, you can always take the problem to the company's customer service team, which offers around-the-clock support and usually responds within 24 hours.
Recoverit Alternatives
Time Machine: For Mac users, a built-in program called Time Machine can help you restore your files. Time Machine must have made a backup of your files beforehand to restore them. Check it out if you haven't done so yet!
Stellar Data Recovery: Also available for both Windows and Mac. It works pretty well. It's a bit more expensive but it's worth the money. We reviewed the Mac version and you can check it out.
Recuva: Recuva is only available for Windows. The program is widely considered to be the usual go-to program for file retrieval. The best thing about it is that it's completely free for personal use.
PhotoRec: Another free file recovery tool available for Windows, Mac, and Linux. It's a very powerful program and is regularly updated, although it uses a command-line interface that might make it difficult to use.
You can also read our detailed roundup reviews of the best Windows and Mac data recovery software for more options.
Back up your files: Data rescue programs can only do so much until your deleted files are overwritten. They are the last resort to recovering your important files, and we hope that you won't need to go through the struggle of recovering deleted files. That's why we always make a copy of important files to a different drive or use a cloud backup service. Backing up your data should be a mandatory practice.
Final Verdict
Wondershare Recoverit is a handy tool designed to recover deleted or lost files from various types of storage devices. It offers ample power to scan the abyss shrouding your lost files, dragging them back to the spotlight, and allowing you to recover them.
While this tool is powerful, it's essential to recognize its limits. It might not be suitable for all recovery tasks, so if you attempt to recover your files to no avail, it might be best to consult an expert.
What tools do you use to recover your lost data on Windows and Mac? Let us know in the comments below.