Backup is important. Your documents, photos and media files are valuable, and the last thing you want is to lose them forever when disaster strikes. So you need a plan, and offsite backup should be part of your strategy. An online cloud solution is the easiest way to make that happen.
Online backup services automatically upload your documents to secure cloud storage, which remains available from anywhere, 24-7. Ideally, as you add and edit files, each change should be backed up in real-time. Then, whether your computer dies, or fire, flood or earthquake takes out your whole building, your files will be protected.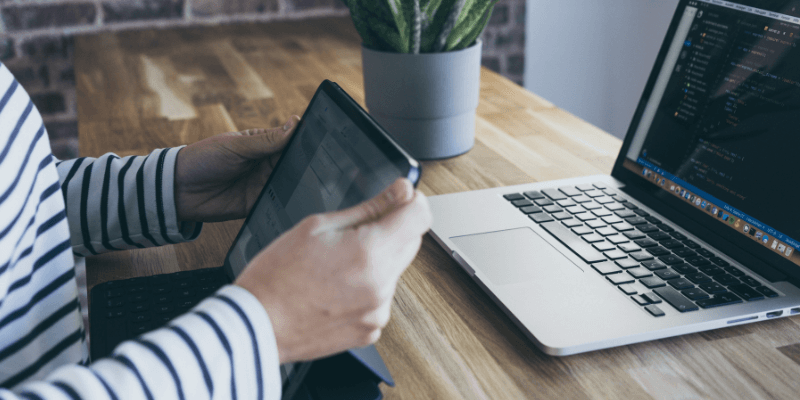 Because you are storing your documents on someone else's servers, there is a cost associated with online backup. And there is also some risk, so you'll need assurance that your files will remain private and secure.
Everyone's needs are different, so one plan won't suit everyone.
Do you need to backup an unlimited amount of data from your main computer? You'll find Backblaze good value.
Do you have a collection of Macs and PCs that all need to be backed up separately? IDrive may suit.
Do you need to back up an office full of computers in the most secure way? Then have a look at SpiderOak ONE or Acronis Cyber Protect.
While we believe that cloud solutions are the best way to achieve an offsite backup, they're not the only way. So we'll cover a range of alternatives at the end of the review.
Why Trust Me for This Cloud Backup Review
Hi, my name is Adrian Try, and I know the importance of offsite backup from personal experience. From my early days of computing I was pretty good at keeping regular backups, but one day I discovered the hard way that I wasn't being thorough enough.
Our home was broken into on the day our second child was born. A day of excitement ended badly. Our computers were stolen, and so was the pile of floppy disks I'd backup my computer onto the previous night.
It hadn't occurred to me that some problems that can take my computer out can also take out my backups. That's not just theft, but also natural disasters, including fire, flood and earthquake that won't just destroy my computer, but the whole building and everything in it. Including my backup. You need to keep a backup of your computer at a different address.
A cloud backup service is the easiest way for most people to achieve this. Over the years as I've worked as a tech support guy, IT manager and computer consultant, I've studied the alternatives and made recommendations to a number of businesses and organizations.
In this roundup, I'll do the same for you. I'll take you through the options, and help you to choose a suitable online backup solution for your business or home office.
Who Should Get This
I saw a sign at my dentist this week: "You don't need to brush all of your teeth, only the ones you want to keep." The same goes for computers: you only need to back up the files you can't afford to lose. For most of us, that's all of them.
Everyone should back up their computers. Technology has a strong reputation of failing just when you need it not to. The risk of losing your valuable data if you don't is almost guaranteed. Part of your backup strategy should be offsite backup.
Cloud backup services offer the most convenient way to achieve that, but since they come at a cost, that's something you need to weigh up for yourself. Plans start around five dollars a month, which is affordable for most people.
If you already store your important documents in Dropbox or iCloud or Google Drive, you get some of the benefits of online backup already. And if that's a supplement to a thorough local backup system rather than your only line of defense, it's better than nothing.
But if you truly value your data, and don't want to find yourself where I was after the birth of my second child, we strongly recommend online backup. You spent countless hours on some of those documents. You have photos that are irreplaceable. You have reference information you can never get back. You can't afford to lose them.
Best Online Backup Services: Our Top Picks
Best Value Option: Backblaze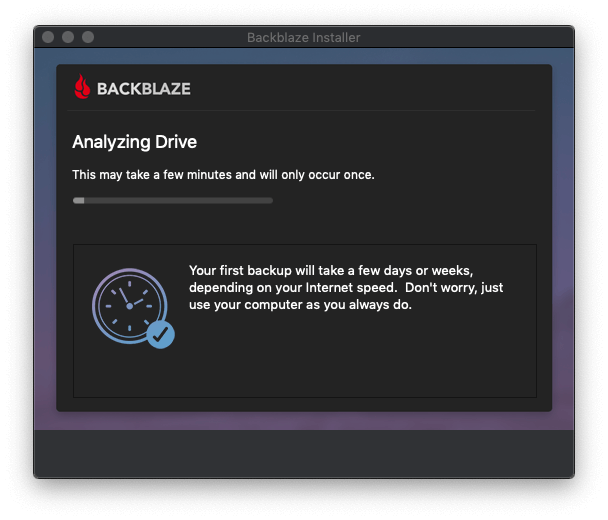 Backblaze has the best value plan out there, offering unlimited storage for just $7 a month. That's hard to beat if you're a single user backing up one computer. It's also the easiest way to back up your computer to the cloud. Read our full Backblaze review.
If you have multiple computers, you pay that same $7 for each one, so at some stage, other services will start to make more sense. For example, 10 computers will cost $70 each month, or $700 each year.
Compare that with IDrive, where you pay just $59.62 a year for unlimited personal computers (or $74.62 if you're a business with multiple users). You'll have to live with less storage, but 2TB should be enough for most businesses.
Storage capacity: unlimited
Restore options: download zip file, FedEx flash drive or hard drive (additional cost for personal plan)
Supported platforms: backup from Mac or Windows, file access from iOS or Android
Cost: $7/month/computer (or $70/year)
Free: 15-day trial
For most people, Backblaze is the most affordable online backup service out there, and in addition offers unlimited storage, an easy-to-use app, and totally automatic backups.
I found it very easy to set up—I just needed to provide an email address and password to create an account. After downloading and installing the Mac application, it started analyzing my MacBook Air's 128GB SSD to work out what to back up. It makes the choice for you (though you are able to tweak its choice in a limited way), and backs up everything it considers important.
Though I was warned that the first backup could take days or weeks, initial progress was very fast. Backblaze seemed to back up the smallest files first, so 93% of my files were quickly uploaded. But they only accounted for 17% of my data. The remaining 83% took almost a week.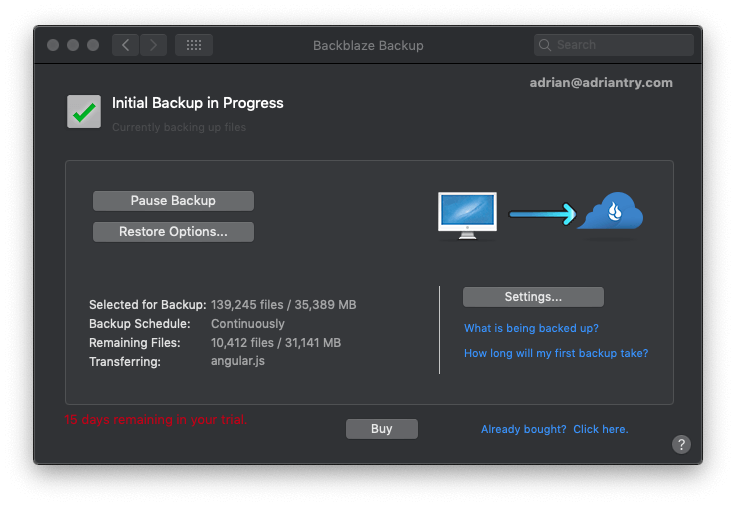 Once your initial backup is complete, Backblaze continuously uploads any changes you make to your drive totally automatically—it's "set and forget". Just be aware that "continuous" doesn't mean instant. It may take two hours or so for the app to notice and back up your changes.
This is one area where IDrive is better—it uploads changes almost instantly. Another is that iDrive keeps previous file versions forever, while Backblaze only keeps them for four weeks.
I don't have an external drive attached to this computer, but if I did, Backblaze can back it up as well. That makes the app more useful to people with multiple computers. Just back them all up locally to a drive connected to your main computer, and Backblaze will store that backup in the cloud too.
Like many online backup services, Backblaze uses SSL to secure your data while it is being uploaded, and gives you the option of encryption to secure it while it's being stored on the servers. That's a good thing and sufficient security for most users.
However, the company's goal is to balance security with ease of use, so if security is your absolute priority, there are a few better alternatives out there. That's because you need to provide them with your private key in order to restore your data. While they claim to never save your key to disk and to discard it once it is used, several of their competitors never require you to do this.
Best for Multiple Computers: IDrive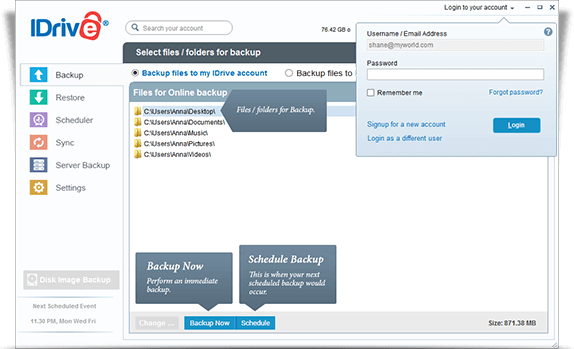 IDrive's personal plan is only marginally more expensive than Backblaze, but offers you a different balance of benefits. While they offer 2TB rather than unlimited storage, you're not limited to backing up a single computer. In fact, you can back up every Mac, PC, iOS and Android device you own. A personal 5TB plan costs $74.62 yearly.
The small business plan also costs $74.62 per year, and you'll need it if you need support for multiple users or have a server to back up. But it only includes 250GB. Each additional 250GB costs about the same again, and many larger businesses will find this reasonable value for unlimited users, computers, and servers.
IDrive is also more configurable than Backblaze, so may suit you if you like to tweak your settings. You also may find the initial backup is performed a little faster.
Visit the Official IDrive Site to sign up, or read our detailed iDrive review and this comparison of IDrive vs Backblaze to learn more.
Storage capacity: 2TB
Restore options: over the internet
Supported platforms: Mac, Windows, Windows Server, Linux/Unix, iOS, Android
Cost: from $52.12/year (unlimited computers)
Free: 5GB storage
IDrive takes a little more work to set up than Backblaze because it doesn't make all of the decisions for you. Some users will find this a benefit. And despite the extra "tweakability", IDrive remains easy to use.
The other factor that distinguishes this app from our winner is the amount of storage available. IDrive offers 2TB rather than Backblaze's unlimited storage. But you are not limited to a single computer—iDrive will allow you to use this space to back up every computer and device you own.
This is where you need to make a choice. Do you want unlimited storage, or to back up an unlimited number of computers? No online storage service offers both in the same plan.
Like Backblaze, IDrive is easy to use and backs up your data automatically, including any attached hard drives. In addition, it offers a file sync service and disk image backup. And it keeps the last 10 versions of each file forever.
IDrive encrypts your data on the server, but like Backblaze requires that you provide your encryption key to restore your data. While that's not a major concern for many users, if you are looking for the ultimate security for your data—where it's impossible for anyone but you to access your files—we recommend our next pick below.
Best Secure Option: SpiderOak One

SpiderOak costs more than double what Backblaze and iDrive charge for online backup. Like iDrive, it will back up all of your computers and devices, and also sync your files between them. What's different is that you don't need to share your encryption key with the company to get your data back. If you absolutely cannot compromise the security of your files, you'll find that is worth paying for.
Storage capacity: 2TB
Restore options: over the internet
Supported platforms: backup from Mac, Windows and Linux, access your files from iOS and Android
Cost: $12/month ($129/year) for 2TB, other plans are available
Free: 21-day trial
SpiderOak One is similar to iDrive in many ways. It can back up 2TB of data (for a single user) from an unlimited number of computers, though a number of plans are available offering 150GB, 400GB, 2TB and 5TB of online storage space. It's also more configurable than Backblaze, and can sync your files between computers.
But it costs more than both of those services. In fact, more than twice as much. But you're also getting something that neither of those providers is offering: security through true end-to-end encryption.
While Backblaze and iDrive also encrypt your backups with a private key, you're required to hand over your key in order to restore your files. While they don't keep the key longer than needed, if security is your absolute priority, it's better not to have to hand it over at all.
Other Paid Cloud Backup Services
There are quite a number of similar services that didn't make our Top 3. While they will cost you more, they may be still worth considering if they offer what you need. Here are a number of competitors.
1. Carbonite Safe Basic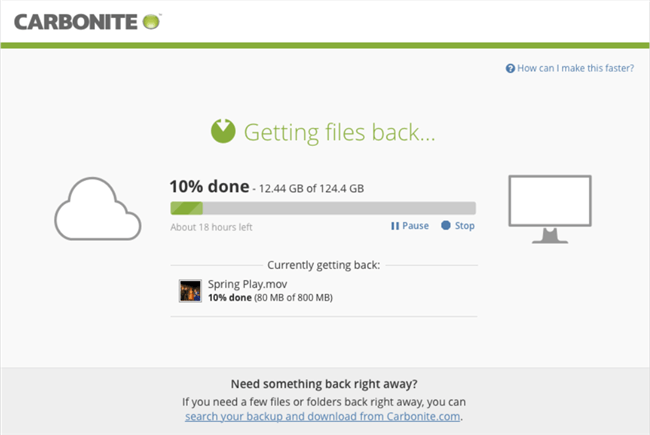 Storage capacity: unlimited
Restore options: over the internet, courier recovery service (Premium plan only)
Supported platforms: Mac, Windows
Cost: $71.99/year/computer
Free: 15-day trial
Carbonite offers a range of plans that include unlimited backup (for one computer) and limited backup (for unlimited computers). Incremental backup and bandwidth throttling are available, and the software is more configurable than Backblaze (but less than IDrive). However, it has some limitations those services don't: it won't back up large files or external drives.
PCWorld rates Carbonite the "most streamlined" online backup service. I don't disagree if you use Windows, but it's not true otherwise. The Mac version has significant limitations, for example, it does not offer versioning or a private encryption key. So it's great on a PC, but not so great on Mac.
2. Livedrive Personal Backup
Storage capacity: unlimited
Restore options: over the internet
Supported platforms: Mac, Windows, iOS, Android
Cost: 5GBP/month, or about $6.50/month (one computer)
Free: 14-day free trial
Livedrive is an alternative to Backblaze's unlimited backup of a single computer. With plans starting at 5GBP a month, Livedrive costs around $78 a year, which is still quite affordable. A Briefcase syncing service is available separately or as an add-on.
The effective desktop and mobile apps offer good performance, but the app doesn't offer scheduled and continuous backups like Backblaze does.
3. Acronis Cyber Protect (Formerly True Image)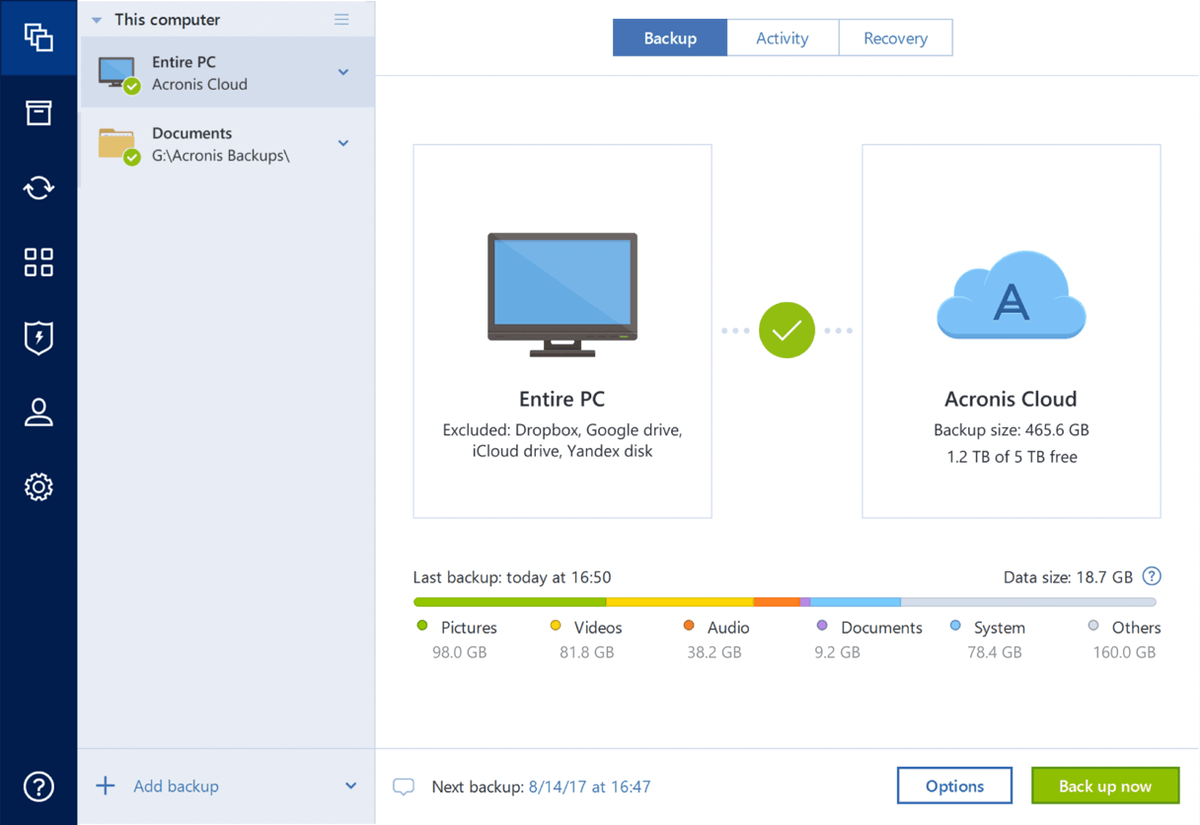 Storage capacity: 1TB
Restore options: over the internet
Supported platforms: Mac, Windows, iOS, Android
Cost: $99.99/year (each additional TB costs $39.99)
Free: 30-day free trial
Like SpiderOak, Acronis Cyber Protect (formerly known as Acronis True Image) offers end-to-end encryption, so it's another good option if security is your highest priority. If you need 2TB of storage, it costs a little more than SpiderOak—$139.98/year rather than $129—but other plans are actually less expensive. Business plans are also available.
The desktop interface is excellent. Fast full operating system backups are performed, file syncing is available, and the software can also perform local disk image backups. But it doesn't back up external drives.
4. OpenDrive Drive
Storage capacity: unlimited
Restore options: over the internet
Supported platforms: backup from Mac and Windows, access your files from iOS and Android
Cost: $9.95/month (one computer, additional computers cost more)
Free: 5GB
OpenDrive aims to be an all-in-one cloud storage solution, offering unlimited storage, backup, sharing, collaboration, even notes and tasks. They see their storage service as an alternative to using USB disks, and allow you to easily access your data from the web, and even stream audio and video.
The software is not as easy to use as its competitors, and does not offer continuous backup like our top recommendations do.
5. BigMIND Cloud Backup by Zoolz
Storage capacity: 1TB
Restore options: over the internet
Supported platforms: Mac, Windows, iOS, Android
Cost: $12.99/month for the Family Plus plan (5 users, 15 computers
Free: 5GB
BigMIND is similar to OpenDrive, where you don't just back up your files online, but can also access them, and even stream your content "like Netflix". Artificial intelligence is used to make your files easier to find, but it doesn't include all of the backup features of our top recommendations. Home and business plans are available.
6. ElephantDrive Home
Storage capacity: 1TB
Restore options: over the internet
Supported platforms: Mac, Windows, Linux, iOS, Android
Cost: $9.95/month (for 10 computers) plus $10 for each additional TB
Free: 2GB
ElephantDrive offers limited storage for multiple devices (up to 10) and multiple users (up to three sub-accounts), which may justify the extra cost to some businesses. External drives, servers and network attached storage devices will also be backed up. The business plan increases these limits, but also doubles the cost per terabyte.
7. Degoo Ultimate
Storage capacity: 2TB
Restore options: over the internet
Supported platforms: Mac, Windows, iOS, Android
Cost: $9.99/month (unlimited computers)
Free: 100GB (one computer)
Deego is a barebones backup service with an emphasis on photos and mobile. The desktop apps aren't great, there are no scheduling options, and no continuous backup. What does it have going for it? 100GB is better than anyone else offers for free. You may even be able to add an additional 500GB to this through referrals. But unless price is your absolute priority, I recommend you look elsewhere.
8. MiMedia
Storage capacity: 2TB
Restore options: over the internet
Supported platforms: Mac, Windows, iOS, Android
Cost: $15.99/month or $160/year (other plans available)
Free: 10GB
MiMedia aims to be a personal cloud for your photos, videos, music and document, and (like Deego) has an emphasis on mobile. However, backup features are lacking.
Free Alternatives
You'll get the best online backup experience by paying for one of the services we recommend. They are affordable and worthwhile. But here are a few ways to get an offsite backup without paying anything.
Free Online Backup Plans
Many of the companies mentioned already in this review offer free backup plans with limited storage. These plans don't offer enough to back up your entire computer, but may be sufficient for your most valuable files.
Deego offers the most storage for free—a huge 100GB—but it won't give you the best experience. There are no scheduled or continuous backup options, and while you have instant access to the mobile apps, you'll have to refer 10 friends to use the service on the desktop.
Providers with free plans:
Degoo gives you 100GB for free
MiMedia gives you 10GB for free
iDrive gives you 5GB for free
Carbonite gives you 5GB for free
Keep a Backup Drive at a Different Location
Online cloud backup is the easiest way to obtain an offsite backup of your data. The other way is to use your feet. Or car.
If you have a spare external hard drive sitting around, consider using it to make an extra backup of your drive (I recommend a disk image), and store it at another location. You'll need to bring the drive back to your office to make backups from time to time, or consider rotating several backup drives, so that one is in your office for backup, while the other is somewhere else. Swap the drives every week or so.
Use Your Own Online Storage
The online backup plans we've reviewed are integrated solutions, and include both the online storage space for your files, and the app to get them there. But what if you already have some cloud storage? In that case, you just need the right app to get your data there.
Google is one place you may have free storage—up to 15GB for free for each account you have. Google provides a Backup & Sync app to use your free Google Drive space to back up your computer.
If you have your own website, you're already paying for online storage, and probably not using all of it. Check the "fair use" policy of your hosting provider to see if you can use some of that space for backup. I did this successfully for years. Alternatively, if you're already paying for storage on Amazon S3 or Wasabi, that can be used for backup too.
Use a free app like Duplicati to perform cloud backup to your online storage. They're reliable and have the features you need.
Run Your Own Backup Server
You could—but probably shouldn't—run your own offsite backup server. This strategy can become a major headache, so unless you love doing geeky things, or you're a large business with IT staff, I recommend you leave the headaches to the professionals and go with one of our recommendations above.
Unless you have a suitable spare computer lying around, it won't be free. And even if you do, you may find yourself spending money to get everything set up.
How We Tested and Picked These Online Backup Services
Storage Capacity
The amount of storage offered varies widely between the available plans. While some plans offer terabytes or even unlimited storage, others offer significantly less for the same price. There seems little point in considering them.
Plans that offer unlimited storage are for one computer only. Plans for an unlimited number of computers offer limited storage. You need to choose which is best for your own situation.
Reliability and Security
You are entrusting your valuable data to the backup service, so it's important that it's reliable and always available. Most providers offer business plans for an additional cost, offering a perceived increase in reliability along with other benefits. You need to weigh up whether the benefits are worth the cost and add value to your business.
You also need your data stored privately and securely with a personal encryption key, so others can't view and access your files. Ideally, even the company's engineers shouldn't be able to access your data.
Backup Speed
Your initial backup will take quite some time, and while you want to minimize this as much as possible, you don't want to cripple your network while it's happening, or exceed your internet provider's data limits. The backup software should make use of bandwidth throttling to avoid this, and most do.
Once the initial backup is complete, you want the backups to be performed regularly and quickly, to minimize the possibility of data loss. Continuous backups upload files as soon as they are added or modified, and deduplication and delta encoding ensure that the amount of data uploaded is minimized, saving time and bandwidth.
Backup Limitations
Is the backup limited to one computer, or are you able to back up a number (possibly an unlimited number) of computers and devices? Is it for one person, or a number of users? Does it backup external drives, network attached storage and servers? Does it back up mobile devices? Finally, some plans have limits on the type and size of files you can back up.
Restore Options
Restoring your data after a disaster is something you hope to never have to do, but it's the whole point of the exercise. What restore options does the provider offer? How fast and how easy is the restore? Do they provide the options of mailing a hard drive containing your data, to maximize the speed of the restore?
Ease of Use
Is the backup software provided easy to set up and use? Does it make backups easy to perform, by offering features like automatic and continuous backup?
Supported Platforms
Which platforms are supported? Mac? Windows? Linux? Which mobile operating systems? There's not much to be concerned about here. Every solution we cover is available for both Mac and Windows. Many of them also offer mobile backup, or file access for mobile (iOS and Android).
Cost
The cost of online backup varies considerably among providers, and business plans, in particular, can become quite expensive. For a terabyte or more of storage, plans range between $50 and $160 a year. There is no compelling reason to venture outside of the lower end of the scale.
Here are the yearly costs of the services we include for a terabyte or more of storage:
Backblaze Unlimited Backup $50.00/year for unlimited storage (one computer)
IDrive Personal $52.12/year for 2TB (one user, unlimited computers)
Carbonite Safe Basic $71.99/year for unlimited storage (one computer)
LiveDrive Personal Backup $78.00/year for unlimited storage (one computer)
OpenDrive Personal Unlimited $99.00/year for unlimited storage (one user)
Acronis Cyber Protect $99.99/year for 1TB (unlimited computers)
ElephantDrive Home $119.40/year for 1TB (10 devices)
Degoo Ultimate $119.88/year for 2TB (unlimited computers)
SpiderOak One Backup $129.00/year for 2TB (unlimited devices)
Zoolz BigMIND Cloud Backup $155.88/year for 1TB (5 computers)
MiMedia Plus $160.00/year for 2TB (multiple devices)
Final Tips about Cloud Backup
1. Offsite backup is important.
Having an effective computer backup strategy is essential, and we've already covered the best software you can use to keep your Mac or PC safe. But as I said, some disasters are bigger than others, and won't just destroy your computer, but maybe your building or even worse. So it's good to keep a backup of your computer in a different location.
2. Online backup services are different to file syncing services.
You might already use Dropbox, iCloud, Google Drive, or similar, and assume they achieve an online backup of your files. But while helpful, these services are inherently different and don't offer the same level of protection that dedicated backup services do. If you want an effective backup, you'll need to use software designed to achieve just that.
3. The initial backup can be very slow.
Backing up hundreds of gigabytes over an internet connection will take time—days or possibly weeks. But it only has to happen once, then you're just backing up what's new or altered. And slow might be a good thing. If your files were being uploaded at maximum speed, your network could be crippled for weeks. Most online backup services cap the speed of the upload to avoid this.
4. Restoring is also slow.
Restoring your files over the Internet is also slow, which may not be ideal if your computer died and you need your files back in a hurry. You can't afford to wait weeks before you can get back to work.
Ideally, you'll be able to restore from a local backup, which is much quicker. If not, many providers can courier you a hard drive of your backup.
5. There are a lot of plans and providers to wade through.
Most online backup providers offer a wide range of plans. These vary with the amount of online storage space you can use, the number of computers you can back up, whether or not you can back up mobile devices, and the number of users who can access the system.
Most offer both personal and business plans, where the business plans tend to cost more and offer less storage, but offer an extra layer of security and reliability, and support additional users and computers. A plan that suits one person's home office with a single computer may not suit an office with a dozen people and computers.