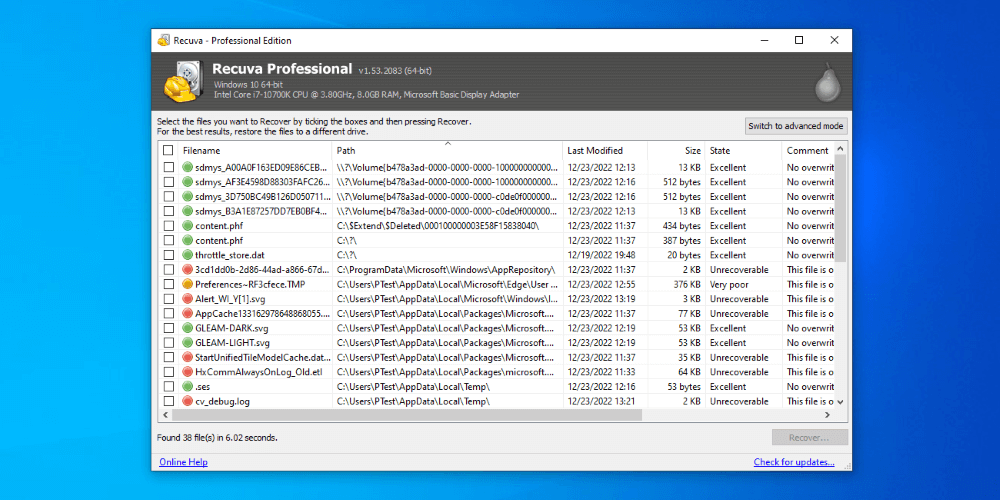 Recuva Professional
Features: Quality file recovery solution with an easy-to-use guided recovery process.
Price: $19.99 at the time of writing for a one-year license – with a claim that you'll recover your files or get your money back!
Ease of Use: Solid guided recovery process which makes this as simple as possible to use.
Support: Robust help center and user community – the license includes priority support via email.
Summary
Recuva is one of the old mainstays of commercial data recovery software available on the internet. It's been around for about 15 years. What it does, it does well: it scans a drive for deleted files or partitions, finds them, and recovers them (if possible). 

It lacks the bells and whistles of some other commercial solutions. Of course, it wouldn't be fair to compare Recuva or any other commercial solution to substantially more expensive corporate solutions which are much more feature-rich and perform significantly better. 

That being said, for most users, it would be difficult for me to recommend anything else to address the panicked moments after deleting the only draft of a dissertation or the only copies of beloved family pictures or videos. In most cases, this will recover the files you need immediately after what seems like a permanent event. 

What I Like: Easy to purchase, install, and the ability to hit the ground running with a straightforward wizard.

What I Don't Like: Recovery rate is just ok and functionality outside of the wizard takes some learning to understand. Also, who doesn't have live support these days?
Is Recuva Pro Worth It?
I think so! It depends on whether you want the additional features provided by Recuva Pro, like support and virtual disk recovery options. Some also claim that Recuva Pro has a better recovery rate than Recuva free. More on that below.
Is Recuva Software Good?
Recuva is a solid option for deleted file recovery. It has a solid success rate and will be able to recover many files regardless of type.
Is Recuva Safe?
I believe so. Privorm's products have been around for a couple of decades and have stayed the test of time because of their safety and solid performance. Honestly, you'll need this software when the worst has come to pass for your critical information and it's not going to make things worse.
What is the Difference Between Recuva and Recuva Pro?
The primary differences are threefold: 1) virtual hard drive support, 2) automatic updates, and 3) premium (email) support. Some claim that Recuva Pro has a better recovery rate than Recuva free. More on that below.
Is there Something Better than Recuva?
I don't think so. There are other Windows data recovery tools that perform as well, though they may perform better under some situations. Those products are TestDisk, Glary Utilities, GetDataBack, and EaseUS Data Recovery Wizard. Some of those have flashier interfaces or can be run from USB sticks.
Why Trust Me for This Review
I'm Aaron. I work in information security and information technology. Data recovery and data forensics make up a portion of the work I do on a regular basis and I'm always on the lookout for quality tools.
I didn't start out in information security or information technology, though. I'm originally a lawyer by trade. I've had a lifelong passion for technology, though, and I think that's what propelled me into my current career.
I'm fascinated by technology and love tinkering. I also love helping people. One of the most common issues people in my life come to me with is data recovery needs. It makes sense: people don't trust the cloud and they don't make backups so of course the one copy of whatever they need will eventually be lost.
That's where tools like Recuva come in. I've also used other tools and, despite that, keep coming back to Recuva for my personal needs.
In-Depth Review of Recuva Pro
Recuva Pro is a data recovery tool that's designed to be straightforward and effective to recover deleted files. While I wouldn't use it for deep forensic work, I do use it to recover files for family and friends when they unintentionally delete files.
Let's dive into some of Recuva Pro's key features and my thoughts about them.
Recuva Wizard
Unless you've opted not to show the wizard on startup, when you run Recuva, you'll be greeted by the wizard.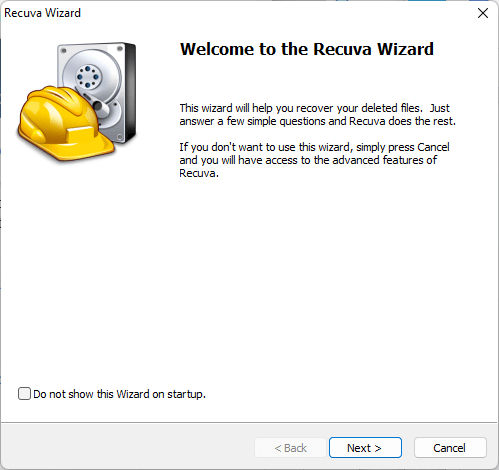 Recuva claims that it will help recover deleted files. Let's see how they do that.
Step 1 asks you to select the types of files you're looking for.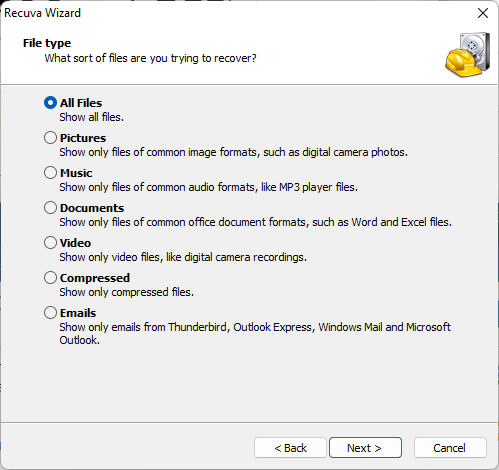 The options are fairly robust, highlighting the most common file types people use on a regular basis. It also provides an All Files option in case the deleted file isn't one of the common file types. You can later come back to this screen, so you're not forced into one option or another permanently.
Step 2 asks whether or not you want to create a disk image.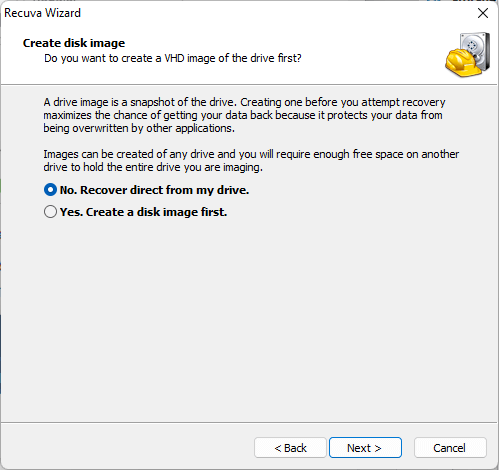 As the wizard explains, this is a very helpful tool, especially for the disk on which your operating system is installed. Your operating system writes information to disk constantly. If it overwrites the information you're trying to recover, then it's more difficult to recover (and can eventually become impossible) with commercially available tools.
Step 3 lets you specify where the file to be recovered was.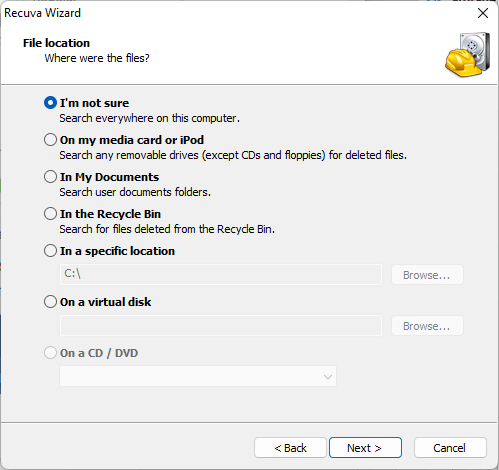 By specifying a location, Recuva can help you save time. If you don't know where the file is, though, Recuva will let you scan all locations. That will be a time-consuming search and return numerous results you'll have to filter through, but can be helpful, especially if you don't know where the info was located.
Step 4 lets you search and you can also specify whether or not to conduct a deep scan.
Recuva explains the difference between a regular scan and a deep scan where a regular scan looks at the Master File Table (MFT) to find the file location and retrieve it, if possible, while a deep scan looks at both the MFT and every block on the drive. It's a belt-and-suspenders approach but results in a higher rate of discovery for lost files.
My personal take: I like the Recuva Wizard approach. It's simple, straightforward, and therefore easy to use. Even if you're not very technically adept, the plain language instructions clearly guide you through the recovery process. What I don't like is the almost binary nature of the requests. Either you use a common location and file type or you have to search everything. To be fair, giving too much flexibility turns this from a simple and straightforward guide into a general search prompt. 
Recovery Layout
The recovery layout can be overwhelming. Unfortunately, that's just a product of the tool. It's one of the reasons a good wizard is critical to guide and limit scans. The less scanned, the more focused the search, and the fewer other files returned.
Here's an example of what a search on my computer looked like in basic mode: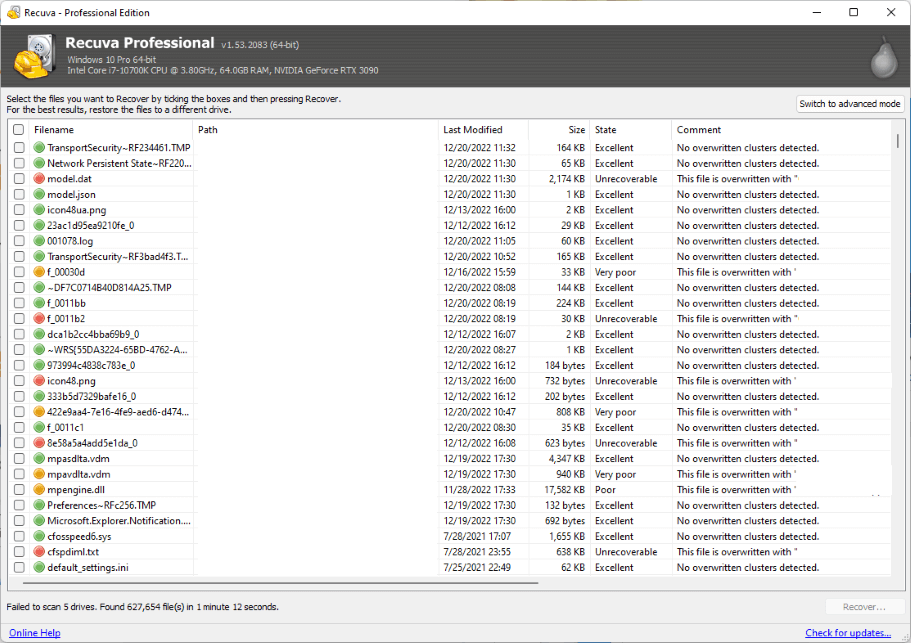 Recuva provides a couple of indications of whether or not your file can be recovered. The first is a stoplight indication to the left of the filename:
Green = recoverable
Orange = difficult to recover
Red = unrecoverable
A more granular scale is also included in the State column.
Helpfully, in my opinion, Recuva also lets you know in the Comment field why the file may not be able to be recovered. It tells you what overwrote some or all of the file.
This is where a deep scan comes in handy. The basic scan only reviews the MFT, which is quickly rewritten. The storage blocks that stored the deleted file may not be overwritten. Running a deep scan also scans those blocks individually.
Recuva also provides additional information in advanced mode. Advanced mode also includes verbose file information, header information in hexadecimal, and a file preview if that's available. Advanced mode also lets you search by filename or path, which can be helpful if you're searching thousands of files.
To recover a file, all you need to do is click the checkbox next to the filename and click the Recover… button at the bottom of the screen. Recuva will let you save the file wherever you specify.
My personal take: I like the layout and simplicity of the recovery screen. While it is overwhelming, that's a product of how many files your computer creates and deletes during normal operation and can be minimized by refining your search. I also like some of the more advanced functionality. It gives insight into whether a file is recoverable or not. I don't like that there isn't more context around the "unrecoverable" tag. Unrecoverable in Recuva just means that Recuva can't recover it, not that it's unrecoverable. It's unlikely that another consumer-grade solution would work (don't let that stop you from trying, though) but corporate-level tools may work. If the file's worth hundreds or thousands of dollars to recover, then there's still hope that you may get your data back. 
Free vs. Paid Recovery
Some claims have been made about Recuva's free versus paid performance. I wanted to try that out. To compare, I set up two VMs on the same PC with the same configuration. On one, I installed Recuva Free. On the other, I installed Recuva Pro. I ran tests on both separately.
For the tests, I ran the following:
Worst-case scenario: 5.5GB of files consisting of 5,021 files in 411 folders. The drive was completely formatted by writing over every block.
Frustrating scenario: 456MB of files consisting of 4,447 files in 290 folders. The drive was formatted using the Windows Quick Format function, which wipes the Master File Table. This is the same as just deleting large numbers of files.
Overwrite scenario: I transferred one hundred photos to the flash drive and deleted them. I then transferred one hundred different photos to the flash drive.
Conclusions (Regular Scan Recovery % / Deep Scan Recovery %):
Recuva Free
Overwrite
Frustrating
Worst-case
0% / 4%
0% / 96%
0% / 0%
Recuva Pro
Overwrite
Frustrating
Worst-case
0% / 4%
0% / 96%
0% / 0%
As you can see, both the free and paid versions perform identically in my testing. The results were largely expected. Note that my override test took place on a drive where I'd expect the same blocks to be overwritten if free. In real-life use, that number will be much higher.
My Personal Take: It's refreshing to see a full-featured solution for free as a trial and doesn't limit the solution based on certain factors (for example, EaseUS Data Recovery Wizard won't work if you have more than a couple of drives attached to a computer). These limited data points aren't completely dispositive but highlight that for common use cases, you don't need to buy the paid version just for recovery.
Additional Paid Features
I think the additional paid features are a nice touch and contribute nicely to a full-featured $20 recovery package. Automatic updates are convenient, though it's really not that troublesome to check the website for updates every once in a while.
The addition of virtual drive recovery really sets this offering tier aside as a professional offering, as opposed to the free version reserved for laypeople. I've never used it for that before–I treat my virtual machines as completely expendable–but many people don't and having a reliable tool that will recover those disk files is incredibly helpful.
What I find a little questionable is including paid support in this tier. I don't think it's atypical for products like this, but I'd like to see an intermediate tier offering paid support for laypeople who might use the base version of a product like this. The forums and support pages are free, but having that personal interaction helps address unique or difficult-to-describe problems.
Then again, if the market supports this pricing and tiering, who am I to argue?
My Personal Take: I think the $20 price tag is reasonable for the extras you get. They're valuable for professionals and laypeople alike. Since you can use the underlying product for free without substantial performance difference, you know what you're paying for, which is really just additional features and support.
Reasons Behind My Ratings
Features: 3/5
Recuva Pro is a solid consumer-grade data recovery solution. It has good additional features that make the $20 price tag worth it for me. If that isn't worth it for you, the good news is that the free version doesn't have diminished functionality other than the lack of support for virtual machines.
Recuva sits squarely in the space of recovering accidentally deleted user data. It does exactly what it sets out to do. It doesn't do more advanced data recovery or forensics. At that point, you're probably looking for different products at different price points.
Price: 4/5
I think the price is reasonable for what you get and it is very upfront about what you get at each level with Recuva. The $20 price tag covers virtual hard drive support, automatic updates, and personal or priority support.
What I really appreciate about Recuva is that a full-featured version is provided for free. Not full-featured except unless certain uncommunicated conditions are met, or full-featured for a couple of days, and then it stops working. It's truly full-featured without limitation.
It's impressive and refreshing to see such a transparent pricing model.
Ease of Use: 4/5
I think the wizard gets a 5/5 on its own. Its simple and straightforward interface makes it very easy to use, even for laypeople. The developer team did a great job describing each step in plain language, which goes a long way for a product like this.
That wizard then dumps the user into an overwhelming and almost unmanageable file list without any context, which drops this score to a 4/5. The user can figure it out on their own–there's only so much to click–but it would be nice to see some easier and more descriptive UI elements or helpful tips.
Support: 3/5
The community and online support resources are high quality and pretty helpful if you know what you're looking for. There's also a lot of content there. Best of all: it's all free.
What you get for your $20 is the ability to talk 1 on 1 with a real human being who can listen to your problems and help you with them (as long as they're Recuva-related). I think that's a great thing to offer.
That being said, these years everyone's offering some form of live chat support. Email support is good, but feels a little old-fashioned to me.
Final Verdict
Is Recuva Professional worth it? I think so. Recuva is a great option for recovering the errant deleted file and formatted drive. It works well for what it does and I think explains the recovery process well to laypeople and technology experts alike.
If you need additional support or support for virtual disks, I'd say that Recuva Professional is worth it. If you don't then Recuva free provides a full-featured version of the recovery software.
What are your thoughts on this Recuva review? Share your feedback in the comments area below.