With the variety of choices that exist in the market today, it can be challenging to understand the nuance of applications from one software to another.
PaintTool SAI is a high-quality and lightweight painting software, with full digitizer support, and amazing anti-aliased paintings, it provides easy and stable operation. This software makes digital art more enjoyable and comfortable.
Clip Studio Paint Pro (formerly Manga Studio) is a digital drawing software by CELSYS, with the ability to create illustrations, animations, and more.
With tools like 3D models and an active user community, Clip Studio is one of the best software for comic creation. Clip Studio Paint EX offers users additional features for an increased price.
Overall, Clip Studio Paint offers a valuable and unique experience with its integrated brush library downloads, 3D models and drawing figures, animation, and comic-specific tools.
For approximately the same price as PaintTool SAI, these additional features are unbeatable.
My name is Elianna and I've experimented with digital drawing software for over 10 years. As a freelance artist, Art Director, and Character Designer I have experimented with PaintTool SAI, Photoshop, Adobe Illustrator, Procreate, Clip Studio Paint, Krita, GIMP, and more. 
In this article, I will show you the main differences between PaintTool SAI and Clip Studio Paint, and how they meet the needs of different types of artists.
Quick Comparison
Here is a quick overview of the main differences between PaintTool SAI and Krita:
PaintTool SAI
Clip Studio Paint Pro
Affordability
31-day free trial. One-time ~$52 USD license purchase.
$49.99 one-time purchase OR $0.99/month subscription.
Clip Studio Paint EX $219.00
Supported Operating Systems
Windows
Windows, macOS, iOS, Android, Chromebook
Ease Of Use
Easy to use
Moderate learning curve
Drawing Tools
5 main types of brushes
5 main brush engines User-generated content integrated within the app.
Text Tools
Limited Text Editing
Batch Edit Text
3D Models
No support for 3D models
Integrated 3D models
Animation
No support for animation
Clip Studio Paint Pro24 frame animations; Clip Studio Paint EXUnlimited frames
Additional Capabilities
Perspective Tools

Export/Publish Features, Dynamic Perspective Tools etc
PaintTool SAI vs Krita: Detailed Comparison
In this section, I'll go over the details of the difference between PaintTool SAI and Clip Studio Paint, including ease of use, tools/features, compatibility, and pricing.
Supported Operating Systems
Clip Studio Paint offers its users an impressive selection of supported operating systems, with versions for Windows, macOS, iPad, iPhone, Galaxy, Android, and even Chromebook. This variety of modalities gives users the ultimate flexibility across devices.
PaintTool SAI, on the other hand, is only available on PC, supporting Windows 2000/XP/Vista/8/8.1 and Windows 10. Therefore you can only use a Windows PC to run the program, making it a bad time investment for anyone who foresees switching operating systems in the future.
Winner: Clip Studio Paint. Clip Studio offers users endless supported operating systems, allowing for seamless transition over a long period of time.
Ease of Use
Both PaintTool SAI and Clip Studio Paint Pro offer users a robust and seamless interface with a variety of tools and menus. Both programs feature left-aligned brush and tools menus, with Clip Studio's layer panel right-aligned in the default settings, similar to Photoshop.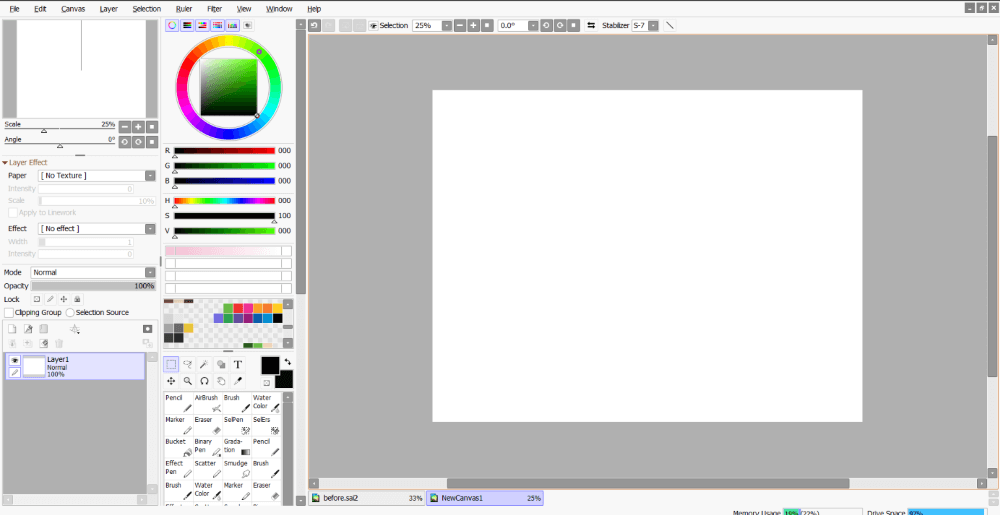 However, Clip Studio Paint Pro offers a wider capability than PaintTool SAI, meaning there are more icons and menus populating the main user interface. For some, this can be confusing, but Clip Studio includes a brief visual tutorial showing the placement of popular tools and functions when you first load the program.
Furthermore, there are additional tutorial videos built into the Clip Studio menu before you even open PAINT, which is a valuable resource for first-time users who want to learn specific skills. Three official "Basic Operations" tutorials exist for Windows/MacOS, tablet, and smartphone versions of the program.
Below, tutorials are categorized by type of art (Character Art, Comics/Manga/Webtoon, Animation, Traditional-Style Art, Concept Art, Design, Feature Spotlight, Youtube/other) useful features, recommended functions, and more.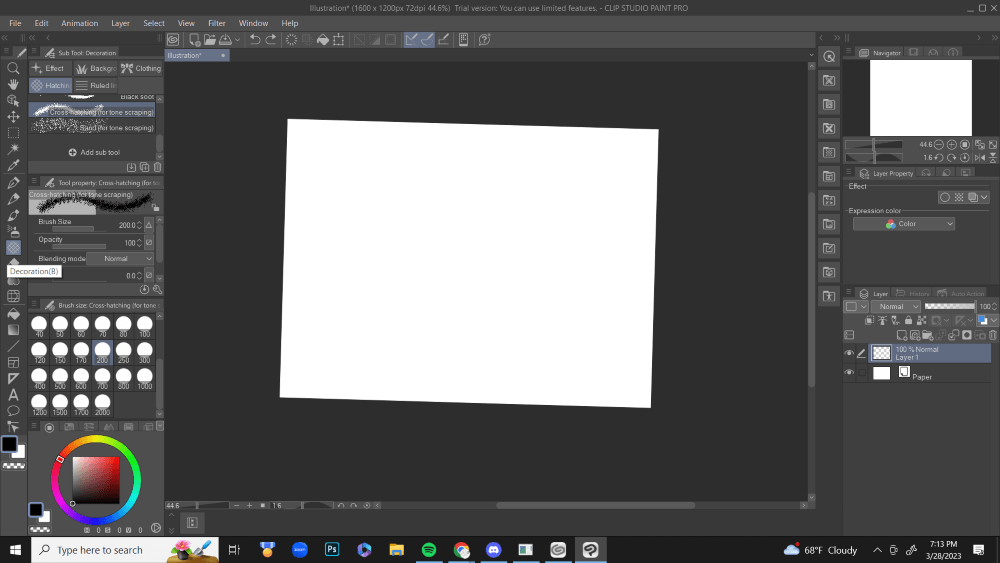 These tutorials make it easy to learn the program without having to search for videos online. While PaintTool SAI does not include any tutorials within the program, its limited capacity makes it straightforward to learn.
Therefore, PaintTool SAI's interface is easier for someone with no experience in digital art to navigate, but Clip Studio's tutorials flatten its learning curve substantially.
Winner: It's a tie. PaintTool SAI's interface is easier for a first-timer due to its limited capability, but Clip Studio's tutorials flatten its learning curve making it accessible to everyone.
Drawing Tools
Upon first glance, Clip Studio Paint offers users four main drawing brush engines, with Pen, Pencil, Brush, and Airbrush sharing similarities to PaintTool SAI. The fifth, Decoration can be likened to a stamp or sticker brush, with unique effects such as Blood, Sparkle, and Rose as a default selection offering.
Both Clip Studio Paint and PaintTool SAI's brush settings share visual similarities, with a separate menu for brush size, with additional settings located on top. The color wheel is also located similarly, with the only difference being that in Clip Studio Paint its default position is at the bottom of the screen instead of the top.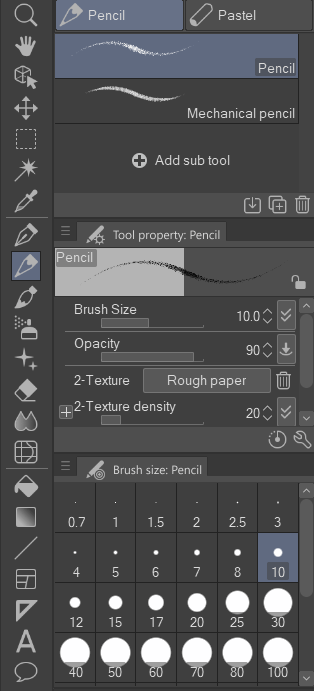 PaintTool SAI also divides its drawing tools into 5 main types of brushes: Pencil, Airbrush, Brush, Watercolor, Marker, and Eraser (this list excludes tools like Gradation which are not stroke dependent).
Within these categories, customization can be achieved in the brush settings menus, which toggle properties like brush size, min. Size, density, min. density, brush form, texture, blending, and persistence.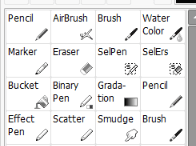 While customization in texture and type of brush can be achieved in both, Clip Studio's user-generator asset library makes it painless to create and add custom brushes to the app, whereas PaintTool SAI user-generated content can be harder to find, and confusing to import.
Furthermore, Clip Studio Paint offers a larger selection of default "decorative" brushes such as screen tones, that are more useful for creating artwork.
Winner: Clip Studio Paint Pro/EX. The ability to search for user-generated brushes as well as the decoration brush set Clip Studio apart from PaintTool SAI.
Text Tools
Clip Studio Paint Pro (formerly called "Manga Studio) is a software with comic creation in mind and therefore possesses a suite of functions making text editing easy. Text size, font, alignment, and direction can be toggled with a few clicks.
Additionally, a variety of text bubbles and tails are integrated into the software, making it easy to experiment.
Clip Studio Paint EX furthers this capability by allowing live edits to batches of text using the story editor. This can make man edits a seamless and quick process.
PaintTool SAI also possesses a text tool, but it is very limited. Text size, color, alignment, and Bold/Italic can be edited, with each "line" of text existing on a separate layer.
To transform text, text layers must be first merged onto normal layers to rasterize them. There are no built-in text bubble features, and no way to batch edit text, making it a tedious process to correct errors.
While I have used PaintTool SAI to create my own webcomics, I have found it clunky and inefficient. Many people who use PaintTool SAI to create comics often add text in another software post-production because of this.
Winner: Clip Studio Paint Pro/EX. PaintTool SAI's text function suits it to illustration, while Clip Studio's text functions are made with sequential art in mind.
Animation
Clip Studio Paint Pro offers users an introductory animation suite, with the ability to create 24-frame animations. Clip Studio Paint EX allows users unlimited frames. With a simple timeline interface, auto-shading technology, vector lines, camerawork, auto-auctions, and the ability to import and export audio, full projects can be completed in one software.
In comparison, PaintTool SAI offers no capabilities for animation so it is only for digital drawing and nothing more.
Winner: Clip Studio Paint Pro/EX. Clip Studio offers its users an impressive animation capability, with the EX version having the ability to create industry-standard professional animations.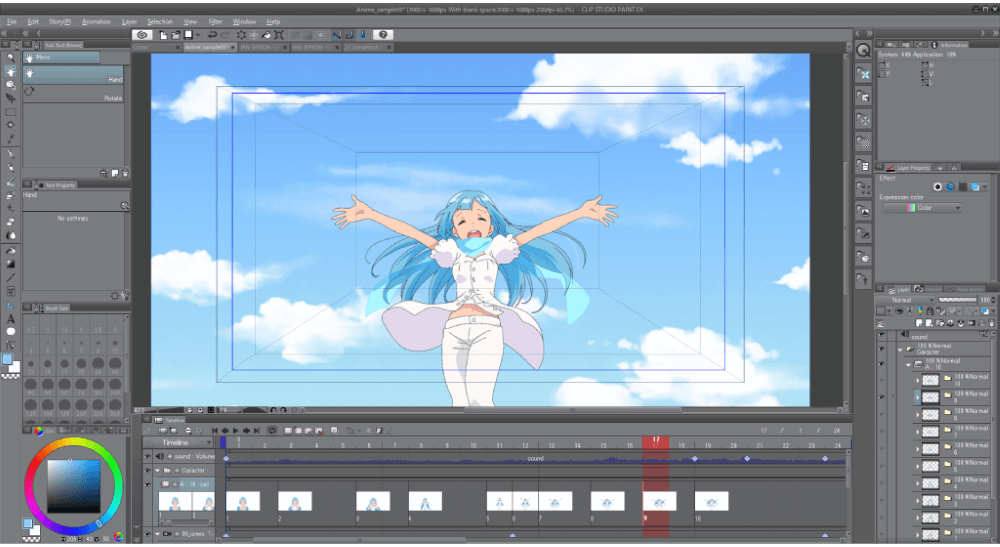 3D Models
Within the Clip Studio suite of programs exists MODELER, a 3D modeling program that is integrated within the Paint app. Users can use pre-made, custom, and user-generated 3D models to create backgrounds for their art or add objects and people to a scene.
Head, body, and hand models are built into Clip Studio, with additional "preset" poses defined for each. This is the ultimate reference resource for visual artists, conveniently placed for efficient use.
User-generated assets can be located easily within the CLIP STUDIO ASSETS tab in the main menu. User-generated content is uploaded frequently by Clip Studio's active community, giving everyone the ability to benefit from new tools.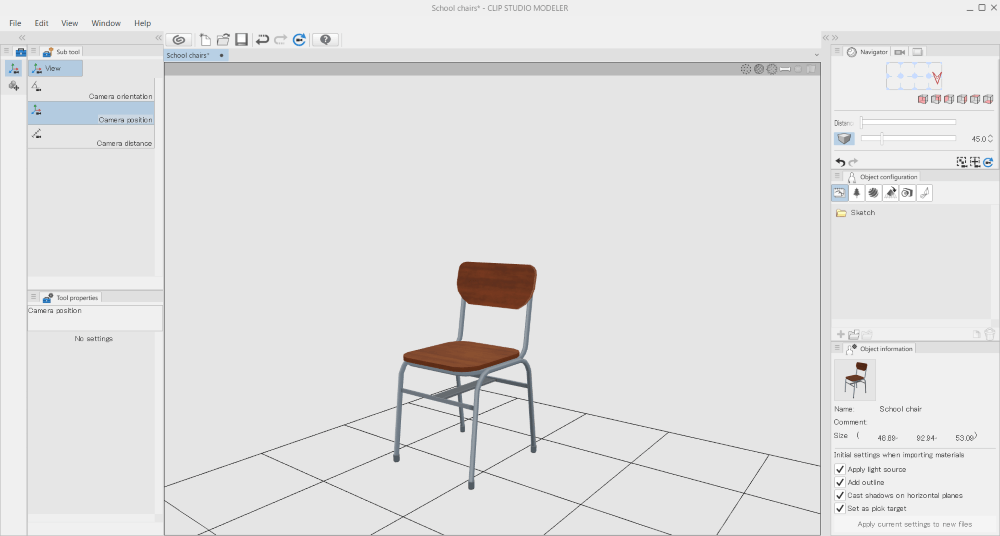 PaintTool SAI does not include any 3D modeling functions. It is simply a digital painting program and nothing more.
Winner. Clip Studio Paint. Clip Studio's integrated 3D models and active user community set it apart from almost all other drawing software.
Additional Capabilities
Clip Studio also has some additional functions, such as the ability to export files directly into Webtoon, Export EPUB data, Publish Comics to Kindle, and more. Users can also use perspective grids, templates, automate actions, and export in a variety of color modes.
PaintTool SAI offers its users the ability to create vectors and perspective grids but lacks the function to use templates and scripts. PaintTool SAI also only supports RGB as a color mode, making it impossible to open CMYK files or easily export files that are suitable for print.
Winner: Clip Studio Paint Pro/EX.
Pricing
At $49.99, Clip Studio Paint Pro is an affordable and powerful software that gives artists a variety of valuable features and tools to make for an efficient design workflow. Additionally, one can subscribe to Clip Studio for $0.99 a month. There also exists an expanded version of Clip Studio Paint "EX" that has more capabilities for a one-time purchase of $219.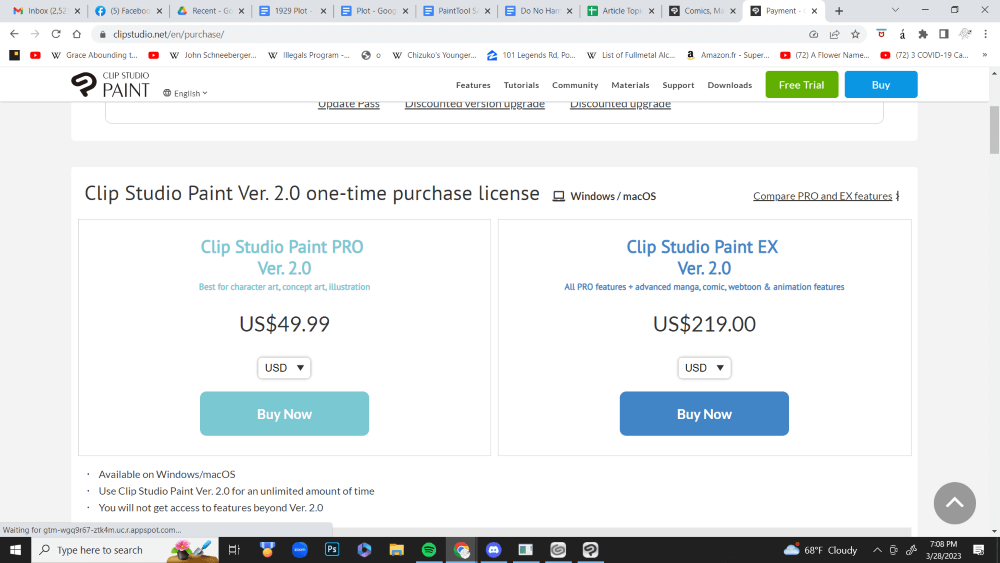 PaintTool SAI by comparison costs approximately $52*, with a one-time license purchase fee on the SYSTEMAX website. The program also includes a 31-day free trial, so you can test out if it is to your liking.
Winner: Clip Studio Paint Pro/EX. For the number of features available, the price point is solid.
Final Verdict
Overall, Clip Studio Paint Pro offers its users far more tools and functions for a similar price point to PaintTool SAI. With its 3D modeling assets, animation, robust text features, and support on a variety of operating systems it is an all-in-one program that suits the needs of a wide variety of artists including sequential artists, animators, concept artists, and more.
With an active community, it also offers users an endless gallery of downloadable user-generated content.
Comparatively, PaintTool SAI is a great program for first-time digital artists and illustrators who primarily digital paint without the need for photo manipulation, animation, or dynamic text editing functions.
Due to its age and declining popularity, user-generated content is harder to find, but it functions fairly well for its purpose. Being only available to Windows users, it does not offer a flexible modality.
Do you use PaintTool SAI, Clip Studio Paint, or both? Which is your favorite and why? Share your thoughts in the comment section below.