The answer is Yes! Krita is completely safe to use and download on your device as it does not collect any of your personal data or payment information. This digital illustration app was released almost 20 years ago so it has stood the test of time when it comes to safety.
I'm Carolyn and I've been using different design apps to run my digital illustration business for over three years now. I put a lot of trust into each application that I choose to download on my devices so I'm always diligently researching each program before taking any chances.
Some people tend to be hesitant about Krita's reliability because it is a free and open-source platform. We have been conditioned to question anything that is free and seems too good to be true so naturally, we question the safety of a free app.
On top of this, recent scamming threats related to the app have made people question its safety. In this article, I'm going to show you why Krita is safe to use and explain some of its amazing benefits.
Key Takeaways
Krita is completely free to download and accepts donations.
Krita has been targeted by scammers in the past.
Apart from scams, the app itself is completely safe to download and use on your device.
What is Krita
Krita is an open-source digital drawing program that is free to download. It's created and developed by a team of artists and relies heavily on donations from its users in order to keep maintaining and improving the app.
Krita is compatible with desktops only so you won't be able to get this app on any of your handheld devices like iPads or Android phones. The app is focused mainly on digital art and offers over 120 brush options and some awesome animation features and tools.
You can download Krita for free directly from their website.
How Safe is Krita?
The Krita app is completely safe to use on your device. The developers have a privacy statement that highlights some of the ways that they have ensured the safety of the app.
The most important part of the privacy statement is that, unlike other apps that we use on a daily basis, Krita does not access, collect, use, share, or transmit any of your own information or data because they do not have access to it.
Downloading any new app onto your personal device can be daunting if you haven't done your research into the content of the app that you are downloading. I'm here to eliminate that research and confirm that the Krita app is completely 100% safe to use on your device.
The reason you may see some hesitancy online regarding Krita's safety record is that in 2021, the app's users were targeted by scammers who created and dispersed realistic emails asking users to open and download files which led to users being hacked and asked for ransoms.
The real Krita team was quick to warn their users about this fraudulent scheme by announcing it on their official Twitter.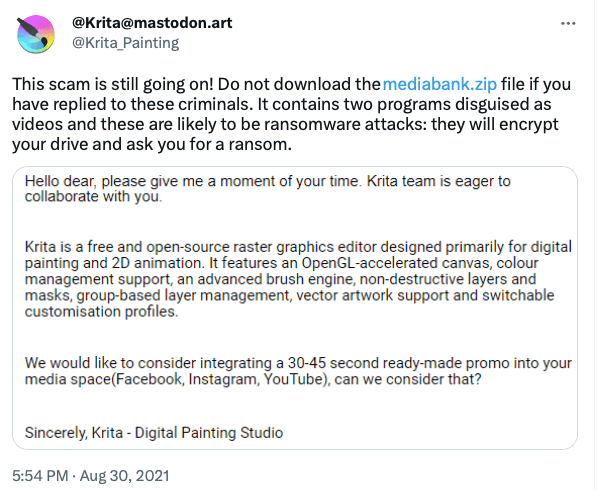 Most apps will never ask you to do anything over email so if you receive something that looks off, it probably is. If in doubt, do your research before taking any actions, and always check the app's Twitter or website for official announcements that you can rely on.
Is Krita Really Free?
Krita is an open-sourced raster graphics design program which means that the owners have essentially made the rights to the app public. Any users can access, study, and share the program which makes it easier for large groups of artists to contribute to its development.
Because the developers of Krita are all volunteers, this incredible program is free to the public. However, they rely heavily on donations from their users and they are quite transparent when it comes to showing you where your donations will go.
FAQs
Below, I have briefly answered some of your frequently asked questions regarding the safety of the Krita app:
Does Krita have bugs?
Yes, Krita, like many other programs, has bugs but you can easily report a new bug or follow along with current bug updates on their website.
Does Krita record your drawing?
Krita does come with a time-lapse feature built into the app that takes shots of the screen as you complete each stroke. You can deactivate this feature if you want to save on battery.
Is Krita safe for Windows 10?
Yes, Krita is safe for Windows 10. You can use the Krita app on Windows 8.1 and above.
Can you use Krita on a laptop?
Yes, Krita is designed for use on laptops and desktops so is fully compatible with either of those devices.
Is Krita free?
Yes, Krita is 100% free to download and the developers do accept donations if you choose to contribute.
Do professionals use Krita?
Krita is used by a variety of professional artists like animations, digital artists, and comic book illustrators.
What are the cons of Krita?
Personally, I find that Krita's biggest con is that it is not yet available to use on an iPad. I prefer using a stylus directly on my device rather than a stylus pad attached to my desktop so I consider this a con.
Final Thoughts
In conclusion, the Krita app is safe to use and download and is an awesome, free design app that we are lucky to have access to. What is not safe, is not verifying sketchy-looking emails that you may receive before clicking on any random links or sharing personal information.
If you had any questions in your mind about the reliability and safety of the app, you can rest assured that there is no risk attached to using the app. And always remember to verify any source that reaches out to you asking you to open any files or share personal information.
Were you affected by the Krita scam attack in 2021? Share your experience in the comments section below.