Finding the best app like Procreate that you can use on your Windows device will take time because there are so many options to choose from. In this article, I will be showing you a variety of apps and briefly discussing their differences and their key features.
I'm Carolyn and I've been a dedicated Procreate user for years. Since establishing my digital illustration business three years ago, the variety of demands from my clients has led me to research design apps on the market to make sure I'm using the best one for each project.
Because of this, I have found some awesome alternatives to Procreate that you can download on your Windows device. Today, I'll be discussing a variety of different digital drawing apps like Krita, Concepts, and Adobe Fresco.
12 Best Procreate Alternatives for Windows
Here I have chosen my top favorite alternatives to Procreate and touched on some of their key features to help you decide which option is best for you.
1. Krita

Krita is an awesome and technical digital design app that is free to use and is also open-sourced. The makers of this app are avid artists and software developers who rely heavily on user feedback and donations which you can offer to them on their website.
Because this app is so advanced and offers a slightly overwhelmingly detailed user interface, this app is best suited for an intermediate digital artist who has previous experience with drawing programs. However, beginners are always welcome too.
Available to download on the Windows Store, this app is perfect for you if your main focus is cartoons, manga, comic strips, and animations. This has much more extensive design and animation tools than Procreate which allows you to create more technical projects.
Key features:
Python scripting
Customizable user interface
Animation and comic templates available
Vector tools
Elaborate animation features
Price: Free but accept donations.
2. Sketchbook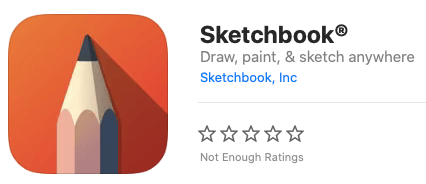 Sketchbook is a great alternative to Procreate as the initial download is free and if you decide it works for you, the upgrade to Sketchbook Pro is a very affordable price. It is available for download in the Windows Store and is compatible with desktop & mobile devices.
This app is perfect for beginners as it offers a clear and easy-to-navigate user interface that won't totally overwhelm you and scare you away. Their website also offers a detailed and useful user guide that will have you drawing and sketching in no time.
I like the app because it's great to use on the go or if you're trying to explain an idea to someone. It has over 190 pre-loaded brushes so you can get started right away. On their website, you can access their free extras like new brushes or different color palettes.
Key features:
Over 190 free brushes available in the original app
Handy user guide available on their website
Beginner-friendly user interface
Free extras such as brushes and color palettes available for download on their website
Basic photo editing tools
Price: Free version available or $19.99 USD for the Sketchbook Pro.
3. Concepts

The Concepts app is the perfect tool for quickfire sketches and notes so it might not be as useful on a desktop but is incredibly handy to have on your mobile device. This is available for download in the Windows Store and can be a good option for beginners.
The option to customize your workspace really opens up this app as it allows you to take control of your canvas and focus on what you really need from the app itself. This is user-friendly with convenient tools like the drag-and-drop function for importing photos into the app.
This intuitive user interface offers quick fix tools for improving your sketches and drawings as you go which reduces the amount of time editing or making finishing touches at the end of your project. You also have the option to work in the format of raster or vector graphics.
Key features:
Users can drag and drop images directly onto their canvas
Quick editing tools to fix or improve your sketches as you go
Three different color wheels to choose from
Users can personalize the user interface
Offers both vector and raster graphics
Price: Free 30-day trial, after that you will be billed $11.00 USD/month or only $8.83 USD/month if you sign up for their annual subscription.
4. Inkscape

Inkscape is an advanced design app that is available at no cost at all and will remain that way as it is open-sourced. This is a vector graphics-based program that gives users total control over their artwork and is targeted toward a more experienced digital graphic artist.
This app is available for download in the Windows Store and there are different versions available based on the age of your device. It offers many of the same drawing tools as Procreate and also has a range of highly technical and advanced settings and features too.
They offer a free and detailed beginners' guide and rely heavily on donations and feedback from their users within the Inkscape community. Whether you're an avid graphic artist or a complete beginner, you can join the community, learn and donate on their website.
Key features:
Embedded bitmap feature
RGB, CMYK, HSL, and CMS color modes offered
Various file formats offered
Pathmarker tool
Node editing tool for aligning and moving
Price: Free and open source with the option to donate.
5. ArtRage
The ArtRage app aims to create a close resemblance to real-life painting and drawing techniques. Once you purchase it from the Windows Store you will have access to the app's extensive brushes and blending tools to create a digital masterpiece in minutes.
Because of its simple and compact user interface and the built-in manual accessible to users on the app, ArtRage is considered to be extremely beginner friendly but is also used by intermediate and advanced artists too.
With the app providing users with unlimited layers, this means you are free to create and experiment with your project as much as you want without the pressure of running out of layers as you would in Procreate, based on your project DPI and canvas dimensions.
Key features:
Extensive drawing and painting brushes like oil, chalk pastel, and watercolor
No layer limit
Compact user interface
Built-in manual available in the app
Compatible with Samsung S-Pen
Price: $79.99 USD one-time purchase.
6. ibis Paint X

Ibis Paint X is an awesome alternative to Procreate as it shares a similar user interface which makes it easy to navigate for beginners and first-time users alike. Available on the Windows Store, you can choose from the free version or upgrade to Pro to avoid ads and pop-ups.
This app is great for true artists as it provides you with over 15,000 brushes to choose from so you can definitely find what you're looking for here. On top of the extensive brush library, there is no layer limit to your projects so you can just keep creating.
Similar to Procreate, Ibis Paint X automatically records each of your projects so you can look back to watch and track your progress as you create. All of this is available on the free version of the app, that is if you're willing to put up with all of the annoying ads.
Key features:
No layer limit
Over 15,000 brushes to choose from
Prime version comes with 20GB of cloud storage
Cloud filter
Records video of your drawing
Price: Free version available or you can upgrade to the Pro version for $19.00 USD.
7. Clip Studio Paint

The Clip Studio Paint app is a technical and complex drawing and design app that is ideal for intermediate to advanced artists who have experience with similar programs. Available on the Windows Store, so don't be fooled by the free version. 
However, if you're ready to take the plunge and commit to a monthly subscription or hefty one-time payment, this app is a great alternative to Procreate as it offers some of the same unique design tools like 3D drawing with a wide range of brushes available in the library.
A step ahead of Procreate, Clip Studio Paint offers users the ability to work in raster or vector graphics format which means this app can be used for almost anything that you could possibly want to create in the digital art world.
Key features:
Over 40,000 brushes available
3D model drawing feature
Free courses available on their website
Users can create up to 10,000 layers in one canvas
Both raster and vector graphics compatible
Price: Monthly plan for $0.99 USD, the Pro version is $49.99 USD (one-time payment) and the Ex version is $219.00 USD (one-time payment).
8. Affinity Designer

The Affinity Designer app is an established and extremely sophisticated program that is targeted toward design for professional purposes. This app is used by professional graphic designers and artists with an end product. I'd recommend this for advanced digital artists.
Affinity Designer is available for download from the Windows Store but make sure your device has adequate RAM and enough storage for you to be able to get the most out of it. I would classify this app as a step above Procreate in terms of 3D and product design purposes.
Because of its advanced technical abilities, this app allows users to bring their ideas from inception to the final product in a matter of minutes with its well-designed package design tool and the option to preview your color modes prior to printing your final design.
Key features:
Vector graphics with raster options available
Package design feature
RGB and CMYK color modes available
X-Ray view tool
Unlimited layers
Price: One-time payment of $69.99 USD.
9. Adobe Fresco

Adobe Fresco is the best free option for digital drawing that Adobe Creative Cloud has to offer. It's available for download on the Windows Store and you have the option to choose from the free version or bundle it with other Adobe products at a higher price.
Because it is a part of the Adobe family, it does share some of the complex design features as its counterparts including a very detailed and thorough workspace. This can be overwhelming for beginners but it is doable so don't be intimidated by its challenging user interface.
Once you have mastered the basics of the app, you will have access to its incredible animation tools on top of a huge brush library for any of your drawing needs. And contrary to Procreate, this app also offers a combination of raster or vector brushes in its library.
Key features:
External cloud storage available with a Creative Cloud membership
Raster and vector brushes offered
Elaborate animation features
Detailed and technical user interface
Beginner friendly
Price: 30 days free trial and then $9.99 USD/year for the premium version.
10. Adobe Illustrator

Adobe Illustrator is a complex graphic design and digital illustration app that is aimed at intermediate-level artists whose focus is on branding, graphics, and product design. This is available for download in the Windows Store and does offer a 7-day free trial.
If your main focus is on creating professional logo design, illustrations, and posters, then this app is ideal for you as you will have access to technical and in-depth design tools that allow you to create clear and visually striking imagery at a high quality.
Unlike Procreate, this is a vector-based program that is an indicator that work produced on the app will be used for printing and other malleable purposes. So if you're planning on creating functional designs with your drawing, then this is the app for you.
Key features:
Vector graphics
Infographics feature
Package design function
3D effects available
Detailed user interface
Price: 7-day free trial and then annual subscription fee is $239.88 USD (billed upfront) or $ 20.99 USD/month if you pay monthly.
11. Adobe Photoshop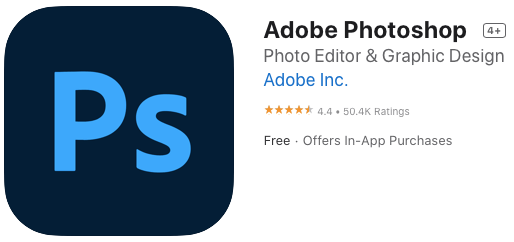 Adobe Photoshop is the best graphic design and photo editing software on the market. This can be used for various different purposes and is a professional tool for all of your graphic design needs. This is available for download from the Windows Store.
As this app is so complex and offers state-of-the-art technical tools, it's definitely better suited to an intermediate or advanced artist who may be familiar with similar programs already. The learning curve for this app is steep and constant so it can be a big commitment for a beginner.
If your focus is on photo manipulation tools then this is the app for you. It's a step above Procreate especially when it comes to photo editing tools (and price) but it is definitely worth the money and it has a lot to offer its users.
Key features:
Extensive photo editing tools
Photo effects
Background swapping options
Raster graphics
3D Design function
Price: 7-day free trial and then their Annual subscription fee is $239.88 USD (billed upfront) or $ 20.99 USD/month if you pay monthly.
12. MediBang Paint

The MediBang Paint app is a digital drawing program that is targeted toward creating manga characters and other cartoon-style animations. This app is totally free and offers users a huge variety of niche and unique drawing tools for every style of illustration and game design.
You can download this app directly from their website onto your device and you will be able to choose between two versions of the app, 32bit or 64bit. Once downloaded, you will have access to all features of the app including body figure templates and manga illustration tools.
This app and its user manual (available on their website) are hard to navigate so if you are a beginner, I highly recommend you bring your patience on this learning journey with you. But once you learn to navigate the home screen, you have some really cool tools to work with.
Key features:
Manga-style illustration tools
Timelapse video option available
Real-life texture options
Flower pattern paintbrushes
Body figure templates
Price: Free version or Premium upgrade available as an in-app purchase ranging from $19.99 – $62.00 USD/month.
FAQs
Below I have briefly answered some of your frequently asked questions about Procreate alternatives for Windows:
Is Adobe Fresco better than Procreate?
In my opinion, Adobe Fresco is better than Procreate for one particular reason, you can produce vector and raster artwork through the app which is quite rare and something that Procreate does not offer.
What is the best free app for drawing on a PC?
My favorite drawing app for PC has to be Krita. It's a free app that offers top-of-the-range drawing and animation tools for Mac and Windows desktops.
Is there a Microsoft drawing app?
Yes. Microsoft has its own drawing app called Sketchable. It's free to download but you will have to purchase each feature individually or purchase the bundle for $ 24.99 USD.
Can you Get Procreate on Windows?
No, you cannot get Procreate on Windows. Procreate is only compatible with the Apple iPad and the smaller version of the app called Procreate Pocket is only available on Apple iPhone.
Conclusion
Even though Procreate is one of all time greatest apps ever made, there are some strong contenders for second place. Procreate's biggest weakness is the lack of compatibility across other apps and devices and it's not something that will be resolved anytime soon, if ever.
Drawing on a desktop can be a whole different ball game so make sure you try a few of the apps I have suggested and see which one is the right fit for you. And I always recommend investing in your artwork by purchasing or upgrading the best version of each app.
What's your go-to alternative for Procreate when you're working on Windows? Leave your feedback in the comments section below.