With Procreate only being available to download on an Apple iPad, Mac users are constantly trying to find the best alternative that they can access via their desktop or laptop. In this article, I'm going to show you my top 12 best alternatives to Procreate for Mac and why.
I'm Carolyn and I've been using Procreate to run my digital illustration business for over three years now. However, sometimes the projects I'm working on require a more technical graphic design approach so I'm always experimenting with other options to work with on my MacBook.
There are so many options available these days that it can be hard to choose which one is best for your needs. Today I've done the hard work for you and broken down some of the features of my favorite Procreate alternatives for Mac like Rebelle 6, Krita, and Adobe Fresco.
12 Best Procreate Alternatives for Mac
Here I have explained what each app is best for and listed some of the key features it has to offer. Hopefully, you will find one that works for you.
1. Adobe Fresco

Adobe Fresco is a part of the Creative Cloud suite of advanced Adobe design programs. This is the cheapest option out of all the Adobe apps as it offers a completely free version. This is available to download on your Mac device directly from the Mac App Store.
This app is a step above Procreate when it comes to animation features as it offers a more extensive menu of options. Once you get your head around the complex user interface, this app has a lot to offer artists, designers, and animators alike.
With a useful guidebook available and the ability to dabble in both vector and raster-based graphics, this app is beginner friendly and can accommodate a series of different design projects with additional cloud storage available once you upgrade to the Premium version.
Key features:
External cloud storage available with a Creative Cloud membership
Raster and vector brushes offered
Elaborate animation features
Detailed and technical user interface
Beginner-friendly
Price: 30 days free trial and then $9.99 USD/year for the premium version.
2. Sketchbook Pro

The Sketchbook app offers a simple and easy-to-navigate user interface and a very useful beginner guide available on their website that makes this app perfect for beginners. You can download the Pro app from the Mac App Store or the free version from their website.
This app is great for anything from basic sketches and ideas to final designs with a simple user interface and over 190 brushes to choose from. The photo editing tools are not the main focus here and closely resemble the same options that are available in the Procreate app.
If you want more from this app, all you have to do is venture to the free extras tab of their website to search and download extra brushes or color palettes that may tickle your fancy. If you want to keep up with their constant updates you can visit their daily blog.
Key features:
Over 190 free brushes available in the original app
Handy user guide available on their website
Beginner-friendly user interface
Free extras such as brushes and color palettes available for download on their website
Basic photo editing tools
Price: Free version available or $19.99 USD for the Sketchbook Pro.
3. MediBang Paint

The MediBang Paint app is a digital drawing app that offers an extensive selection of tools for comic strip creation, manga-style character design, and various animation techniques. You can download their Mac-compatible version of the app directly from their website.
They do offer a user manual on their website also but it's not as clearly designed and easy to navigate as the Procreate Handbook. Nevertheless, it's worth the time spent learning how to use this app as you will have access to their endless volume of drawing tools.
My favorite feature of this app that really makes it stand out to me is the body figure templates offered. This gives users a strong base for character design with full control over the manipulation of the shape, size, and design of each template. This is perfect for animators.
Key features:
Manga-style illustration tools
Timelapse video option available
Real-life texture options
Flower pattern paintbrushes
Body figure templates
Price: Free version or Premium upgrade available as an in-app purchase ranging from $19.99 – $62.00 USD/month.
4. Adobe Illustrator

Adobe Illustrator is one of the most advanced and sophisticated digital drawing apps on the market. This free trial is available for download on the Adobe website and you will be prompted to choose a payment plan to continue using the app after the initial 7 days.
Because of its complex nature and overly technical user interface, this app would be best suited for the intermediate digital artist or a beginner who has a lot of time to dedicate to the learning process of Adobe Illustrator. Learning this program is a long-term investment.
As this is a vector-based program, its main purpose is to create high-quality and functional designs for a series of purposes like graphic design, logo creation, and product branding. It's on the pricey side, so make sure you do further research before committing to it.
Key features:
Vector graphics
Infographics feature
Package design function
3D effects available
Detailed user interface
Price: 7-day free trial and then annual subscription fee is $239.88 USD (billed upfront) or $ 20.99 USD/month if you pay monthly.
5. Artstudio Pro

The Artstudio Pro app has come a long way since its initial release into the market in 2010. It's now considered one of the best digital drawing and photo editing apps available and can be downloaded on your Mac device straight from the App Store.
Suitable for an intermediate digital artist, its overcrowded user interface isn't as easy to navigate as one would hope. It may take some experience with other digital drawing products to figure out this workspace without downloading the user manual from the Apple Books store.
But once you get your head around how to use it, Artstudio Pro has a lot to offer. Since its recent update, it now offers larger canvas sizes and unlimited layers. There is also an extensive list of photo editing tools that can be used for retouching, cropping, and recoloring.
Key features:
Unlimited layers
Extensive photo editing features including a retouching tool
Canvas rotation abilities like Procreate
Screen recording option
Compatible with iCloud
Price: Free 7-day trial and then $ 19.99 USD billed upfront.
6. Krita

Krita is an advanced, multipurpose design program created by a passionate team of fellow artists and software developers. The desktop version of this app can be downloaded onto your Mac from their website and is free of charge, open-sourced, and supported by donations.
This app is technically sophisticated and offers a selection of in-depth design options that are greatly appealing to advanced artists and graphic designers. With a customizable user interface, you will be able to manage your experience on this app and make it your own.
The app has some impressive animation and comic strip-related features available that allow users to create carefully curated and functional projects that can be exported and used in a variety of different apps, making this app a haven for cartoon creators and animators.
Key features:
Python scripting
Customizable user interface
Animation and comic templates available
Vector tools
Elaborate animation features
Price: Free but accept donations.
7. Rebelle 6

This is one of the coolest and most mind-blowing apps that I have ever used. Rebelle 6 is a hyperrealistic digital painting app that by far surpasses every single other app, including Procreate, in terms of oil, watercolor, and painting realism.
Not only can you download this app from their website but you can also try out a sample prototype before having to download anything. This will give you a glimpse into the absurdly realistic painting features that this app has to offer which is perfect for beginners.
With features like being able to blow the wet paint around the canvas, tilt the paper at different angles, and an endless choice of different paper textures to choose from, you have got to try this app if your end goal is to create hyperrealistic oil or watercolor paintings on your screen.
Key features:
Online prototype available to test the app on their website before downloading
Wet and dry canvas options
Over 120 paper and canvas surface options
Blow and tilt canvas options replicating real-life paint reactions
Free extras available on their website
Price: Rebelle 6 will cost you $89.99USD and Rebelle 6 Pro is $149.99USD both billed upfront.
8. Tayasui Sketches Pro

The Tayasui Sketches Pro app for Mac offers a very similar selection of drawing and painting tools to Procreate, with a focus being on elaborate watercolor features. It's available for purchase in the Mac App Store and is compatible with all Mac devices.
As this app focuses on painting and doesn't offer a million other features, it doesn't get too overwhelming when learning how to navigate your way around its user interface for the first time. This makes it a good starting point for beginners who are learning how to draw digitally.
One important thing to keep in mind when working on this app is it is lacking an autosave function. Users must manually save artwork which can be menacing and particularly inconvenient if you have a bad memory or don't have this habit etched into your routine.
Key features:
Compatible with Wacom styluses
Customizable user interface
Up to 12 layers
Rotatable canvas like Procreate
Handy sidebar for organizing projects
Price: $19.99USD one time purchase.
9. Vectornator

Vectornator is a completely free vector-based digital painting and graphic design app that can be downloaded from the Mac App Store onto your Mac device. The makers of this app have purposely minimized the learning curve thus making this app beginner friendly.
You have the option to import your favorite user interface from any compatible apps which means you can go a step further with personalizing your own workspace on Vectornator. This combined with their amazing Templates Hub makes this the perfect graphic design program.
As this is a vector-based program, it's ideal for large-scale graphic design projects that will be sent to print or used for product and logo designs in the future. This app is compatible with all devices so whether you're using it on a laptop, a tablet, or a phone, you're good to go.
Key features:
CMYK color mode preview available
Extensive typography features
Vector-based graphics program
Access to over 80,000 free icons through the in-app Iconator library
You can import your chosen User Interface from a variety of other design apps
Price: All versions of this app are completely free.
10. Adobe Photoshop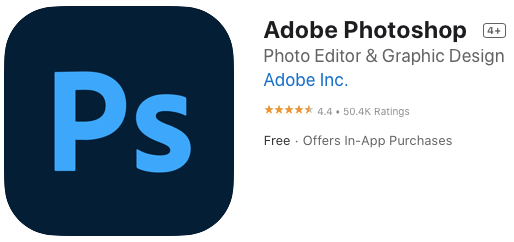 Another of the most powerful apps available from the Adobe Creative Cloud suite is the notorious Photoshop. For years this app has been the most famous and commonly used design program for a variety of graphic design purposes, especially for photo editing.
It's available for download on the Adobe website and you will be offered your initial 7-day free trial. Adobe Photoshop carries a hefty subscription fee so make sure you know what you're getting into and that the cost of this app is worth the expense for what you need it for.
If you're ready to commit to the cost, this is the most advanced photo editing program in the world and offers an extensive list of endless tools and features. You can pretty much do everything on Photoshop, as long as you have the time to teach yourself how to do it.
Key features:
Extensive photo editing tools
Photo effects
Background swapping options
Raster graphics
3D Design function
Price: 7-day free trial and then their Annual subscription fee is $239.88 USD (billed upfront) or $20.99USD/month if you pay monthly.
11. Corel Painter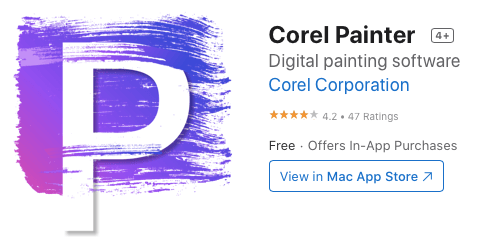 Corel Painter is an advanced digital painting app that boasts a long free trial period and then hits you with a large one-time purchase fee at the end of it. After attempting to navigate their chaotic website, I almost gave up on my quest to experience this app out of utter frustration.
Thankfully the app was designed better than the website and it offers some pretty impressive painting tools and some mind-bending photo alteration methods too. You can download this app onto your Mac device from the Mac App Store or on their website.
With a similar color scheme to the Procreate home screen and a customizable workspace, this app would be ideal for the intermediate digital artist. You also have access to many learning resources such as their user manual, welcome guide, and help topics online.
Key features:
Raster-based graphics like Procreate
AI used for photo transformation tools
Sidecar Support for multi-device display
Fluid paint and paper options
Photo restoration feature
Price: 30-day free trial and then you can get it for $429.00 USD (one-time purchase), or get the annual plan for $16.58/month.
12. ArtRage

Last but not least is the impressive ArtRage Vitae app. This digital multimedia design program is focused on creating the most real-life drawing and painting techniques. Available for purchase on the Mac App Store, the steep cost of this app is not for the faint-hearted.
If you decide to invest in this app, both financially and artistically, you will be impressed with its wide variety of painting tools and compact user interface. The app offers no layer limit and a handy in-app manual so you have all the answers to your questions at your fingertips.
Because of its simplicity and easy-to-navigate workspace, this app is ideal for beginners and will provide you with all of the tools you need to teach yourself how to create and manipulate one-of-a-kind masterpieces in your canvas.
Key features:
Extensive drawing and painting brushes like oil, chalk pastel, and watercolor
No layer limit
Compact user interface
Built-in manual available in the app
Compatible with Samsung S-Pen
Price: $80 USD one-time purchase.
FAQs
Below I have briefly answered some of your frequently asked questions about the best alternatives to Procreate for Mac:
Can you use Procreate on Mac?
No, you cannot. Procreate is only compatible with Apple iPads. Alternatively, you can purchase Procreate Pocket for your iPhone which is the smaller version of the app.
Is there a non-Apple version of Procreate?
No, Procreate is specifically designed for certain Apple operating systems only. However, there are many Windows alternatives to Procreate such as Adobe Fresco and Sketchbook.
Does Apple have a free drawing app?
Yes, it does. In recent iPhone updates, the new Apple drawing app Freeform is being loaded onto devices. This app is not as advanced or as technical as Procreate but it does offer a basic alternative to use for simple projects.
Is Procreate owned by Apple?
No, it is not. Procreate is owned by Savage Interactive which is a small software developer team based in Hobart, Tasmania.
Conclusion
The team behind Procreate has stated many times that they have no intention of creating a Mac-friendly version of the app so there's no reason to delay your search for the perfect alternative anymore.
We are very lucky to be graced by so many incredible alternatives which in a way, is better for our creative development as we're forced to learn and work with multiple different design platforms. Spend some time today finding out which is the best Procreate alternative for you.
Which of the apps listed above is your favorite Procreate alternative for Mac? Let me know in the comments section below.