Passwords are keys that unlock access to our digital records and business documents. They also keep them safe from competitors, hackers, and identity thieves. LastPass is a highly recommended software tool that makes it practical to use unique, secure passwords for every website.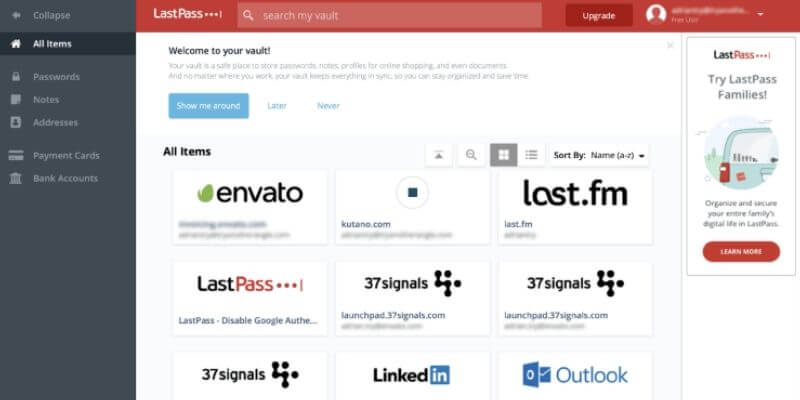 We named it the best free option in our best Mac password manager roundup. Without paying a cent, LastPass generates strong, unique passwords, securely stores them, and syncs them to all your devices. It will let you safely share them with others and warn you about weak or duplicated passwords. Finally, they have the best free plan in the business.
Their Premium plan ($36/year, $48/year for families) offers even more features, including enhanced security and sharing options, LastPass for applications, and 1 GB of encrypted file storage. Learn more in our full LastPass review.
That all sounds great. But is it the right password manager for you?
Why You Might Choose an Alternative
If LastPass is such a great password manager, why are we even considering alternatives? Here are a few reasons one of its competitors might be a better fit for you or your business.
There Are Free Alternatives
LastPass provides a generous free plan, which may be the reason you're considering it, but it's not your only free option. Bitwarden and KeePass are free, open-source applications that may meet your needs. KeePass is entirely free. Bitwarden also has a Premium plan, though it's significantly cheaper than LastPass's—$10/year instead of $36.
Because these apps are open-source, other users can add features and port them to new platforms. They have a focus on security and allow you to store your passwords locally rather than in the cloud. However, LastPass is easier to use and has more features than either of these apps—even with its free plan.
There Are More Affordable Alternatives
LastPass's Premium plan is in line with other quality password apps, but a few are significantly cheaper. These include True Key, RoboForm, and Sticky Password. Just be warned that you won't get equivalent functionality for the lower price, so make sure they cover the features you need.
If you've outgrown LastPass's free plan and are ready to spend money on more functionality, there are many other premium services you really should consider. In particular, have a look at Dashlane and 1Password. They have similar feature sets, and comparable subscription prices, and may suit you better.
There Are Cloudless Alternatives
LastPass employs various security strategies to keep your passwords safe from prying eyes. These include a master password, two-factor authentication, and encryption. Although your sensitive information is stored in the cloud, not even LastPass can access it.
The bottom line is that you're trusting a third party—the cloud—to keep your data secure, and for many businesses and Government departments, that's less than ideal. Many other password managers allow you to manage your security by storing the data locally rather than in the cloud. Three apps that do this are KeePass, Bitwarden, and Sticky Password.
9 Great Alternatives to LastPass
Looking for an alternative for LastPass? Here are nine password managers you might consider instead.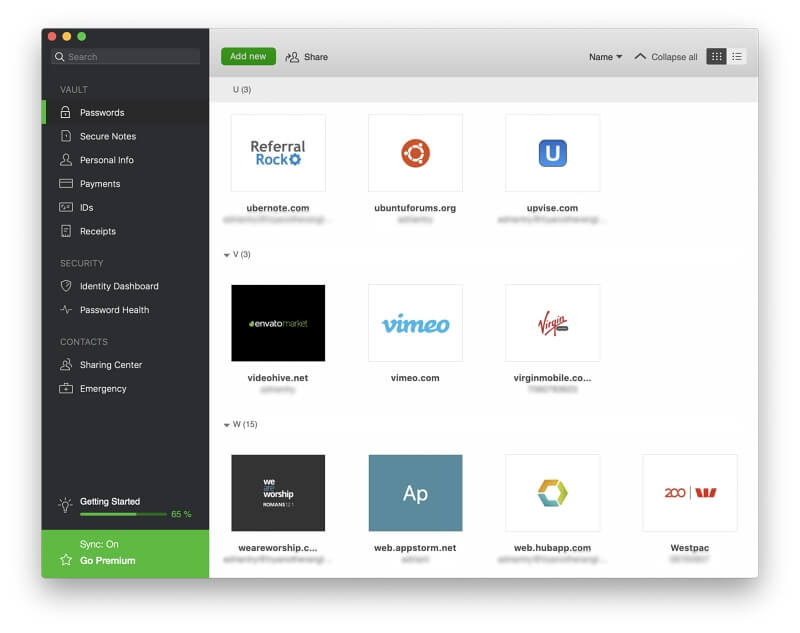 Dashlane is arguably the best password manager available. At $39.99/year, its premium subscription isn't much more expensive than LastPass's. Its many features can be accessed through an attractive, easy-to-use interface that is consistent across platforms, and you can import all of your passwords directly from LastPass.
This app matches LastPass Premium feature-wise, and it takes each one even further. In my opinion, Dashlane provides a smoother experience and has a more polished interface. The app has come a long way in the last few years.
Dashlane will automatically fill your login details and generate strong, unique passwords when you sign up for a new service. It completes web forms for you at the touch of a button, allows you to share passwords safely, and audits your current passwords, warning you if any are weak or duplicated. It will also store notes and documents securely.
Want to learn more? Read our detailed Dashlane review.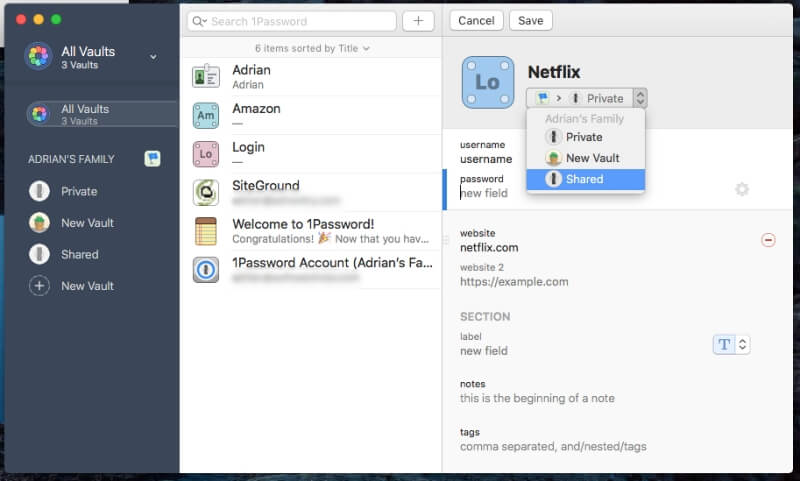 1Password is another highly-rated password manager with a Premium plan comparable to LastPass in features, price, and platforms. It costs $35.88/year for a Personal License; a Family plan costs $59.88/year for up to five family members.
Unfortunately, there's no way to import your passwords, so you'll have to enter them manually or have the program learn them one by one as you log in. As a newcomer, I found the interface a little quirky, though long-term users seem to love it.
1Password offers most of the features that LastPass and Dashlane do, though it can't currently fill in forms, and password sharing is only available if you subscribe to the Family or Business plan. The app provides comprehensive password auditing, and its Travel Mode lets you remove sensitive information when entering a new country.
Want to learn more? Read our full 1Password review.
3. Secure Open-Source Alternative: KeePass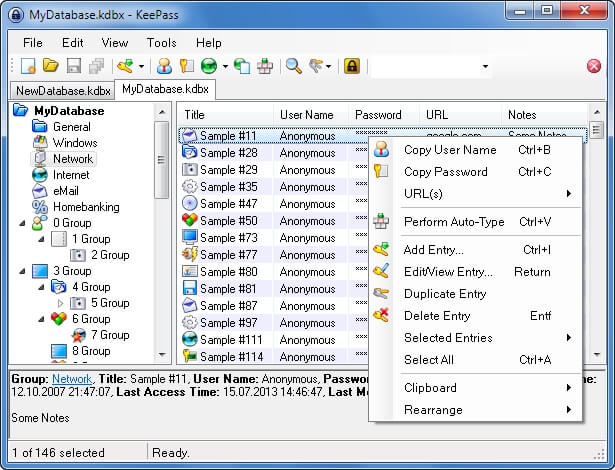 KeePass is a free and open-source password manager with an emphasis on security. In fact, it's secure enough to be recommended by several Swiss, German, and French security agencies. No issues were found when it was audited by the European Commission's Free and Open Source Software Auditing Project. The Swiss federal administration installs it on all of their computers.
With all of that confidence in the app, it doesn't seem to be widely used in business. It's difficult to use, only runs on Windows, and looks quite dated. It doesn't seem that any significant changes have been made to the interface since 2006.
KeePass users need to create and name their own databases, choose the encryption algorithm to be used, and come up with their own method of syncing passwords. That may be okay for organizations with an IT department but is beyond many users and small businesses.
KeePass's appeal is security. While your data is quite safe with LastPass (and other cloud-based password management services), you have to trust those companies to keep it so. With KeePass, your data and security are in your hands, a benefit with challenges of its own.
Two alternatives are Sticky Password and Bitwarden (below). They offer more features, are easier to use, and give you the option of storing your passwords on your hard drive.
4. Other LastPass Alternatives
Sticky Password ($29.99/year, $199.99 lifetime) is the only password manager I'm aware of that features a lifetime plan. Like KeePass, it provides additional security by allowing you to store your data locally instead of in the cloud.
Keeper Password Manager (from $29.99/year) offers an affordable starting point to which you can add optional paid services according to your needs. However, the full bundle costs $59.97/year, which is much more expensive than LastPass. Self-Destruct will delete all of your passwords after five consecutive unsuccessful login attempts, and you can reset your master password if you forget it.
Bitwarden is an easy-to-use password manager that's completely free and open-source. The official version works on Mac, Windows, Android, and iOS, and automatically syncs your passwords between your computers and devices. Want to learn more? I compare Bitwarden vs LastPass in greater detail.
RoboForm ($23.88/year) has been around for a long time, and feels quite dated, especially on desktop. But after all those years, it still has a lot of loyal users and is less expensive than LastPass.
McAfee True Key ($19.99/year) is worth considering if you value ease of use. It's a simpler, more streamlined app than LastPass. Like Keeper, it lets you reset your master password if you forget it.
Abine Blur (from $39/year) is an entire privacy service that gives the best value to those living in the United States. It includes a password manager and adds the ability to block ad trackers, mask your email address, and protect your credit card number.
So What Should You Do?
LastPass offers a highly usable free plan, and its Premium plan is competitive in terms of features and price. There's a lot to like, and the app deserves your serious attention. But it's not your only option, nor is it the best application for every person and business.
If you're attracted to LastPass's free plan, other commercial password managers have nothing that competes. Instead, look at open-source options. Here, KeePass features a security model that has the attention of numerous national agencies and administrations.
The downside? It's more complicated, has fewer features, and feels quite dated. Bitwarden is better in terms of usability, but like LastPass, some features are only available in its Premium plan.
If you're a happy free user of LastPass and are considering going premium, Dashlane and 1Password are excellent alternatives that are competitively priced. Of these, Dashlane is more appealing. It can import all of your LastPass passwords and matches it feature for feature, but with an even slicker interface.
Do you need more information before you decide? We thoroughly compare all major password managers in three detailed roundup reviews: The Best Password Manager for Mac, iPhone, and Android.