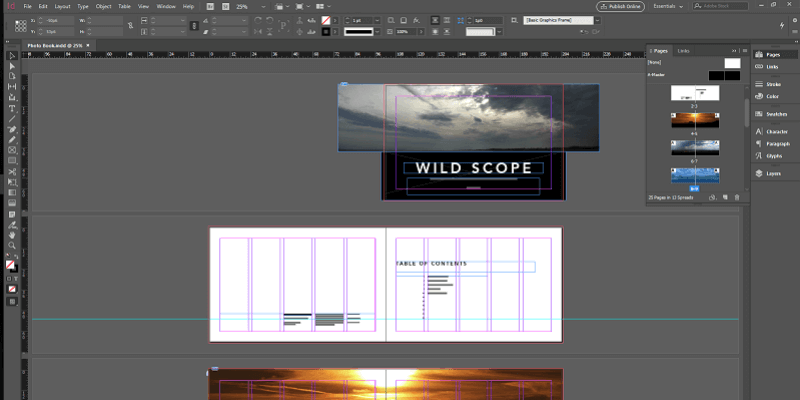 Adobe InDesign
Effectiveness: Excellent page layout tools precise enough for professional use
Price: One of the more affordable page layout tools
Ease of Use: Simple to learn the basics, with a few odd UI choices
Support: Excellent support from Adobe and third-party sources
Summary
Adobe InDesign is an excellent page layout solution with tools precise enough to satisfy even the most demanding professional. Whether you want to create print-based documents or interactive digital magazines, InDesign integrates smoothly with the rest of the Creative Cloud application suite to provide a seamless production experience.

InDesign basics are relatively easy to learn, although some of the more complex text control features can take some time to master. This makes it simple enough for casual users to work with, yet powerful enough for the most demanding professional users.

What I Like: Print & Digital Document Creation. Excellent Typographic Support. Cross-Program Object Libraries. Easy Online Publishing. Creative Cloud Syncing.

What I Don't Like: Small Odd UI Choices
InDesign is a page design and layout program first launched by Adobe in 2000. It wasn't an immediate success thanks to the dominance of the much older QuarkXpress, which was the industry-leading software package at the time.
Adobe kept working on InDesign, and Quark eventually lost a huge amount of market share during the early 2000's as InDesign kept improving and Quark kept making blunders. As of now, the vast majority of professional desktop publishing is handled using InDesign.
No, InDesign is not free software but there is a free, unlimited 7-day trial version available. After this trial period is over, InDesign can only be purchased as part of a Creative Cloud subscription starting from $20.99 USD per month.
Are there any good InDesign tutorials?
Thanks to InDesign's dominance of the desktop publishing market, there are plenty of excellent tutorials available on the Internet. Of course, if you'd prefer something that you can use offline, there are a couple of well-reviewed books available from Amazon as well. It's actually quite likely that these books were even created using InDesign!
Why Trust Me for This Review
Hi, my name is Thomas Boldt, and I've been working in the graphic arts for well over a decade. I'm trained as a graphic designer, and I've been working with InDesign for over a decade on a range of products from product catalogs to brochures to photo books.
My training as a graphic designer also included explorations of user interface design, which helps me sort the best graphic design programs from the overwhelming number of competing options out there in the world today.
Disclaimer: I am a Creative Cloud subscriber, but Adobe has provided me with no compensation or consideration for the writing of this review. They have had no editorial control or review of the content.
A Closer Review of Adobe InDesign
Note: Adobe InDesign is a large program, and we don't have the time or the space to go over every single feature it offers. Instead, we'll look at how it's designed, how well it works as a page layout editor for print and digital projects, and what you can do with your projects once they're finished. For a more in-depth explanation of specific features, check out Adobe's InDesign Help section.
User Interface
As with all of Adobe's Creative Cloud applications, InDesign has a well-designed interface that is almost entirely customizable. It follows the recent Adobe trend of using a dark gray background that helps your work to stand out from the interface, although you can customize this too if you'd like. It also follows the standard Adobe program layout of a main workspace surrounded by a toolbox on the left, tool options across the top, and more specific customization and navigation options along the left.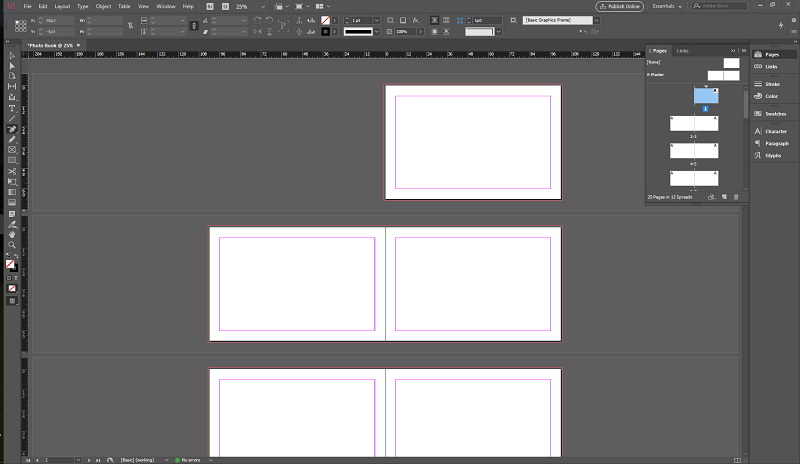 At the core of the interface layout are workspaces, which allow you to switch rapidly between interfaces designed for a variety of tasks. As print and interactive documents often have different layout requirements, there are workspaces dedicated to each, as well as those more suited to typographic manipulations or to copy editing. I tend to start with the Essentials workspace and customize it to match my requirements, although most of the work I do with InDesign is on comparatively short documents.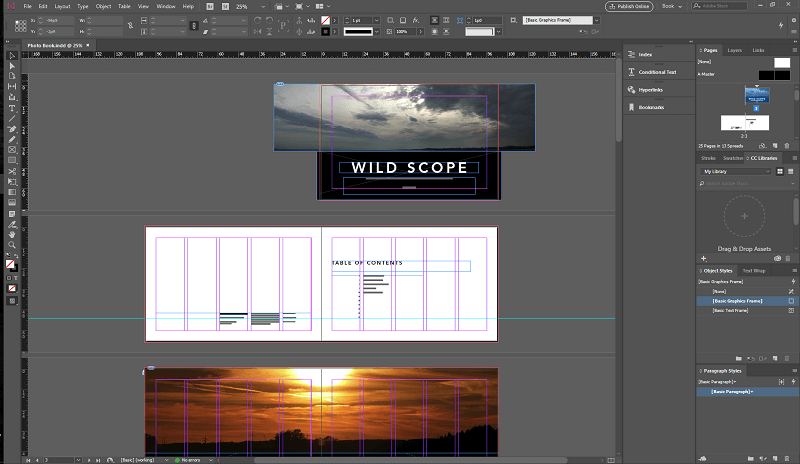 Each of these workspaces can be used as starting points for customization, so if you find something lacking you can always add it in whenever you need. If you want to re-arrange everything, all the panels can be undocked and placed wherever you want, docked or not.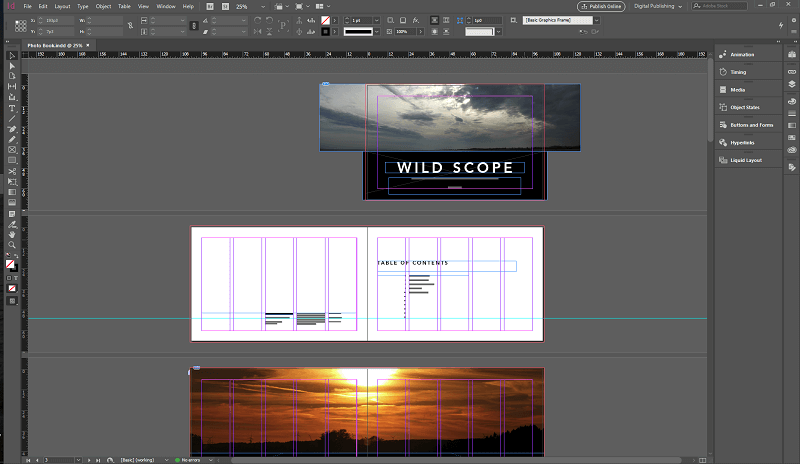 Working with InDesign will be familiar to anyone who has worked with an Adobe program in the past, although it's also fairly easy to learn the basics no matter what your current skill level is. Adobe has updated InDesign to match their other Creative Cloud apps to offer built-in learning options on the startup screen, although the available videos are fairly limited at the moment. Fortunately, there are plenty of other training materials available through the InDesign online help or through the tutorial links we listed earlier.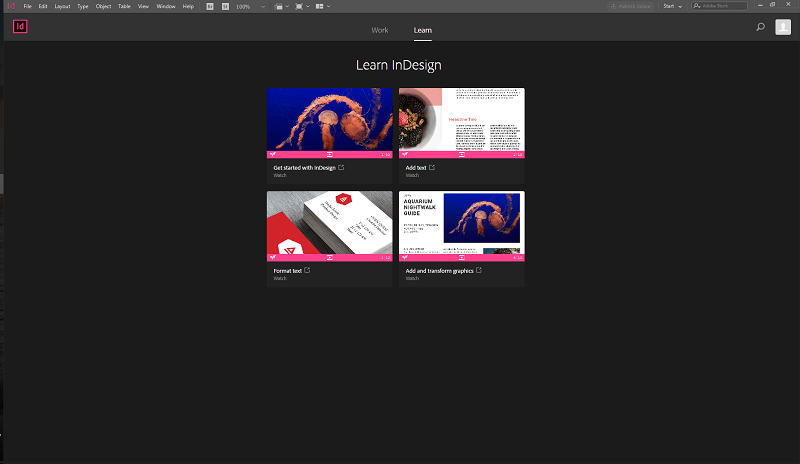 I find that working with InDesign is as intuitive as working with any vector-based application such as Adobe Illustrator, CorelDRAW or Affinity Designer. There are a couple of strange issues that tend to occur when resizing images – sometimes you'll find yourself resizing the container of the image rather than the image itself, and getting InDesign to recognize the switch between the two isn't always as easy as it should be.
Perhaps the most confusing aspect for new users might not actually have anything to do with InDesign, but rather with the measurement units used by the publishing industry: points and picas instead of inches or centimeters. A new measurement system can be hard to adapt to, but you can even customize this aspect of the interface if you'd like. If you're going to be doing serious design work in InDesign, it's probably better just to accept your fate and get comfortable with this second system, as it will provide you with much greater flexibility in your layout design.
Working with Print Documents
Creating multi-page documents is InDesign's primary purpose, and it does an excellent job of handling any layout tasks you throw at it. Whether you're creating a photo book, a novel or the Hitchhiker's Guide to the Galaxy, you'll be able to manage documents of any size with relative ease. Layouts can be completely customized to your heart's content, and Adobe has packed in a number of useful tools to help you manage your document across extremely large documents.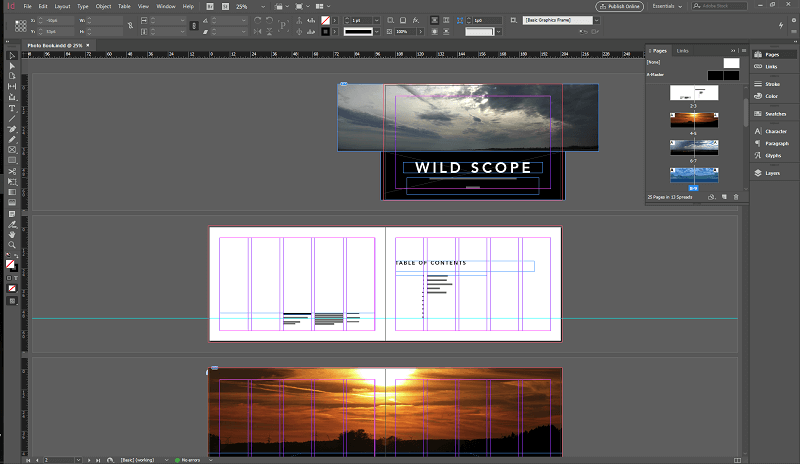 Many of the most common tasks involved in creating a book such as adding a table of contents and page numbering can be handled automatically, but the some of the most useful aspects of working with InDesign come from style settings and libraries.
When you're laying out text for a book, you may find yourself changing some aspects of the typography over the course of the project as it evolves into the final product. If you've got an encyclopedia with thousands of entries, you won't want to change each of those headings by hand – but you can set them up to use style presets. As long as each heading is tagged with a specific style, any changes to that style will be set throughout the whole document instantly.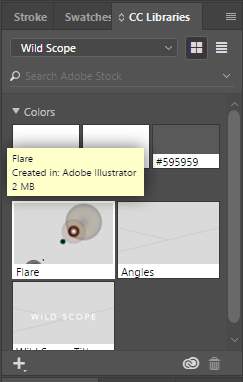 A similar principle applies to Creative Cloud libraries, although thanks to the Creative Cloud they can be shared between multiple programs, computers and users. This allows you to keep one master copy of any object which can be quickly added to multiple locations throughout a document. Whether it's a logo, a photo or a piece of text, you can share it across all your Creative Cloud programs quickly and easily.
Working with Interactive Documents
As the paperless era finally begins to take hold and more and more publishing work stays entirely digital, InDesign has followed up with a series of interactivity features that allow for the production of digital books, magazines or any other format you'd like. I don't have much experience using InDesign for interactive documents, but it does offer some impressive features that allow designers to create responsive, animated documents complete with audio and video.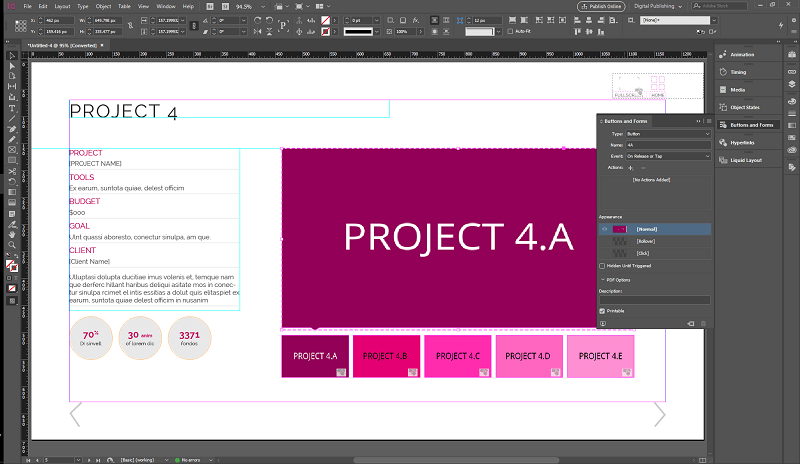 Working with interactive documents isn't quite as simple as working with typical print documents, but they're also far more interesting. Creating this type of document actually reminds me of working in Flash or Shockwave, back when they were still actually being used. Designed to be output as an interactive PDF, they also function quite well when combined with the Publish Online feature to quickly get them out in the world. This functionality gives you a great deal of flexibility in what you can create with InDesign, whether you want to make a quick functional mockup of a website layout without extensive coding or a fully interactive digital magazine.
Publishing Your Work
Once you finished designing and polishing your product with InDesign, it's time to actually send it out into the world. InDesign has a number of helpful export options that can make the process hassle-free, although the vast majority of print design work is still going to be exported as a PDF and sent off to a printer.
Things get a bit more interesting with digital documents, thanks to some more interesting export options. Publish Online is a very simple method of allowing you to share your document online in just a few clicks, hosted on Adobe's servers and associated with your Creative Cloud account but visible to anyone with the right URL. Published documents can also be shared on social media or through email, just the way you would with any other website.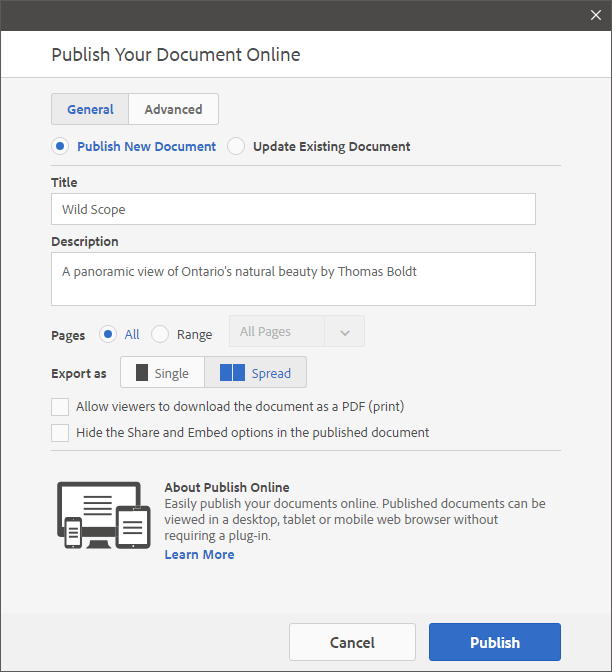 The end result was pretty good, although I noticed that there were a few issues with the antialiasing of various line elements and edges, but this could be corrected by increasing the resolution and JPEG quality using options in the 'Advanced' tab. I discovered this after I had already published my document, but it's easy to choose the 'Update existing document' option.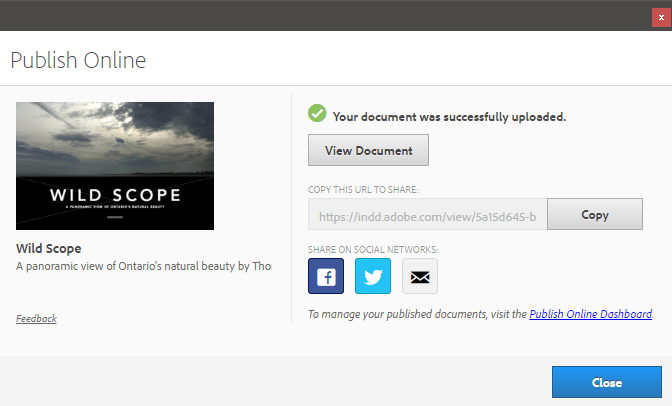 Of course, the test sample I used above was intended as a print document and so was much larger and higher resolution than a normal interactive document would be. Even with that small issue, this is one of the fastest and simplest ways to get your work online, whether it's to showcase drafts to a client or to show it off to the world at large.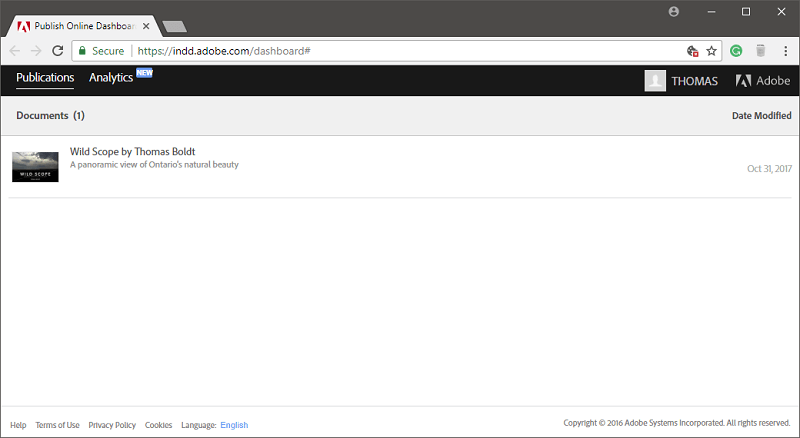 Once your work is published, you'll even get access to some basic analytics data about how many people have viewed your documents, how long they've spent reading them, and so on.
Reasons Behind My Ratings
Effectiveness: 5/5
InDesign has a full set of page layout tools perfect for both print design projects and complex interactive documents. Both new users and professionals will find everything they need to create projects of any scale, allowing for almost complete freedom when it comes to layout, imagery and typography. Integration across Creative Cloud apps using CC Libraries makes a complete document creation workflow extremely simple to manage.
Price: 4.5/5
InDesign is only available as part of a Creative Cloud subscription, which has annoyed many users of previous standalone versions of InDesign. Personally, I find it much more palatable to pay a low monthly fee for access to a constantly updated program when compared to a huge initial cost for a program that will be updated within a year, but others disagree. InDesign as a single program subscription is priced comparatively to CorelDRAW, and you could use it for almost 4 years before you match the cost of purchasing QuarkXpress.
Ease of Use: 4/5
The basics of working with InDesign are fairly simple to master, allowing new users to quickly start experimenting with vector-based page layout across large documents. More complex automation features aren't immediately obvious, and some of the aspects of interactive document creation could use a more clearly defined interface, but these issues can be overcome with a bit of extra time spent studying the ins and outs of the program.
Support: 5/5
Adobe has a complete support system set up both within InDesign and online through their excellent tutorial and help portal. InDesign also provides access to tutorial videos from right within the program, and there are a lot of external support sources thanks to InDesign's prominence in the desktop publishing world. During all the years I've used InDesign, I've never had an issue that required technical support, which is more than I can say for most programs.
Adobe InDesign Alternatives
QuarkXpress (Windows/macOS)
QuarkXpress was first released in 1987, giving it a 13 year head start against InDesign, and it enjoyed a virtual monopoly on the desktop publishing market until the mid-2000s. Many professionals switched their entire workflows to InDesign, but QuarkXpress is still out there.
It's a capable page layout program with functionality comparable to InDesign, but it requires an extremely expensive standalone purchase of $849 USD. Of course, for those users who are put off by the subscription model this is an excellent choice, but I can't see why that's worth it when the next year's upgrade will still cost almost $200 more.
CorelDRAW (Windows/macOS)
CorelDRAW incorporates multi-page layout features in its flagship drawing application, allowing you a lot more flexibility within a single program. This prevents you from having to switch applications when creating vector-based artwork to use in your documents, but its page layout tools aren't quite as comprehensive as what you can accomplish with InDesign.
It is available either as a standalone purchase of $499 USD or a subscription of $16.50, making it the cheapest page layout option available. You can read my detailed CorelDRAW review here.
Conclusion
Adobe InDesign is the industry-leading page layout program for good reason. It has an excellent set of page layout tools for both casual and professional users, and its ability to handle both print and interactive documents allows you as much creative freedom as you can imagine. As long as you don't mind the subscription model required by all Creative Cloud apps, InDesign is arguably the best page layout tool on the market today.
So, what's your feedback on this InDesign review? Let us know by leaving a comment below.