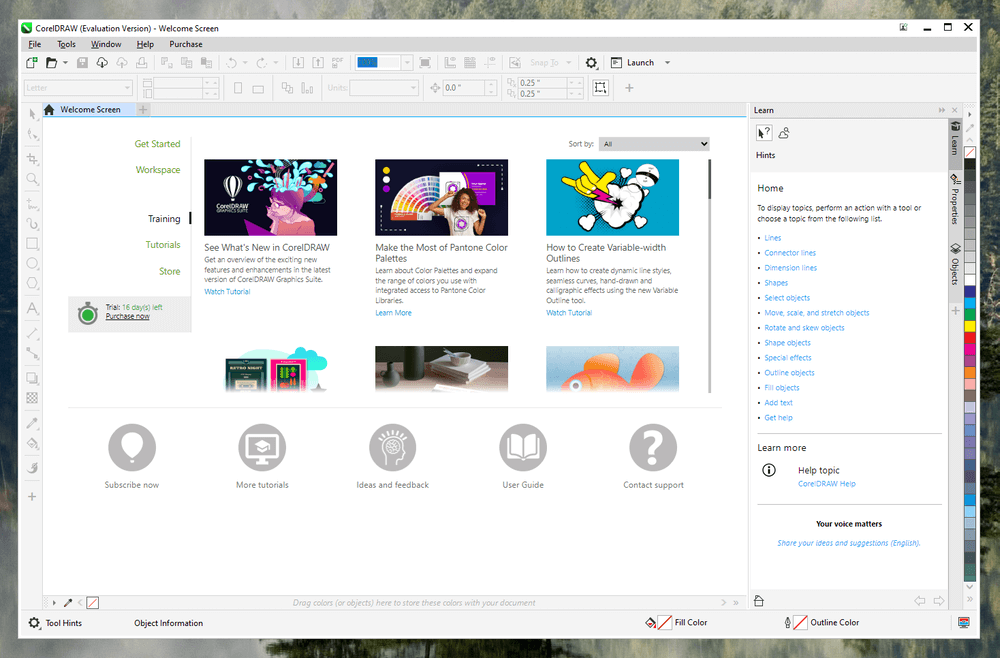 CorelDRAW
Features: Excellent vector drawing, illustration, and page layout tools
Pricing: Annual plan and one-time purchase are available
Ease of Use: Excellent introductions and built-in help, customizable but aging interface
Support: Great support from Corel, but limited third-party resources available
Summary
CorelDRAW is an excellent vector editing, illustration, and page layout application that provides all the capabilities a professional graphic or layout designer might need. Digital artists will love the LiveSketch feature, excellent stylus/touchscreen support, and the AI-assisted PowerTRACE tool for converting pixel images into vectors. It's also perfectly accessible to new users who have never experimented with vector editing before, thanks to its built-in introductions and helpful hints.

What I Like: Excellent vector drawing tools. LiveSketch automatic vector sketching. Complete UI customization options. 2-in-1 tablet optimizations. Excellent built-in tutorials.

What I Don't Like: Aging user interface. Typography tools could be improved. Odd default keyboard shortcuts.
Is CorelDRAW better than Photoshop?
CorelDRAW and Photoshop are designed for different types of graphics work, so they are not in direct competition with each other. CorelDRAW is a vector graphics and page layout app, while Photoshop is designed for creating and editing raster graphics.
Do professionals use CorelDRAW?
Yes, many professionals use CorelDRAW, although it's not quite as popular as it once was. CorelDRAW has all the features that a professional graphic designer needs, so it really comes down to personal preferences.
Is CorelDRAW as good as Adobe Illustrator?
CorelDRAW and Adobe Illustrator have very similar features, but CorelDRAW has a few new  AI-powered tools that are not available in Illustrator. Both apps have been in development for over 30 years, although Adobe has built a much more dominant market position in the graphic design world. 
No, CorelDRAW is not free software, although there is an unlimited 15-day free trial available for the entire CorelDRAW Graphics Suite.
Corel requires new users to register for an account with them, but the process is fast and easy. I haven't received any spam from them as a result of creating my account, but I was required to validate my email to "get the full benefits of my product", though it didn't mention what those might be.
I appreciate the fact that Corel doesn't force me to opt out of their data collection system, as the option is unchecked by default. It's a small point, but a nice one.
How much does CorelDRAW cost?
Once the trial period is over, CorelDRAW is available either as a one-time purchase for a perpetual license or through a monthly subscription model. The cost for purchasing a perpetual license to the entire CorelDRAW Graphics Suite package is $859 USD, or you can subscribe for $439 per year.
Why Trust Me for This Review
Hi, my name is Thomas Boldt, and I've been working in the graphic arts for over 15 years. This career has given me experience with a wide range of graphics and image editing programs, from small open-source software efforts to industry-standard software suites, as well as some training in user interface design. All of this combines nicely with my love of computers and technology to give me a unique perspective on software, and I use it to help people sort the good image editing apps from the bad.
Disclaimer: Corel provided me with no compensation or consideration for writing this review, and they have had no editorial input or review of the final content.
Detailed Review of CorelDRAW
CorelDRAW combines a lot of features into a single program, so we don't have time or space to explore everything it can do in this review. Instead, we'll focus on the user interface and how effective it is at the primary tasks it's designed for vector drawing and page layout, as well as looking at a couple of the most appealing features.
Note: The documents shown in the screenshots below are from Corel's premade templates.
User Interface
The CorelDRAW user interface follows the fairly standard pattern for graphics editing programs: a main working window surrounded by tools on the left and top, with customization and adjustment options appearing on the right in a customizable area known as the 'docker' panel.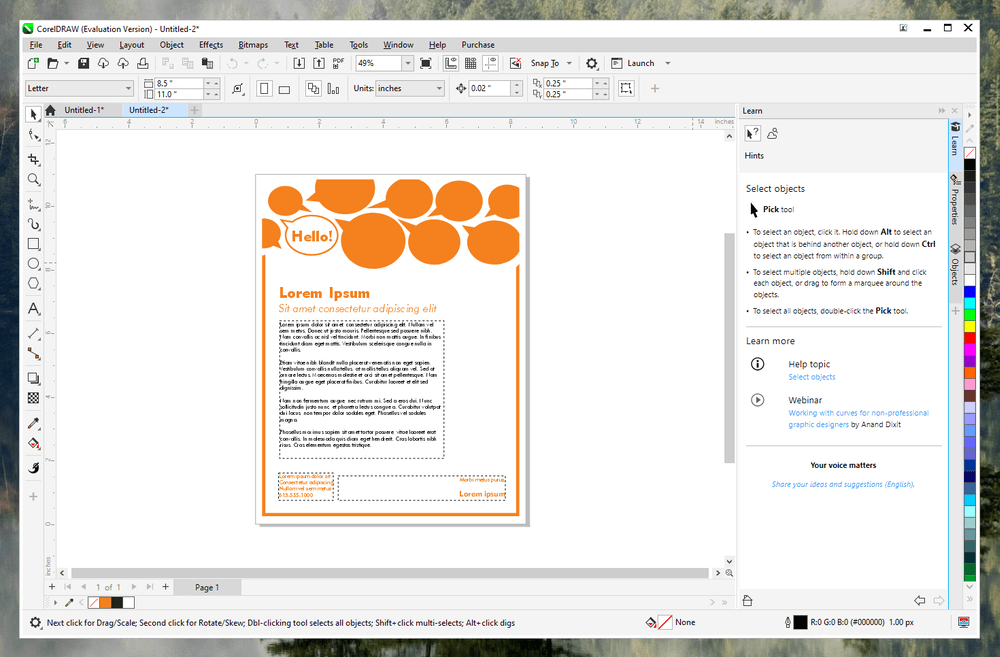 Corel has included a number of custom interface layouts known as workspaces. One is aimed at new users who want a simplified interface, but there are also custom workspaces designed for illustration tasks, page layout tasks, and touch-based hardware, as well as the simplified 'Lite' workspace for new users who don't want to be overwhelmed with features right away.
Interestingly, Corel is actively attempting to ease the transition for users who are switching from Adobe Illustrator by going so far as to offer a custom workspace specifically geared towards imitating the Illustrator layout – although even the default is fairly similar already.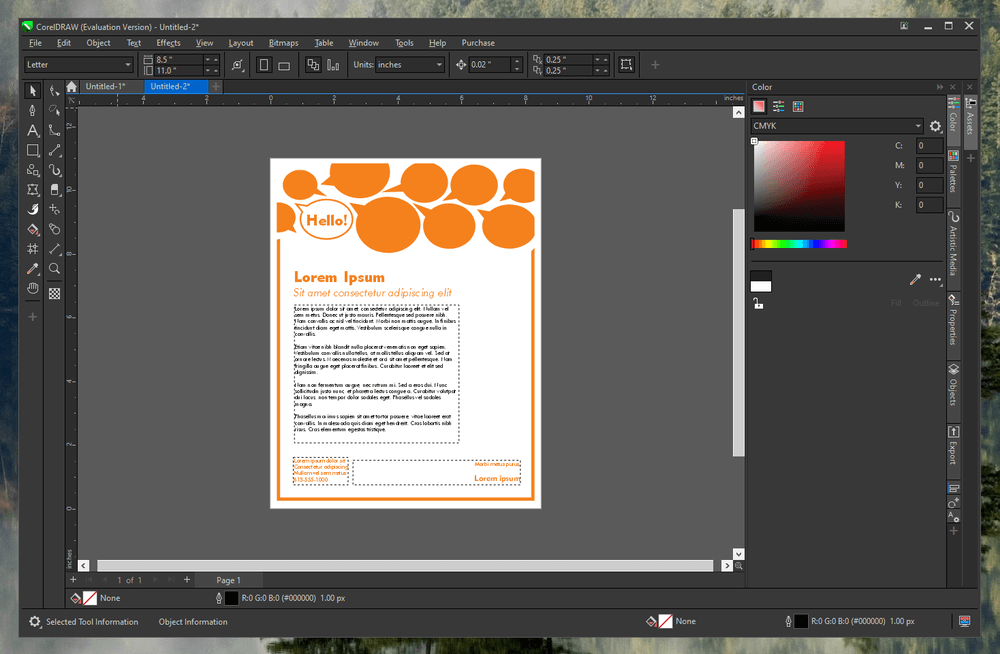 It is also possible to customize the layout of some of the UI aspects, such as the color picker and the contents of the docker panel on the right, but the toolbars are fixed until you go into the customization options to unlock them. I'm not sure I understand the reason for this extra step, as it would be simple enough just to leave them all unlocked, but it's a minor issue.
Once you dive down the customization rabbit hole, it turns out that you can customize almost every aspect of the interface, from the color to the scale of various UI elements. You can even customize the way that paths, handles, and nodes are drawn for vector shapes, ensuring that the interface will work exactly the way you want it to.
Overall, the interface is quite effective for all of CorelDRAW's primary tasks, and the customization options are excellent. There is one odd thing that bothered me, though – the keyboard shortcuts for common tools are a strange mix of QWERTY keys and function keys (F1, F2, etc.), which makes for some slower-than-normal tool switching.
These can all be remapped, but it feels like some extra thought could go into the default options – including adding a default shortcut for the basic Pick tool, which is regularly used to select and move objects around the canvas.
My personal take: Most people are fairly comfortable typing on a keyboard, but the function keys are so rarely used in other programs that even my keyboard-friendly fingers aren't too accurate when reaching for them without looking, so I'm not sure why they would choose this.
A Quick Note About Tablet Mode
CorelDRAW has a special workspace specifically designed for touchscreen tablets, which would be a very appealing setup for working with the new LiveSketch tool. Unfortunately, I don't have a Windows tablet and no touchscreen monitor for my PC, so I was unable to test this feature. If you're looking to incorporate incredible digital sketching into your drawing and illustration workflow, this option is definitely worth exploring.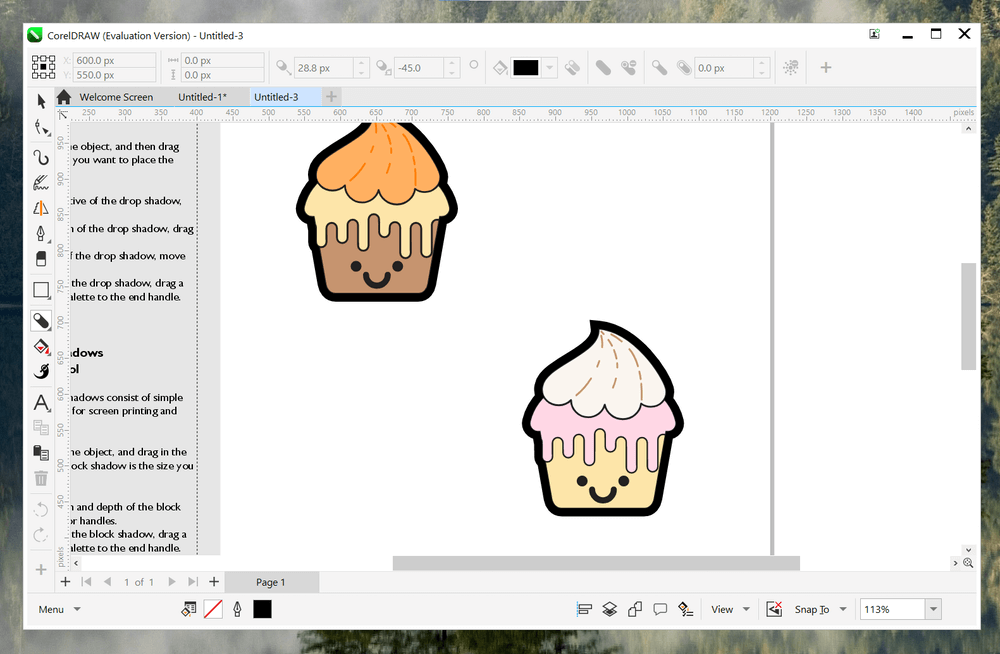 If you find yourself stuck in tablet mode while you're experimenting with it, don't worry – there is a 'Menu' button in the bottom left that allows you to return to a non-touch workspace.
Vector Drawing & Design
The vector drawing tools in CorelDRAW are very well designed, regardless of what keyboard shortcuts you use to access them. You can create vector paths in countless different ways, and the tools available for manipulating them and adjusting them are easily among the best I've worked with, but LiveSketch is one of the most interesting.
LiveSketch is an impressive drawing tool that is designed to turn quickly drawn sketches within the program into vectors in real-time, "based on the latest developments in Artificial Intelligence and Machine Learning." Corel has published a quick video that does a much better job of showcasing how the tool works than any screenshot can, so check it out below!
Corel has always been a bit vague about how exactly these great buzzwords are applied in the use of the tool on our individual computers, but there's no denying that it's an interesting tool to use. Plus, they get a bit of extra leeway since they coined that phrase back in 2017 at the very beginning of the AI/machine learning revolution.
Essentially, your individual sketch strokes are smoothed out and averaged into a vector path, but you can then go back and draw over that same line to adjust little aspects of the line if it doesn't quite match your expectations.
LiveSketch actually inspired me to finally get my drawing tablet set up on my new computer, although all that did was serve to remind me that I'm not much of a freehand artist. Maybe a few more hours of playing around with the tool might be able to change my mind about digital illustration!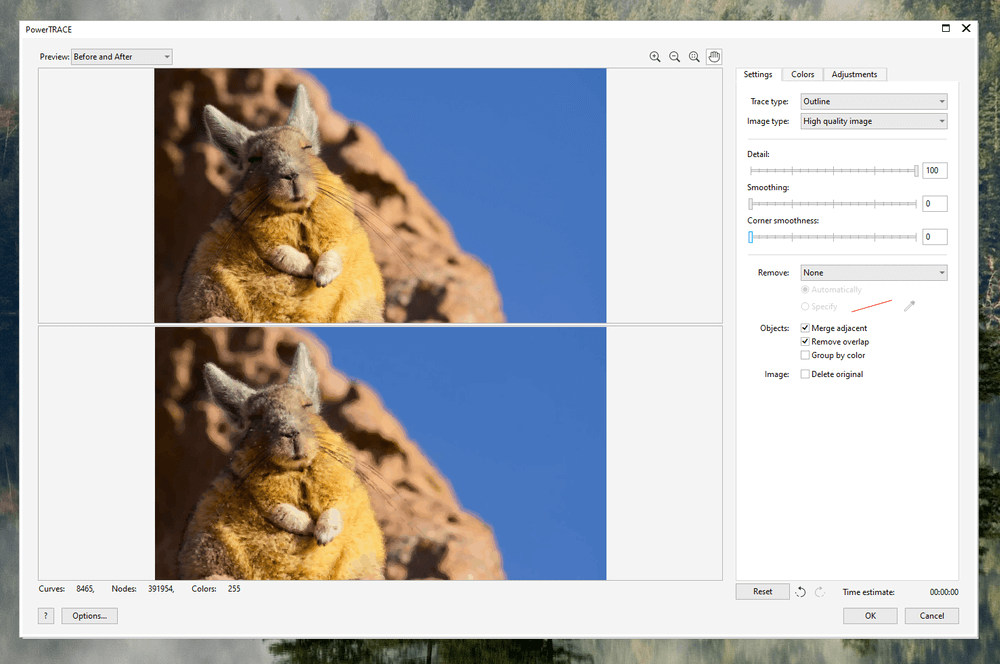 The latest version of CorelDRAW also includes a new AI-powered bitmap tracing tool known as PowerTRACE. If you've ever used trace tools in the past to convert bitmaps into vectors, you'll know that even though it sounds cool, they don't really work very well for complex images. PowerTRACE still isn't perfect, but it's better than the other methods I've tried by a massive margin.
It also runs a bit slowly, depending on the capabilities of your machine, but Corel doesn't share a great deal of technical information about how the tool works or what aspects of your hardware it uses to accomplish these tasks. Regardless, it's the most impressive bitmap tracing system that I've ever used – in other words, it's actually good enough to rely on for regular usage.
My personal take: I've always been a bit skeptical about how AI-powered tools could be applied to the world of vector graphics, but LiveSketch and PowerTRACE are impressive tools that are worth a look.
Page Layout
Vector drawing programs also tend to be excellent page layout programs, and CorelDRAW is no exception. Because they are designed for positioning objects quickly and precisely within an illustration, they're also perfect for laying out various elements for print work – but usually just on a single-page layout. CorelDRAW has taken that concept further by incorporating specific options for multi-page documents, as you can see by switching to the 'Page Layout' workspace.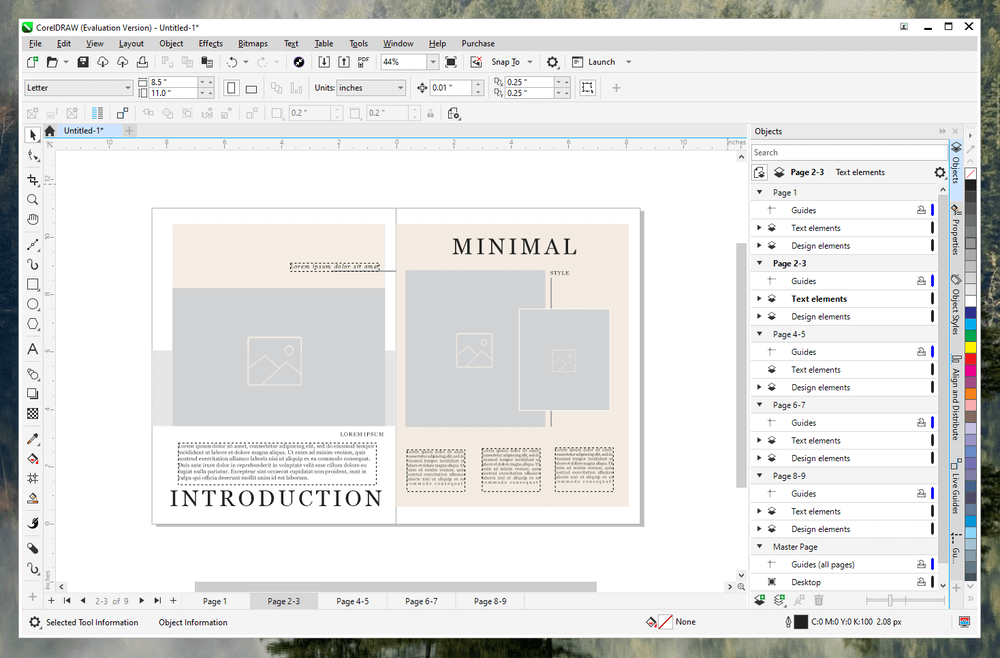 Overall, the page layout tools are quite good and cover almost anything you might need for creating a single or multi-page document. It would be nice to be able to see work with all of your pages at once, but CorelDRAW forces you to switch between pages by using the tabs along the bottom of the Page Layout workspace. Using the pages listed in the Objects docker as a navigation system would also be a nice addition, but this is more of an issue with speed than with capability.
The only thing that's a bit strange is the way that typography is handled, as elements such as line spacing and tracking are set using percentages instead of the standard measurements used throughout the design world. You can set it to use points instead of percentages, but it's strange to find a page layout app that isn't configured that way by default.
My personal take: Typography is an area of design that many people don't prioritize, but it's one of those things that drive you crazy once you become aware of the nuances. There's a great old webcomic about it, but all jokes aside, it would be nice to be consistent and clear about working units in a page layout application.
Reasons Behind My Ratings
Features: 5/5
CorelDRAW is extremely capable of all of the tasks it performs, whether you're creating a new illustration or designing a new book. The vector drawing tools are among the best I've ever used, PowerTRACE has finally made bitmap tracing a practical reality, and the LiveSketch tool has some very interesting capabilities for touch-based hardware. The typography tools could use a bit of improvement, but that's not enough of an issue to warrant even a half-point reduction in this otherwise excellent program.
Price: 3.5/5
Corel offers CorelDRAW as part of the larger CorelDRAW Graphics Suite and as a standalone program, to the confusion of many. The standalone version is only available as a one-time purchase, which is expensive at $299 USD. To stay current with the latest version, you'll need to subscribe to the Suite version, which provides much better value, but that may not matter if you don't need access to the other apps it provides.
Ease of Use: 4/5
I am far more familiar with Adobe Illustrator, but thanks to the excellent introductory tutorials and Hints docker panel, I was able to get up to speed very quickly. The program is fairly easy to use for anyone who has worked with vector graphics concepts before, but even new users will be able to learn the basics quickly and easily using the help information and the 'Lite' workspace option.
The other preset workspaces also make it quite easy to switch between any of the tasks that CorelDRAW can handle, or you can customize the layout completely to match your particular requirements.
Support: 4/5
Corel provides excellent support for its products through its range of informative help within the program itself, as well as a thorough online guide and troubleshooting help. Unfortunately, aside from a Udemy course and a few random online tutorials, there isn't a great deal of third-party help available. Even Amazon only has a few books listed on the subject, and many of them are not in English.
CorelDRAW Alternatives
Adobe Illustrator (Windows/Mac)
Adobe Illustrator might be the oldest vector drawing program that's still available today, as it was first released in 1987. It's also got an excellent set of drawing and layout tools, and its control of typography is a bit more precise than what's available in CorelDRAW (it also doesn't try to charge extra for simple things like 'Fit Objects to Path'). It does lag a bit behind in terms of freehand sketching and drawing tools, though, so you may want to look elsewhere if that's your goal.
Serif Affinity Designer (Windows/Mac)
Serif has been shaking up the digital art world with its excellent programs that are set to compete directly with Adobe and Corel offerings. Affinity Designer was the first effort in this area, and it's a great balance of power and affordability. It doesn't offer the same type of freehand drawing options as CorelDRAW, but it's still an excellent option for vector work of all kinds.
Inkscape (Windows/Mac/Linux)
If you're looking for a more affordable vector editing program than any of these others, look no further. Inkscape is open source and completely free, although it has been in development for over a decade and just reached version 1.3. It's hard to argue with the price, though, and it's one of the only options available for Linux users without requiring a virtual machine.
Final Verdict
CorelDRAW has been around in various formats since 1992, and this latest version offers excellent tools for almost any vector drawing, sketching, or page layout task. The LiveSketch feature is an impressive new tool that makes vector-based sketching a reality, which is enough to entice any digital artist or tablet user into giving it a try. The page layout tools are also decent, although they feel like a bit of an afterthought compared to how well-developed the vector drawing tools are.
Everyone from professional illustrators to amateur artists will be able to find what they need in CorelDRAW, and the excellent built-in tutorials make learning the program easy. Whether you're transitioning from a different vector drawing program or starting to use one for the very first time, one of the many customizable workspaces will match the style you're comfortable with.
Do you find this CorelDRAW review helpful? Share your thoughts about this software below.