Affinity Designer is an established and sophisticated design program that is heavily used to create high-quality graphic content. The app offers a combination of vector and raster graphics and has all the tools you need to create elaborate and professional designs.
The Procreate app is an amazing digital drawing program that allows you to make creative and artistically rich artwork with access to over 200 brushes and plenty of multifunctional design tools. This is an all-in-one app for artists who like to create and enhance their designs.
I'm Carolyn and I've been running my digital illustration business for over three years so I am always researching and using the best design apps. With our current access to modern technology, artists like me can achieve almost anything we need using our iPad or laptop.
Procreate is the perfect all-in-one app for artists who want to get creative and do anything they want with their artwork. Affinity Design is a more elaborate design program and is perfect for professional graphic designers who are looking to create functional projects.
In this article, I'll be comparing the main differences between these two apps so you can decide for yourself which one will work best for you.
Quick Comparison
Here is a quick overview of the main differences between Affinity Designer and Procreate:
| | | |
| --- | --- | --- |
| | Affinity Designer | Procreate |
| Price | $69.99 desktop version$11.99 iPad version. One time payments | $12.99 one-time payment |
| Design Model | Vector Graphics with Raster options | Pixel Graphics |
| Compatibility | Windows, MacOS and iPad | iPad and iPhone |
| Painting Tools | Raster and vector painting tools | Raster only painting tools but more brush options |
| Design Tools | Packaging design, vector and pixel options and X Ray view | 3D Design, FacePaint feature and Photo Editing tools |
| Color Output | RGB and CMYK with preview option | RGB and CMYK with no preview option |
| Ease of Use | Steep learning curve | Beginner friendly and easy to learn |
| Storage/Size | 8GB RAM recommended for the desktop version, 2GB RAM iPad version | 4GB RAM recommended |
Detailed Comparison: Affinity Designer vs Procreate
Below I have created a detailed breakdown comparing the two apps in terms of the design model, compatibility, painting, and design tools, color output, ease of use, pricing and storage.
Design Model
Procreate is a pixel-based graphics program. This means every project you create is running on a DPI (dots per inch) value so you have to be extra careful when scaling your projects as this can have negative effects and leave you with pixelated or blurry results.
Working with pixel graphics will give you more options in terms of compatibility with printing and sharing projects. However, it means you need to think ahead when planning the size of each project as you will not be able to enlarge your artwork without losing some of its value.
Affinity Designer is a vector-based program that also offers pixel graphic workspaces (Affinity Photo). This means you can combine and switch between raster and vector artwork which reduces all limitations with file size and quality.
The app has a selection of pixel brushes to choose from and they even offer a pixel preview mode. This means you can see how your design will come out under raster and vector graphic settings. This is important as it can reduce design errors in the printing process.
Winner: Affinity Designer. Affinity Designer has the option to use both vector and raster graphics whereas Procreate only possesses the raster ability.
Compatibility
As Affinity Designer has two different versions, this means you can access the app on both a laptop, desktop, and iPad. It's compatible with the Windows and Mac operating systems and is available for download on suitable Wacom tablets and Apple iPads.
This means users can access and design on the app from a range of different devices and situations. This is helpful for people who have different styles or habits and gives you the opportunity to choose how and where you work.
Procreate also has two versions of the app available for iPad and iPhone but it is limited to Apple users. You cannot download Procreate on any Windows operating system or even on your Macbook as it was specifically designed for use on the Apple iPad.
However, both of these apps are compatible with styluses so you can get the real-life drawing experience when operating the apps on the right devices.
Winner: Affinity Designer. This app is available on Windows, MacOS, and iPads. Procreate is only available on the iPad.
Painting Tools
Procreate comes with over 200 pre-loaded brushes so you can create and mimic any realistic texture or stroke you could ever imagine. Many digital artists have created even more brushes that can be purchased and imported into your brush library allowing for endless possibilities.
This is one of the app's biggest strengths and is what makes it one of the best painting programs to ever exist. It is limited to raster-based graphics but this is a product of its focus being on painting.
Affinity Designer has 54 brushes and 56 texture brushes available to you. They have also provided optional brush palettes that you can purchase in their Add Ons menu where users can explore, choose and pay for further options if they need to.
The brush library in Affinity Designer may not be as extensive as the Procreate program but it certainly does pack a punch offering many brush amendments and settings.
Winner: Procreate. Procreate offers more brushes and painting options than Affinity Designer.
Design Tools
The extensive design features of Affinity Designer are what make this app the stronger app in terms of graphic design and functional artwork. Its elusive and unique tools offer users the chance to expand their design ability tenfold.
Their design selection ranges from Packaging Design all the way to X-Ray View, so users can have full control over their project and its outcome. These features are pretty advanced for the price point of this app.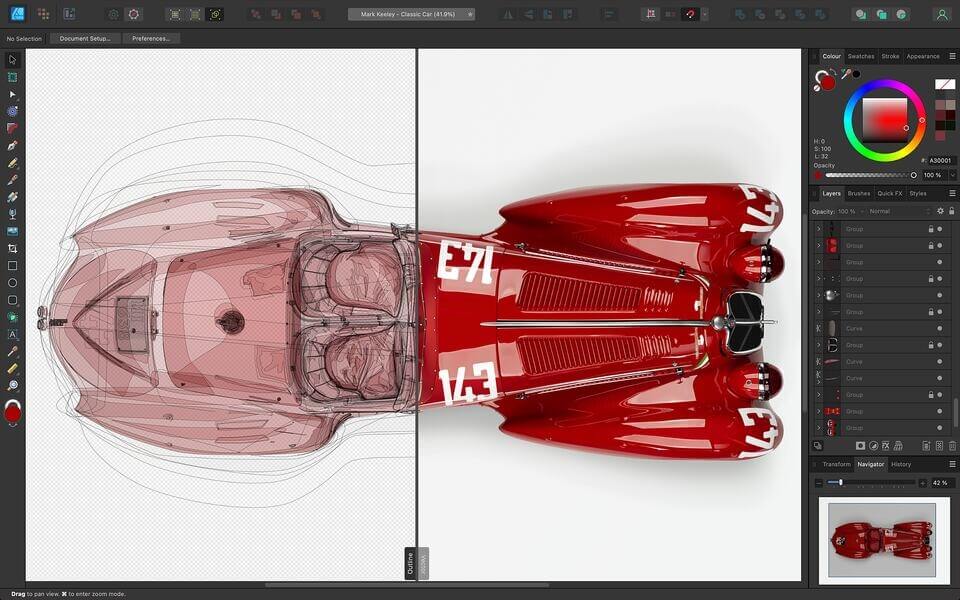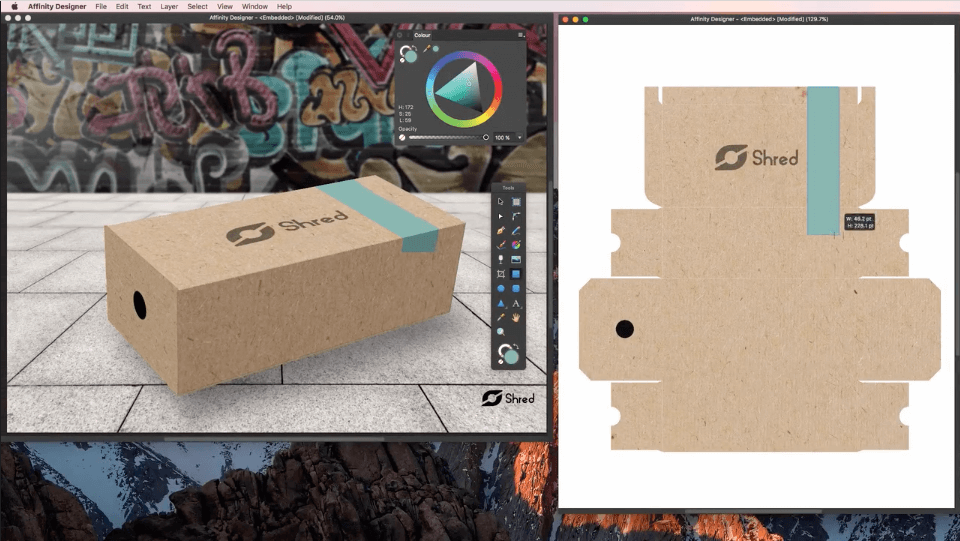 Procreate is a strong contender for design features as recent updates have introduced a series of game-changing design features to the app. In Procreate you can design 3D models which are similar to the Packaging Design feature in Affinity Designer.
The app has also introduced a FacePaint feature in which users can apply designs directly onto live faces using the rearview camera on their device. This has opened doors for the Procreate world and I'm already excited to see what new features come out in future updates.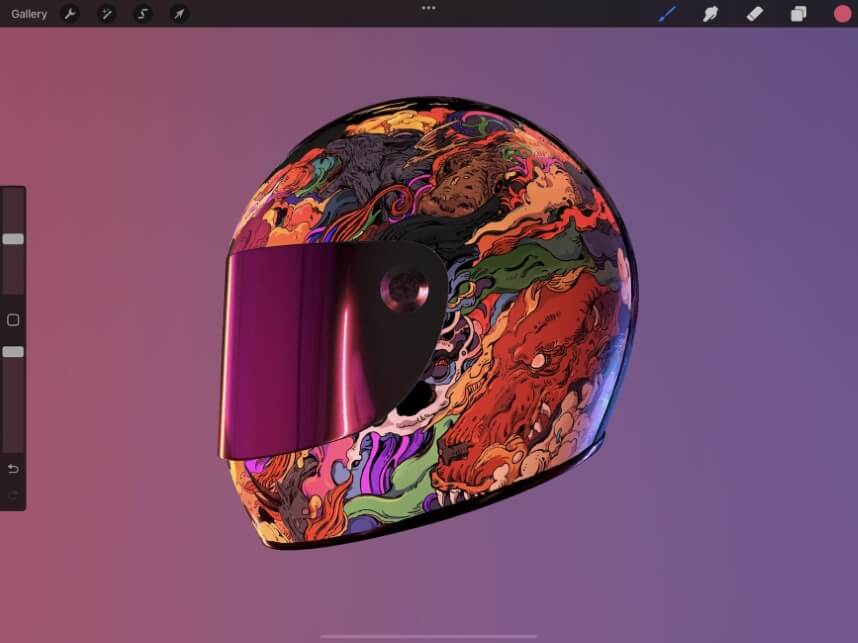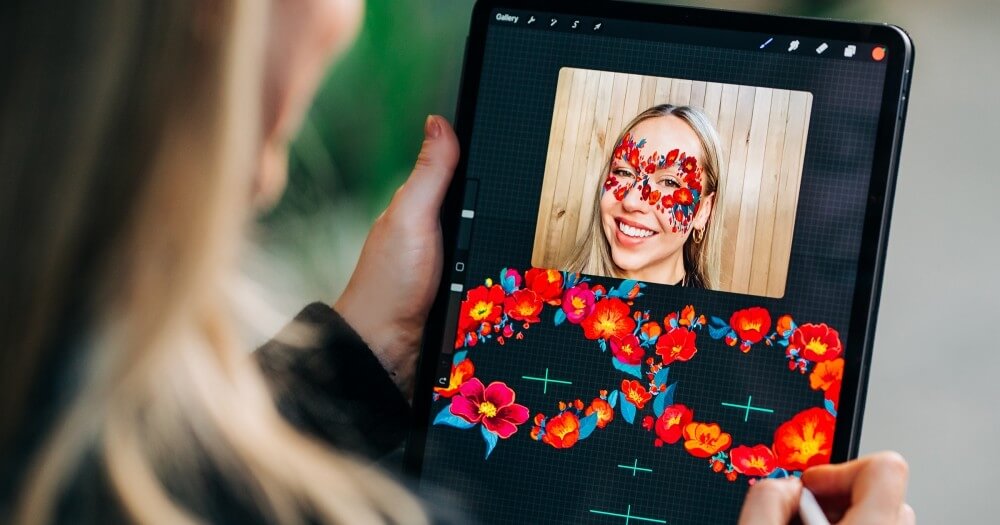 Winner: It's a tie. Both of the apps offer top-of-the-range design tools for multiple purposes.
Color Output
When creating a new canvas in Procreate, the default color output is RGB. This is the best and most common color profile for all digitally displayed images. You have the option to change canvas to CMYK, but it must be done at the very beginning of opening a project.
This choice cannot be reversed or changed down the line so it's important to choose before applying any strokes to your canvas. CMYK is the color profile primarily used for printing, so if you don't choose wisely you should expect a difference in colors and shades when printed.
Affinity Designer uniquely offers users the option to convert their projects from CMYK to RGB or vice versa. This is an advanced tool that is not available on all apps so it greatly benefits designers when making final decisions before sending designs out for production or printing.
I must say that this feature is incredibly essential for graphic design as it allows you to witness the color results before having to print samples and go back and fix any errors. This saves a lot of time and frustration in the production process.
Winner: Affinity Designer. This app allows you to convert RGB to CMYK and Procreate does not.
Ease of Use
Affinity Designer's iPad-friendly version of the app has similar features that replicate the user interface of Procreate such as the Compact Mode and Quick Menu. This adaptation simplifies the workspace in order to be more suitable for a handheld device.
However, the workspace and home screen are still quite technical and can be overwhelming to someone who is not experienced in digital design. This is not avoidable as the app is so technical, but it certainly makes the learning process a more intimidating experience.
Procreate however has mastered the perfect workspace that simply displays the most used tools and reduces them to mere icons thus leaving an open and welcoming canvas to get started on. On top of their awesome Handbook, the user interface is incredibly easy to use.
With so many artists utilizing the app, it has created a huge library of external resources like blog posts and tutorials which make it easy to learn and easy to find the answer to every single question within a matter of minutes without wasting any drawing time.
Winner: Procreate. The simple user interface and detailed Handbook make this app way easier to use from the get-go.
Price
Procreate is available for purchase for a one-time fee of $12.99 USD and $5.99 USD for iPhone friendly Procreate Pocket version. This allows users full access to the entire app without any in-app purchases or monthly subscription fees adding up all year long.
Affinity Designer also has an excellent price point for both versions of its app. The desktop version for Windows and MacOS is $69.99 USD and the iPad version is only $11.99 USD.
Both of these prices are one-time payments and won't require any in-app purchases or monthly subscription fees. This does mean that users will have to purchase both versions of the app if they wish to use it on multiple devices.
Winner: Depends. If you use the app on iPad, it's Affinity Designer is the winner because it's a dollar cheaper than Procreate. However, if you're choosing the desktop version, Procreate is definitely the budget option.
Storage/Size
Both Procreate and Affinity Designer work with similar RAM and storage requirements depending on the specific device you plan to work on and how much work you plan on producing.
Affinity Designer requires 8GB RAM for its desktop version which is not unheard of for design programs. However, it only requires 2GB of RAM for its iPad-friendly version so you have a choice on how much storage you're willing to sacrifice in exchange for using this app.
Procreate recommends having 4GB of RAM and a fair amount of storage space to ensure users have adequate room for their finished projects. So it's a good time to invest in some external cloud storage so you can free up space on your device.
Winner: It's a tie. Both apps require similar storage and RAM availability.
Final Verdict
This is an almost impossible decision to make as both programs are so drastically different. Affinity Designer is perfect for established designers who need to create graphic designs for functional use such as packaging, posters, and logos with plenty of technical resources.
Procreate is best for the artist who wants to focus more on the creation but also has the ability to go further with their digital artwork. Overall, they're both incredible pieces of technology and only you can decide which one is best for what you need.
Do you use Affinity Designer and Procreate? Share your preference in the comment section below and let me know why you made that choice.