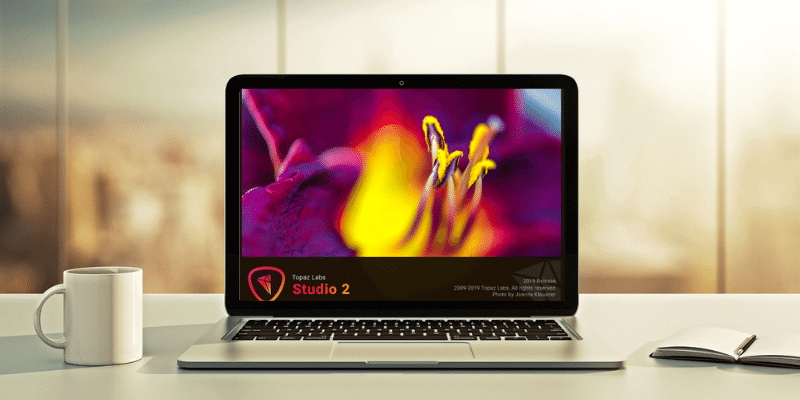 Topaz Studio 2
Features: Decent essential tools, looks are dramatic
Pricing: $99.99. Better value is available at this price point
Ease of Use: Mostly user-friendly
Support: Massive free tutorial library, but no official forum
Summary
Topaz Studio 2 is one of the newest photo editors in an increasingly crowded category. Its claim to fame is that it's built from the ground up, focusing on 'creative photo editing' rather than being another program with the same old adjustment sliders. This makes it easy to turn your photos into complex artistic creations using preset Looks and filters. However, you probably won't want to use it as your everyday photo editor.

Unfortunately, the most exciting tools developed by Topaz Labs aren't included in Topaz Studio by default, though they can integrate easily enough for an extra fee. As a result, Topaz Studio is a bit of a bad bargain at the moment: you're essentially paying for complicated Instagram filters. While they're undeniably impressive to look at, you're probably not going to use all of them regularly.

Considering the high price point for an editor that doesn't include their advanced tools, you can definitely find better value elsewhere.

What I Like: Edits applied non-destructively as filter layers. Great masking tools. Huge library of preset 'Looks'.

What I Don't Like: Basic adjustments can be slow when first used. Brush-based tools suffer from input lag. Poor interface design choices & scaling issues.
Why Trust Me for This Review
My name is Thomas. As a long-time reviewer and photographer, I've tested out nearly every photo editor under the sun. I always want to make sure that I'm using the best tools out there, whether I'm editing photos for clients or retouching my personal images.
I'm sure you feel the same way about your own workflows but can't be bothered to put every new program through its paces. Let me save you some time: I'll take you through Topaz Studio with a photographer's eye.
Detailed Review of Topaz Studio
The most important thing to remember about Topaz Studio is that it's aimed at users who want a simplified editing process that still creates superbly stylized images. It's an extremely difficult line to walk, as an over-dependence on 'creative filters' makes it all too easy to wind up with cookie-cutter results. However, that's the program's guiding philosophy.
Topaz Studio was first released as a free app with paid modules for specific adjustments and effects. Topaz Labs shifted to a flat-rate model, though, with the release of the latest version. Topaz Studio 2 is available on both Mac and PC, as a standalone program and a plugin for Photoshop and Lightroom.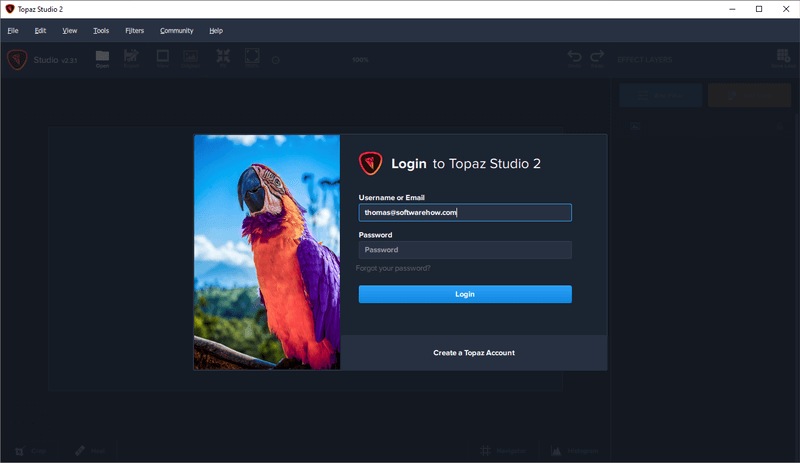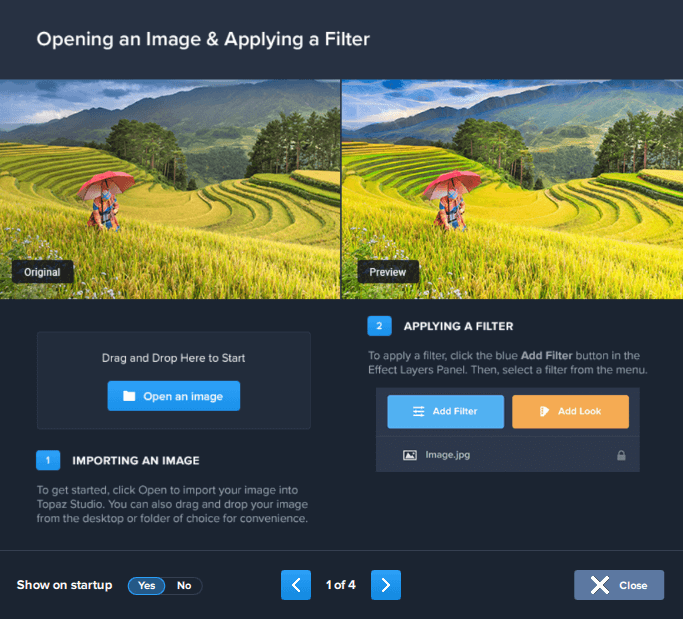 The interface is cleanly designed in the now-universal layout style shared by every photo editor released in the last 10 years. I found the menu and tooltip text rendering a bit fuzzy on my 1440p monitor, though. As you'd expect, editing controls are on the right, with your image front and center.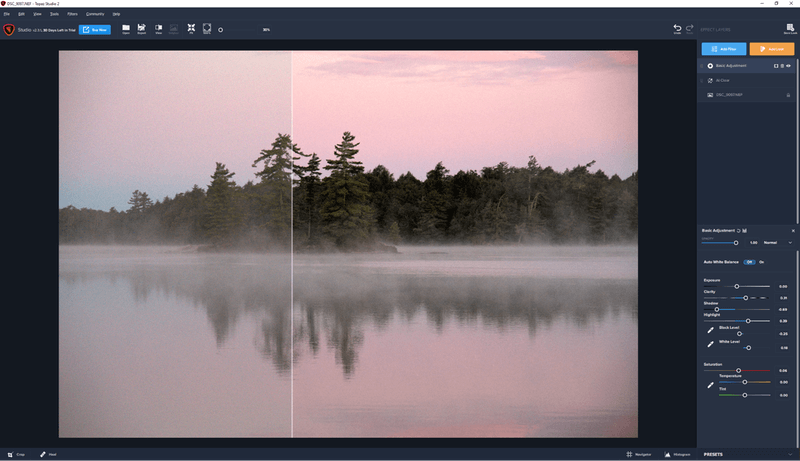 Despite the focus on 'creative editing,' Topaz Studio contains all the standard adjustment controls they dismiss in their marketing pitches. Each edit is applied non-destructively as a stacked 'filter.' The stack order is adjustable.
This is a nice touch that allows you to go back and experiment with different editing styles easily without having to go back through a linear chain of 'undo' commands. Given this thoughtfulness, it's frustrating that all the fundamental exposure and contrast controls are applied as a single step via the 'Basic Adjustments' filter.
I did notice some response lag when first applying basic effects like saturation tweaks, which is pretty disappointing in a program that's already reached version 2. Working with the Heal brush also causes some very noticeable lag, especially when working at 100% zoom. I realize that I'm working on a high-resolution RAW image, but doing edits at full size should still feel snappy and responsive.
Perhaps the best technical editing tool included in Topaz Studio 2 is the 'Precision Contrast' adjustment. It works along the same lines as the 'Clarity' slider in Lightroom, but with much more control over the results. Precision Detail offers the same zoomed-in approach to the Texture slider in Lightroom. It makes me wonder how long Adobe will wait before implementing a similar update to their tools.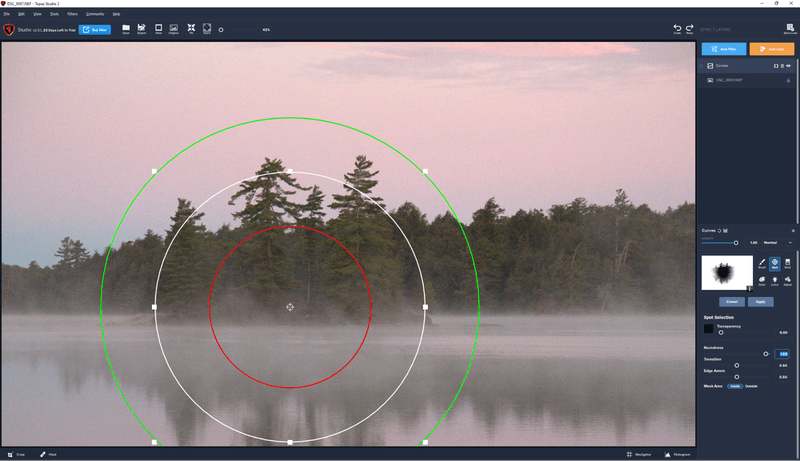 According to the developers, one of the main selling points of Topaz Studio is its masking tools. I believe they do have promise, mainly thanks to the 'Edge Aware' setting. It's hard to tell, though, because you're forced to look at your mask in the tiny preview in the control window. When you use the brush tool to mask an area, the stroke line appears over your photo, then disappears as soon as you release your mouse button.
I can't imagine why they'd put one of the three main pillars of their program in a tiny box. I thought I'd missed the View setting to display it full screen initially, but no—that's all you get. Perhaps they think the automatic detection tools work well enough to not worry. Maybe they're trying to upsell users to their standalone 'Mask AI' tool (which is impressive but also not included).
A gargantuan library of presets, known as 'Looks' in the Topaz world, comes installed with the program. They range from 'old-timey faded sepia' effect to some truly wild results that you have to see to believe.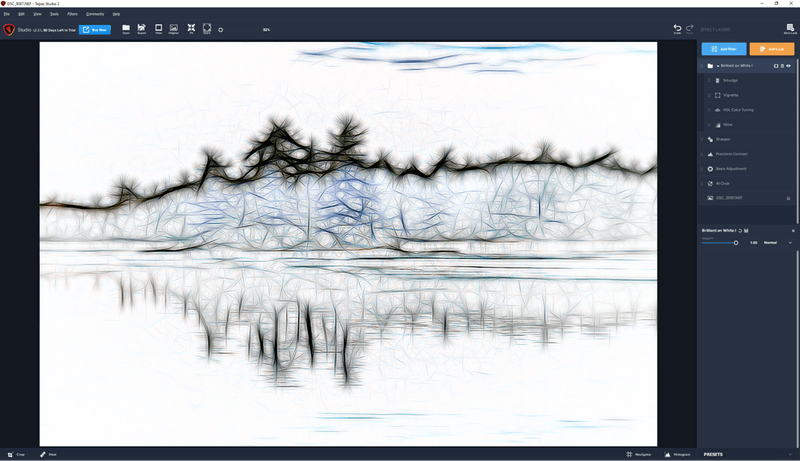 Interestingly, the stackable edit layers also apply to the editing processes used to create each Look. This allows you a surprising and dramatic amount of control over the final outcome. In the end, though, they really boil down to a few filters being combined with different color treatments.
After experimenting with the stacked edit layers within each Look, I can't help but feel that Topaz missed a bet with the Photoshop plugin version. When used as a plugin, all your edits are applied to your selected Photoshop layer (presumably your photo). If TS2 could export each adjustment layer as a separate pixel layer in Photoshop rather than a single compressed layer, you'd really be able to create some amazing results. Maybe in a future version.
All that being said, they're undeniably fun to play around with, and there are at least 100 different Looks to work your way through. There isn't much mention of it on the Topaz website yet, but I assume that 'Look Packs' will eventually be available for sale (though hopefully not from within the program, as that can become a usability nightmare).
Topaz Labs makes some great additional AI-driven tools that integrate with Topaz Studio—DeNoise AI, Sharpen AI, Mask AI, and Gigapixel AI—but none of them come bundled with the program. This feels like a real missed opportunity to me. Perhaps that's because I'm more interested in their technical filters than their creative filters. Given their pricing model, they seem to value each tool almost as highly as Topaz Studio itself.
It also seems like they're receiving a lot more development focus, considering that Topaz Studio doesn't even have its own section on the community forums. However, Topaz Labs has produced a huge amount of free video tutorial content on Youtube, which should help users learn the program's essentials.
Overall, I think Topaz Studio has a lot of promise, but it needs a few more versions to work out some obvious issues. Topaz has made a name for itself with its AI tools, and I hope to see them bring the same expertise to future versions of Topaz Studio.
Topaz Studio Alternatives
If this review has given you some second thoughts about Topaz Studio 2, then be sure to consider some of these excellent photo editors that share most of the same capabilities.
Photoshop Elements is the younger cousin of the famous industry-standard editor, but it doesn't lack editing power. As you'd probably guess, it focuses on the core elements of photo editing with a more user-friendly package designed for casual home users. The new version also has some brand new toys powered by Adobe's Sensei machine learning system.
There are plenty of handy walkthroughs and guided editing steps built into the program for the beginner. More advanced users will appreciate the level of control available in the 'Expert' editing mode. While the tools tend to be more focused on technical changes like background and color adjustments, there are some creative tools as well.
Elements also plays nice with Bridge, Adobe's digital asset management program. Creative photo editing often results in many different versions of your images, and a solid organization app makes it much easier to keep your collection under control.
Photoshop Elements is the only alternative in this list that actually costs more than Topaz Studio. For the price, though, you get a much more mature and capable program.
2. Luminar
Skylum Software's Luminar might be a closer match to the spirit behind Topaz Studio, thanks to its own preset Looks panel that features prominently in the default interface. It doesn't have the same range of presets included for free, but Skylum has had more time to develop its online store that sells additional preset packs.
Luminar does a good job of handling RAW editing, with excellent automatic adjustments that let you focus more on your creative vision. They've fully seized on the recent trend in software development where suddenly everything is 'AI-powered' as well. I'm not sure how valid the claim is, but you can't argue with the results.
Luminar includes an integrated library management tool to help you stay on top of your images. I ran into a few issues when testing it with a large number of files, though. I've found the Mac version to be more stable and polished than the Windows version. No matter which operating system you use, though, it's still a better value than Topaz Studio—and you still get a bunch of presets to play around with.
Affinity Photo is closer to Photoshop than Topaz Studio in some respects, but it's still a great choice as a photo editor. It's been a long-time competitor to Photoshop and is under active development by Serif Labs. They're also trying to shake up the expectations of what a photo editor should be, just in a slightly different way than Topaz is doing.
The Affinity philosophy is that a photo editor should focus on the tools needed for photo editing and nothing else—created by photographers for photographers. They do a remarkably fine job with this. I have a few criticisms: they make the occasional strange interface design choice, and some of the tools could use more optimization.
It's also the most affordable of the programs in this review, ringing in at just $52.99 USD for a permanent license and a year's worth of free upgrades from the date of purchase. It's also got a set of companion apps for vector design and page layout, providing a complete graphic design workflow.
The Reasons Behind My Ratings
Features: 4/5
This one was hard to score because Topaz Studio is excellent at producing creative and dynamic photos, which is its intended purpose. However, this excellence is marred by delayed adjustments, lagging brush tools, and some unfortunate design decisions regarding the masking tools.
Pricing: 3/5
At $99.99 USD, Topaz Studio is priced highly among its competitors, especially when you consider that it's one of the newest editors to hit the market. It has tons of potential. It doesn't deliver enough to justify the price tag, though—even if you also get a perpetual license and one full year of free upgrades.
Ease of Use: 4/5
For the most part, Topaz Studio is extremely easy to use. There's a helpful on-screen guide displayed at startup for new users, and the interface is well laid out and straightforward. Basic edits are simple enough, but the masking tools can be frustrating to use.
Support: 4/5
Despite a helpful on-screen introductory guide and a large online library of video tutorials, Topaz Studio doesn't have a large enough user base for there to be strong community support. The developers don't have a dedicated forum for the program on their site, even though their other tools each have one.
Final Thoughts
I'm all in favor of creating photo-based art. It's how I taught myself photo editing nearly 20 years ago. But it seems to me that if you're going to invest in an editing program to work on that kind of project, you may as well start with something more capable than Topaz Studio.
You'll probably get tired of seeing the same presents over and over again. There's a reason Photoshop's Filters are immediately recognizable to anyone who's ever experimented with them. It's also why those images only tend to impress people who don't know how they're made.
Do yourself a favor and check out our roundup review of the best photo editors here so that you can start your journey through the digital arts with the best possible tools.
So, do you find this Topaz Studio review helpful? Share your thoughts below.