Inspired by the growing use of the internet in the 90s, Netscape Navigator—a combined web browser and email client—was released in 1994. It was succeeded by the improved Netscape Communicator in 1997. In 1998, the company open-sourced the project and created a new community, the Mozilla Project.
Eventually, the Mozilla Application Suite was made lighter and more responsive by splitting it into two new apps, the Firefox browser, and the Thunderbird email client. Both launched in 2004. After all these years, Firefox is still going strong, but active development for Thunderbird ceased in 2012.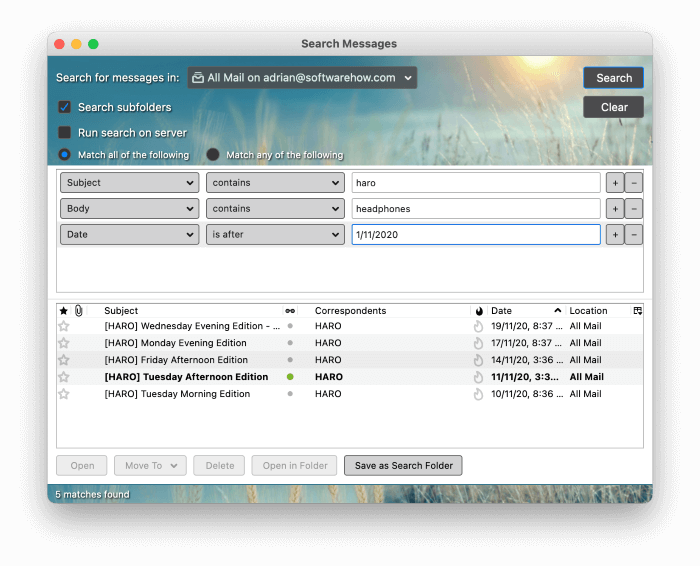 Still, Thunderbird remains one of the best free email clients available. Is there any point in using such an old program knowing it won't receive any new features? How does it compare with more modern alternatives? Which email client is best for you? Read on to find out!
Top Email Client Alternatives to Mozilla Thunderbird
1. Mailbird (Windows)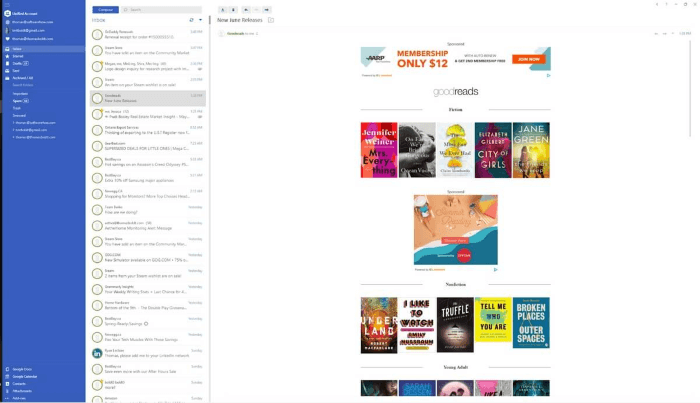 Mailbird is a usable, stylish email client for Windows users (the company is currently working on a Mac version). It won our Best Email Client for Windows roundup.
Learn more about it in our Mailbird review, and check out this article for a detailed comparison of Mailbird vs Thunderbird.
Mailbird is currently available for Windows only. Purchase it for $79, or buy a yearly subscription with updates for $39.
Rather than trying to throw in the kitchen sink, Mailbird takes a more minimalist approach. A scant amount of icons are offered, so you're not overwhelmed by the interface. Most of its features—for example, snooze and send later—are designed to help you rapidly work through your inbox.
The app lacks many of Thunderbird's email management features. You can move messages to folders and perform simple searches, but email rules and advanced queries are missing.
However, Mailbird integrates with a wide range of third-party services—many of them not available on Thunderbird. If you prefer to do email with a Porsche rather than a pickup truck, this may be the app for you.
2. Spark (Mac, iOS, Android)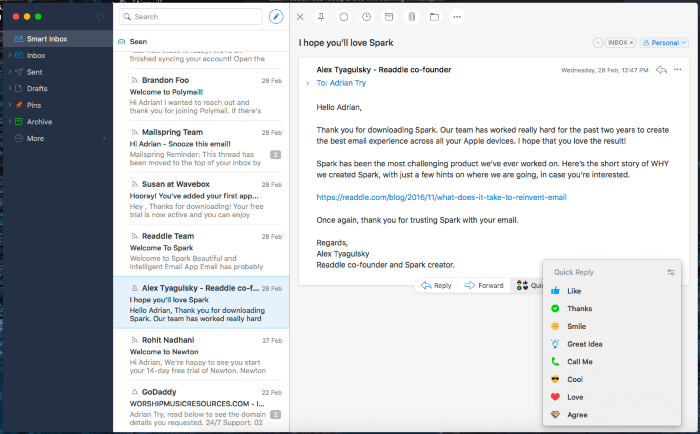 Spark, for Mac users, is very similar to Mailbird. Thanks to its well-executed focus on efficiency and ease of use, it's become my favorite. In our Best Email Client for Mac roundup, we found it the easiest to use email client.
Spark is free for Mac (from the Mac App Store), iOS (App Store), and Android (Google Play Store). A premium version is available for business users.
Spark's streamlined interface is designed to help you notice what's important with just a glance. Its Smart Inbox highlights the messages you haven't read yet and moves those you have to the bottom. It filters out newsletters from essential emails, prominently displaying pinned (or flagged) messages.
You can conveniently respond to a message using Quick Reply. You can also snooze and schedule your emails. It's easy to quickly act on emails using configurable swipe actions— enabling you to flag, archive, and file them.
The app offers folders, tags, and flags, but not rules. However, advanced search criteria are available, allowing you to conveniently narrow down search results. A spam filter removes junk mail from view. Mac users who prefer an efficient and responsive email client may find Spark perfect.
3. eM Client (Windows, Mac)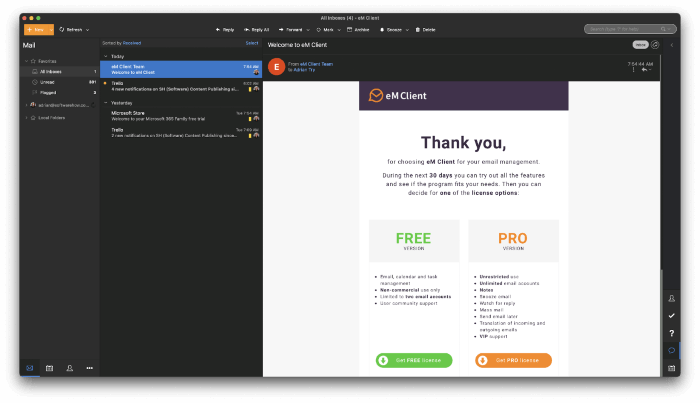 eM Client looks for the middle ground: it offers most of Thunderbird's features with less clutter and a modern interface. Learn more from our eM Client review and read our more detailed comparison between eM Client and Thunderbird.
eM Client is available for Windows and Mac. It costs $49.95 (or $119.95 with lifetime upgrades).
eM Client lets you organize your messages by folder, tag, and flag. You can also add automation with rules, though they're more limited than Thunderbird's. Advanced search and search folders are on par with Thunderbird.
The app will block remote images, filter spam, and encrypt email. An integrated calendar, task manager, and contacts app are included. However, you can't extend the feature set of the app with add-ons.
Some of the features you find in Mailbird and Spark are also included. For example, you can speed through your inbox, snoozing emails you want to deal with later. You can also schedule outgoing emails for a future time.
4. Airmail (Mac, iOS)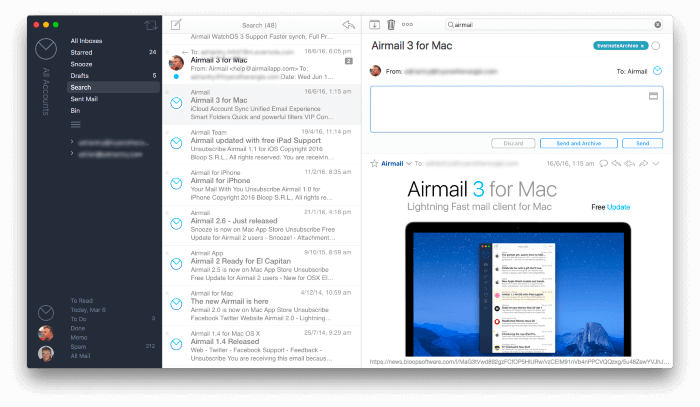 Airmail is a similar alternative for Mac users. It's fast, attractive, and offers a great balance between power and ease of use. Learn more in our full Airmail review.
Airmail is available for Mac and iOS. The basic features are free, while Airmail Pro costs $2.99/month or $9.99/year. Airmail for Business costs $49.99 as a one-time purchase.
Airmail Pro tries to offer the best of both worlds. You'll find many of Spark's workflow features like swipe actions, a smart inbox, snooze, and send later. You'll also find many of Thunderbird's advanced features, including rules, email filtering, and extensive search criteria.
Email organization goes further than the use of folders, tags, and flags. Messages can be marked as To Do, Memo, and Done, allowing you to use Airmail as a simple task manager.
Excellent support for third-party apps is offered. It's easy to send a message to your favorite task manager, calendar, or notes app.
5. Microsoft Outlook (Windows, Mac, iOS, Android)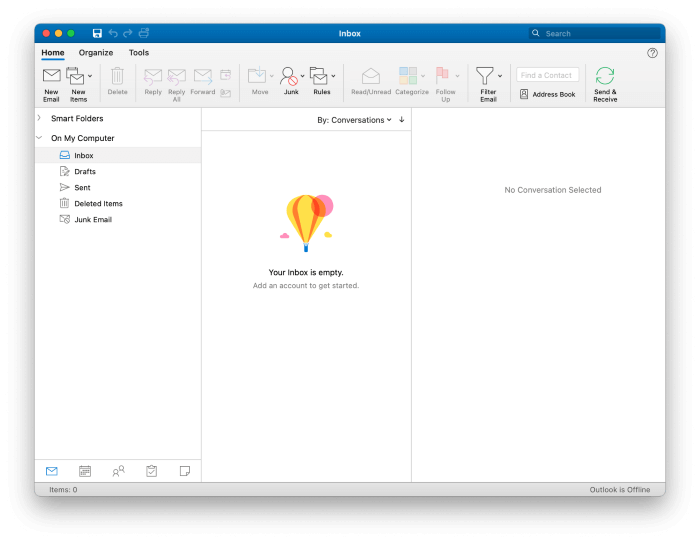 If you use Microsoft Office, Outlook is already installed on your computer and is tightly integrated with Microsoft's other apps. Its feature set is very similar to Thunderbird's, and it is still in active development. Unlike Thunderbird, it's also available for mobile devices.
Outlook is available for Windows, Mac, iOS, and Android. It can be purchased outright from the Microsoft Store for $139.99 and is also included in a $69/year Microsoft 365 subscription.
While Thunderbird looks out of date, Outlook offers the look and feel of popular Microsoft applications such as Word and Excel. Its ribbon bar offers commonly used features at the touch of a button.
Advanced search and email rules work like Thunderbird's. It also offers a rich ecosystem of add-ins so you can customize what the app is capable of.
Outlook will protect you by filtering junk mail and blocking remote images. However, encryption is only available for Microsoft 365 subscribers who use the Windows client.
6. PostBox (Windows, Mac)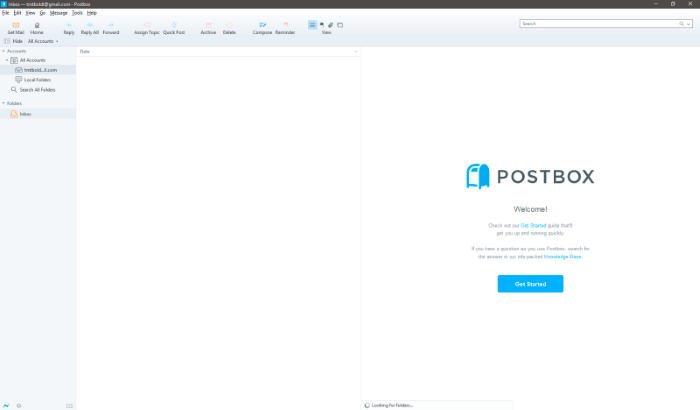 Some email clients focus on raw power at the expense of ease-of-use. One such program is PostBox.
Postbox is available for Windows and Mac. You can subscribe for $29/year or purchase it outright from the official website for $59.
The app allows you to mark specific folders as favorites for easy access. You can also open several emails at once using a tabbed interface. Templates simplify the creation of outgoing messages.
Search is fast and powerful and includes files and images. Encryption is provided through Enigmail, as it is with Thunderbird. The layout and interface can be customized, while the Quick Bar enables you to take action on an email with a single click. You can even add experimental features with Postbox Labs.
The app is designed with advanced users in mind, so the setup procedure requires more steps. For instance, the app doesn't block remote images by default. Gmail users will have to enable the IMAP protocol before they can connect their email account.
7. MailMate (Mac)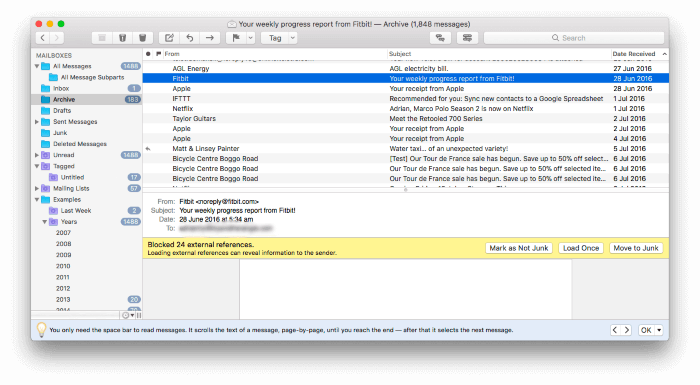 MailMate is an even geekier app for users who really like to get under the hood. It chooses function over style, power over ease-of-use, and is optimized for keyboard use.
MailMate is available for Mac only. It costs $49.99.
MailMate is standards-compliant, so it sends plain text emails. That might make it unsuitable for some users since markdown is the only way to add formatting. Its Rules and Smart Folders are more robust than Thunderbird's.
One example of MailMate's unique way of working is that the email headers are clickable. When you click on an email address, all emails from that person are displayed. Clicking on the subject line will display all emails with the same subject.
8. The Bat! (Windows)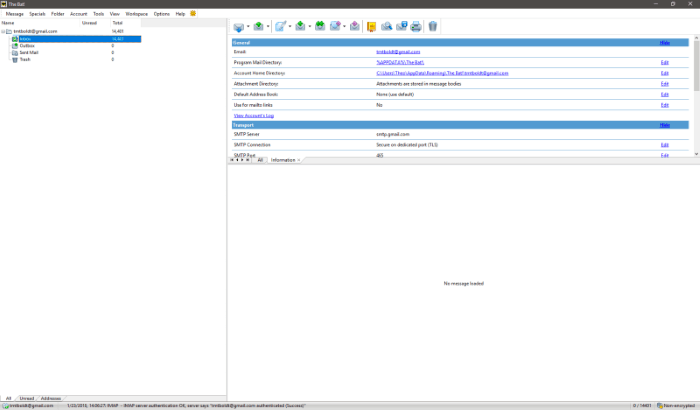 The Bat! goes even further than Postbox and MailMate. It's the least user-friendly app on our list. What's the advantage, then? It focuses on privacy and security, especially when it comes to encryption. PGP, GnuPG, and S/MIME encryption protocols are all supported.
The Bat! is available for Windows only. The Bat! Home currently costs 28.77 euros, while The Bat! Professional costs 35.97 euros.
I learned about The Bat! decades ago in a Usenet group that discussed Windows applications for power users. They evaluated and argued about the most powerful file managers, scripting languages, email clients, and more—the more customizable, the better. Really, that's the only type of computer user that The Bat! will appeal to. Maybe that's you.
One unique feature is a configurable MailTicker that notifies you of the subset of incoming emails that you defined and are interested in. It runs on your desktop and resembles a stock exchange ticker. Other features include templates, a filtering system, RSS feed subscriptions, and safe handling of attached files.
9. Canary Mail (Mac, iOS)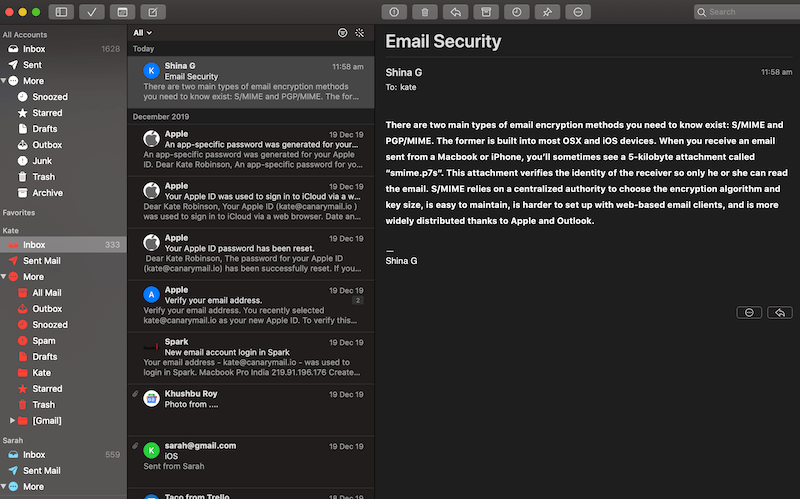 Canary Mail is not as powerful or geeky as The Bat!, but it is a good alternative for Mac users concerned with security. We found it to be the best security-focused app for Apple users.
Canary Mail is available for Mac and iOS. It's a free download from the Mac and iOS App Store. You can also get it with a $9.99/month Setapp subscription (along with other hundreds of paid Mac apps).
Canary Mail is easier to use than The Bat! but has just as strong a focus on encryption. It also includes smart filters, snooze, natural language search, and templates.
10. Unibox (Mac)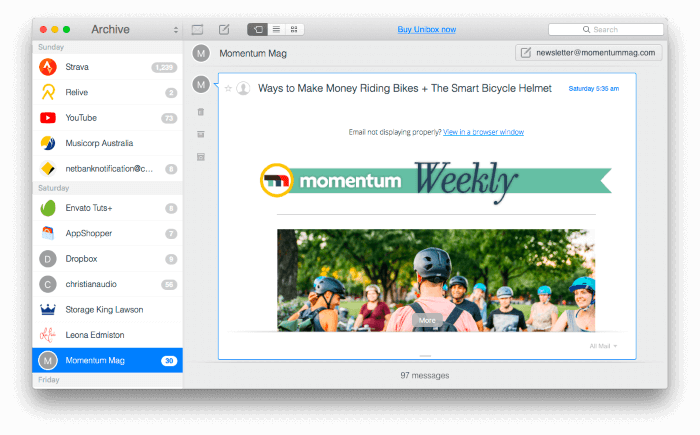 Unibox is the most unique app on our list. Its goal is to make email feel… not like email at all. It's focused on people, not messages, taking its cue from chat apps to bring an instant messaging flavor to email.
Unibox costs $13.99 in the Mac App Store and is included with a $9.99/month Setapp subscription.
Unibox doesn't present you with a long list of emails. Instead, you see the people who sent them. Clicking on someone's avatar brings up your current conversation with them. The whole experience is formatted like a chat app rather than separate messages. Clicking on the bottom of the screen will show all emails you received from a particular person.
Thunderbird Overview
Perhaps you are one of Thunderbird's 25 million users and are wondering whether to keep using it. Tempting new email clients are popping up constantly. How does Thunderbird compare to them? Let's start by looking at what it's good at and where it lacks.
What Are Thunderbird's Strengths?
Supported Desktop Platforms
Thunderbird is available for all major desktop operating systems: Windows, Mac, and Linux. However, it's not available for mobile devices, something we'll come back to later.
Ease of Setup
Over the years, it's become much simpler to link an email address to an email client. It's now a rare thing to have to input complex server settings. Thunderbird is no exception. You'll be asked to enter your name, email address, and password—and that's it. Everything else will be detected for you automatically.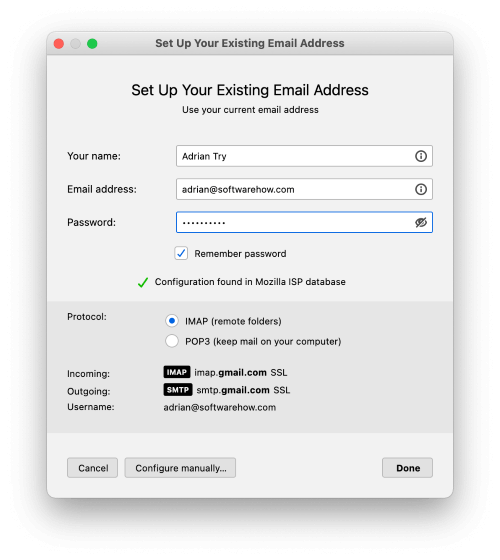 Organization & Management
Email overload drains us of time and energy. Many of us receive dozens or hundreds of daily emails, with tens of thousands of them archived. Depending on whether you're a hunter or gatherer, you'll need tools to find or organize them—or both.
Thunderbird lets you organize your messages using a combination of folders, tags, and flags. You can also create rules for the app to do it for you. You identify the messages to act on using search criteria, then define what to do with them. Actions include moving or copying to a folder, adding a tag, forwarding to someone else, flagging, setting a priority, and more.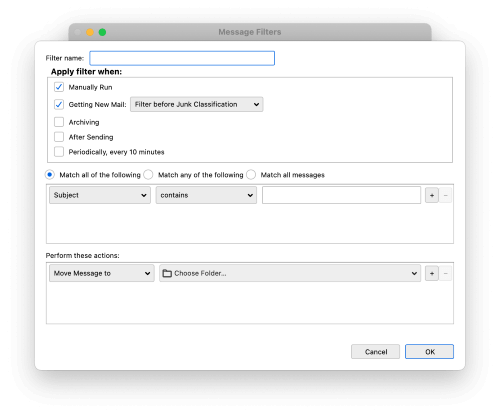 Searching for messages can be as simple or complex as you like. You can search for a word or phrase, or you can create complex search criteria using the Search Messages feature. For searches you perform regularly, you can create Search Folders that run them automatically and display the results in a folder.
Security and Privacy
Thunderbird was one of the first applications to identify spam emails using artificial intelligence. Junk mail is automatically detected and moved out of your way into its own folder. You can also manually let the app know whether or not a message is spam, and it will learn from your input.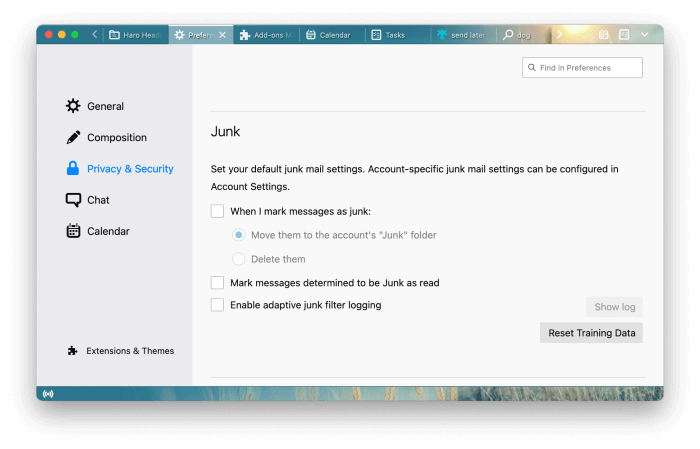 By default, all remote images will be blocked. These images are stored online and can be used by spammers to check whether or not you looked at an email. If you do, they'll know that your email address is real—and then send more spam.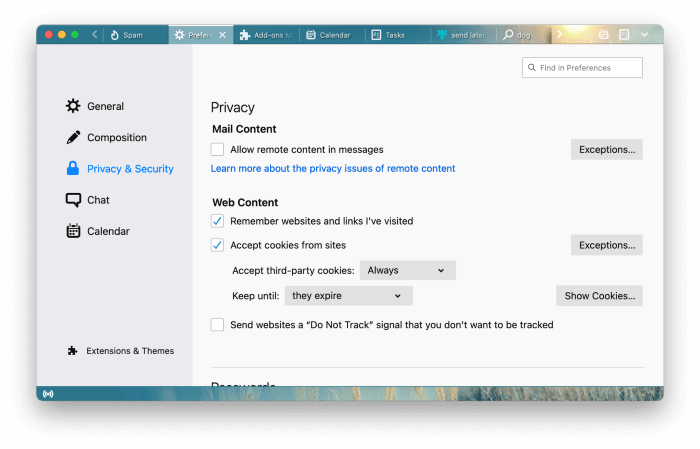 Some email clients can encrypt your outgoing mail so that it can only be read by the intended recipient. Thunderbird can't do this by default, but the feature can be added with a bit of work. You'll need to install GnuPG (GNU Privacy Guard), a separate app that does the encryption, as well as the Enigmail add-on so that you can use encryption in Thunderbird.
Integrations
Thunderbird does more than just email. It also includes a calendar, task manager, contacts app, and chat feature. You can add external calendars via the iCalendar and CalDAV standards and quickly convert any email into a task or event.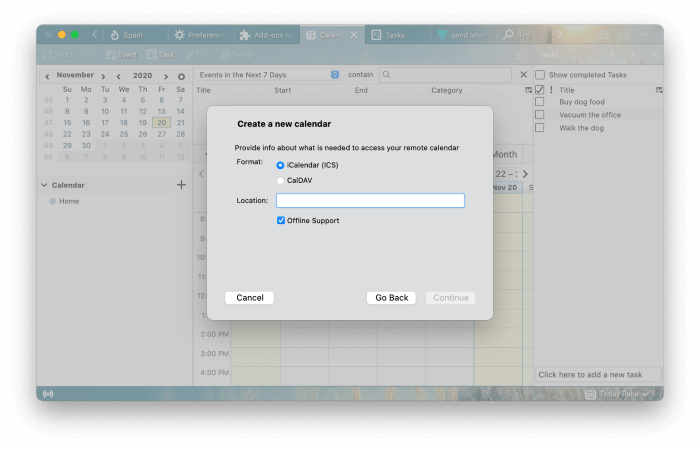 Integration with third-party apps and services is achieved by installing add-ons. For example, you can add Evernote integration so that you can open its interface in a separate tab or forward emails to the service. Dropbox integration allows you to store your attachments there, significantly decreasing the size of the emails you send.
Other extensions add new features to Thunderbird. Nostalgy and GmailUI add some of Gmail's features, including keyboard shortcuts. The Send Later extension lets you schedule the sending of an email in the future.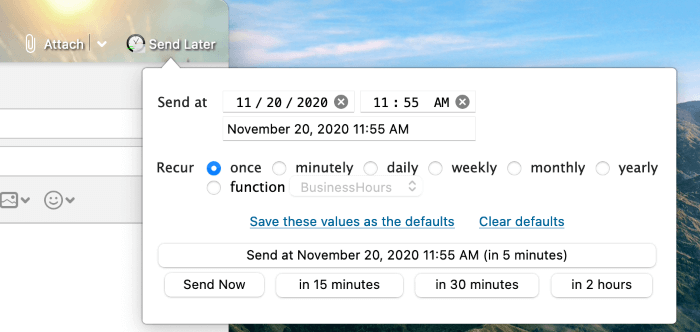 Cost
Price is one of Thunderbird's biggest advantages over other email clients. It's open-source and thus completely free to use and share.
What Are Thunderbird's Weaknesses?
Dated Look and Feel
Thunderbird's most glaring weakness, arguably, is its look and feel. When surrounded by modern apps, it can look a little out of place, especially on Windows.
The interface hasn't changed much since I started using it in 2004—and hasn't changed at all since 2012 when active development ceased. However, it can be customized somewhat. A dark mode is available, as is an extensive collection of themes that can give it a fresh coat of paint.
No Mobile App
Finally, Thunderbird isn't available on any mobile device. That means you'll have to find a different email client to use on your phone and tablet. Spark, Airmail, Outlook, and Canary Mail all provide iOS apps; some are also available on Android.
Final Verdict
Email was created by Ray Tomlinson way back in 1971 and continues to be a popular form of electronic communication today, especially for businesses. Forty years later, an estimated 269 billion emails are sent every day. Most of us check our inbox daily.
Mozilla Thunderbird is one of the oldest email clients still available, and it still works well. It offers a potent feature set and a rich ecosystem of extensions. However, it does feel quite dated and is no longer in active development.
Not everyone needs Thunderbird's exhaustive feature set. Mailbird is an easy-to-use alternative for Windows, while Spark fills that role on the Mac. They're minimal and stylish apps that let you get on with the job of emptying your inbox while eliminating distractions. Another take that focuses on people rather than messages is the Mac-based Unibox.
If you need more, eM Client (Windows, Mac) and Airmail (Mac) achieve a reasonable balance between power and usability. They provide a less-cluttered interface than Thunderbird while still retaining most of its power. Users of Microsoft Office should also consider Outlook, an email client with a familiar Microsoft interface and similar features to Thunderbird.
Then there are those who crave power and have no concern for ease-of-use. Power users may enjoy the extra features and configuration options that PostBox (Windows, Mac), MailMate (Mac), and possibly even The Bat! (Windows) offer.
Have you discovered a Thunderbird alternative that suits you? If you have, let us know in the comments below.