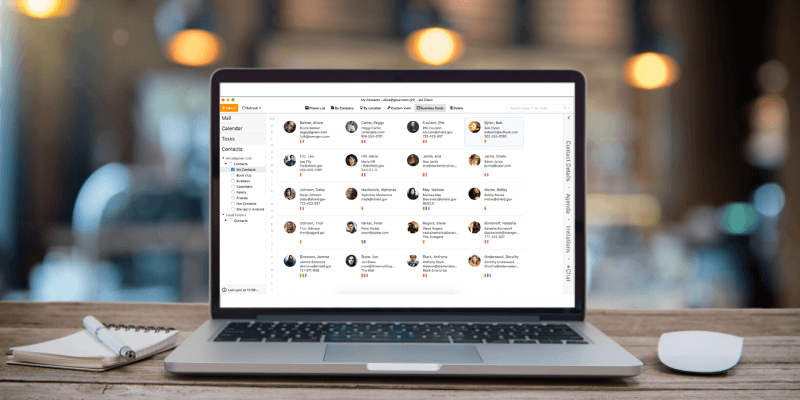 eM Client
Effectiveness: Capable email client with integrated task management
Price: $49.95, a bit pricey compared to the competition
Ease of Use: Extremely easy to configure and use
Support: Comprehensive online support available
Summary
Available for Windows and Mac, eM Client is a well-designed email client that makes setup and usage a breeze. Multiple email accounts from a range of providers can be configured automatically, and calendars and task management are integrated right alongside your inbox.

The Pro version also provides unlimited automatic translations of emails from a wide range of languages to and from your native tongue. A slightly limited version of eM Client is available for free for personal use, but you're limited to two email accounts unless you purchase the Pro version, and the translation service is unavailable.

While eM Client is a solid option for taking charge of your inbox, it doesn't have many additional features that make it stand out from the competition. This isn't necessarily a bad thing; too much distraction in your inbox can be more counterproductive than helpful. However, given that its price point is roughly on par with other paid email clients, you'd be forgiven for expecting a bit more for your dollar.

What I Like: Extremely Easy to Use. Customizable Smart Folders. Delayed Sending Option. Automatic Translations with Pro.

What I Don't Like: Few Extra Features. No Google Reminder Integration.
Why Trust Me for This Review
Hi, my name is Thomas Boldt, and like most of you, I rely on email every day for my work and personal life. I've been using email extensively since the early 2000s, and I've watched the desktop email client rise and fall and rise again amidst the ebb and flow of popular web-based email services.
While I'm not very close to reaching the mythical 'Unread (0)', the thought of opening my inbox doesn't fill me with dread – and hopefully, I can help you get there too.
Detailed Review of eM Client
If you have any experience with desktop email clients from the days before webmail services like Gmail were popular, you may remember the frustrations involved in getting everything ready.
Setting up all the required IMAP/POP3 and SMTP servers with their own unique configuration requirements could be tedious under the best circumstances; if you had multiple email accounts, it could become a real headache.
I'm happy to report that those days are long gone, and setting up a modern desktop email client is a breeze.
Once you've installed eM Client, you're walked through the entire setup process – although you'd be forgiven for not recognizing it as a process at all, since all you have to do is enter your email address and password. If you use any popular email service, eM Client should be able to configure everything automatically for you.
During the setup process, you should take a second to choose your favorite interface style, which is a nice touch that more developers are including recently. Maybe it's because I'm used to working with Photoshop and other Adobe programs, but I've grown quite fond of the dark interface style and I find it much easier on the eyes.
You'll probably continue to see this as a growing trend in app design across a number of platforms, with all the major developers working on including some sort of 'dark mode' option in their native apps.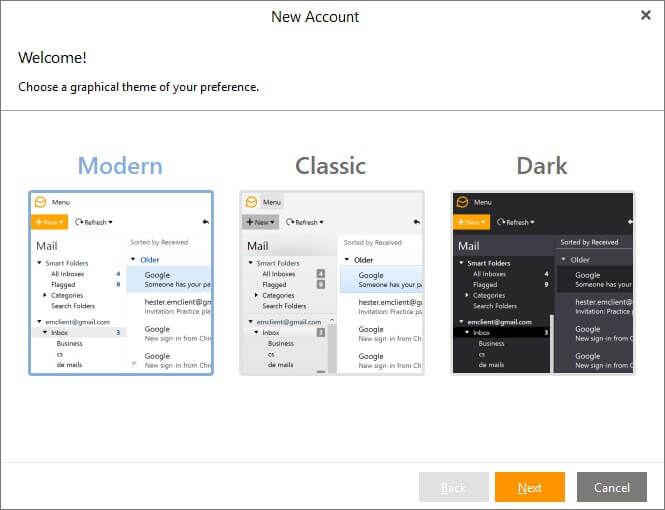 The next step is the option to import from other software, although I didn't have a chance to use this as I didn't use a different email client in the past on this computer. It did correctly identify that Outlook was installed on my system as part of my Microsoft Office installation, but I simply chose to skip the import process.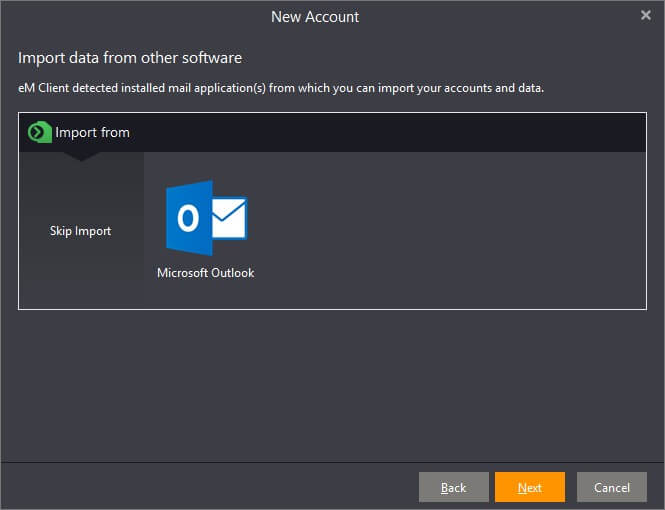 The process of setting up an email account should be extremely simple, assuming that you use one of their supported email services. A list of major enterprise services is available on their website here, but there are many other pre-configured account options that can be handled easily by eM Client's Automatic Setup mode.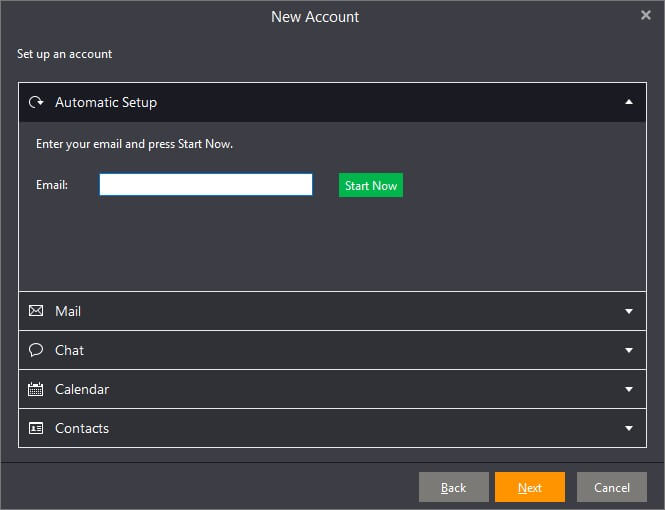 I signed up two separate accounts, one Gmail account and one hosted through my GoDaddy server account, and both worked quite smoothly without any messing around with settings. The only exception was that eM Client assumed that I had a calendar associated with my GoDaddy email account, and returned an error when it found out that no CalDAV service was set up.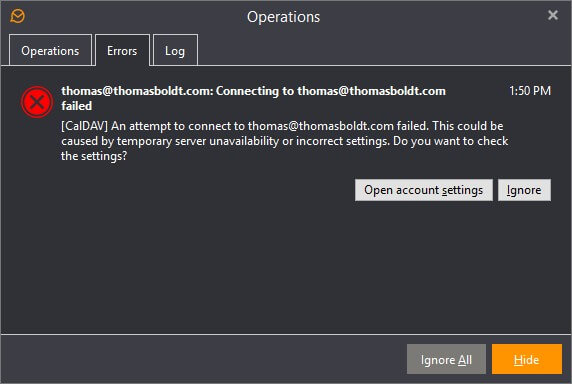 It's quite an easy fix, though – simply clicking the 'Open account settings' button and unchecking the 'CalDAV' box prevents eM Client from attempting to check it, and everything else was smooth sailing. I've simply never bothered to even set up my GoDaddy calendar system, but if you use one, you shouldn't run into this error and it should set up as easily as your inbox.
Setting up a Gmail account is about as simple, taking advantage of the familiar external login system that is used by any third-party website that allows you to login with your Google account. You have to grant permissions to eM Client to read, modify and delete your emails/contacts/events, but that's obviously all required in order for it to work properly.
Reading and Working with Your Inbox
One of the most important tools for managing your email correspondence is the ability to sort emails for priority. There are a number of emails that I'm glad to have stored in my account like bills and order receipts, which I tend to leave unread simply because they are a resource for the future if I need them and I don't want them cluttering up my normal working inbox.
If you have already configured your webmail account with folders, they will be imported and available within eM Client, but you can't modify their filtering settings without visiting your actual webmail account in your browser. However, it's possible to set up rules that allow you to filter in exactly the same way within eM Client.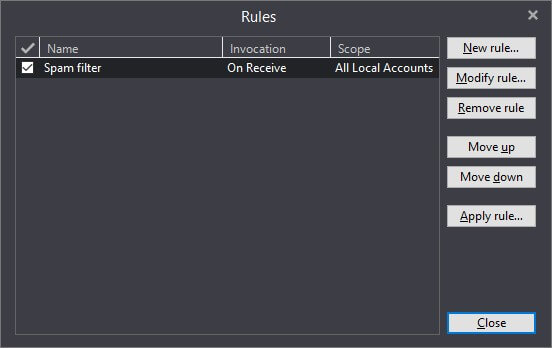 These rules allow you to filter all the messages within a specific account into certain folders, allowing you to prioritize or deprioritize certain messages based on who they're from, words they contain, or almost any other combination of factors that you can imagine.
As essential as these filters are, it can be a bit tedious to manage them for multiple accounts. Smart Folders act in a very similar way to filters, allowing you to sort your emails based on a range of customizable search queries, except they apply to all messages you receive from all your accounts.
They don't actually move your messages into separate folders, but act more like a search query that runs constantly (and for some reason, the dialog box used to create them refers to them as Search Folders instead of Smart Folders.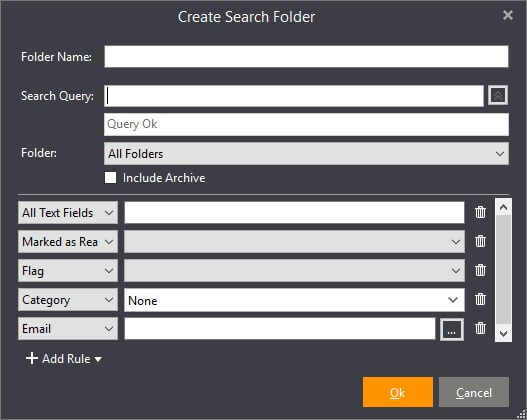 On the outgoing side, eM Client offers a number of handy features for simplifying your workflow. If you have multiple email addresses set up, you can quickly change which account you're sending from with a handy dropdown, even if you're already finished writing.

Distribution lists allow you to create groups of contacts, so you'll never forget to include Bob from Sales or the in-laws in your email threads ever again (sometimes, being organized can have downsides ;-).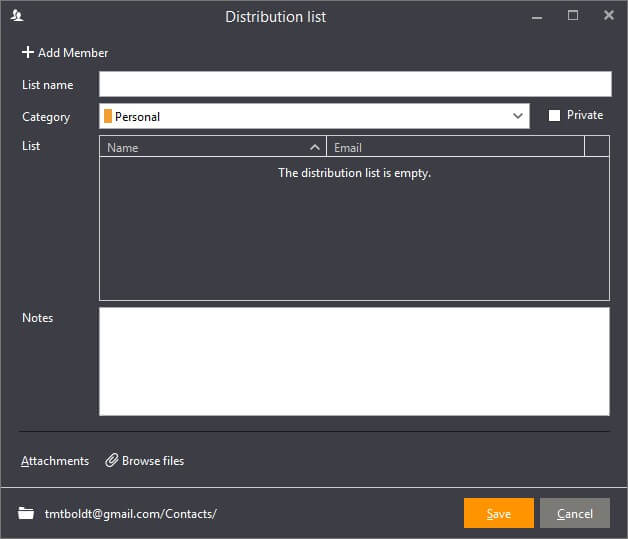 One of my personal favorite features of eM Client is the 'Delayed Send' feature. It's not complex at all, but it can be extremely handy in a number of different situations, especially when combined with distribution lists. Simply select the arrow beside the 'Send' button on the email you just wrote, and specify a time and date for it to be sent.

Last but not least, I really appreciate the fact that eM Client doesn't display images in emails by default. Most images in marketing emails are simply linked to on the sender's server, instead of embedded within the message.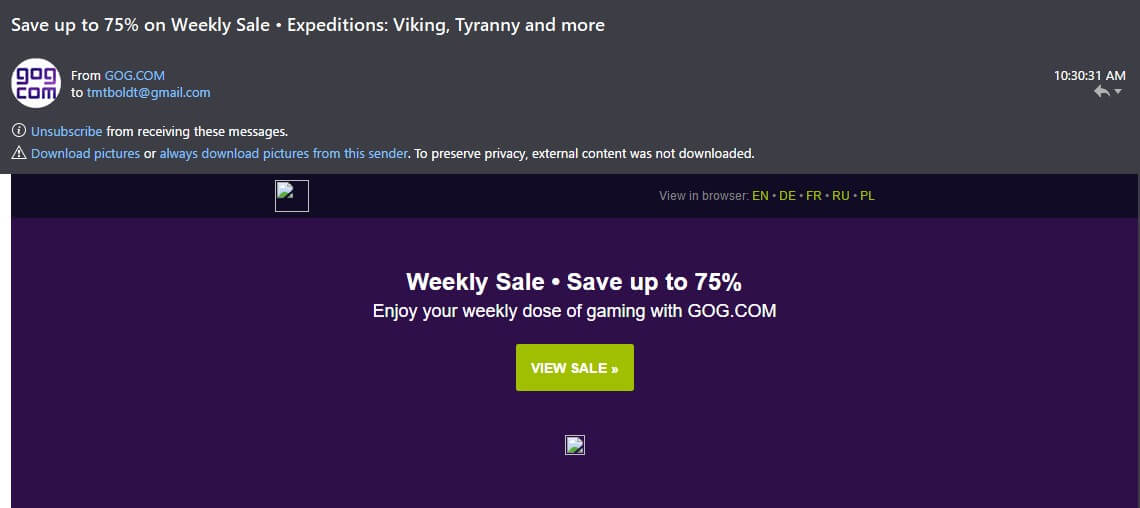 For those of you who aren't up on your cybersecurity or your marketing analytics, even the simple act of opening an email can provide the sender with a lot of information about you, just based on the retrieval requests used to display the images contained in your emails.
While those of you used to Gmail are probably accustomed to the masterful power of the Google spam filter to decide what's safe to show, not every server has the same level of discretion, so turning image display off unless you verify a sender as safe is a great policy.
Tasks & Calendars
In general, tasks and calendars features of eM Client are as simple and effective as the rest of the program. They do exactly what it says on the tin, but not much more – and in one case, a bit less. It may just be a quirk of how I use my Google calendar, but I tend to record events using the Reminders feature rather than the Tasks feature.
In Google's apps, this doesn't really matter because there is a specific calendar created to display Reminders, and it plays nicely with the Google Calendar app just like any other calendar.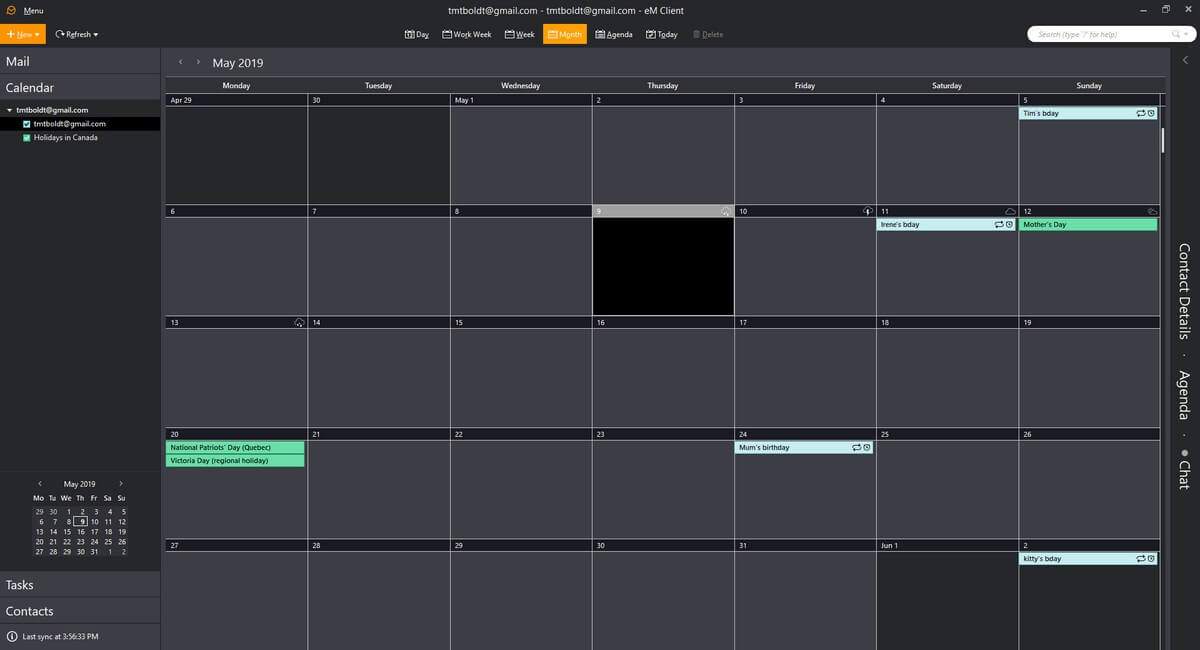 However, no matter what I tried, I couldn't get eM Client to display my Reminders calendar, or even to acknowledge its existence. I thought perhaps it might show up in the Tasks panel, but there was no luck there either. This was one issue I also failed to find any support information about, which was disappointing because generally the support is quite good.
Aside from this one odd issue, there isn't really all that much to say about the Calendar and Tasks features. I don't want you to think this means they're not good tools – because they are. A clean interface with customizable views is great for cutting through the clutter, but unfortunately, it means that the only big selling point is the ability to bring your calendars and tasks from multiple accounts altogether.
While that's a very useful feature to have for multiple email inboxes, it's noticeably less helpful for most people who already use a single account for their calendar and task management.
I personally have enough trouble keeping up with my one account calendar, let alone the idea of dividing it across multiple accounts!
eM Client Alternatives
eM Client provides a handy chart showcasing how it stacks up against the competition. Just remember that it is written to make it look like the best option, and so doesn't point out the things that others can do that it can't.
Mailbird (Windows only, $24 per year or $79 one-time purchase)
Mailbird is definitely one of the better email clients available at the moment (in my opinion), and it manages to provide the clean interface of eM Client with a number of helpful add-ons designed to make you more efficient. The speed reader feature is a particularly interesting one, as are the range of available integrations with social media and cloud storage like Dropbox.
A free version is available for personal use, but you won't be able to get most of the advanced features that make it interesting, and you're limited in the number of accounts you can add. You can read our full Mailbird review here or my direct feature comparison of Mailbird vs eM Client here.
Postbox (Mac & Windows, $40)
Postbox is another excellent client, featuring a clean interface overtop of some great features for power users. Quick Post lets you instantly send content to a huge range of services, from Evernote to Google Drive to Instagram. If efficiency is your truest love, you can even track how long you've been spending on email from within the program.
If you're a user with many computers, you'll be happy to know that Postbox licenses per user and not per device, so feel free to install it on as many computers as you need, including a blend of Macs and Windows PCs.
Microsoft Outlook (Mac & Windows – $129.99)
Outlook holds a unique place in this list, because it's not a program that I would ever actively recommend to a user who didn't absolutely need it. It's got a huge list of features, but that also tends to make it insanely complicated beyond the needs of most home and small business users.
If you're not forced to use Outlook by your business' enterprise solution requirements, it's generally best to stay away from it in favor of one of the more user-friendly variants. If you are, your company probably has an IT department dedicated to making sure it all works properly for you. While I guess it's great to have so many features, if 95% of them simply clutter up the interface and never get used at all, what's really the point?
Also Read: Outlook vs eM Client
Mozilla Thunderbird (Mac, Windows & Linux – Free & Open Source)
Thunderbird has been available for email since 2003, and I remember being quite excited when it first came out; the idea of quality free software was still quite novel at the time (*waves cane*).
It's come quite a long way since then, with over 60 versions released, and it's still being actively developed. It offers a lot of great functionality, equalling most of what eM Client can do – combine inboxes, manage calendars and tasks, and integrate with a range of popular services.
Unfortunately, Thunderbird falls prey to the same problem that afflicts a lot of open-source software – the user interface. It still looks as though it's about 10 years out of date, cluttered and unattractive. There are user-made themes available, but generally those are worse. But if you take the time to adapt to it, you'll find that it provides all the functionality you'd expect at a price point you just can't argue with. Read our detailed comparison of Thunderbird vs eM Client here.
You can also read our detailed reviews of the best email clients for Windows and Mac.
Reasons Behind The Ratings
Effectiveness: 4/5
eM Client is a perfectly effective email, task and calendar manager, but it doesn't really do much that goes above and beyond the basic minimums that you'd expect from an email client. It's very simple to set up, you can filter and sort your emails easily, and it integrates well with a wide range of services.
The biggest unique selling point is only available in the Pro version, which provides unlimited automatic translations of incoming and outgoing emails.
Price: 4/5
eM Client is priced roughly in the middle of the competition, and when compared to Outlook it's a real bargain. However, you are restricted to a single device, although multiple device licenses are available for a slightly reduced cost.
This is fine if you only use one computer, but some of the competition is priced similarly per user, allowing you unlimited devices with some additional advanced features not found in eM Client.
Ease of Use: 5/5
eM Client is extremely easy to configure and use, and this was by far my favorite part of the program. If you're not comfortable (or don't want to waste your time) configuring server addresses and ports, you definitely won't need to worry, as the initial setup is entirely automatic for most email providers.
The rest of the user interface is also extremely clearly laid out, although this is partly because the program focuses on the basics, and there aren't a lot of added features to clutter things up or inhibit the user experience.
Support: 4/5
In general, eM Client has good online support available, although some of the more in-depth content might be a little bit out of date (or in one case, the link from within the program pointed to a 404 page.
The only area that it seems unwilling to discuss is any negative results of the program. When trying to solve my Google Calendar issue, I noticed that rather than admit they didn't support the Reminders feature, it simply wasn't discussed at all.
A Final Word
If you're looking for a clearly-designed email client with good support for a range of email/calendar/task services, eM Client is a great option. It focuses on the basics, and does them well – just don't expect anything too fancy, and you'll be happy. If you're a power user looking for something a bit more capable, there are other options that you might want to explore instead.
So, what do you think about our eM Client review? Leave a comment below.