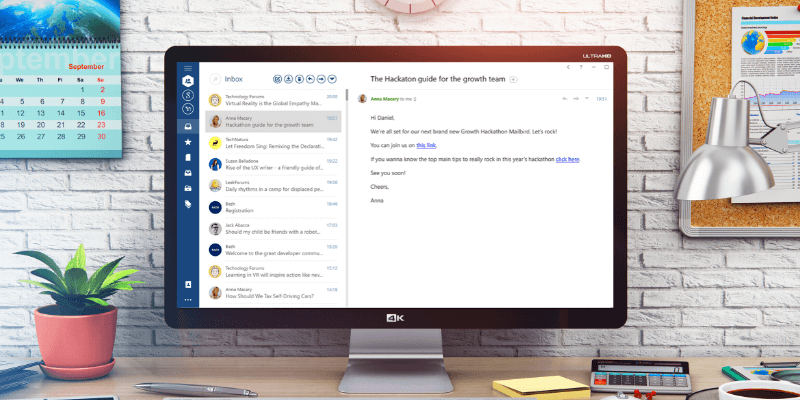 Mailbird
Effectiveness: Decent features hampered by limited search
Price: Affordable compared to the competition
Ease of Use: Extremely easy to configure and use
Support: Good knowledge base, but developers are slow to reply
Summary
Mailbird is a user-friendly email client for Windows with a clean interface and a number of integrations with popular apps, including Google Docs, Slack, Asana, Wunderlist, and more. Configuring your email accounts is extremely simple, and you can view them all together in the Unified Account to sort through your unread messages even faster, although it's only available for Windows.

Unfortunately, it's not all sunshine and birdsong. The search feature available for finding past email messages is as basic as it is possible to be, and there are no message filtering rules available from within Mailbird. There's an extremely basic add-on app for finding attachments, but for some unstated reason, the Mailbird developers don't seem to consider a quality search feature to be a priority.

If you rely heavily on search in your day-to-day inbox usage, you may want to look elsewhere until this feature is improved. Mailbird has been around for six years now, though, so don't hold your breath.

What I Like: Simple user-friendly interface. Extremely easy to configure. Lots of app integrations available.

What I Don't Like: Search feature is extremely basic. No message filtering rules available within the app. No CalDAV support.
Why Trust Me for This Mailbird Review
Hi, my name is Thomas Boldt, and I rely on email for the vast majority of my professional communications. I've tested almost all of the major email clients that are available today, and I've used a wide range of webmail services with an even wider array of good and bad features.
Sometimes it feels like the only email client that would match my specific needs is one that doesn't exist yet, but I realize that everyone has different requirements and what works for me isn't necessarily what others need. That perspective helps me review more effectively, and hopefully, I can help you find the right solution for your situation.
Detailed Review of Mailbird
Configuring Mailbird
As with most modern email clients, configuring Mailbird is extremely easy and user-friendly. Long gone are the days when you'd have to memorize all the various server settings for your individual email accounts, and instead, you simply have to provide your name and email address.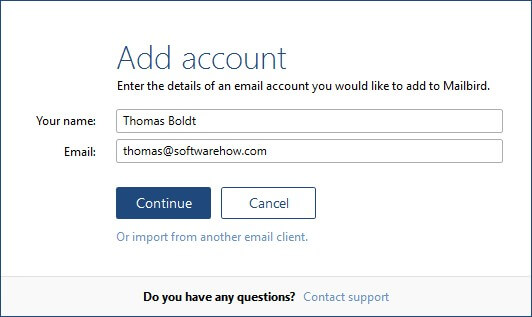 All the relevant server settings are automatically detected for you, and there is a wide range of supported services. Gmail is easy, of course, but Mailbird was also able to set up my Godaddy hosted email account without any problem. (It was actually even easier than setting up Gmail, as it didn't require an external login process.)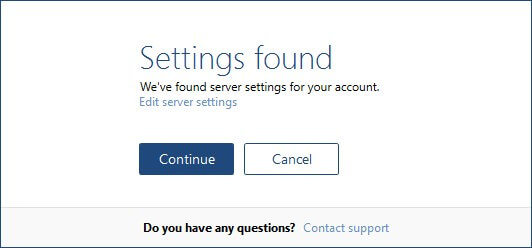 Mailbird claims to have a customizable interface, and to some extent that's true, but it's a bit limited in terms of options. I may be a bit biased due to my experience with Adobe's customizable interfaces, where virtually every element of the UI can be adjusted, scaled or moved. I'd love to be able to do the same with my email client, but none of those I've ever tried has offered the option.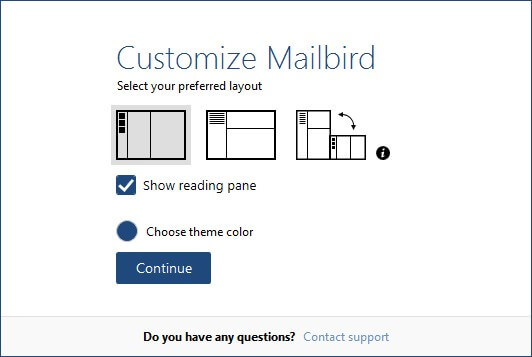 Once you've completed the initial setup process, you'll get access to additional customization options. In addition to theme colors, you can also choose between two Dark Mode options, which are a welcome relief for tired eyes who are sick of staring at bright white inboxes for hours on end.
If you feel the desire for some more personalization, there are various themes available, including one for each house from Game of Thrones – I guess the developers must be fans. If you want to create your own house (or just your own theme), you can use any custom image that you want.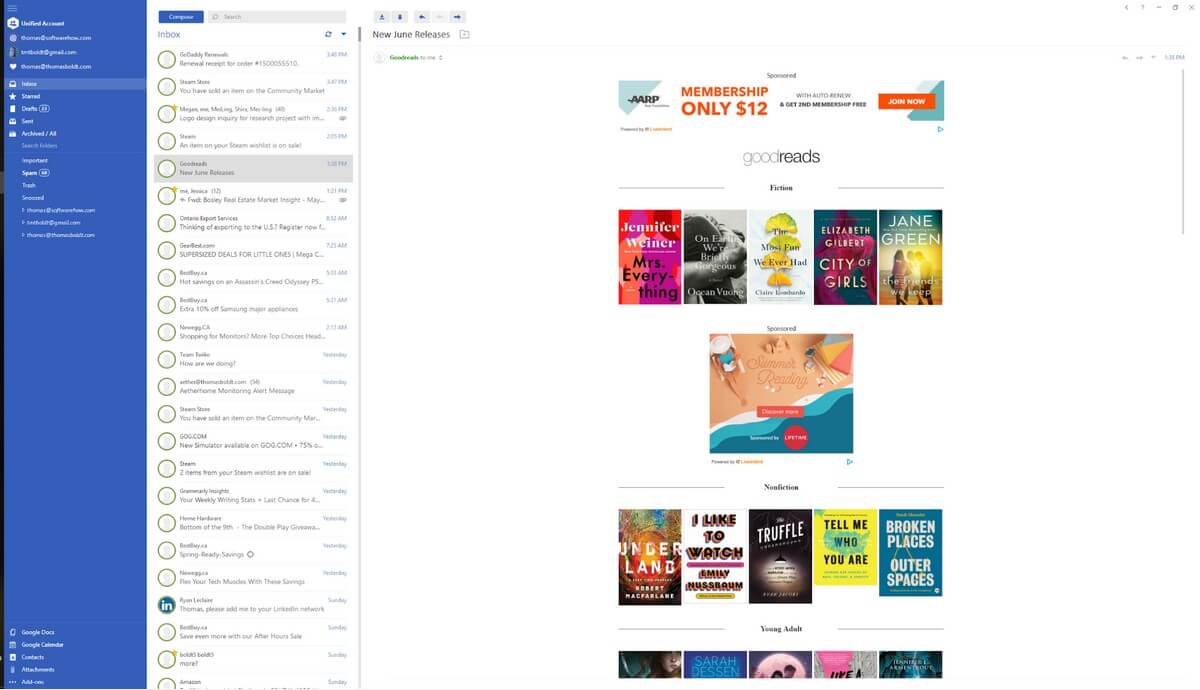 Mailbird's inbox layouts are simple and effective, allowing you quick navigation from your Unified Account which displays all the emails you've received at all of your addresses to each specific one and the organizational folders it contains. But everyone has their own unique working style, and so there are a few different layout options available.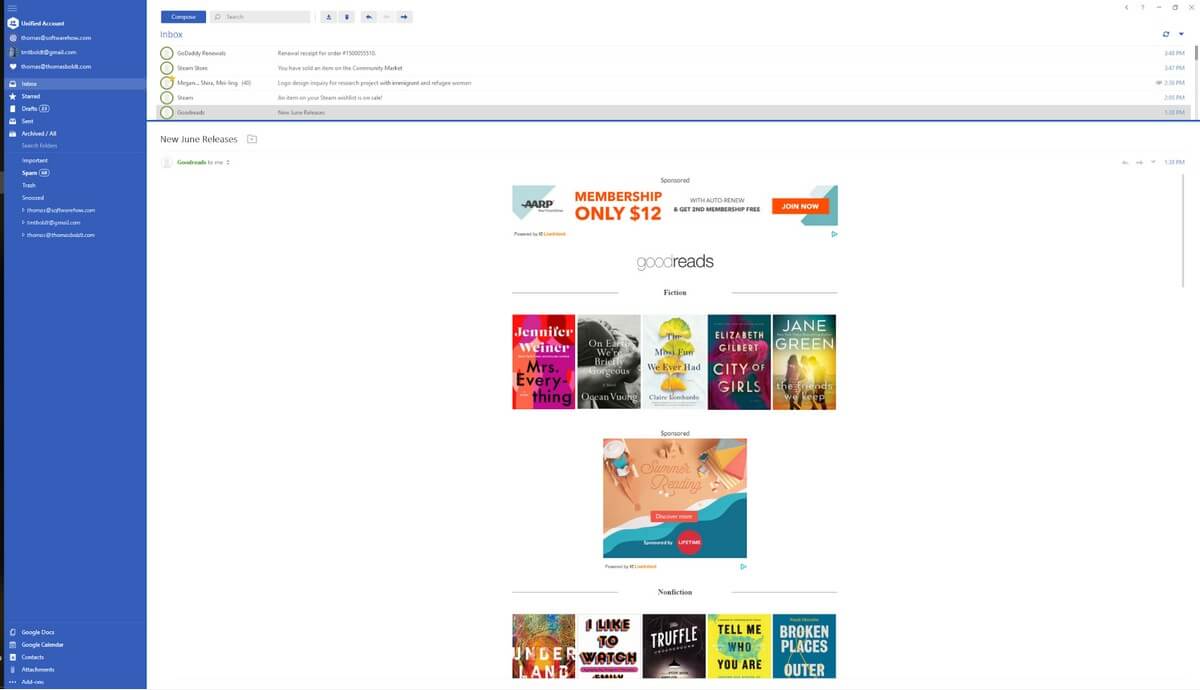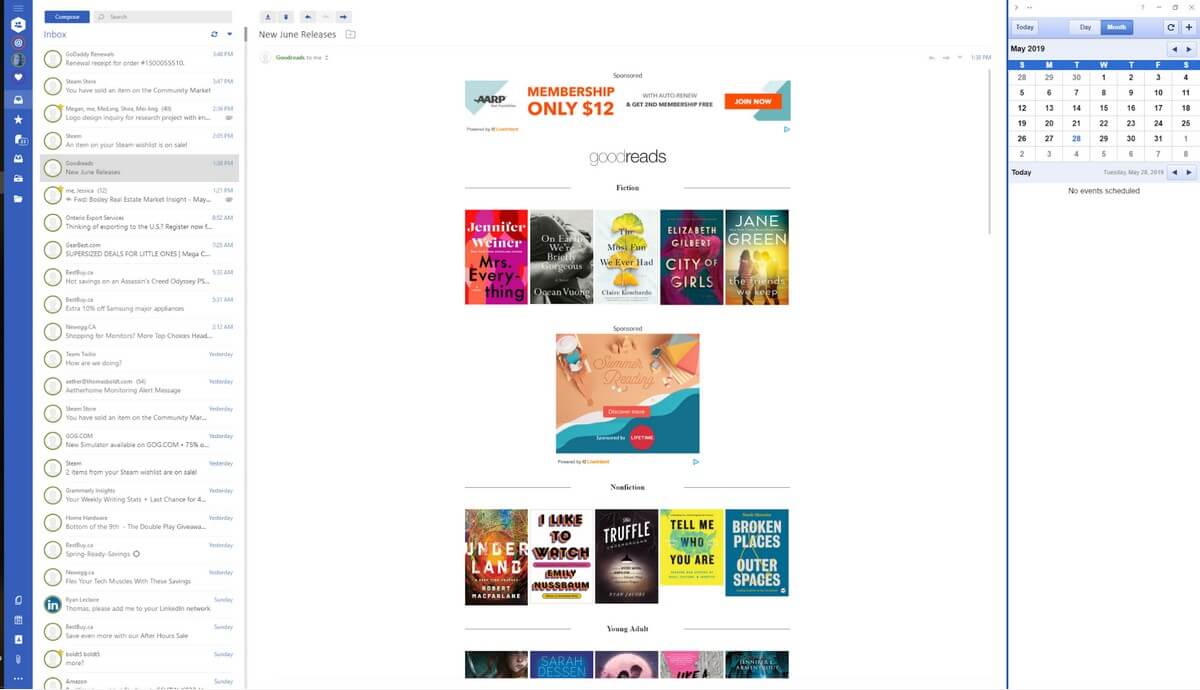 Working With Mailbird
For most casual usage, Mailbird is a great way to centralize a number of different accounts into one simple working space. The shortcuts within the app are the same as those found in Gmail, which makes for a very smooth transition for existing users. A wide number of language dictionaries are included for composing messages, and the app itself is available in almost as many.
In addition to being a good consolidator, Mailbird includes a number of little additional features to help you with your inbox.

One of my favorite features is the Snooze option, which allows you to temporarily mute a conversation thread until a later date or time. You can configure your weekly schedule for use with the snooze feature, as well as decide a couple of more snooze options, when 'Later Today' is and when 'Someday' is.
Almost philosophical, that last one, but I sort of wish the developers would have included a range of more customizable options instead of just two future options. You can choose to snooze until a specific time and date, but having more configurable presets would really unleash the power of the feature.
Mailbird currently doesn't allow users to schedule the sending of emails, which would be a nice touch, but it does allow you to configure an 'Undo' window of up to 30 seconds where you can cancel the sending of an email. It's always embarrassing to compose an email and forget the attachment until a second after you hit send, but the Undo option will help to save you from yourself.
While Mailbird is generally a good email client for casual users, power users may find themselves disappointed. There are a number of things that could be improved in Mailbird, but there is one essential feature that is oddly unpolished: the search function. It exists in the most basic form possible: allowing you to search for any string of text you can think of.
Frustratingly, it won't allow you to restrict your search parameters to specific fields, such as the From field or the Subject field, and so you also can't combine search parameters the way many Gmail users are used to.
For some reason, the developers of Mailbird are completely unresponsive about repeated user requests for such a basic feature. On their knowledge base, there are comment threads from several years ago where many users request improvements to the search function, without getting any response.
I looked through all the additional app integrations that are available, and the only one I can see that might offer an improved search function is Followup.cc, but that requires a separate (and far more expensive) subscription of at least $18/month – and I'm not even sure it will do the job.
Despite this lack of interest in search, Mailbird developers included a unique tool I haven't run into before: a speed reader. A quick keyboard shortcut enables the feature, and the email is broken down into single words that flash in place. Most of my emails are quite short, so I don't get much value from it personally, but if you have a contact who frequently writes you walls of text, you may find a way to scale them quickly.
While it's a cool idea, it also feels like it could use some work. It can only be used for single messages and not for entire conversation threads, which seems like a real missed opportunity as it would allow users to quickly catch up on group email threads they've missed. It would also be nice if it was able to handle HTML messages a bit better, and ignore signatures.
App Integrations
By default, Mailbird's various integrations are hidden, but it's easy enough to enable them by visiting the Add-ons section in the bottom left corner of the window. In effect, this turns Mailbird into a one-stop-shop for handling all of your organizational tasks.
You're presented with a long list of potential integrations, from the typical Google services shown above to WeChat, Slack, Asana, Facebook, Dropbox, Wunderlist and more. I'm not entirely sure if it's really a good idea for productivity to have access to your social media right within your email client, but I suppose anyone who works with social platforms professionally could make a case for it.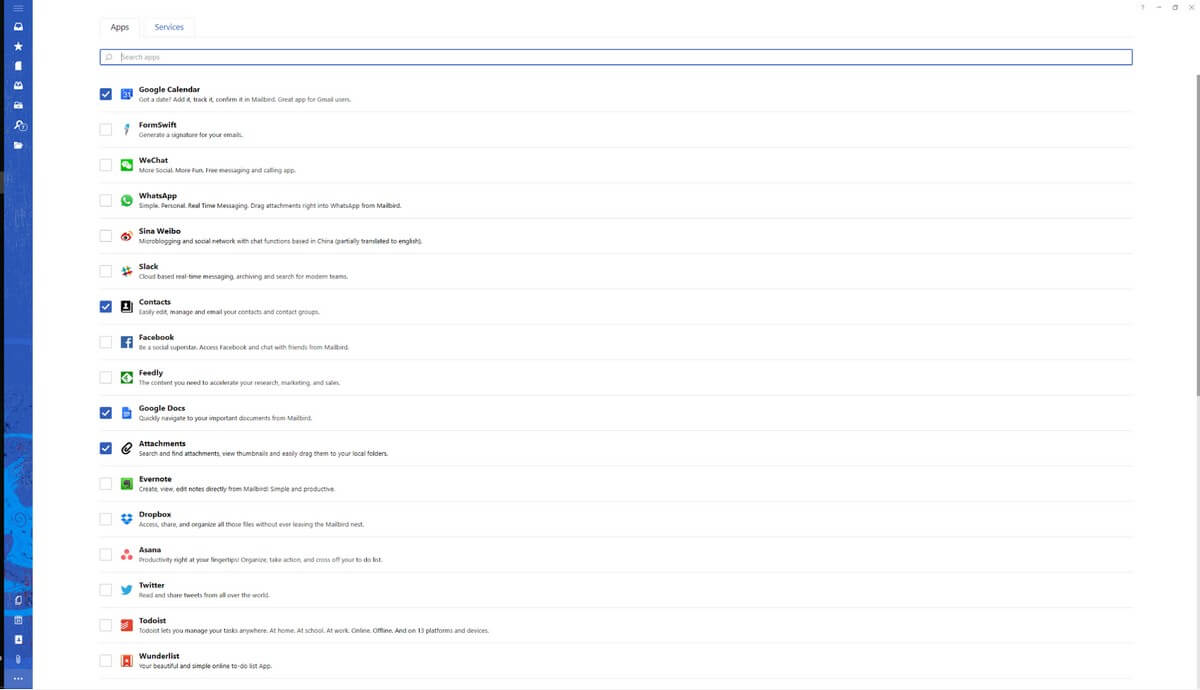 I tend to stick with the Google services ecosystem for the sake of simplicity and consistency, and this works quite well with Mailbird, but if your app choices are more eclectic you might want to verify that your favorite apps can connect. In theory, the list of supported programs and services is increasing all the time, but I'm not sure how regularly they are updated.
For example, Google Docs is included in the list and you can switch to Sheets and Slides, but in order to access your more general Google Drive, you're forced into a new window. It's not a major issue, but Google's Drive vs Docs change happened quite a while ago and Mailbird hasn't caught up.
If you use multiple Google accounts the way I do, you may also find it frustrating that Mailbird doesn't handle multiple calendars and Drive accounts very well. You're technically logged into all of them, but switching to a new account's Drive or Calendar will just open a new window to display it, which sort of defeats the whole purpose of the Mailbird 'nest' dashboard idea.
This may be enforced by Google, but the developers might want to rethink the way they handle this.
Mailbird Alternatives
eM Client (Mac / Windows)
eM Client is also a very user-friendly email client, with a couple of features that Mailbird is lacking – most notably, excellent search and filter features. It doesn't offer any additional app integrations, but it's also far more customizable than Mailbird. You can read my full eM Client review here, and you can read my direct feature comparison of eM Client vs Mailbird here.
Postbox (Mac / Windows)
This is perhaps the last major email client that I haven't fully tested yet, although you can expect to see a review from me sometime soon. Postbox is actually originally a fork of the popular open-source Thunderbird client, which has been customized and is now a paid product. It provides a much clear and modern interface overtop of the base strengths of Thunderbird, although it will cost you $40.
Mozilla Thunderbird (Mac / Windows / Linux)
Thunderbird is one of the oldest email clients still available, and that age has given it a great advantage in terms of features. It's one of the most powerful email clients available, but it suffers from the same problem that a lot of open-source software does: bad UI design.
It's badly in need of a refresh, but if you take the time to learn the interface, you're going to find just about everything you need. Of course, you can't argue with the low price of 'free'.
Mail for Windows (Windows)
If you're looking for a free email client that doesn't suffer from Thunderbird's UI problems, you might have overlooked Mail, the built-in email client that comes with Windows.
While it's definitely not the fanciest piece of software ever developed, it does offer good integrations with Microsoft services, so users who are heavily invested in the Microsoft ecosystem without the need for Outlook might want to give it a try. It's even already installed for you!
Reasons Behind The Ratings
Effectiveness: 4/5
Mailbird allows you to quickly and easily combine all your emails into a single place and allows you to flag and label emails to help your organization. Since handling email usually results in switching between programs, Mailbird offers integration with a number of different apps and services in a single unified dashboard.
However, if your organization system isn't top-notch you may be out of luck because the search function in Mailbird is definitely lacking.
Price: 4.5/5
Of the paid email clients, Mailbird is definitely among the most affordable at $3.25/month, $39/year, or $79 for a lifetime of updates. If you only use one computer, this might not provide as much value as some of the other options, but Mailbird allows you to activate your license on as many computers as you want, while other programs charge more per computer.
Ease of Use: 5/5
Ease of use is Mailbird's strongest feature, allowing you to quickly set up and access as many email accounts as you want in a single place. Keyboard shortcuts available in the program are easy to learn and match what you find in Gmail for added speed and convenience. Integrating various apps into your Mailbird dashboard only takes a single click, and there is a wide range of options available.
Support: 4/5
Mailbird has an extensive knowledge base online that describes their features, but during my testing, I did notice that some of the articles were out of date. Additionally, it seems that the developers are not particularly focused on answering users on their own forums or on answering their requests for features.
Many users have requested updates to the search function for years without getting any satisfaction, and the web is littered with reports of slow customer service.
The Final Word
Mailbird, incubated and nurtured by Livit, is a great email client for casual users who want to consolidate their various email accounts into a single place for easy access. Power users who make heavy use of filters and search will probably want to look elsewhere, however, as Mailbird's organizational tools could definitely use some improvement.
Last but not least, just in case you ever wonder what it's all for: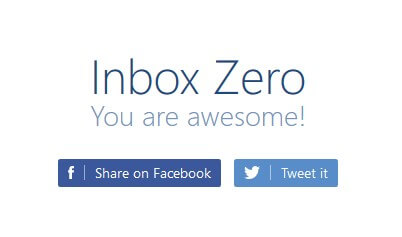 So, how do you like this Mailbird review? Leave a comment and let us know.