Although the number of social media platforms and chat apps is always growing, email seems here to stay. Just about everyone has an email address. It's easy to use, freely available and doesn't belong to a single company.
What's the best email software? You need an app that sets up simply, communicates effectively, and helps us manage the ever-growing amount of wanted and unwanted emails we receive.
Mailbird and Thunderbird are two popular email management programs. How do they compare? Read this comparison review for the answer.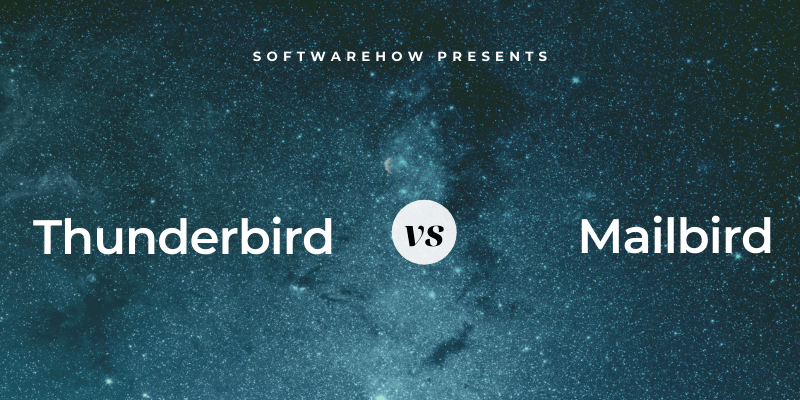 Mailbird is a stylish email client for Windows with an easy setup and interface. It cleanly integrates with tons of popular apps, including calendars and task managers. The app does lack some advanced features, such as message filtering rules and comprehensive search. It was chosen as the winner of our Best Email Client for Windows and was reviewed in detail by my colleague.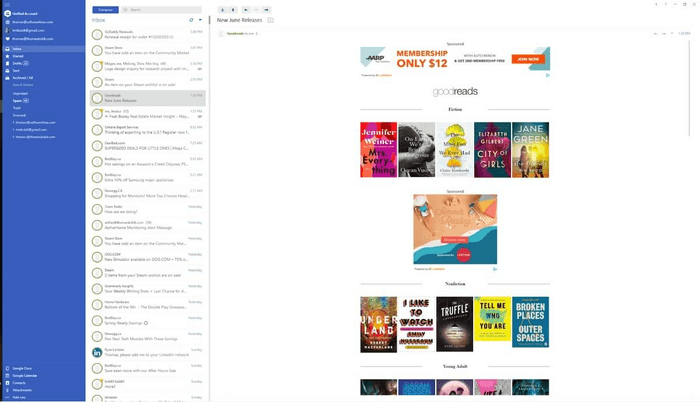 Thunderbird is a much older app and looks that way. It was first released in 2004 by Mozilla, the organization behind the Firefox browser. As is common with open-source apps, it's designed to be functional rather than beautiful. It looks better on Linux and Mac than on Windows. Most of the bugs have been eradicated over the years, and though it feels dated, it's feature-rich. Thunderbird offers good integration with other apps through plugins and the use of typical protocols. The app includes its own chat, contacts, and calendar apps in a tabbed interface.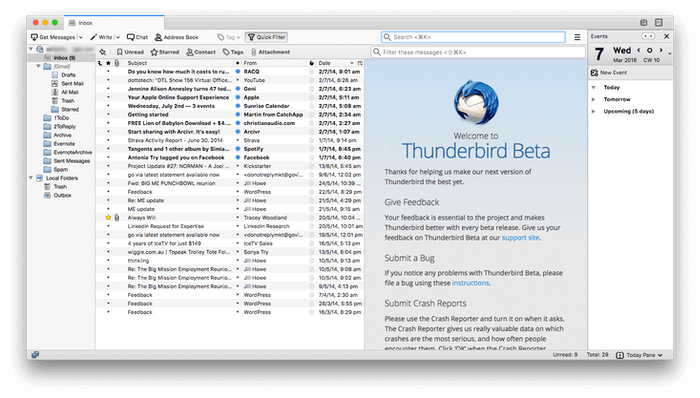 1. Supported Platforms
Mailbird is a solid Windows app, and a Mac version is currently in development. Thunderbird is available for all major desktop operating systems: Mac, Windows, and Linux. However, there isn't a mobile version available for either app.
Winner: Both apps are available for Windows. Thunderbird is also available for Mac and Linux, and a Mac version of Mailbird is in development.
2. Ease of Setup
Setting up your email accounts used to be tricky. You'd have to enter your login credentials and navigate complex server settings before you could send or receive messages. Fortunately, many email clients today make the job much easier.
When Thomas reviewed Mailbird, he found it very easy to set up. He typed in his name and email address, then all the other server settings were automatically detected. He was asked to decide which layout he preferred, and the setup was complete.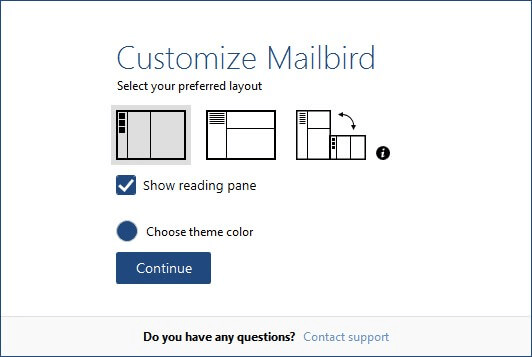 Thunderbird was similarly easy. I typed in my name, email address, and password, and the rest of the configuration was done for me. I wasn't asked to choose a layout, but that can be easily accomplished from the View menu.

Both apps allow you to manage multiple email addresses and support the POP and IMAP email protocols out of the box. To connect to a Microsoft Exchange server, you'll need to subscribe to Mailbird's Business subscription and install a Thunderbird plugin.
Winner: Tie. Both email clients automatically detect and configure your server settings after you supply your login credentials.
3. User Interface
Mailbird has a clean, modern interface with minimal distractions. Thunderbird has a more dated, busy interface with easy access to advanced features.
Both apps allow you to customize their appearance using themes and offer a dark mode. Thunderbird includes more customization options than Mailbird.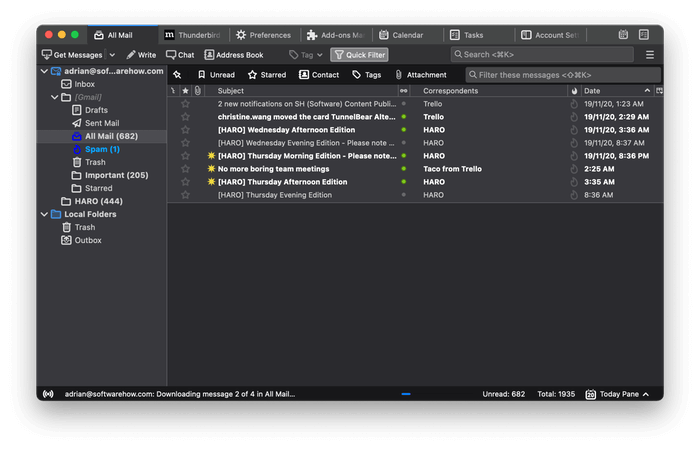 Mailbird offers a huge benefit for Gmail users: it uses the same keyboard shortcuts. Thunderbird doesn't do this by default but has an advantage of its own: it can be extended by add-ons. The Nostalgy and GmailUI extensions allow you to use Gmail keyboard shortcuts and more when using Thunderbird.
Both apps have a unified inbox where incoming mail from all of your accounts is combined for easy access. Mailbird also has features that help you quickly clear your inbox. One of these is Snooze, which removes a message from the inbox until a later date or time that you determine.

Thunderbird doesn't have that feature by default, but you can add it with an extension. Unfortunately, I can't find a snooze extension compatible with the current version of the app. But while Mailbird doesn't allow you to send an email at a specified time in the future, Thunderbird's Send Later extension does.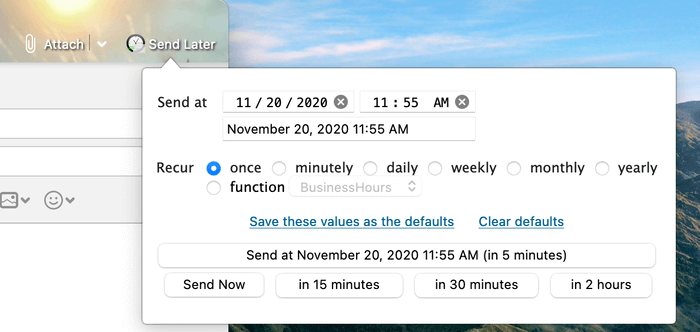 Winner: Tie—both apps have strengths that will appeal to different users. Mailbird will suit those who prefer a clean interface with fewer distractions. Thunderbird is more customizable and gives quick access to its advanced features.
4. Organization & Management
We're inundated with so much email each day that we need help organizing and managing it all. Features like folders and tags let us add structure to the chaos. Powerful search tools can help us find the right message in seconds.
Mailbird allows you to create folders to store your emails in, but you'll have to manually drag each message to the right folder. It doesn't offer any automation or rules to do this automatically.
Thunderbird offers both folders and tags, as well as powerful message filtering to automatically sort your email. They allow you to match your emails using a combination of criteria, then perform one or more actions on the matching messages. That includes moving or copying the message to a folder or tag, forwarding it to another person, starring it or setting a priority, marking it read or unread, and much more.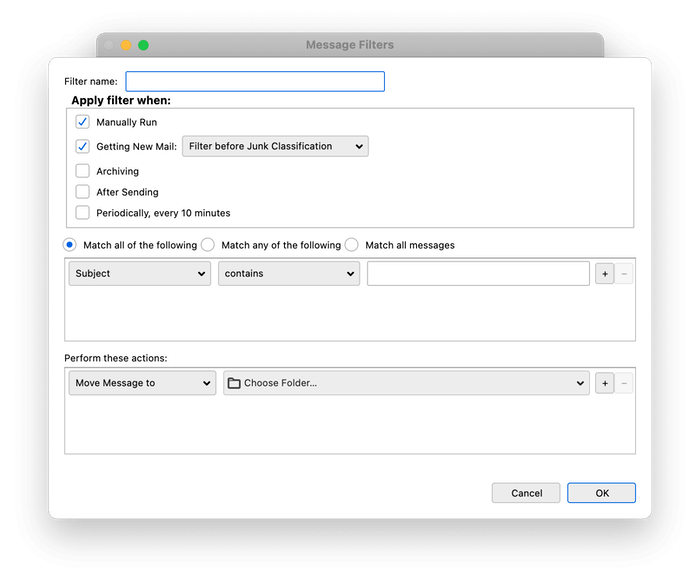 With the right rules, your email will virtually organize itself. They can be run automatically or manually and on incoming mail or existing messages.
Mailbird's search feature is quite basic. You can search for simple text strings but can't specify whether they're in the email subject or body. That's helpful, but finding the right one may still take time if you have an archive of tens of thousands of messages.
Thunderbird offers a similar simple search feature by clicking the search box at the top of the screen (or pressing Command-K on Mac or Ctrl-K on Windows). But it also has an advanced search feature that can be accessed from the menu: Edit > Find > Search Messages… Here, you can create multiple search criteria to quickly narrow down the search results.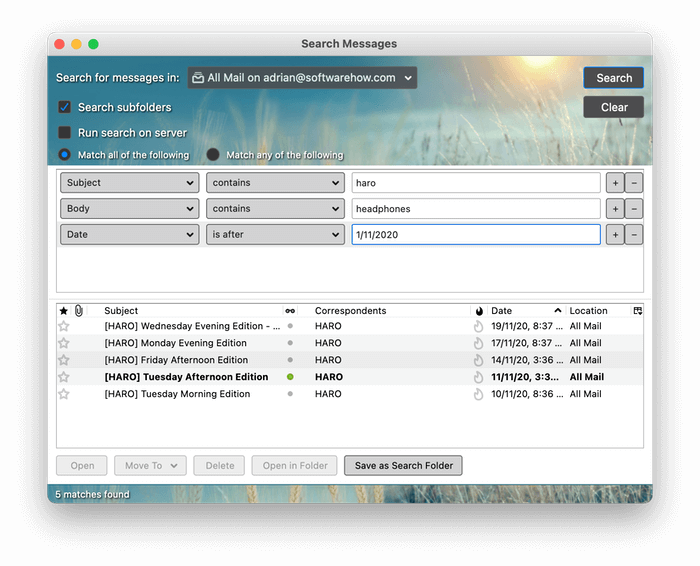 In this example, I built a search where matching messages had to meet three criteria:
The message title had to contain the word "Haro."
The message body had to contain the word "headphones."
The message had to be sent after November 1, 2020.
In less than a second, Thunderbird filtered thousands of emails down to a shortlist of four. If that's a search I'm likely to need again in the future, I can save it as a Search Folder by clicking the button at the bottom of the window.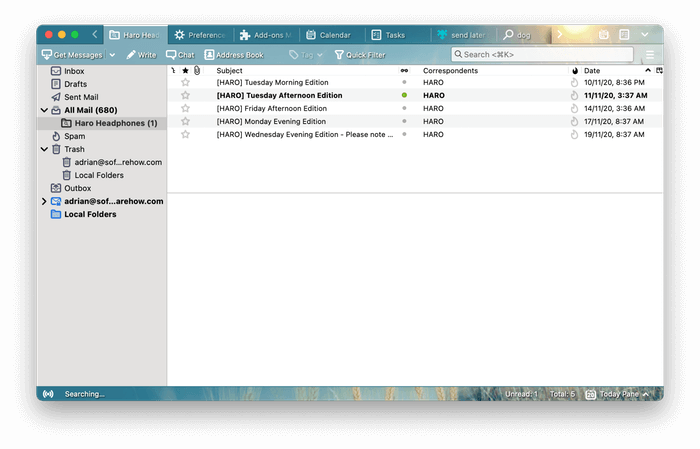 Winner: Thunderbird offers both folders and tags, as well as powerful rules and search.
5. Security Features
Email is inherently insecure. Your message is bounced from server to server in plain text, so you should never email confidential or potentially embarrassing content. There's more: junk mail makes up about half of all emails sent, phishing schemes try to fool you into giving up personal information to scammers, and email attachments may contain malware. We need help!
I prefer to deal with spam on the server before it ever touches my email software. Many email services, such as Gmail, offer excellent spam filters; most junk mail is removed before I ever see it. I check my spam folder from time to time to ensure there aren't any genuine emails in there by mistake.
Mailbird also relies on your email provider's spam filter and doesn't offer its own. For many of us, that's fine. But Thunderbird was around long before Gmail was created and offers its own excellent spam filtering; it's turned on by default. For some time, it was one of the best junk mail solutions available. I relied on it for years.
Thunderbird uses artificial intelligence to determine whether a message is spam and automatically moves it to the Junk folder. It also learns from your input as you mark any messages it missed as junk or let it know that any false positives aren't.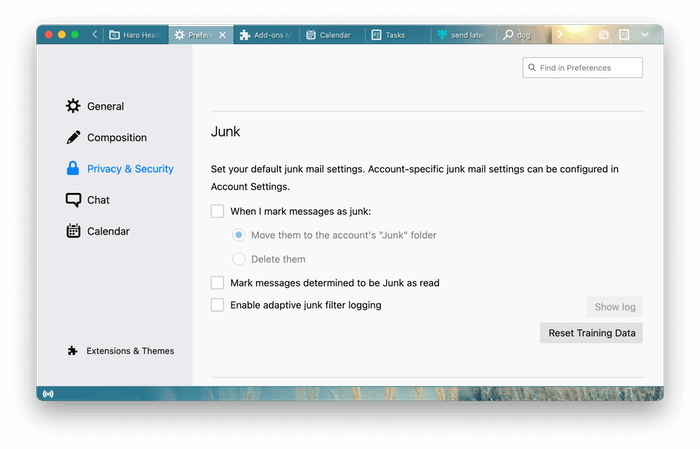 Both apps disable the loading of remote images (stored on the internet, not in the email). These are often used by spammers to track whether users have looked at an email, confirming that your email address is real, which leads to further spam.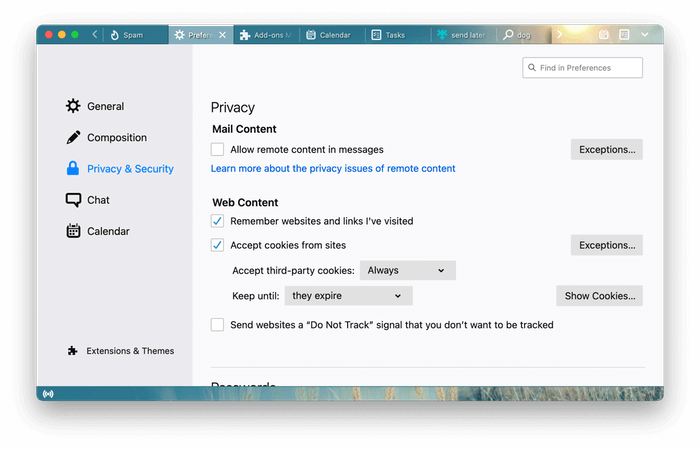 Finally, if you're concerned about viruses, spyware, and other malware in your email, you will need to run separate antivirus software.
Winner: Thunderbird offers an effective spam filter. However, if your email provider handles that for you, consider it a tie.
6. Integrations
Both email clients integrate with other apps and services. The Mailbird website boasts a long list of apps that can be connected, including calendars, task managers, and messaging apps:
Google Calendar
Whatsapp
Dropbox
Twitter
Evernote
Facebook
To Do
Slack
Google Docs
WeChat
Weibo
And more
The program's add-on feature will create a new tab for as many services as you want to access from within Mailbird. However, it seems to do this via an embedded browser window rather than true integration. For example, it doesn't support connecting external calendars via CalDAV but will display the Google Calendar web page.
Thunderbird's integration is stronger. The app has its own calendar, task management, contacts, and chat functionality. External calendars (say a Google Calendar) can be added via either iCalendar or CalDAV. This integration isn't just for viewing information; it allows you to take action. For example, any email can be quickly converted to an event or task.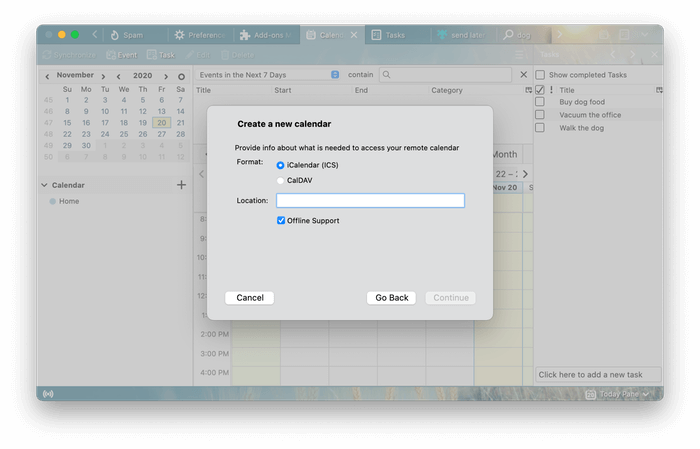 Thunderbird offers a rich ecosystem of extensions allowing integration with a wide range of apps and services. A quick search shows add-ons that let you open Evernote in a tab or upload attachments to Dropbox. However, not all of Mailbird's integrations seem to be currently available in Thunderbird. Developers and advanced users could write their own extensions to achieve this.
Winner: Thunderbird supports familiar mail and chat protocols, has its own calendar, tasks, contacts, and chat modules, and a rich ecosystem of add-ons. However, it comes down to the integrations you need personally. Mailbird lists many integrations not currently available in Thunderbird.
7. Pricing & Value
Thunderbird has a clear price advantage: it's an open-source project and is completely free. Mailbird Personal is available as a $79 one-off purchase or a $39 yearly subscription. A more expensive Business subscription plan is also available; you can get discounts for bulk orders.
Winner: Thunderbird is completely free.
The Final Verdict
Email clients help us read and manage incoming mail, reply, and weed out spam and phishing emails from genuine ones. Mailbird and Thunderbird are both good options. They're easy to set up, simple to use, and integrate with a wide range of apps and services. If integration is best for you, your choice may come down to the apps you want to connect.
Mailbird is currently only available for Windows (a Mac version is being worked on). It's the better-looking of the two programs and has a focus on ease of use. As a result, it lacks some of the functionality and customizability that you'll find in Thunderbird. It costs $79 as a one-off purchase or $39 as a yearly subscription.
Thunderbird is a long-standing email client available on every major desktop operating system. It's quite powerful and costs nothing. The app offers a powerful search feature, checks for junk mail, and empowers you to create intricate rules to automatically organize your emails. You can add more features by making use of its rich plugin ecosystem.
Windows users who value an attractive program may prefer Mailbird. For everyone else, Thunderbird is the better option. You may want to try both applications before deciding. Mailbird offers a free trial, while Thunderbird is free to use.