Email turns 53 this year, and it's bigger than ever. In fact, 98.4% of users check their email daily, making a good email client your most crucial business tool. Many of us have inboxes that are overflowing — so we need help finding, managing, and responding to important mail. Are you succeeding with your current app?
The good news is that every Mac comes with a decent email client — Apple Mail. It handles multiple accounts, is easy to use, and its integration with Spotlight makes finding emails simple. It works on your mobile devices as well. But it's not the best at everything.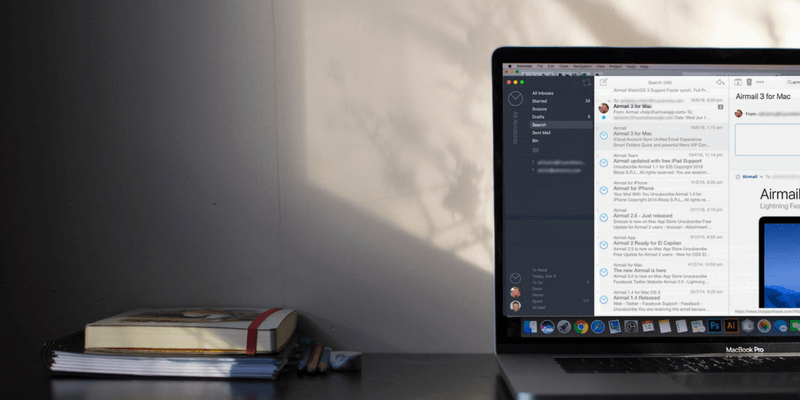 While writing this review I've enjoyed exploring the other email clients available for Mac. After using Airmail for quite a few years, I was wondering if something better has come along.
There are some very good alternatives now, though I concluded that Airmail still has the best balance of features for my needs, and probably for many of yours too.
But I also discovered some others that really interest me, and I'd like to explore further. For example, Spark offers a minimalistic interface that helps you plow through your email.
Then there's MailMate, which won't win any beauty contests but has more muscles than any other email client for macOS — at a price. And there are others that may interest you if your priority is security, the Microsoft ecosystem, or sales and contacts.
Finally, using email effectively doesn't have to be expensive. In the final section, I'll explain why you might want to stick with the free Apple Mail, choose webmail instead, or try one of the other free email clients that are available.
Using a Windows PC? See the best email client for Windows.
Why Trust Me for This Mac Email App Guide
My name is Adrian, and I write about tech topics on SoftwareHow and other sites. I started using email at university in the 80s, and it really became a key part of my personal and business life in the mid to late 90s when internet access became more common.
Before moving to the Mac, I used quite a number of Windows and Linux email clients, including Netscape Mail (which later turned into Mozilla Thunderbird), Outlook, Evolution and Opera Mail. When Gmail was launched I immediately became a fan and appreciated the huge amount of space they gave me, as well as the smart features of their web app.
After switching to Mac I continued to use Gmail, but as I was working from home I started experimenting with email clients again. First Apple Mail, and then Sparrow, which was smart, minimalistic, and worked perfectly with my Gmail account. After Google purchased and discontinued the app, I switched to Airmail.
I've really enjoyed exploring the competition while preparing for this review, though it has meant that I get about ten notifications for every email that comes in. There are some wonderful apps out there, and one will be perfect for you.
Who Needs a Better Email Client for Mac?
Your Mac comes with an adequate email client — Apple Mail. It's easy to set up, has a lot of features, and is well-integrated into macOS. It's free and may offer all that you need.
So, why would you need a better email client? There are a lot of reasons, and the alternatives are quite different. What suits one person may not suit you. But if you relate to any of these comments, you may find that an alternative email client will make your life much easier:
I receive so much email I find it hard to find the important ones. I'm often overwhelmed, and frozen into inaction.
I have an overflowing inbox, and desperately need some tools to sort through it all and start to manage it better.
Whenever I need to respond to an email I procrastinate. I'd like it to be easier. If only my app would suggest what I should say.
I seem to spend half my day dealing with email. Is there a way to speed up the process?
Apple's Mail has so many features I feel lost. I want something easier.
Apple's Mail doesn't have enough features. I want an app fit for a power user.
I deal with a lot of customers and would like to track all of the emails I've received from one person or company more efficiently.
I need an email client that works better with Gmail or Microsoft Exchange.
I'm used to instant messaging, and email seems boring. Can we make email more like chat?
I have to use a Windows PC at work and would prefer to use the same email client on both platforms.
Best Email Client for Mac: Our Top Picks
Note: We've picked three winners and to make it easier for you to choose the one that fits you, we break them down into the best, the easiest to use, and the most powerful. Learn more below.
Best Overall: Airmail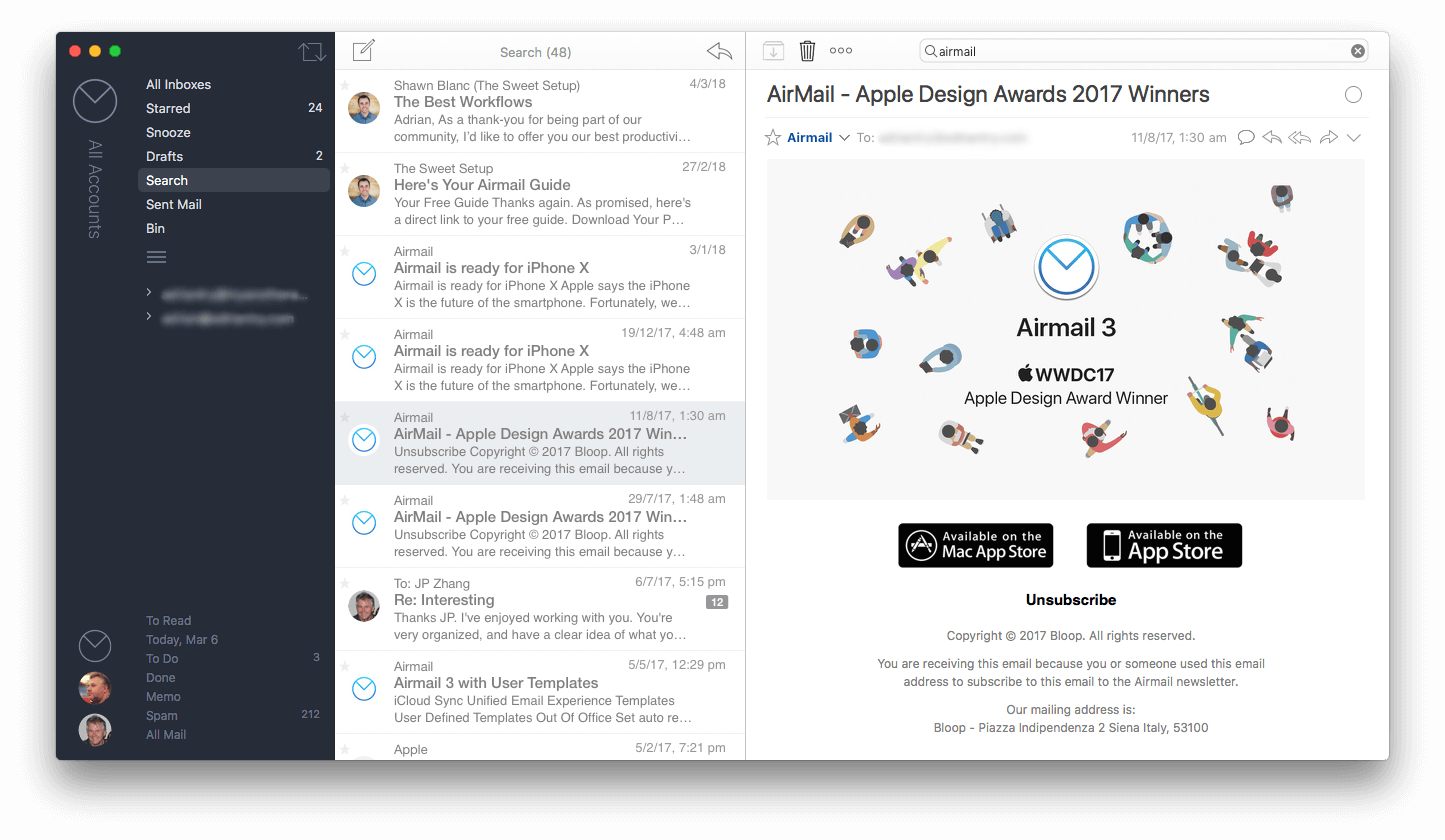 Five years ago I knew it was time to move to a new email app. After a lot of research, I chose and purchased Airmail. I've been happily using it ever since on both Mac and iOS. The app is attractive, easy to use, and boasts a slew of modern and powerful email features at an affordable price.
I've had another good look at the competition over the last few weeks, and have concluded that for me, and most of you, Airmail remains the best value email app for the average user. Here's why.
Airmail is smooth and modern. It's attractive, affordable, easy to use, very fast, and doesn't get in your way. Setting up a new email account is a cinch. I'm not the app's only fan — It's clean interface won it an Apple Design Award.
The app supports multiple email addresses, and can quickly set up just about every email system out there: iCloud, MS Exchange, Gmail, Google Apps, IMAP, POP3, Yahoo!, AOL, Outlook.com, and Live.com. Like a lot of email clients today, Airmail makes your life easy by giving you a unified inbox — incoming mail from all of your accounts are shown in one place. Each sender is identified by a large avatar.
Working through your inbox is quick. Airmail supports multiple configurable swipe actions, as well as drag and drop. An email can be snoozed until a later time and date if you're not ready to deal with it now, and quick reply lets you reply to an email as quick as if you were chatting, with options to send or send and archive.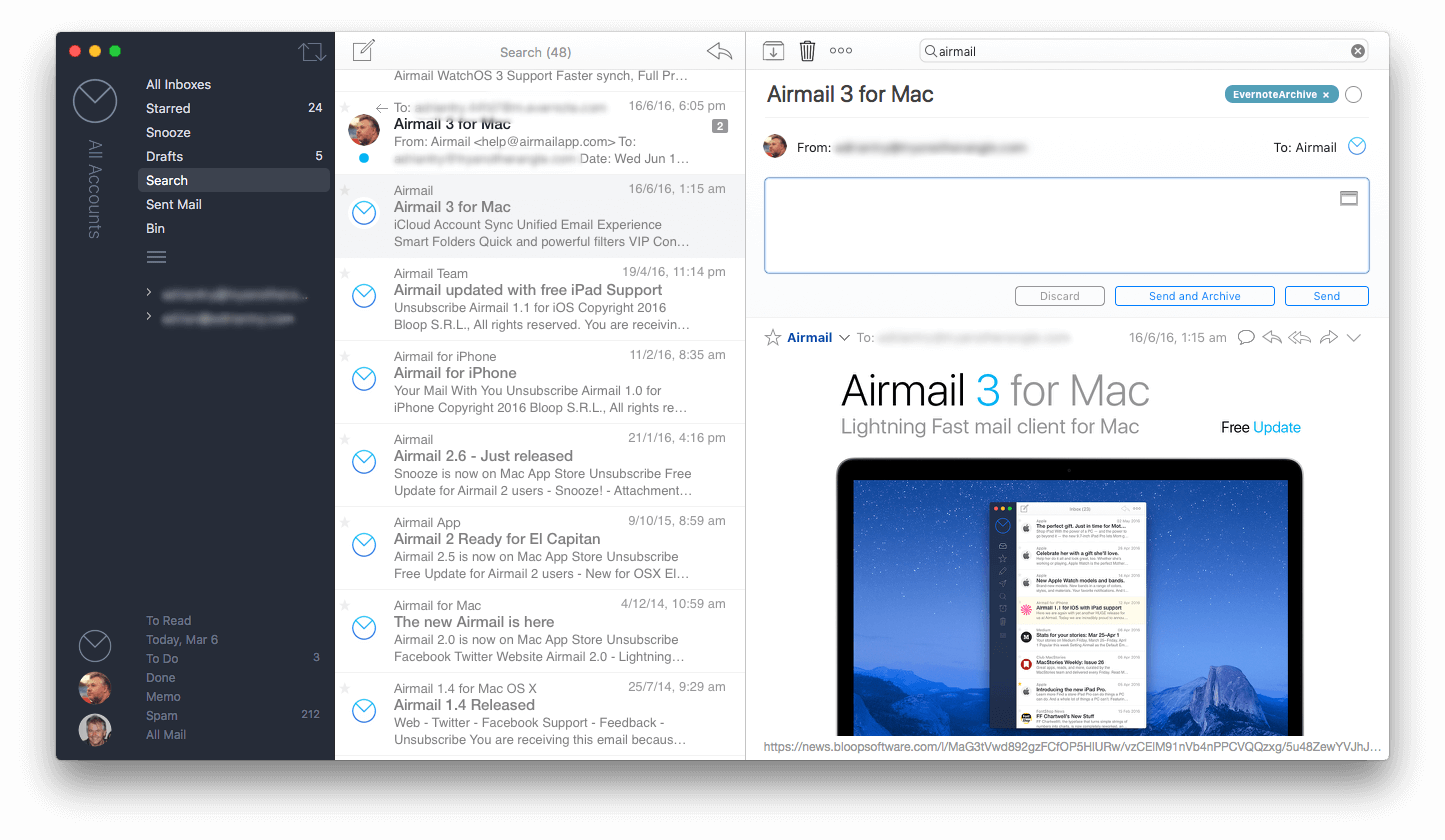 Emails can be composed of rich text, Markdown or HTML. Emails can be sent at a later time and date, which is great if you're working on an email in the middle of the night but want it to be sent in business hours. And there's a handy undo send feature too when you realize you're made an embarrassing mistake just after you hit Send. For that to work, you need to configure your email to be sent after a configurable delay. Once the email is actually sent, there's nothing more you can do.
Besides the usual folders and stars, Airmail gives you an additional way to organize your emails: you can mark messages as To Do, Memo and Done. I find that a handy way to keep track of the bills I need to pay. Behind the scenes, Airmail is actually using some custom folders to achieve this, but the interface is much neater than normal folders.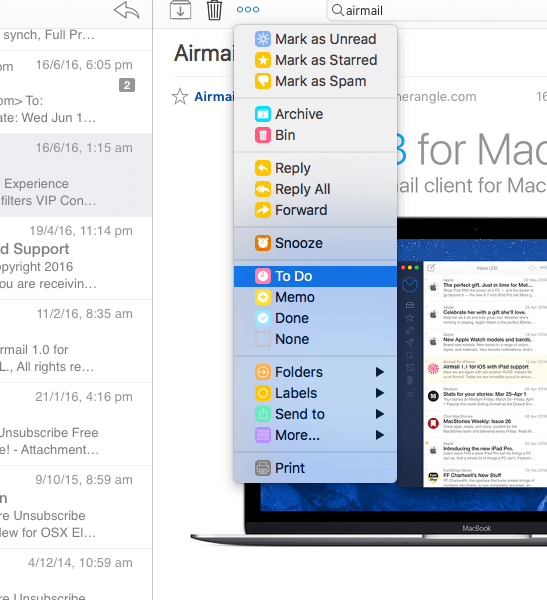 Finally, Airmail has excellent support for third-party apps and services. You can send your email to a to-do list app like Omnifocus, Apple Reminder, Things, 2Do, or Todoist, a calendar app like Apple Calendar, Fantastical or BusyCal, or a notes app like Evernote. Read our full Airmail review here.
Easiest Option: Spark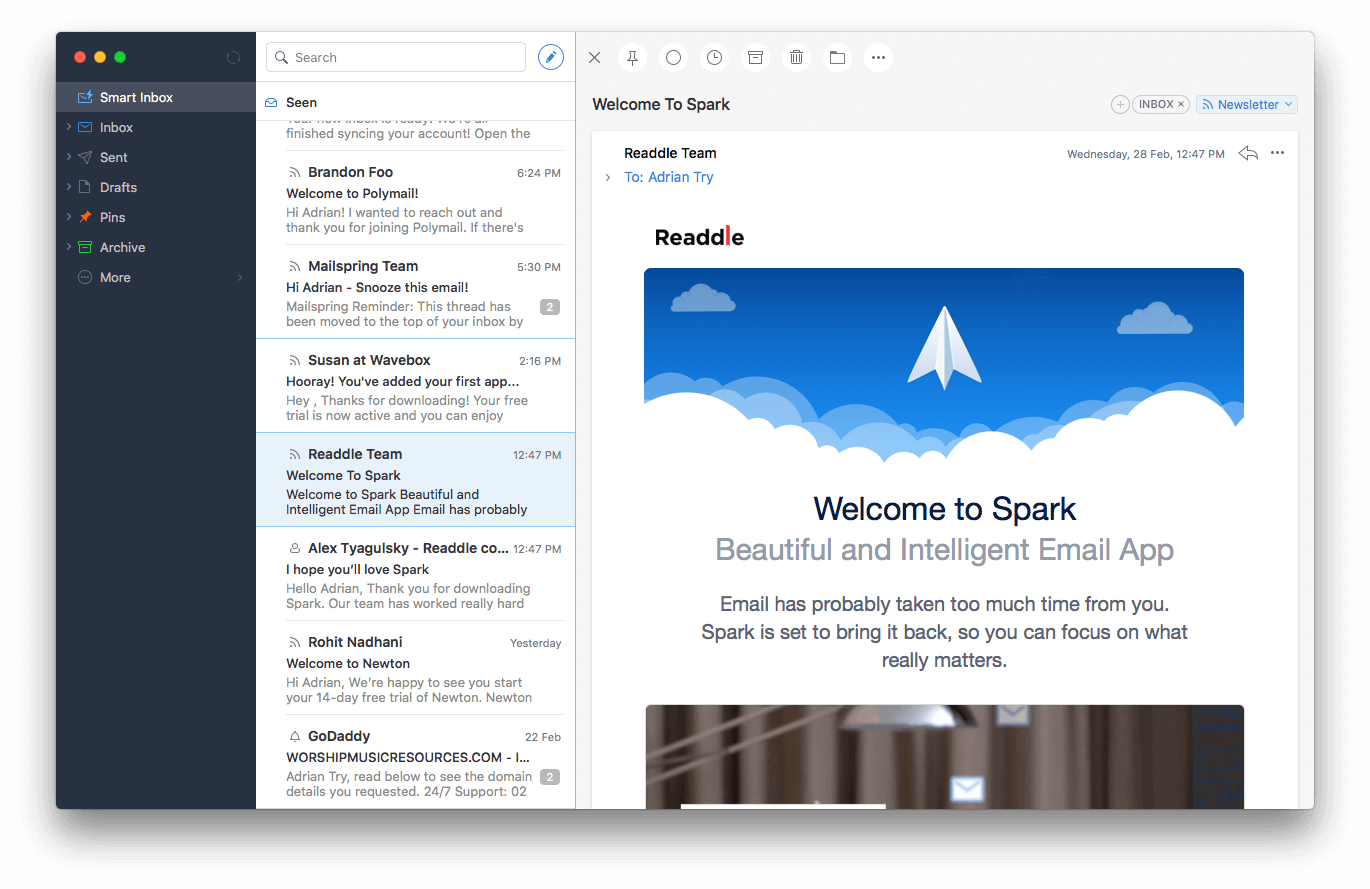 Spark is another modern, attractive app, but this one is designed to help you get through your emails fast. Boasting fewer features than Airmail, Spark gives you a streamlined interface designed to help you see the emails that are most important, and be able to deal with them quickly. And because it's free, it's lightweight on your wallet too.
Spark has intrigued me for some time now, and having just spent two weeks using it, I like it. In fact, I'm going to keep it on my computer for a while and continue to evaluate it. It makes dealing with email quick work, and if that's important to you, this might be your perfect app.
Spark doesn't just have a unified inbox like Airmail, it also has a smart inbox. It separates the emails you've never seen from the ones you already looked out, and puts the important ones you've starred (or in Spark-speak, "pinned") altogether. It also separates less important emails, like newsletters. Important emails are less likely to be lost in the crowd. Notifications are also smart — you're only notified when an important email hits your inbox.
You can work through your inbox very quickly using Spark. You can use multiple, configurable swipe gestures to archive, delete or file your messages. Reply to emails instantly using an emoticon, which does everything you need (including sending the email) with a single click. Or, like Airmail, schedule your email to be sent at a later time.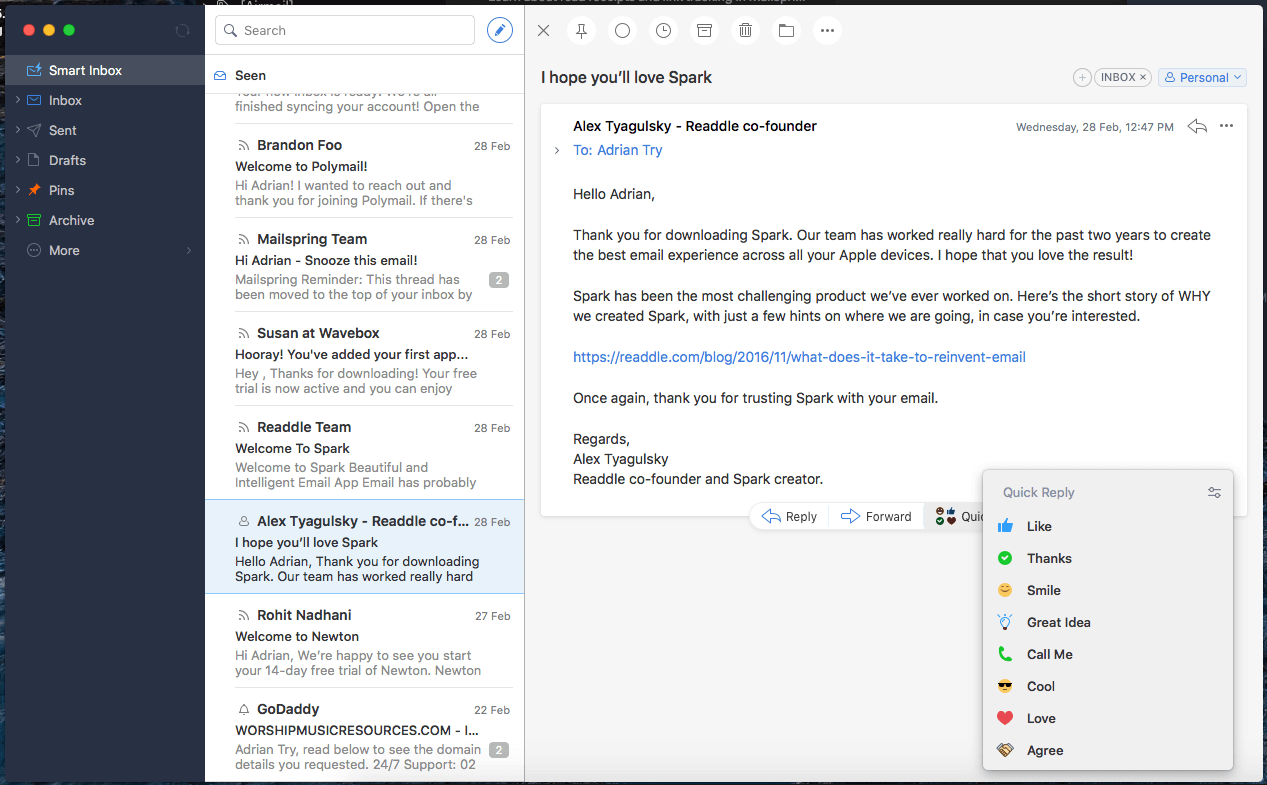 Also like Airmail, Spark allows you to postpone an email so you can deal with it later and works together with other apps, though not as many as Airmail.
Breaking news: I've just come across a new fast and simple email client for Mac that is now in Beta. Dejalu, from the developer of Sparrow, looks very promising. I'll be keeping my eye on it.
Most Powerful: MailMate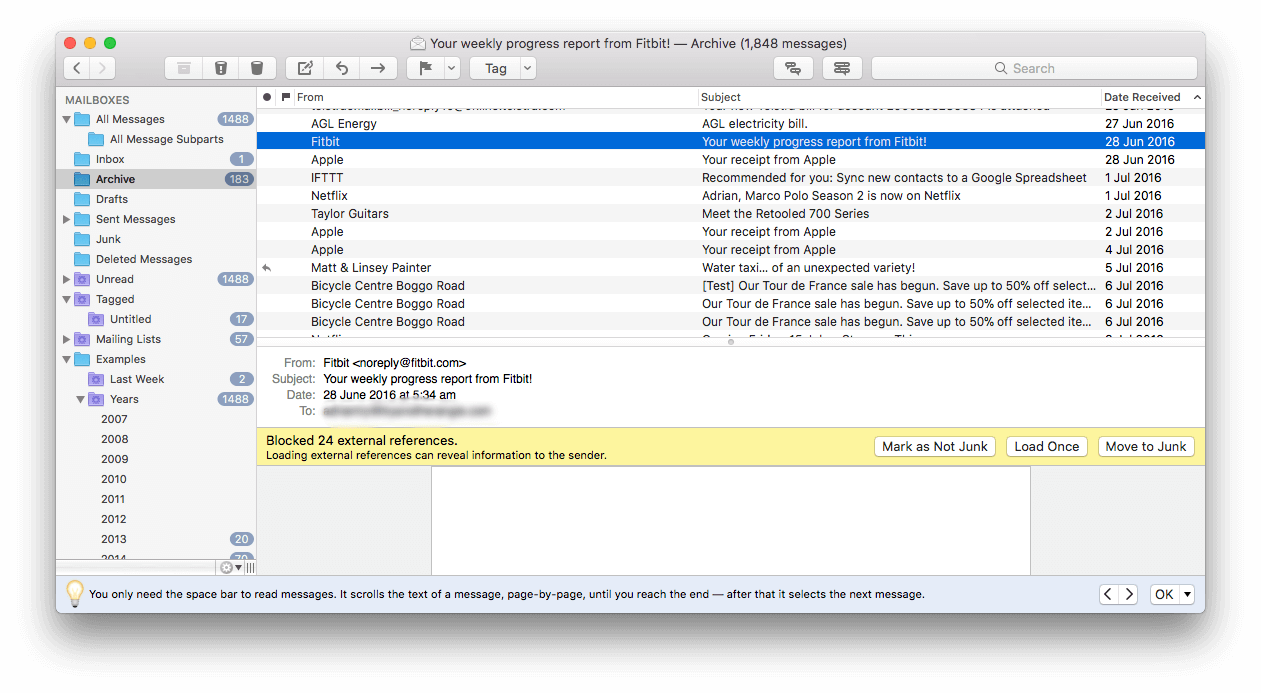 Most of the more modern apps seem to focus on smoothing the workflow of managing email overload rather than the needs of power users. To gain that power, we need to look at the apps with a longer pedigree, and a bigger price tag. MailMate is the most powerful email client available for macOS. It costs $49.99 from the developer's website (one-time fee).
Rather than focussing on ease of use, MailMate is a keyboard-centric, text-based email client designed for power users. Like the previous two apps, it boasts a universal inbox and integration with other apps. It works well with multiple IMAP accounts but doesn't support Microsoft Exchange. MailMate aims to be standards compliant, rather than cater for every proprietary system out there.
But what it lacks in good looks, it has in features and lots of them. For example, MailMate's smart mailboxes are very smart indeed. You can build up a complex set of rules that filter your mail to display the required emails. A judicious use of smart mailboxes will allow you to automatically organize your email in all sorts of ways.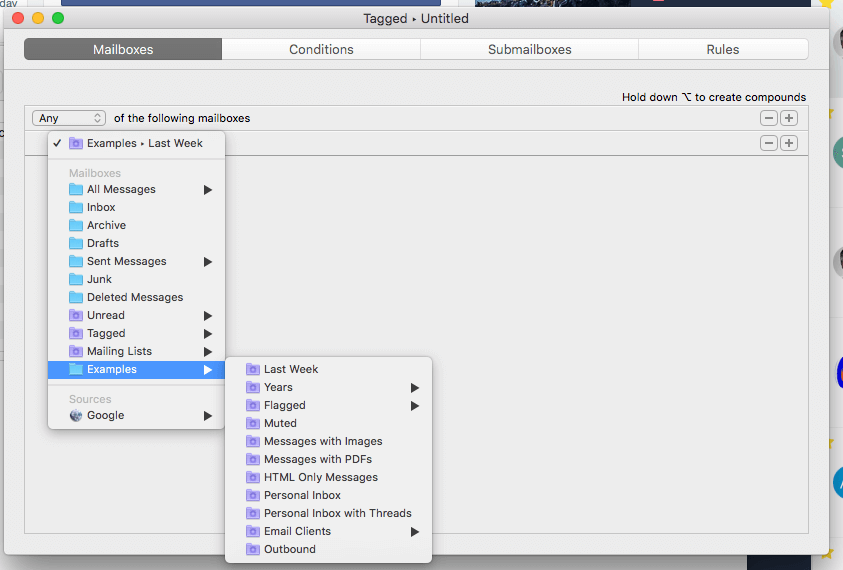 Here's an example of a smart mailbox from the developer's website that displays important emails from one person:

Standards compliance means that MailMate is text only. So the only way to apply formatting is to use Markdown syntax. If you're not familiar with Markdown, it's a popular way of adding formatting to text using normal characters, like asterisks and hash symbols. It was created by John Gruber, and you can learn more on his Daring Fireball site.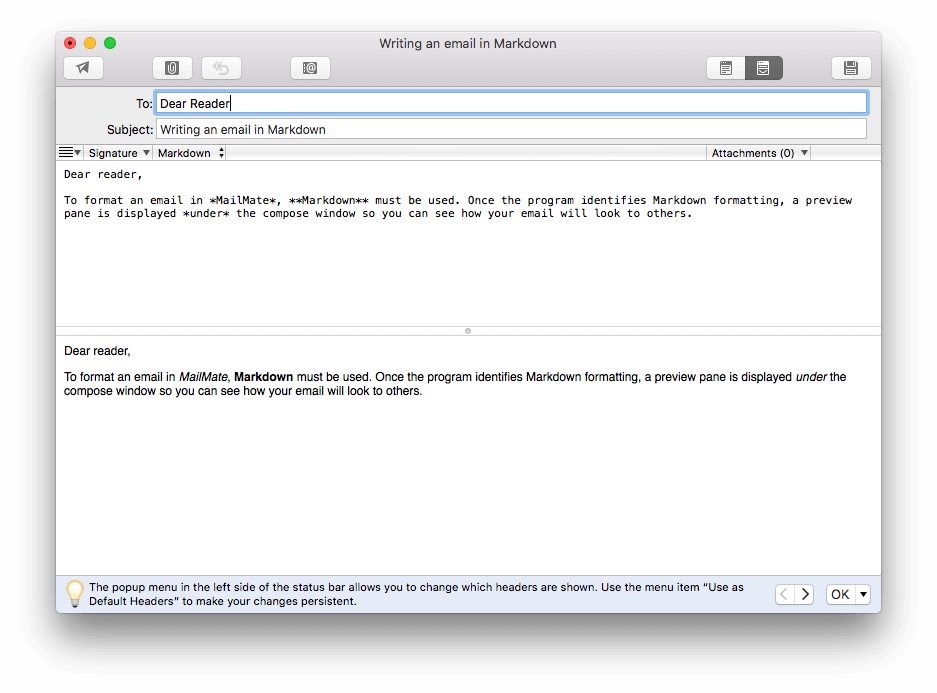 Email headers in MailMate are clickable. This is surprisingly useful. If you click on a name or email address, you'll be shown a list of emails to or from that person, if you click on a date, you'll be shown all emails from that date, and if you click on the subject, you'll see all emails with that subject. You get the idea. Better still, clicking on several items in the header will filter by all of them. So, for example, you can easily find all emails by a certain person on a certain day.
MailMate contains many more powerful features and is extremely configurable. While I've only just scratched the surface, if I've managed to whet your appetite, this may be the app for you.
Postbox is another powerful app. While not quite as powerful as MailMate, Postbox has some unique features, has been around for a while, and has a slightly more modern interface. At $40 it is only slightly less expensive. You might want to check it out.
Other Good Email Apps for Mac
1. Canary Mail
If you're really concerned about keeping your email private and secure, have a look at Canary Mail. It places a special focus on security, and these features are turned on by default. Your email is encrypted, so no one except the recipient will be able to read it. Encryption can be configured and turned off.
A slew of other features are included, such as highlighting important emails, natural language search, smart filters, read receipts, snooze, and templates.
$19.99 from the Mac App Store. Also available for iOS. A free trial is not offered, so I haven't tested this app personally. But the app is highly rated, receiving an average of 4.1 out of 5 on the Mac App Store.
2. Microsoft Outlook
If you work in a Microsoft environment, then you already have Microsoft Outlook. In fact, it's probably already installed and set up for you. Your company may require you to use it.
Outlook is well integrated into Microsoft's Office suite. For example, you'll be able to email a document directly from Word or Excel's file menu. And you'll be able to access your contacts, calendars, and tasks directly from Outlook.
You may be using Microsoft Exchange as the backbone of your email, and Outlook arguably has the best Exchange support out there. After all, Microsoft invented it.
$129.99 (from the Microsoft Store), but most people who use it will already have subscribed to Office 365 (from $6.99/month). Also available for Windows and iOS.
Also Read: Best Alternatives to Microsoft Outlook
3. Unibox
Unibox is quite different from the other Mac email clients listed here. Rather than listing your email messages, it lists the people who sent them, along with a helpful avatar. When you click on a person, you see your current conversation formatted like a chat app. By clicking a button at the bottom of the screen, you see every email sent from or to them.
If you love the idea of making email more like a chat app or social network, have a look at Unibox. It's also one of the best apps if you need to keep track of a lot of attachments. I keep coming back to Unibox, but so far it hasn't stuck for me. Maybe it will for you.
$13.99 from the Mac App Store. Also available for iOS.
4. Polymail
If your job is all about keeping track of sales contacts, then Polymail was designed for you. The app is free, but Pro, Team and Enterprise plans unlock additional advanced marketing features. But the free version has plenty of features and is worth considering on its own.
You'll notice a lot just looking at this screenshot. Each contact has a clear avatar, and besides seeing the email you selected, you see some information about the contact, including social links, job description, and your past interaction with them. Emails and attachments are listed separately on the same list.
The app contains a lot of useful features, including read later and send later. You can unsubscribe from newsletters with a single click, and swipe messages away. But the real strength of this app is when you are dealing with your contacts in a sales context.
When sending emails, you can get a jump start by using templates. If you don't hear back from the contact, the app can remind you to follow up after a configurable amount of time. You do this when composing the message by clicking on Follow Up and selecting the required number of days. If the person hasn't responded by then, you'll get a reminder.
Another highlight of the program is tracking and analytics. The basic features are there in the free version, but you get a lot of extra detail when you upgrade. An activity feed allows you to view all of your tracking in one place. For more power, the app can integrate with Salesforce.
Free from the Mac App Store. Also available for iOS. Pro ($10/month), Team ($16/month) and Enterprise ($49/month) add additional email marketing features and support. Learn more here.
Free Mac Email Options
Still not sure if you need to spend money on an email client? You don't have to. We've already mentioned Spark and Polymail, and here are a few more free options and alternatives.
1. Apple Mail Is Good and Comes Free with macOS
You already have Apple Mail on your Mac, iPhone and iPad. It's a capable app, and the most common way Apple users access their email. It's probably good enough for you too.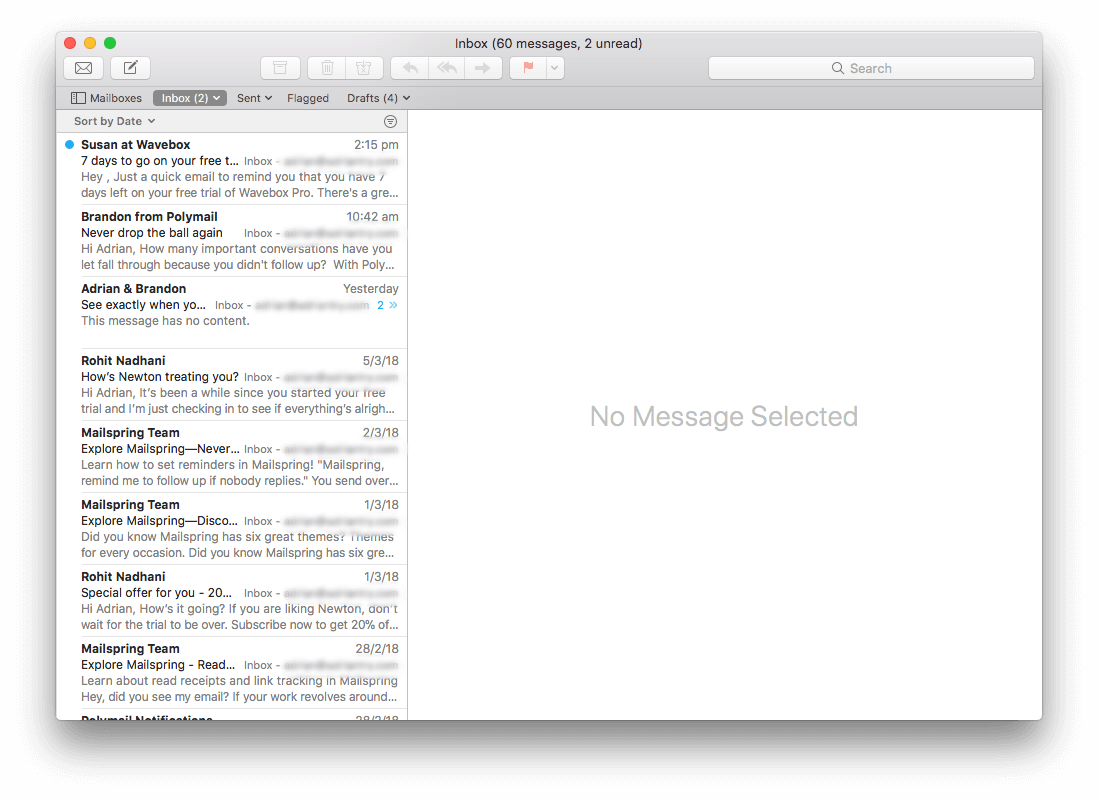 Apple Mail is easy to set up, and easy to use. It supports swipe gestures, lets you sketch with your mouse, and even adds your signature. The VIP feature lets you separate emails from important people so they're more easily found. And power users can use smart mailboxes and mailbox rules to organize and automate their email. There's a lot here to like.
Related: Best Alternatives to Apple Mac Mail
2. Web Clients are Free and Convenient
But you don't actually have to install an app to access your email. Webmail has been out for decades, and ever since Gmail hit the scene in 2004, it's quite powerful.
Google (Gmail), Microsoft (Hotmail, then Live, now Outlook.com) and Yahoo (Yahoo Mail) offer the most popular web apps. Google offers a second, quite different app, Google Inbox, which attempts to keep your email organized and easier to process.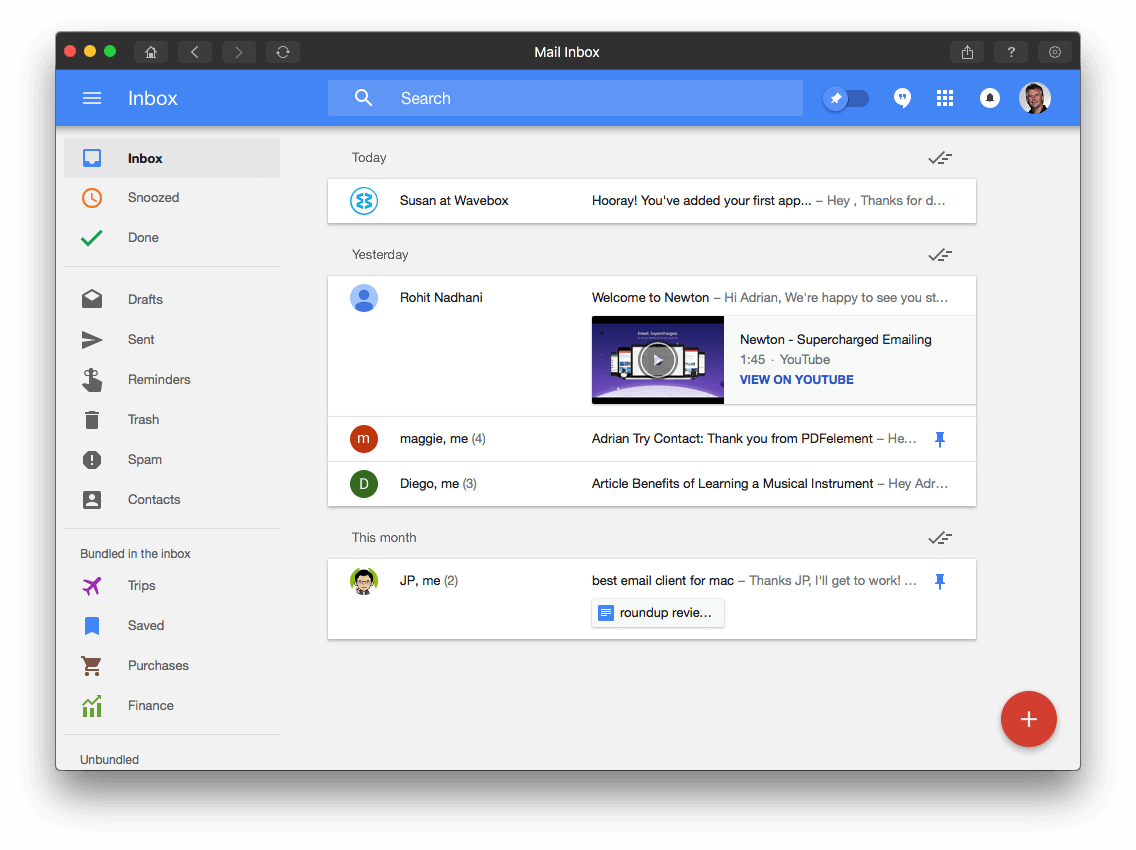 If you like these web interfaces, but prefer the experience of an app, you can, but not all options are free. Mailplane ($24.99) and Kiwi for Gmail (free for a limited time) offer the Gmail interface in an app, and Boxy ($5.99) and Mail Inbox (free) are unofficial Google Inbox clients. There's the unofficial Inbox for Outlook ($7.99) on the Mac App Store, and Wavebox (free, or $19.95/year for the Pro version) integrates your email and other online services into a single powerful app. It's like a browser for your productivity.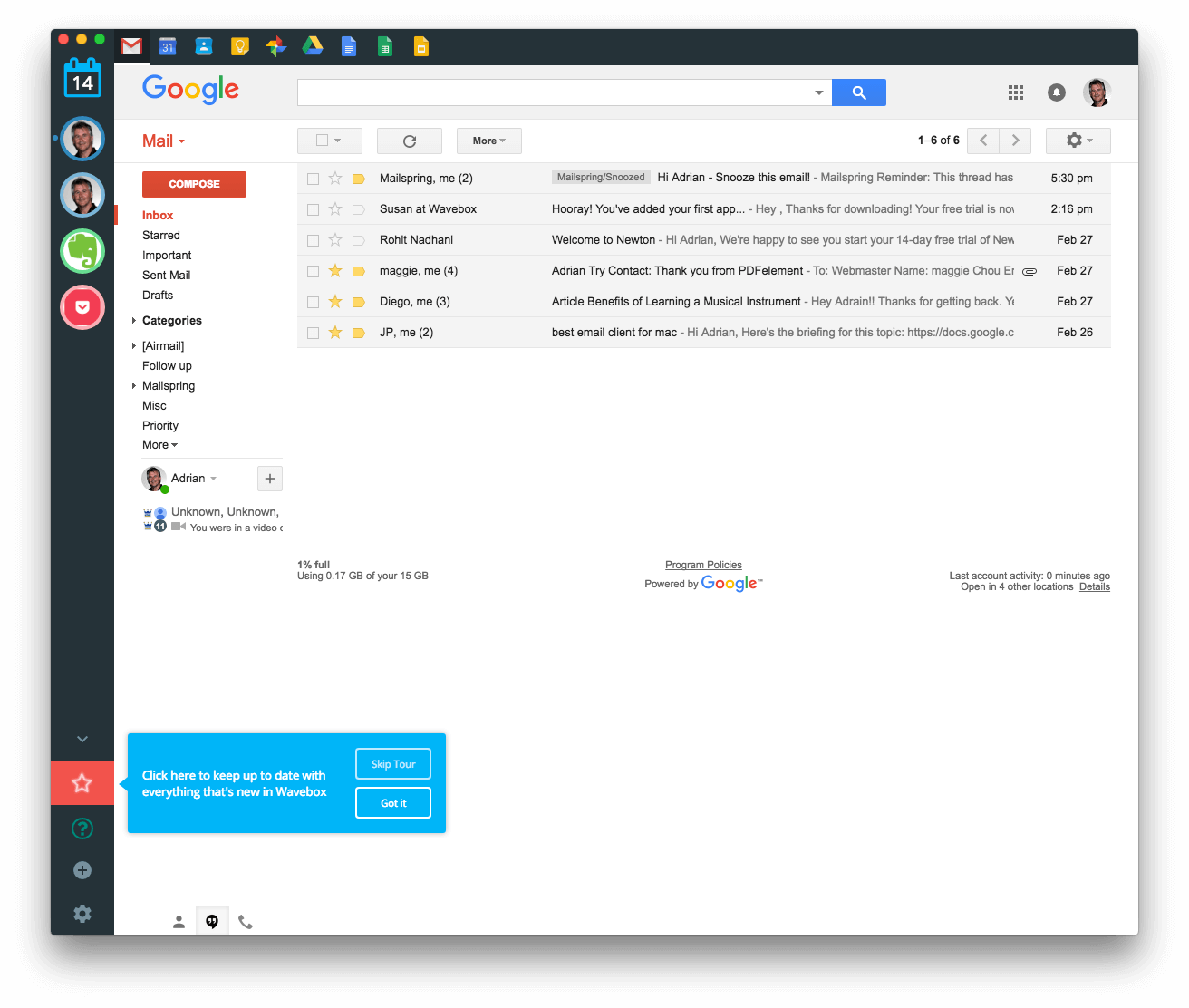 And finally, there are web services that provide additional features to your email system, whether you use webmail or an email client. One popular option is SaneBox. It's not free, but I think it is worth mentioning here anyway. It filters out unimportant emails, collects newsletters and lists into one folder, lets you permanently banish annoying senders, and reminds you to follow up on important emails if you haven't had a reply.
3. Some Free Email Clients Are Very Good
Mozilla Thunderbird comes to you from the people who create Firefox. It's been around for fifteen years, is highly polished, and is virtually bug-free. It's also cross-platform, and works on Mac, Linux, and Windows, though not on mobile. I've used it on and off over the years, but not as my main email client for at least a decade.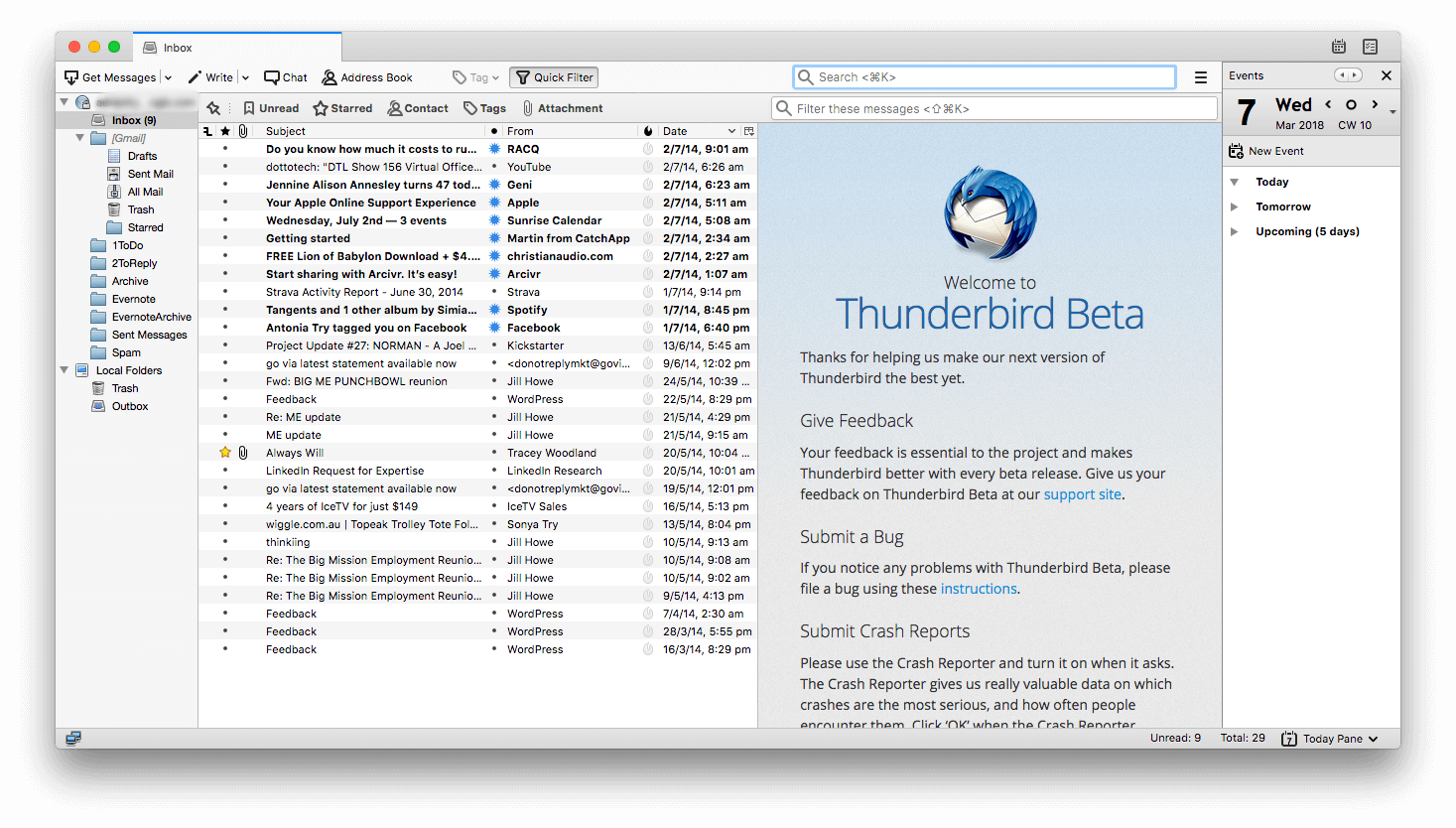 Thunderbird is easy to set up and customize, and it does more than just email. It's also a chat, contacts and calendar app, and its tabbed interface lets you jump between these functions quickly and easily. If you're looking for a free, traditional email client, it's worth checking out.
Another free option is Mailspring, which was formerly known as Nylas Mail. It comes with some nice-looking themes, including a dark mode, and it, too, works on Mac, Linux, and Windows.
Mailspring is a more modern and professional app than Thunderbird and includes features such as a conversation view, email scheduling and reminders, a unified inbox, touch and gesture support, and lightning-fast search. It can also do mail merge, read receipts, and link tracking, so it's pretty powerful too.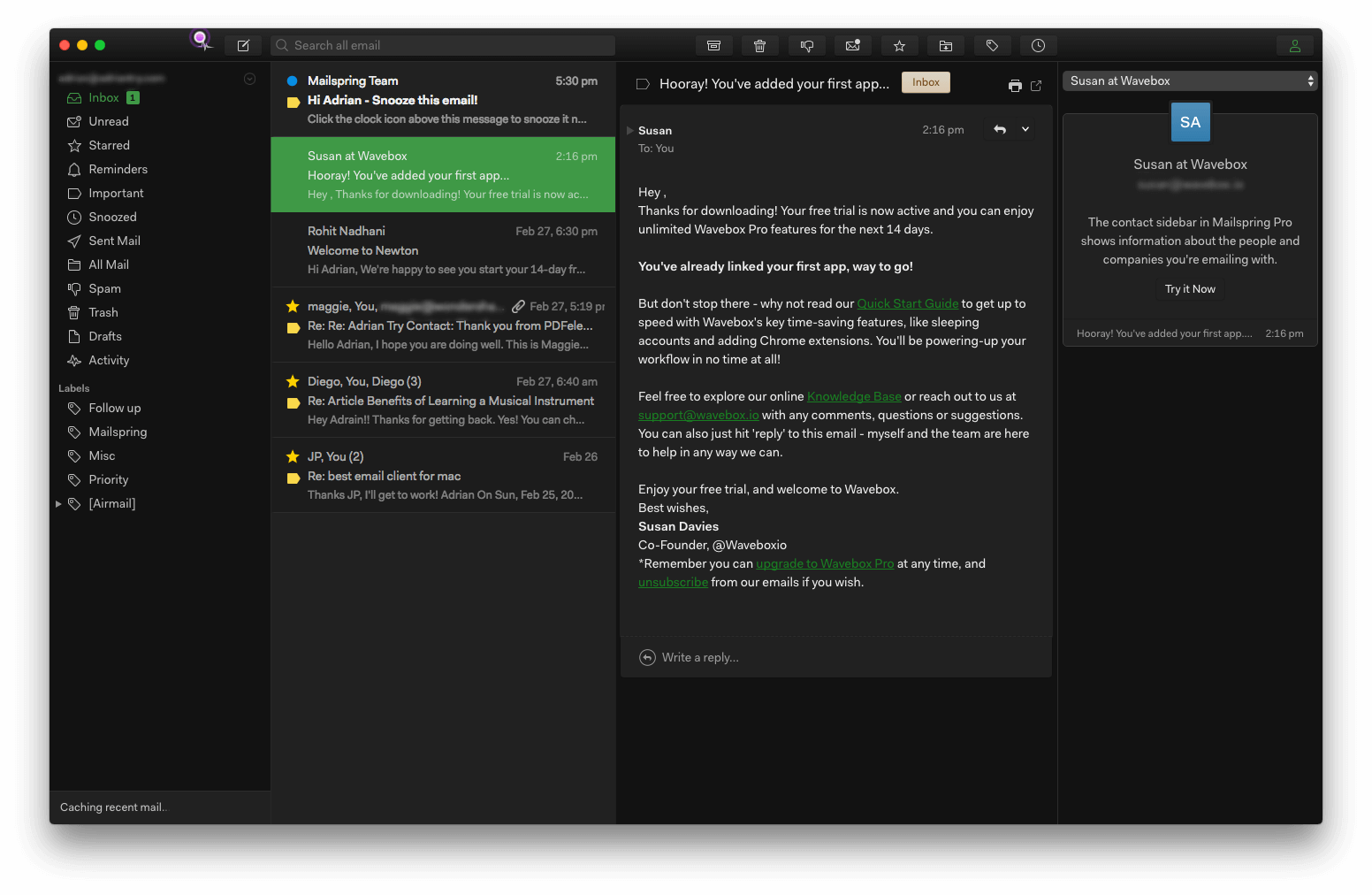 If you want even more power, there's Mailspring Pro, which will cost you $8/month. Pro features include templates, contact profiles and company overviews, follow-up reminders, message snoozing and actionable mailbox insights. That sounds a lot like Polymail, so this is one versatile program.
How We Tested and Picked These Mac Email Apps
Comparing email clients isn't easy. They can be very different, each with its own strengths and target audience. The right app for me may not be the right app for you.
We're not so much trying to give these apps an absolute ranking, but to help you make the best decision about which one will suit you best in a business context. So we hand-tested each product, aiming to understand what they offer.
Here are the key criteria we looked at when evaluating:
1. How easy is it to install and set up the app?
How familiar are you with email protocols and settings? Most people don't find them fun at all. The good news is that many of the newer apps make setup a breeze — some almost set up themselves. You simply supply your name and email address, and they do the rest, including your server settings. More powerful apps may not be so easy, but give you more configuration options.
Your email client will need to support your server's mail protocol. Most support IMAP, but if you need Microsoft Exchange compatibility, make sure the email client offers it. Not all do.
2. Is the app easy to use?
Do you value ease of use, or power and a wider range of functionality? To some extent, you need to choose one or the other. Many of the newer email clients have worked hard on their interface to make it easy to use, and add as little friction as possible.
3. Does the app help you clear your inbox and reply quickly?
Many app developers recognize that the amount of email we receive, write and reply to is a challenge, and streamline the process of clearing our inbox, replying efficiently, and composing new emails.
Features that help clear our inbox include snoozing or postponing an email to deal with it later, and canned responses to make replying quick and friction-free. Features that help create new emails include templates, Markdown support, and signatures. Other useful features you may value include undo send, send later, read receipts.
4. How does the app assist you to manage your email?
If you don't need it, delete it. But what do you do with all the email you can't delete? How can you sort important emails from all the clutter? How can you find important emails down the track? Different clients give you different ways to manage it all.
Are you a hunter or a gatherer? Many email clients are great at search, helping you find the right email just when you need it. Others help you file your emails in the right folder for later retrieval. A few email clients offer intelligent features like smart folders, email categorization, rules and unified inboxes that can be of great assistance.
Finally, not all of the information you receive by email should stay in your email app. Some clients offer excellent integration with other apps and services, allowing you to move an email into your calendar, task app, or notes program.
5. Is the app cross-platform, or have a mobile version?
We deal with a lot of email on the go. While it's not essential to use the same app on your phone and computer, it can help. Does the email client offer a mobile app? And with so many of us using different operating systems at work and home, how cross-platform is the app? And does it matter to you?
6. How well does the app handle security issues?
With about half the email in the world being junk mail, an effective and accurate spam filter is essential. You can deal with spam on the server, with your email client, or both. What other security features does the app offer?
7. How much does the app cost?
Many email clients are free or very reasonably priced. There's no need to spend a lot of money here. However, the most powerful email options are also the most expensive. It's up to you to decide whether that price is justified.
Here are the costs of each app we mention in this review, sorted from cheapest to most expensive:
Apple Mail – free (included in macOS)
Spark – free (from the Mac App Store)
Polymail – free (from the Mac App Store)
Mailspring – free (from the developer's website)
Mozilla Thunderbird – free (from the developer's website)
Airmail 3 – $9.99 (from the Mac App Store)
Canary Mail – $19.99 (from the Mac App Store)
Unibox – $13.99 (from the Mac App Store)
Postbox – $40 (from the developer's website)
MailMate – $49.99 (from the developer's website)
Microsoft Outlook 2016 for Mac – $129.99 (from the Microsoft Store), or included with Office 365 from $6.99/month
What You Need to Know About Email
1. We receive more emails today than ever before
Email remains one of the favorite ways to communicate online. The average office worker receives 121 emails and sends 40 business emails a day. Multiply that by almost four billion active email users, and it really adds up.
The result? Many of us struggle with overflowing inboxes. A few years ago I noticed my wife had 31,000 unread messages in hers. We desperately need tools to manage it, to recognize important emails, and to reply efficiently.
2. Email has some security concerns
Email is not particularly private. Once you send an email, it may bounce between several servers before reaching its destination. Your email can be forwarded without your permission, and more email accounts are being hacked than ever before. Avoid sending sensitive information over email!
It is also the most abused form of communication in existence. Spam (junk mail) makes up about half of all email sent every day, and malware and phishing attacks are a risk and need to be identified. Security is an important issue that our email clients need to address.
3. Email is a client-server architecture
Your email client is an application that downloads (or synchronizes) your email with a server. A variety of protocols are used to achieve this, including POP, IMAP, and Exchange, as well as SMTP for sending emails. Not all apps support all protocols, though most support IMAP, which is currently very popular because it works well with multiple devices. Your email client doesn't have to do all the work: some email features, like spam filtering, can be done on the server rather than in the client.
4. Most of us access multiple email addresses from multiple devices
Many of us have several email addresses, and most of us access our email from several devices, including our smartphones. In fact, we read 66% of our email on mobile devices. So it's handy to have an app that works on a variety of operating systems, and may be essential to have one that can deal with multiple accounts.
5. Email may seem out-of-date
Email has been around for decades and can look out-of-date next to modern social networks and instant messaging apps. Email standards have evolved, but it's still not a perfect solution. Nevertheless, it's still one we all use, and as yet nothing has managed to replace it.
To address this, many of the new email clients are adding features, workflows, and interfaces to help us clear our inboxes faster and manage our emails more efficiently. Many of those features started out on mobile platforms, and have found their way onto the Mac. These include swipe gestures to get through your inbox more quickly, conversation views to show you the entire discussion, and quick reply options.