Is photo editing software necessary? In this digital age, it pretty much is. If you want to create stunning images that stand out from the crowd, you'll need more than excellent technical skills with a camera. 
Hey there! I'm Cara and as a professional photographer, I use Lightroom regularly as part of my workflow. Though there are many different photo editing software out there, Lightroom is pretty much the gold standard. 
However, beginning photographers might not be prepared to fork out the money for professional photo editing software right from the get-go. Let's look at how to get Lightroom for free legally.
Two Ways to Legally Get Lightroom for Free
If you scour the Internet, no doubt you'll find various pirated versions of Lightroom that you can download. However, I don't recommend this route. You could end up with a virus that destroys your computer (or costs you a pretty penny to fix).
Instead, I recommend you stick with the two legal ways to download Lightroom. It will be cheaper in the long run, I promise.
1. Download the Free 7-Day Trial
The first method is to take advantage of the free 7-day trial that Adobe offers. Go to the Adobe website and enter the Photographer's section under the Creativity tab. 
You'll arrive on the landing page that describes the key features of Lightroom.
Adobe offers Lightroom as part of its Creative Cloud subscription service. There are various bundles that you can choose from that include different combinations of Adobe's apps.
For example, the basic Photography plan includes Photoshop and both the desktop and mobile versions of Lightroom. If there are other Adobe apps that interest you, you might want one of the other bundles. You can take the quiz on this page to find out which is the best fit for you.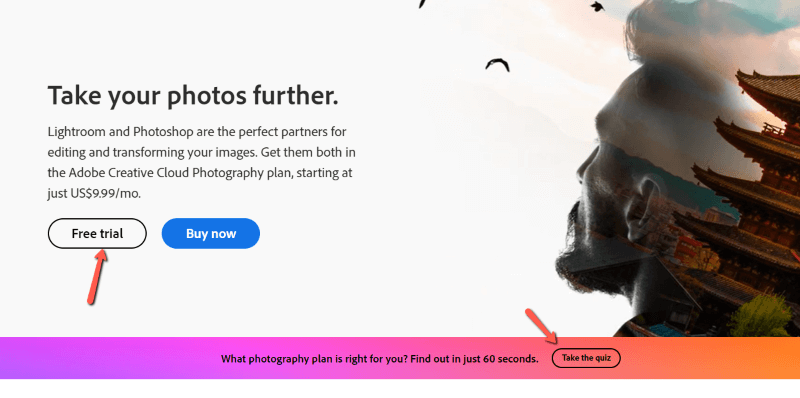 But for the free version, you'll want to click on Free trial. On the next screen, choose which version of Adobe's subscriptions you would like to try out.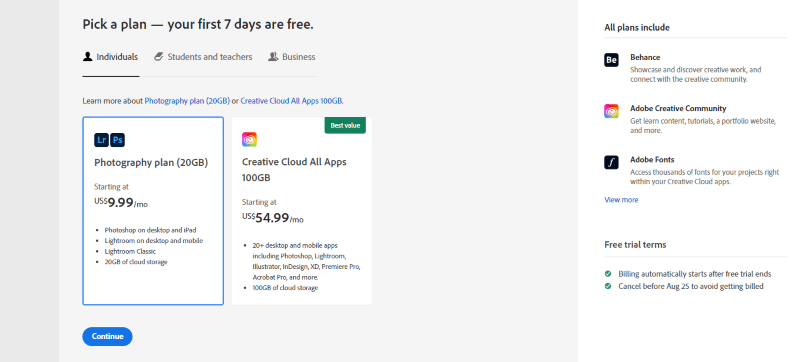 If you are a student or teacher, switch to that tab. Once your free trial ends you may qualify for the 60% discount that Adobe offers on their All Apps subscription.
Fill out the form that pops up next with your details and you're ready to download and use the trial version.
This 7-day trial gives you complete access to Lightroom. You can test-drive all the features of Lightroom, including Lightroom presets and other features that are included with the software.
This is a risk-free way to find out if you like Lightroom or not. Once the trial is over, you can start a subscription to continue using all the features of the program.
2. Use the Lightroom Mobile App
Okay, so free access to all of Lightroom's features is cool and all…but it only lasts for 7 days. Not very practical for long-term use, right?
Luckily, this next free way to use Lightroom doesn't come with a limited trial run.
The mobile version of Lightroom is free for anyone to use. It comes with most of the features offered in Lightroom, but not all. For the premium features of the mobile version, you'll have to buy a subscription. The full mobile app is included in the basic photography plan as well.
You can use the limited version as long as you like for free! All the basic editing features you need are included in the free version.
It's a great resource for beginning and amateur photographers until your editing needs outgrow the limitations. This may never happen for some people, making it a great long-term option for the casual photographer.
To get the app, simply visit the Google Play store or the App store. There is a mobile version for both Android and iOS smartphones. Download the software and you'll be editing photos on your phone in no time!
Free Lightroom Alternatives
Is there any other way to access Lightroom's features for free?
That's it for access to Adobe's Lightroom, but there are many other photo editing software out there that offer some of the same functions. 
Here are a few free Lightroom alternatives you can try out:
I'll be honest, I haven't tried all the options on this list myself. However, let me offer you some advice.
I tried a few free editing photo apps back in the day when I first started as a photographer. While some of them do offer some pretty impressive features, Lightroom takes the cake.
You just can't do some of the stuff you can do in Lightroom in free alternatives. That's not to say that there aren't great editing alternatives out there. There are some other great options, but you're going to have to pay for the good ones.
And there's nothing wrong with that. It costs money to develop, improve, and maintain these programs. With the results that Lightroom offers and the time it saves me, I'm happy to pay for a subscription.
How to Buy Adobe Lightroom
What if, after your 7-day free trial, you've decided you can't live without Lightroom? Here's what you do.
You can't buy Lightroom as a one-off purchase. It is only available as part of a subscription plan to Adobe Creative Cloud. 
The basic Photography plan is perfect for most people. This plan includes the Lightroom desktop version, the full version of the mobile app, as well as access to the full version of Photoshop!
For all this, you might expect Adobe to charge a fortune. However, it only costs $9.99 a month! In my opinion, it's a small price to pay for the amazing features you get to use.
Because it is offered as a subscription, regular updates keep bugs and glitches to a minimum. Plus, Adobe regularly rolls out new features that make an already amazing program even more awesome.
For example, the last upgrade introduced a ridiculously powerful AI masking feature that is making it almost too easy to create stunning images. I can't wait to see what comes next!
Downloading Lightroom for Free
So, go ahead. Take advantage of that 7-day trial. Download the mobile app to start playing around. But be warned, the awesomeness will have you coming back for more in no time!
Curious what advanced features can propel your photography forward? Learn how to batch edit in Lightroom to speed up your workflow considerably.