Booting up a brand new computer for the first time is always fun. It runs fast, everything is snappy and responsive, and it opens up a whole new set of possibilities for work and play. You're going to be more productive, get more done, and have fun doing it – or at least that's how it feels at the start. After a few months, things seem to start slowing down. The computer doesn't boot as quickly, and your favorite programs take longer and longer to load.
Sound familiar? It's the whole premise that the 'PC cleaning' software industry is based on. In fact, it could almost be a sales pitch for our two favorite PC cleaning apps.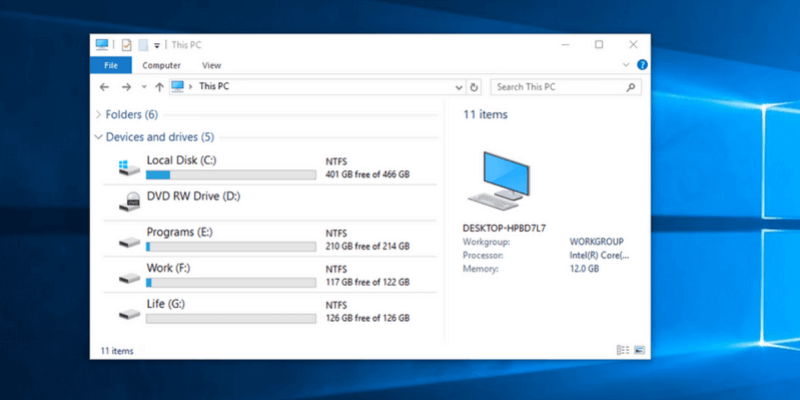 AVG PC TuneUp is intended for the more advanced user who is comfortable digging into the inner workings of their operating system but doesn't always want to spend hours optimizing when they could be using their computer. AVG also bundles in a number of extra features such as performance optimizations and additional disk management tools.
CleanMyPC is a better choice for the more casual user who doesn't need – or wants – to tinker with the details. It has a streamlined interface that makes cleaning your PC easy, and good background monitoring tools to keep things running smoothly in the future.
We'll dig into both more thoroughly in a minute, but we've got a few other things to go over first.
Using an Apple Mac machine? Also Read: Best Mac Cleaning Software
Why Trust Me for This PC Cleaner Review
Hi, my name is Thomas Boldt, and I've been a PC user since the days of Windows 3.1 and MS-DOS. Admittedly, there wasn't much you could do with Windows back then (and I was a kid), but starting that early has given me a broad perspective on what's possible with the PC environment and how far we've come since the early days.
In more modern times, I build all of my desktop computers myself from individual components, and I apply that same meticulous care to make sure they operate at peak performance on the software side of things as well. I use my desktops both for work and for play, and I expect the very best from them no matter what I'm doing.
I've tried a range of PC cleaning and optimization apps over the course of my hobby and my career, with varying degrees of success – some are useful, and others are a waste of time. I bring all that knowledge and experience to this review so that you won't have to spend years learning everything you'll need to know to separate the good programs from the bad.
Note: none of the companies mentioned in this review have provided me with special consideration or compensation for writing this roundup review. All the opinions and experiences are my own. The test computer used is relatively new, but has been in heavy usage and has not been cleaned recently.
The Truth About PC Cleaning Apps
There is a fairly large industry built around programs that claim to speed up your PC by cleaning out old files, registry entries, and other miscellaneous junk that supposedly builds up over time from normal daily computer use. It makes a certain amount of logical sense on the surface, but do the claims really hold up under investigation?
The fact is, your PC doesn't slow down because your hard drive has become 'cluttered' with miscellaneous, unknown files. If you're experiencing slower than usual boot times and unresponsive programs, there are other culprits that lurk behind the scenes causing these frustrating issues.
Registry cleaning is one of the major features of many PC cleaners, but it has never really been proven to do anything to speed up your PC. Some people, including the excellent anti-malware developer MalwareBytes, have even gone so far as to call registry cleaners "digital snake oil". If you use a low-quality registry cleaner, there's even the possibility of completely ruining your operating system and having to reinstall everything from the ground up. Microsoft used to make one, discontinued it, and eventually issued a statement about them:
"Microsoft is not responsible for issues caused by using a registry cleaning utility. We strongly recommend that you only change values in the registry that you understand or have been instructed to change by a source you trust, and that you back up the registry before making any changes. Microsoft cannot guarantee that problems resulting from the use of a registry cleaning utility can be solved. Issues caused by these utilities may not be repairable and lost data may not be recoverable." – Source: Microsoft Support
Despite that warning, all of the major PC cleaners include some type of registry cleaning feature, but we also recommend that you do not use these tools no matter who developed them.
As if that wasn't enough to make you wonder about PC cleaners in general, there's also the fact that the marketing hype often tries to sell you on having a computer that 'runs like new'. Unfortunately, this is mostly an exaggeration – you can't usually have a computer that runs like new and still has all your files and software installed on it. Part of the reason they run so well when they're brand new is that they're a blank slate, and as soon as you start installing programs and customizing things, you're asking it to do more work.
That doesn't mean that PC cleaning apps are useless, though – far from it! It's just important to manage your expectations. Even though the marketing hype is usually over the top and very dramatic, you can still do a lot to improve your PC's performance. You'll definitely be able to free up some storage space and speed up your Windows loading time with the right program, and many of the apps come with some other great features such as privacy cleaners, duplicate file checkers, and secure delete functions.
Who Will Benefit from Using a PC Cleaner
This is a bit of a difficult question to answer because people use their PCs in very different ways. Some people are comfortable using system tools, command lines, and editing registry entries, while others are content to check their email and watch cat videos without knowing (or caring) what a command line is.
If you're a casual user who browses the web, checks email/social media, and does a bit of basic word processing, you might not find much benefit from an expensive PC cleaning app. It might be useful for helping you free up some storage space and ensuring that you're not leaving any personally identifiable information on your computer, but you can usually accomplish the same thing without having to pay for it.
That being said, it can be much easier to have a single program that handles all the little maintenance tasks easier for you. If you're uncomfortable tracking and managing all the different areas to clean yourself, it can be very useful to have a single program that brings all of your cleaning options together in one spot.
If you're someone who likes to tinker with things, uses a PC professionally or you're a seriously dedicated gamer, you're probably going to get some more tangible benefits. Ensuring that you have plenty of free space on your main operating system drive is very helpful for scratch space and page files, and ensuring that your old hardware drivers don't cause problems with the next update can save a great deal of time in advance. Almost all of these PC cleaning app functions can be handled using other aspects of Windows, but it is still helpful to have them all in one place.
If you're someone who constantly installs and uninstalls new programs (such as a software review writer, for instance), you might even find that there actually are some leftover 'junk' files from previous program installations!
Best PC Cleaner Software: Our Top Picks
Best for Casual Users: CleanMyPC
($39.95 single computer license)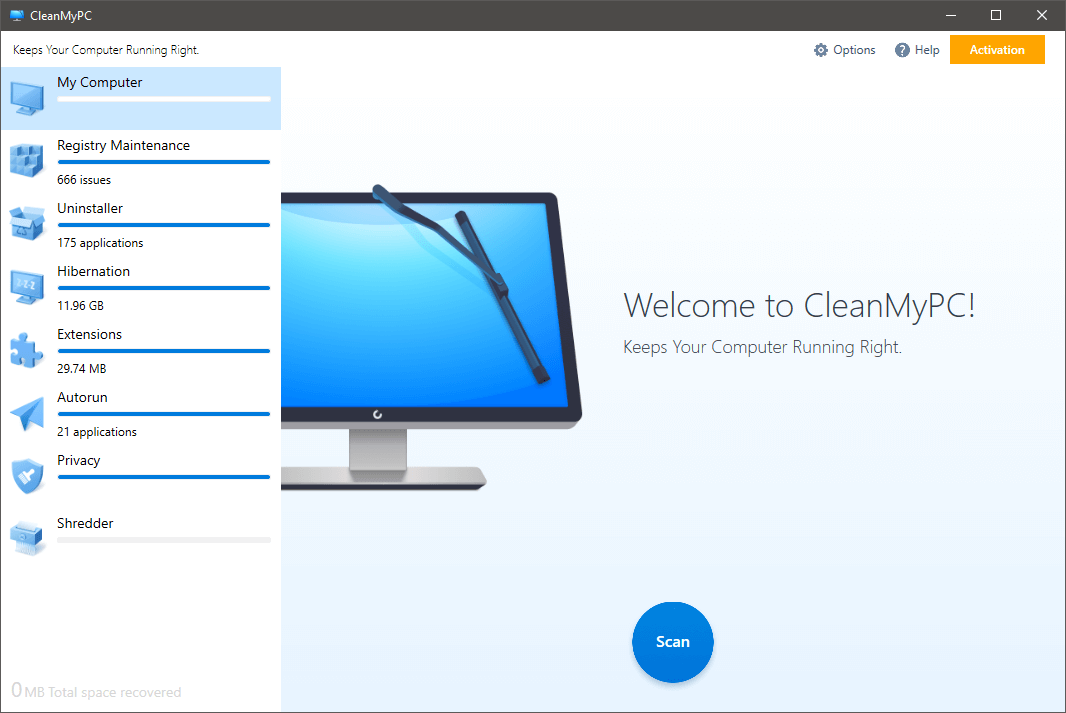 CleanMyPC is one of the few Windows apps produced by MacPaw, a developer who typically makes apps for (you guessed it) the macOS environment such as CleanMyMac X and Setapp. It offers a decent set of cleaning features such as free space, startup program and uninstall management wrapped up in an easy-to-use interface. It also throws in browser extension management and privacy cleaning, as well as a secure delete feature.
As you might expect from a developer who works primarily with Macs, the interface design is simple and clean, and it doesn't overwhelm users with too much detail. A quick click on the 'Scan' button, an optional review of the content, and a click on the 'Clean' button and you've freed up some space.
The rest of the tools are just as easy to use, although it's debatable whether or not the Registry Maintenance section will really do any good. It's a common claim among PC cleaning apps that it will help, and all of them seem to include it in one form or another, so I've decided not to hold it against any of them.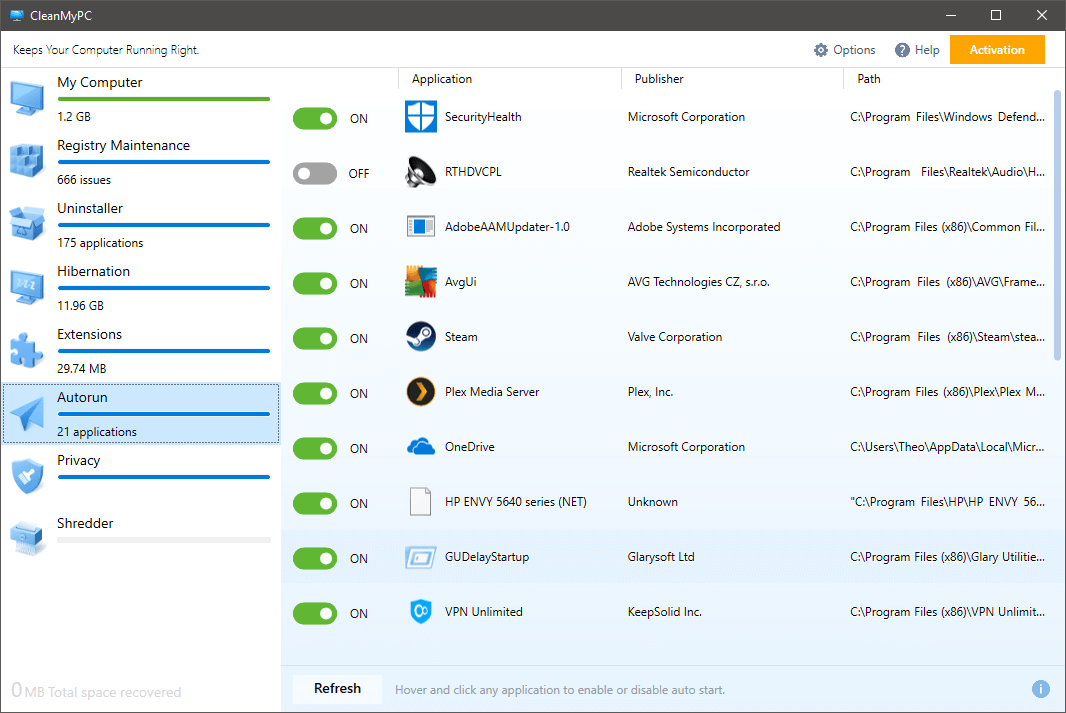 In addition to offering on-demand cleaning, CleanMyPC also has some excellent background monitoring options. It keeps track of space being used by your Recycle Bin and whether or not a new program adds itself to your Windows startup sequence. Many programs don't ask for permission before adding themselves, and it's nice to be able to easily keep tabs on in this automatically when you install a new program.
CleanMyPC is available as a free trial, and as you can see in the screenshots, MacPaw doesn't try any scare tactics to get you to purchase the full version. Instead, they simply limit the amount of free space you can clear to 500 MB while letting you test out the other features. It's also regularly updated and compatible with Windows 7, 8 and 10, ensuring that it will run smoothly on any modern PC. If you're still using Windows Vista or XP, you're going to need to do a lot more than run a PC cleaner!
On the downside, it's a bit expensive, especially if you want to use one program to clean an entire household full of computers. However, it's also one of the simplest programs to use that includes the most important features of a good PC cleaner, making it perfect for the casual home user who wants to do the occasional maintenance. You can read our full CleanMyPC review for more.
Best for Enthusiast Users: AVG PC TuneUp
($49.99 yearly for unlimited Windows/Mac/Android licenses, on sale for $37.49 per year)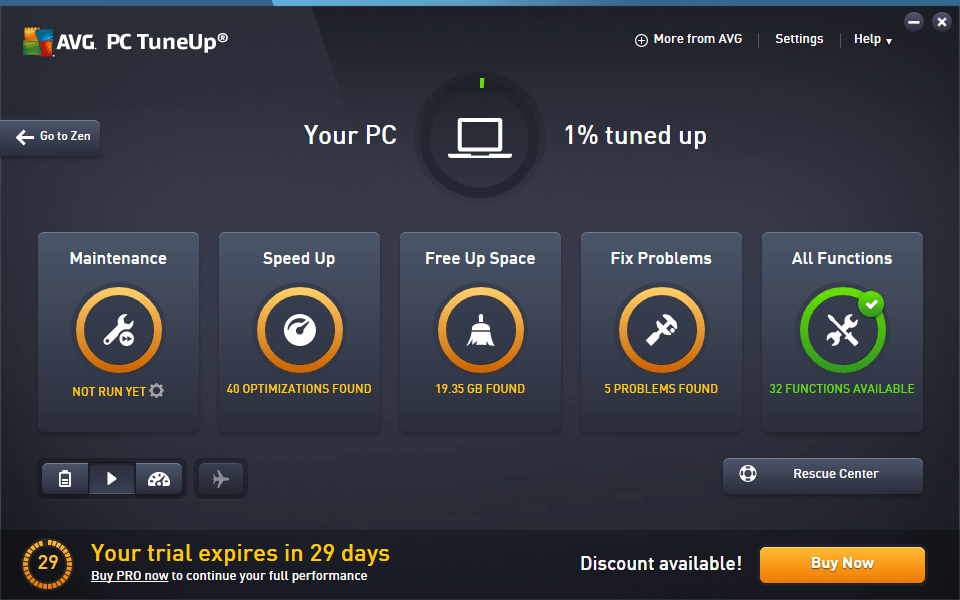 AVG first rose to prominence with their much-loved free antivirus software, and they have since expanded into a full range of PC system tools. AVG TuneUp offers an impressive set of features in a simple, well-designed interface centered around the various tasks that you might want to perform: Maintenance, Speed Up, Free Up Space, and Fix Problems. Each of these sections runs a number of tools automatically for you, while the 'All Functions' section offers you a breakdown of all the tools available for individual use.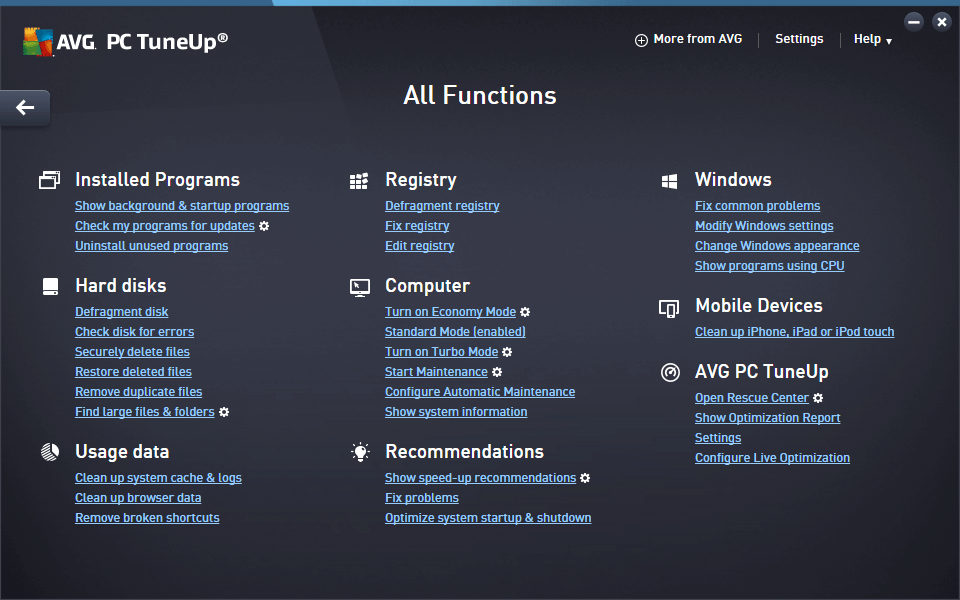 AVG PC TuneUp offers everything you'd expect from an enthusiast-level cleaning app: startup management, disk management tools, and program management. There are also the obligatory registry tools, although again, there is little data to suggest that these help much on their own and they can actually do harm.
AVG has also packed in secure delete features, browser cleanup options, and a set of live optimization modes. This is a great feature that is primarily intended for laptops, allowing you to manage your background applications and connected devices on the fly with a single click.
If you're trying to squeeze every last compute cycle of performance out of your device, you can disable background apps to keep the focus on the task at hand. If you're worried about every last nanosecond of battery life, you can set the optimization mode to Economy, disabling powered connected devices and programs that chew through your battery in the background.
Unfortunately, the slick grey interface disappears once you get down into the detail views of each of the tools, but they still provide an excellent level of control, as you would expect from an enthusiast-level app. Even on a basic free space cleanup, it probed impressively deep into my file structure, uncovering issues such as leftover Steam redistributable that even I didn't know about.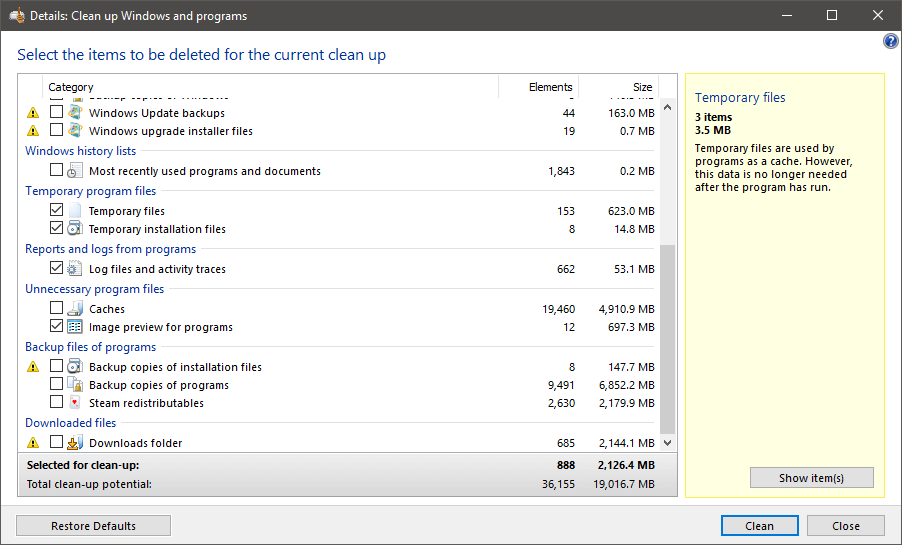 AVG doesn't use any dodgy scare tactics to get you to purchase the full version subscription, and TuneUp has an impressive level of compatibility. One of the best features of AVG TuneUp is that you can install it on as many devices as you like, including all versions of Windows from XP onwards, macOS and even Android smartphones and tablets – all using the same subscription! No other program I looked at had that level of compatibility and unlimited licensing, and it's a big part of what makes AVG TuneUp the best enthusiast cleaner. You can learn more from our full AVG TuneUp review.
The Awkward Runner-Up: CCleaner
(formerly owned and developed by Piriform, free.)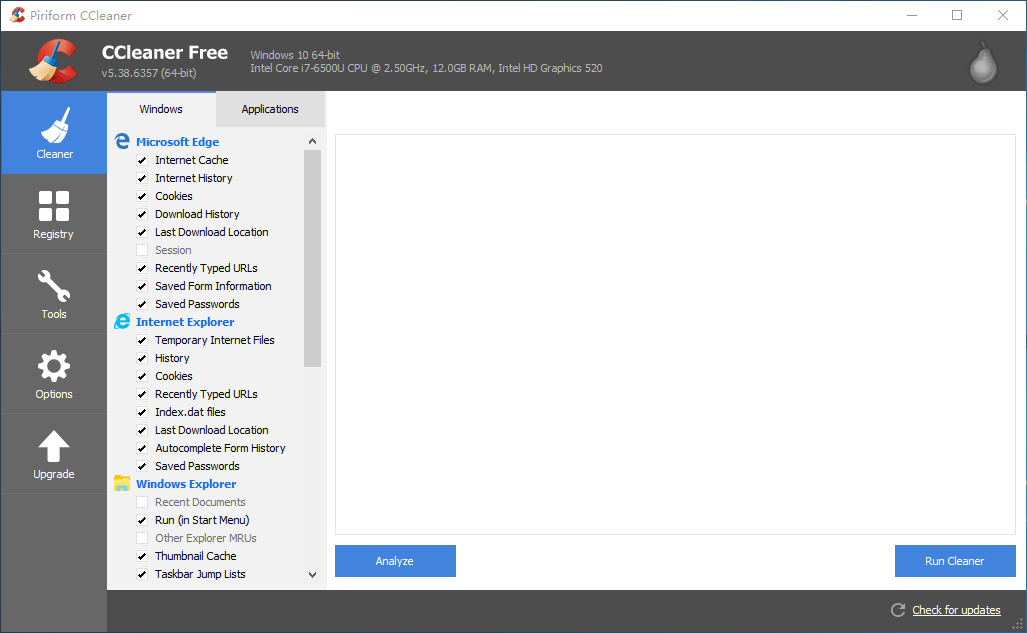 CCleaner has been one of the most widely-used free PC cleaning apps for over a decade, but despite its popularity and capabilities, I can't include it in the final winner list with a clear conscience. The CCleaner team had a major security and PR disaster in September 2017, when it was discovered that the version of the program available on the official download server had been infected with Floxif trojan malware.
For those of you who don't know the story, my teammate has written a comprehensive overview of the situation available here.
It's important to point out that the CCleaner team did everything right when it came to fixing the problem – they announced the vulnerability and quickly patched the program to prevent future issues. When you compare that response to companies who experience data breaches but don't inform affected users until months or even years after the fact, you can see that they reacted as well as they could have.
That being said, it's still hard to recommend it until the developers make certain that their security procedures have been improved to prevent this from happening again.
Other Good Paid PC Cleaning Software
Glary Utilities Pro
($39.99 yearly for 3 computer license, on sale for $11.99)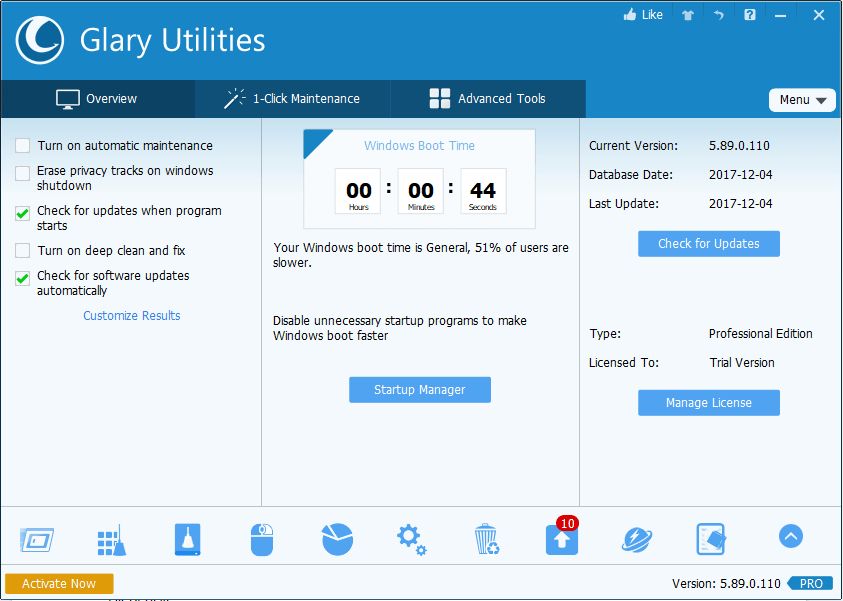 If you're an enthusiast user who doesn't mind taking the time to learn a program, Glary Utilities Pro might be for you. It's got an impressively comprehensive set of options, and each one can be deeply customized to fit almost any situation. In addition to some of the more standard cleaning tools like startup program management, registry cleaning, and complete management for uninstalling programs, there are a huge number of other tools packed in here.
The one thing that I find most deeply frustrating about this program is the interface. It's got excellent capabilities, but they are buried in one of the most confusingly-designed interfaces I've seen in a long time. Three separate menus – along the top, along the bottom, and in the 'Menu' button – all lead to similar places, but with slightly different variations. There's no logic to what goes where, or why it goes there, and each tool opens up in a new window without indicating how to go back to the main dashboard. Amusingly enough, this is their 'new and innovative' interface.
If you can get past the interface issues, there's a lot to like about this program. It's regularly updated and is compatible with all versions of Windows from Vista onwards. They don't use scare tactics to get you to buy the pro version, and in fact, they even offer a free version which we included in the 'Free Alternatives' section. If the interface was updated to something more rational and user-friendly, it would be a much stronger contender.
Norton Utilities
($49.99 for 3 computer license)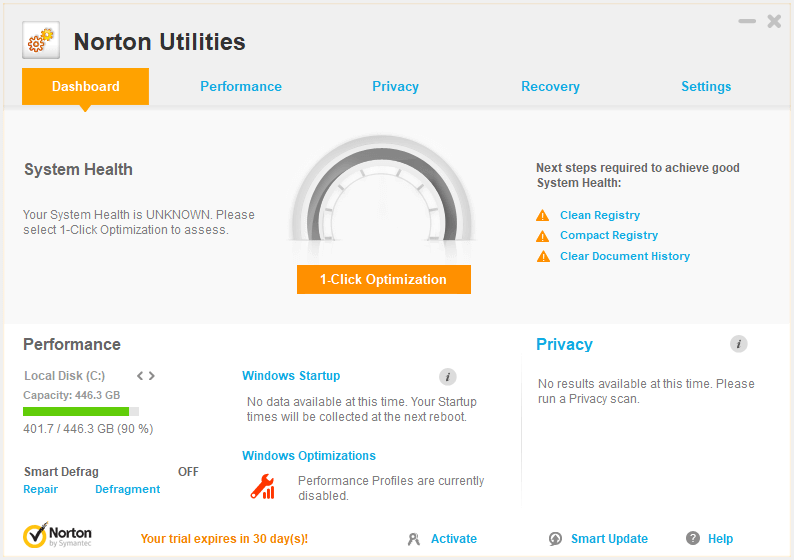 Norton Utilities provides an excellent range of features in an easy-to-use interface. 1-Click Optimization makes it extremely simple to keep your PC clean, and they have bundled together with an impressive number of additional features, from duplicate file checkers to lost file recovery and secure deletion.
I did notice that after running the 1-Click Optimization all caching on my browser had been temporarily disabled, and all of my cached CSS files had been removed. These files are not exactly space-hogs, so I'm not sure why they would be included in an automatic cleaning process. This had the side effect of breaking every website I visited until I did a hard refresh to fix them, but the broken web pages might have confused an inexperienced user.
There are a couple of other things that keep Norton out of the winner's circle. It's one of the more expensive cleaning apps in this review, at $49.99, and you're limited to installing on just 3 PCs. This means that it's not exactly right for the winning the enthusiast category, as enthusiasts usually have at least 3 PCs in the house, and it's a bit too complex for winning in the casual user category. It's still an excellent choice from a feature standpoint, though, if you're not a fan of our chosen winners – or if you want to avoid a yearly subscription fee!
Note that Norton no longer offers a free trial on their website.
Comodo PC TuneUp
($19.99 per year subscription)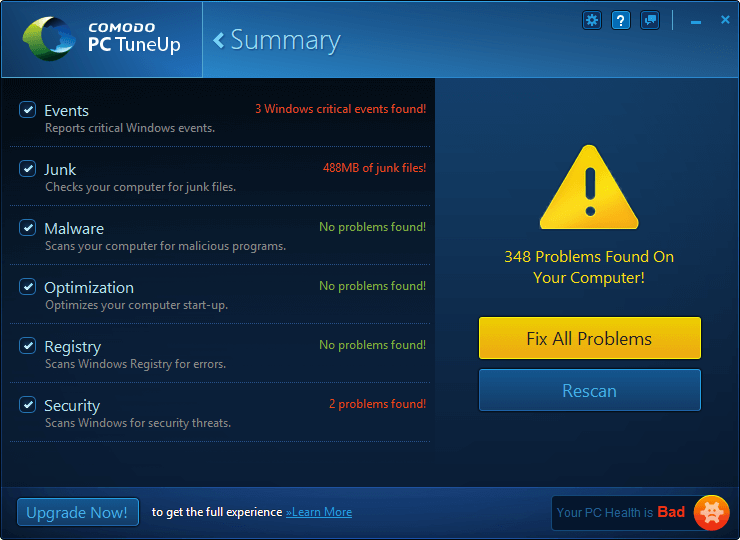 Comodo PC TuneUp is a bit of a strange entry in the list. It covers some of the more basic PC cleaning functions such as searching for junk files and the obligatory/useless registry fixes, but it also includes a malware scanner, a Windows event log scanner, and a rather vague 'security scanner'. Comodo also includes a duplicate file scanner, a registry defragmenter and a unique 'force delete' tool that allows you to defer deletion of files that are in use until your next restart.
It's been fairly amusing to see what the different cleaning programs consider to be problems. Comodo didn't find any issues with my Windows registry, despite the fact that the other programs I tested did. I never run any of the registry tools (apart from scanning) and you shouldn't either, but it's worth pointing out that there is evidently some disagreement about what causes problems.
Even more amusingly, the two security scanner results were both from entries in the registry, despite the fact that the registry scanner said everything was fine. I'm not sure what to make of that, but it doesn't exactly fill me with confidence in its cleaning abilities. It also found the least amount of junk files at 488 MB, a sharp contrast to the potential 19 GB found by AVG PC TuneUp.
While it has good Windows compatibility, regular updates and a streamlined interface, the strange mix of tools and lackluster search performance means that this tool isn't quite ready for the spotlight just yet.
iolo System Mechanic
($49.95, licensed for all computers in a single household)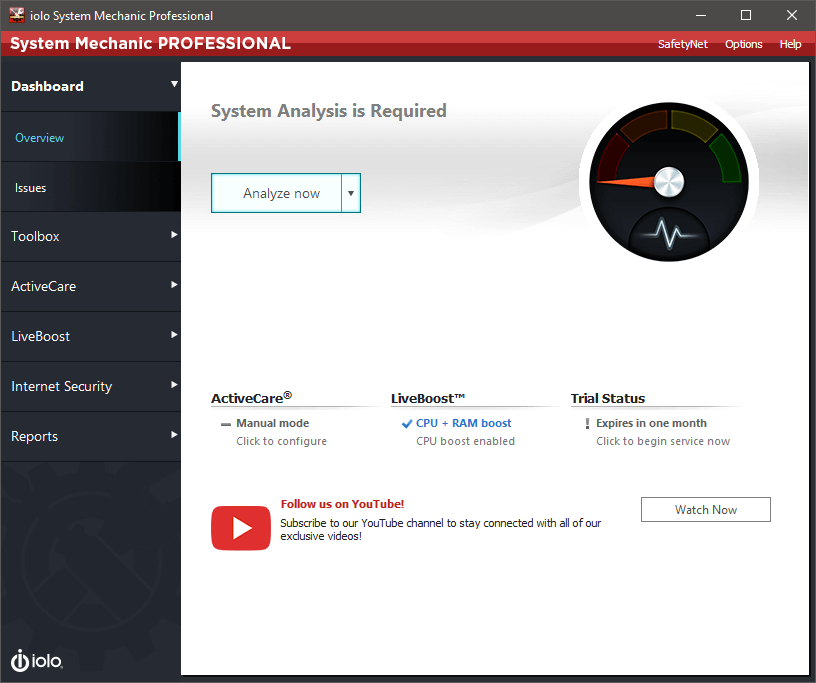 iolo has received a lot of recognition for its PC cleaner app, but my experience didn't really live up to the expectations. I almost removed it from the review entirely, but so many people recommend it that I thought it was worth sharing my experience. It has a fairly standard set of options for managing PC cleaning and offers a range of 'boosts' intended to optimize everything from CPU speed to network speed, although it's quite vague on how exactly it accomplishes this.
These issues are overshadowed by a much larger problem, however, as before I could even finish testing I ran into some trouble. Regular updating is one of the criteria we used to assess the available PC cleaners, and System Mechanic actually received an update while I was in the process of testing it. I thought it was a perfect change to test how well it handled updates, so I let it go ahead. It automatically uninstalled the old version, restarted my computer, and installed the new version, but I ran into a problem immediately: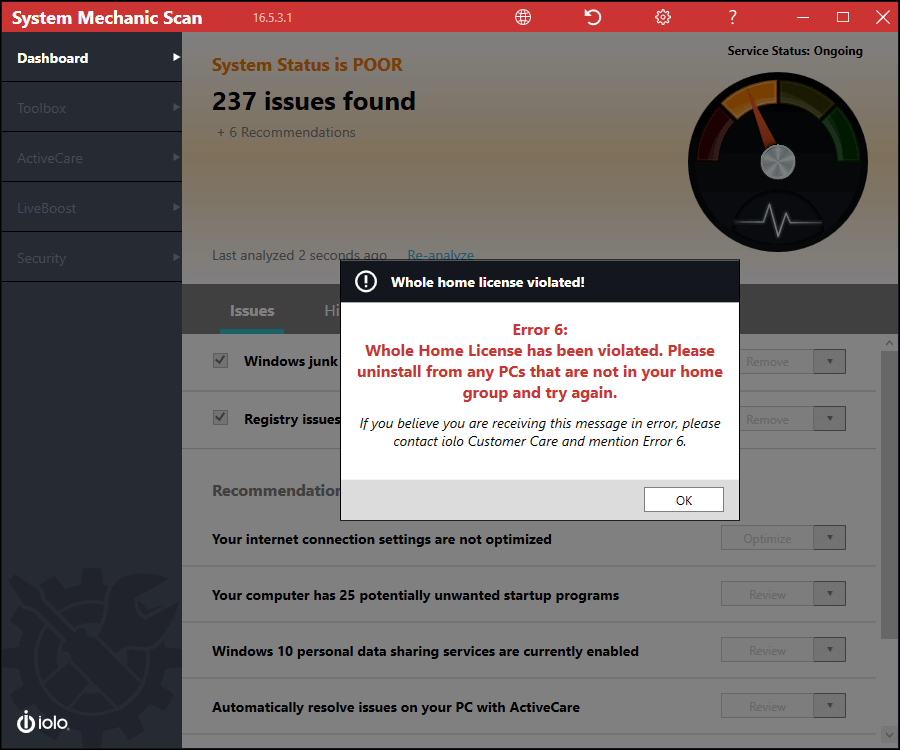 I was only using the trial version, so I'm not exactly sure how it could possibly think that I had violated any license. I thought I could solve the problem by uninstalling and reinstalling, but when I tried to use the trial activation key that iolo emailed me, it told me that it was not valid for that program and was intended for another – even though I was just following its own update process!
It's possible that your mileage may vary, but I wouldn't trust my PC maintenance to a company that messes up its own product launches. Let this be a cautionary tale about the importance of choosing a quality software developer, even among those that have been recommended by others!
Some Free PC Cleaner Programs
In most cases, free software alternatives don't offer quite the same level of comprehensive cleaning options or automatic management as paid software, but they can still be very useful.
Glary Utilities Free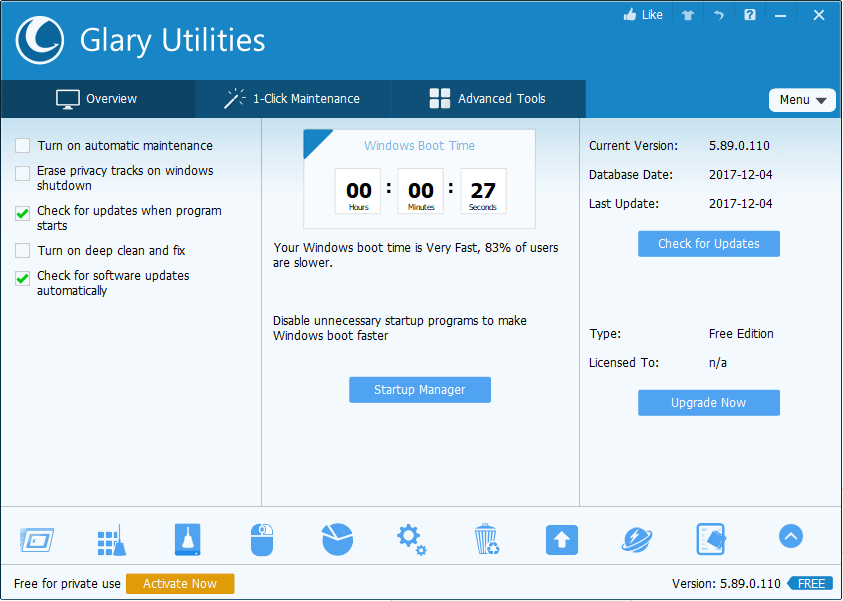 This is one of the exceptions to the rule, of course. Glary Utilities Free provides some excellent features that make it a great choice for those who don't have the budget or the need for the Pro version. Most of what's left out of the free version has to do with automatic maintenance and "deep cleaning", although unfortunately, both versions share the same bizarre interface.
Many users who are considering the Pro version will probably be satisfied with the Free version, and they both share the same regular updates and extensive Windows compatibility.
Duplicate Cleaner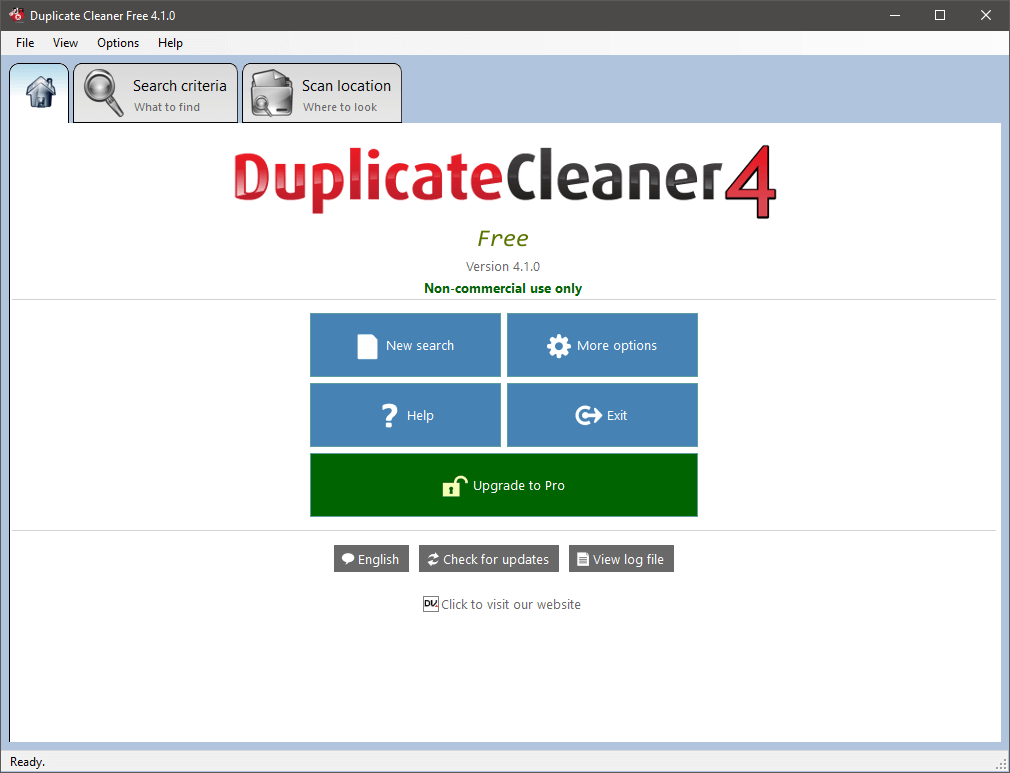 DuplicateCleaner is firmly at the very basic end of the PC cleaning spectrum, as it really only does what the name suggests: search out duplicate files. This can be a major help when it comes to freeing up storage space, especially if you're using a new laptop with a relatively small solid-state drive. Running out of storage space can dramatically reduce the speed of your computer, and duplicate file searching is one cleaning function that isn't built into Windows.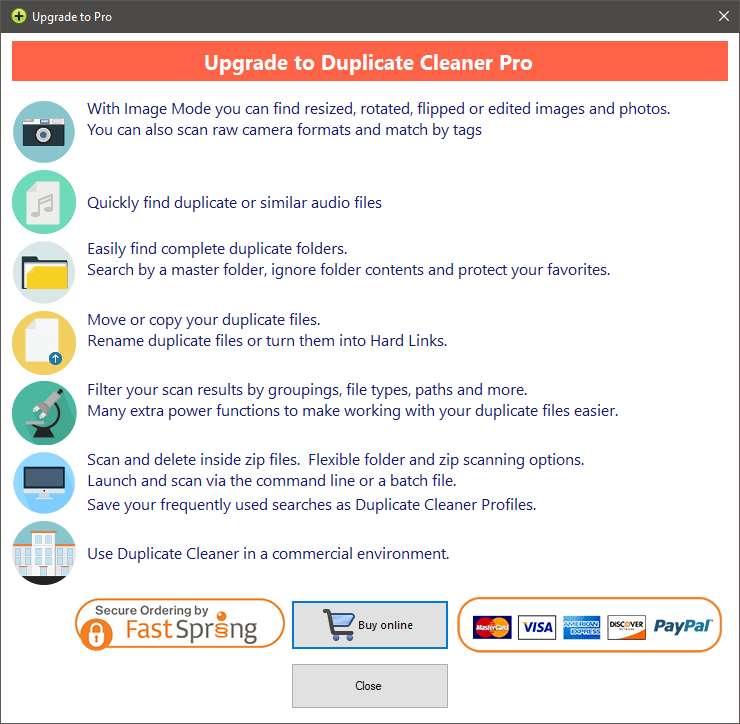 BleachBit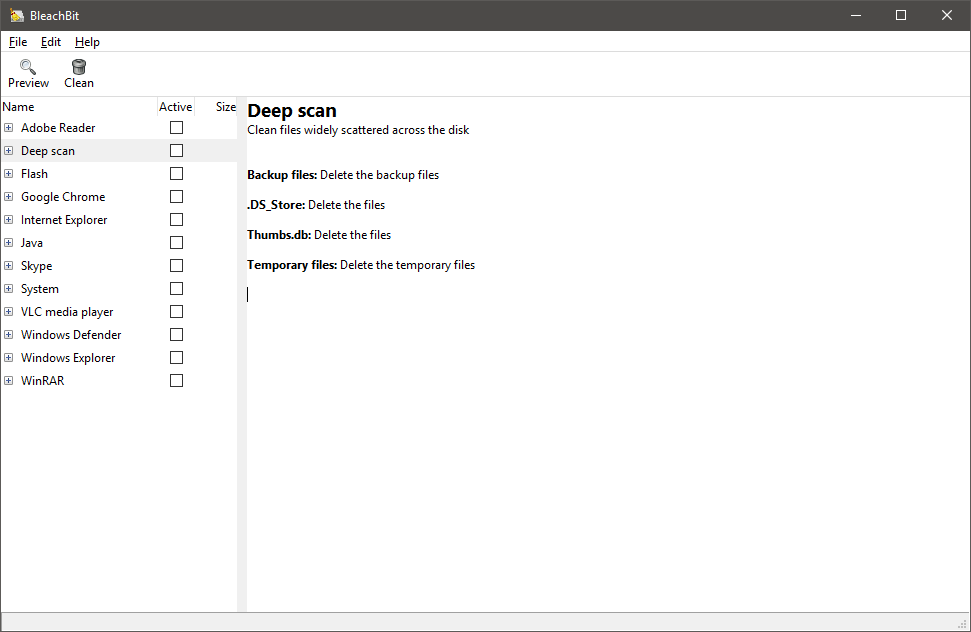 The open source PC cleaner BleachBit is sort of a balance between the two previous free options, offering a range of disk space cleaning tools and secure delete options. Like most free software that doesn't have a paid counterpart, the interface for BleachBit leaves a great deal to be desired – but at least you can't call it confusing.
It doesn't really offer the same functionality as any of the more comprehensive options, but it does have decent support and regular updates. It also is the only program we looked at that has a Linux version, as well as a few additional tools that are only available in the Linux environment.
BleachBit is available for download here.
How We Tested and Selected These PC Cleaner Apps
With so many different ways to "clean" a PC, it was important to standardize the way we looked at the programs involved. Here's a rundown of the criteria we used to make our final selections:
They need comprehensive options.
Many PC cleaning apps claim they can speed up your PC dramatically, but the reality is that there are usually several small issues that can be fixed and monitored. Individually, none of them are that serious, but when they all start to have problems at once, your PC's performance can really start to be affected. That makes it essential for a PC cleaning app to cover a wide range of options, from managing your startup programs to helping maximize your available storage space. Having a few extra functions like duplicate file checking and full uninstallation management can be very useful too!
They should be easy to use.
Windows already lets you manage most (if not all) of the functions offered by PC cleaning apps, but it can be finicky and time-consuming to handle things that way. A good cleaning app will bring all those functions together in a single place, and make the whole process easy to manage. Otherwise, you're better off saving your money and learning how to do it all yourself.
They should get updated regularly.
Since your computer is constantly being updated (or at least it should be), it's important that your cleaning app gets updated regularly too. Some more basic functions like duplicate file searching and free space recovery won't change much from version to version, but if your PC cleaning app also has virus scanning or driver management features, regular updates are necessary to keep things running smoothly and effectively.
They must not try to scare you into buying them.
A lot of PC users aren't very comfortable with the technical details of how their computers work. Some shady software developers try to take advantage of that fact by scaring users into thinking something is going desperately wrong unless you buy their software this very second. This is the equivalent of an unreliable auto mechanic piling repair charges onto your bill that you don't really need. No good mechanic would do that, and no good software developer would either.
They must be affordable if you decide to purchase.
Most PC cleaning apps don't need to be run regularly unless you're using your PC constantly every day. Even then, they'll probably still do a great job if you only run them a couple of times per year. That means that affordability is key and that any developer trying to offer users a yearly subscription to their program might not be offering the best value for money. Some dedicated developers do regularly update their programs enough to make a subscription model worthwhile, you just make sure that you're getting enough benefit to make the ongoing cost worthwhile.
They must be compatible with all recent Windows versions.
Windows has gone through a number of different versions lately, and many people are still running Windows 7, Windows 8 or 8.1. Since upgrading can be expensive, the same household will often have multiple computers running different versions. A good PC cleaning app that offers a multi-computer license should support all the recent versions of Windows (including Windows 10 and Windows 11) so that you don't have to buy a different program for each computer.
An Important Note About Security
Most software developers are interested in creating the best possible program, but not everyone is so admirable. Some developers are merely interested in making money, and a few try so hard to make sales that their tactics wind up uncomfortably close to the tactics used by scammers. Whenever you're downloading a new piece of software, you should always scan it with your trusty (and updated) antivirus/anti-malware security program to make sure it's safe to install.
During the course of my testing, several of the programs that I considered reviewing were flagged by Windows Defender and/or Malwarebytes AntiMalware. There was one that wouldn't even finish downloading before Windows Defender blocked it! But don't worry – all of the programs included in the published version of this review passed all available security scans. It just goes to show you the importance of having good security practices!
A Final Word
PC cleaning apps have come a long way since the early days, even though some of the tools they've included are a bit dubious (I'm looking at you, registry "cleaners"!). When you're selecting and using a PC cleaner, be sure to remember that they are all designed to make you feel like you'd be lost without them. When they tell you that you've got 1729 issues to be corrected, don't get frantic – they're usually just counting every single file that could be deleted, not saying that your computer is about to break down.
Do you have a favorite PC cleaning app that I left out of this review? Let me know in the comments below and I'll take a look!