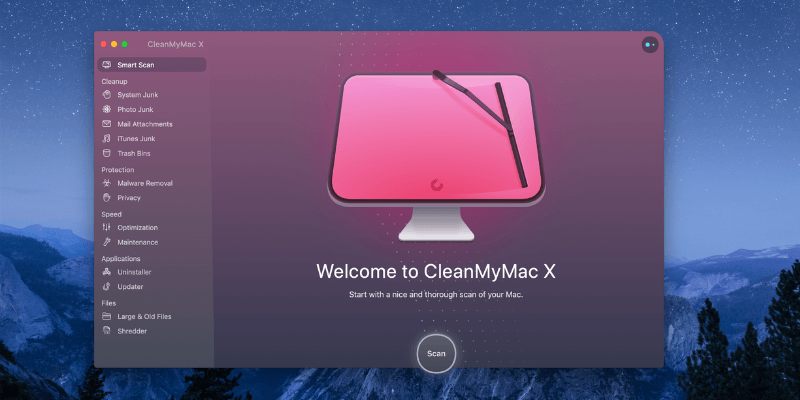 CleanMyMac X
Effectiveness: Frees up gigabytes of space
Price: One-time payment or yearly subscription
Ease of Use: An intuitive app with a sleek interface
Support: FAQ, knowledge base, contact form
Summary
CleanMyMac X offers a variety of easy-to-use tools that will quickly free up space on your hard drive or SSD, make your Mac run more quickly, and help keep it private and secure. Using them, I was able to free up almost 18GB on my MacBook Air. But that functionality comes at a price, and that price is higher than its competitors.

Is CleanMyMac X worth it? I believe it is. Cleaning is always worthwhile, but never fun. CleanMyMac offers the most pleasant, friction-free interface out there, and covers all the cleaning jobs you need, meaning you're more likely to actually use it. As a result, you'll keep your Mac running in peak condition, making you happier and more productive.

What I Like: Gorgeous, logical interface. Fast scan speeds. Frees up gigabytes of space. Can make your Mac run faster.

What I Don't Like: Much more expensive than the competition. Doesn't search for duplicate files.
What does CleanMyMac X do?
CleanMyMac X is an app to keep your Mac clean, fast, and protected through a number of strategies such as locating and removing large hidden files, uninstalling apps, cleaning browser and chat history, quitting hung apps, and heavy CPU consumers.
How much does CleanMyMac X cost?
The cost depends on how many Macs you plan to install the app on. For 1 Mac, purchase for $89.95, subscribe for $34.95/year; For 2 Macs: purchase for $134.95, subscribe for $54.95/year; For 5 Macs: purchase for $199.95, subscribe for $79.95/year. Upgrades cost 50% of the normal price, making ongoing purchases even more attractive. You can check the latest pricing here.
CleanMyMac X is also available in Setapp, a Mac app subscription service that offers a 7-day free trial and costs $9.99 per month, but allows you to access a few hundred paid Mac apps for free.
No, it isn't. I ran and installed CleanMyMac X on my MacBook Air. A scan using Bitdefender found no viruses or malicious code. The app is also notarized by Apple and listed on the Mac App Store. Notarization is a process that confirms that an app is free from malicious files.
Does Apple recommend CleanMyMac X?
CleanMyMac is a software product developed by a commercial company, MacPaw Inc., which is unrelated to Apple. But now you can download CleanMyMac X from the Mac App Store.
CleanMyMac X isn't a free app, but there is a free trial version so you can fully evaluate it before deciding to spend your money. You can either pay for CleanMyMac with a one-time purchase or subscribe to it year by year. The cost depends on how many Macs you plan to install the app on.
Yes, from a security perspective it is safe to use. But there is room for user error because the app allows you to delete files from your hard drive. Take care that you don't delete the wrong file by mistake. For example, it can show you which large files are taking up a lot of space on your Mac. Just because they're big doesn't mean they're not valuable, so delete with care.
Is CleanMyMac X any good?
I believe it is. Mac cleaning is always worthwhile but never fun. CleanMyMac offers all the cleaning tools you need in a nice way, meaning you are more likely to actually use it on your Mac.
Is CleanMyMac X compatible with macOS Monterey?
Yes, after months of beta testing, the app is fully optimized for the latest macOS.
CleanMyMac X vs. CleanMyMac 3: What's the difference?
According to MacPaw, this is a "super-mega-awesomized-version" of the app. That sounds like a big upgrade. They even describe it as a brand new app, because it does things CleanMyMac 3 couldn't. These include:
It removes malware,
It speeds up Mac with new tools,
It updates your applications,
It finds system junk in even more places, and
It gives you personalized cleanup tips via Assistant.
The developers have improved the accessibility and ease-of-use of the app, improved the icons, animations, and sound, and boosted performance. MacPaw boasts that it cleans three times faster than the previous version.
Why Trust Me for This CleanMyMac Review?
My name is Adrian Try, I've been using computers since 1988, and Macs full time since 2009. Having spent many years in IT—support, training, managing and consulting—I'm no stranger to computers that are slow and frustrating. I've learned the value of a fast, comprehensive cleanup app.
Besides using a variety of these apps in real life, I've also reviewed a number of them here on SoftwareHow. In addition to purchasing or subscribing to the software directly from the developer, you can also "rent" it through Setapp. That's what I've opted to do for this CleanMyMac X review.
I'll briefly describe what the app does and touch on the more significant improvements in this version. I've been testing CleanMyMac X thoroughly, so I'll share what I like and dislike about it. Read on for the details!
Detailed Review of CleanMyMac X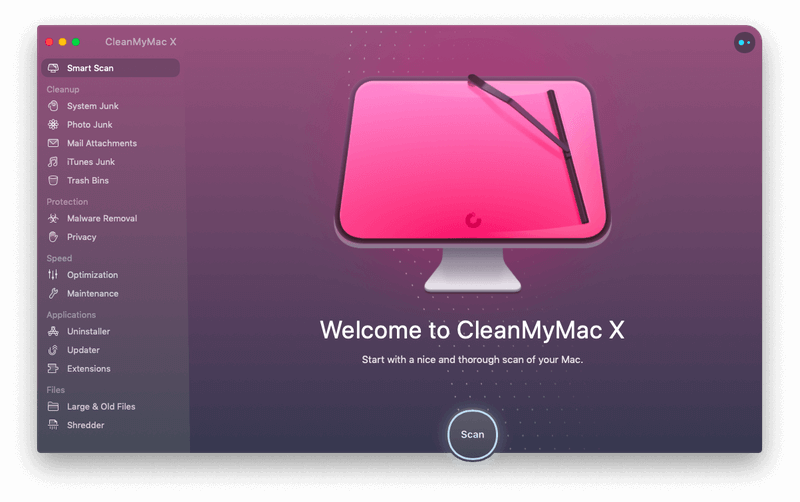 CleanMyMac X is all about keeping your Mac running smoothly and efficiently, and I'll list its features in the following five sections. In each subsection, I'll explore what the app offers and then share my personal take. It's been over a year since I've used any cleanup app on my MacBook Air's 128GB SSD. I expect there will be some clutter to find!
1. Clean up Your Mac to Free Up Storage Space
Hard disk space costs money. Why would you waste it by allowing it to fill up with rubbish?
Documents, media files, system files, and applications are stored on your hard drive or SSD. But that's not all. A large number of unnecessary working files build up over time and end up using more space than you'd imagine. CleanMyMac helps identify and delete those files, freeing up valuable storage space.
System Junk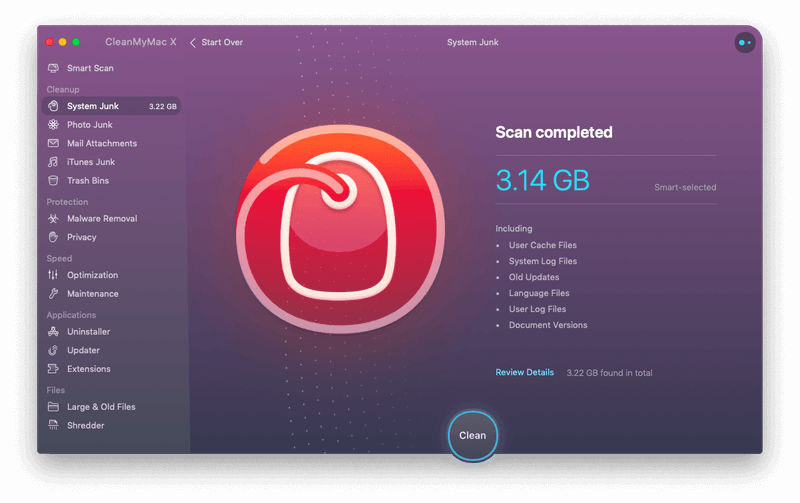 A system junk cleanup removes temporary files that are left by macOS and your apps. That should not only free up space, but allow the operating system and apps to run more smoothly as well. After granting CleanMyMac full access to my hard drive, I clicked "Scan". After about a minute, 3.14GB of files were found, which I cleaned. There was a chance I could free even more space. I reviewed the potential files and decided I didn't need them. That's another 76.6MB available on my drive.
Photo Junk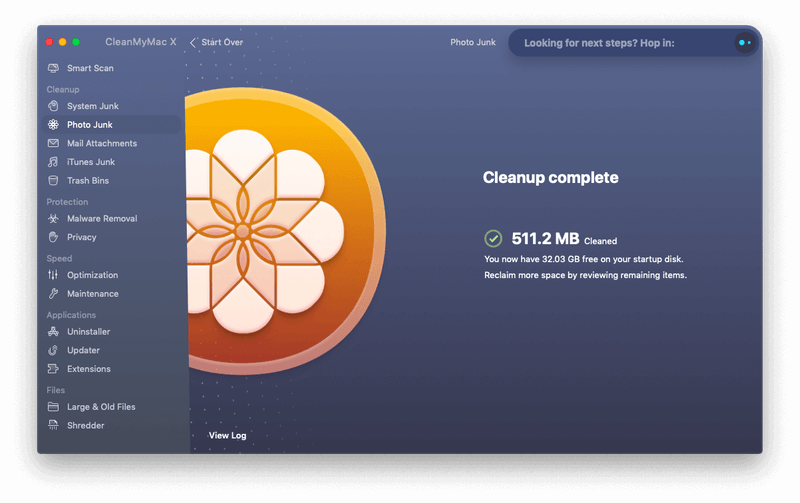 If you have a lot of photos, wasted space and temporary files may be eating up your storage space. I don't look at photos on this Mac very often, but they are synced here via iCloud. So I'm not sure how much-wasted space there would be. Let's find out. I click on "Scan". After about two minutes, I discover there's half a gigabyte of wasted space due to the Photos app. A lot more than I expected! I click "Clean" and it's gone.
Mail Attachments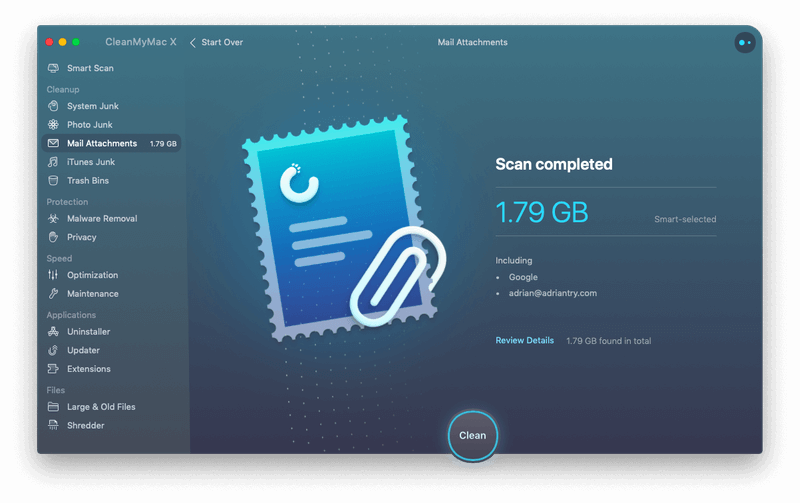 Mail attachments can be large or small, and combined can potentially use lots of storage space. Personally, I'm not a fan of deleting attachments—I like to know they're still available from the original email. Not everyone feels that way, and it will be interesting to see how much space my email attachments are actually taking up. So I click "Scan". After two minutes, I discover that they're using 1.79GB of my SSD. That's quite a lot. At this point, I decide not to delete them. But I'll keep in mind how much space can be cleared by deleting attachments for the future.
iTunes Junk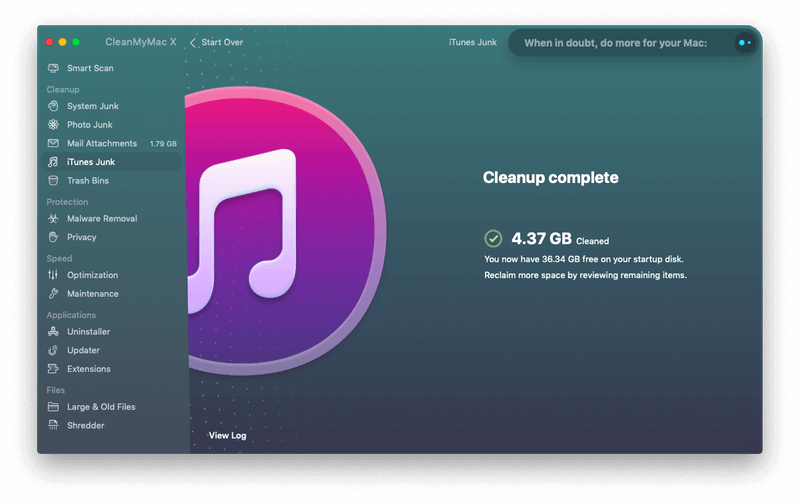 iTunes is used for many things, which makes it a bloated app, and responsible for taking up lots of hard drive space unnecessarily. Besides playing music and video, iTunes also may be storing old iPhone and iPad backups—perhaps even multiple instances. I don't use this computer for any of those things—I use it for writing and not much else—so I'm not expecting to find much wasted space here. I click on "Scan" to find out. In about three seconds I discover I'm wrong. CleanMyMac can free up 4.37GB from my iTunes cache. I click "Clean" and it's gone.
Trash Bins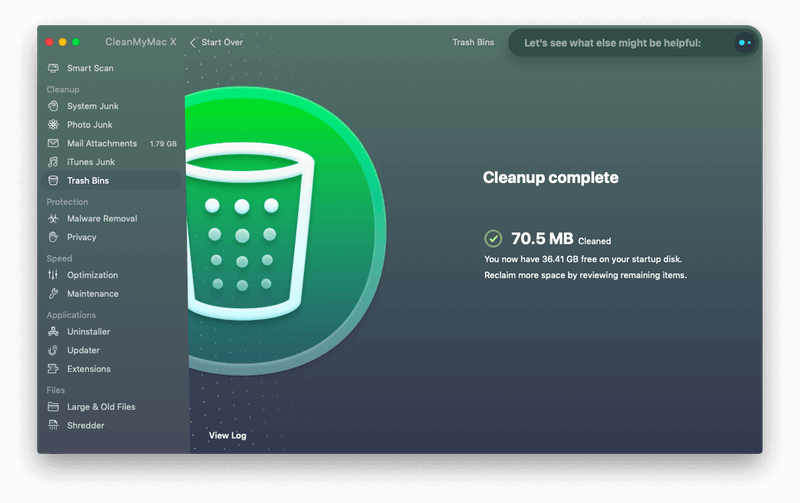 Trash bins are useful-they give you a second chance. If you deleted something you didn't mean to, you can recover it by moving it from the trash back into a folder. But files in the trash still take up space on your drive. That's a waste if you really did mean to delete them. Empty the trash and free up the space permanently.
I do empty my trash from time to time, but still expect to find a lot of wasted space here. I evaluate lots of apps, and delete the installation files as well as the installed app once I've finished with it. And as I write I take lots of screenshots, which all find their way into the trash when I'm finished with them. I click "Scan" to find out how bad my trash problem really is. After just a second or two, I discover there's just 70.5MB. I must have emptied my trash recently. I click "Clean" to empty it again.
My personal take: In just a few minutes, CleanMyMac freed up over eight gigabytes on my MacBook Air's SSD. If I deleted my email attachments, almost two more gigabytes would be available. That's a lot of space! And I'm impressed with the speed of the scans—just a few minutes in total.
2. Protect Your Mac to Keep It Free from Malware
I feel safer using a Mac than a PC. Security is arguably stronger, and there is statistically less malware in the wild specifically targeted at Macs. But it would be a mistake to take that sense of security for granted. CleanMyMac X includes tools to protect my Mac from digital thieves, vandals and hackers.
Malware Removal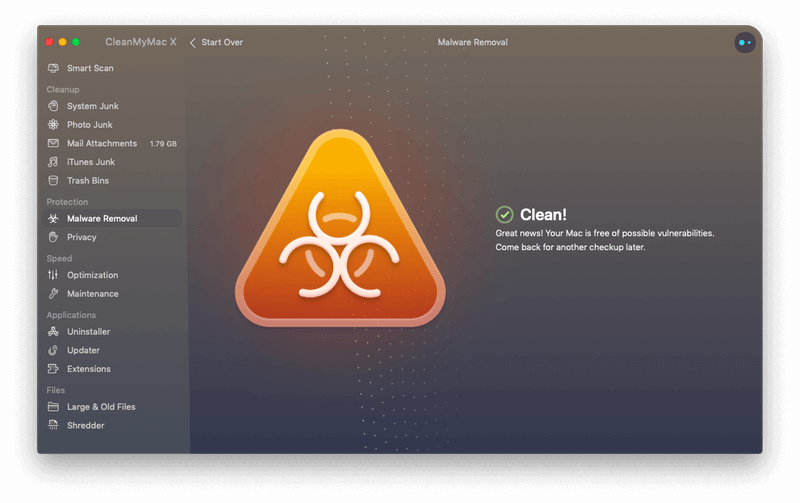 Even though viruses are not a significant problem on Macs, scanning for malware regularly is part of being a good internet citizen. You may have a Windows virus in an email attachment, and could unknowingly pass it onto your Windows-using friends. I scanned my computer just yesterday using Bitdefender. No malware was found, so I'm not expecting to find any today using CleanMyMac. Let's find out. That was fast. After about five seconds, my computer was given a bill of clean health.
Privacy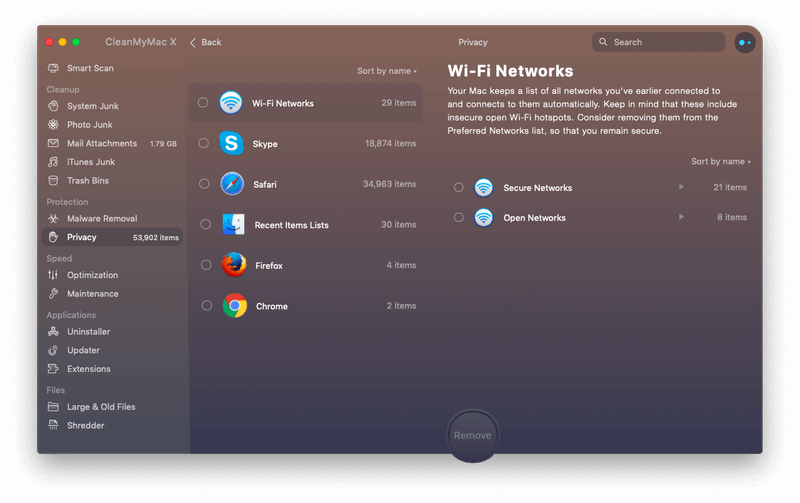 CleanMyMac's privacy scan doesn't intrinsically make your computer any more secure. But it does delete sensitive information like browsing history, autofill forms, and chat logs, so that if your computer is compromised by hackers, they'll get access to less information that can be used for identity theft. Like email attachments, I'm unlikely to delete this sort of thing from my computer. Sometimes I refer to old chats, and I like my forms to be filled in automatically. But I'll do the scan to see what it finds. Here are the results, after about ten seconds.
The scan identified 53,902 items it considers threats to my privacy (assuming I'm hacked). These include a list of wi-fi networks I've connected to, Skype conversations and call history, Safari tabs, cookies and browsing history (and similar for Firefox and Chrome), and lists of recently opened documents.
Some of these (like Skype conversations and the ability to automatically connect to wi-fi networks) I really don't want to lose. Others, like recently opened documents, open browser tabs, and browsing history, are somewhat helpful, I wouldn't miss them if they were cleaned. Then there are others, like cookies and HTML5 local storage. Cleaning these up may actually speed up my computer, as well as make it more secure. (Though deleting cookies will mean I'll have to sign back into every website.) For the moment, I'll leave things as they are.
My personal take: Care should always be taken when it comes to your computer's security. Even if you feel relatively safe from malware on your Mac, it's worth taking precautions. CleanMyMac's malware and privacy scans will keep your computer clean and give you peace of mind.
3. Speed Up Your Mac to Make it More Responsive
If your Mac doesn't feel as fast as when it was new, it probably isn't. And that's not because it's getting old or the components are degrading, but because the act of using your computer over time can contribute to a less-than-optimal configuration. CleanMyMac X can reverse this, making your computer feel as good as new.
Optimization
Over time, apps may start background processes that run continuously, taking up your system resources and slowing your computer. You may not even be aware that some of these processes are happening. CleanMyMac can identify them for you, and give you a choice of whether they run or not. Also, any apps that have crashed may still be using system resources and slowing your computer. I can see that CleanMyMac has already found 33 items on my computer. Let's view them all.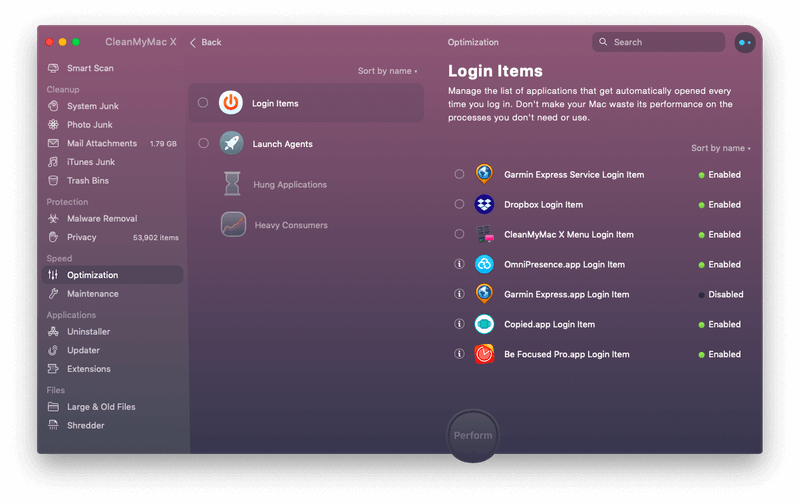 I don't currently have any hung applications or heavy consumers. That's a good thing. I do have a number of apps that launch automatically when I log in. These include Dropbox, CleanMyMac, an app to sync my Garmin cycling computer, and a few productivity apps that place icons on my menu bar. I'm happy that they all start when I log in, so I leave things as they are.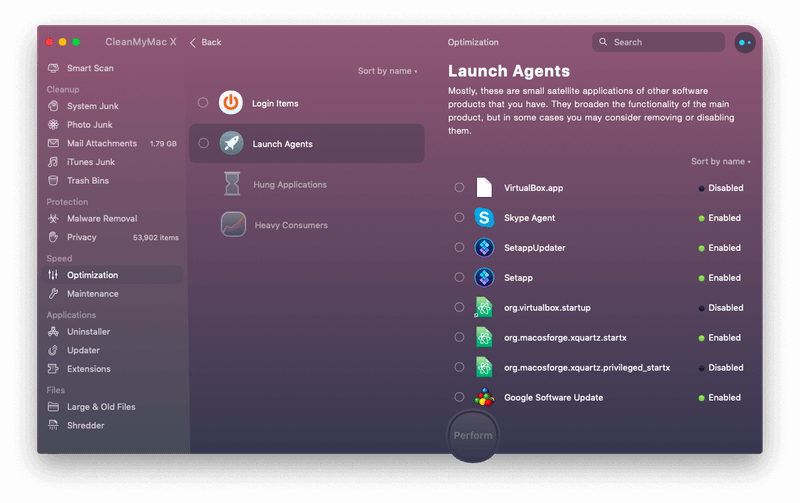 There are also quite a number of "agents" that start up when I log in, adding functionality to some of my apps. These include Skype, Setapp, Backblaze, and a bunch of Adobe agents. There are also a few agents that check for software updates, including for Google software and Adobe Acrobat. I don't have any major concerns about anything running automatically on my computer, so I leave things as they are.
Maintenance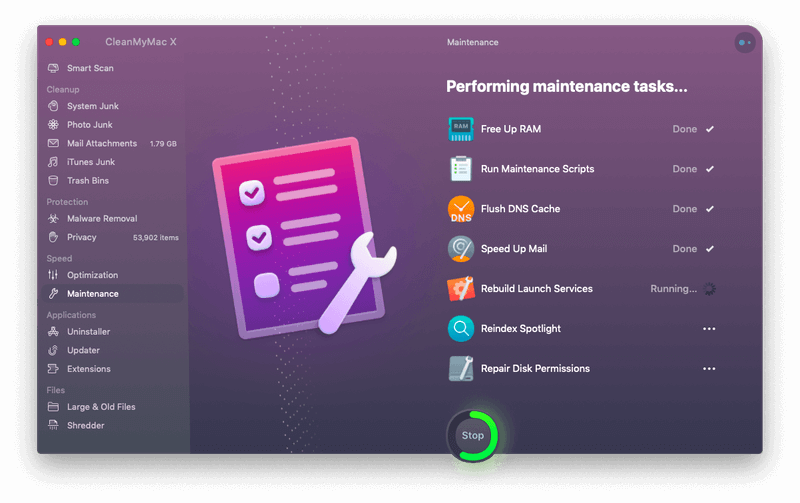 CleanMyMac also includes a set of scripts designed to optimize system performance. These can make sure my hard disk is healthy both physically and logically. They repair permissions and more to make sure my apps run well. And they reindex my Spotlight database to make sure that searches run quickly and properly.
The app has already identified that eight tasks can be performed on my computer. CleanMyMac recommends I free up RAM, flush my DNS cache, speed up mail, rebuild launch services, reindex Spotlight, repair disk permissions, verify my startup disk (well, actually it can't verify my startup disk because Mojave uses the new APFS file system), and run some other maintenance scripts.
That sounds good to me. I'm not sure that all the scripts will make a big difference, but they won't hinder. So I run the lot. It took 13 minutes for them to run. I'm shown the encouraging message: "Your Mac should now run smoother."
My personal take: My computer didn't feel slow or laggy before, so I'm not sure I'll notice any difference in performance. I'll have to live with the changes for a while before I can tell. At one point when the scripts were running all of my Ulysses data vanished, and had to be downloaded again. I'm not sure if that was caused by CleanMyMac. Maybe it was a coincidence, or maybe something in "Run Maintenance Scripts" deleted the local cache. In any case, I lost no data.
4. Clean up Your Applications
Software applications can leave a mess, especially when you uninstall them. CleanMyMac X provides a few ways to clean up after your apps.
First is an uninstaller. When you remove an application, often a collection of no-longer-needed files are left behind, wasting storage space. CleanMyMac can keep track of those files, so the application is removed completely. I'm shown a list of all my applications, and I'm impressed with the way they're grouped. For example, there's a list "unused" apps. These are apps I haven't used in the last six months, prompting the question of whether they need to be on my computer at all. I browsed through the list, and decided not to remove any at this stage.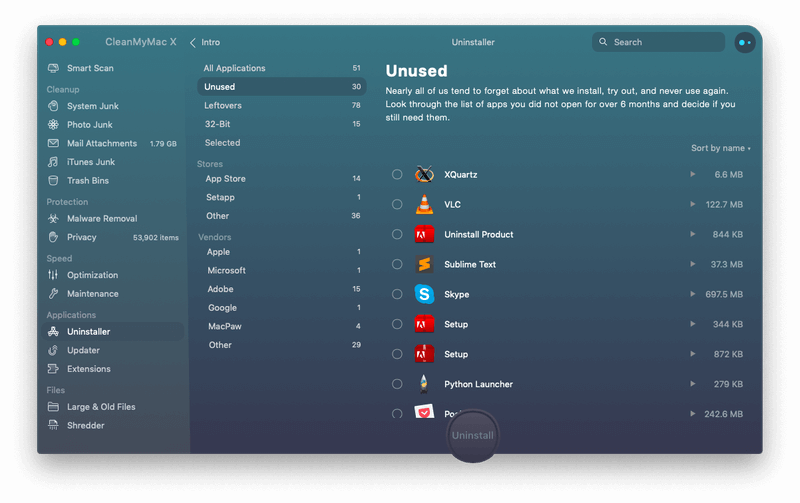 Another list is "leftovers", which contains files that were left on my computer after the main app was removed. I remove all 76 files, and within three minutes had cleaned up another 5.77GB from my SSD. That's huge.
Another list shows me all of the 32-bit applications I have installed. It's very likely these are applications that haven't been updated in quite a while, and the next time macOS is updated, they will cease to work at all.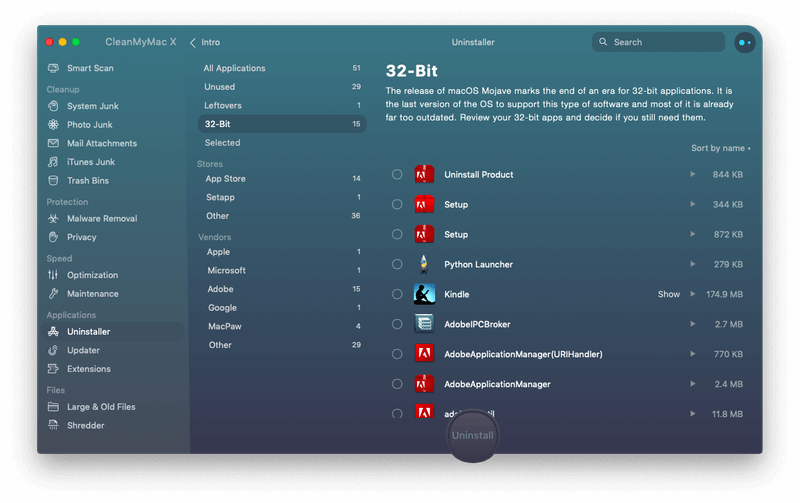 For the moment I leave them installed, but I'll revisit this list in the future — hopefully, before the next version of macOS comes out.
CleanMyMac also offers a way to make sure all my apps stay up to date. This is one utility I don't seem to need. I'm on top of it!
CleanMyMac can also manage my widgets and system extensions, enabling me to remove or disable them from one central location.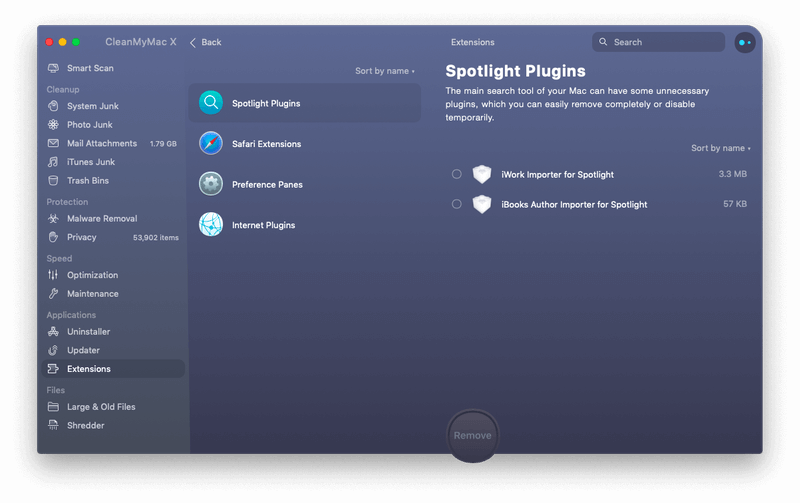 I browse through the list, find four browser extensions I no longer use, and remove them.
My personal take: Being able to manage my apps and app extensions from a central place is helpful. By deleting the files left by apps I uninstalled long ago, I quickly freed up almost six gigabytes of disk space. That's significant!
5. Clean up Your Files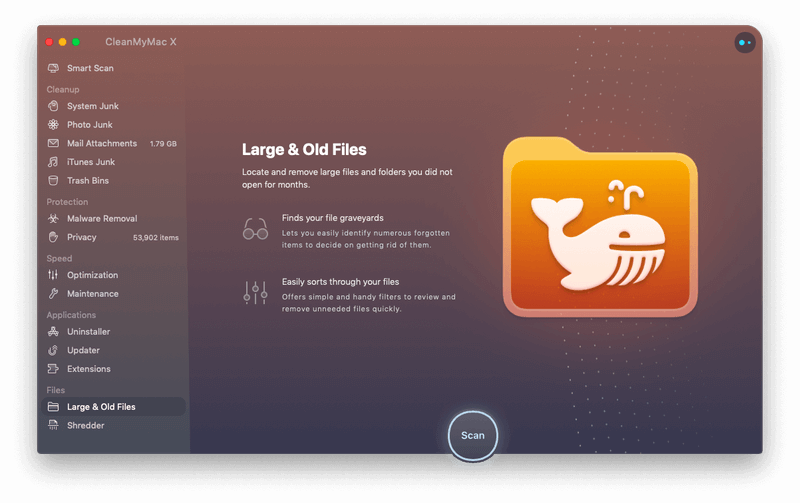 The app also gives you a couple of ways to manage files. The first of these is to identify large and old files. Large files take up a lot of space, and old files may no longer be needed. CleanMyMac X can make you aware of the price you're paying in storage to keep those files on your main drive. On my MacBook Air, the scan only took a couple of seconds, and I was given a bill of clean health.
And finally, a security feature: a document shredder. When you delete a file, traces of it are left until that part of your hard drive is eventually overwritten. The shredder removes them so that they cannot be recovered.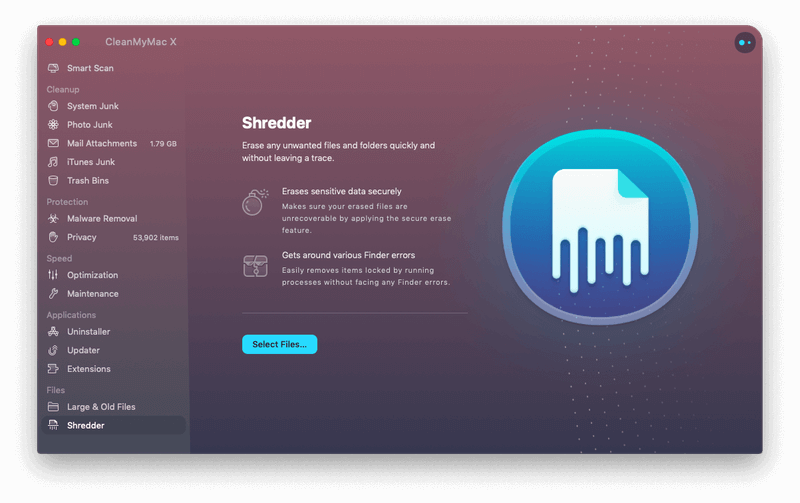 My personal take: Scans for large files and old files can help you find more opportunities to free up storage space—assuming you no longer need those files. And the ability to securely delete sensitive information is a valuable tool. These features add value to an already very comprehensive app.
Reasons Behind My Ratings
Effectiveness: 5/5
CleanMyMac X's scans were surprisingly fast, and I was quickly able to free up almost 14GB. The app was stable throughout my evaluation, and I encountered no crashes or hangups.
Price: 4/5
CleanMyMac X is significantly more expensive than its competitors. However, in my opinion, it offers enough value to justify the higher price. You don't need to purchase it outright: a subscription may soften the financial blow in the short term, and it's also included in a Setapp subscription along with a wide range of other apps.
Ease of Use: 5/5
This is the easiest cleanup utility I've used on any platform. The interface is attractive and well organized, tasks are logically grouped together, and decisions for the user are kept to a minimum. CleanMyMac X almost makes cleaning fun.
Support: 5/5
The support page on the MacPaw website provides a range of resources for CleanMyMac X including an FAQ and knowledge base. The page also allows you to manage your license or subscription, suggest features, and contact support via a web form. The app's Help menu also includes links to the help page, contacting support and providing feedback.


Final Verdict
CleanMyMac X is like a maid for your Mac, keeping it uncluttered so that it runs like new. Temporary files can build up on your drive until you run out of space, and your Mac's configuration can become sub-optimal over time so that it feels slower. CleanMyMac offers a complete toolkit to deal with these problems.
In our complete roundup of the best Mac cleaner reviews, CleanMyMac was our top recommendation. It offers a variety of small utilities that can free up space on your Mac drive. I was able to reclaim almost 18GB on my MacBook Air.
But that functionality comes at a price, and that price is higher than its competitors. Several alternative apps offer similar functionality at a cheaper price, or you can use a collection of free utilities to cover the same features. But that's a lot more work.
So how do you like CleanMyMac X? What's your thought on this CleanMyMac review? Leave a comment and let us know.