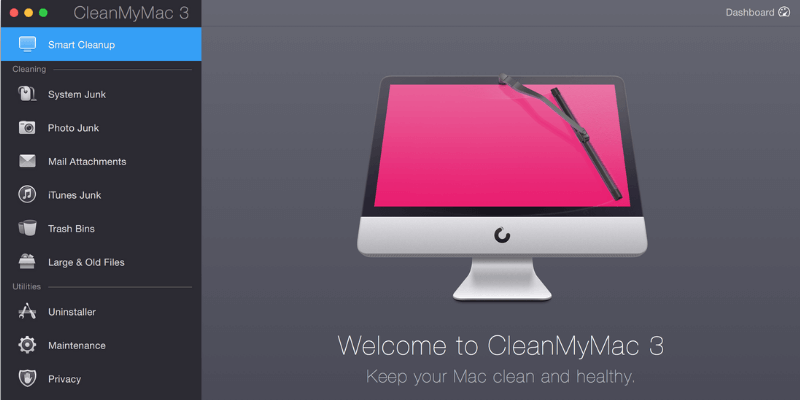 CleanMyMac 3
Effectiveness: Can help you free up much storage space
Price: One-time fee starting $39.95 per Mac
Ease of Use: Very intuitive with sleek interfaces
Support: Available via phone calls and emails
Summary
CleanMyMac 3 is the best Mac cleaning app for most people. Together with Gemini 2, we rated the bundle as our top recommendation in the best Mac cleaner roundup. CleanMyMac is extremely easy to use and lives up to what it claims to offer. In fact, the app does more than just clean-up; it also offers a number of other maintenance utilities. It's like an all-in-one software suite that cleans and optimizes your Mac in a convenient way.

Do you ever need CleanMyMac? In my opinion, if you are new to Mac, are still learning macOS, or don't have time to spend trying different apps to maintain your Mac, then CleanMyMac is a great option. If you are a power user who is comfortable handling technical stuff, then you probably won't benefit that much from the app.

In this review and tutorial, I will take you behind the scenes of how I use the app to remove unneeded files, deep clean Mac hard drive, uninstall apps thoroughly, etc. I'll also explain the reasons why I gave the app the ratings I did.

What I Like: The Smart Cleanup feature works great to quickly free up a decent amount of hard drive space. Some utilities, like Uninstaller and Shredder, are helpful. The app is incredibly easy, simple and convenient to use.

What I Don't Like: The app menu adds itself to Login Items — it opens automatically when I turn on my MacBook Pro. The alerts (i.e. warnings of potential issues) are a bit annoying.
Note: the latest version is CleanMyMac X, while the screenshots in the post below were initially taken based on version 3.4. We won't update this post anymore. Please look at our detailed CleanMyMac X review instead.

What does CleanMyMac 3 do?
The main value proposition of CleanMyMac is that it cleans unneeded files on a Mac, thereby improving its performance while freeing up disk space. Another selling point is its ease of use: It takes only a few clicks to scan and clean the files users probably want to get rid of.
Yes, it is a software designed and developed by a company called MacPaw Inc., which has been in business for more than 10 years (source: BBB Business Profile).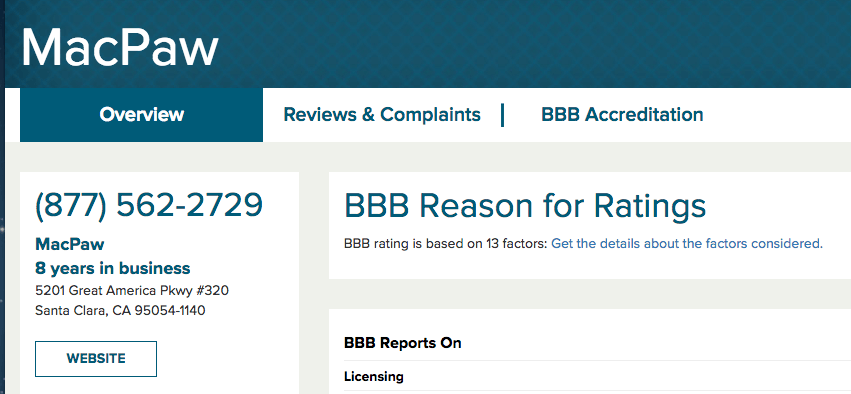 Well, it depends on how you define "safe".
Speaking from a security perspective, the answer is yes: CleanMyMac 3 is 100% safe to use. I ran Drive Genius and Bitdefender Antivirus on my MacBook Pro and they don't find any threats associated with the app. It does not contain any virus, malware or crapware, provided that you download it from the official MacPaw website.
If you get the app from other third-party download sites like download.com, beware that it may be bundled with bloatware. In addition, I have used Malwarebytes Antivirus to run a thorough scan of my Mac when CleanMyMac is running, and no security issues were found.
From a technical perspective, CleanMyMac is safe if you know what you are doing. Some users on the Apple discussion community complained about the app for causing certain problems. I have never experienced any such issues; however, I don't deny that MacPaw over-exaggerates its smart cleaning capability. In my opinion, software is not human. Even if it has sophisticated machine-learning algorithms to analyze patterns, wrong decisions could still be made in rare cases. Also, improper human operation — deleting critical system or application files, for example — may cause some apps to not work as expected. In this sense, I suppose, CleanMyMac is not perfectly safe.
The app is built around a try-before-buy model. While the demo version is free to download and use, it only allows you to clean 500MB files. To remove that limitation, you'll have to buy a license.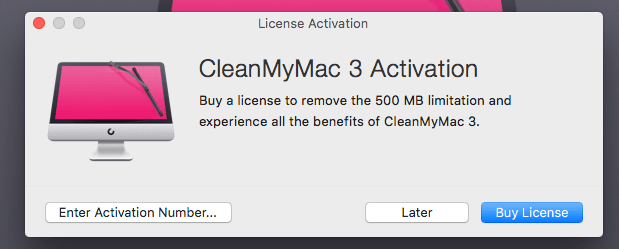 How much does CleanMyMac 3 cost?
Unlike many other SaaS (Software as a Service) products that use a subscription-based revenue model, MacPaw adopts a one-time payment for CleanMyMac. The license you pay for is based on the number of Macs that will use the app.
$39.95 for one Mac
$59.95 for two Macs
$89.95 for five Macs
If you need more than 10 licenses, I guess the final price would be negotiable and you can contact the MacPaw support team for further information.
MacPaw offers a standard 30-day money back guarantee. If you are not satisfied with CleanMyMac 3 within 30 days of your purchase period, drop an email to their support team or directly call them to request a refund.
I've contacted their support team via both email and phone, and they were quite supportive and professional in both cases.
You may get CleanMyMac in Setapp for a cheaper price, a software subscription service for Mac apps. Read our Setapp review here.
Why Trust Me for This Review?
Hi, my name is JP, and I'm the founder of SoftwareHow. Like you, I'm just a normal Mac user who holds a mid-2012 MacBook Pro – still, the machine works fine! I managed to speed it up after replacing the internal hard drive with a new Crucial MX300, an SSD I highly recommend for those of you who use an old Mac.
I've been using the CleanMyMac app for a while. As you can see from the purchase receipt below (I used my personal budget to buy the app). Before I wrote this review, I thoroughly tested every feature of the app and reached out to the MacPaw support team via email, live chat (now no longer available), and even phone calls. You can see more details from the "Reasons Behind My Ratings" section below.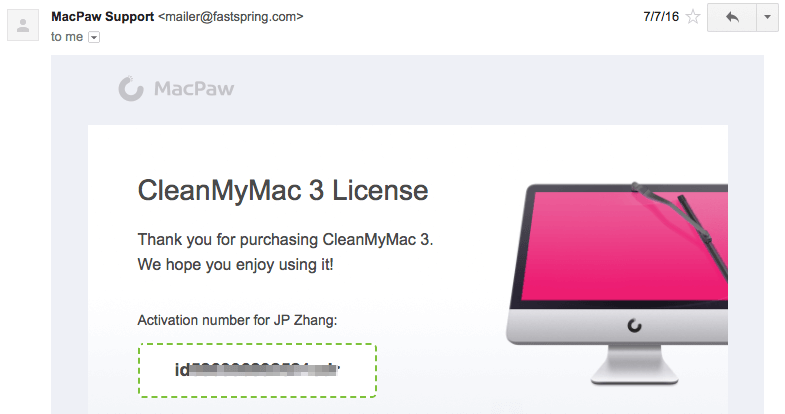 The goal of writing this kind of review is to inform and share what I like and dislike about an app. I also suggest you check out the "Fair Disclosure" section below 🙂 Unlike most other review sites which tend to only share positive things about a product, SoftwareHow reviews are different in many aspects. I believe users have the right to know what's NOT working with a product, regardless its hardware or software.
The content in the quick summary box above serves as a short version of my opinions about CleanMyMac 3. You can also navigate through the table of contents to find more information.
CleanMyMac 3 Review: What's In It for You?
The app includes a number of utilities which can be categorized into three sections: Health Monitoring, Cleaning, and Utilities.
Health Monitoring
The feature is reflected in the CleanMyMac Menu. It gives you a quick overview of how your Mac is performing. It shows how much storage space is available, the status of memory usage, battery information, and whether you have too much stuff in Trash. If memory usage is too high, you can move your mouse cursor to the "Memory" tab and click "Free Up". Likewise, you can also "Empty Trash" by moving the cursor to the "Trash" tab.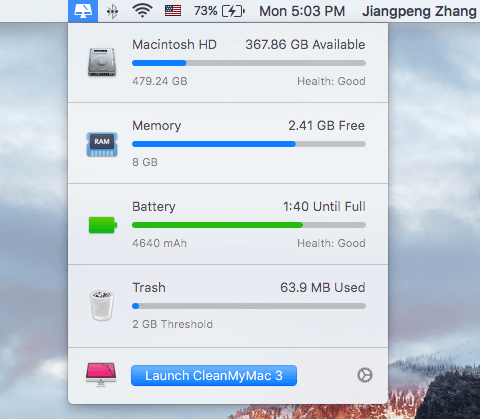 You can set alerts for when your hard disk's free space is below a certain amount, trash files exceed a certain size, or a resource-heavy app is exploiting your Mac. All these can be set under Preferences > CleanMyMac 3 Menu. Also, here you can disable the menu bar from showing up, simply slide the button from green to white.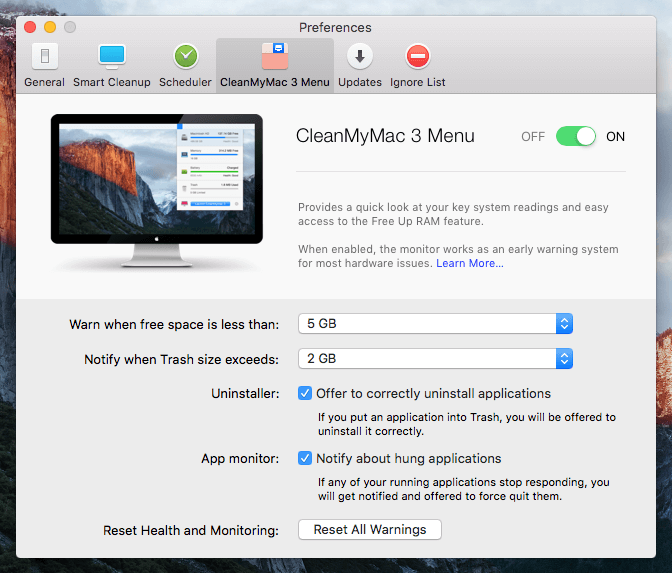 My personal take: The health monitoring feature is quite light. Don't be fooled by the name, because it does not really monitor the health conditions of a Mac. The health conditions I'm concerned about here are malware, system issues, and other related matters. I admit that these are the things that anti-virus or anti-malware does.

Clearly, the MacPaw team doesn't plan to enter this competitive yet controversial market, at least not now. I also think this does not fit the vision of the product, and it's not their competitive advantage to do that due to the nature of antivirus or malware detection.

The reason why I said it's light is that almost every function I listed above can be achieved with the default utility in Mac OS X. For instance, to learn your computer's available storage space and composition, you can click the Apple logo > About This Mac > Storage and get a quick overview. To check memory usage and resource-intensive apps, you can rely on the Activity Monitor utility (Applications > Utilities > Activity Monitor) to get more details. But again, CleanMyMac integrates all these into one panel and displays them in a nicer way.
Cleaning
This is the core of CleanMyMac 3. It contains two parts: Smart Cleanup & Deep Cleaning.
As the name indicates, Smart Cleanup quickly scans your Mac, then shows you files that are safe to be removed. In my MacBook Pro, it found 3.36GB of files ready for cleanup. The scanning process took about 2 minutes.
Deep Cleaning includes six sub-parts that enable you to detect and remove specific types of unneeded files.
System Junk: Removes temporary files, unused binaries and localizations, various broken items and leftovers, etc. This will help free up space and boost your Mac performance without affecting app functionality. For my MacBook Pro, it found 2.58GB of system junk.
Photo Junk: In older versions, it was called iPhoto Junk. This utility cleans your out Photos trash, and reduces the size of your photo library by removing supporting data from it. It also detects and remove duplicated copies of your previously edited images, and replaces RAW files with JPEGs. Be cautious when using this utility. If you are a professional photographer who prefers to keep the RAW image format, move those RAW files to an external hard drive. In my case, since I sync photos on my PC, it's no surprise to me that the app didn't find much photo junk — only 8.5 MB.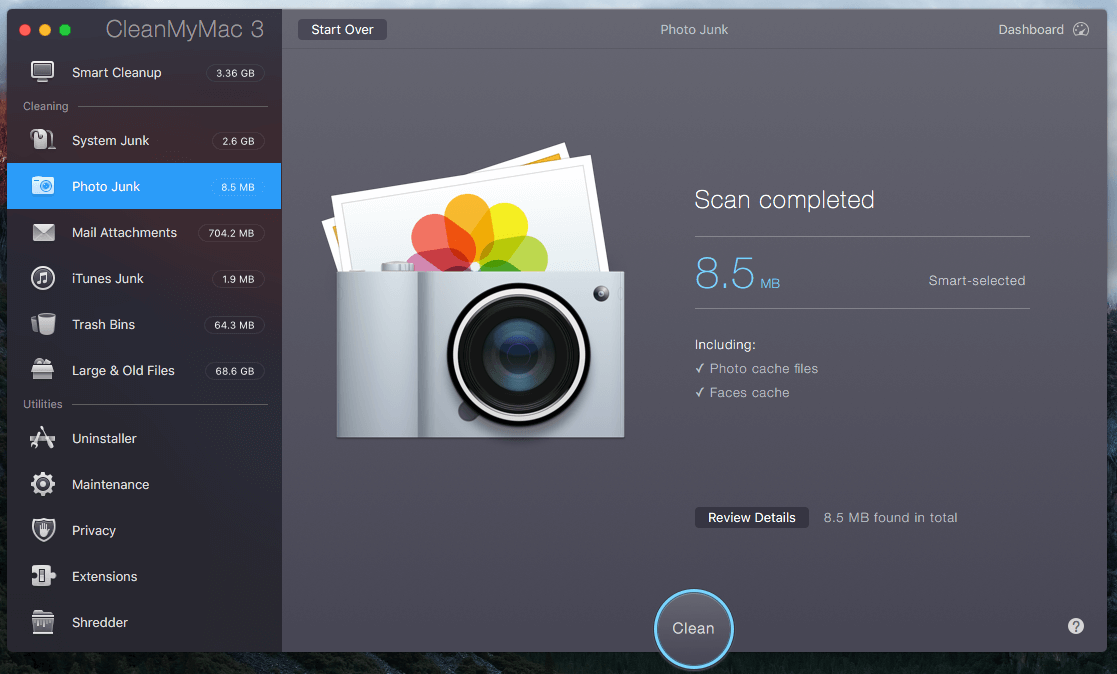 Mail Attachments: Deletes local mail downloads and attachments including documents, pictures, archives, music, etc. Caution: Always review these files before you remove them. In my case, the scan found 704.2MB of mail attachments. A quick review revealed that I had sent several attachments multiple times, which meant that they're safe for removal.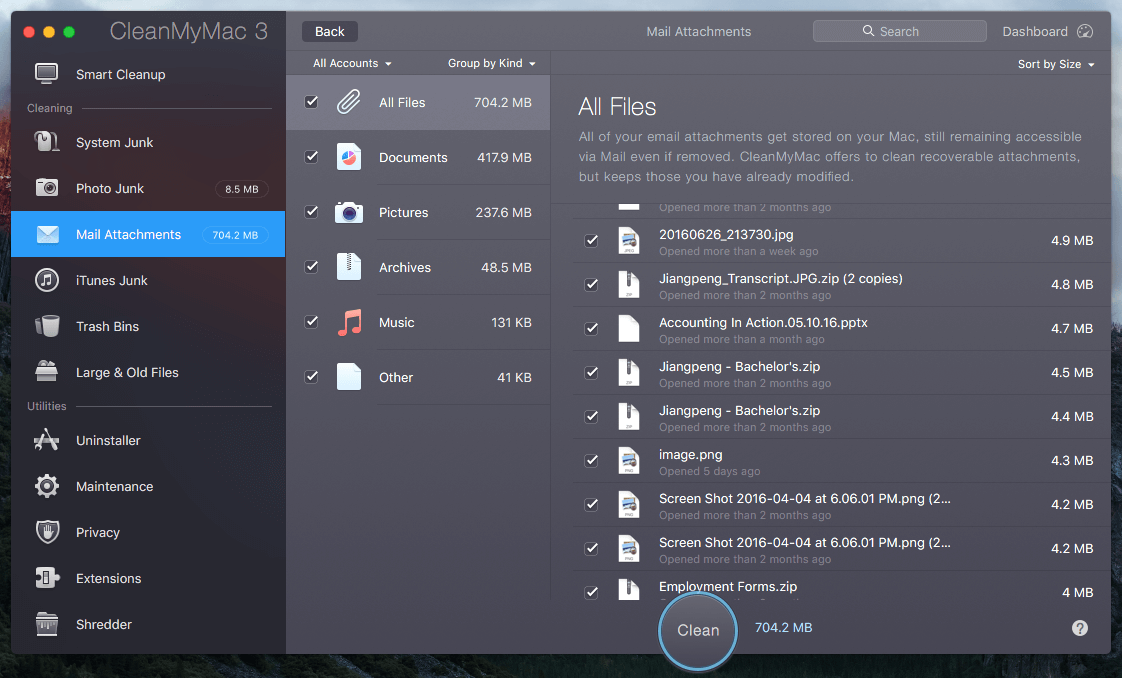 iTunes Junk: Kills locally stored iOS device backups, old copies of iOS apps stored on your Mac, broken iTunes downloads, and used iOS software update files. Here's my recommendation: Transfer or keep those iOS device backups in case of unexpected iPhone or iPad data loss. Since I mainly use my PC to sync stuff and make device backups with iTunes, CleanMyMac didn't find much iTunes junk on my Mac.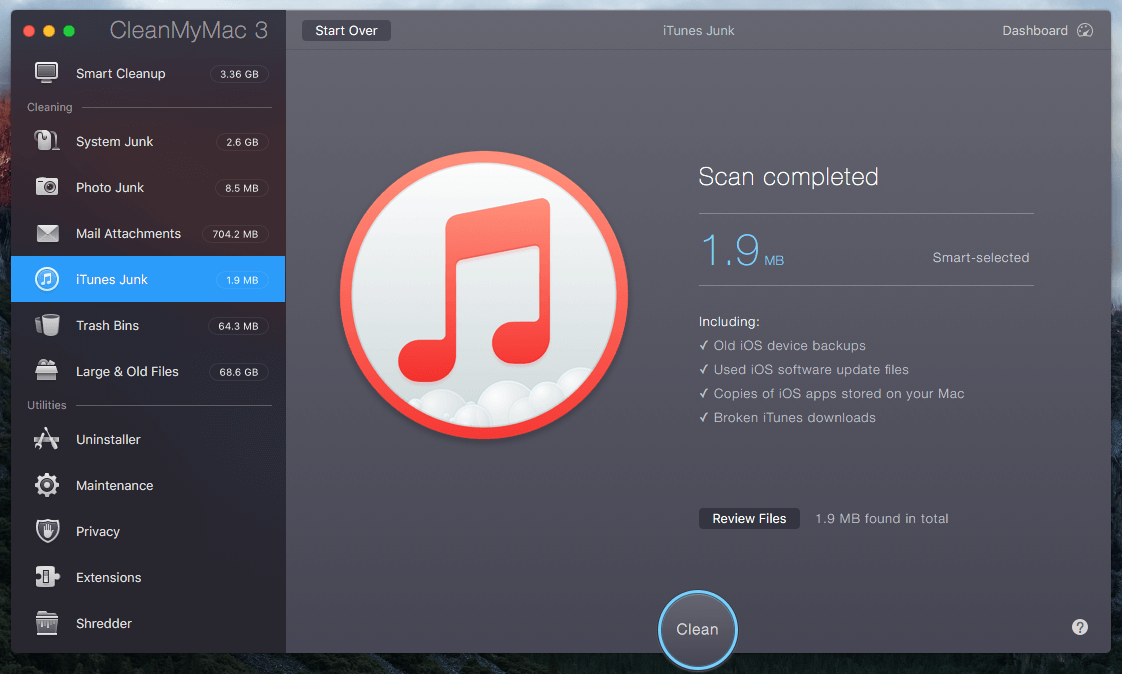 Trash Bins: Empties all the trash bins on your Mac–not only Mac Trash, but also the trash bins in your Photos, Mail trash, and other app-specific junk bins. It's pretty straightforward; the only suggestion I have is to examine the files in those trash bins. It's always easier to send a file to the Trash than to pull it back out.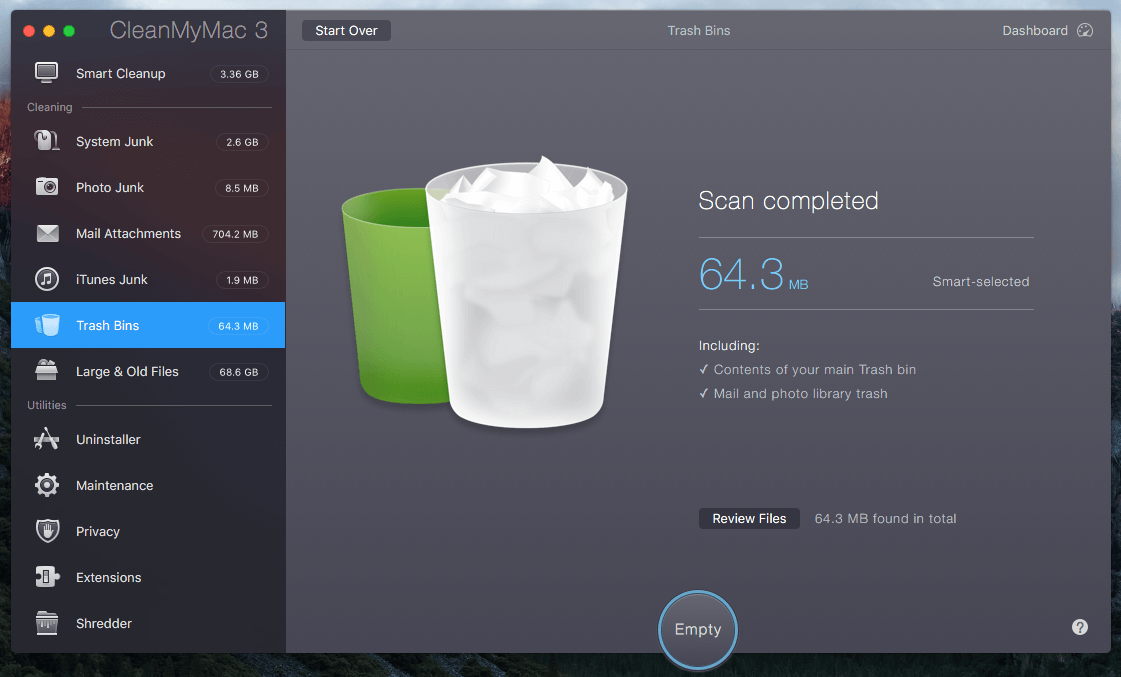 Large & Old Files: Discovers and removes old files you may have forgotten about on your hard drive, many of which are large duplicates. In my MacBook Pro, the app identified 68.6GB such files. Many of them were duplicate items, as you can see from the screenshot below. Beware: Just because a file is old or large does not mean you should delete it. Once again, be cautious.
My personal take: The cleaning features in CleanMyMac 3 work great in detecting all types of system junk and files that are safe for removal. Done well, you can free up a good amount of storage space and optimize performance. But I have to warn you that many of the files that Clean My Mac identifies might not be okay to remove. Never hit the "Remove" or "Empty" button until you have carefully reviewed each app or file with the "Review Files" function. Also, I'd like to give a piece of feedback to the MacPaw team: Please make the "Review Files" option more obvious — or, when users click the Remove button, pop up a new window asking us whether we've reviewed the files and then confirm deletion afterward.
Utilities
Uninstaller: This removes unwanted Mac applications as well as their associated files and folders. macOS makes it easy to uninstall apps — you just drag the application icons to the Trash–but oftentimes leftovers and pieces still remain. I find this feature extremely useful because I can get rid of unused apps — in a batch after the app displays them in a tree structure. Cleaning apps and their leftovers tend to free up a good amount of storage space.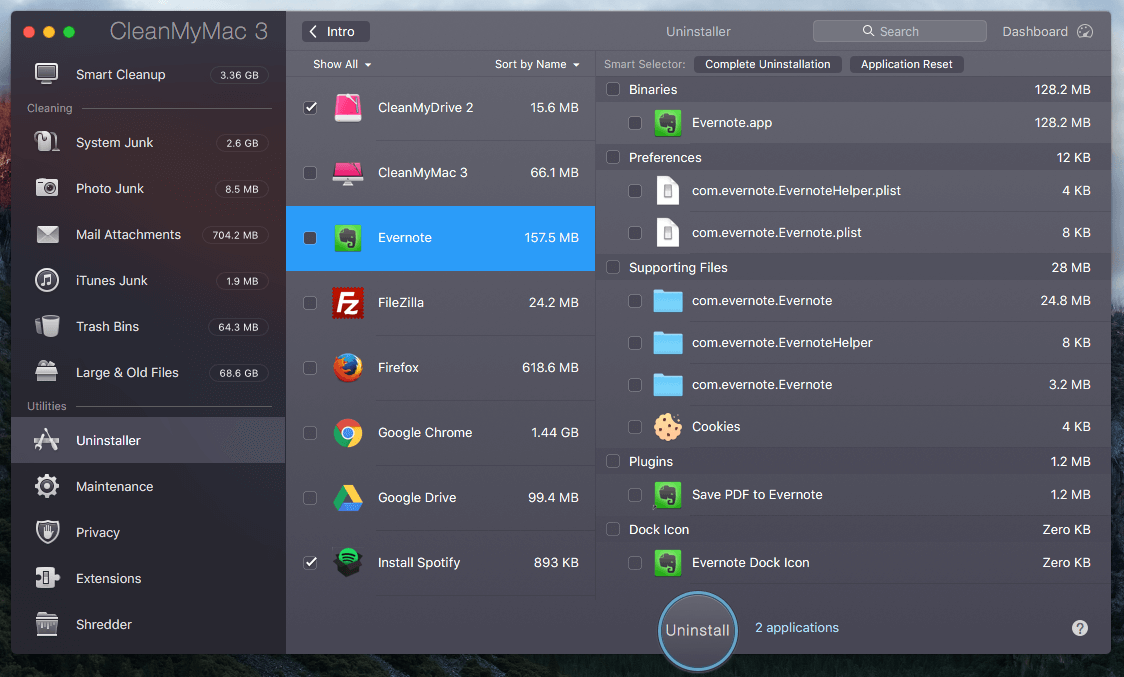 Maintenance: Optimizes your Mac by running a number of manual or scheduled tasks, such as verifying the startup disk, setting up repair disk permissions, reindexing Spotlight, speeding up Mail, etc. In my opinion, many of these features are redundant because Apple's Disk Utility is powerful enough to handle most of your needs. But once again, CleanMyMac 3 re-organizes those functions in an easier-to-use way.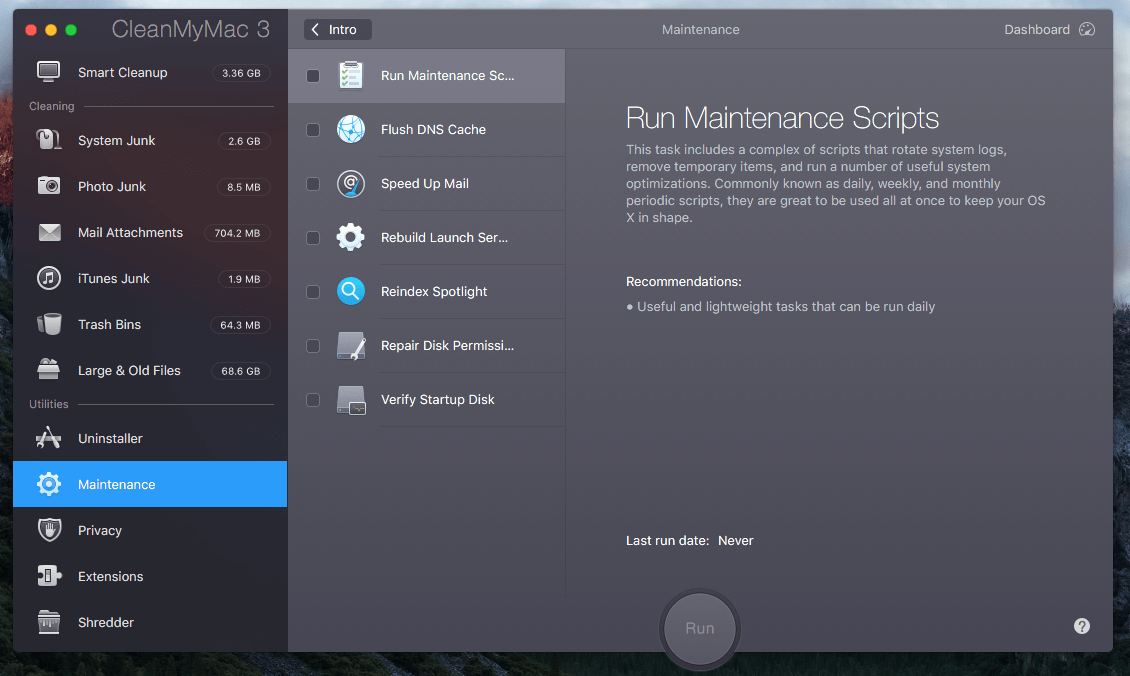 Privacy: This mainly removes web browser junk like your browsing history, cookies, download history, saved passwords, etc. It also cleans footprints left behind in chat applications like Skype and iMessage. For me, it's not that useful because I want to keep those private files for the sake of convenience, e.g. logging into sites without re-entering passwords, looking back on my chat history for past conversations, etc. I also recommend you be cautious when removing these files. Once deleted, they are usually unrecoverable.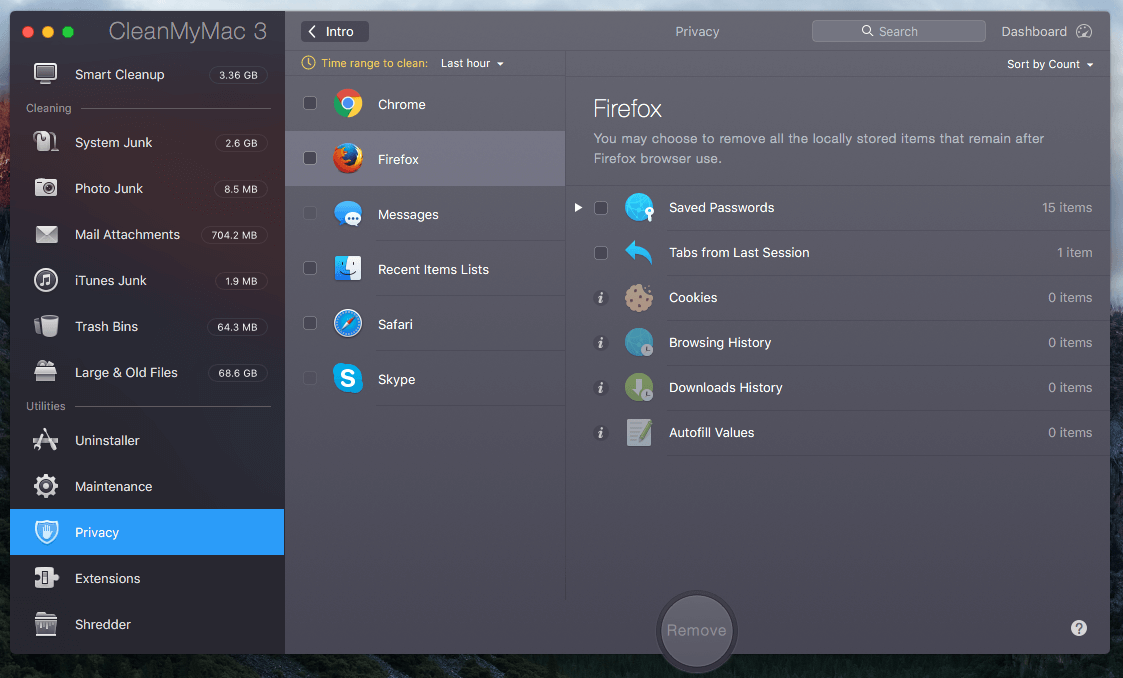 Extensions: This gathers all the extensions, widgets, and add-ons you've installed on your Mac and web browsers and displays them in one place. You can also manage Login Items here. Again, whether or not you want these comes down to convenience. To me, it's not that useful because I know how to remove extensions or login items. By the way, I'm surprised that the app adds its menu to my Login Items automatically — I'm not happy about that, even if it is easy to disable. One more thing that puzzles me is that the app failed to detect Firefox plugins.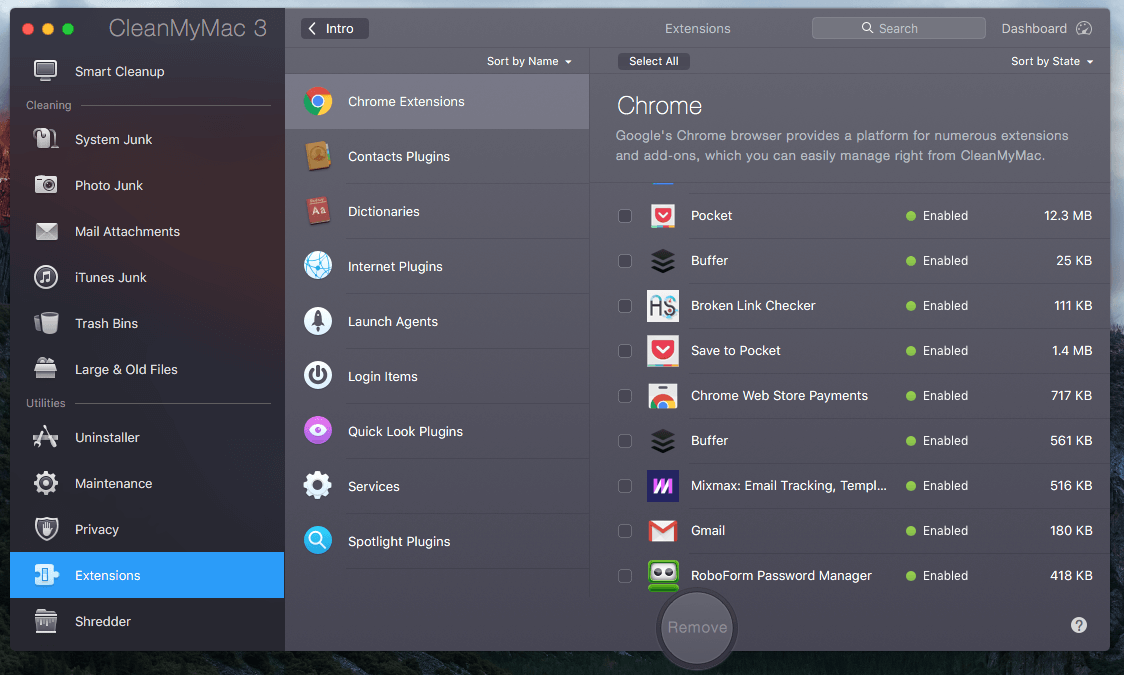 Shredder: This helps you securely delete files and folders you no longer want to keep. Items erased using this technique are unrecoverable, so be careful not to shred the wrong items. In my opinion, this option is useful for Macs that run spinning hard disk drives (HDDs), but not for SSDs (solid-state drive), because emptying the Trash is enough to make those files unrecoverable due to the way how TRIM enabled SSDs manage data.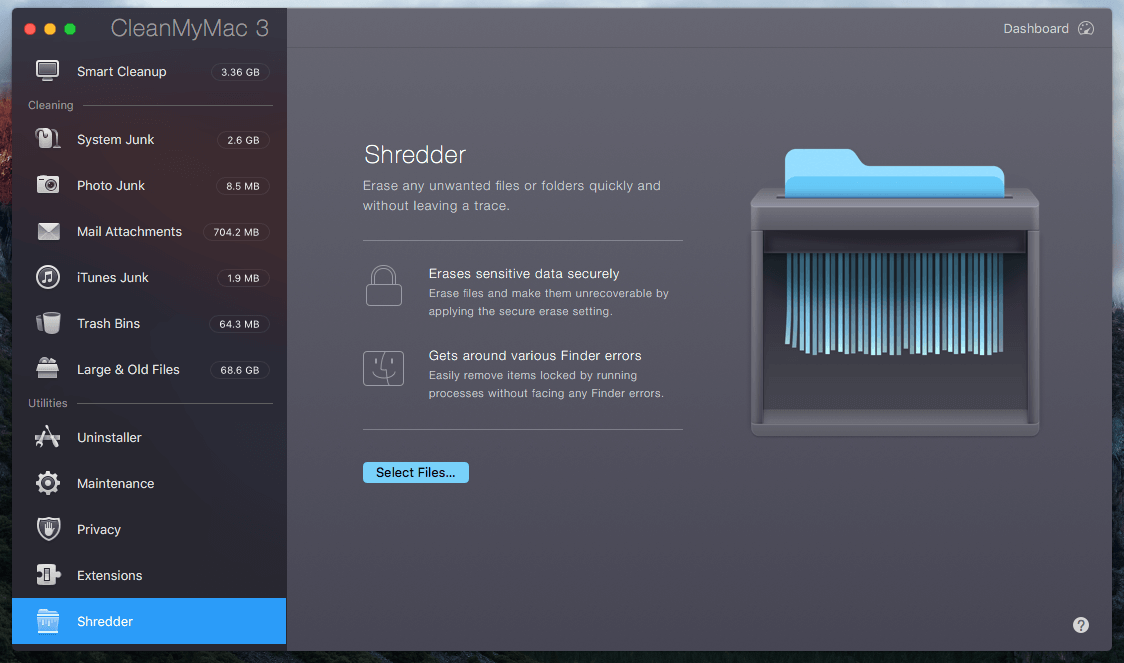 My personal take: The Utilities module does include a number of useful features that enable you to better maintain your Mac, and MacPaw's design team makes it a breeze to navigate those features. However, the only module I find helpful is the Uninstaller, and I can rely on Disk Utility or other macOS default apps to complete almost every maintenance task that CleanMyMac is capable of.
Reasons Behind My Ratings
Effectiveness: 4/5
While I'm impressed by CleanMyMac's Smart Cleanup and deep cleaning utilities, I have to admit that not every Mac is created equal. The benefits you can gain from using the app will vary. The core value of the app is that it removes unnecessary files and apps from a Mac, making it run cleaner and faster (the second point originates from my gauge of MacPaw's marketing message).
My arguments mainly include two parts. First off, not every Mac is that "dirty," especially if your Mac is brand new. Older Macs tend to get used more, which means more junk files. Once you use CleanMyMac 3 to remove those junk files thoroughly, you'll get a performance boost, but it won't be dramatic. There are many reasons why a Mac can run slow. Sometimes a hardware upgrade is the best solution to improve overall performance.
Secondly, macOS Sierra's deeper iCloud integration will likely make your Mac hard drive less crowded. If you're like me, you watched the Apple WWDC16 back in June. They announced at that event that one of the new features in OS Sierra is that Mac will make room for new files by keeping older ones in the cloud. More specifically, it will make all of the files stored on the desktop and documents folder of your Mac available through iCloud.com. Remember the colorful storage bar Craig Federighi showed to us: all of a sudden, 130GB of new free space was generated.
Price: 4/5
CleanMyMac is not free, even though it offers a demo that is free to download and will clean up to 500MB of data. The app includes smaller utilities that achieve a number of different tasks. The truth is that nearly all of them can be replaced by either Apple's default utility or a free third-party app. That said, $39.95 is not killing it considering the convenience this all-in-one app brings to the table in an incredibly easy-to-use manner. Also, you can always reach out to their customer support for questions. In a nutshell, the app saves you time and energy by streamlining how you maintain your Mac.
Ease of Use: 5/5
I'm not a designer, so I can't evaluate the pros and cons of the app's UI/UX like a pro. But as someone who has used MacOS for over six years, and has tried hundreds of apps, I confidently say CleanMyMac is one of the finest-designed apps I've ever used. Its sleek interface, high-quality graphics, clear call-to-actions, text instructions and documentation all make using the app a breeze.
Support: 4.5/5
MacPaw's support team can be reached via one of the three methods: email, phone calls and live chats. I contacted them through all these means. Here's my advice: if you have urgent issues with the app, pick up your phone and call them directly. If it's not convenient to call, check if their support is available via live chat. For general requests, shoot them an email.
Phone calls — +1 (877) 562-2729, toll-free. Their support is very responsive and professional. The rep I spoke to answered all my questions, I'm quite happy about my experience.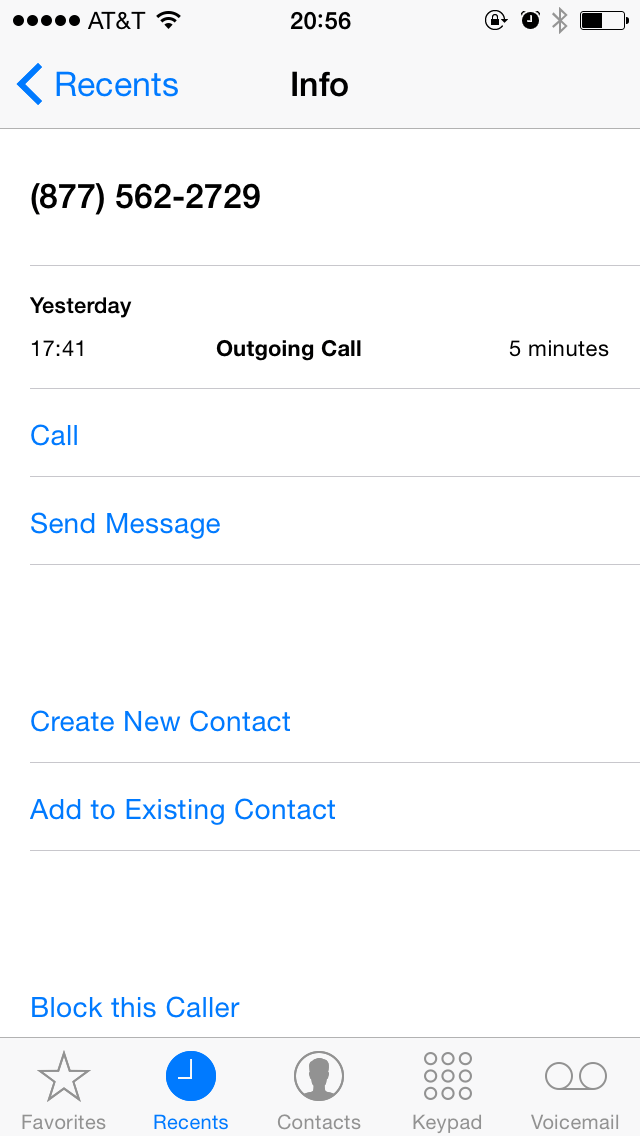 Live chat — available during working hours in the United States. Update: this option is no longer available.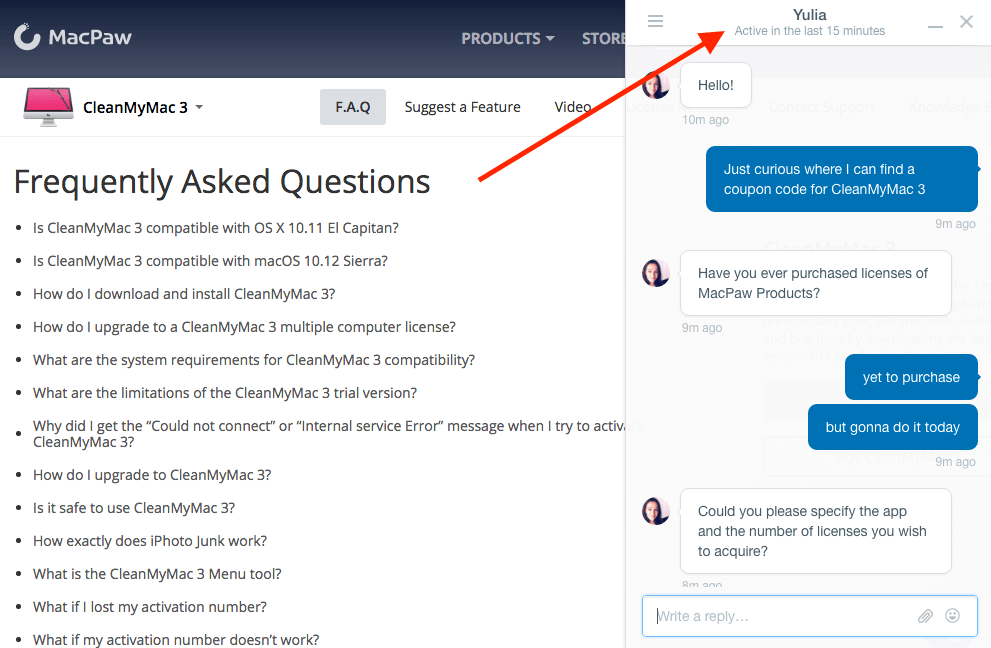 Emails — [email protected]. They replied to my email within 6 hours, which is not bad.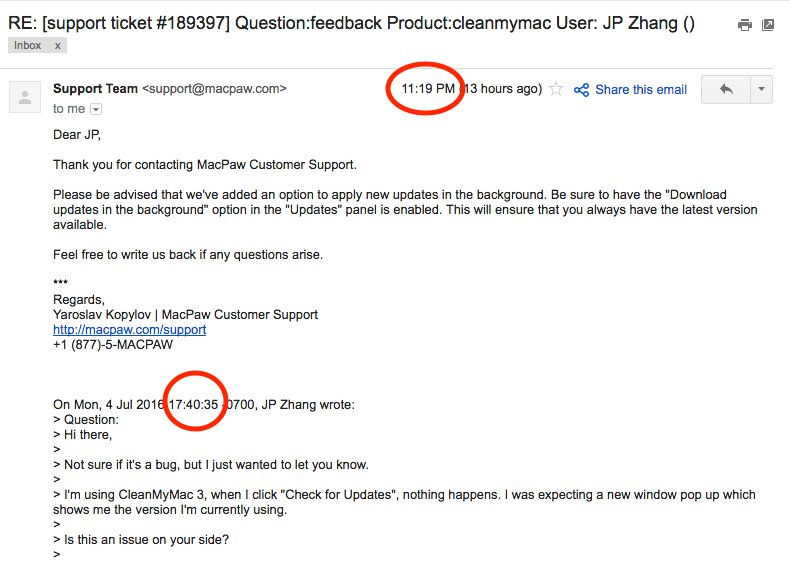 FAQs
Can CleanMyMac 3 speed up my Mac?
Maybe. Macs run slow for a variety of reasons. If that slowness is related to a macOS system, CleanMyMac can turn it up a bit.
If your Mac is slow because the machine shows its age and the hardware is outdated, then adding extra RAM or replacing the hard drive with an SSD (solid-state drive) is the most effective solution to increase performance.
How to get CleanMyMac 3 activation number?
There is no keygen or free activation number. The only legal, legitimate way to get the app is to purchase a license from MacPaw.
Is CleanMyMac compatible with the latest macOS?
Yes, MacPaw claims it's fully compatible with OS X 10.11 El Capitan or later.
Is CleanMyMac 3 available for Windows?
No, the app is for macOS only. If you are using a Windows PC, MacPaw has a product called CleanMyPC for that platform. You can also read our full CleanMyPC review.
How to uninstall CleanMyMac?
Simply drag the application to the Trash and empty it. You can also use the Uninstaller feature within the app to clean the remnants.
Fair Disclosure
This review contains affiliate links, which means if you visit MacPaw's website via any of these links and purchase a license, I'll be paid a percentage of commission. But that comes at no additional cost to you. MacPaw offers a 30-day money back guarantee. If you decide to cancel your order, you'll get a full refund immediately and I won't get paid. If you decide to buy it, I want to say thank you. Your support will help me keep up this blog and help more people to tackle tech challenges.
I was contacted by the MacPaw marketing team before I wrote this review, and they offered me a free activation code for evaluation purposes. I declined. Two reasons: first of all, I was concerned about license accessibility. I suspected that the license they sent to me might be more powerful than the common licenses they offer to customers. Thus, my review would fail to represent from a general user's perspective. Secondly, it's my own personal principle not to review any commercial products for the sake of review itself. I firmly believe if a piece of software does provide value, I don't mind paying for it. That's what I did for CleanMyMac 3 and got a single license on my own budget.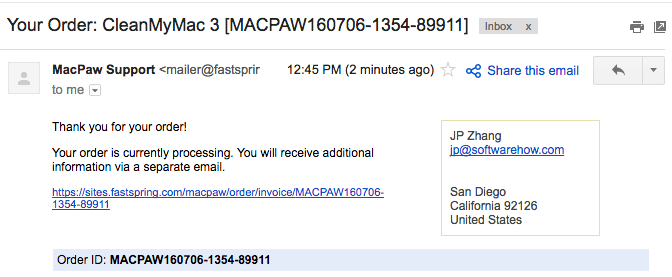 I'm here to disclaim that this review is primarily based on my own testing of the app on my MacBook Pro, and information from MacPaw's website and user feedback, which is available on various Apple Mac forums and communities. As such, please note the opinions in this article are my own and by no means do I intend or claim to be a software-testing expert. I highly encourage you to do your own due diligence before you try or buy the app.
Final Verdict
Is CleanMyMac 3 worth it? In my opinion, the app is perhaps the best Mac cleaning app, and it does more than just cleaning. However, CleanMyMac isn't for everyone. If you are new to macOS or don't want to spend the time to learn and try different apps to maintain your Mac, CleanMyMac is a great choice. For power users who are comfortable with Mac computers, CleanMyMac won't offer that much value. You can clean your Mac by yourself or use some free alternatives instead.
A clean Mac is better than a dirty one. While the app can help you free up a considerable amount of disk space, don't forget to back up those files that you can't afford to lose — in particular, the photos and videos you shot with families and friends. Mac hard drives will die one day, maybe sooner than you thought. This just happened to my 2012 MacBook Pro. The main Hitachi hard disk drive (750GB) died, and I lost a ton of precious photographs. Lesson learned! Now my MacBook is with a new Crucial MX300 SSD. Anyway, the point is that protecting your files is more important than deleting unneeded ones.
That wraps up this CleanMyMac 3 review. Did you find it helpful? How do you like CleanMyMac? Do you have any other good alternatives to the app? I'd like to hear from you. Please leave a comment below.